Last Updated on
By: Know Your Grinder
I've been asked this question more and more often lately (people know that I'm a coffee addict slash expert slash crazy about anything coffee related) soooo… I decided to write a little article discussing the difference between coffee makers which use thermal carafes, versus coffee makers that use glass carafes. I have been using both of them for a while, weighing out the pros and cons and picking some favorites.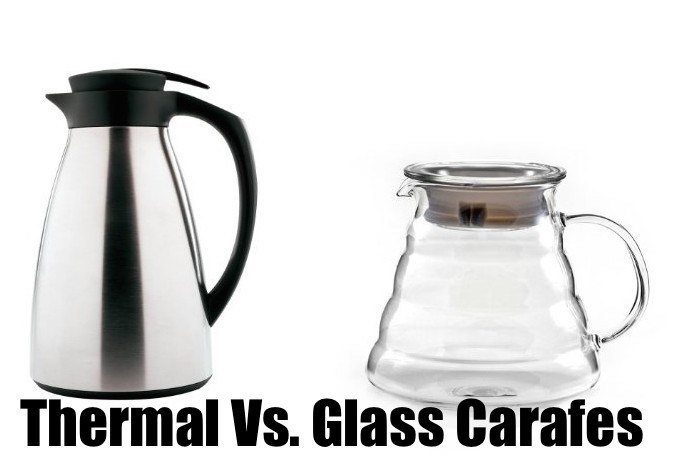 When people ask me what is better between these two types of carafes, I ask them how quickly they drink their coffee, as that is the only true answer to this question.  Allow me to explain…

For instance, I drink my coffee relatively quickly compared to some people, but the rest of my family, shall we say, takes their sweet time when they wake up, and so it would be kind of selfish if I pour the coffee in the glass carafe and start guzzling cup after cup, while it gets progressively colder for them. 
Why?  Because the glass carafes don't keep the heat in as long, for one thing.

But, there are days, afternoons to be more precise, when we gather together and brew the coffee and pour it in the glass carafe, because I know it will stay warm long enough before it is poured in the cups and served. 
In every other case, we use our thermal carafe and not only for use around the house.
My family loves going camping every now and then spending hours roughing it at our campsite with a glass carafe is nothing can be more than a little impractical. That's when the thermal carafe saves the day.
Bonavita BV-1800 – My Favorite Steel Carafe
If I had to pick a favorite coffee maker from over the years that uses a thermal carafe, I would hands down choose the Bonavita BV-1800.
We've had this in our family for what feels like forever, although its only been a few years now.  Even though there is a full review of the Bonavita here on this website, I want to give you my take on it as it has served my family well.
The reason we bought this machine is because it is certified by the S.C.A.A., on the recommendation of someone in the family who works at a café (Hi Jim!) 
The first thing we noticed about the Bonavita, or at least I noticed this right away, is that the coffee it brewed was nice and strong, and also sufficiently hot.  This might sound like stand requirements for a coffee machine, but I think the combination of the right engineering and the thermal carafe are what make the Bonavita such a sure bet if you're after a no nonsense brewer with a sturdy carafe.  
Chemex 8-Cup Classic – Glass Carafe Coffee Maker