After trying a series of coffee containers that have polyurethane bends and hard closure mechanisms, we have finally got to test something a bit different, and much easier for opening but sure to be equally protective of your coffee's flavor and aroma.
Today we're going to chat about the Tightvac Coffeevac 1 Pound Vacuum Sealed Storage Container, and we have chosen the one that comes in a shiny & elegant black color, but you will see in this review some of the other colors they offer as well.

The special thing about this container is the fact that it is very unassuming, having nothing more to it than a bottom container and a lid. So how does it work? Easy. It has an easy push button system that allows the carbon dioxide gas to escape from your beans and keeps the oxygen out!
Watch this video review which talks about exactly how it works and also gives you a better idea of the sizes that the Tightvac Coffeevac is available in…
Nothing To It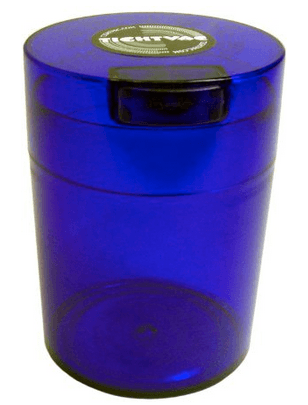 The Tightvac really is quite simple to use. You just pull the lid up when you want to open it and that's it. No mechanisms, no screws, no pressing or unlocking or anything.
Here, the most impressive magic is done by the air itself. Once you push the lid upwards in order to open the container, you will hear a little "shushing" sound. That is the pressure letting the lid go up, and it tells you that the seal is broken.
It is so easy to open; you can literally use two fingers. When you have to close the container just press the lid down, the air pressure will do the work for you perfectly.
Vacuum Sealed Coffee / Tea / Herb / Spice Storage System
This Tightvac Coffeevac has a unique push button vacuum seal system that allows the coffee beans to vent CO2 and keep the oxygen out. That's that sound you hear whenever you open the lid. We love that it is so easy to use and that it doesn't take time to be opened.
Thanks to this simple and very practical vacuum seal system that doesn't need the help of any rubber bands, nor does it require any special effort to open it. The aroma and the flavor of your favorite blend remains inside the container for a long time. With the black model, the color is not only elegant and fancy, but also protects the coffee from the light.
This container has proven that will keep the freshness and the aroma not only of coffee blend, but also of spices, herbs, even tobacco or dry vegetables. However, it is not recommended for keeping wet and smelly food that easily produces gases. It is for things that are essentially dry, like coffee beans, tea leaves, herbs, spices, or things like that.
Living Large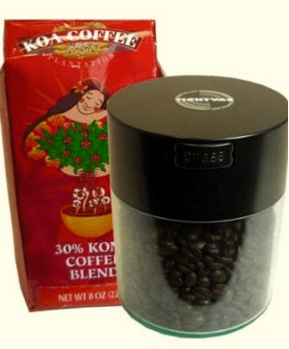 Tightvac's container can be quite large – it easily can contain up to one pound (500 grams) of ground coffee blend or coffee beans, (depends on what you will use it for) and has a large opening where you can literally place your entire fist in it (unless your hands are big).
Of course we always recommend using the freshest coffee beans and fresh grind possible for all coffee you'll be making at home, but its your call of course. The designers at Coffeevac thoughtfully made it precisely this big so you can scoop your coffee easily and without pouring it all over and make a mess.

Coffee Gator Stainless Steel Container – Canister With Co2 Valve And Scoop

Zurich Coffee Canister

Beansafe Coffee Storage Solutions In Bpa-Free Polypropylene White

Cleaning
It is very easy to maintain – you can either manually wash it or dish wash it, just make sure that the inside of the lid and the outside part of the top of the container are debris free (make sure there is no coffee stick around these parts) so you can easily close it.
Otherwise, the vacuum-seal can have troubles getting that perfect airtight closure. For that matter, make sure not to fill the container up to the very top. Even if the lid and the top of the container are completely clean, you wouldn't be able to push the lid down, and that means that the vacuum sealing would not be able to preserve your blend well.
The CoffeeVac will fit well into most cupboards, but thanks to its elegant look this container will look great on your kitchen shelves or counter tops.
Built To Last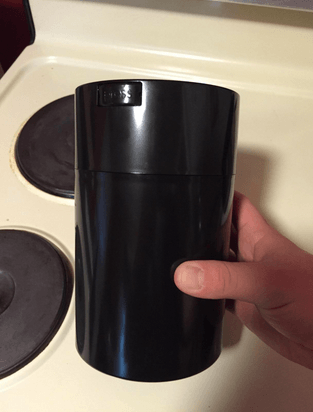 It was surely designed to last. Tightvac designed this very container in many different sizes; you can literally find one that is pocket size to the largest one that contains up to two pounds. The standard dimensions for this one pound Tightvac Coffeevac storage container are: height 7-3/4″ and diameter 4-7/8″.
For the price, this is perhaps one of the best and easiest ways to keep your coffee fresh and tasty for a long time. Works perfectly easy, so even small children or people who suffer from arthritis can easily open the lid.
It looks classy and it works perfect. For such an unassuming little object, it really does the job of storing coffee and keeping it fresh.
4 STARS!
Arbuckle'S Whole Bean Coffee (French Vanilla)

Shanik Premium Quality Stainless Steel Manual Coffee Grinder Burr For Precision Brewing Portable

Cuisinart Dcc-3200 14-Cup Glass Carafe With Stainless Steel Handle Programmable Coffeemaker, Silver