If anyone said a couple of years ago that I'd be bothering with roasting coffee beans myself, I'd laugh at that, because it would mean that my interest in coffee had gone "too far", but here we are.
Dare I say I got obsessed with the process?
Yes, well, I'm constantly reading tutorials and articles about home-roasted coffee and I decided that I finally needed something that will help me do this the right way.
The Popcorn Popper Method
I'd tried the popcorn popper method of roasting beans, and it just didn't seem sufficient for getting the results I wanted. Yes, it worked somewhat, but my results were inconsistent and not quite what I was looking for.

My one friend who actually works in a coffee shop and uses the popcorn popper method told me I just didn't have the technique down (or something).
I took this critique a little personally, but in the end I just opted for a real home roaster and now the results are much different.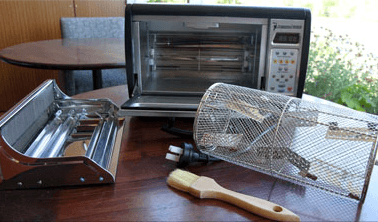 So, hello there Behmor 1600 Plus Customizable Drum Coffee Roaster!
I wanted a professional coffee roaster and I got it.
It was my mission to learn exactly how it works, and as luck would have it, it is easy, but also you have to learn the process carefully.
I'm a bit of a nit-picker, so I didn't mind the learning curve.
This is a beautiful machine that roasts up to a pound of coffee at once, and does it any way you like it. Pretty cool!
After a few roasts, I was well on my way to better coffee. Oh, did I mention that this is why I got myself a Behmor 1600 Plus roaster?
Because although I was getting great coffee / espresso, my obsessive nature just wouldn't let things go and my coffee set-up, to be honest, didn't feel complete yet.
I had my Breville Smart Grinder, my Rancilio Silvia espresso maker, and numerous other coffee-making tools. But something always felt like it was missing from my arsenal.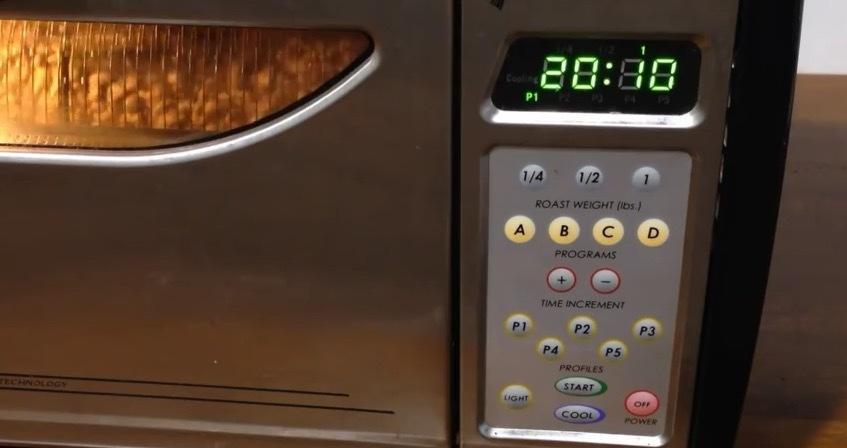 As you can see from the above picture, its about the same size as a toaster oven (9 x 9 x 15.2 inches) and does not take a lot of space on my counter.
My husband tells me I should open a coffee shop in our house to make some of this money back, since about one third of our kitchen is now basically a mini-café.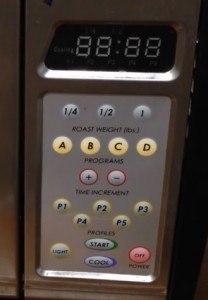 There is the odd time I need to put my Behmor 1600 in the cupboard, and so this is easy enough – if you have room for a roaster oven then you'll have no problem with this either (although I keep mine out most of the time).
Isn't It Messy?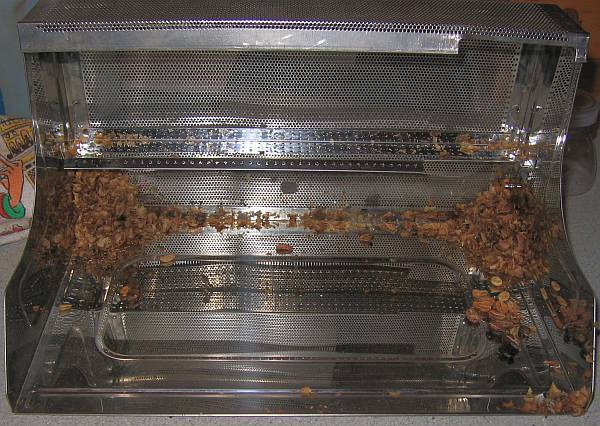 I may as well get to one of the potential turn-offs of the Behmor 1600 Plus Coffee Roaster right away, as its pretty obvious from these pictures that there seems to be a lot of mess that can be made here.
Actually, let me turn this downside into a bit of an upside for you if I can.
The downside is that coffee roasting at home, I've discovered, is a somewhat messy process, because you start to have to deal with a lot of the chaff that flakes off the beans as they roast.
The upside is that the chaff stays in the roaster, for the most part so its easy to vacuum up.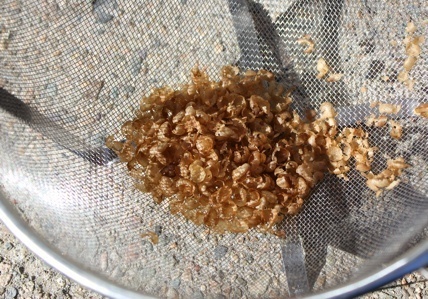 In the case of my Behmor 1600, what I do is unplug it when I'm done and use this Black & Decker Cordless Dustbuster I have to suck up the chaff (here's some chaff in a sieve pictured to the right) and that pretty much does the job.
Because I'm fairly careful here is never a time where I'm cleaning this coffee bean chaff up off of the counter, so I'm pretty happy with that.
Still, if you've never roasted before – surprise! There's something called "chaff" and you'll have to deal with it.
Here's a video to show the home roasting process in detail.

Easy To Roast Coffee Beans At Home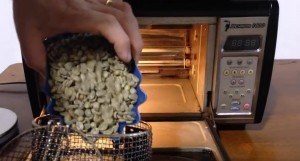 As the video shows, roasting with the Behmor 1600 is super easy.
Once you've selected some of your favourite un-roasted coffee beans, you simply add them to the drum, and then properly attach the drum inside the roaster / oven.
From there you need to familiarize yourself with how to program the roaster, which is no more difficult than your average microwave.
Read The Manual – Twice!
As I said I'm a stickler for perfection so what I would suggest you do is carefully go over the manual a couple times before you start to use your Behmor.
Even though it seems very straightforward, this isn't exactly a toy that you want to start using without knowing anything at all about how it work.
There is one change when you switch the circle band around the P1-P5 buttons, there is another "empty", another showing quarter full, one half full, and so on.
You really need to know the meaning of these indicators.

Here's a video review you can use to familiarize yourself with the basics of this machine if you want to get the best use out of it.

A Few How-To Instructions
This is a roaster with a semi-manual mode that can be accessed through few buttons that control the temperatures.
When you press the "P" buttons (there are "P" buttons from 1 to 5) you are selecting the heat that goes from 0% to 100%.
Behmor has real time readouts of temperatures (two of them are displayed – the exhaust temperature and the drum area temperature.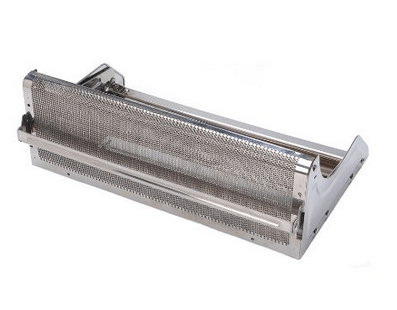 This is professional home roaster that is capable of custom manual roast that can get the coffee roasted the exact way you want.
Behmor has a variable speed drum control, which allows you as a user to spin up or down the drum RPMs from 8 to 16 revolutions per minute.
One thing I really love is the good visibility that lets you observe the coffee bean transformation process.
I honestly enjoy this, and it's not only the observation of the roasting, but also that amazing aroma that is spread around my kitchen as the roasting begins.
Behmor is a drum roaster that uses quartz heat lamps. The wire drum design effectively moves the beans so the final roast is very uniform in colour and consistency.
Any worry you might have that some of the coffee beans won't get roasted is futile. They all get well roasted and dark brown.
Another great thing is that once the roast cycle is over, the Behmor goes into a cooling cycle that usually happens in about twelve minutes.
The total time for roasting half a pound on average takes around twenty five minutes (roasting and cooling included).
Here's another video showing coffee beans being roasted to get you more acquainted with this lovely little machine.
Behmor 1600 Tips
You can manually adjust the roasts, but I suggest you not to do it right away.
Get some experience first and once you are a good coffee roaster, you can try it.
That's the way I went, and I'm glad I took that approach.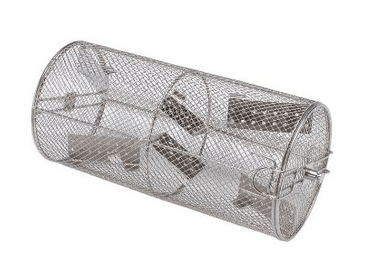 Another thing that I like about the Behmor is that it is relatively quiet. You can actually hear those cracking sounds (the first and the second).
I usually want my coffee to be roasted somewhere between the first and second crack. But this is a matter of taste; you don't have to take it out of the roaster at this particular time.
When comes to smoke and any weird odors from the Behmor I can't say that there was any, unless I'm doing it wrong.
There are good controls and ventilation in the Behmor. After each roast don't forget to clean out all the chaff that accumulates.
Like I said, I tried a small vacuum cleaner, and it worked fine for this purpose.
When comes to the price, currently you can find it for a good price online, which is where I got my Behmor.
Remember, this isn't just a toy, so using it takes patience, knowledge and a fairly good temper too.
Good luck, I'm off to roast another half pound.