A button, my friends, that is found on a coffee grinder…
There are a lot of things to consider when it comes to grinding your weed. What kind of grinder do you want? Manual or electric? How big do you want it? The options can be overwhelming. But don't worry, we're here to help! In this post, we'll take a look at some of the best coffee grinders for weed and help you decide which is right for you. So read on and find out more!

Top Coffee Grinders for Weed in 2022 by Editors
The Idea of Coffee Grinders and Weed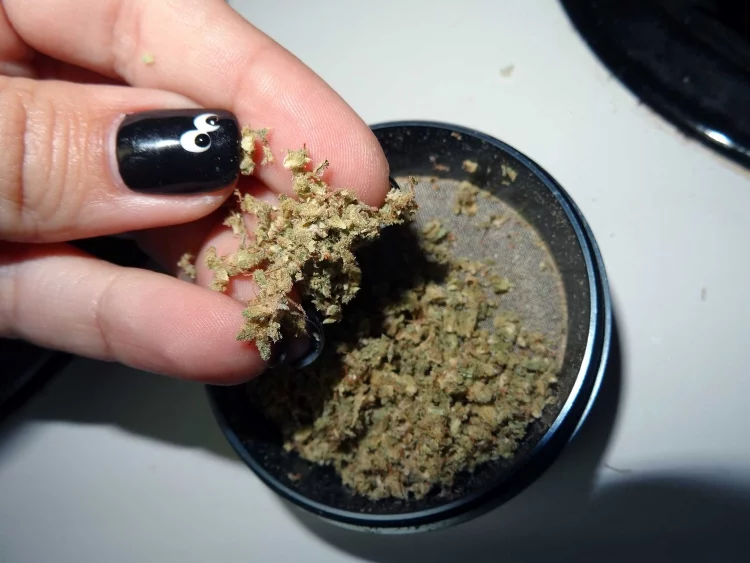 That button turns on the coffee grinder and sets the blades a-spinnin' through your bud, chopping it into perfect little pieces that you can use for edibles or packing bowls.
Coffee grinders, eh? Yup. They're the most efficient grinder and we'll explain all of this in the article plus teach you some tricks.
Canada just legalized. The US has legalized in some states as well. So, maybe you're new to the game and getting acquainted. No matter where you're reading from, kief is the crystal residue leftover after grinding herbs.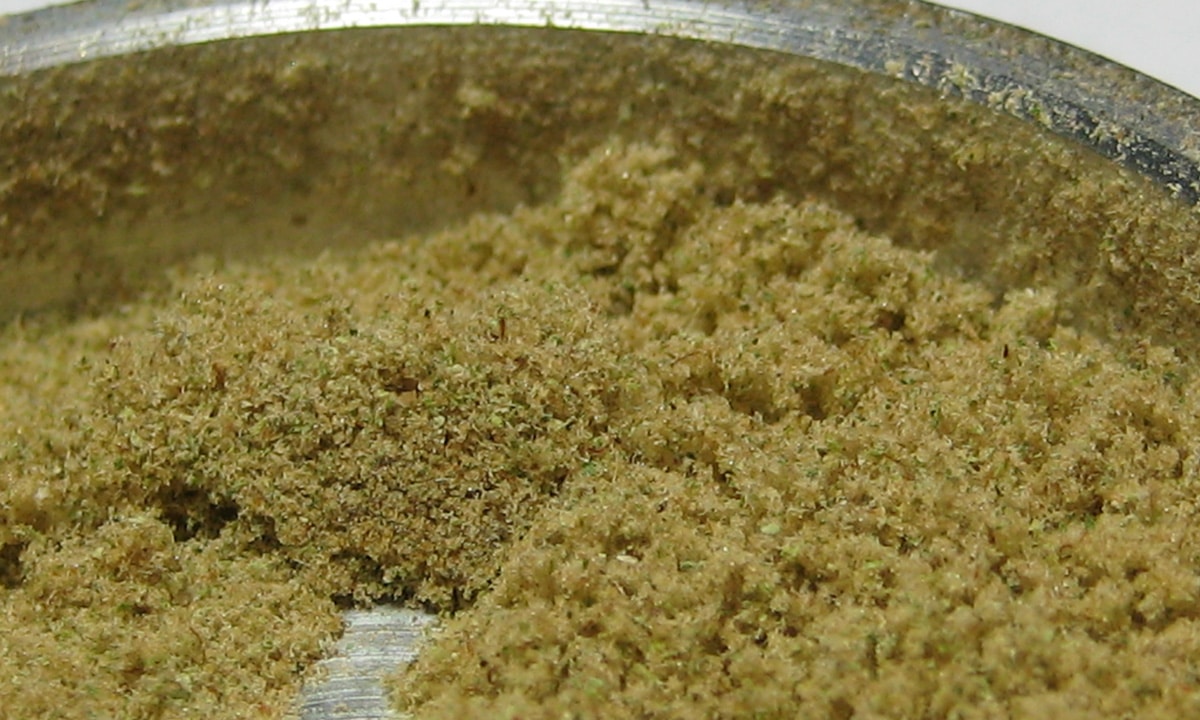 You can actually see the crystal on the bud before you grind it. The knowledgeable smoker will recognize and differentiate between good and bad weed based on the crystal it has.
This crystal falls off and will stick to the blades of the grinder. You'll reserve it and later top a bowl with it for an extra nice high.
Some people are hardcore with their ritual and prefer to hand-grind before rolling every j, but let's be real: not all of us have time for that.
A coffee grinder does it so fast. They are very handy and helpful for anyone with mobility issues or pain, like arthritis (which may very well be the reason you use cannabis)!
We've put together a list of the best coffee grinders to use for your bud. BTW, one of them is a blender, so we had to include it just because it really is so popular we couldn't ignore it.
Top 5 Best Coffee Grinders For Weed Reviews 2022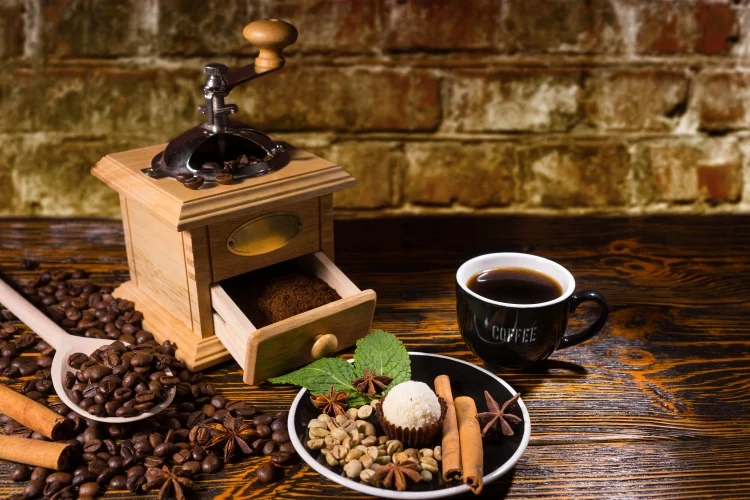 Why a coffee grinder? Because it's easy, efficient, cheap, and reliable. You'll save yourself so much work.
Plus, it has the right hardware to do the job.
You may have seen people cutting up weed with a pair of scissors inside a shot glass.
While this is convenient, as most people will have scissors and shotglasses on hand, it doesn't do the job. It'll be impossible to cut it up small enough, and it'll take forever.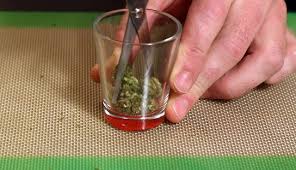 It's so easy to just toss your bud - especially large quantities for edibles, as an example - into a coffee grinder.

You can pulse the motor and stir the bud every so often, to ensure an even chop.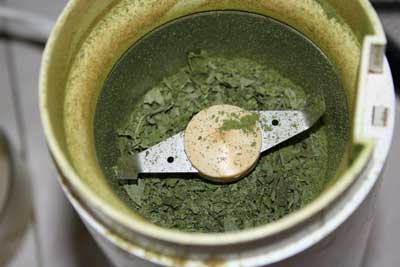 The motorized blades will have the right amount of power and sharp edge - they are designed to destroy hard beans, remember - to pulverize the bud evenly. The bud will be cut small enough, so that you can cook or smoke it without wasting any. You'll get a nice, clean burn.
Basically, coffee grinders can be your secret weapon for grinding pot.
Remember, many coffee grinders are known as "coffee and herb grinders" because the blade versions of the grinders are used to break up various herbs and spices, including some toughies in the herb family. So, it all makes sense!

Besides requiring minimal effort and grinding your weed perfectly in less than 30 seconds, there is the added benefit of not really having to clean it out after.

KRUPS Silent Vortex Electric Grinder for Spice, Dry Herbs and Coffee, 12-Cups, Black - Link
KRUPS Silent Vortex Electric Grinder for Spice, Dry Herbs and Coffee is ideal for grinding coffee beans, spices and nuts. The advanced innovative vortex spin technology grinds dry ingredients to a fine powder in just seconds. It features a detachable stainless-steel grating bowl with a lid that allows you to store the ground spice or coffee inside the grinder without having to transfer them into another container. The large capacity of this electric grinder can hold up to 1/2 pound of coffee beans or herbs at any given time.

Mueller HyperGrind Precision Electric Spice/Coffee Grinder Mill with Large Grinding Capacity and HD Motor - Link
Mueller Austria HyperGrind Precision Electric Coffee Blade Grinder is an ultimate coffee grinder that makes grinding a breeze. It is the best electric coffee grinder with precision control over your beans. The blade of this grinder is made of stainless steel, which ensures durability and efficiency. This machine is perfect for grinding spices too! It has a transparent lid, so you can see what you are doing while running it.

Breville BCG820BSS Smart Coffee Bean Grinder, Brushed Stainless Steel - Link
This Breville BCG820BSS Smart Grinder Pro Coffee Bean Grinder is the most expensive one on the list but it is also the 10th best-selling burr coffee grinder on Amazon. It has stainless-steel conical burrs that make a lot of difference in the taste of your coffee. This grinder has 60 precise grind settings to choose from and an electronic timer to set and set grind duration in 0.2-seconds increments. It also has an LCD to show the time. The auto-generated feature calculates itself once you input the number


SHARDOR Coffee Grinder Electric with 2 Removable Stainless Steel Bowls - Link
Introducing the SHARDOR Coffee Grinder Electric, the best way to get your daily dose of caffeine! Not only is this grinder perfect for coffee beans, but it can also handle spices, nuts, and seeds with ease. The included 2-blade and 4-blade bowls make grinding any ingredient a breeze, and the dishwasher-safe design ensures quick and easy cleanup. Plus, with its safe locking system, you can rest assured that your ingredients will stay put while you grind. Add this grinder to your kitchen arsenal today and experience the convenience of a high-quality electric spice grinder!


DR MILLS DM-7441 Electric Dried Spice and Coffee Grinder made with SUS304 Stainless Steel - Link
Looking for a powerful and reliable electric grinder that can handle all of your coffee grinding needs? Look no further than the DR MILLS DM-7441 Electric Dried Spice and Coffee Grinder! This machine is made with stainless steel construction and 150 watts of power, making it perfect for grinding up spices, nuts, grains, seeds, and more. The included brush makes cleaning quick and easy, and the lid features a viewing window so you can keep an eye on your grinding progress. Plus, the nonslip feet provide stability while you grind.


How to Choose a Coffee Grinder for Weed
When it comes to pulverizing marijuana into a finely ground weed, most people assume that you need some kind of lumbering $300-plus grinder. That's usually not the case: while some grinders beat out others when it comes to features and durability, if you know what to look for in a grinder, you can get a perfectly functional one for much less. That's why I'm writing this particular article- to help people make an informed decision when it comes to buying coffee grinders for weed.

There are many different kinds of grinders, but they all pretty much do the same thing: they cut up your herb into small bits so you can more easily burn them in a variety of ways. The most popular kind are simply called "twist" grinders, because all you have to do is twist the two halves apart with your fingers. These are available in almost any price range, from about $3 to upwards of $70.

Other types include electric grinders, which use electricity to spin metal or ceramic grinding surfaces; and stone grinders, which use small sharpened stones on the end of rods inside a chamber. They can literally be made out of anything- wood, plastic, metal... hell, you could even make one yourself with nothing but some twine and some sticks!
So if you're looking to get into grinding weed up, here's the important thing to know- look at the blades inside. A good grinder should have diamond shaped teeth in order to cut your herb up smoothly rather than just ripping it apart in chunks.

If the blades are round, you will be left with chunks of herb rather than finely ground weed, which means it's time to go shopping again. However, note that this is not always true- if you can find a good grinder for under ten bucks, chances are pretty high that the blade isn't diamond shaped. You might be able to get away with this for low-temperature vaporization or joints, but not for bongs or water pipes.
Here are some criteria for buying coffee grinders for weed:
Price
usually the cheapest grinders (under 10 bucks) use round blades, which will render your herb uneven and unsuitable for use with most pipes or bongs. You will need to spend upwards of $20 in order to get a good grinder with diamond-shaped blades.

Material
Aluminum, steel, plastic, wood... it can literally be made out of anything! For the most part I recommend staying away from wooden grinders because the blades are usually round, but if you find a wooden grinder with diamond-shaped blades for a decent price it might be worth looking into.
Teeth
I mentioned this before- grinders that have diamond shaped teeth will produce finely ground weed suitable for most pipes and bongs, whereas those with round teeth will not.
Number of Pieces
These come in two, three, four and any number of pieces. More parts means more things to lose or break, so depending on your preference go for a one-piece grinder, a 2-piece grinder, etc... But keep this in mind: grinders with fewer pieces have less chance of breaking down the road, but at the expense of ease of use.
Grinding Surface
Some grinders have smooth surfaces while others have textured ones. Textured surfaces grip your herb more firmly and make it easier to twist apart if you are grinding something sticky like hash or kief- which is why some people prefer these over smooth surface grinders. However, if you are grinding weed for use in a pipe or bong I recommend getting a smooth surface grinder to make sure the herb breaks down evenly.
Benefits of Electric Grinders for Weed
Hand grinders require a lot of gripping and twisting. Kief eventually builds up in the threads making the pieces stick. It will require more effort to open and close it. Plus, the sound can be grating on the ears.
Like we mentioned before, these manual grinders are no good for arthritic hands. There are no real benefits of manual grinding over automatic/electric grinding. You may as well let the grinder do the work.
By the way, a designated weed grinder is practically the same price as an electric coffee grinder.

For instance, the grinder below is the BANANA BROS Electric Smart Herb and Spice Grinder. It is designed for herbs, not coffee, but electric coffee grinders are made basically the same way.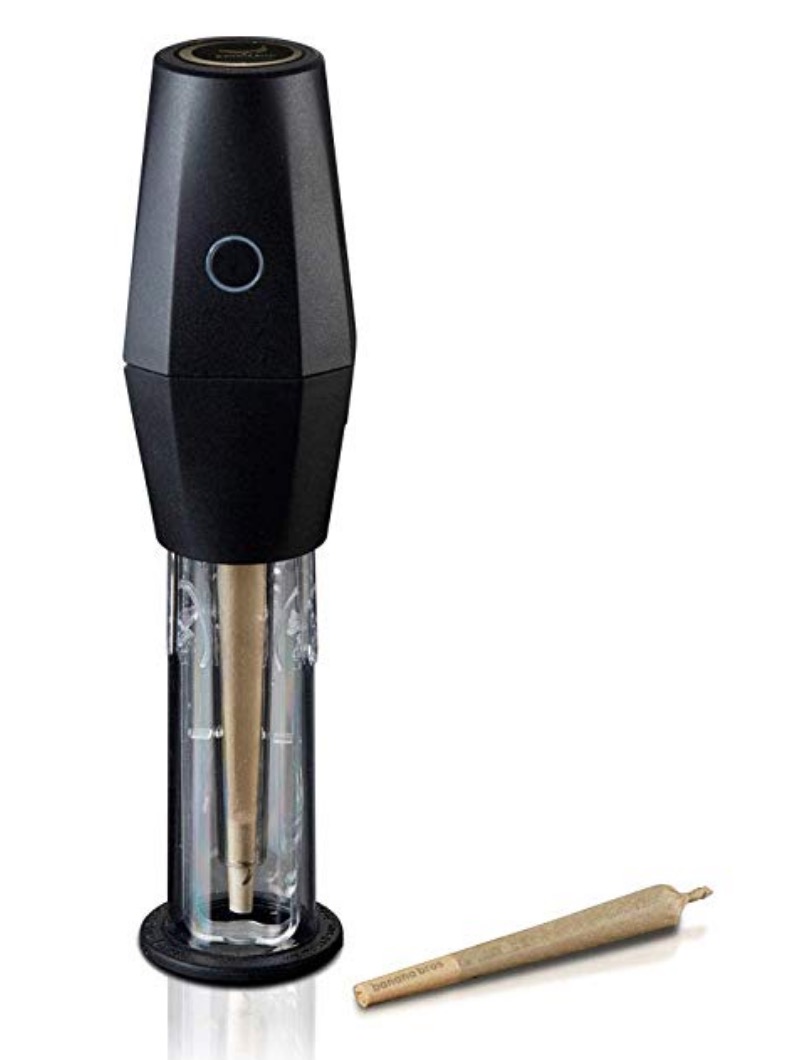 Also, there is really nothing around the house that does what a grinder can do. Blenders come close, but most of them are too big. The Bullet Pro does a good job, but it's not exactly cheap.

The reason coffee grinders are better is just due to a few things. There is a difference between blade and burr grinders, even with weed, as it turns out. So, watch out for the difference there.
For beginners to the world of grinding weed, some first time mistakes will be made. Things like not having a dedicated coffee grinder for kief, or accidentally making coffee with your weed grinder.
The worst case scenario is drinking a weird coffee / weed melange. Even that's not so bad. Some people have tried it and liked it.
There's no shame in it - some of us share a grinder with coffee beans and weed. It's not ideal, but it works.
That said, we totally recommend using a grinder just for your weed.
Use A Dedicated Kief Grinder for Weed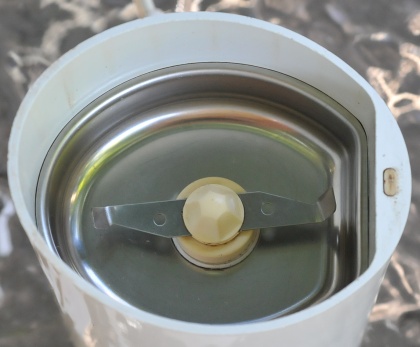 In short, if you're going to use a coffee grinder for kief, make it a dedicated one.
And if you're going to convert an already-used coffee grinder into a mini weed factory, then have the sense to clean it out beforehand-just trust us on this.
One easy way to clean the grinder between uses is with a paintbrush. Treat yourself to a real quality brush though, with synthetic bristles, not one from the dollar store. You'll want the softness of synthetic bristles to give a thorough cleaning.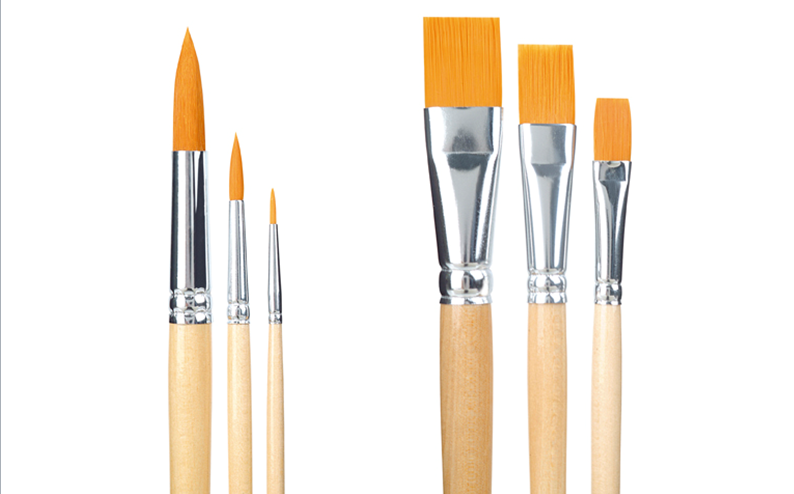 These are also less likely to fall out, as compared to natural bristle (made from animal hair) There were a few that I ran across that did the trick, with some honorable mentions.
The biggest surprise is how fine the kief is ground using a grinder like the Cuisinart DBM-8 Supreme Grind Automatic Burr Mill. This is one crazy strong grinder.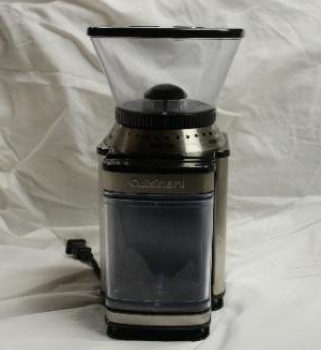 Cuisinart DBM-8 Supreme Grind Automatic Burr Mill
The Cuisinart in the wrong hands can be overkill, and a newbie could end up badly grinding away their entire stash and also destroying the machine, because it is a burr grinder, not a blade grinder.
The blade grinder slices the weed. It releases the kief from the rest of the plant. With a blade grinder, you're getting a crushing method. That method will crush the kief into the weed. You want to extract the crystal.
A burr grinder is a strong grinder that will absolutely pulverize your herb, so you have to be careful with the pulsing and grinding. You don't want to grind your stash down to dust.
The trick with grinding is getting just the right consistency for pieces of weed that are small enough to pack a bowl and burn evenly, or to cook in some oil/butter.
Mr Coffee Blade Grinder - Grinding Weed For Cheap!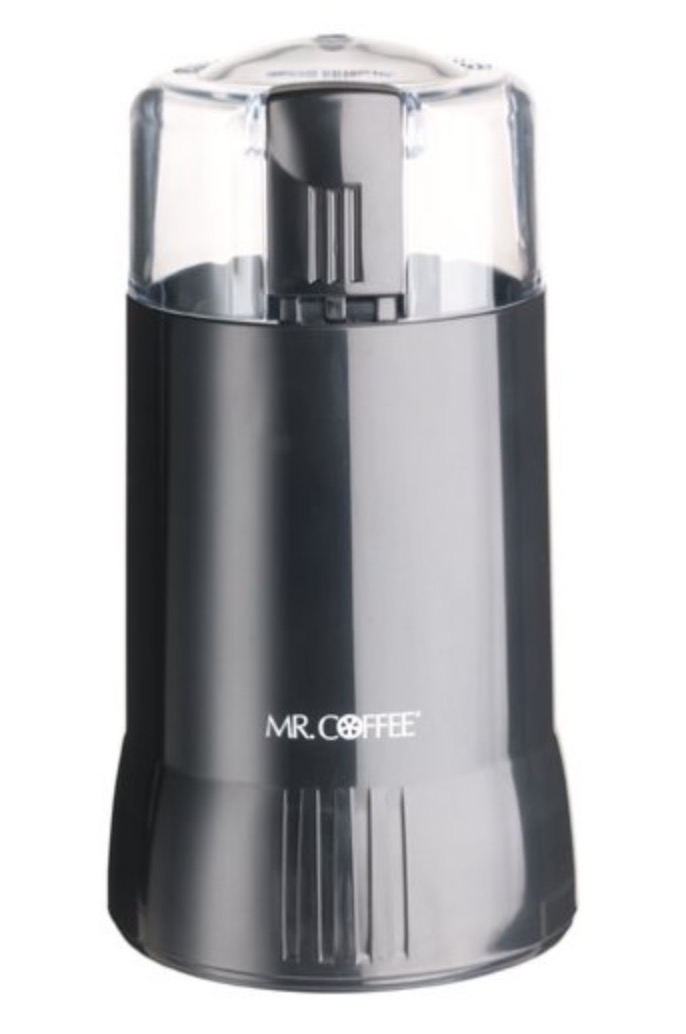 A smaller, portable, super affordable, and easy to clean coffee grinder like the Mr. Coffee coffee grinder is definitely one of my favorites for grinding pot.
As small as it is, the motor really kicks and the easy-to-use and safely secured lid makes this an ideal kief making machine.
Let's also not forget about its large grinding capacity (especially when talking about weed), which easily equals less time for you in the long run.
When it comes to the perfect size for grinding weed, as well as the power and of course the price, special mentions go out to the Magic Bullet and the Ninja.
As a longtime owner of the Ninja, I can attest that it can do everything a coffee grinder can do and more.
Only downside to these models is that because of the design of the units, with the razor sharp multi-blade setup, you're going to need to be extra careful or risk a trip to the emergency ward when trying to get that last bit of buildup.
In both cases, the blades are manually screwed on the top and go bottom down into the unit.
When unscrewing, the buildup will be easy enough to get at since it is a separate part of the unit. The overall usage with these models still takes patience and practice.
Blade Grinder vs. Burr Grinders for Weed

When it comes to grinding herb, the choice is pretty much up to the user, but one thing to look out for with burr grinders is you have to watch out for their grind settings, since burr grinders are often adjustable.
In case you missed what burrs actually are, it's these little rotating teeth that are used to chew up coffee beans, which can be done manually, or at higher speeds electrically.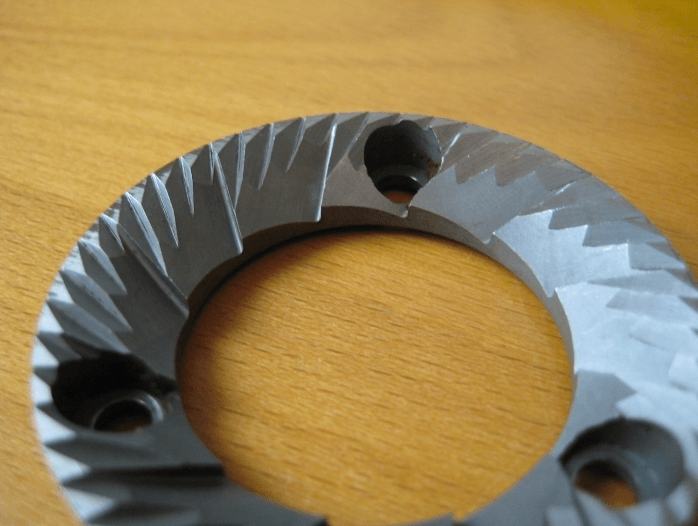 Rancilio Rocky Burrs Zero Point
In fact, unless you're feeling very experimental, you might want to just go with a blade grinder, due to the fact, that it's not as risky.
If you're looking for a finer grind, some burr grinders might do it, but it depends on so many factors, you might just end up ruining the machine.
One thing you certainly don't want to do is use your mom's super expensive burr coffee grinder which cost her $500 to try grinding weed, and then bunging up her machine.
For instance, if you see one of these Rocky grinders in your kitchen, maybe don't use that one.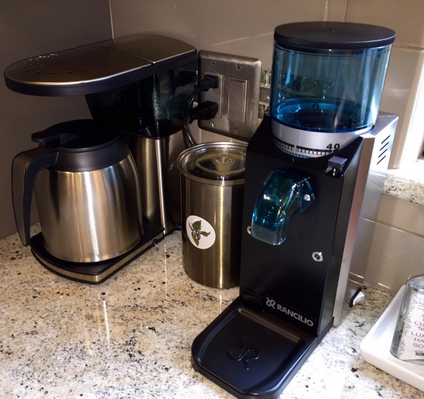 If you do use an expensive burr grinder, things can go south quick, both with mom and dad and the grinder itself.
This is because then the weed will be kinda stuck in the machine, and she'll give you a double whammy of a spanking for that - you broke her machine, and you're a pothead. Bad baby!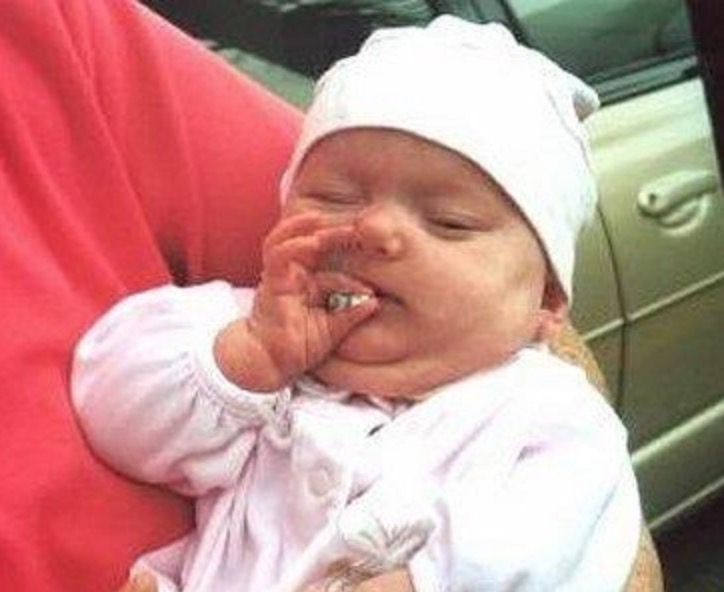 Bottom line with burr grinders - they aren't usually cheap, if they're electric, so proceed with caution.
With blade grinders, they are definitely cheap and fast when it comes to grinding for weed, but they are known not to last as long or be as consistent.
Big chunks are known to stick to the sides or even on the blades of some blade grinder units.
The best nomination for a coffee grinder that can make good kief is the KRUPS F203 but be prepared for some trial and error regardless.

Urban Myths
Fear not: you won't lose all of the good stuff to the blades - if you choose the right coffee grinder and removal method. This is a big myth. If you follow our instructions that we just gave - particularly the bit about cleaning with a paintbrush, you'll be fine.
Most smokers will keep their kief in a separate container and collect it over a period of time. Then they may use it to top bowls or make into other products.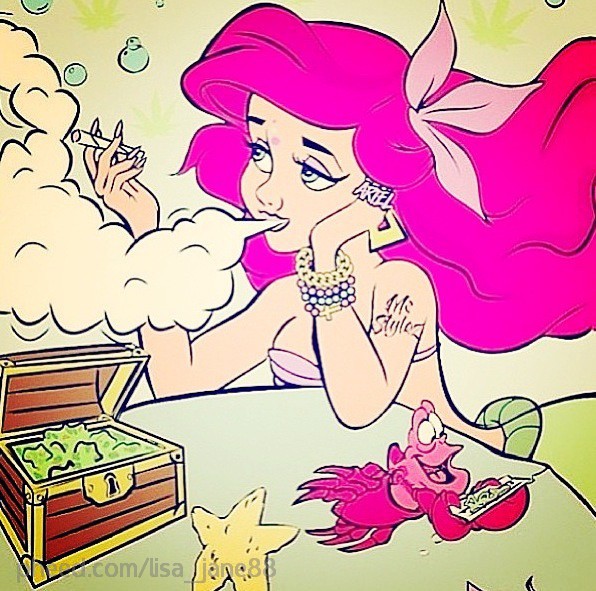 Here's a good myth we want to bust right now. Have you heard this one? There have been reported deaths by using weed in a coffee grinder.
Oh really, how?
Apparently, because the molecules leftover from the coffee beans mutate the weed, creating a nose irritant that will make your eyes bleed out if it comes in contact.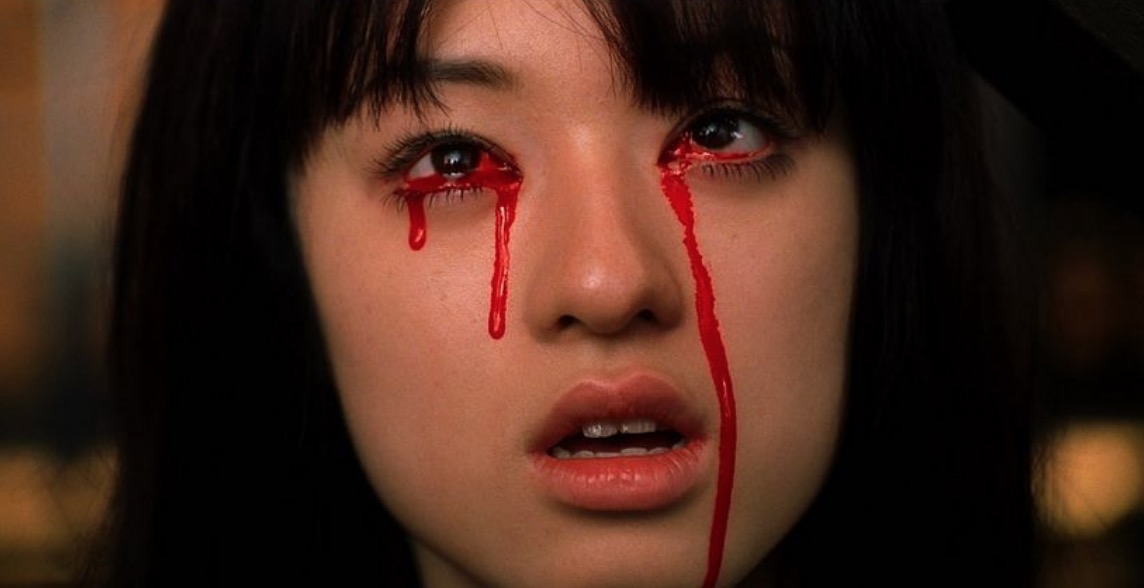 If you have any common sense you will recognize immediately that this much be an urban myth. Why are you reading this article? If you smoke pot you probably also love coffee. (They go so well together).
If you have a coffee grinder that you're wanting to use for weed, then the two substances have been in your system at the same time before, and it didn't kill you. The scent of coffee beans will not kill you, and neither will the scent of weed.
You're at more risk using butane lighters and inhaling that than you are in danger of inhaling the scents of coffee and weed at the same time.
Once again coffee grinders are more than an acceptable use for weed if the correct model and method is used. You won't die, don't worry, you'll just be very, very high. 😉

How to Use a Coffee Grinder For Weed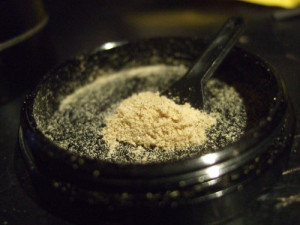 Pick out your model, and if used previously for coffee, caps, fraps, juicing or whatever-clean it thoroughly. You want a dedicated weed factory.
Add in your nugs, removing stems included with them if you don't have any other use for it. Keep in mind smaller nugs= smaller or no stems. Less work overall.
Make sure everything is in place and do your thing. The desired consistency is up to you, but the most important thing is to tap on the top and shake it a bit before opening!
If not, you could get a weed mist all up in your area, wasting valuable effort, time and money. Just for added measure tap it on a solid surface a few times before opening, just to be safe. And never, ever open up the grinder in the middle of grinding. The pieces will obviously go flying, and you will have wasted all of your weed. Keep it contained - wait until the blades have completely stopped.
Use a non-coarse method of getting out the kief, like a small toothbrush that isn't worn. This gets the most out without wasting valuable kief and leaves a good layer still for repeated use. A spoon can also be used as a secondary if no soft brush is available, but avoid using worn brushes as the resulting mixture will get caught up in the bristles.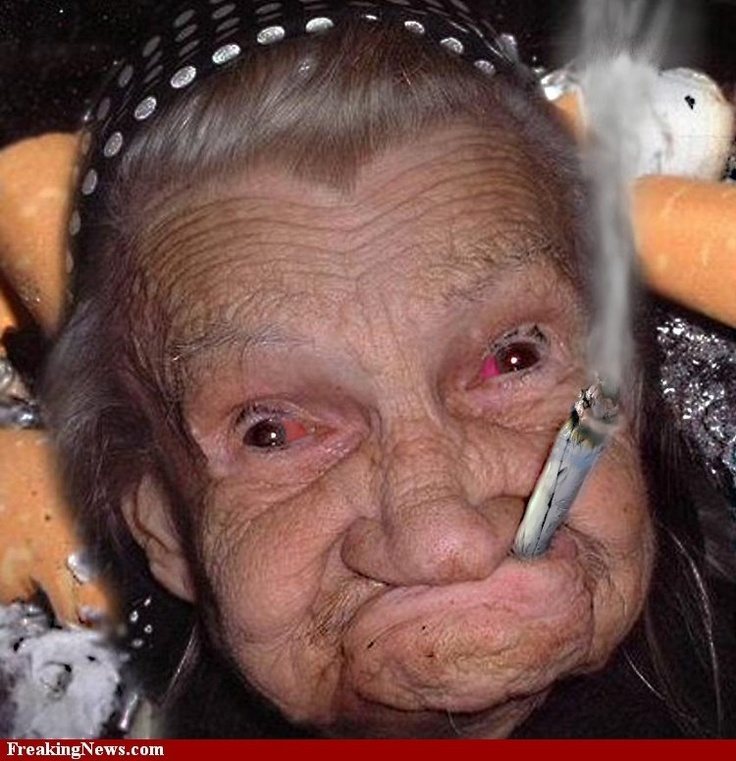 Buy on Walmart, eBay, or Etsy
KRUPS Silent Vortex Electric Grinder for Spice, Dry Herbs and Coffee, 12-Cups, Black - Walmart, Etsy, Ebay
Mueller HyperGrind Precision Electric Spice/Coffee Grinder Mill with Large Grinding - Walmart, Etsy, eBay
Breville BCG820BSS Smart Grinder Pro Coffee Bean Grinder, Brushed Stainless Steel Walmart, Etsy, eBay
SHARDOR Coffee Grinder Electric, Spice Grinder Electric, Herb Grinder, Grinder for Coffee - Walmart, Etsy, eBay
SHARDOR Coffee Grinder Electric, Herb Grinder, Spice Grinder Electric, Wet Grinder for - Walmart, Etsy, eBay
DR MILLS DM-7441 Electric Dried Spice and Coffee Grinder, Blade & cup made with SUS304 - Walmart, Etsy, eBay
SHARDOR Coffee Grinder Electric, Coffee Bean Grinder Electric, Herb Grinder, Nut Grain - Walmart, Etsy, eBay
Cordless Coffee Grinder Electric, DmofwHi USB Rechargeable 200W Spice Grinder Electric - Walmart, Etsy, Ebay
Keenstone Coffee Grinder, Electric Coffee Bean Grinder, Stainless Steel Spice Mill - Walmart, Etsy, eBay
Wirsh Coffee Grinder - Herb grinder with Stainless Steel Blades,Spice Grinder with 15 - Walmart, Etsy, eBay
Vamolan Coffee Grinder Electric, Unique-Design Coffee Bean Grinder with One Button - Walmart, Etsy, Ebay
The Staggering Conclusion
So, there you have it. How it's done plus some great coffee grinders that you have adopted as weed grinders for getting primo kief.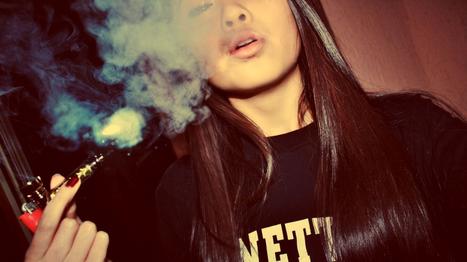 If you think we're on point, leave a comment and tell us. We love compliments. If something we said seemed wrong to you, also tell us.