Preparing a great cup of French press or pour over style coffee from the comfort of your own home has got to be one of the most pleasurable acts a person can take part in.
Maybe not the most pleasurable, because that would be collecting stamps, but its a close second for sure! 🙂
French press - not to mention pour over methods like Chemex and Aeropress - is one of the simplest and best-tasting ways to prepare coffee, not to mention the most cost effective!
You can easily save a hundred dollars a month by not buying coffee or specialty drinks at Starbucks every single day.
Doing that really adds up, as you may be aware!
Besides being great for French Press and pour over coffee, these coffee kettles are extremely multi-purpose, and they're also great for making anything from tea, to soup, to anything else that needs water heated up promptly.
If there's one thing that you need to have in order to make that French Press or pour over coffee perfectly at home, its having the best electric coffee kettle for the job.
The Demand for Top Electric Coffee Kettles
The beauty of preparing coffees of different origins at home using a wide array of methods is undeniable.
Ordering a cup of coffee in a cozy café is surely one of the most relaxing and gratifying moments in every coffee lover's day, but manually preparing your own fresh and hot cup of coffee with love and enthusiasm can be even more satisfying and fill you with a sense of pride at the same time.
The idea that you can control every step of the brewing process and make a perfect cup of coffee according to your specific desires and preferences has been the main reason why many people have turned to manual coffee-making methods.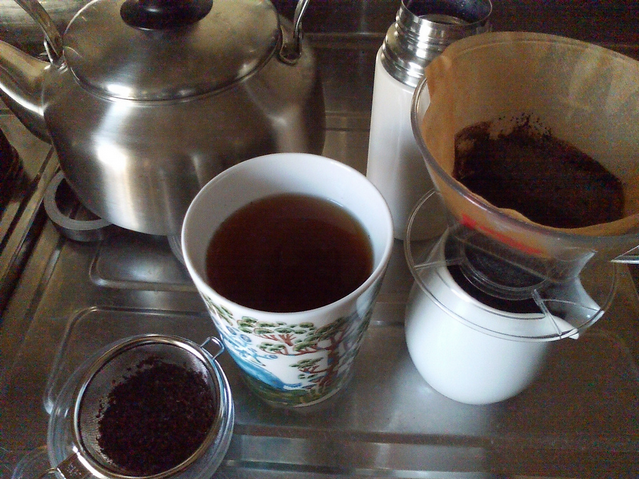 To do this successfully, you need to have the right pour-over brewing devices. One of the most important devices for manual coffee making is the kettle. As the craze for this type of coffee method grows, so does the demand for a best electric coffee kettle that will meet the needs of the coffee makers who brew from home and those of the busy barista looking for more effective methods in their place of work.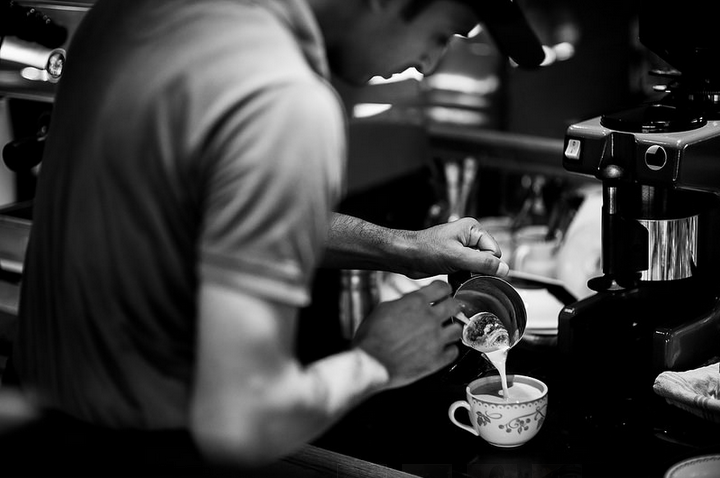 For that purpose, we present you with:
#1 - Cuisinart PerfecTemp

One of the best electric coffee kettles for any type of pour-over method at home is the Cuisinart PerfecTemp, which you can generally find online for under $100.
In order to prepare a French press style cup of coffee, or any type of pour-over coffee method such as Aeropress or Chemex, you're going to need hot water (but not too hot!), and this is definitely one of the best electric coffee kettles to get that done quickly and efficiently, backed up with 1500 watts of cordless power.
Whether you're brewing before work in the morning, or on a lazy afternoon at home, the Cuisinart helps you boil your water in no time to get that delicious cup of coffee or tea anytime anywhere.
The Cuisinart PerfecTemp is quite pleasing to the eye aesthetically and can blend in with almost any style of decor. Use it at home? Sure. The office? Of course. The dorm? Yes. On a sailboat? Most definitely.
Features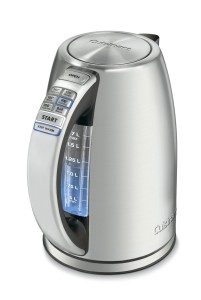 One of the great features of the Cuisinart PerfecTemp is the Keep Warm feature , which is actually a great way to save time.
There are 6 pre-set temperatures you can choose, and at the push of a button this stainless steel electric coffee kettle will keep water at a steady temperature for up to 30 minutes, which is enough time to have a shower, pack the kids' lunches, and put cream cheese on a toasted bagel, then pour yourself some French Press coffee just in time to hit the road.
In addition, the Cuisinart has 2-minute memory function, which means that it will still work for 2 more minutes upon removal from the power base. It is a decent-sized kettle, at around 10″ x 6″ x 9″, which means if can be stored away if necessary or displayed proudly on the counter.
Its capacity is 1.7 liters and it has a blue backlit water window.

Before too long, you'll be able to brew perfect at-home pour-over coffee using the Cuisinart PerfecTemp.
The reviews so far for the PerfecTemp are overwhelmingly favorable, clearly indicating that this is definitely one of the best electric coffee kettles available right now.
In fact, a few people have reported getting at least 5 years out of this machine, which is a pretty good deal for the price.
Watch this video for more information on the Cuisinart PerfecTemp.
#2 - Bonavita 1-Liter Variable Temperature Electric Kettle
This Bonavita 1-Liter Electric Kettle features a little something different here from the last kettle, and that is the gooseneck spout, which gives it the ability to pour with utmost precision.
Pouring control, of course, is very important to pourover coffee-making, and that is the area where the Bonavita excels.
With its longer narrow spout with a specifically designed pour-control opening at the end, we are pleased to say that this particular electric kettle is absolutely amazing when it comes to adding hot water to your coffee grinds.
As a novice home brew person, you might, at first, underestimate this advantage, but believe us, it really makes a huge difference.
Here's a Crew video review about the Bonavita 1-Liter Variable Temperature Electric Kettle so that you can see it in action…
Bonavita Temperature Control
One big thing that has customers singing the praises of this gooseneck coffee kettle is the fact that you can not only set the kettle to boil for a specific temperature, but you can also have that temperature hold for a period of time if you need to grind your coffee or do some other task in the meantime. This feature puts this kettle ahead of other products by competing brands.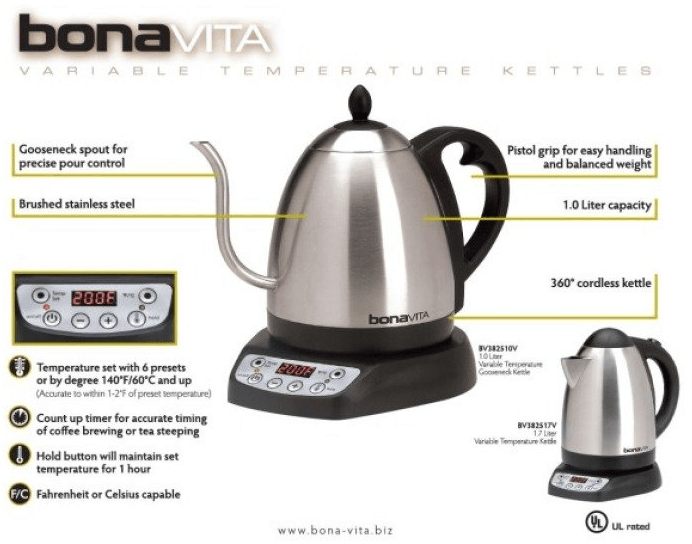 You want an electric coffee kettle that looks good in your kitchen? You can't really do much better than this particular model.
This Bonavita kettle has a very cool (do people still use this word?) appearance that is both classic and modern at once - in other words, a timeless look.
Everything about the design-work here has been done with the user in mind, from the easy-to-use controls, to the ergonomic handle, to the spout, to the easy-to-grab lid handle.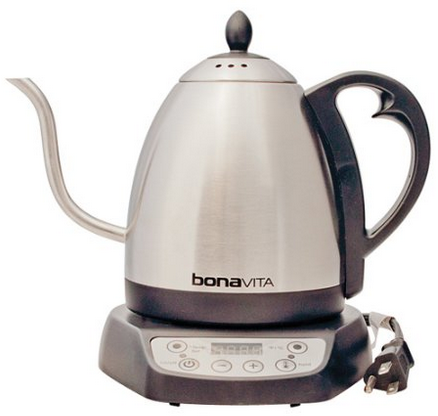 Aside from the design of this electric coffee kettle, you get a number of great features, including:
Quick heating courtesy of 1000 watt heating element
LED water temperature display in real time
Brew tracking with count-up timer
Temperature holding up to 60 minutes
6 pre-set temperatures for added convenience
1-year warranty and UL certified
Accurate temperature to within 1 degree
#3 - Chef's Choice 681 Cordless Electric Kettle
Another great electric coffee kettle which is most definitely a top choice of ours is the Chef's Choice 681 Cordless Electric Kettle, for reasons that will become obvious very shortly.

This brushed stainless-steel cordless coffee kettle is a real workhorse, while it also doubles as a lovely serving kettle which is perfect for elegant dining occasions.
It has a convenient push-button lid operation makes for easy filling and pouring, which comes in handy in busy serving situations.
Hence, we think that the Chef's Choice is very aptly named, as chefs can depend on this unit to perform in a high-pressure environment time after time.
The many reviews once again prove that this coffee kettle is indeed a winner, with the overwhelming majority of people saying mostly good things about it.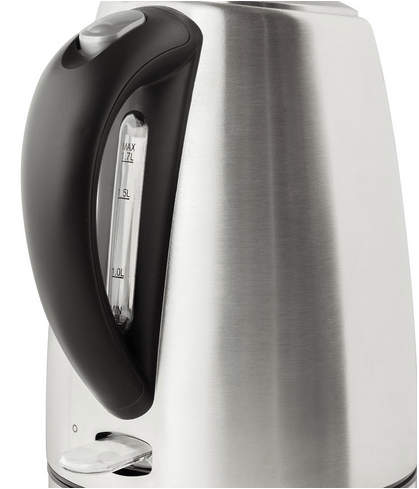 In terms of home use, another key feature of this electric coffee kettle includes the water level gauge that is built right into the handle, so that you can make sure you haven't forgotten to add the water before turning it on when you find yourself rushing around in the morning.
Working hand in hand with that feature is the seldom seen but extremely handy boil-dry shut-off protection feature (the Cuisinart PerfecTemp also shares this feature), which gives this kettle added safety in case you turn it on without water, or leave it running for too long.
Here's a quick video which really shows off some of the features of the Chef's Choice Electric Kettle.
Another reason this is one of the best electric coffee kettles is due to its cleverly concealed heating element that is never in contact with the water. This way, it prevents any objectionable mineral deposits from building up that would adversely affect the flavor of the coffee.
With it's safe, cool-touch base, the Chef's Choice works just as good at home as it does in a work situation, and no matter what its being used for, its up to the task.
So, if you need an electric coffee kettle that can do it all and then some, the Chef's Choice may just be for you at under fifty dollars (depending where you shop).

#4 - Hamilton Beach 40870 10-Cup Kettle

Our fourth coffee kettle which we highly recommend for home use is the Hamilton Beach 40870 10-Cup Electric Coffee Kettle, which is one of the most affordable of them all at under $30 in 2016, depending on where you buy.
This great coffee kettle easily makes our top picks, because of its whopping 1500 watts of power, which beats some of the others in terms of how fast it can heat your water up, which means saving time.
Here have a stylish, well-made workhorse of a coffee kettle that looks good just about anywhere, albeit different-looking than the others with its more rounded shape, and with a few different color choices to choose from, such as their stunning red model, not to mention steel and silver.
The Hamilton Beach 40870 Electric Coffee Kettle, with its stainless steel exterior and appealing black curves, can just as easily be used by professionals as it can by home users, and has the added advantage of being cordless so you can serve like a true pro, whether at home or in a professional setting.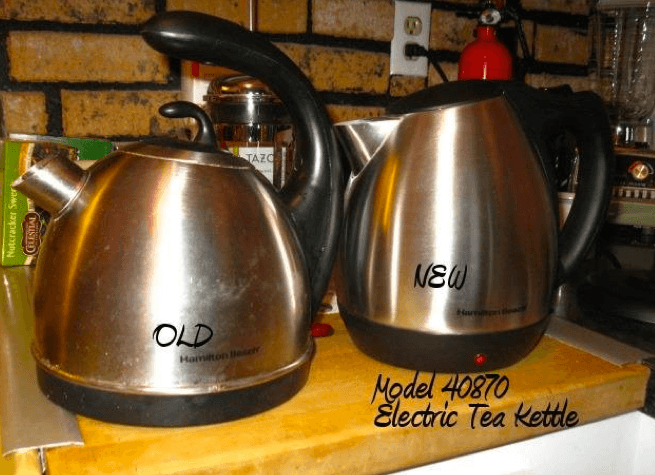 It has a number of great features, as you might expect from a top kettle - many of which are shared by our other recommended coffee kettles, including boil-dry protection, a water level window in the back, a stay-cool handle with cordless operation, a concealed heating element, and more.
Here's a useful video about the Hamilton Beach 40870 which will give you a closer look at this great coffee kettle.
The bottom line, we think, is that thousands of users have given this great coffee & tea kettle its well-deserved praise, which goes to show that this kettle is indeed well-qualified for our list of preferred coffee kettles right here.