In our ceaseless quest for quality, value and the best burr grinder ever produced, we test out hundreds of products, so you don't have to. Today it was the turn of the Breville BCG450XL to be put through its paces.

The Breville Name Carries Weight
Coming from reputable stock, the Breville family is, of course, well known to us already. We trust them with coffee, of course, but also our toasters and, famously, our toasted sandwich makers.
Can Breville balance the demanding task of toasting our sandwiches as well as grinding our coffee beans to perfection? Such are the demands we ask of Breville as a company.
QUICK STATS
PRICE: AROUND $150
DIMENSIONS: 4.5 X 7 X 11.2 INCHES
SHIPPING WEIGHT: 4.4 LBS
MODEL NO: BCG450XL
MANUFACTURER: BREVILLE
REMOVABLE BEAN HOPPER: YES
BEAN HOPPER CAPACITY: UP TO ½ POUND (230 GRAMS)
WARRANTY: ONE YEAR
KNOW YOUR GRINDER RATING: 4 STARS OUT OF FIVE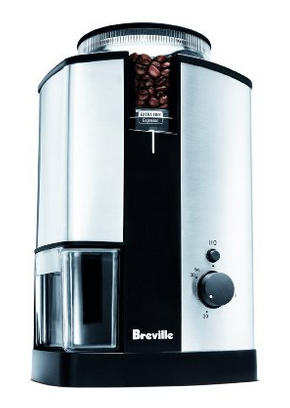 Our Review
The Breville family is well known to most of us coffee fans already.
They are well known to make a wide array of kitchen products, from coffee grinders to, famously, their toasted sandwich makers.
They have several models of grinder on the market at this point, each with its own distinctive touch.
Today we are going to look at the Breville BCG450XL Conical Burr Grinder, which is a home unit with a number of attractive features that we will get to presently.
We hope you find this review helpful!

Solid and Well-Made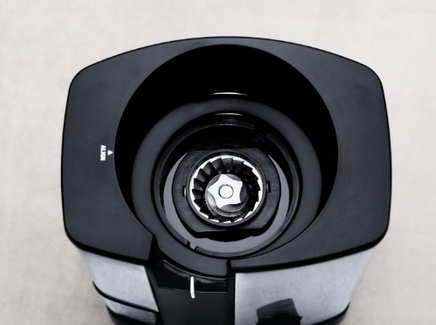 Beginning with the brawn, this bean grinder seems solidly constructed and as if it can take on all comers. With its shiny stainless steel exterior it looks modern and shiny and will fit sleekly in your kitchen.
However, it is what is going on underneath the bonnet, so to speak, which matters the most.
So, how well does it grind our coffee beans?
The good news is here, that this is a pretty good grinder. It produces a decent consistency of grounds and ultimately does what it says on the tin. Even reviews which mention its other shortcomings (we'll get to them later!) concede that it does indeed make a decent job of this one, most important thing. Ultimately, a lot can be forgiven in a coffee grinder if it can accomplish its sole raison d'etre in life.
Performance Highlights
Other highlights of its performance are that it is a lot quieter than - ahem- some coffee grinders are. Of course this is not to say that there is no noise at all. Some people will always complain about any noise, no matter how slight (we've all had that neighbor).
Unfortunately, grinding coffee beans is, by its very nature, never going to be a completely silent task, but when the caffeine locomotive steams through your kitchen area, it shouldn't be stopping there too long.
Espresso Grinder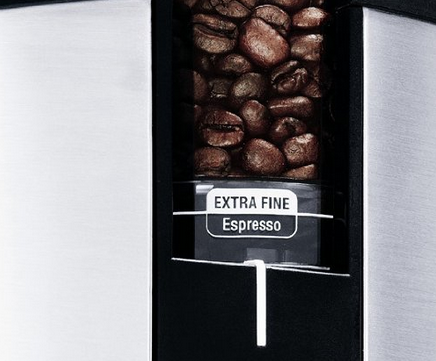 Two more highlights of the Breville BCG450XL Conical Burr Grinder are that it is notoriously great at grinding extra fine for espresso, due in part to its excellent of conical steel burrs.
Conical burr grinders are, in fact, the grinder of choice by the vast majority of professional baristas.
This makes it the perfect companion to many an espresso machine that you might get a hold of, from those costing around $200 to those costing anywhere up to $1000.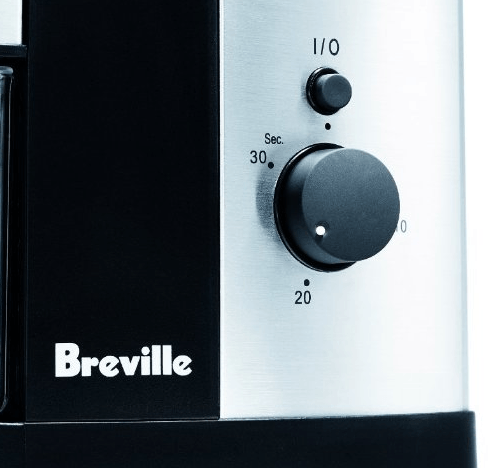 Breville Conical Burr Grinder Bcg450xl
Another plus is that the Breville BCG450XL is known to get less static build up than on some other coffee grinders, which can result in grinds clinging to your grinder and causing quite the mess - but not in this case.
You will also find that this is a very easy machine to use.
There is basically one dial you need get to know, and its there for your convenience in order to allow you to time out your grind better.
Quieter Than Your Average Coffee Grinder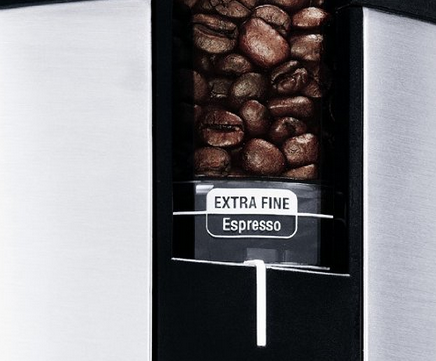 All in all, this is probably one of the quieter grinders on the market, so if you - or your room mates or neighbors are light sleepers, this will score highly on the checklist for you.
Other positive attributes have been less static build up than on some other coffee grinders, resulting in grinds clinging to the machine. It is also fairly easy and straightforward to use. You do not have to be some massive coffee don to use this machine, nor have a degree in engineering to operate it.
But…There's Always A But!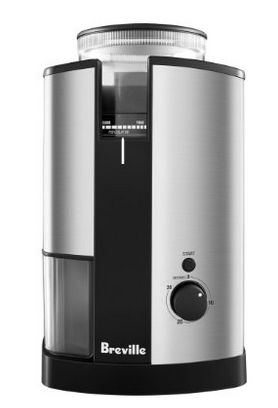 As you have been reading this, you may have felt a "but" building up. Here it comes!
But!
The first major issue some users have had is with the timer on this grinder. It only allows for 30 second grinds, which quite a few of you feel is not long enough. Of course, you can set it again, but it does detract a bit from the whole point of a timer in the first place.
The second is that the grinder is kind of messy and grinds spill out everywhere requiring a lot of tidy up time. Ultimately, whether this is an issue for you is really down to how much patience you have and how much things getting messed up bothers you.
Thirdly, some people and here I do repeat only some people, do not feel that this machine produces a grind fine enough for espresso. If you are hugely precious about your espresso, this may be something to bear in mind. To be honest, if you are that persnickety about your espresso grinds, you probably aren't considering a grinder in this price range anyway, even though most customers - including espresso lovers - think the grinds are just fine.
The last issue is a technical one regarding the power switch. It is reportedly behind a very small proportion of some of the units malfunctioning. It should be stressed that this usually only happens after a lot of use has occurred and only in a relatively low number of cases.
BREVILLE BURR GRINDER REVIEW - CRUNCH TIME
So it has its issues, but so do most appliances. It is not the cheapest grinder out there, but is reasonably priced for a burr grinder. It definitely has its critics too. It may not be the best burr grinder ever or even in its price range.
But similarly, it is also not the worst one either by far. The most important thing is that the consistency and texture of the grinds produced by this machine were very good. Nearly everyone who has reviewed it has been impressed by this point.
The other issues are debatable. Its longevity is under question. Some users have reported a sudden and untimely death after about twelve months, others that it is still grinding on a goodly number of years later. It is possibly a bit messy (not the worst thing in the world) and may have some technical issues too.
All in all this is a fairly decent grinder that is worth the price tag it comes with, as long as you aren't expecting it to live forever. This burr grinder review scores it 4 out of five, due to our own experiences with this grinder (not to take anything away from the people who had qualms - we're sure they're quite valid).
BEST BURR GRINDER? WE ASK THE PUBLIC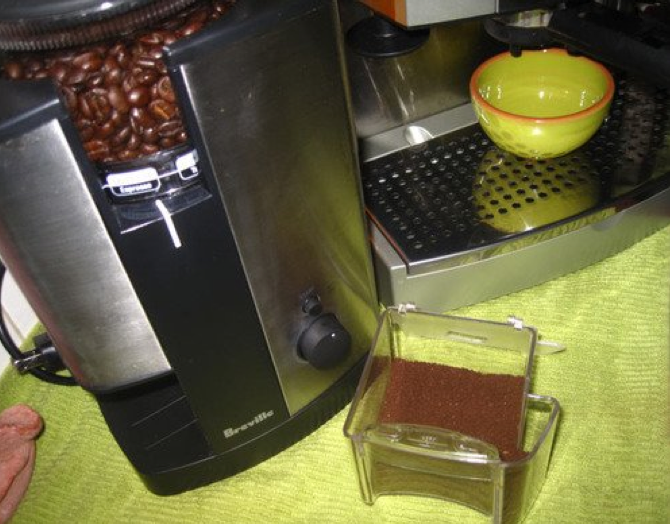 "This grinds really well, if a little messily."
"Nice and quiet and grinds the beans fantastically. Good for the price."
"The timer is pretty useless, but apart from that it has been okay."
"This was a wedding present and one or two small issues aside has been going strong for three years now."
Pros
It's quiet
No static - or not much
Easy to use
Good quality grind consistency
Cons
The timer isn't long enough for some grinds
Is a bit messy requiring a lot of cleaning
Some people don't think the espresso grind is good enough - but they aren't the majority
The power switch may have 'issues'
Overall
The Breville BCG450XL Conical Burr Grinder is well made, adjustable, and has the kind of burrs that we like to see on any decent coffee grinder.
For the asking price, we think this is a great grinder that a home user can get a lot of use out of.
That said, there are superior grinders to this one, although they cost a bit (or a lot) more.
Some users have griped about its espresso grind capabilities, but this opinion changes from user to user, so you may wish to read a few of the reviews for this grinder over on Amazon.