Most coffee enthusiasts will already know that you can buy green, fresh coffee beans which you can roast to your taste at your home.
Roasting fresh green beans at home allows you to create your very own custom blend, based on a combo of your favorite beans and preferred roast.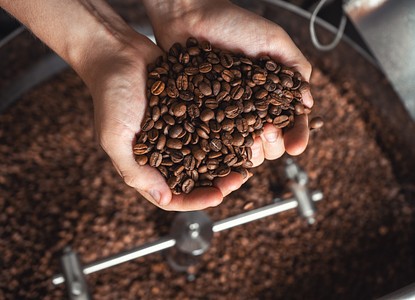 Roasting your own coffee can also save you some money – at least in theory.
Unfortunately, purpose-built coffee roasters usually start at about $250 and quickly climb into the thousands. Yes, this means you can spend a lot of potential savings pretty quickly by purchasing expensive roasting machinery.
But the good news is that you can begin roasting with equipment you may already own.
And you don't need an industrial grade coffee roasting machine to perfect your roast. You can do the job on a much smaller scale in your own home, using a popcorn popper. Yes, that's right. You can use your popcorn popper to home-roast green coffee beans.
Barton Stovetop Popcorn Maker Pop

Discontinued By Manufacturer Zippy Pop Stovetop Popcorn Popper With Glass (…)

West Bend 8231 Stir Crazy Deluxe Electric Hot Oil Popcorn (…)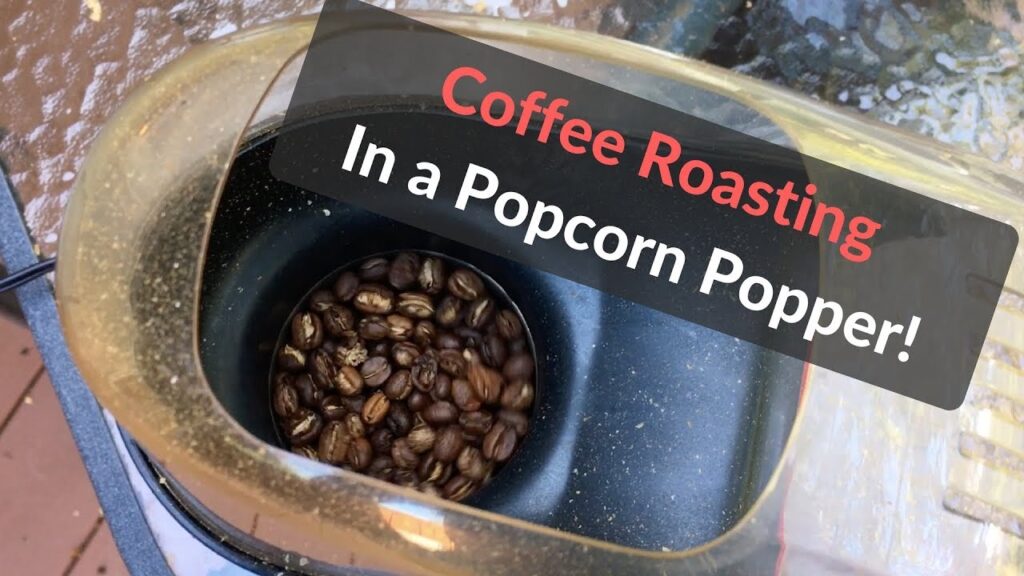 Using a popcorn popper to roast the beans allows you complete control over the roast. You can roast your beans as dark or as light as you like! And the kit you need is relatively inexpensive and very easy to source.
There are many brands of popcorn poppers on the market, but unfortunately not all are designed to roast coffee. First, most popcorn poppers are not designed to get hot enough to roast coffee. When buying a popcorn popper, you need to search for the one that can generate enough heat to roast coffee.
When selected and used properly your hot air roaster will roast many batches of coffee.
Now, as usual, we have your back when it comes to choosing a suitable popcorn popper for roasting coffee.
We've taken time out to review some of the best popcorn poppers that can be used for roasting coffee at home. We review two types of popcorn poppers that can be used for roasting coffee – stovetop and hot air models.
We'll start with stovetop models. These popcorn poppers are great for roasting coffee because you can use your stove to precisely control the temperature needed for your roast. Unfortunately, these models also require you to manually stir your beans.
Wabash Valley Farms Stovetop Popcorn Popper
Wabash Valley Farms Stovetop Popcorn Popper
The Wabash Valley Farm's popcorn popper is Amazon's choice and one of their best-sellers. It's great for roasting coffee too!
It's easy to use and makes the best popcorn. The unit is very easy to clean, which is a big plus.
The popper is lightweight and easy to move around. The Wabash Valley Farm's popcorn popper is made from stainless steel, rather than aluminum. That means that the beans will heat more quickly and evenly than in other roasters.
This popcorn popper allows you to roast up to 1.5-pounds of green coffee beans per batch. Because it is a stovetop model, you can precisely adjust the heat needed for the perfect batch.
Once you finish roasting your coffee, you can brew it immediately but it is best if you allow the coffee to rest for at least 12 hours. The first couple of hours after roasting the coffee will be off gassing and it's best to leave the coffee in a container that allows it to breathe.
After few hours, you can store your coffee into an airtight container until you're ready to use it.
Pros
Well-made stirring handle is comfortable to use.
The lid is tight and won't come open mid-roast.
Cons
The lid is not transparent – you can't see through it to monitor your roast
You need to manually stir the pot during roasting continually.

Zippy Pop Stovetop Popcorn Popper
Zippy Pop Stovetop Popcorn Popper
The Zippy Pop popcorn popper is sturdy and well-made from non-stick aluminum. The unique tumbling mechanism means that the beans are continually rotated, ensuring an even roast.
Vented, tempered glass lid with crank handle allows for easy viewing and mixing. You can easily monitor the progress of your roast.
The Zippy Pop popcorn popper is easy to clean and dishwasher safe.
Pros
The stove-top design allows you to accurately control the temperature of your roast.
The non-stick surface makes clean-up quick and easy.
The glass lid allows you to monitor your roast throughout the process.
Cons
The stirring blades don't fully reach the edge of the pot – this can leave some beans unstirred.
Next, we move onto hot air popcorn poppers!
These devices are relatively inexpensive to buy, and you don't need to stand and stir the coffee continuously during the roasting process, as you do with stovetop poppers.
Aircrazy
West Bend Popcorn Popper
The fact that West Bend Corn Popper uses only hot air and no oil makes it perfect for the both corn-popping good times and coffee roasting
The West Bend 82416 Air Crazy 3.5 Quart Corn Popper is 1040 watts, which is more than enough to pop the corn and apparently enough to roast the coffee beans.
This corn popper is powerful enough to achieve a nice dark roast which you can easily grind afterwards.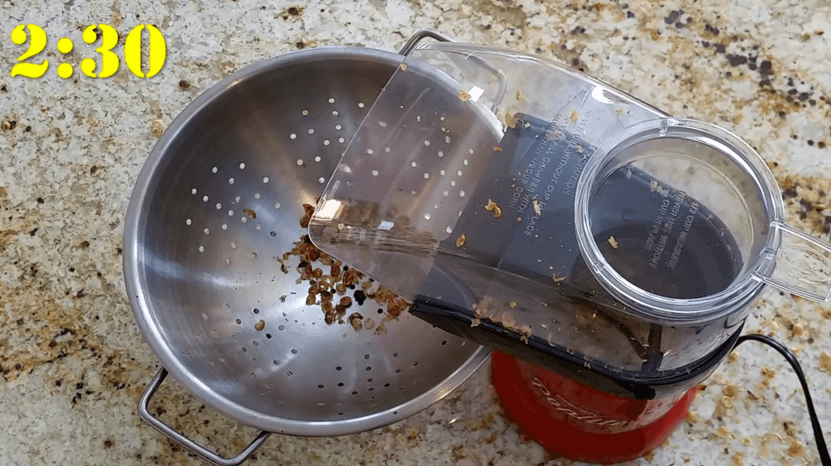 The lid has a curved opening on the front as well on the top – here we put either corn or coffee beans. There is an indicator On-Off button on the right side of the West Bend.
The West Bend is really an inexpensive machine that will both serve you for corn popping and for coffee roasting.
Pros
Great price
1040 watts – just enough to roast coffee
Doesn't require manual stirring
Cons
Build quality could be better
The plastic sides get very hot
Here is a video of this popcorn popper in action: