Do you feel a little bit sad every time you end up pouring coffee you didn't drink straight down the drain? 
There's really no need to waste coffee – just get yourself one of the best single serve coffee makers and brew one cup at a time!  
When you need a single serve coffee maker, you've got some different options.
Let's run those down, so you can choose the one that's best for you.
| How it looks | Name | Price | Buy Now |
| --- | --- | --- | --- |
| | BLACK & DECKER DCM18S BREW 'N GO | $ | |
| | HAMILTON BEACH 49981A | $ | |
| | KEURIG K45 ELITE BREWING SYSTEM | $ | |
| | BUNN MY CAFÉ MCU | $$$ | |
| | NESPRESSO VERTUOLINE | $$ | |
K-cups or pods make it easy and mess-free to brew a single cup. There's no need to grind your coffee or worry about buying ground coffee.
It's prepackaged, easily available, and quick for a small cup of your favorite coffee. These can get expensive, and do generate more waste.
Certain electric coffee makers rely upon your favorite ground coffee to prepare your single cup. Single serve machines such as this typically include a reusable filter.
These pots may offer more versatility in cup size. These take a bit more work, and you will need to have ground coffee available and do a bit of clean up.
Manual coffee makers include the French Press and various similar plunge-style coffee makers. The pot holds ground coffee (in most cases) and hot water, but doesn't heat the water.
You'll manually push a plunger down to push the coffee through the pot and into your cup. These produce some of the best coffee, but take more work.
Today we look at many of our favorites of the single serve variety – the Bunn My Café, the Bella One Scoop, the Black & Decker DCM18S Brew 'N Go, the Caféjo My French Press, the Hamilton Beach The Scoop, the Keurig K45, the Nespresso Vertuoline, and the Touch T526S!
So, without further delay, here are our choices for the 5 best single serve coffee makers!
---
BUNN MY CAFÉ MCU
MAIN FEATURES:
4-14 OUNCE SERVINGS

10.5 POUNDS WEIGHT

10.1 X 7.2 X 12.1 INCHES

COMES WITH SCOOP, SAMPLE COFFEE PACKS

SPACE SAVER

4 DIFFERENT BREWING TRAYS

MAKES K CUPS IN THE BREWER
The great thing about this machine is its versatility. Make tea, coffee, hot chocolate in no time flat.
Use tea bags, or pods, ground coffee, loose tea and K cups – this machine is versatile, and gives you exactly what you want in under a minute!
The size of the beverage is adjustable and can be used with travel mugs.
This could be ideal for a workplace where everyone likes to have something different and no one wants to spend ages away from their desks on fussy preparation time.
It could also be equally ideal for home, particularly if you live alone or do not live with another coffee addict!  
This is one of the most popular single cup coffee makers currently, and our research shows that the majority of reviews out there are 4 or 5 STARS!
Watch this quick video review of the BUNN MCU to get a closer look.
Click to read our full review of the Bunn MCU
---
THE BELLA ONE SCOOP
MAIN FEATURES:
14 OUNCE

5.91 x 9.45 x 11.02

FUN AND COLORFUL
The Bella One Scoop brews a 14-ounce mug of your favorite ground coffee. There's no need for pods or K-cups. The included, reusable filter basket lets you add your ground coffee.
The drip tray adjusts up and down to accommodate different cups and limit mess or overspray from your coffee maker.
In addition, this lets the Bella One Scoop handle your ceramic mugs or travel mugs with ease.
The filter basket and filter are dishwasher safe, and the Bella One Scoop is available in a variety of different colors to match your kitchen.
With a low price tag and small footprint, this little single serve coffee maker is also a good choice for the office, dorm or RV.
Watch this video review to see the Bella One Scoop in action.
Click to read our full review of the Bella One Scoop
---
BLACK & DECKER DCM18S BREW 'N GO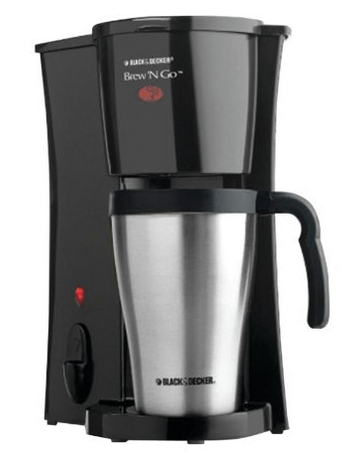 MAIN FEATURES:
15 OUNCE CAPACITY

6.81 X 6.81 X 10.31 INCHES

2.5 POUNDS APPROX

DISHWASHER SAFE

COST EFFECTIVE
Taking both grounds and pods, this is the ultimate solo traveler's own personal brew system for caffeination on the go.
This brews your coffee actually in the cup (which has a 15 ounce capacity or roughly, two normal cup sizes).
The steel travel mug is included and fits most standard car drinks holders.
Don't want to be scalded by coffee the temperature of molten lava?  You can adjust the point at which the temperature switches off easily.
The insulated travel mug then of course keeps the beverage heated to this point for many hours to come.
There is a permanent filter fitted, so there are no messy paper filters to deal with and the mug, filter, filter basket and lid are all dishwasher safe.
This is definitely one our top choices for solo pod brewers + travel mug combo out there.
Here's a short video review of the Black & Decker Brew N Go to see it in action.
Click to read our full review of the Black & Decker Brew N Go
---
CAFEJO MY FRENCH PRESS SINGLE CUP BREWER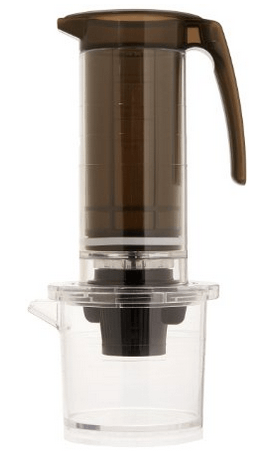 MAIN FEATURES:
K-CUP ADAPTER

 4.6 X 4.6 X 10.5 INCHES

LIGHT WEIGHT


MANUAL

MICROWAVE AND DISHWASHER SAFE

BPA FREE
French press without the mess with these manual single cup coffee makers!
Now you can make nice and easy French press coffee when out and about without needing to use grounds – although you still can do if you want to.
This takes pods and can use K cups and is totally microwavable as well as dishwasher friendly.
Basically it can be used in all sorts of situations including camping, or simply being out and about.
Light and portable and easy to use, perhaps this isn't going to win any awards for design aesthetics but it works and does the job it says on this tin. And it makes great coffee!
Can also be used to brew far more beverages including, but not exclusively, tea, cider and hot chocolate and more besides.
The versatility of this and the low price make it a great buy for anyone who hasn't got a lot of money to spend and wants a variety of drinks in a variety of places.
Cafejo boast that they are the only ones to make a French press that can do pods, K cups and grounds all in one single cup system.
One of the better single cup coffee makers out there, despite the perfunctory appearance.  Sometimes functional can be good, y'know!
Here's a video review of the Cafejo doing its thing.  Take a look!
Click to read our full review of the Caféjo My French Press
---
HAMILTON BEACH THE SCOOP
MAIN FEATURES:
8 OUNCE TO 14 OUNCE CAPACITY

8.67 H x  6.7 W x  8.35 D

SLEEK, MODERN AND EASY-TO-USE
The Scoop offers an alternative to the ubiquitous K-cup brewer.
This simple-to-use single serve coffee maker relies upon your own coffee grounds and can brew a standard 8-ounce cup or a 14-ounce travel mug (included with the coffee maker). 
Using your own grounds can produce a better quality cup of coffee at a more affordable price.
Hamilton Beach's included filter cup has two line markings, one for 8 ounces and one for 14 ounces.
Simply scoop to fill the filter cup and add water. You'll add just enough water for the cup you're brewing.
Adjust the cup rest to the correct point for your cup, and push a button to brew.
The Scoop brews an 8-ounce cup of coffee in only 90 seconds, and brews it hot. The larger cup takes only a few seconds longer.
In terms of appearance, this little coffee maker is perfect for the modern kitchen, with a full stainless steel finish.
A wide drip tray and non-skid bottom keep your kitchen as clean as this coffee maker looks.
All removable parts are dishwasher safe for easy clean-up.
Watch this video review to see the Hamilton Beach The Scoop in action.
Read our full review of The Scoop by Hamilton Beach
---
KEURIG K45 ELITE BREWING SYSTEM
MAIN FEATURES:
13 X 9.8 X 13.3 INCHES

BREWS 6, 8 AND 10 OUNCES

12 POUNDS

READY IN ONE MINUTE
The single cup coffee maker reviews would not be complete without mentioning the classic of them all – the Keurig.
There is a reason that the Keurig is popular and this bestseller does it all.
Tea, coffee, hot chocolate or iced drink, there is a K pod available for it and all you have to do is pop it in and press a button.
This is quick, reliable and reasonably priced and you can indeed fit most travel mugs in there as well.
There is a decent sized 48 ounce removable reservoir and a choice of three sizes from six to ten ounces as well.
Available in four colors, this has a ton of buyer reviews all over the web, many of which rank it 5 stars. 
This is an exceptionally high number of satisfied customers and far and away one of the favorite picks of this single cup coffee maker reviews.
As you can see from this video review, the K45 Elite by Keurig is something a coffee lover might enjoy having around the house.
Click to read our full review of the Keurig K45 Elite Single Serve Coffee Maker!
---
NESPRESSO VERTUOLINE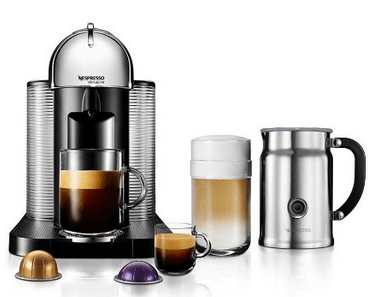 MAIN FEATURES:
11.9 X 8.3 X 11.9 INCHES

12.3 POUNDS

GOOD COLOR SELECTION
Firmly on the pricier end of the single cup coffee maker reviews is this beauty, the Nespresso Coffee and Espresso maker, available in four pretty colors.
So why choose the Nespresso? As the name indicates this produces great espressos, at the touch of a button and all with a fabulous crema.
You can choose between two different pod sizes (regular coffee and espresso) and there is an auto switch off function for when it has not been in use for more than nine minutes, to save you energy.
But Nespresso's biggest boast is its impressive 20 second warm up time – much quicker than most other machines.
The only downside to this machine is that doesn't take grounds and is not compatible with the ubiquitous K cup.
When it comes to coffee/espresso making goodness, the Nespresso Vertuoline doesn't mess around!
Click here to read our full review of the Nespresso Vertuoline
---
TOUCH T526S SINGLE SERVE BREWING SYSTEM
MAIN FEATURES:
6 OUNCE to 26 OUNCE CAPACITY

12.2″ x 9.1″ x 14.1″ 

9.8 POUNDS

STYLISH AND EASY TO USE
The Touch Single Serve Brewing System T526S is a K-Cup style coffee maker, with some additional options for increased versatility.
This stylish coffee maker features a bright blue LED display and simple, one-touch operation.
Unlike many K-cup brewers, the Touch includes a 26 oz. carafe, letting you brew multiple cups of coffee easily to provide coffee for two or more.
The Touch features a large water reservoir.
To brew a cup, add the K-cup of your choice, or a K-cup style filter cup, place the cup or carafe under the pot, choose your brew size, and push a single button, choosing your brew strength.
You can select mild, medium or bold.
To brew a full carafe or multiple cups, simply replace the K-cup as needed after choosing the correct brew size.
Watch this video review to see the Touch T526S in action.
Click here to read our full review of the Touch T526S
---
Summary
Reviewer
Review Date
Reviewed Item
The Best Single Serve Coffee Makers Of 2017 - Our Review
Author Rating