As you know, having a good coffee grinder is a key to having the best tasting coffee possible, but that's not all you'll be needing.
In addition to having a good grinder, plus great quality coffee, having the best permanent coffee filter is something that is often overlooked, but can also make a huge difference in how your coffee tastes.
Yes, we're talking permanent filters here as opposed to paper, which we'll get into very soon as to why that's preferable.

Goldtone Reusable 8-12 Cup Basket Coffee Filter Fits Mr

Nrp Steel Gold-Tone Taller No4 Permanent Coffee Filter 12Cup For Krups & More Coffeemakers

Hamilton Beach Permanent Gold Tone Filter, Fits Most 8 To 12-Cup Coffee Makers (80675R/80675 )

Cuisinart Gtf Gold Tone Filter

Really, who gives coffee filters that much thought? Only the wisest of coffee drinkers do, actually. Because they know that these small details do make a big difference, and that the taste is really the end goal for all coffee and so it must be great.
For this article, we've put together a small guide to the reasoning behind using permanent filters, followed by some of our favorite filters that we recommend to everyone.
Use the following table of contents to navigate the article, and jump to where you want to go!
Table of Contents
Let's dive in!
Permanent Coffee Filters VS Paper Filters

We have to admit upfront that we are aware of the fact that most people choose to use paper coffee filters over the permanent kind.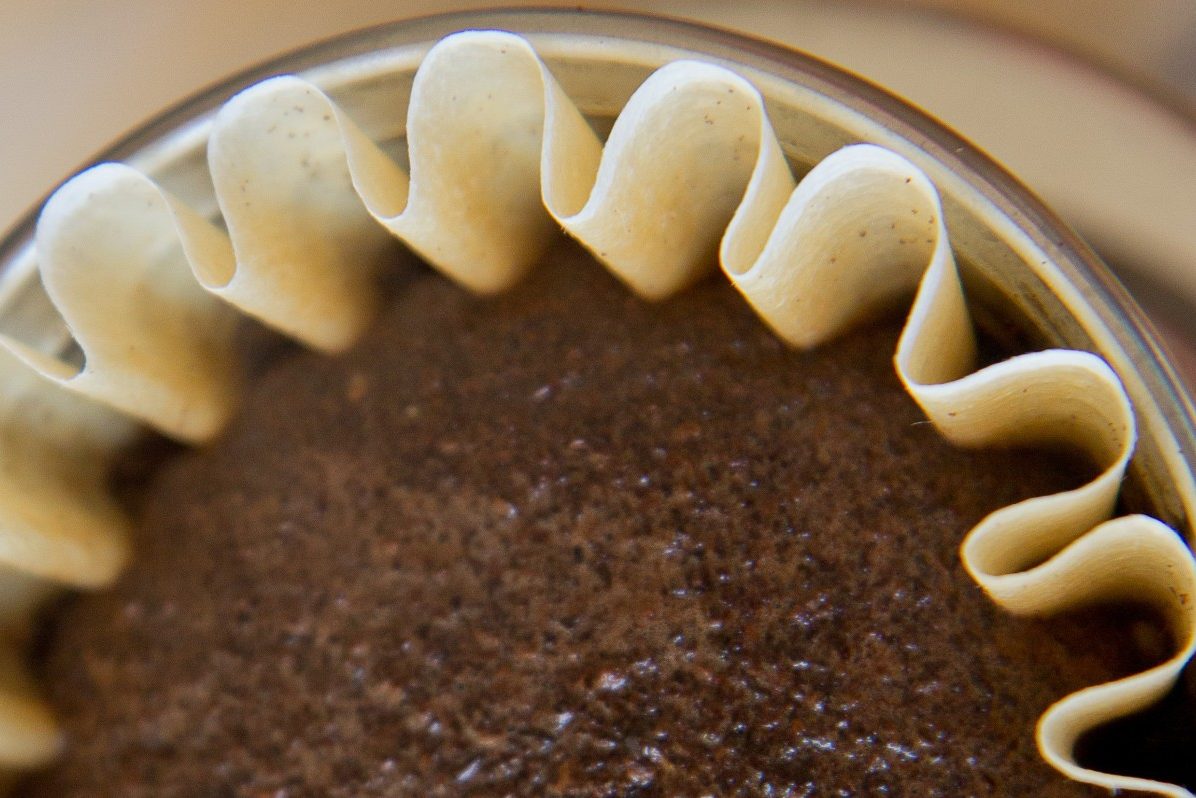 Bleached Coffee Filters
Why? That's easy. They're cheap, easy to use, you don't have to clean them, and they're available literally everywhere.
Why wouldn't you want to use them? Well…there are a few reasons.
Most people – your average coffee drinker – likely believes they fully understand the purpose of the humble coffee filter.
For example, they simply filter out the grit, so you get only smooth coffee liquid in your cup and not any solids. Right? That's all well and good.
Once the brewing process ends, all the grounds are stuck to the paper filter, which is what they've been designed to do – catch all the grounds so they don't end up in your cup. Then you just throw it away. Easy peazy lemon squeezie.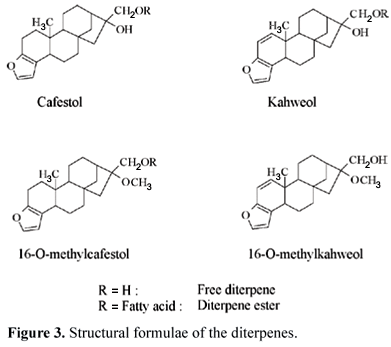 Ah, but there's more to it…
Did you know that coffee beans contain certain oily substances called diterpenes, which raise cholesterol.
They block a receptor in the intestines which is responsible for the regulation of cholesterol, thus resulting in increased cholesterol levels in your blood.
Diterpenes aren't all bad but they definitely have some negative aspects and they must be regulated – bottom line.

Luckily, coffee filters help to prevent these diterpenes from slipping through during the brewing process and into our precious coffee, significantly decreasing the amount of diterpenes in our coffee.
Coffee filters weren't exactly made with this benefit in mind, but they help to prevent diterpenes from getting into our coffee nonetheless.
One study has shown (Critical Reviews In Food Science & Nutrition, March 2006) that both gold and paper filter materials are both equally proficient at preventing these diterpenes from invading our coffee.
So, at this point, paper filters and gold filters are still equals to us. They help block diterpenes, and that's a good thing.
We aren't here to badmouth paper filters…well, not much anyway.

Advantages Of Permanent Gold Coffee Filters
Now at this point, paper filters start to get a bit of a bad reputation, and permanent coffee filters – particularly if they're gold – gain favor with health experts.
If you didn't know, there is a highly toxic chemical known as dioxin which is found in paper filters; specifically, the bleached white kind that most people use.
In her book, "Dying From Dioxin", author Lois Marie Gibbs talks about the hazards of this chemical dioxin, and how not only are paper coffee filters guilty of containing dioxin, but so are pizza boxes, paper plates, and all sorts of things.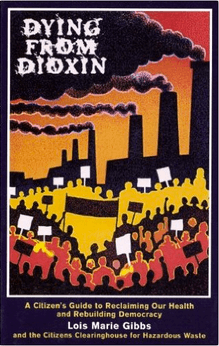 Speaking of gold filters (which all three filters we've mentioned here happen to be), gold just happens to be a neutral substance, and coffee fans tend to favor it for two more important reasons.
One reason is that gold does nothing to taint the flavor of the coffee you will be drinking, unlike other materials like paper.
We don't want the actual flavor of the bean altered by the material of the filter if we can help it, and so a gold-plated steel filter is really the best option for this.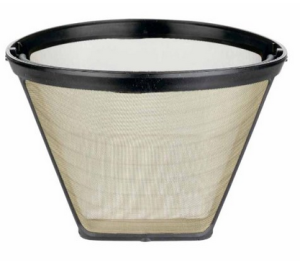 Another important benefit that permanent gold filters have is allowing antioxidants to pass through into our coffee.
Studies have shown (Joe Vinson, University of Scranton, August 2005) that gold filters do not alter the coffee's flavor, but also they do not hinder the transfer of antioxidants which we want in our cup of coffee if possible.
Coffee, being the number one source of antioxidants in America, has the potential to supply us with valuable antioxidants, so having a permanent filter, unless it is made of something other than steel or gold-plating, will help with that.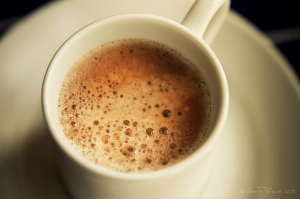 We don't want to condemn paper filters completely here, but clearly there are some tangible benefits to trying other options, like permanent gold tone coffee filters.
If you have never tried anything but paper filters, perhaps its time to give a permanent filter a go to see how you like the experience.
You may find you never want to go back to paper filters. Your cup of coffee might just thank you by being even tastier!
Many people just use any old kind of filter, without realizing how much a simple paper coffee filter can adversely affect the flavor of your cup of coffee.
As nice as some of these paper filters look, they often can adversely affect the taste of your coffee.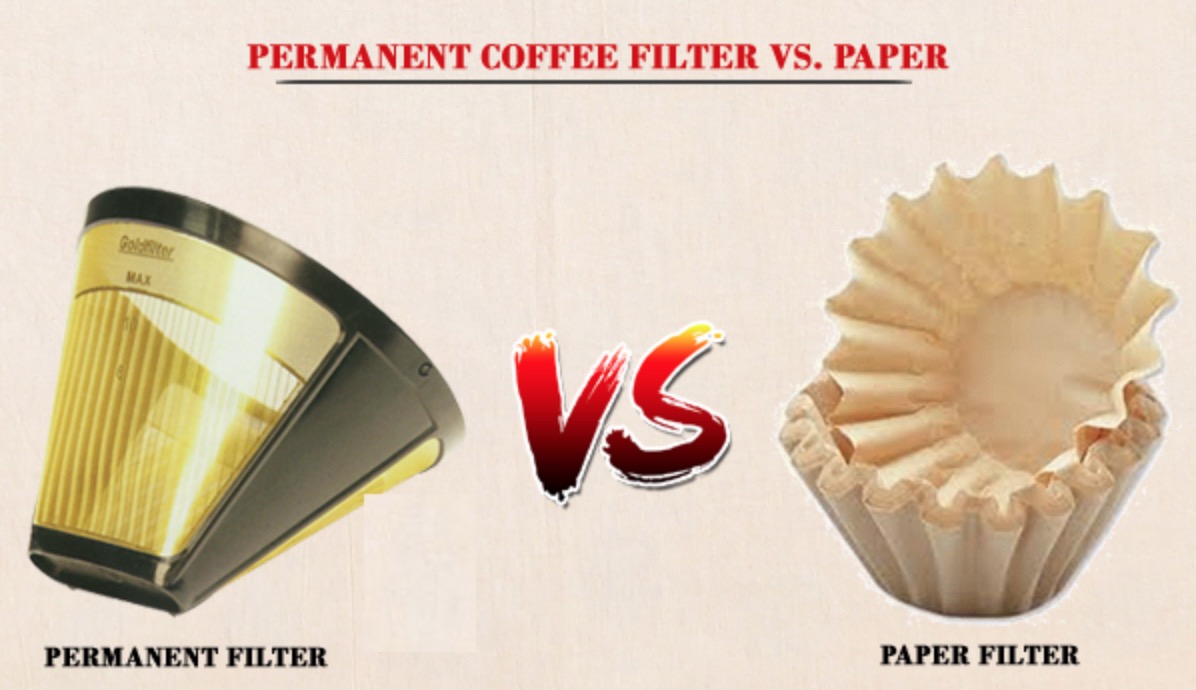 There are much better options out there which will save you money, and we're talking about size 4 cone-shaped permanent filters.
What does the "4" represent? Just the size of the filter, which is a standard size.

If you are using a paper filter, you should at least rinse it out before using it, just to wash away the dust that can get into your coffee that sticks to the paper.
Alternately, going with a permanent gold tone coffee filter has a number of benefits, which we will explain shortly.
Here's a quick video which talks about some of the benefits of having a permanent gold tone filter.
Up next, reviews of the best permanent coffee filters…!
Our Review Of The Best Permanent Coffee Filters
Cuisinart Gold Tone Coffee Filter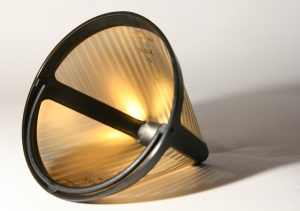 The first permanent coffee filter featured on our list is this – the Cuisinart Gold Tone Filter or GTF for short. It is a current bestseller across the web, and particularly on Amazon.com, where it has garnered a lot of praise.
For around $10, the Cuisinart GTF is the preferred permanent filter of coffee lovers everywhere, because it enables you to taste the truest flavor of your freshly made brew, with one user describing the coffee they made as "complex, livelier, and brighter than the usual coffee brew".
Constructed with stainless steel with gold plating, the Cuisinart GTF is a favorite partly due to its compatibility with a long list of coffee maker models which use #4 cones:
DCC-1000BK
DTC-975BKN
DCC-750
DCC-1100
DCC-1200
DCC-2200
DCC-2600
DCC-2650
DCC-2750
DCC-2800
DCC-2900
CHW-12
To sum this up, we're talking about most coffee makers here. The Cuisinart GTF is perfect for the majority of coffee makers, but it never hurts to check the codes first.
Cleaning Is Easy
The cleaning process with this filter is also quite easy, as it is dishwasher friendly.
Many users, however, clean it by hand just to add to its lifespan, which is already measured in years whether or not you hand clean it or pop it in the dishwasher. That's years of faithful service for less than $10.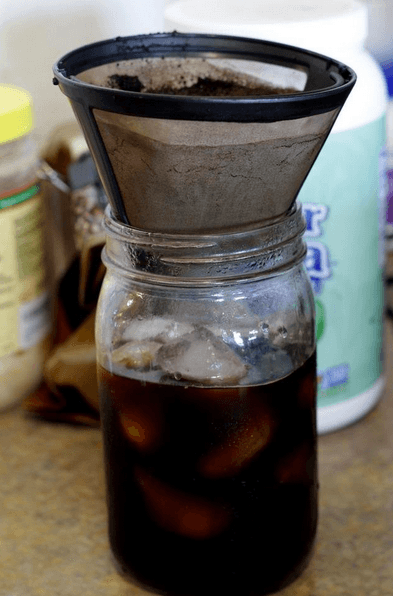 The Handle
After using a paper filter, you are forced to grab the wet paper filter and dispose of it. With this permanent filter, you have the option of holding it by the handle so as to not come in contact with the wet used filter.
Fine Mesh Filter / No More Gritty Coffee
Also, this particular filter is known for its fine mesh which prevents the vast majority of grinds and grit from making it into your cup, resulting in a smoother cup of coffee for you and any coffee drinkers in your family.
If you are used to drinking gritty coffee, then surely you would appreciate cutting back on the grit.
By the way, this mesh filter also makes an overall good filter for just about anything else you want to use it for.

The overall sentiment towards this gold tone coffee filter is that its a huge improvement over paper filters, is compatible with most coffee makers, is environmentally friendly, lasts for years, produces less waste, and saves you money.

Up next – another fav!
Medelco Cone Permanent Coffee Filter
Another great option for home use is the Medelco #4 cone permanent coffee filter, which costs roughly the same as the last one – around $10.
With hundreds of user reviews and a four star rating, this filter has proven itself as another top seller.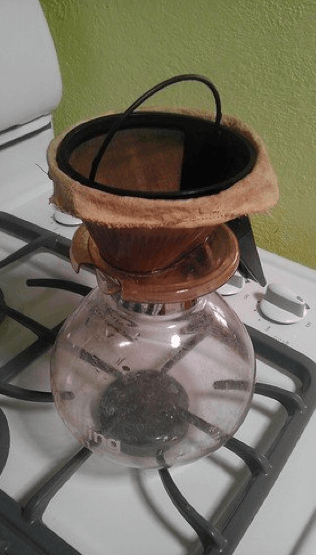 It is constructed with a surgical grade stainless steel mesh that meets North American Electrical Standards, so you can be sure that it will last a very long time.
Its dimensions are 3.4" in height, and 4.63" for the diameter of the filter.
The Medelco #4 fits all coffeemakers which use #4 cone filters, just like the Cuisinart we mentioned previously, but it is generally a hair less expensive.
This filter is also dishwasher safe, making it super easy to clean, since you can just add it to your load of dishes.
Ultimately, users of this permanent coffee filter have noted that there is a distinct difference in their coffee's flavor when using this filter, allowing for a more robust and nuanced cup of coffee.
In terms of differences between the Medelco and the Cuisinart, there aren't many, but the differences basically boil down to the handle design being different.
The Cuisinart does have a thicker handle, while the Medelco here has a more wire-y handle.
Aside from this difference, and some very slight design alterations, they are nearly identical.
True Modern Electronics Gold Tone Coffee Filter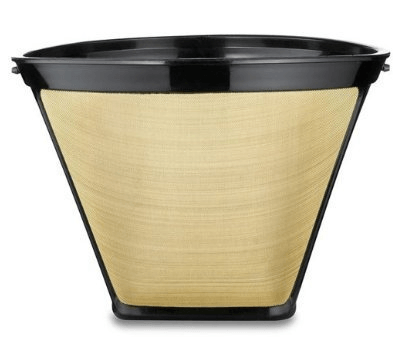 Our third choice for what we consider the best permanent coffee filter is this gold tone model by True Modern Electronics.
It costs roughly the same as the others, at around $10, and, once again, it has a great track record from actual coffee drinkers who love what it does for their cup of coffee.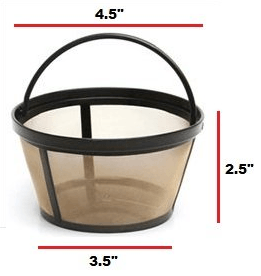 This permanent filter is basically the same as the previous two we've mentioned – well-rated and with almost exactly the same design and low price.

Ok, the buyers seem to like it, but what does the manufacturer say? You've got many of the same features as before:
Fits most Mr. Coffee style basket-style coffee makers
Dishwasher safe
Easy to clean
Reusable
Gold is a neutral material, so it doesn't affect the original bean flavor
Environmentally friendly
Solid bottom
You might say, why review the same filter three times over? Well, the differences between each of these filters may not be blatantly obvious, but really, these filters are very similar to other "parts" of a machine where they are somewhat generic by nature.
You don't expect a nail to to be multicolored and embellished with decorations. A nail and a filter are the same – simple, functional, and either well made or not.
Luckily each of these three permanent coffee filters are "hits" with the people, and they are designed to do very specific things, such as retain the coffee's original flavor before it gets altered by the brewing process, and that includes the use of paper filters.
Overall, permanent filters are your best bet, and these ones are the creme of the crop. You can't go wrong with one of these permanent filters.
Bonus: The Importance of a Good Coffee Grinder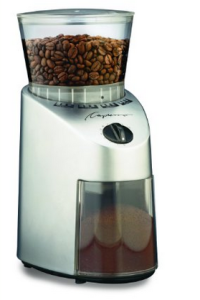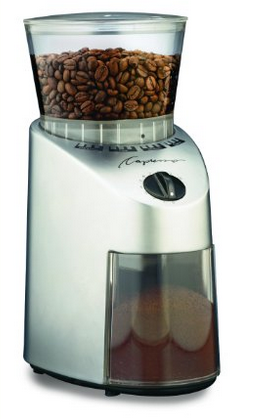 We would be remiss not to mention coffee grinders as being another very important part of the coffee brewing process.
If you are concerned about how a paper coffee filter might affect the taste of your brew, you might want to investigate getting yourself a quality coffee grinder, if you get the chance.
In terms of altering the flavor of your coffee beans, buying pre-ground coffee, or using stale ground coffee that hasn't been hermetically sealed is going to affect your coffee's flavor negatively as well.
That's why getting a good coffee grinder is so important we based our whole website around that fact.
Thanks for reading!