What Is A Two Way Coffee Maker?
A two-way coffee maker allows you the option of making coffee more than one way, or for different quantities. Most of our options will have a single cup pour, as well as a full carafe of ground coffee.
This makes it ideal for those who want to entertain friends and those who just want to grab a quick cup on the hop.
With some models, a two-way coffee maker actually comprises different coffee 'styles', i.e. pods and K cups as well. You may be able to fill a travel mug and a smaller mug, and some have the option to make espresso and cappuccino, although none of the ones on this review do.
Other models will have a hot water dispenser for other hot drinks, or maybe an option for ice coffee (like our last choice).
Which one is right for you depends on your tastes and requirements.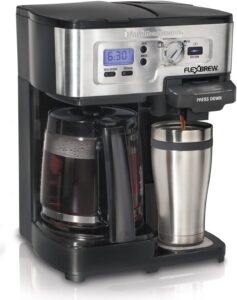 How To Choose A Two Way Coffee Maker
There is no right and wrong way to choose a two-way coffee maker, it is all about what you want it for.
First things first, what sort of coffee do you like?
If you are a K cup fan, but want the flexibility of making pots, then a combination of both standard coffee maker and a K cup single pour will be your priority.
If you are entertaining and have a tea loving friend, some will allow hot water to brew at the same time as the coffee – win-win for everyone.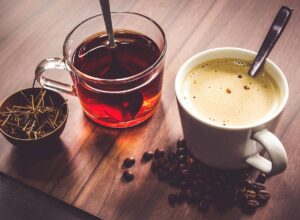 Others cater for travel mug aficionados, espresso lovers and so forth. Once you have decided your priority, there should be a two-way coffee maker for you out there somewhere.
Other questions may be the environmental impact (single use pods not being nature's friend). Some two-way coffee makers use a steel and reusable filter and many are BPA free.
The space available in your kitchen is a major deciding factor, as there's no point in getting the best coffee maker on the market and then not having space in your minuscule kitchen area.
Cuisinart Chw-12P1 12-Cup Programmable Coffeemaker With Hot Water System

Hamilton Beach Coffee Maker

Hamilton Beach 2-Way Brewer Coffee Maker

Keurig K-Duo Plus Coffee Maker

Ninja Specialty Fold-Away Frother Coffee Maker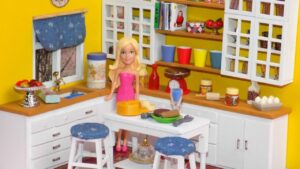 Another factor is time and energy. Some people love the fiddle of their coffee machine, it gives them something to do and they enjoy the ritual of the brew.
But for others, getting caffeinated and fast is the only concern. For that reason, check out the ease of use of the machine you plan on buying. If you don't fancy being a barista first thing in the morning, then some of the simpler options may be best.
Then, there's things like the material of the carafe. Whereas glass is traditional and looks great, it can smash easily. Steel carafes really surpass glass in terms of robust use, and also help keep the coffee longer, so this is another consideration.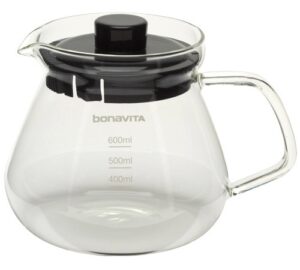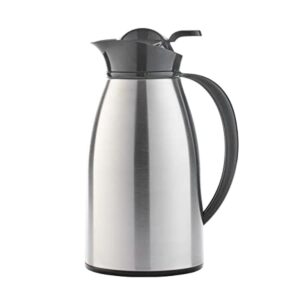 Also, given the way things are, you may be unlikely to be able to check out any of these babies in person, so it really does pay to read the small print before you buy.
Finally, there is the cost issue. Check out the best your budget has to offer and go with the most performance for the least buck – unless money is no objective.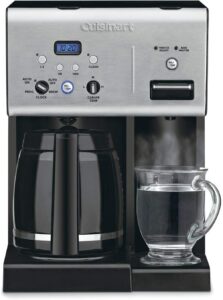 CUISINART CHW-12
MANUFACTURER: CUISINART
MODEL: CHW-12
WEIGHT: 9.5 POUNDS
DIMENSIONS: 10.25" X 9.5" X 14.3"
CAPACITY: 12 CUPS
WATER CAPACITY: 54 OUNCES
K CUP COMPATIBLE: NO
HOT WATER TAP: YES
WARRANTY: 3 YEARS LIMITED
COLORS: BLACK/STAINLESS STEEL
PROGRAMMABLE TIMER: YES
BREW PAUSE: YES
GUIDE PRICE: $99.00
ALSO: EASY CLEANING
BEST FOR: ALL TYPES OF HOT DRINK
OUR RATING: 4.6 STARS OUT OF FIVE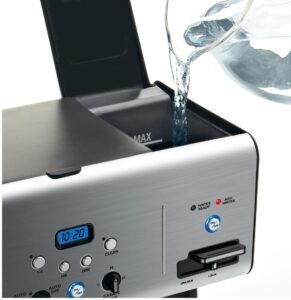 The Lowdown
Are you a coffee addict with a dark side? Do you also enjoy other hot drinks 'on the side'? Even "whisper it" tea? If so, then look no further.
Because if you are looking for an all-rounder, which can also cater for your tea loving friends, then the Cuisinart CHW-12 comes highly recommended. And as a bonus, it doesn't cost an arm and a leg to buy.
We think this makes really good coffee, but unlike some of the other options you will see below, it doesn't quite offer the same variety of coffee options as some. However, if you are happy with simple brewed carafe coffee, then away you go!
And as another plus point, you can brew tea with the hot water at the same time as make coffee. Tea and coffee together, in unison!
The main selling point for this coffee maker is, aside from it brewing a reliable cup of joe, it comes with a hot water function. This makes it that unusual thing, a coffee maker which loves tea!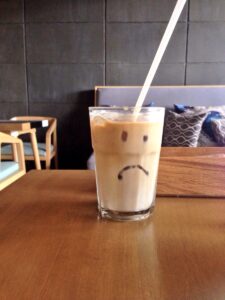 The Low Points?
Does this Cuisinart have any drawbacks? Well, as much as we'd love to say it doesn't, actually it does.
It would seem that some people think the water coming from the machine tastes a little plasticky. Now, this might be one of those things which comes with individual taste – not everyone would notice this, especially if they are making a strong cuppa with it.
Perhaps if you were just drinking the hot water on its own (hey, we won't ask!) then it's possible you might get a whiff of plastic. Otherwise, it is unlikely to be a problem – especially if you follow the manufacturer's instructions and clean this properly before use.
In Short
In short, for the price (under $100 in most stores) we think this is a good, basic A to B coffee maker, with the added bonus of being able to brew another hot drink of your choice.
If you are going to cheat on coffee, then we think you could do worse than to do it with the Cuisinart CHW 12.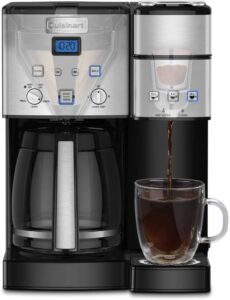 CUISINART SS-15
MANUFACTURER: CUISINART
MODEL: SS-15
WEIGHT: 9.5 POUNDS BOXED/ ASSEMBLED 16.8 LBS
DIMENSIONS: 17.80 X 16.30 X 14.30 INCHES
CAPACITY: 12 CUPS
K CUP COMPATIBLE: YES
HOT WATER TAP: NO
WARRANTY: YES LIMITED 3 YR WARRANTY US AND CANADA ONLY
COLORS: SILVER
PROGRAMMABLE TIMER: YES
BREW PAUSE: YES
GUIDE PRICE: $199.95
ALSO: THREE SERVING SIZES: 6, 8, 10 OUNCES, INCLUDES HANDHELD MILK FROTHER, DESCALER AND MUG WITH SPOON
BEST FOR: NO FUSS COFFEE
OUR RATING: 4.6 STARS OUT OF FIVE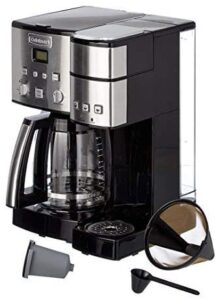 The Lowdown
A close cousin of the Cuisinart CHW 12, but no separated- at- birth- twin, is the Cuisinart SS 15. Although at a casual glance it looks like the CHW 12, when you get closer it is a very different kettle of fish, (or coffee maker).
For a start off, this is a coffee maker pure and simple, no flaking out and making hot oatmeal on this baby! Additionally, it gives you more than one way to brew great coffee. And for those lazy moments when you need your caffeine fix NOW, it is K Cup compatible.
And there's no need for paper filters with the SS 15, which will make Gaia heave a sigh of relief.
You can also choose your cup size, whether to have a single cup or a carafe and how much you want your socks blown off by caffeine (strength selection). All in all, there's choice a plenty with the Cuisinart SS 15.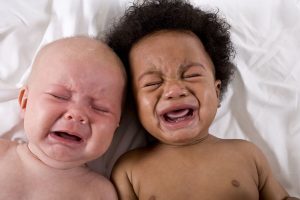 The Low Points
You have to be a niggle picking ninny to find fault with this model, but since that is exactly what coffee addicts are, then we will elaborate.
The only real fault we can find with this is that the single serve section spills a wee bit. Really, that's it.
In Short
We think this is a great multi brew coffee machine, for people who like to keep things simple and don't mind going into the mid range price range.
And it is compatible with K cups, for dirty cheats!!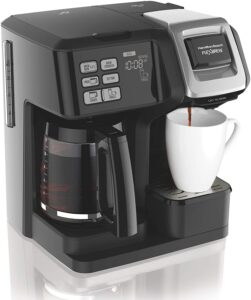 HAMILTON BEACH 49976 FLEXBREW COFFEE MAKER
MANUFACTURER: HAMILTON BEACH
MODEL: 49976 FLEXBREW COFFEE MAKER
WEIGHT: 6.4 POUNDS
DIMENSIONS: 13.9 H X 10.24 W X 10.63
CAPACITY: 12 CUPS
K CUP COMPATIBLE: YES
HOT WATER TAP: NO
COLORS: BLACK/ SILVER
PROGRAMMABLE TIMER: YES
BREW PAUSE: YES
ALSO: UP TO 10 OZ. K-CUP OR 14 OZ. GROUND COFFEE, BOLD OR REGULAR BREW STRENGTH OPTIONS, COMPATIBLE WITH MELITTA PAPER FILTERS
GUIDE PRICE: $89.99+
BEST FOR: ALL ROUND COFFEE
OUR RATING: 4.3 STARS OUT OF FIVE
WARRANTY: ONE YEAR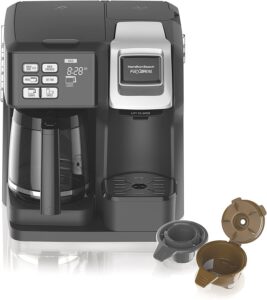 The Lowdown
If you want something modestly priced that gets the job done, with options, then the Hamilton Beach FlexBrew 49976.
Want to wake up slowly? Then you can keep it mellow with the regular strength coffee. Need to instantly go into a panic attack (ok, maybe not quite) then you can 'go bold' – if you've got the nerve for it.
And if you really can't be arsed with all that fiddling about with grounds, then you can pop your K cup in and get a hot coffee in no time.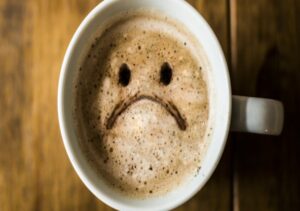 The Low Points?
Uh oh it does seem there are a few niggles to report with the Hamilton Beach Flex Brew. It seems it can be a bit of a fuss to clean and gets a wee bit clogged. Also, some people seem to think loose grounds can stray into the cup.
But then, there are others who say if you follow all the instructions to the T, then there should be no problems.
In Short
While this multi way coffee maker is not without its flaws, we think it does a good job for the price.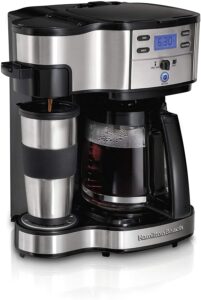 HAMILTON BEACH 2-WAY BREWER COFFEE MAKER 49980A
MANUFACTURER: HAMILTON BEACH
MODEL: 49980A
WEIGHT: 10.1 POUNDS
DIMENSIONS: 13.9 H X 12.23 W X 11.08 D
CAPACITY: 12 CUPS
K CUP COMPATIBLE: NO
HOT WATER TAP: NO
WARRANTY: ONE YEAR
COLORS: BLACK/ SILVER
PROGRAMMABLE TIMER: YES
BREW PAUSE: YES
ALSO: CAN FIT TRAVEL OR REGULAR MUG, REGULAR OR BOLD STRENGTH
BEST FOR: THE PRICE
GUIDE PRICE: $59.99
OUR RATING: 4.1 STARS OUT OF FIVE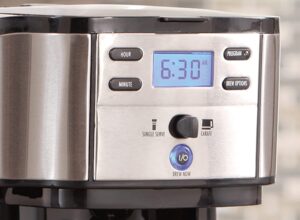 The Lowdown
Close, but not quite the same as the previous model, the Hamilton Beach 2-Way Brewer Coffee Maker 49980A is a slightly modified version of the Flex Brew.
It has all the usual features, brew pause, a programmable timer and can produce 12 cups in a carafe. Like the other models, you can also adjust the strength and change the size of mug. Conveniently, this model allows you to refill your travel mug, which might be a vote winner for some.
Pod to your heart's content or keep a carafe of freshly ground coffee warm for up to two hours, we like the general all rounder approach to this machine.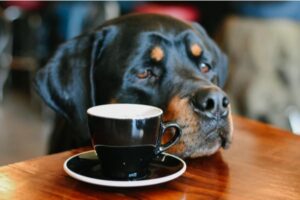 The Low Points?
But does this machine come with any low points? Well, maybe one or two. The most outstanding isn't a fault per se, just something to be aware of; it whisper it is not K cup compatible.
This, according to your point of view, is either the greatest travesty ever or its saving grace. Either way, it is really the only main "defect" of this machine.
Also, some people reckon the coffee tastes a tad plasticky – are they right, or just supertaster freaks? We don't know, but there is a handy remedy, simply wash regularly with vinegar and RINSE WELL!
In Short
So perhaps it isn't going to compete with a more expensive model, but come on, for around $60 we think this is as good as it gets – unless you really love K cups of course.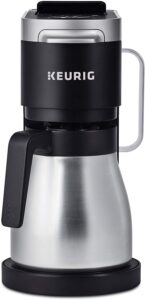 KEURIG K-DUO PLUS COFFEE MAKER
MANUFACTURER: KEURIG
MODEL: K-DUO PLUS
WEIGHT: 16.10 POUNDS
DIMENSIONS: 14.19" H X 8.2" W X 11.7" D
CAPACITY: 12 CUPS
WATER CAPACITY: 60 OZ RESERVIOR
K CUP COMPATIBLE: YES
HOT WATER TAP: NO
WARRANTY: ONE YEAR LTD
COLORS: BLACK/ SILVER
PROGRAMMABLE TIMER: YES
BREW PAUSE: YES
ALSO: 6, 8, 10, 12 CUPS, 60 OUNCES WATER RESERVOIR, STAINLESS STEEL THERMAL CARAFE
BEST FOR: K CUP LOVERS
GUIDE PRICE: $165
OUR RATING: 4.4 STARS OUT OF FIVE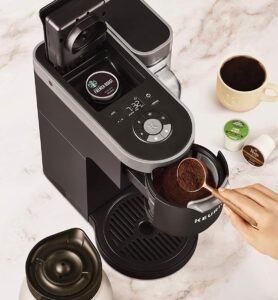 The Lowdown
Ever smashed a glass coffee carafe? If so you'll know what broken dreams taste like, and just how much of a pain cleaning up the shards of sticky coffee is from your kitchen floor. So what if you could guarantee that didn't happen?
Well, you can. The K Duo Plus from Keurig is almost unbreakable. Made from stainless steel, this carafe is also thermal, for nice warm coffee which can be carried about from room to room with you.
Other high points include being able to brew between 6 to 12 cups in the carafe, and of course the single brew K cup. Additionally, it can fit a travel mug in there too.
Additionally, it is also compatible with reusable gold tone mesh filters, so you don't have to pollute Mother Earth with the paper ones (some people think this also does a better job of removing the grounds from the brew too).
All in all, we think this makes a damned good brew.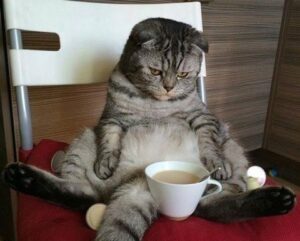 The Low Points?
We don't want to say this comes with no problems, but we are really struggling to see any biggies. Aside from some rare cases of mechanical failure, there are few major issues.
In Short
We like the streamlined simplicity of the Keurig Duo, right from its clean line design, to the fact it is robust and easy to use.
If you like your mornings like your coffee, fast and stress free then this model could be for you.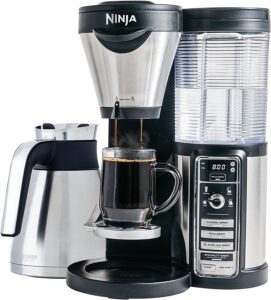 SHARK NINJA COFFEE BAR BREWER
MANUFACTURER: SHARK NINJA
MODEL: NINJA COFFEE BAR BREWER CFO85Z
DIMENSIONS: 13.10 X 13.20 X 17.80 INCHES
WEIGHT: 8.6 POUNDS
CAPACITY: UP TO 8 CUP CARAFE
WATER CAPACITY: 43 OUNCES
K CUP COMPATIBLE: NO
HOT WATER TAP: NO
WARRANTY: ONE YEAR LTD
COLORS: BLACK/ SILVER
PROGRAMMABLE TIMER: YES
BREW PAUSE: YES
ALSO: MULTI STRENGTH BREW OPTIONS PLUS ICED, CARAFE, CUP, TRAVEL MUG, 8-CUP STAINLESS STEEL CARAFE FROTHER HOT AND COLD TUMBLER VACUUM-SEALED STAINLESS STEEL THERMAL CARAFE
BEST FOR: ICED COFFEE
GUIDE PRICE: $124.15
OUR RATING: 4.7 STARS OUT OF FIVE
The Lowdown
When you are talking about multi brew or two-way coffee machines, it can be easy to overlook some of the more specialist options out there.
So lovers of iced coffee will be pleased to note that the Ninja is the only one of our chosen picks which offers this feature.
You can make up to 8 cups of premium ground coffee in a stainless steel carafe – which has all the advantages mentioned above, whilst also remaining warm for up to two hours. It won't crack, shatter or go cold in a hurry either.
Additionally, this model comes with a tumbler for hot and cold coffee, as well as different strength brew options and all the usual brew pause features. All this and that all important iced coffee function for hot days!
So far, so good, so what else do you need to know?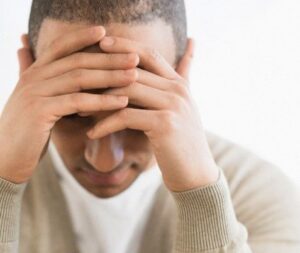 The Low Points?
Unfortunately, it seems that there are some issues with this model. Although it offers a lot – and if you like iced coffee then ultimately it will be worth it – there is a technical issue with the 'clean' light. But really, that's about it, and it is probably something that you can live with.
In Short
This is not the most expensive coffee maker of our selection, but probably the best for you if you like both hot and ice cold coffee and don't mind the fact this isn't compatible with K cups.
And Finally…
Ultimately, there is no 'best two-way coffee machine', just the one that best suits your needs, tastes, kitchen requirements and budget.
Let us know which is your favorite in the comments!