Our last blade-driven coffee grinder nearly drove us crazy with its insufferably loud grinding and constant malfunctioning, so we kicked it to the curb.
We watched as the garbage man hurled it into the trash compactor and drove off.
We were glad to be rid of it, but this meant we had to start shopping for a new coffee grinder a couple of months ago, and our budget was limited. Where to turn?

For our next coffee grinder, we didn't want to run into the same problems, so we had a few prerequisites that needed to be filled:
More compact (last one was too wide)
Easier to clean (last one was super messy)
Less static
Less noise
Less ugly (the last one was a gift)
More consistent grinds for better-tasting coffee!
Enter The Bodum Bistro Coffee Grinder
Later that same day, we took a trip to the mall, and we came across this little gem at the home store - the Bodum Bistro Electric Burr Coffee Grinder , in lime green.

My wife and I both thought it was pretty darn cool, and we decided to go for this color even though they also had it in black and white as well.
Overview of the Features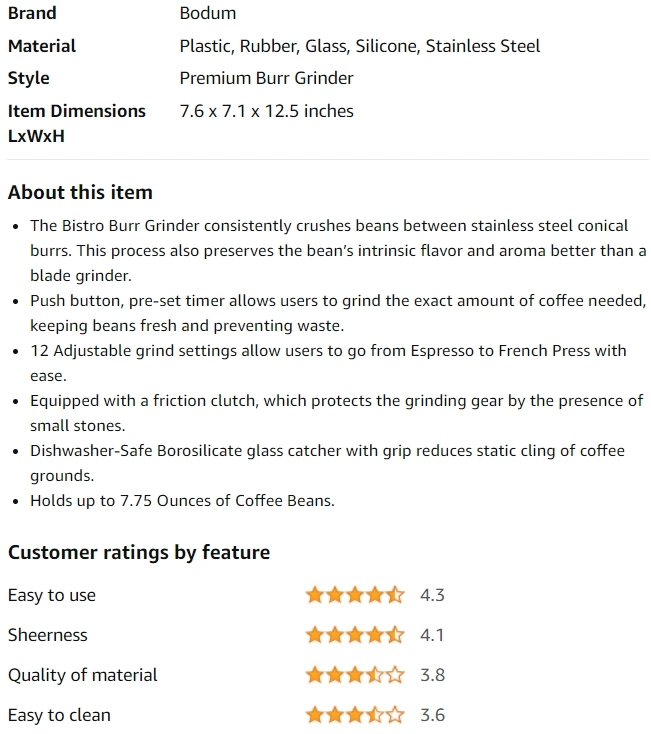 Stands Out from Other Coffee Grinders
Since we got the lime green model, the first thing I can say about the Bodum Bistro is the minute we got it home and plugged it in, it really stood out in our fairly neutral-colored kitchen.
One thing is for sure - you can't miss this thing sitting on your counter.
Color choice aside, aesthetically this is a very nice looking grinder and I would even venture to call it "fun" to look at.
It has a very playful feeling to it, and that's part of the appeal here.
Here is a quick video to show you the Bodum Bistro Burr Coffee Grinder in action.
Easy To Use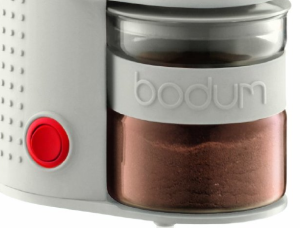 After using the Bodum Bistro for a couple of months, I have to say that one of the things I like about it is the fact that its really super easy to use.
A lot of grinders, for one reason or another, can get a little complicated, and I personally don't have time to fuss over some overly-complicated machine.
Here is a simple run down of how to use the Bistro. I'm sure you will agree, it couldn't get much simpler than this.

Once you turn on the on/off switch which is on the bottom left side, a red light comes on, and then you need to set the timer to the appropriate grind time using the timer.
If you set it for 20 seconds, it will grind for twenty seconds once you press the other red button next to the timer.
The coffee goes into the borosilicate glass container that fits tightly in place to receive the grinds and there's basically no mess at all. Easy, right?
To recap, there's an on/off switch, and that means the machine is on and ready to grind, and then a grind-on-demand button which starts/stops the grind cycle.
What I really like is how all the important stuff is done in red, so there's very little chance for me to get confused at all here.
I feel like a child could operate this thing (although I'm not saying they should!)
The timer doesn't move like an egg timer, it just stays put, but grinds for however long you set it for.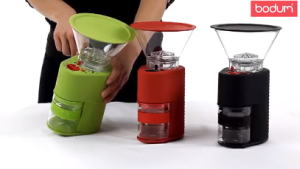 Bodum Bistro Coffee Grinder Burr Review
I realize that I am going over a very simple process that basically anyone could figure out if you took a minute or two, but I just wanted to make the point that that's really it.
I've used some more expensive grinders, and, were I to review them, it would literally take a page to describe to you how it works.
With the Bistro, its completely straightforward - even a newbie home brewer/grinder person could figure it out in under five minutes.

Stepped With 14 Grind Settings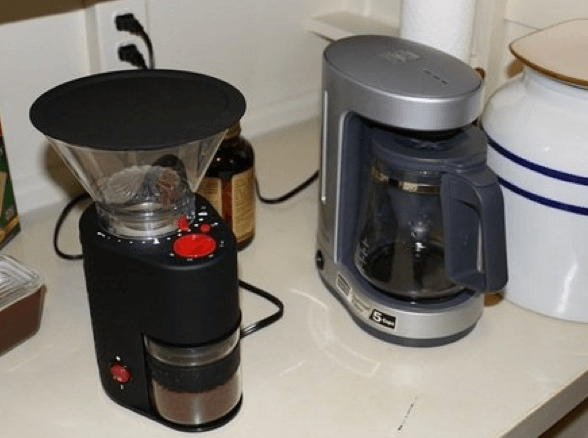 This is a stepped grinder, so you have to adjust the grind settings to find the grind you want from coarse to fine.
This took us some getting used to, but before long we knew what grind settings we like the best, one being the coarse grind for French Press, which is our favorite way to make coffee at home.
I think that's part of the charm of making your own coffee at home using your own grinder - you get to tinker around a bit to get everything just the way you like it.

Try Using A Porta-Filter For Espresso Grind
When I'm grinding for espresso, I usually just stick my porta-filter underneath the hole where the grinds come out and they fall neatly inside.
Because I do happen to have a really nice espresso maker at home, I went out and bought a Rancilio Bottomless Portafilter, which is a pretty fancy model but it really makes a difference with my espresso.
Together with my Bodum Bistro, my espresso maker, and my portafilter, I've got a pretty nice little triad of coffee goodness right there.

Quality Burr Grinder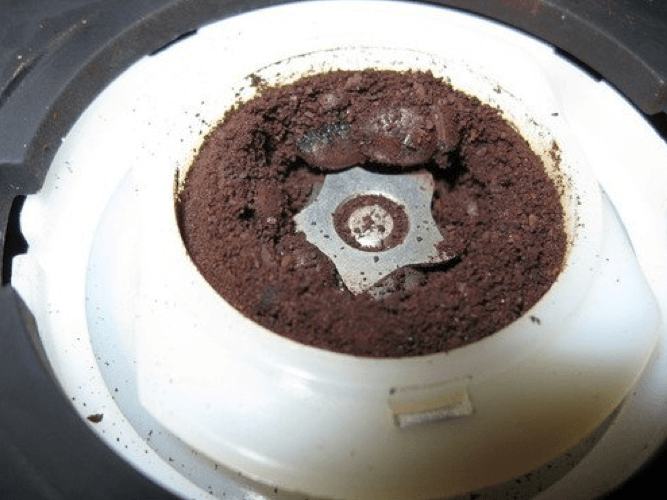 It's worth mentioning again that the Bodum Bistro is indeed a conical steel burr grinder, which is the best method for grinding your fresh whole coffee beans.
The unit itself is made mostly of nylon (which is more durable than normal plastics), but it is a solid little machine and doesn't move around at all when you hit that grind button.
The grind quality is also very consistent, we've noticed.
The hopper is a fair size as well and you can get a decent-sized pot of coffee out of just one twenty-second grind.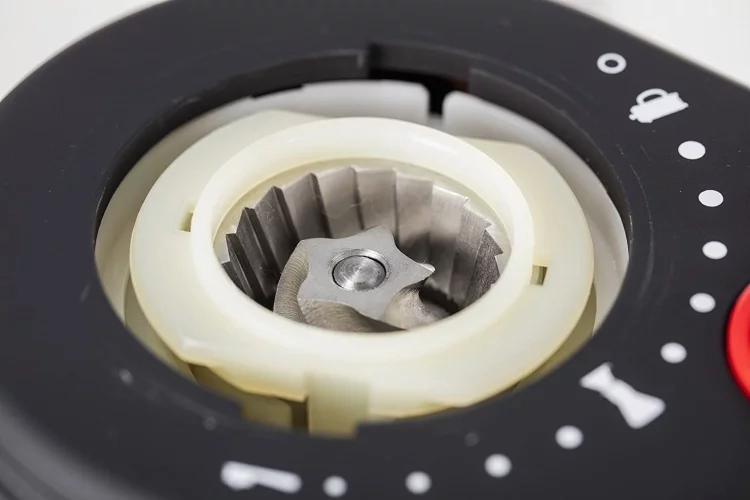 Don't Overheat
Bodum recommends waiting a little while after a twenty second grind so as not to overheat the machine. We find this to be fair enough.
This machine works hard and is very well-behaved, so the least I can do is give it a little rest between grind sessions so as not to wreck it or burn my grinds.
Minor Complaint
Watch out for the bottom of the grinds container - the glass is rather thin and if you hit it with a metal spoon too hard it could crack. I nearly made that mistake a few times.
The glass is actually called borosilicate, which I'd never heard of before I got this coffee grinder. They could have made the glass a touch thicker on the container.
As it is, I just have to be a bit more careful.
Advantages of Using The Bodum Bistro Burr Coffee Grinder
Very easy to use. You simply add your beans, select the grind setting and then press the start button. The grinder will do all of the work for you, meaning that you can get a great cup of coffee without having to put in any extra effort.
It produces a consistent grind each time. This means that you can be sure that your coffee will taste great no matter how many times you use it. Additionally, the Bodum Bistro Burr Coffee Grinder is very easy to clean, which is always an important consideration when choosing a coffee grinder.
Very reasonably priced. This means that it is an excellent value for the money and will not break your budget. Overall, the Bodum Bistro Burr Coffee Grinder is a great choice for anyone who wants an easy to use, consistent and affordable coffee grinder.
Disadvantages
The price is relatively high compared to other similar products on the market.
The grind quality is not as consistent as some of its competitors.
The grind size options are limited, which means that you might have to purchase a separate grinder if you want to use a different grind size.
KYG's Conclusion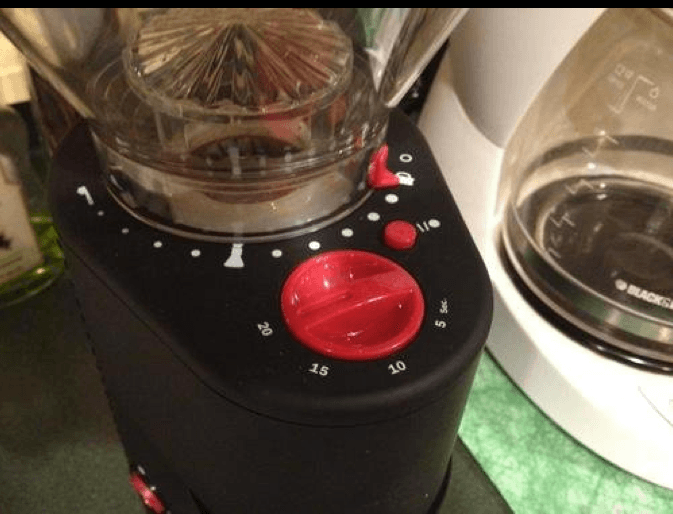 We have a few pangs of regret with going for the color green, but, all things considered, the quirky lime green model has its own special charm.
Apparently the Bistro also comes in a number of interesting colors, like bright orange.
I would definitely recommend this coffee grinder to anyone who wants a quality grinder but doesn't feel like spending a ton of money.
This one I would say is worth the price. My wife and I give it 5 stars!
Customers' Reviews for The Bodum Bistro Coffee Grinder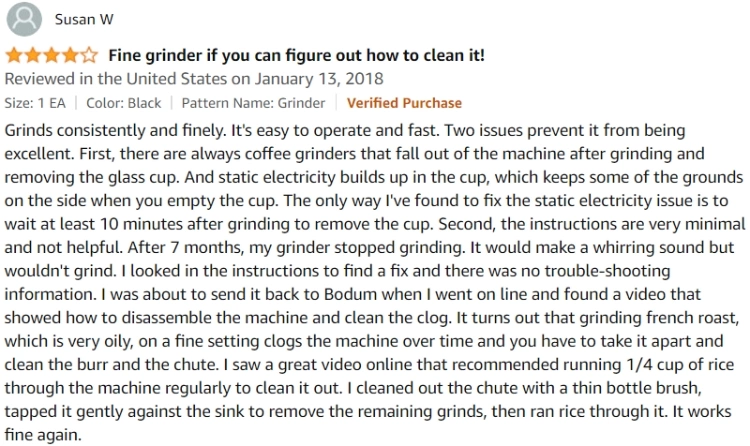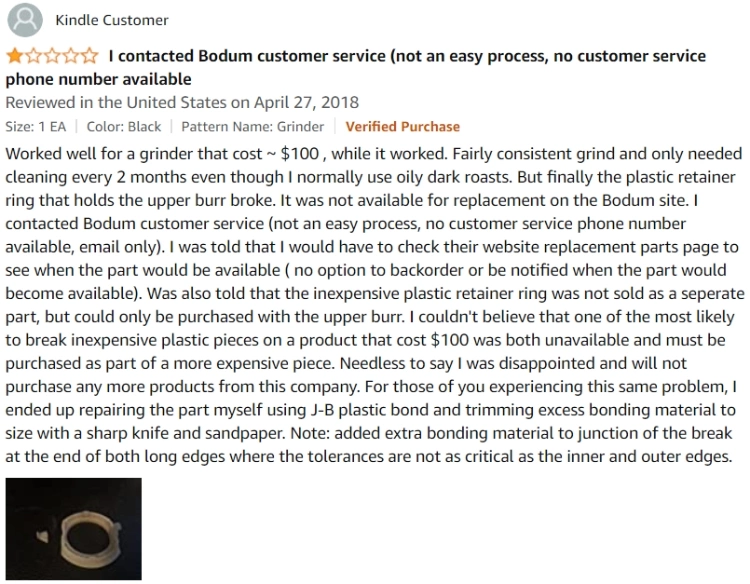 The Bodum Company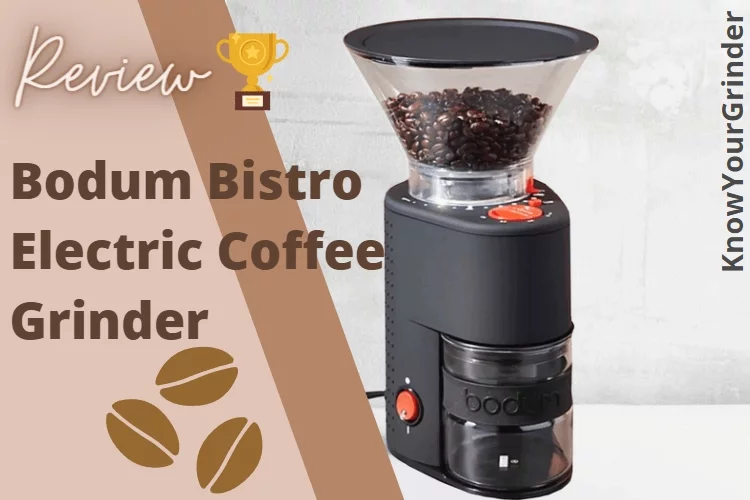 The Bodum company is a multinational corporation that specializes in the manufacturing of coffee and tea products. Founded in 1944 by Peter Bodum, the company has its headquarters in Copenhagen, Denmark. Today, Bodum is one of the leading brands in the coffee and tea industry, with products sold in more than 55 countries around the world.
Bodum's product range includes coffee makers, teapots, cups and mugs, electric kettles, and other accessories. The company's signature product is the French press coffee maker, which was invented by Bodum in the 1950s. Other popular products include the Bistro electric kettle and the Travel Press coffee maker.

In addition to its own products, Bodum also manufactures and sells products under license from other companies, such as KitchenAid and Nespresso.

Bodum is a privately-held company owned by the Bodum family. In 2015, the company had revenues of €250 million.

Buy now at eBay, Walmart, Etsy (quality guaranteed)
Bodum Bistro Burr Coffee Grinder, 1 EA, Black - Walmart, Etsy, eBay
Conclusion for the Bodum Bistro Grinder Buyers
We hope that our Bodum Bistro Grinder review has helped you make a decision on whether or not this product is right for you. If you're still undecided, we suggest reading some of the other reviews on this site to get a better sense of what other people think of the grinder.
Overall, we think the Bodum Burr Grinder is a great choice for anyone in the market for a quality coffee grinder. It's simple to use, produces consistent results, and is very affordable. We highly recommend it to anyone looking for a good entry-level grinder.

Thank you for reading our review. We hope it helped you make an informed decision on whether or not this product is right for you. Happy grinding!