When it comes to making the best coffee or espresso possible, you'll need a few decent tools to get the job done. People who don't care about great results when it comes to espresso skimp on having the right equipment, but we all know that you basically get what you pay for in life. That said, that doesn't mean you'll want to pay an arm and a leg for said coffee gear, to get a great cup of espresso at the end of the day.
What gear is needed to successfully complete the process? Well, you know, as you might expect - quality coffee beans, roasted properly, then ground properly with the right coffee grinder, then transformed into espresso using a high quality espresso machine, which itself has a number of accessories that go with it, such as the often underestimated tamper.
Top Espresso Tamper in 2022 by Editors' Picks
The Importance of the Right Espresso Tamper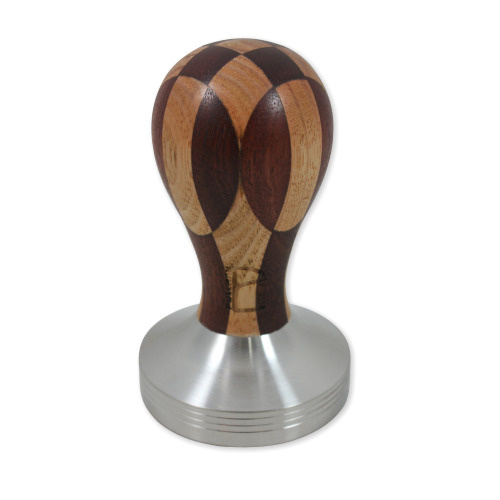 Anyone with any espresso-making experience with a decent machine knows that an espresso machine is something you have to get to know, much like the accessories that go with it.
Even those who make espresso at home know that if you have a quote unquote "real" espresso machine, you have to become a bit of a coffee nerd to get the results you want time after time. It takes patience, and trial and error. There's really no way around that.
This is where a high quality espresso tamper comes into play, because it's one of those espresso-making tools where you might think you can get away with using a cheap one, but you simply can't, for a number of reasons, the most important of which could be that your espresso won't taste good!
Poorly tamped espresso grinds can basically ruin a potentially fabulous cup, and that's just a fact, folks! Conversely, properly tamped coffee can make a potentially good espresso excellent.
This is why today we want to share with you some of the best espresso tampers you can get today, some of which are from companies you may know, while others you may not have heard of, but are worth investigating. Let's take a look!
Top 10 Best Espresso Tamper Reviews in 2022
The Breville BCB100 Knock Box, Die-cast is a a convenient little tool that serves two very important purposes. The first being, to knock used coffee grounds out of your portafilter for faster and more efficient cleaning.
The second purpose of this 'box' is to store the portafilter in an upright position once the knocking is done.
The box itself has a stainless steel body with a black plastic knock bar housed inside of it, preventing direct contact between the portafilter and the 'box'. This allows for an easy clean up process without having to worry about getting coffee stains all over your kitchen cabinets or fridge!
Breville BCB100 Knock Box, Die-cast Features:
Stainless steel body with black plastic knock bar.
Holds portafilter upright for fast and easy clean up after knocking spent grounds from the filter basket.
Conveniently store your portafilter within arm's reach of your machine.
Perfect size to tuck under the espresso machine.
Housing the knock bar inside of the box's body prevents direct contact between portafilter and box itself.

Every morning I sit down to enjoy a freshly brewed cup of coffee. The first step in getting that perfect fresh cup is obviously selecting the type of beans to grind, but after that comes one of the most crucial steps- tamping it down correctly.
It might seem trivial, but how you tamp your coffee can affect the flavor of your coffee. That's why you should use a good quality tamper to get the best results from your fresh beans.
The Fino Espresso Tamper is one such product that I have been using for over five years now, and it's my favorite choice because of its dual surfaces for different sized espresso cups. It's also one of the most affordable tampers on the market, which is why it's my best value pick.
The Fino Espresso Tamper has a weight of 4 ounces and its aluminum body with two different ends makes it an ideal choice for home or cafe use. The base end's diameter is 50 millimeters, whereas the head end's diameter is 55 millimeters.
The best part about the Fino Espresso Tamper is that you can use it on your stove-top espresso maker just as well as regular espresso machines. Furthermore, you don't need to change tampers when switching between different sized cups or mugs because this product has two different ends.
There is one issue to be aware of however- the handle is not ideal for people who have large hands, as it's rather small and can become tiring after tamping down coffee several times over. Also, over time the rubber piece that holds the tamper in place tends to move out of position which requires some disassembly to fix.
The Fino Espresso Tamper Features:
packs a lot of value into an affordable price
extremely versatile and can be used by professionals as well as home users.
Provides dual surfaces for different sized espresso cups
Durable, heavy-duty aluminum design with 4-ounce weight
Ideal for stove-top espresso makers as well as regular espresso machines

The Crema Coffee Hand Tamp is great for home baristas who want the convenience of a dual purpose tool that they can also use to distribute and level grounds in their portafilter basket with the proper ergonomic technique. It fits the majority of machines on the market today including; Flair, Vario, K30/B30 (Kettle) and Rancilio.
It has two sides for different levels of pressure applied to your coffee puck during tamping. The convex side gives you a more gentle feel while the concave side is for a more aggressive feel.
Adjustable depth works with all machines that have standard triple o-ring portafilters, including the Neo, Vario, and Signature+ series. The Crema Coffee Hand Tamp (V2) also comes with 2 spacers (1mm & 3mm) for use if your machine has a modified spout on it's portafilter. If you have an additional spacer from your machine's manufacturer, the Crema Coffee Hand Tamp will work just fine with that as well!
The Crema Coffee Hand Tamper is more ergonomic than a traditional tamper and distributes your coffee grounds more evenly in the portafilter basket. This is achieved by allowing you to use the proper technique of tamping with your wrist, arm elbow locked out, instead of having to bend your wrist inward so often when using a traditional tamper. The Crema Coffee Hand Tamper will help you achieve better results in less time!

Pullman
The Pullman Barista Tamper is one of the most stylish tampers we've seen, and we love their motto, which is "Creating tools with intent". So, Pullman manages to pull off what few tampers do, which is combine style and essential practicality into one streamlined product.
To that end, we want to first mention the rings on this tamper, because the ring allow you to do a few things, such as push down to a certain extent and know where you're at, because the rings are there to guide you with regards to how much pressure you want to apply, which is great for dosing!
The rings also help with levelling, as in keeping the grinds flat, so there are two purposes right there that, once you try it, you may not want to live without those features ever again.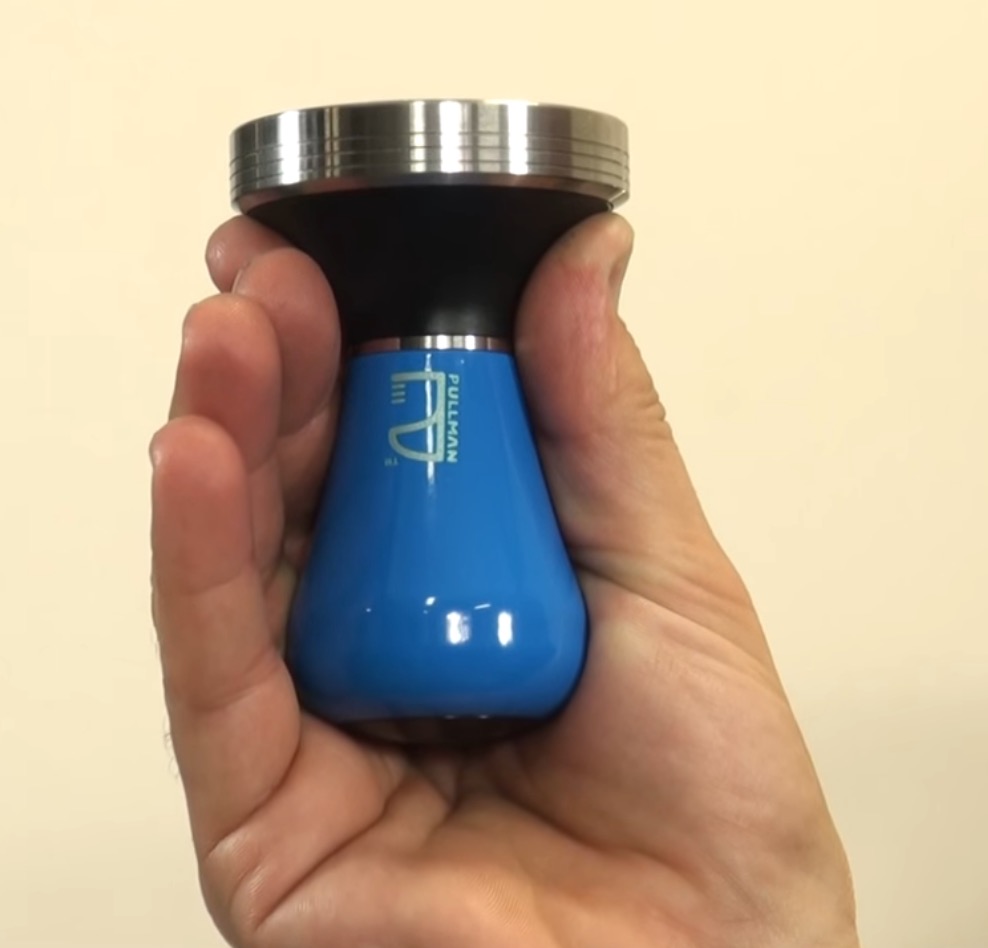 The handle of this tamper is ergonomic, so that it fits perfectly into your hand. This is very helpful because when you are doing this type of repetitive motion, you want something that fits your hand, so you don't get muscle cramping. The rubber below the handle also helps with this, to assist with shock absorption.
The handle is also adjustable, and the Pullman tamper comes with "spacers" of different sizes so that you can easily adjust the height of your tamper to exactly the size you need it to be. This can be done easily and quickly, and we count it as another major plus of this tamper.
In terms of weight, the tamper is quite light, and also very well balanced, such that the weight between both ends of the tamper are fairly evenly distributed. In other words, whoever designed this tamper was a clever individual indeed, and understand the needs of baristas, whether they be working at a café, or at home.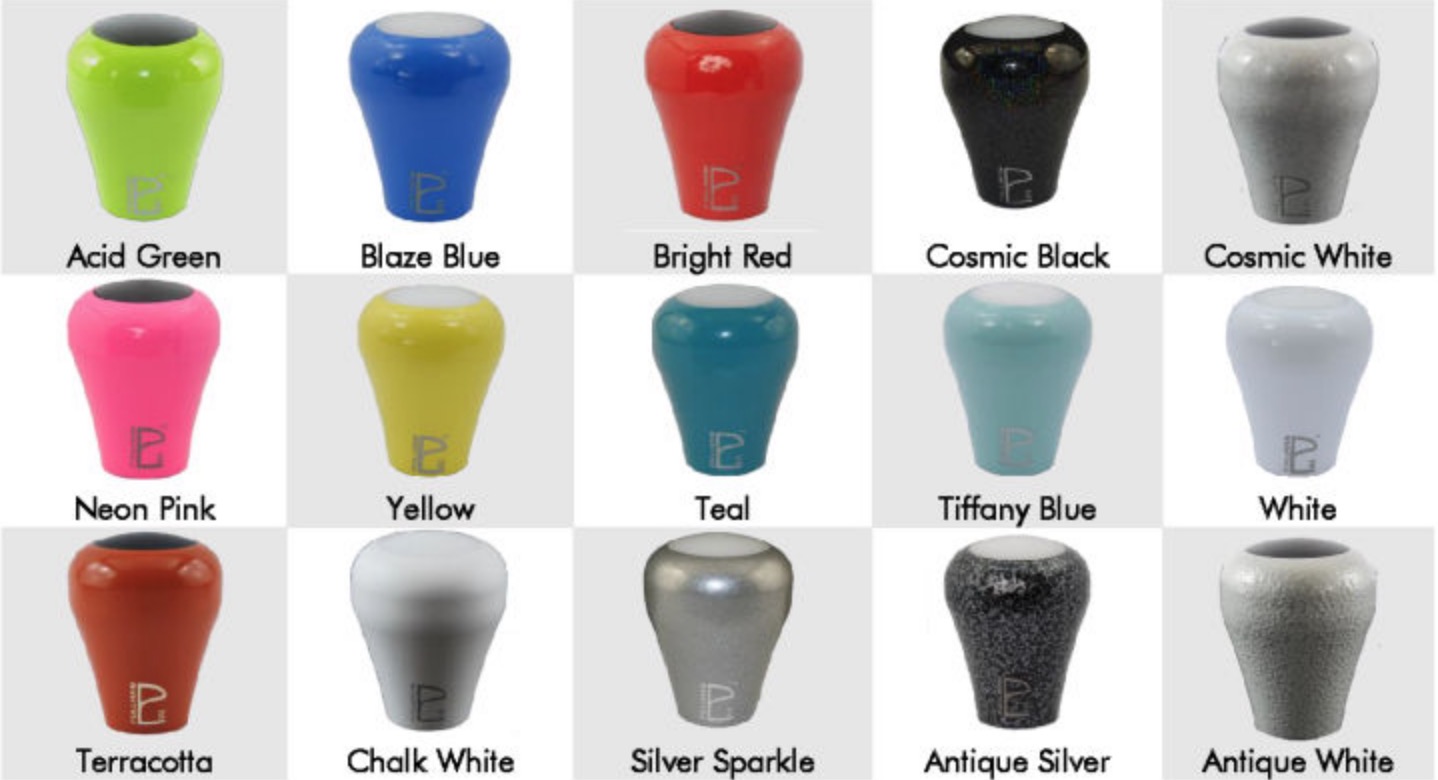 There are a wide variety of colors and designs to choose from, and so it is quite tempting to purchase a number of handles, as overall they seem quite collectible.
Definitely a tamper to look out for!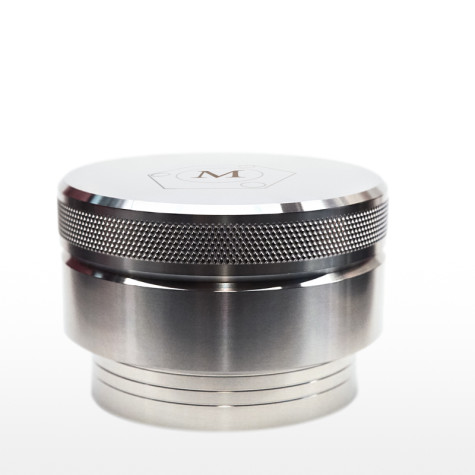 Mahlgut
Up next we have the Mahlgut Palm Tamper, which is a snazzy little espresso tool of German make which we very much appreciate!
You've heard of Germans being known for their engineering. Well, that is especially true of this espresso tamper, which is, as we said about the last one, extremely fitting to the hand, and requires perhaps even less guesswork, or adjusting.
You simply lay your porta-filter full of ground coffee into a porta-filter holder, lay the Mahlgut tamper on top, and, with a few twists, you have perfect flat espresso in your porta-filter in no more than 10 seconds. It is a very efficient and repeat-able process.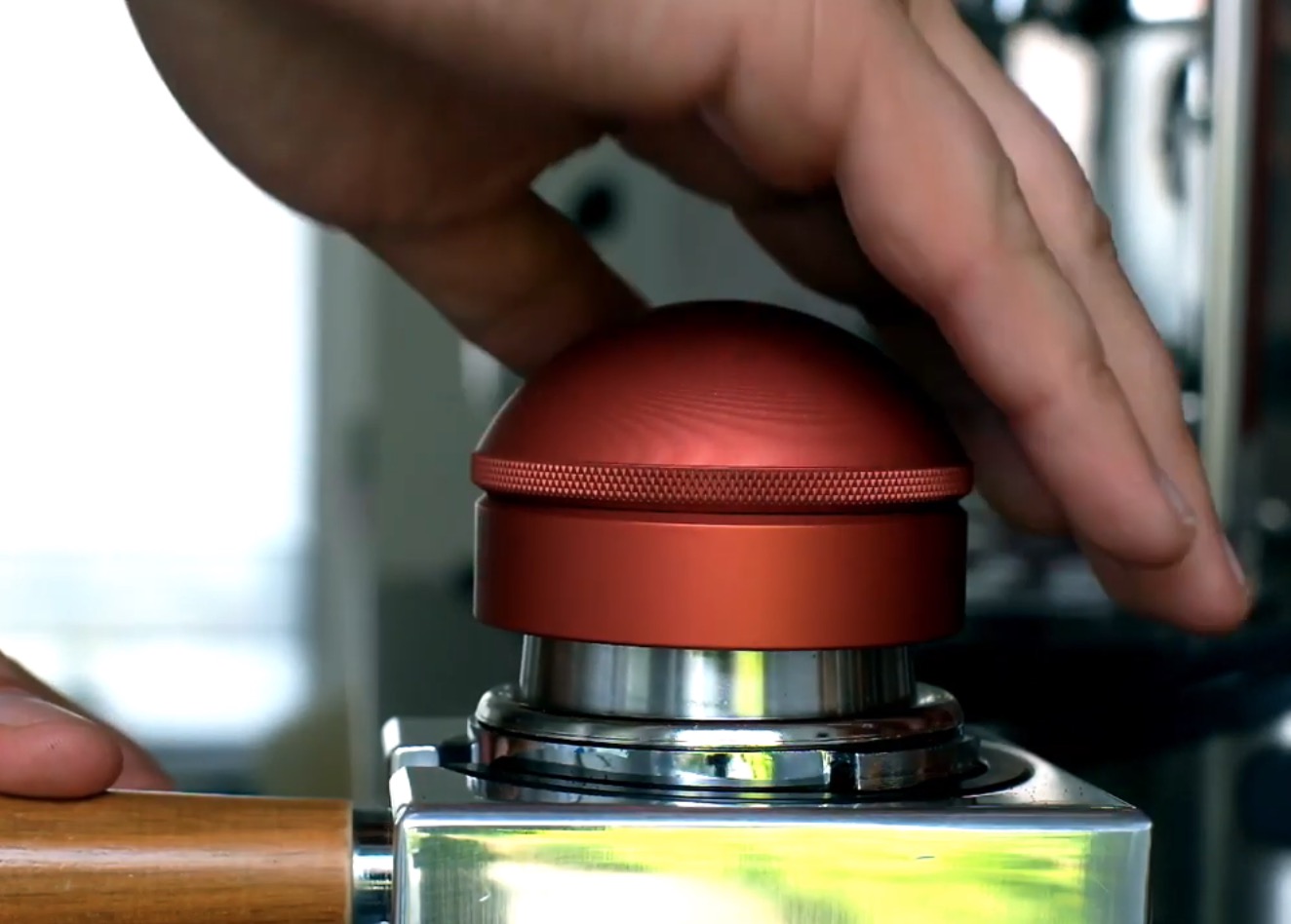 The materials used to make this tamper are all high quality, and you'll be able to use it for years to come, no doubt. This is a company that clearly takes pride in their work, and, once you start using this tamper, you will see the wisdom in its design. It's very well crafted, aesthetically pleasing, and does the job to a "T".
Palm tampers are definitely a type of tamper to be aware of, if you haven't been introduced to them, and we feel there would be no better introduction than if you were to purchase a Mahlgut.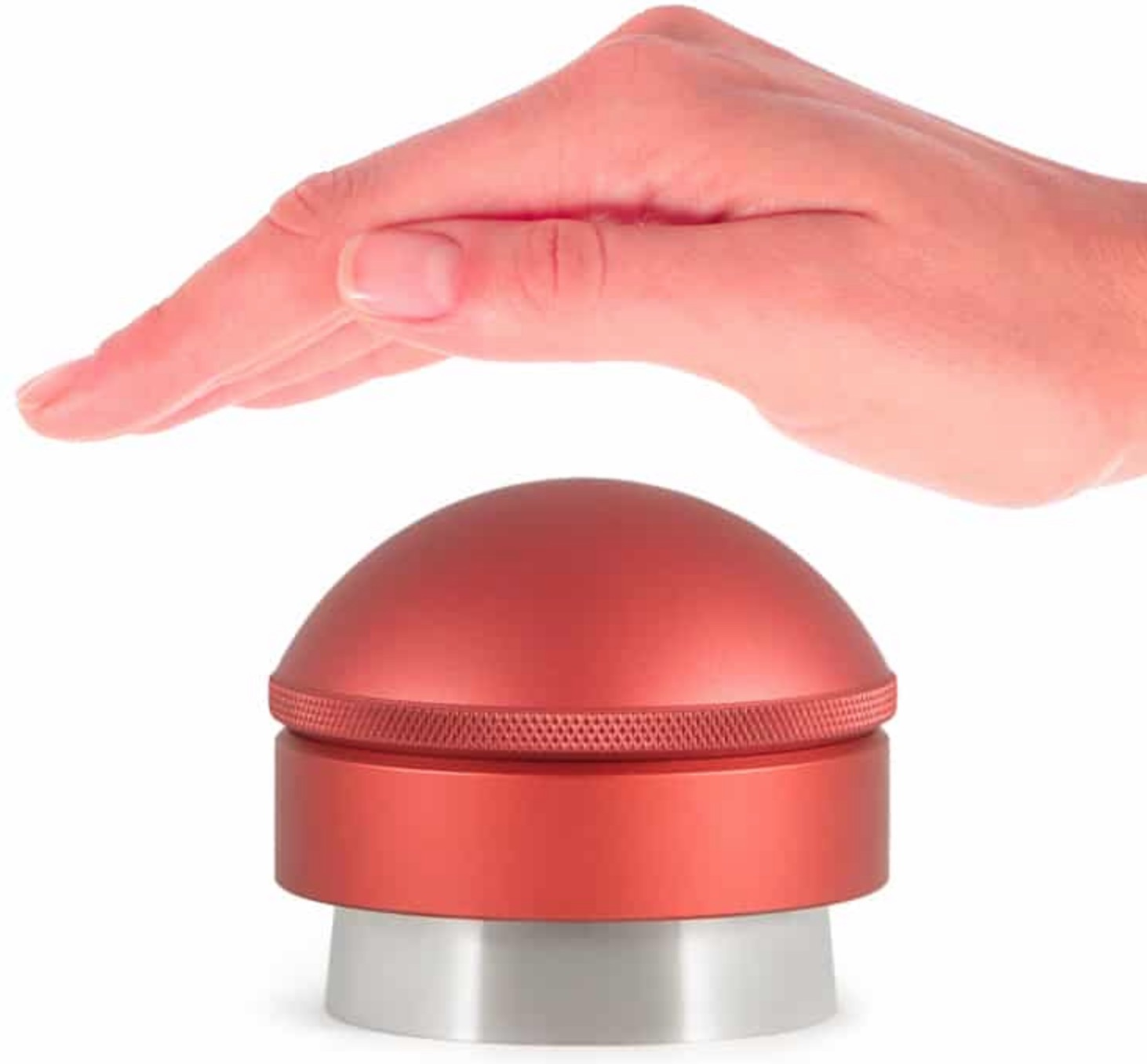 A great choice, once again, for home, or work.
RSVP is a company that makes a wide variety of shapes and sizes of coffee tampers, at different price points. Now, we have to qualify this choice on our list, for a few reasons.
Mainly, when it comes to RSVP tampers, you're going to want to avoid the ones that are the least expensive.
We've mentioned these types of tampers before, and it's a good chance now to say again that a cheap coffee tamper is not the way to go, as tempting as the price may be.
Take a look at this one…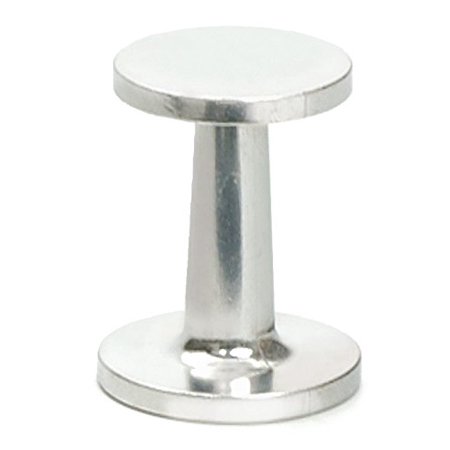 You will see this one around a lot, however it is not the one we recommend. When it comes to RSVP, you will have to pay a bit more money to get one of their better tampers, but, as we are trying to point out, they certainly have much better tampers to choose from, if you can get your hands on one!
Take for instance this one, called the "Little Gem". We do love this one!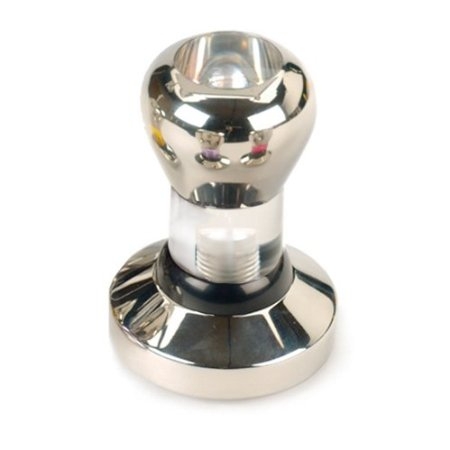 Like the previous tampers we've mentioned, you need to be looking for a few things that are, or should be, important to anyone purchasing a tamper. This includes, ergonomics, adjustability, a certain weighted balance, and perhaps a balance of steel and rubber so as not to make your joints ache after repeated use.
Baristas are a little bit like golfers in this regard. They are always pushing, swivelling, and trying to be exact with an implement that, over years, will leave them aching, unless they are pre-emptive in their desire to get a better tool to begin with.
So, yes, RSVP tampers do make this list, with the caveat that you need to make sure you get one of the better ones that they sell, and there are a number of those out there. Because RSVP is for sale anywhere you can buy espresso tools, you shouldn't have much trouble finding the right one for you.

Motta, originally from Italy, makes coffee tools for the discerning barista, and we love their signature tamper, with the wooden handle and steel base. Italians certainly know their coffee, whereas Germans know their engineering, and so this Italian tamper is made with a clear affection for the beverage in question.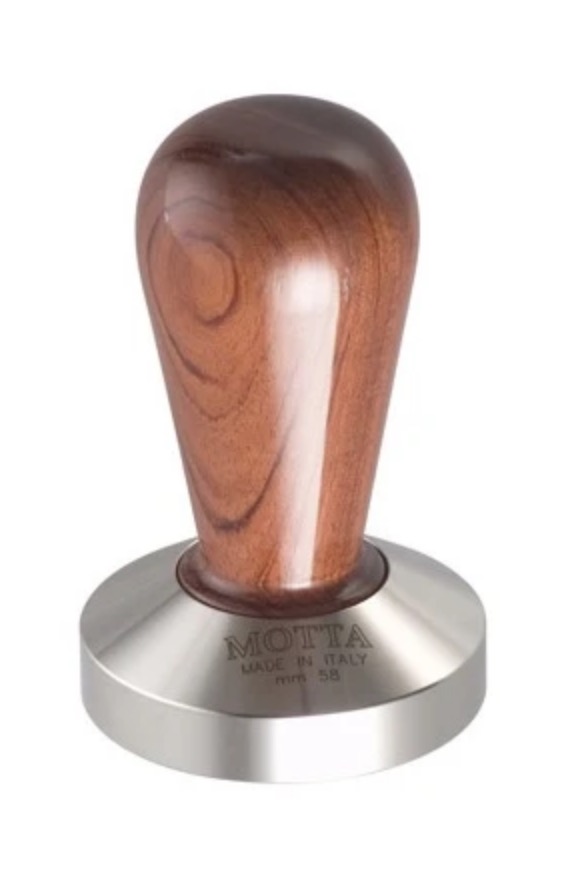 Motta makes a variety of models of tamper, and, unlike RSVP, we would say that Motta adheres to a higher overall caliber of coffee making tool, and so you can't really go wrong with a Motta.
Once again, we see many of the key points coming up again with these tampers - ergonomics, adjustability (if that feature is included - be sure to check), and overall outstanding style.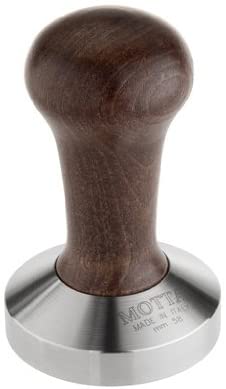 Speaking of style, one standout feature of the Motta tamper is the wood they use. The wood! It's gorgeous, and Motta absolutely excels at making handles that you will want to collect, because they are designed to look amazing each and every time.
The wood is definitely one of the main selling points of these tampers, which, if you aren't careful, can make you forget things like adjustability, and, as we mentioned with the first tamper by Pullman, things like rings which can help guide you with your tamping.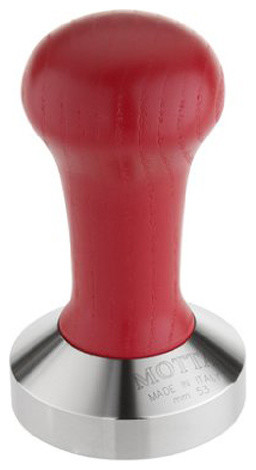 Let's put it this way - if you are dedicated to the art of making fine espresso for life, we think it's fair to say that you'll want to have at least one Motta tamper in your collection, if your interests take you that far. It's a beautiful make of tamper, and, although we can't argue it has every base covered, it is truly one which is hard to resist.

Another high quality tamper comes to us from Espro, a company started over 20 years ago by a pair of engineers who were ultimately trying to create the best calibrated espresso tamper they could.
Did they succeed? You'll have to be the judge, but what we will say is that it is clear that there were great minds behind this tamper, as it offers something most tampers don't offer - a "click".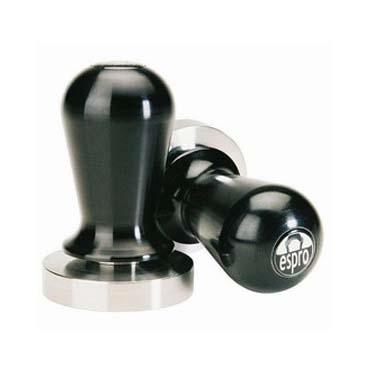 A "click"? Yes, well this tamper is calibrated to respond with a click to 30 pounds of force, so that you know when you can stop applying pressure.
The problem with many tampers, obviously, is that unless you're a trained barista, how do you know how hard to press or how much pressure to apply to get the exact right flat and consistent puck density with your espresso.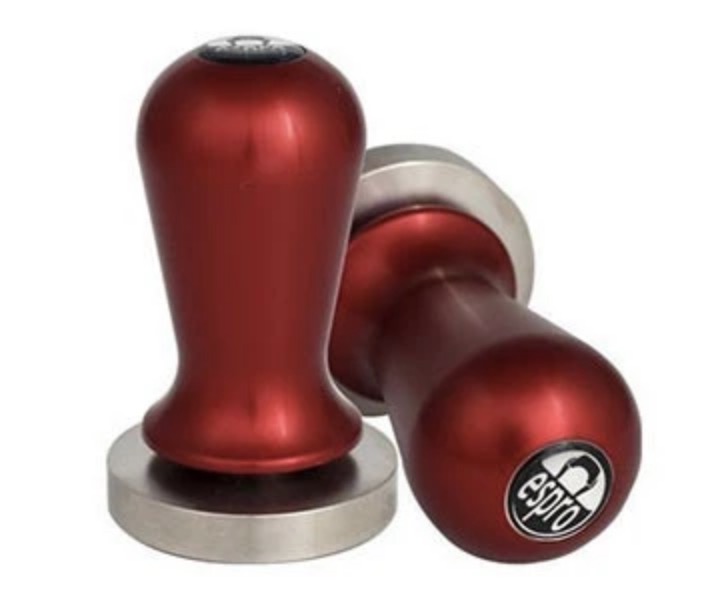 Made of stainless steel and ergonomically shaped, the Espro tamper fits the bill, like all the tampers we've mentioned so far, as a coffee tool that you would be proud to own.
We love the look and the shape of it, and, with that little built-in "click", we think this tamper offers something truly special.
We've heard people say that this is too "expensive", but if you're really serious about great coffee, you may just have to have this relatively high ticket item.

If you are looking for consistency above all else, you can take a look at this nifty little electric device - the Puqpress Automatic Tamper.
We love this machine because, if you aren't up for the learning curve that comes with getting a perfect tamp done by hand, then, well…ok, this machine can just do it for you and do it perfect every time! No need to spend years getting a "barista's arm".
Somewhat ironically, this tool can be especially handy when it comes to coffee shops, where we usually see multiple people making espresso, but having it turn out differently each time.
Not everyone (we mean customers) wants to have to think about which barista is going to make their espresso, since one might do a great job, and one might mess it up every time.
This takes away the guesswork, and pleases every customer with some predictable consistency to their espresso-based beverages.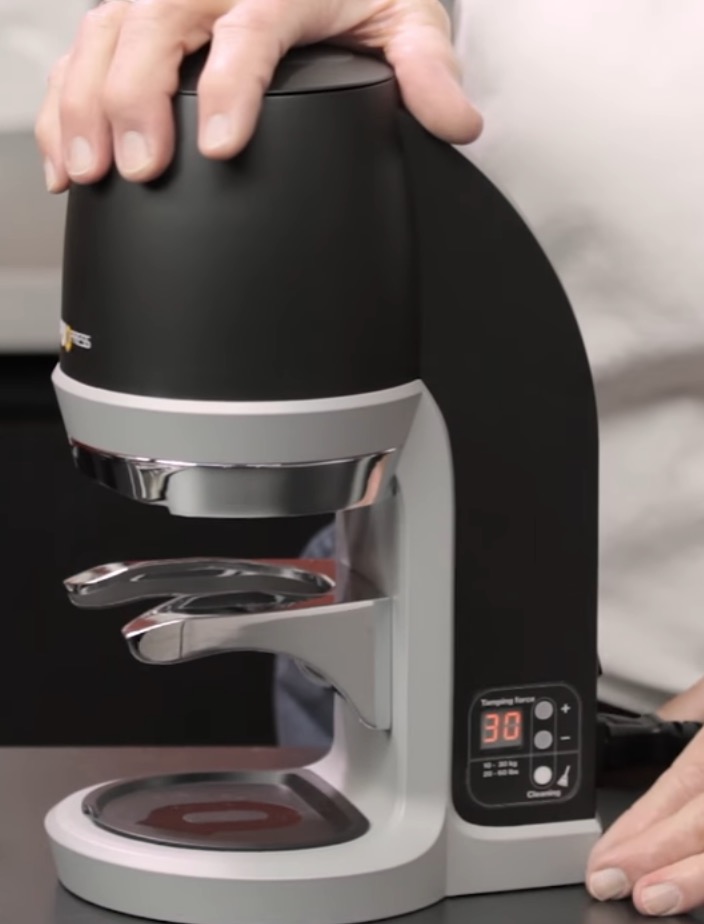 Be aware that it takes only the standard 58 mm porta-filter, so you can't just stick any porta-filter into it and expect it to work.
It applies between 20 and 60 pounds of pressure which control via a panel on the side of the unit.
Although you'll have to pay more for this than for your average tamper, you can imagine how this machine can solve quite a few potential issues in one fell swoop.
All that said, we still think learning to tamp by hand is an essential skill of any lifelong coffee nerd, but hey, nothing wrong with a bit of convenience!
What Is an Espresso Tamper and What Does It Do
An espresso urn is used to make many kinds of coffee drinks, iced coffees, and tea. To make the best iced coffee or iced tea you can, you need an espresso tamper that will help create the ideal drink. An espresso tamper has a base that is flat on one side with a round area for the base of a portafilter on the other side. It also has a handle. The handle helps you to apply even pressure when compressing your coffee grounds, ensuring an evenly brewed iced coffee or iced tea with a smooth, rich flavor and a frothy head on top.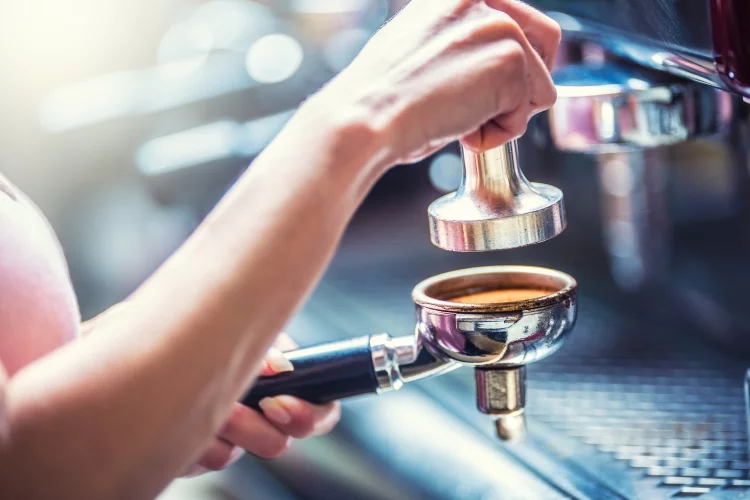 An espresso tamper is not just for making iced coffee. It is also used to prepare espresso. It ensures that the tamped coffee grounds are level, which provides for an even extraction when brewing your drink. Since even pressure is applied to your coffee grounds, you will not over extract them and end up with a bitter brew. An espresso tamper is perfect for preparing drinks for family, friends, and guests. It is also used to help create the perfect crema on your espresso shot, which enhances the flavor of your drink.
An espresso tamper can be made from a variety of materials. Once you have an espresso urn, you need only one or two tampers so they should be easy on your budget since they are not everyday kitchen utensils. Aluminum, stainless steel, plastic, and cast aluminum are the most common materials for an espresso tamper. You can also get them in wood or acrylic if you prefer.
The portafilter handle has to fit securely into your espresso maker so it is important to know what size your machine is before getting an espresso tamper. There are five standard sizes of portafilters, so you should be able to get the right size without too much trouble.
An espresso tamper is a great investment for your home or business since it helps create consistently delicious iced coffee or tea drinks that everyone will love. They are easy on the budget and won't take up too much space in your kitchen. Just pick the right size so it fits securely in your portafilter and you are good to go.
How to Use an Espresso Tamper for the Perfect Cup of Coffee
Espresso is a very popular drink in homes and coffee shops everywhere. For many people, making the perfect espresso is second nature; however, for others, it can be difficult to achieve that perfect cup of joe every time. A big part of making the perfect brew at home or in your office could be your addition of an espresso tamper, which is a large and heavy-duty tool to aid in the compression of coffee grounds.
The espresso tamper will help to give you just the right amount of coffee for that perfect cup of espresso. The problem with many commercial espresso machines is that they don't have the same pressure as the best home espresso makers have. This results in a less than satisfying cup of coffee. With an espresso tamper, you can pack down the coffee and create a better surface and density and compression to help give you a richer flavor and larger volume in your finished product.
Regardless of what type of espresso machine you have or even if you prefer to make it by hand with a moka pot, the fact is, to make a great cup of espresso, you need the right kind of steel or aluminum tamper head and a well-fitting base. The espresso tampers come in different shapes and sizes and they all help create a better finished product.
The most popular type of espresso tamper is made from stainless steel or aluminum since these materials are durable and are able to resist dents, especially if the tamping is done with force. These materials are also strong enough to help you achieve that perfect coffee density that will bring out the best flavor in your espresso.
How to Care For Your Espresso Tamper So It Lasts Longer
After use, you should wash your tampers by hand with mild soap and water. You can remove any residual coffee particles or oils from the tampers with a clean sponge or non-abrasive cloth. You can then let it air dry or use a lint free towel to ensure that the tampers remain pristine and dry for storage.
Here are some helpful tips for storing your tampers:
Store your tampers upright on their base, so that they do not touch any of your other equipment or utensils
Store your espresso tampers in a vertical position, with the flat bottom of the tamp facing up. This way it won't be sitting on its side and will not absorb moisture or debris from storage.
Keep your espresso tampers away from other types of utensils made of wood, plastic or other porous materials. These items can easily get stained or discolored by coffee oils, especially if they are touching while you store them.
Keep your tampers away from sunlight or heat. Exposure to either of these elements can cause the espresso tampers to expand or warp, which will damage their shape and integrity.
If possible, keep your tampers in a small drawer with other espresso-related items, like portafilters and coffee beans. This way you will be able to easily see them when you need them.
If your tampers are too big for a drawer or cupboard, make sure they are in an area where they won't get knocked over or slip through any cracks.
If your tampers are too heavy to lift easily, make sure you keep them out of the way of young children or pets, who may not know that they are hot.
To ensure that your tampers last as long as possible, it is important to clean and store them properly. A few extra minutes now will save you time in the long run and prevent you from having to replace your entire set on a regular basis.
Buying Guide for Choosing a Good Espresso Tamper
A tamper is required for any espresso machine using a portafilter. Its purpose is to press the ground coffee firmly against the filter basket, ensuring that all the grounds are properly tamped, for an even extraction. When choosing a tampers you should consider factors such as weight and size of the tamper, ergonomics and aesthetics.
Weight and Size
A heavy tamper is usually considered better, due to the fact that it compresses the coffee more evenly. However, this can make a large tamper difficult to handle for smaller hands or when making a cappuccino in a small cup. The best option is to choose a tamper according to how you will use it most often. Many users prefer a heavy tamper for all situations.

Ergonomics
A good espresso tamper should fit your hand comfortably and be well balanced, so that you do not have to struggle to apply pressure or counter-balance the weight of the tamp. There are various types of handles - short, long, handle-less and rotating - each with its pros and cons. It may be a good idea to try out a few before making a decision, or else choose one that you think looks best.

Aesthetics
A quality tamper is a pleasure to handle and behold, so it's worth trying to find one that aesthetically pleases you. For example, wooden handles can look very elegant in a modern or rustic kitchen. Many tampers have metal bands on the base with interesting designs so you might also consider choosing one according to your personal preference for this aspect. Just make sure that the design doesn't interfere with the functionality of the tamper; for example, it should not get in the way when tamping down firmly on your portafilter.

Tamp pressure
The ideal tamp pressure is between 30-50 pounds (13-22 kg). The pressure required will depend on various factors such as tamper size, grinder and dosing technique.
Hand position
When tamping a shot you should have your hand positioned around three quarters of the way up from the base of the tamper, with your fingers wrapped around the handle comfortably.

Tamping a shot
To tamp a portafilter simply place it under your espresso machine's group head, lightly moisten the coffee grinds, distribute them evenly across the filter basket by tapping it on a hard surface and use moderate pressure to gradually press down all around the edge of the portafilter while moving in a circular motion. You should aim for an even distribution without pressing too hard so as to avoid compressing any one area excessively and thereby making that part of the coffee grinds too fine.
After tamping the shot you should be left with a flat, level surface, two millimeters below the top of the portafilter. If you're using an espresso machine that doesn't have a built-in tamper rest (such as most manual machines or semi-automatic home machines) then place your tamper on the bench next to your portafilter and give it one firm tap with your hand to settle any coffee grinds that may have moved during tamping. You can now lock your portafilter into your machine and start pulling your shot.

Different Types of Espresso Tampers
There are many different types of tampers available on today's market including:
Cup Tampers
Double Wall Tampers
Stainless Steel Double Wall Tampers
Triple Spikes or "Bits"
Cup/Portafilter Holders for E61 Machines.
Pros & Cons of Various Tampers:
Long & Slim Cone Shaped Cup Type
This type of tamper is good for those who like to use a light tamp pressure as it makes it possible to gently press the coffee into the portafilter without deforming the edges of the coffee puck. However, one can end up pressing too hard and having an inconsistent extract as some areas within the portafilter will be over tamped while others remain under tamped. Also, this type of tamper doesn't usually have a flat base so it can be difficult to remove from the basket once pressed. It is also very easy to bend or crush this kind of tamper when using it in the portafilter basket.
Flat Base & Long Slim Cone Shaped Cup Type
This is a little better than the cup shaped tampers because it does have a flat base, making it easier to remove from the basket and therefore less likely for you to damage your basket by prying off. The downside however is that you can press too hard with these tampers as well. Also, if the basket holes are not uniform within each basket then there will be more pressure on some holes than others which may result in uneven extractions.
Flat Base & Short Cone Shaped Cup Type
This is also a better option than the cup shaped tampers because of its flat base which makes it easier to remove from the basket. The downside however, is that one can press too hard with this tamper as well which may result in an inconsistent extract. Also, if the basket holes are not uniform within each basket then there will be more pressure on some holes than others which may result in uneven extractions.
Double Sided Insert Tampers
These tampers (which I personally use and recommend) fit into the portafilter basket like any other insert tamper but they have two sides; one side has deep grooves for packing the coffee into the basket while the other side presses down on top of it to push it down evenly. This type of tamper is very easy to press without applying too much pressure, and therefore there will be no deforming of the edges of your coffee puck which can cause an inconsistent extract. The double sided insert tampers also have two different ends (one side has small grooves, the other does not) allowing for use with baskets that may have "offset" holes; this makes it possible for you to achieve more even pressure in all areas, resulting in a better extraction. Another benefit is that since these tampers are made out of solid metal (stainless steel), they won't bend or break like some other types available. Plus, you can literally run these tampers through the dishwasher to sanitize them, although it's best just to use a little bit of soap and some elbow grease.
Pros & Cons of Double Sided Insert Tampers
The only downside I've found with this type is that they tend to be more expensive than other types but if you want an even extraction every time, then it's worth the price. Also, since there are two different sides/faces on each tamper, they are not as durable as say a single sided tamper would be (although they definitely do last).
Buy now at Walmart, eBay, Etsy (subject to availability)
ESPRO Espresso Coffee Tamper - Calibrated Stainless Steel Flat, 58 mm, Black - Walmart, Etsy, eBay
Zoie + Chloe Stainless Steel Espresso Coffee Tamper - 49mm Flat Base - Walmart, Etsy, Ebay
Rattleware 57-Milimeter Round-Handled Tamper, Long - Walmart, Etsy, eBay
LuxHaus 49mm Calibrated Espresso Tamper - Coffee Tamper with Spring Loaded Flat Stainless - Walmart, Etsy, eBay
Breville BCB100 Knock Box, Die-cast - Walmart, Etsy, eBay
Fino Dual-Sided Espresso Tamper, 4-Ounce Weight, 50-Millimeter and 55-Millimeter, Heavyweight Aluminum - Walmart, Etsy, eBay
Crema Coffee Products | 39.25mm Coffee Distributor/Leveler & Hand Tamper - Walmart, Etsy, Ebay
RSVP International (TAM) Dual Sided Coffee Espresso Tamper, 2"-2.25", Aluminum Alloy - Walmart, Etsy, Ebay
Motta Professional Coffee Tamper, Flat Base 58mm - Walmart, Etsy, eBay
PuqPress Q2 Automatic Precision Coffee Tamper - Walmart, Etsy, eBay
Conclusion for Espresso Tamper Buyers
The Espresso Tamper is the newest game changer for baristas. It allows coffee shops to move around more quickly and efficiently, which means they can serve more customers without sacrificing quality or consistency of their drinks. Whether you're an experienced espresso maker looking for new ways to improve your technique, a newbie who wants to learn how it all works, or just someone with a love of great coffee that needs help getting started at home - the Espresso Tamper could be what helps make your life easier!