These days, with so many cafés opening up, standing out from the crowd is not easy.
This is especially true if you are the new café on the block with something to prove. Or, if you have been around for a while, keeping up the pace can also be a challenge. Either way, a café owner has their work cut out for them to be seen in their locality as a can't-miss destination.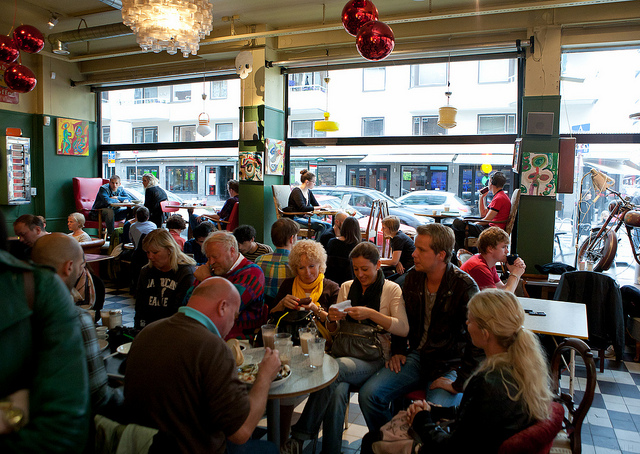 Which begs the question that every café owner must answer – what will set you apart and make you somewhere that people want to go to again and again?
Considering our bias for coffee grinders, you might not be surprised to hear us say that having a great commercial grade coffee grinder is going to be a necessary tool of the trade for many busy cafe owners.
In this article, we dive into the details surrounding commercial or professional grade coffee grinders, helping you understand what is needed in order to take your café and, in particularly, your cup of coffee and / or espressos, to that "cut above the rest" level.
Table of Contents
Let's get into it!
Commercial Coffee Grinders for The Prosumer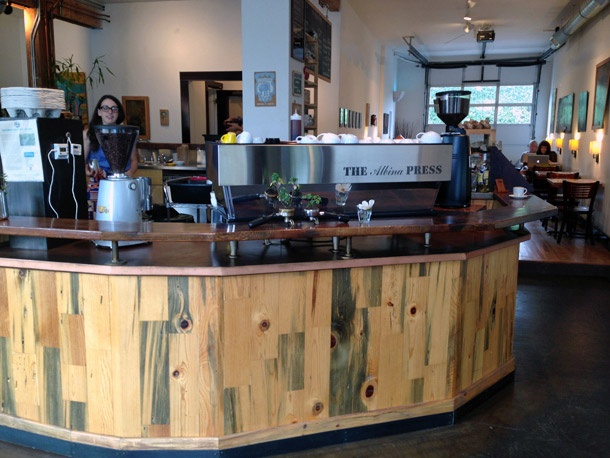 Best Commercial Coffee Grinder Reviews
Honestly, these days, customers are looking to be impressed in some way when they stop in at a café, or they may not go back.

In order to earn this stellar reputation, you can start by brewing the best coffee and/or espresso in your local vicinity. Word about this great brew has to spread – solidifying your coffee shop as the place to go.
We, as café owners, need to offer better-than-the-next-guy espresso, and the only way to do that is by having a better coffee grinder than the next guy, since a coffee grinder, as well as the beans you're grinding, play a huge role in the resultant taste of your beverage.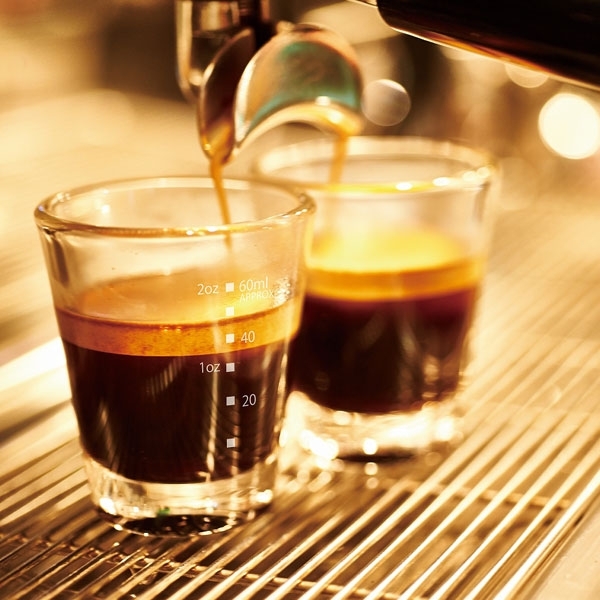 Many consumers are interested in the production of the products they consume: this is what we call the prosumer.
It's someone who is typically not a professional, but an amateur to the industry, who will become involved with the production of the product they consume.
This is a huge trend with coffee drinkers in the last couple of years, where people aren't just nit picky. Indeed, some of your customers may know as much or more than some of your baristas, and, depending on the topic, they may even think they know more than you – the owner!
Your first step is to get the right grinder for your café. This is particularly important if your café is bustling. If you don't have the control or power behind your grinder to make drinks at a pace and quality level that certain people demand, you're going to have a rough go of things.
That coffee grinder, then, has to be commercial-grade, or it won't be able to keep up with costumer, including prosumer, demand.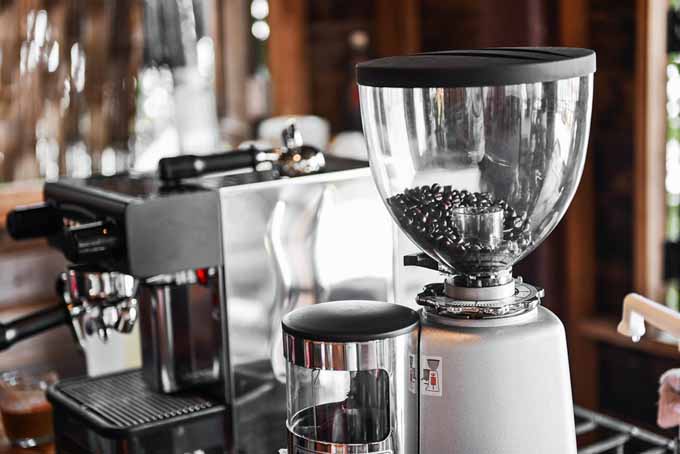 Mustn't Underestimate the Grinder
A lot of folks – even people who really love coffee – may not be aware of just how important a coffee grinder is to the flavor of the coffee and espresso you brew.
To some degree, its understandable – many people think of coffee grinders as extras in the coffee making process.
Nothing could be further from the truth! They are actually crucial, particularly if you're making espresso, and for all other coffee-based drinks as well.
If you're opening your own café, or somewhere that sells coffee day-to-day (store, other business), having the right commercial coffee grinder is a must.
You're going to need it not only to grind more coffee and fast, but it must also be high quality. Your customers are going to notice the superior flavour of your coffee or espresso right away – and then go and tell their friends!

The truth is, you can't really open up a coffee shop without a high-quality coffee grinder.
Any café you go to will have one, but some just skimp on them and end up with an inferior model, and, hence, inferior coffee and espresso.
As we said, frugal / choosy customers take one sip of so-so coffee, and they're not coming back.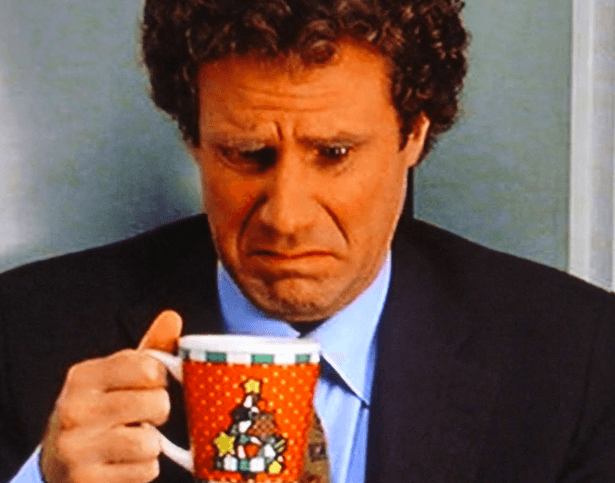 That's why purchasing the right coffee shop-ready grinder that can do it all means pleasing our customers and making them happy!

This doesn't mean you have to spend thousands of dollars, but you will need to buy the right grinder, for the right price.
Pleasing *That* Customer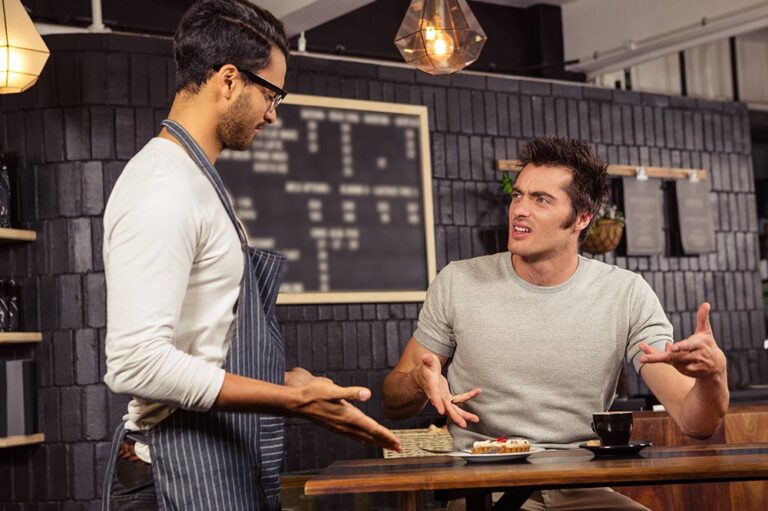 What do we mean by *that* customer? We are talking about the one who is notoriously picky.
The one who will take you up on your offer to fill out a comment card, and also, the one who will visit the internet to review your store through extremely critical eyes.
The main thing to note about *that* customer, in the case of our café, is that they are going to be the first ones to notice if anything is wrong with our coffee.
In some cases, they might just be grumbling and complaining as per usual, but in other cases, their complaints can be quite insightful and even helpful.
Just remember – if you can impress *that* customer with things like amazing espresso, the rest of the customers are going to be no problem at all.
And how do we impress these very finicky and hard-to-please people?
Well, we need to serve them a cup of coffee that will rock even their dark and turbulent world. Another great reason not to skimp on your commercial coffee grinder.
Note: we're not saying many of these customers' complaints are unwarranted.
Many people have been exposed to a lot of bad coffee, and certain people have just simply had enough, so they're calling out the cafés that don't make good coffee or espresso, and spreading the news around town.
This isn't just idle gossip – this can and does happen.
But this need not be you.
Here's the reaction café owners generally want to see when customers drink their coffee (or espresso)…
Alright, we've laboured the point quite a bit now. Let's get on with our guide to choosing the best commercial coffee grinder for your business.
Commercial Coffee Grinder Buying Guide 2020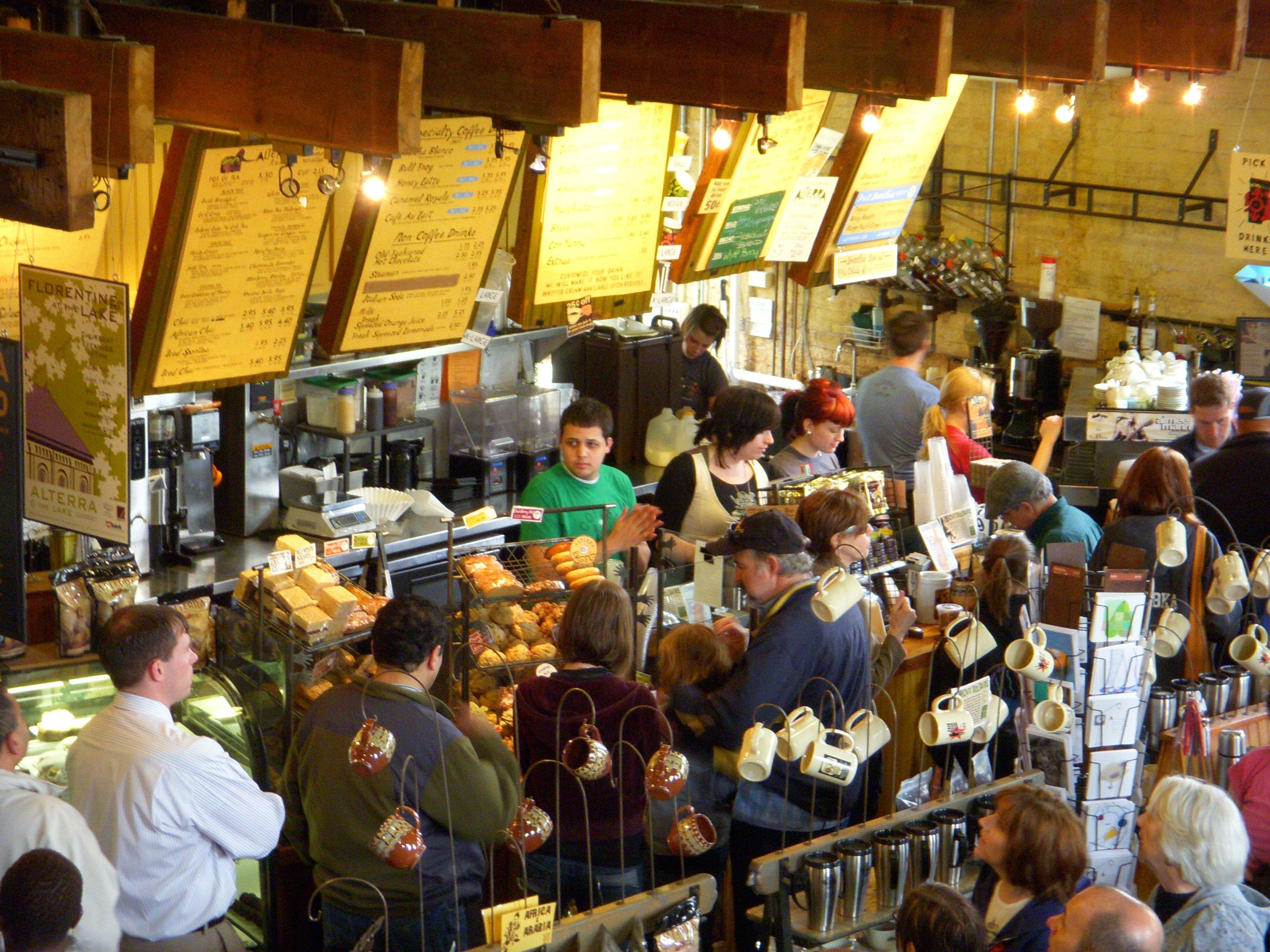 Busy Coffee Shop
If you want a café that looks like the one pictured here – busy day in and day out and otherwise ridiculously, almost inexplicably busy, we say it comes right back to the grinder.
Now, we want to break down exactly how this piece of equipment can make all the difference between utter failure and a huge success.
What features do you, as a café owner, need to have in your commercial coffee grinder in order to provide the best possible coffee and espresso to your customers?
Use Only The Best Burrs To Grind: Conical vs. Flat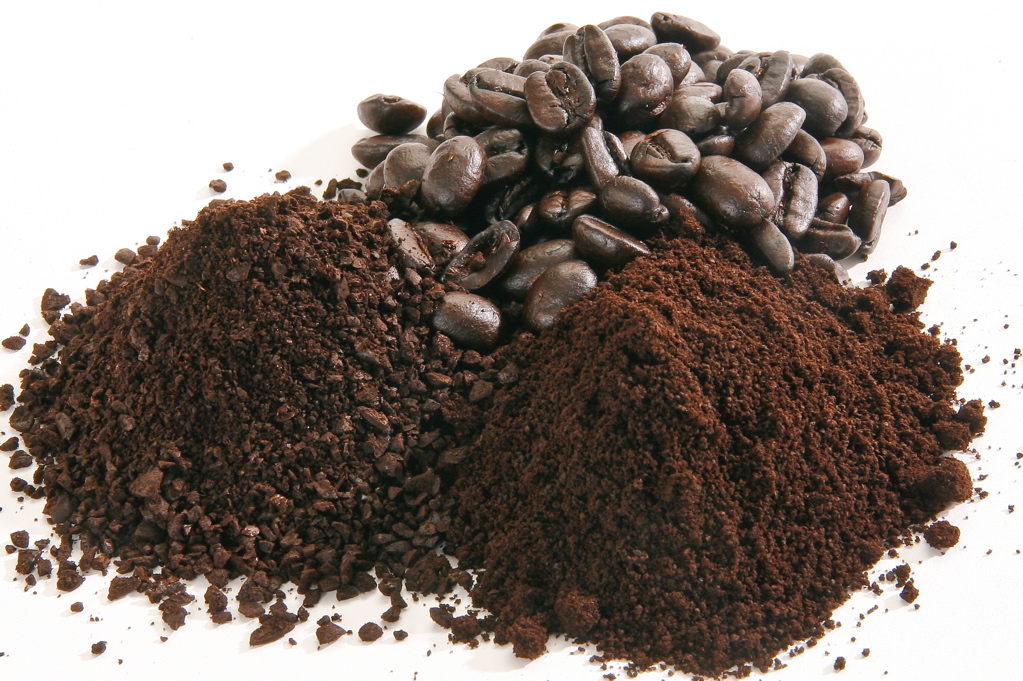 Best Professional Coffee Grinders 2016
A consistent grind is of huge importance in the process of making an extraordinarily high-quality cup of coffee, which is why the grinder is the most important piece of equipment when it comes to coffee preparation.
Can it be more important than the actual espresso machine itself?
Yes, it can be, because it determines if the coffee or espresso you brew after you grind actually *can* be any good.
Bad grind – bad coffee. It's that simple. And don't think you can get away with pre-ground coffee. Maybe if you're opening a gas bar, but not a real café.

To provide the level of consistency of grind we need for a café environment, you will most definitely need a high end burr grinder, and not a blade grinder. Never a blade grinder.



To the left is a conical burr; to the right is a flat burr. Why is a high end burr grinder the best choice?
Easy – they provide consistency of grind, speed, quantity and flavour extraction.
With the right burr grinder, you can have the same results day after day. If your coffee tasted different every single day, customers would not be happy.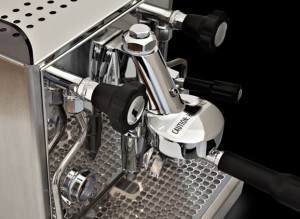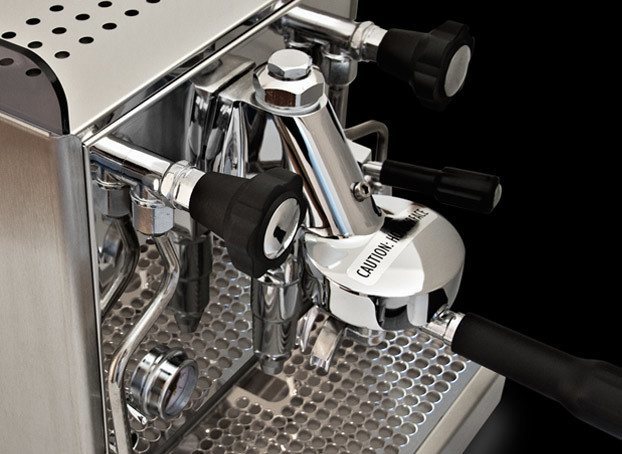 Cellini Classic Espresso Machine
Consistently ground coffee where the grinds are always the more or less exactly same size means that regardless of your brewing method (espresso machine, french press, drip.)
You will get results which are more predictable, and, in this case, that's exactly what we want.
A professional level coffee grinder can provide this, while anything less really can't.
Of course, you can definitely botch the espresso during the brewing process, but that's another story.
You can learn more about what espresso machines are the best and brightest in 2019 in our article here: https://knowyourgrinder.com/review-best-commercial-espresso-machines/
High Volume Coffee Grinder with Speed
Mazzer Robur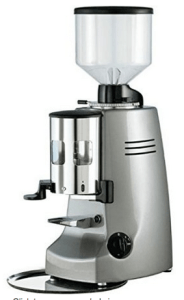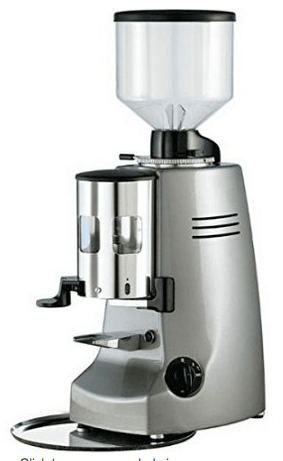 Mazzer Robur Automatic Grinder
Features of the Mazzer Robur
71 mm conical burrs
Blade speed of 500 RPM
4 pound capacity for beans
Sleek design
When it comes to speed and quantity of grind, commercial coffee grinders obviously need to grind fast and a lot.
When your café is full of customers, you absolutely have to have a commercial unit that can keep up.
Commercial grinders should hold high volume of beans.
If your café is full on a Saturday morning, you need to have time to grind beans for each individual cup of coffee you're making.
So, you are looking for a machine that will grind consistently in a short amount of time (a few seconds.)
That way your customers get the freshest possible cup without having to wait.
In high-end cafés like this where beans are ground before each cup, customers may be willing to wait a bit longer than in, say, a chain restaurant that only serves drip coffee.
Even still, people become impatient, and even irritated if there are many people around them. So, if your customers see a long line and are having to wait for their coffee, they may grow impatient.
This is a good reason to look for a grinder with a quick processing time.
So how fast is fast and how much coffee is a lot?
Well, with a grinder like the Mazzer Robur, which can grind for a double shot in about 3.2 seconds, we often use it as a benchmark for speed.
The Robur is a beast and one of the more high end units.
Here's a quick video showing some of the features of the Mazzer Robur by Seattle Coffee Gear and as you'll see, if any grinder can keep up with any kind of demand, it's this one.
So, make sure you keep grind speed and quantity in mind when you buy.

Mazzer Mini Espresso Grinder

Baratza Sette 270Wi-Grind By Weight Conical Burr Grinder For Espresso Grind And Other Fine

Wilbur Curtis Coffee Grinder 50 Lb

Burr Vs Blade – No Contest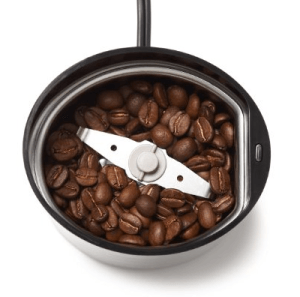 KRUPS F203 Electric Spice And Coffee Grinder With Stainless Steel Blades, 3-Ounce, Black
If you're new to coffee grinders in general, you need to know that all commercial grade coffee grinders are going to be burr grinders.
There is no such thing as a professional coffee grinder that is a blade grinder.
Sure, blade grinders are known to be kicking around coffee shops, but they do not have any major jobs to do.
All commercial grade grinders have burrs, and those burrs are needed to make consistently ground coffee.
Please note that blade grinders, while some are high quality and almost all are fairly cost effective, are used mostly at home.
Even then, we don't recommend them over a good burr grinder, and especially NEVER for the purpose of selling coffee to customers.
Pictured to the right is an excellent quality burr, belonging to one of the best high end commercial coffee grinders out there in 2019 – the Mazzer Mini.
This type of burr is called a conical burr which is what we always recommend versus a flat burr, although both are found in commercial coffee grinders.
Why We Prefer Conical Burrs

Conical Burrs Vs Flat Burrs
Conical burrs simply use gravity to draw in your fresh whole beans where they get chewed up by the burrs, whereas flat burrs use centrifugal force which is more taxing on the motor of the grinder and creates more heat.
You might say that conical burrs are a more natural "flow" when it comes to grinding.
Here's a short video that may explain this better than we can.
Stepped Grinders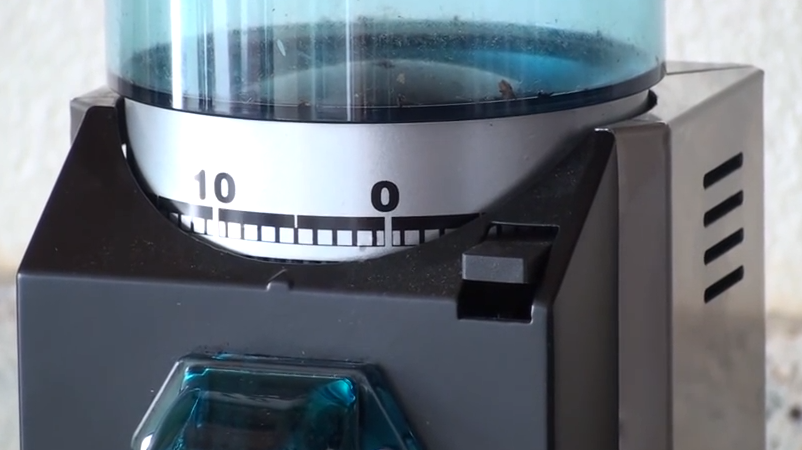 Grind Settings
Hopefully, now we've established that a conical set of burrs is ideal to achieve maximum grind consistency and hence the most amazing coffee flavor.
Let us talk about "stepped" and "stepless" coffee grinders, both which have their own advantages which can be quite useful in a commercial coffee-serving setting.
A "stepped" grinder basically means you are given a number of pre-set grind settings – as the popular Rancilio Rocky grinder to our left shows us – to choose from, from very coarse to very fine.
What Do Café Owners Say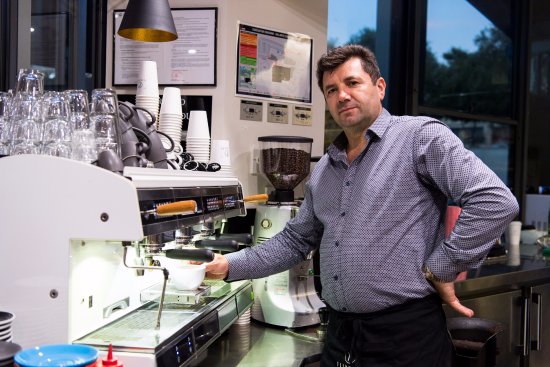 We reached out to a number of café owners to see what their preferred commercial coffee grinders might be. The answers were surprising in some cases, and not so much in others.
White Maple Café
First, we spoke with Ryan Brining at White Maple Café in in Ridgewood, New Jersey, to get the lowdown on their coffee grinder situation.
They are a neighbourhood café that serves modern bistro-style cuisine and has a lovely ambiance. They source their ingredients locally and have a focus on sustainability.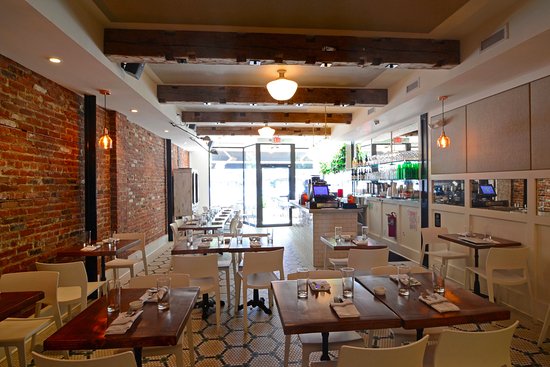 Ryan says: "I love the Mazzer line, but knew I wanted conical burrs, so I wanted a step up from the Mazzer Major. I also wanted the simplicity and precision of the automatic electronic doser for any of our staff making an espresso or espresso-based drink.
White Maple Café is a full-service restaurant so we don't do the kind of espresso volume of a busy café, but during weekend brunch we're serving close to 200 people each day, so we make a lot of cappuccinos and lattes, and the Mazzer Kony is a workhorse that is more than capable of keeping up.
We've been open for almost four years now with the Kony in place since day one, and we have never had any issues."
Java Vino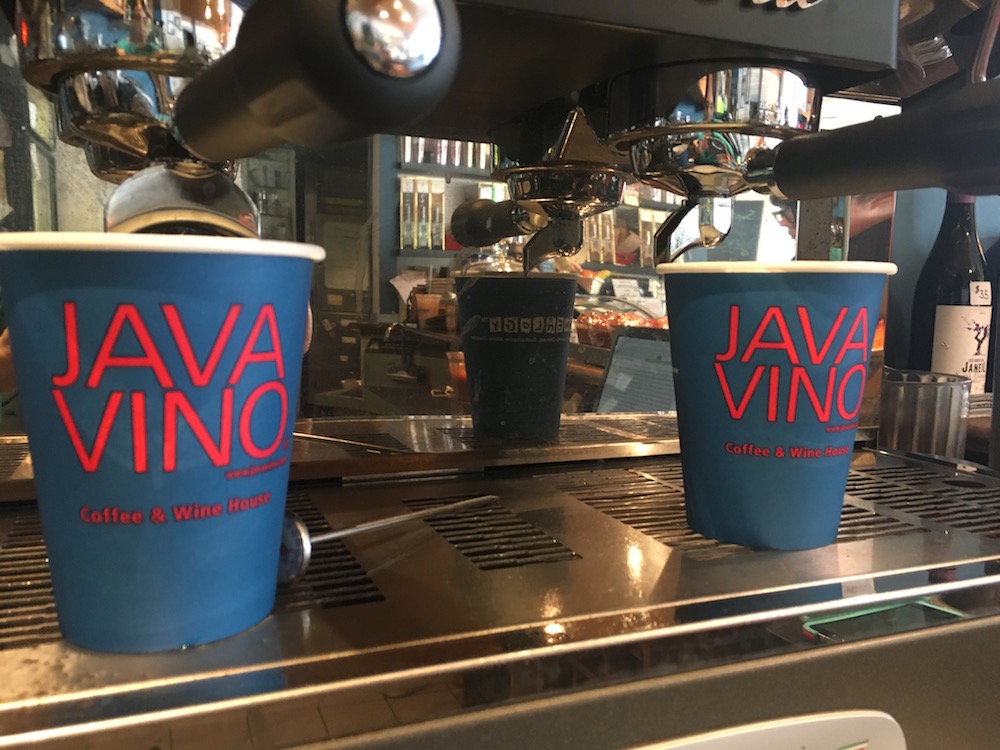 We spoke to Java Vino Coffee Company out of Atlanta, Georgia, who are passionate about both coffee as well as wine, and they told us about their coffee grinder setup, which was interesting to hear.
They say: "We use Ditting grinders, and we have 4 of them. We have 3 of the 1203 and one 1403 (http://www.ditting.com/1203-and-1403-series.html).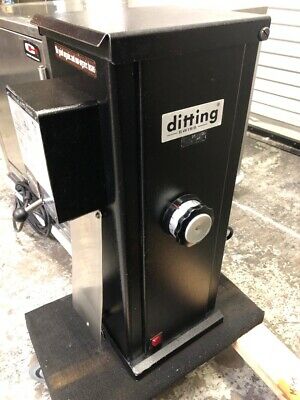 Our oldest Ditting is yellow – which means its probably 25years old or older. these things run forever you just have to replace the burrs every so many pounds.
Its hard to get a better a grinder for a small to mid sized roasting operation/retail space."
RTSP/Freedom Coffee Shop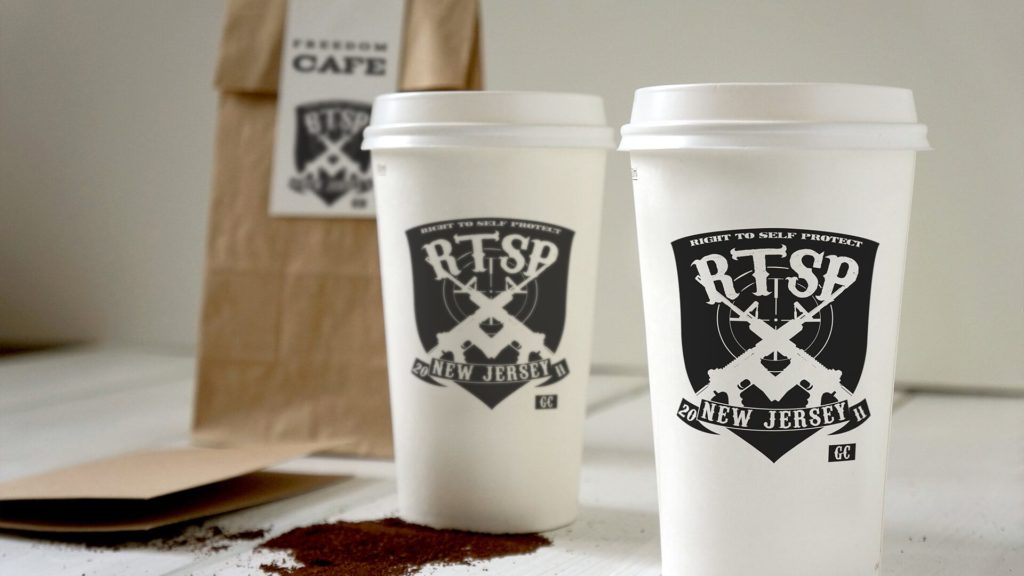 We talked to Jacob Friedman of RTSP/Freedom Coffee SHop, who are known for their awesome veteran brand of coffee – Black Rifle Coffee. They're also known for being the #1 gun range in New Jersey. Well hot dang, how about that! Jacob was good enough to give us the lowdown on the grinder set-up there.
He says: "At The Freedom Coffee Shop, we use a Nuova Simonelli Mythos for espresso and a Mahlkonig EK43 for drip coffee.
When we opened our coffee shop in RTSP, we knew we were going to be exclusively serving veteran coffee brands, such as Black Rifle Coffee. We reached out to them for recommendations on the grinder that best serves their product and we landed on these two awesome machines!
We use Nuova Simonelli for both our grinder and our espresso machine and we couldn't be happier. They truly make a one of a kind product.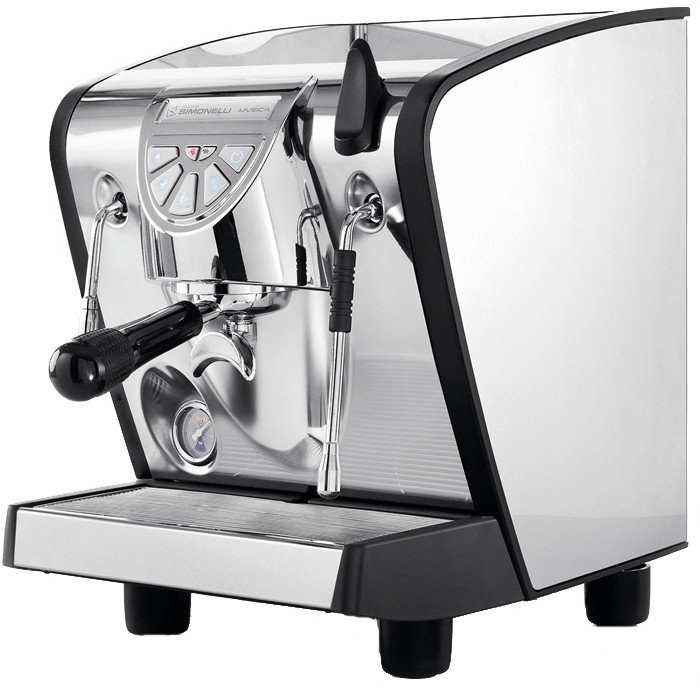 In terms of our clean-up routine, it is important to wipe out the hopper to ensure that there is no buildup from the coffee oils and left over grinds. We love having small brushes around and a vacuum that is specifically allocated for the grinders, to keep the area clean.
Nuova Simonelli also makes life easy with their simple setup, allowing you to remove the front plate for deep cleaning when needed.
The Freedom Coffee Shop is a specialty coffee shop unlike anything else around! We are committed to serving veteran owned coffee brands exclusively, as we are veteran owned ourselves.
Our main feature is Black Rifle Coffee Company, a high quality coffee roaster out of Salt Lake City, Utah. Their carefully selected beans are imported from Colombia and Brazil, and roasted by veterans right here in the USA. And we are the only shop where you can come get a taste of their quality beans!
What makes The Freedom Coffee Shop truly unique is the fact that we are located in New Jersey's premiere shooting range.
Yep, a specialty coffee shop in a gun range! While it sounds like an odd collaboration, it has made us the ultimate destination for both gun lovers, coffee heads, and visitors to the New York/New Jersey area.
We are 15 miles from Manhattan, so we hope to continue to introduce those visiting the area to the world of veteran owned coffee in a fun and exciting environment."
Ubora Coffee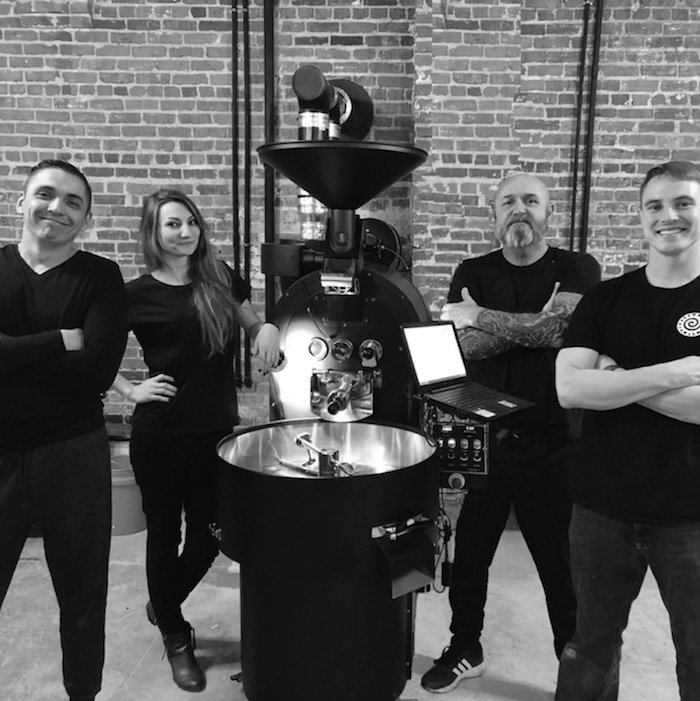 We got a hold of Walter Dyer, owner and head barista of Ubora Coffee, a veteran-owned company from Augusta, Georgia.
Walter had quite a bit to say on this topic we're exploring here, and we recommend you read it over because it's valuable when it comes to choosing a commercial grinder for your café or restaurant.
Walter says: "In our cafe we have a MahlKonig K32S – This is our primary work horse, it grinds for packaging, drip and and the majority of day to day operations, minus pour-overs and espresso.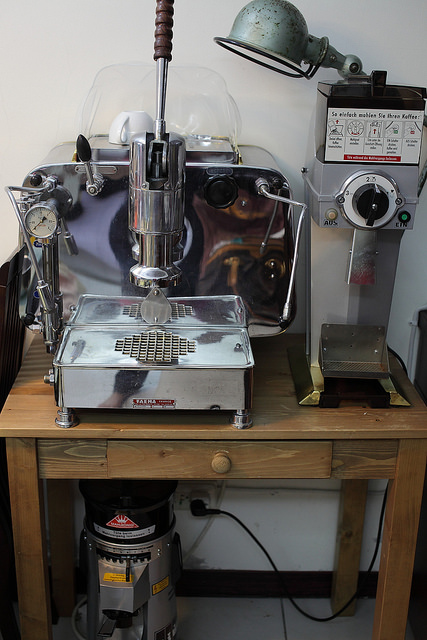 On average it grinds about 150lbs of coffee a month. I like all the features of this grinder, except the way you have to perform maintenance and the size of the hopper.
It also tends to get really warm fast. So, high grinding volumes will require a few minutes pause to ensure that the coffee isn't affected by the heat of the machine.
On the other side of the house we grind about 100 lbs of coffee a month across two Nuova Simonelli MDJs.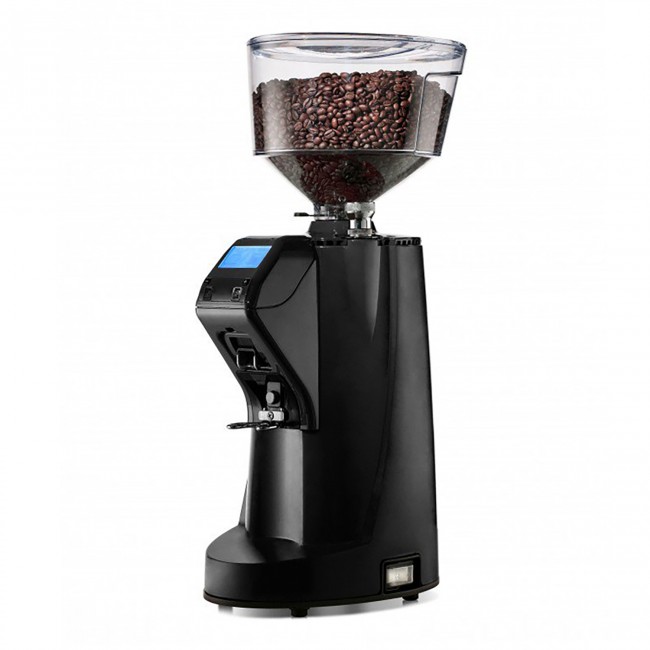 A very small portion of this is ground on a Baratza Sette 30.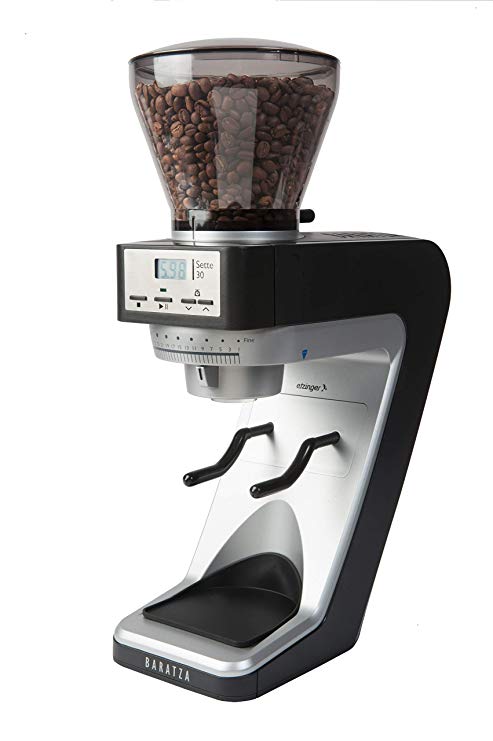 We use this little guy for Ristretto and Decaf. I love it! It's easy to clean, has reasonably priced replacement parts and has super low grind retention.
For a small inexpensive machine, it ticks a lot of boxes. It does lack granularity for grind tuning, but if you purchase the more sophisticated models they have this additional option.
Baratza has a great set of features and price point for a pro-summer, or low volume commercial application. I also have one, the 330 Wi, at home with some of the extra bells and whistles.
I use this for my personal and business recipe development on my Nouva Simonelli Musica.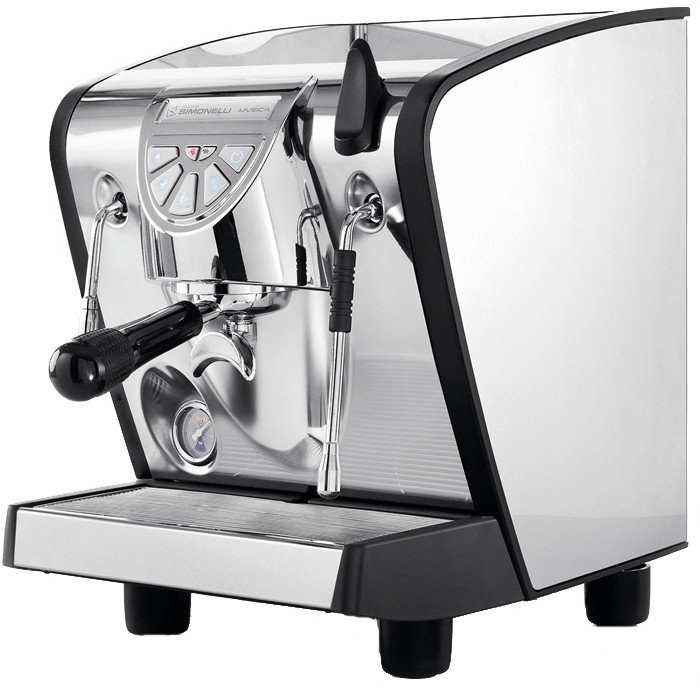 The one design flaw the Sette has on all models, is the hopper tangs and open/close lever.
They are weak, break easily and have to be pampered. If you break the tangs in just the right way, it trips the safety feature and disables the grinder. So users, be gentle.
Don't get me wrong I love the MDJs. I have never been dissatisfied with a Simonelli product for its intended design. They are at a great price point and are generally bullet proof.
I love the unlimited variability control, though it's not associated with the numbers on the dial, a little annoying. The part that I am not a fan of, is that these grinders are supposed to return to the same state after cleaning.
However, every month when we maintenance on them, I have to reset them as if they were coming from the factory. Baristi just have to know that they can over tighten the adjustment and bind the burrs.
This is strictly user error, but something to know about the grinder. It usually results in a complete tear-down, clean and then a full reset, before they run at peak performance again.
Also, the feet on the bottom of the grinder tend to fall out and go missing regularly, even if you just move them. Finally the holder they have for the porta-filter tends to loosen over time and won't hold weight.
So, it slides down the housing even when the retention screw is tightened fully. My favorite feature of this grinder is it's grind uniformity.
The first time I turned it on and any time I use it in the cafe, I am still astounded by the consistency and uniformity of the grind. I actually think I said out loud, "WOW!" My business partner Phillip asked what was going on and I think I said, "I've never seen such an amazing grind like this before." I was literally stunned and you can ask my business partners, I am never that satisfied.
A Grinder of the past was another MahlKonig for grinding espresso….but I HATED it! I think it was the K30 Vario.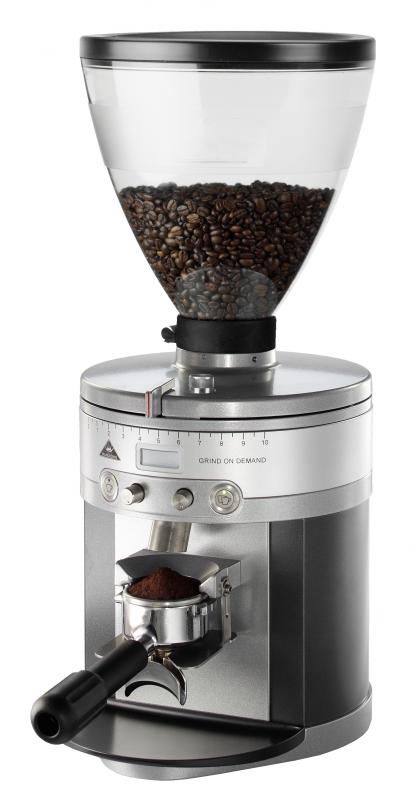 It had low repeatability if the ring between the hopper and the machine wasn't set just right.
And, it had to be snapped in fully or it would give you crazy weird grinds. You had to clean it non-stop. Either by use or by it's internal maintenance window. Its on-board programming was inconsistent at best. It was hard to get into programming and back out of it.
Menu rotation was illogical and the knobs you have to twist to change things would either jump several numbers/selections ahead or not move at all with minor twists. It would let you do the on the fly time adjustments, rarely. Which was needed frequently for accurate dosing and grind.
It had to be reset digitally several times, because it would just get glitchy. It was expensive and needed constant attention. I was not a fan.
This is where the MDJ wins, simple interface, even past monthly maintenance windows, they work great! The only two items I had on the MahlKonig, that I wish my MDJs did, was the porta-filter holder (was better designed, but not shaped). And, two, it was easier to get into barista/manual mode, than the MDJ."
Momonoki (Momo Café)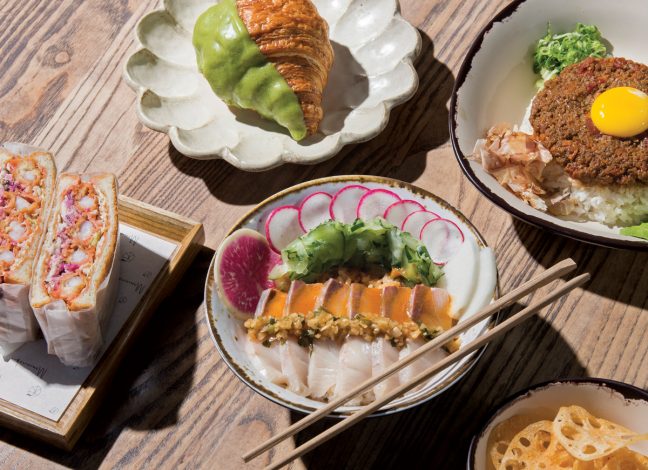 We spoke to Jason Liang, Executive Chef of Momonoki, a Japanese restaurant he owns along with Brush Sushi Izakaya. Momonoki is in Atlanta, Georgia. They are known for their exceptional Japanese fare, particularly Ramen, while also serving up some renowned coffee and espresso that keeps people coming back for more by way of Momo Café, which is attached to Momonoki.
This segment we did in a Q&A style. Here's what we asked, and Jason's Liang's responses:
– How come you decided to go with EK 43 and Mazzer?
The Mahlkonig EK 43 is a must have coffee grinder for legit coffee shop and it's reliable and consistent. We have a Mazzer for a similar reason.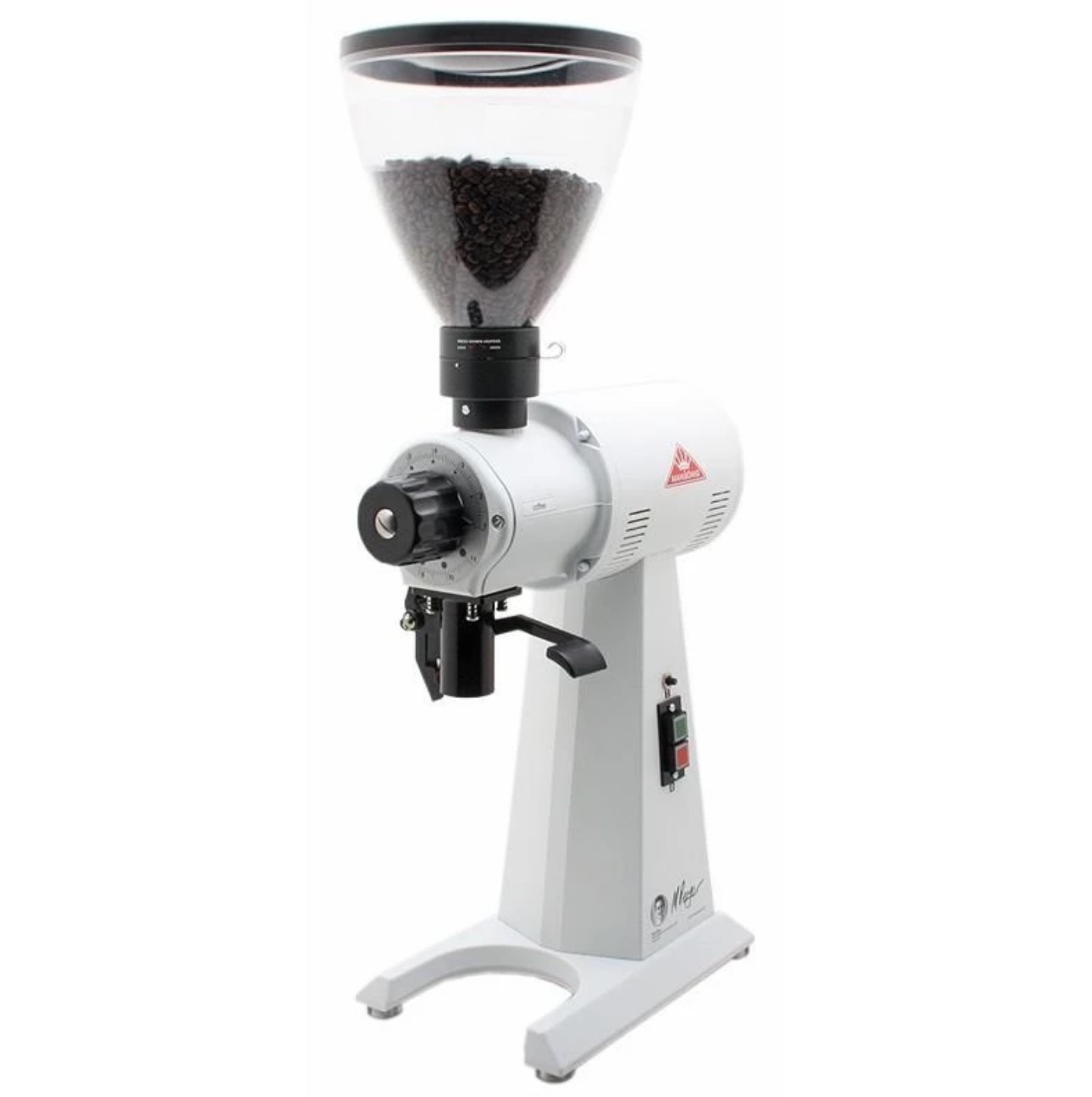 – What's your favourite thing about each?
We use EK 43 for house drip coffee, pour overs and decaf espresso, just love we can do so many different settings on the fly. Mazzer is just a work horse.
– What's something you dislike about each?
Just wish EK 43 can dial even finer that it's finest setting. The amount of grams from Mazzer sometimes can be inconsistent.
– If you were to upgrade, would you stick with the same brands or do you have something else on your wishlist?
Same brand for EK 43 but S model. I will still use Mazzer for espresso.
Two Crepes Creperie and Catering
We also reached out to Julian Avalos of Two Crepes Creperie and Catering, where they grind their own beans.
Julian says: "We purchase our coffee from local roasters in Newark called Redhouse Roasters. As for our in house coffee grinder, we use a Mazzer Super Jolly Electronic.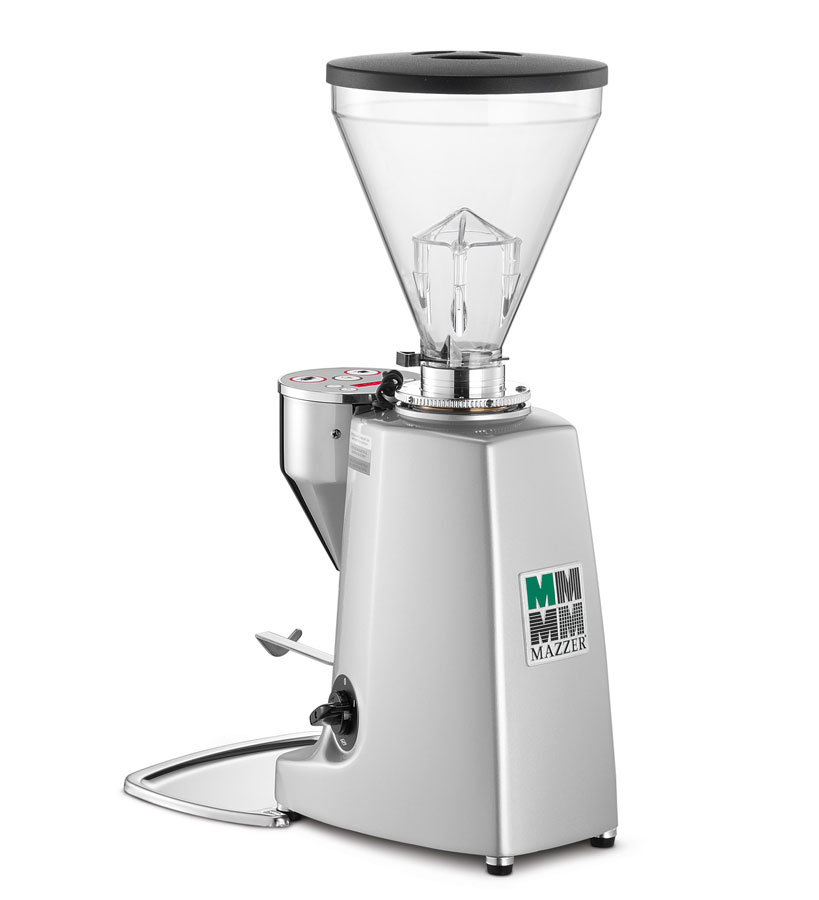 We love it, and have never had any issues with it. We actually bought it used, and we have been working with it for over a year."
Local Coffee in Montclair
Next, we spoke with Robert Genovese of Local Coffee in Montclair, New Jersey, to see what his commercial grinder du choix is.
He says: "We use the Nuova Simonelli Mythos grinder, as it's a workhorse, and we beat it up regularly with hours of continuous use."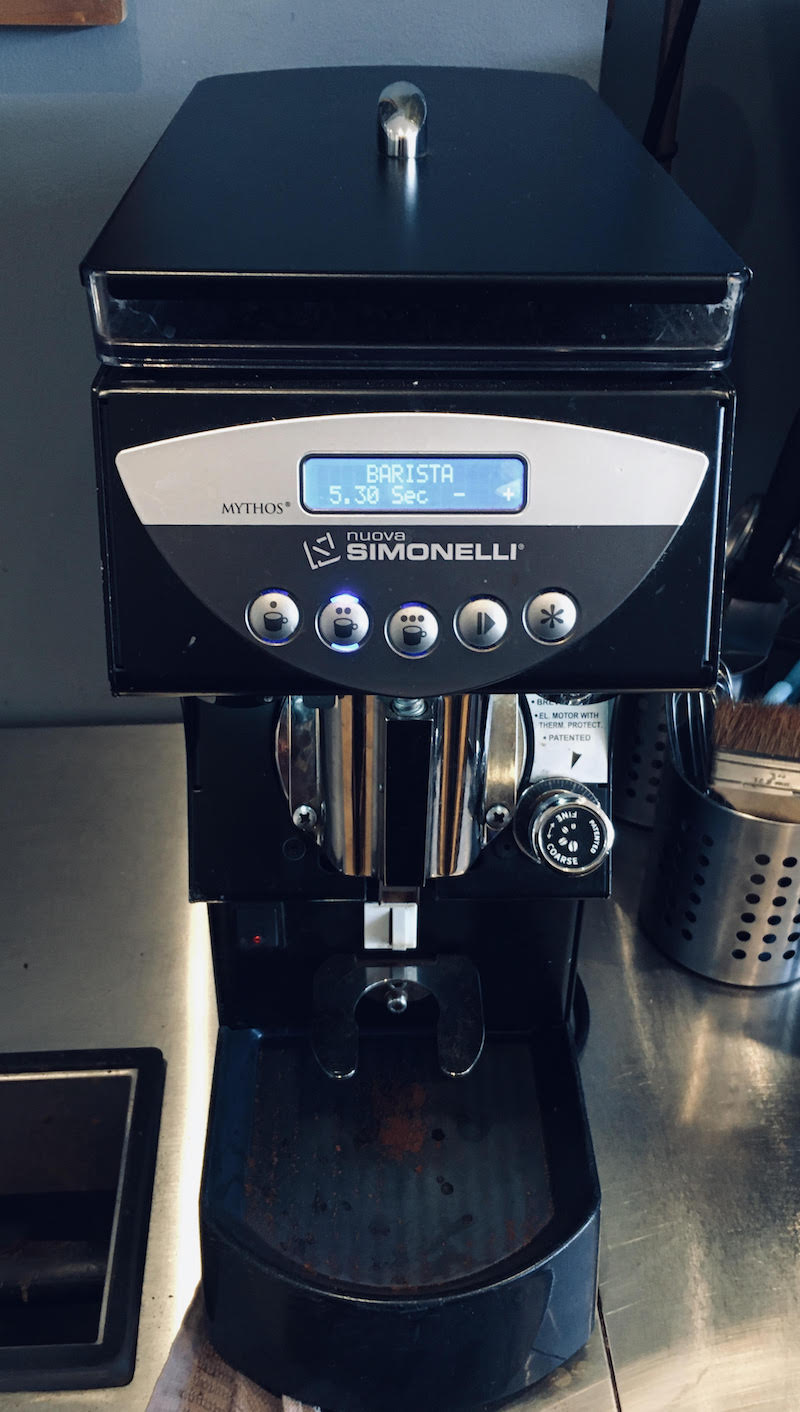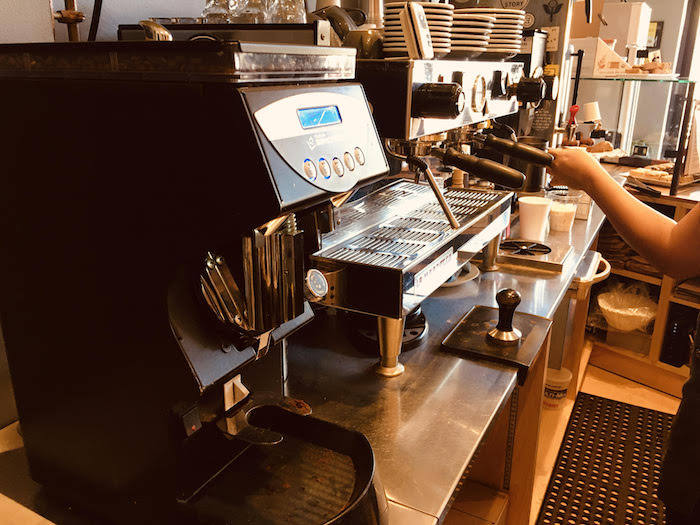 Robert continues, "We also require heat regulation which the Mythos incorporates into its design, as you definitely don't want your beans roasted more than once. Lastly, it's dosing is very precise which is a necessity at our shop as we calibrate regularly throughout the day."
Revolution Doughnuts
Next we speak to Scott Swanger of Revolution Doughnuts, Administrative Coordinator of the doughnut and coffee shop, who also serve up a seriously tasty espresso brew via their full espresso bar, and who are beloved by many in the state of Georgia. Not hard to see why!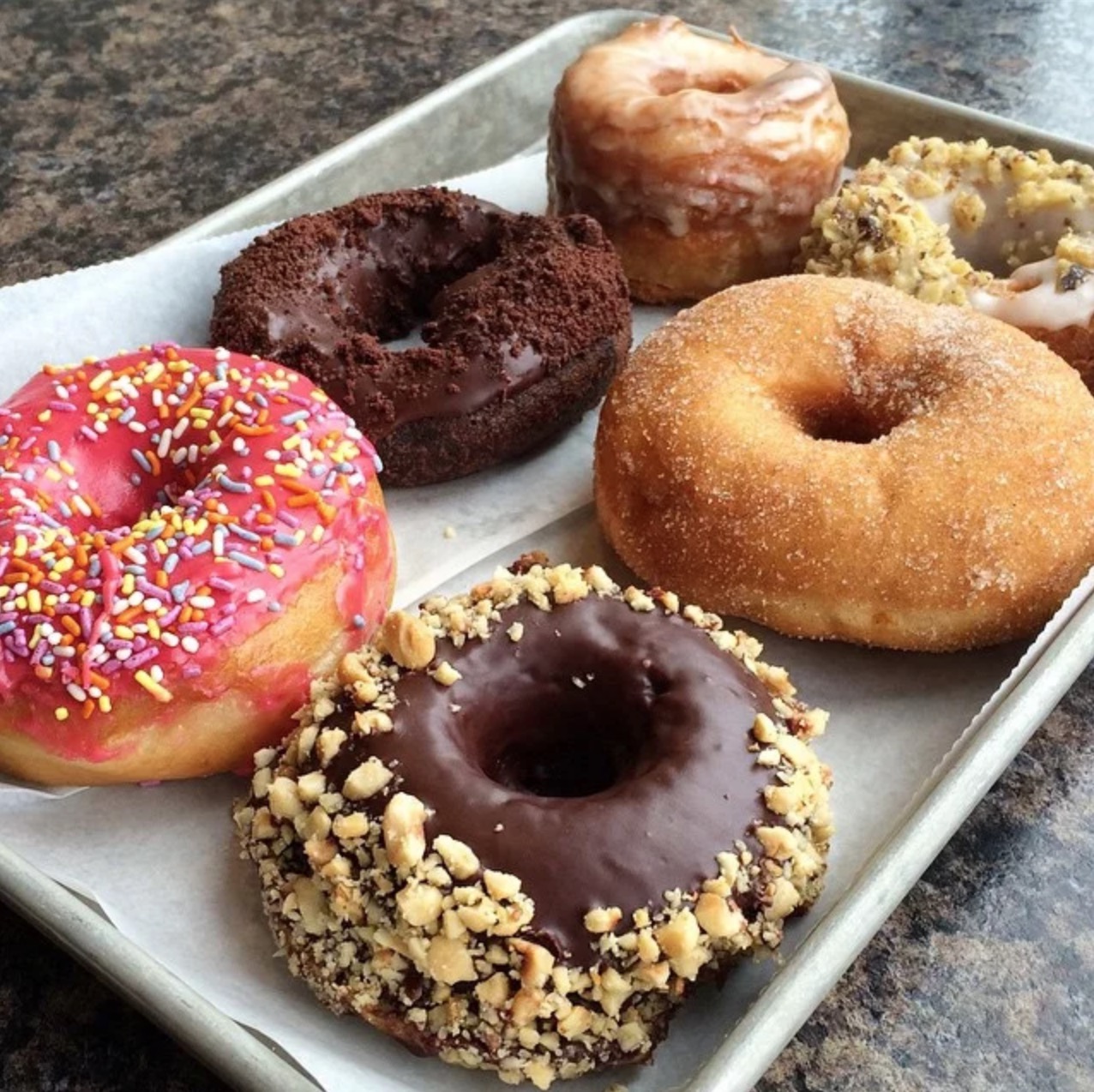 Scott says, "We are transitioning to all La Marzocco Swift grinders in our locations.
We currently use the Swift in Inman Park and will be switching over when we remodel our Decatur location early next year."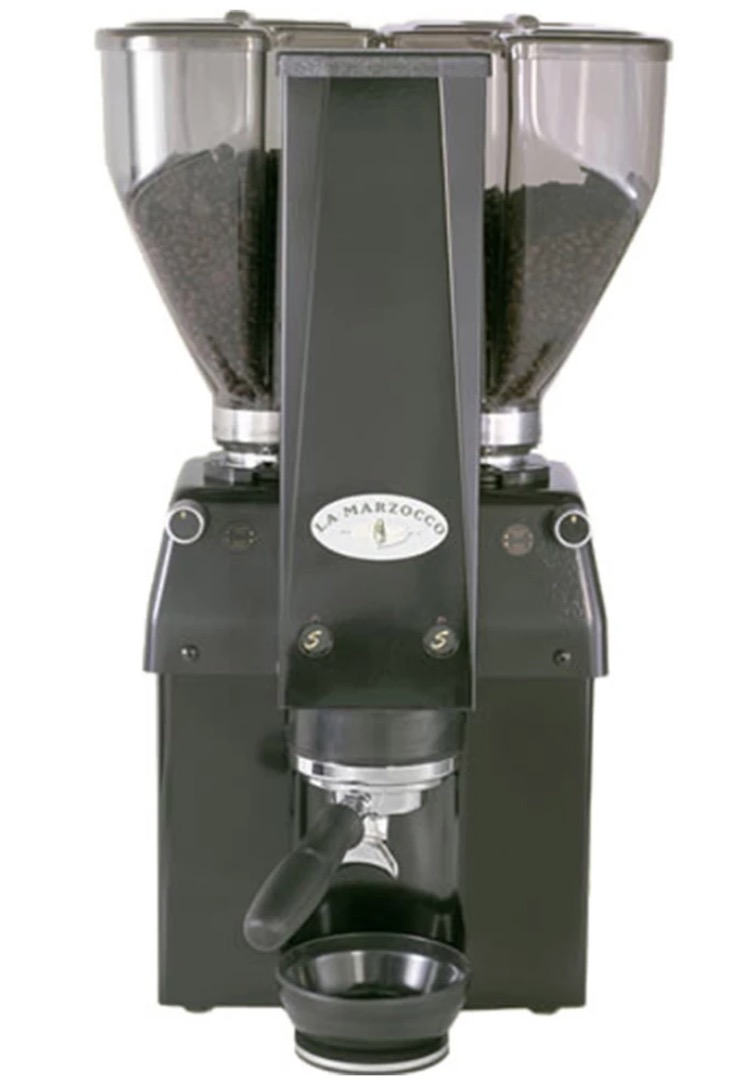 "Even though it has specific maintenance issues unique to its auto tamping feature, we prefer the Swift as it allows our barista to complete other tasks while tamping is being completed automatically, saving time per bar drink served, not to mention the ergonomic health benefits from not having to physically tamp each shot."
Up next…
Hudson Coffee Co.
We also reached out to Justin DePascale, Chief Operating Officer at Hudson Coffee Co. Of course, we had to ask him what type of grinder he uses.
Justin says: "The Malkoneig EK 43 is the best grinder that we have, and does make a damn fine cup of our press coffee.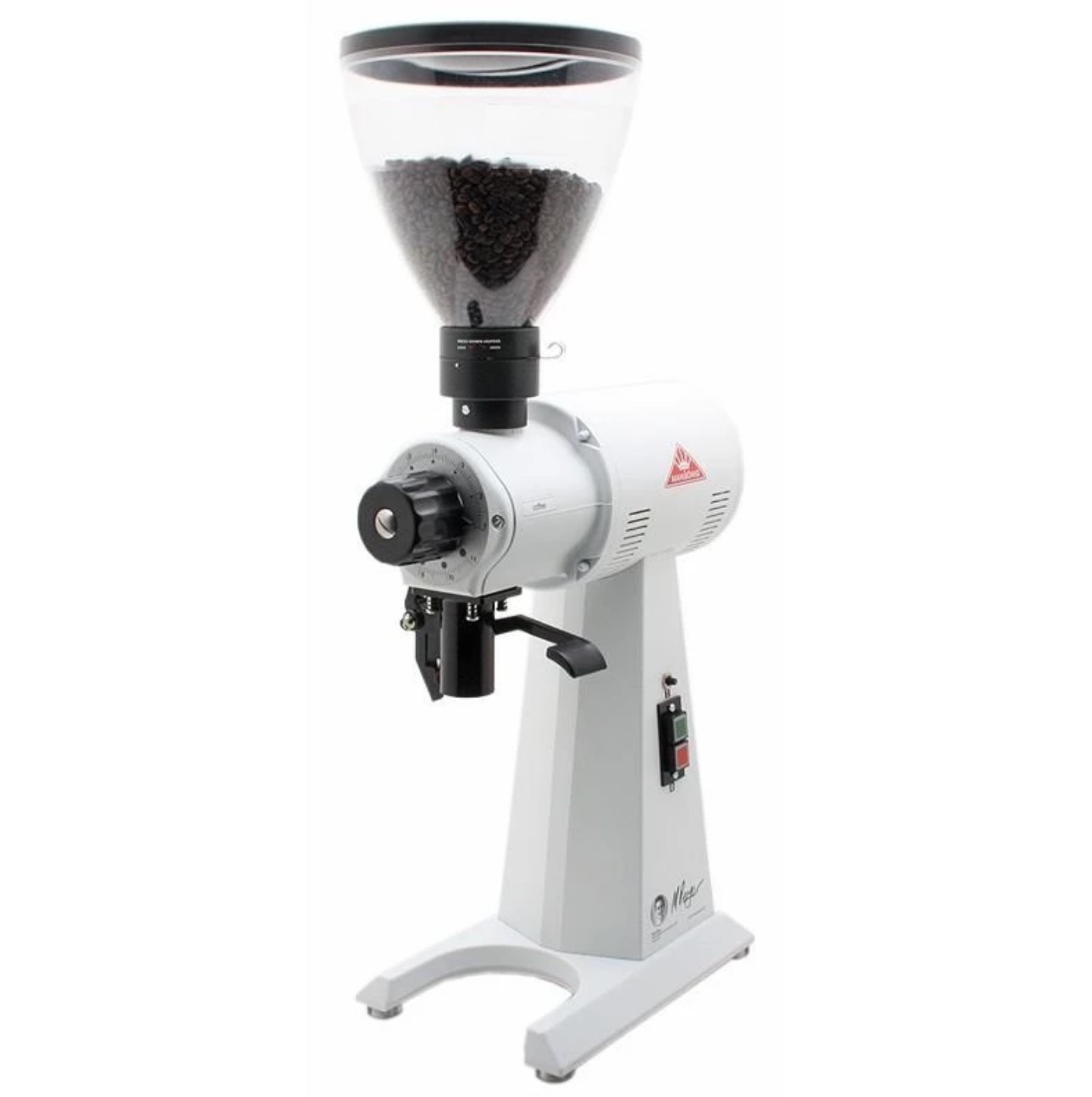 If you're making coffee at home, that's a whole different story, as there are too many grinders to list, but a decent Burr grinder will get the job done…"
Endgrain Coffee Bar
Joseph Fultano of Endgrain Coffee Bar (@EndgrainCoffee) gave us the lowdown on his coffee grinder situation as well:
"For commercial, I am actually looking to pick up a Mahlkonig Guatemala filter grinder in the next few weeks.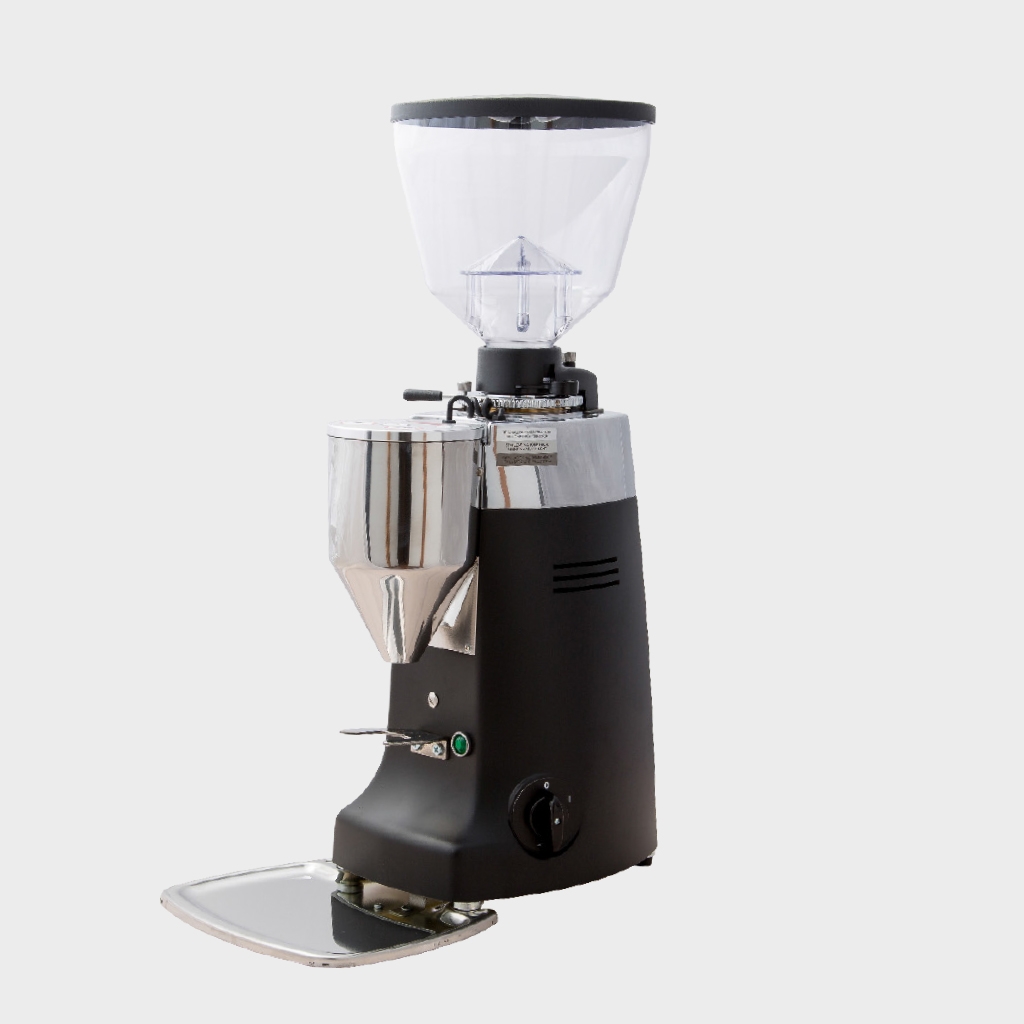 That will be replacing a well loved and well worn-in Bunn batch grinder."
Antique Bar and Bakery
Meanwhile, over at Antique Bar and Bakery, owner Richard Salfenmoser tells us that "the coffee grinder we use is Espresso Italino Grinder. We feel it is best grinder on the market. It is sensitive, but put's out a great grind of coffee."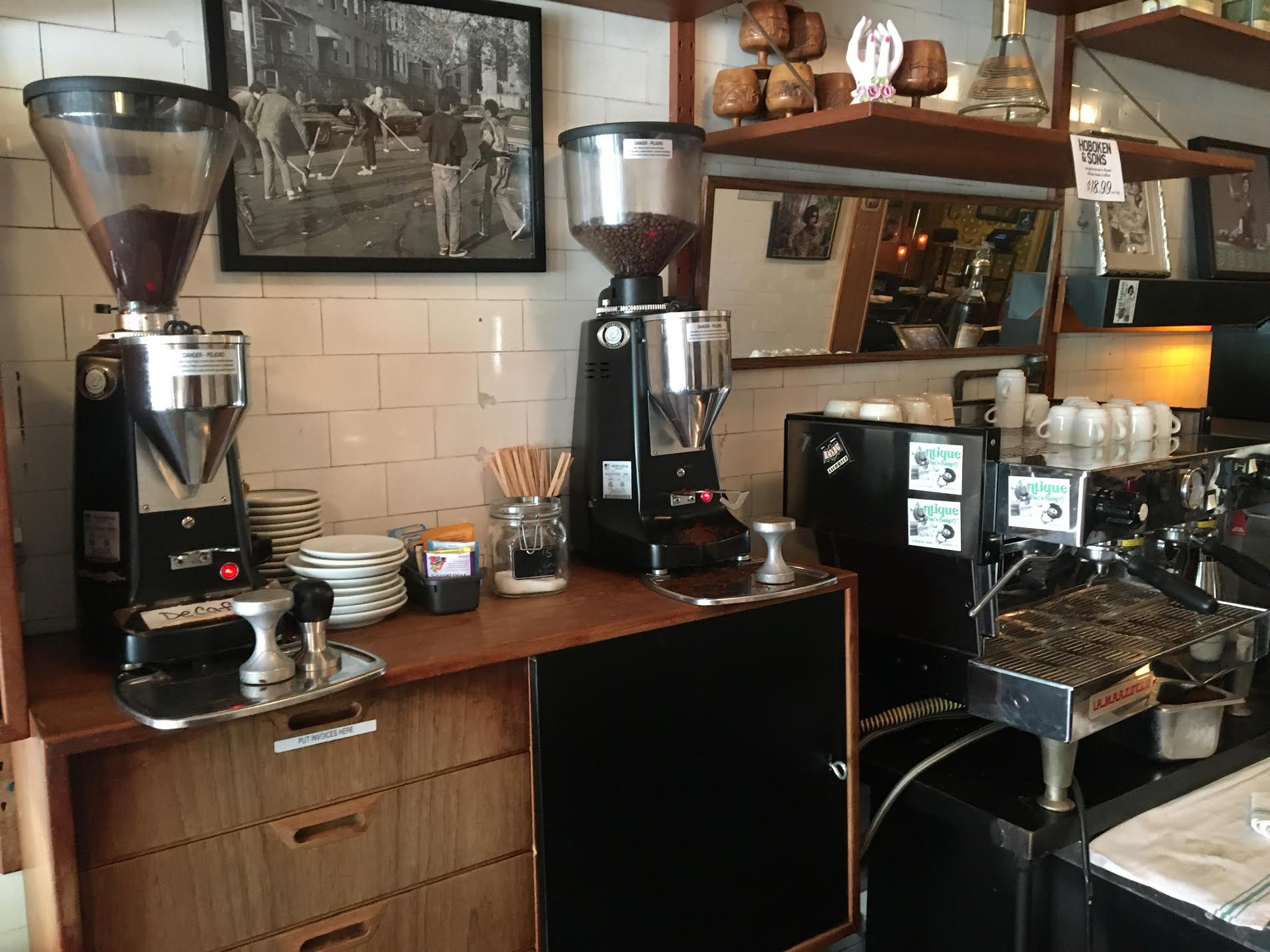 Up next, The Coffee BouTEAque…
The Coffee BouTEAque
We also managed to get a hold of Nick Placakis of The Coffee BouTEAque Coffee Roasters and Organic Juice Bar in Beach Haven, New Jersey.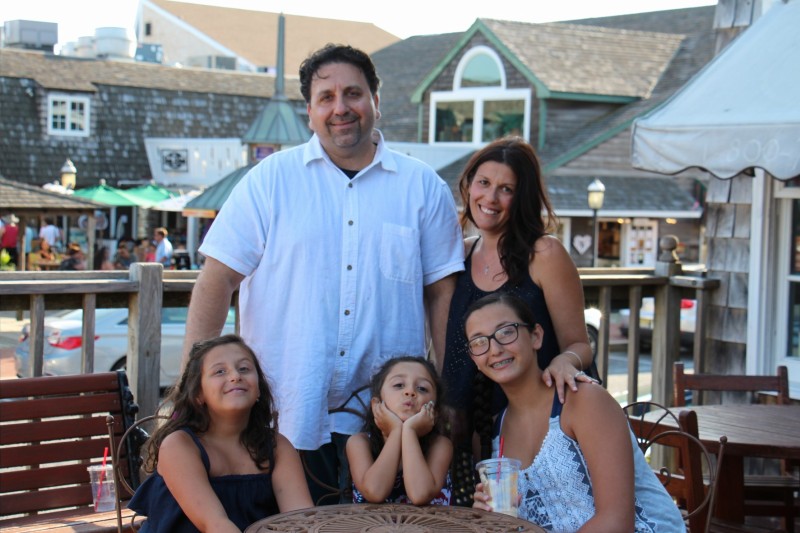 Nick illuminated his coffee situation for us thusly:
"We have multiple grinders for different applications.
For our pour over bar, we use multiple Baratza Vario W grinders. We love them for this application because it allows us to dose for a specific gram count on demand while grinding to a spec we like for pour overs. Very reliable and consistent."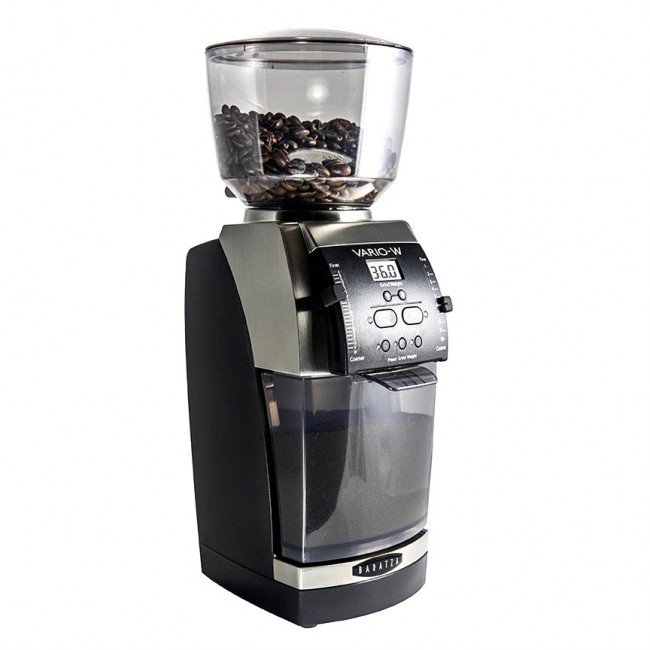 "For espresso, we use a NS Mythos grinder for our high volume espresso bar. This allows us to dial in our espresso perfectly in a quick and accurate way when humidity changes since we are in a beach town."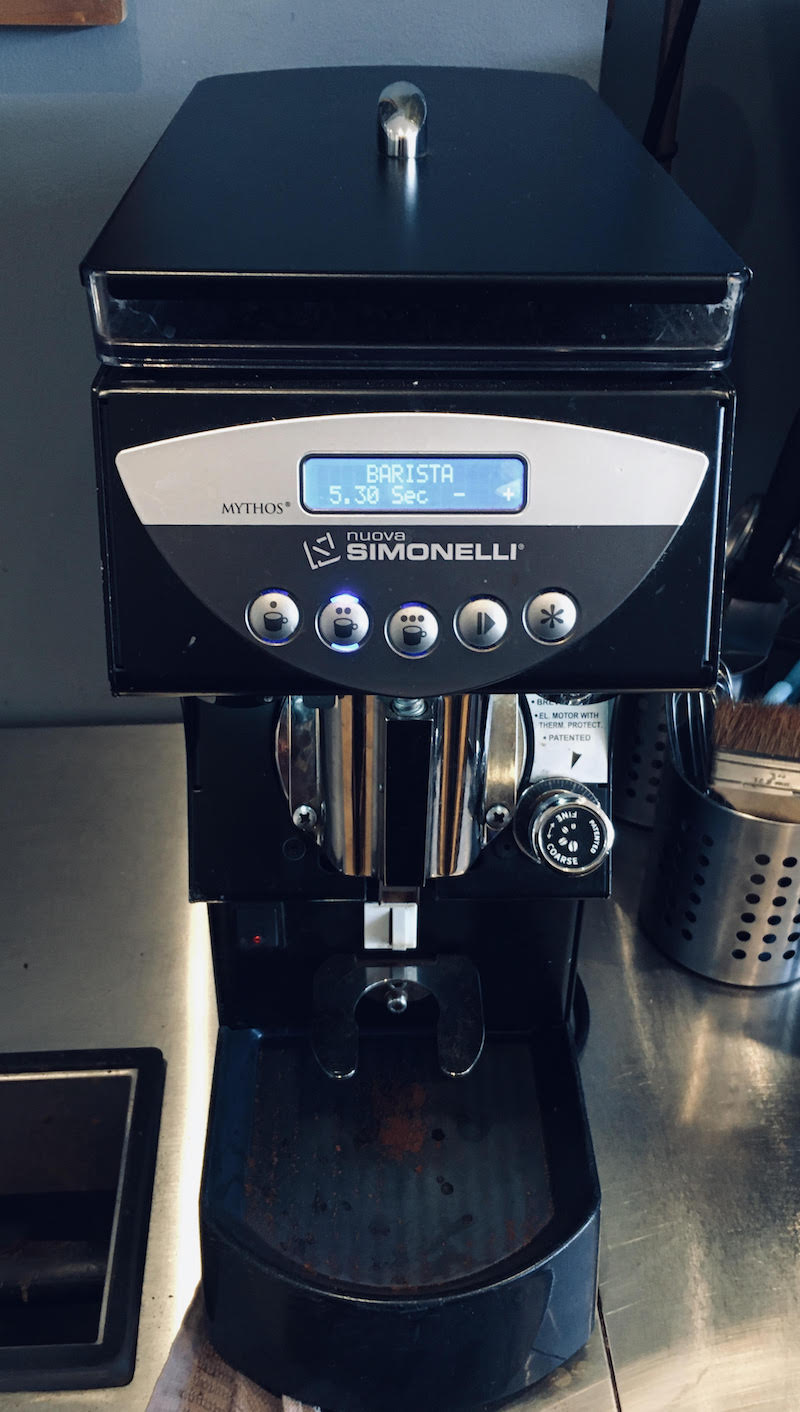 "We also use a MDX for decaf since our decaf volume is significantly lower that our regular espresso. It does a great job but requires a more manual approach so more training is needed when you have multiple baristas which we staff around 22 baristas per season.
For drip coffee we use a Grindmaster which is consistent and accurate with minimal routine maintenance."
Cool stuff, good to know!
Now, on to some of our favourite coffee grinders for professional purposes.
Macap M2MC83 Commercial Doserless Stepped Espresso Grinder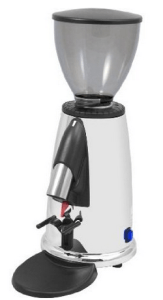 Macap M2MC83 Stepped Coffee Grinder (Click Here To Buy For The Lowest Price On Amazon)
Features of the Macap M2
50 mm flat grinding
Stepped grinding
Adjustable filter holder
8 ounce bean hopper
Unfortunately, although the Rancilio Rocky is a great grinder, it is not exactly the type of machine you would want in your café, unless it was a back-up unit. It simply doesn't have the power.

A better example of a stepped grinder you would use in a commercial setting is the Macap M2MC83.
It's actually one of the more cost effective models that could be used in a café environment since it has both the power and the big burrs to back it up.

Having these pre-defined settings, or steps, can make it easy for baristas to remember where your favorite or most used grind settings are.
If a customer asks for an espresso, the barista knows exactly what step to go to quickly for that particular setting, which does the fine grind that is needed for espresso.
Ultimately, a stepped grinder means that you can remember the settings you want for any brewing method, from espresso brewing, to pour over, to just about anything. Stepped grinding can be super handy!
Customers, of course, have specific requests and have their favorite drinks. Over time, your baristas will be associating certain stepped grind settings with certain customer preferences.
Stepless Grinders
Macap M4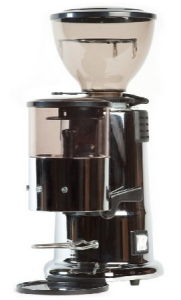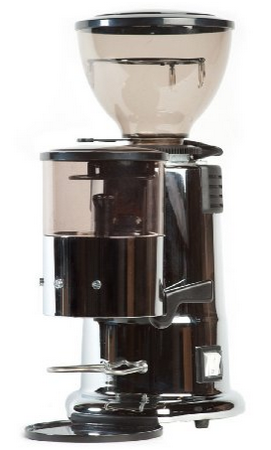 Macap M4
Features of the Macap 4
Stepless adjustment
Low blade speed – 1600 RPM
58 mm grinding burrs
Dosing levels from 5.5g to 9g
1.3 pound bean hopper
The alternative to a stepped grinder is a "stepless" grinder, such as the Macap M4, which has no such pre-set grinding steps to choose from, meaning that the grind size is determined and set solely by the barista.
In some respects, you almost have to be a better barista to really take advantage of this setting, as its more intuitive.
The advantage here about a stepless grinder like this is that the possibilities here are endless, since there are no markers.
You basically just want to find that sweet spot on your own.

Using a stepless grinder can be a little bit daunting for a beginner barista (who might need preset grind settings to guide them), but for a more experienced barista, stepless grinders are often preferred.
Mazzer Mini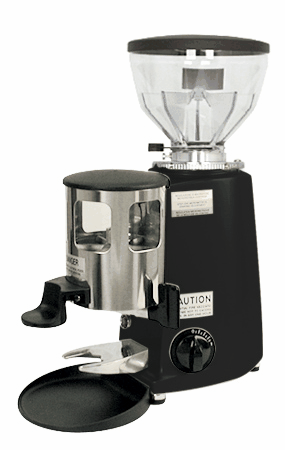 Mazzer Mini Grinder
Features of the Mazzer Mini
Adjustable blade grinding speed 1400/1600 RPM
Flat 55 mm grinding burrs
Bean hopper capacity of 1.3 pounds
Dose adjustment 0.19g to 8g
Here's another one of our favorite stepless commercial coffee grinders, the much sought-after Mazzer Mini.
The Mazzer Mini is more expensive than a lot of the grinders you'll come across, that's true, but in terms of commercial coffee grinders, its one of the best due to its cost effectiveness.
For Mazzer, the Mini is their entry level commercial grinder.
For commercial use, the Mazzer Mini is a great addition to the Mazzer family, but it isn't meant to be the sole grinder you use at your cafe or restaurant.
It's definitely a powerful grinder, but moreso compared to higher end home grinders.
There are definitely some machines that we mentioned earlier that could grind a lot faster and with more horses behind them than the Mazzer Mini – we're talking about the higher end commercial grinders that are usually 1K plus.

Dosing vs Doserless Grinders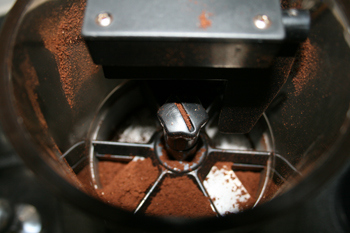 Professional Grinders 2016
If starting a coffee shop is your intention, another important feature to look for in a commercial grade coffee grinder is whether they utilize a dosing feature, or they are doserless.
If a grinder is a doser grinder, it will have a dosing chamber (see image.) That will pre-measure the ground coffee precisely for each shot before the shot is pulled.
It provides the user with a consistent measurement each time they pull the lever.
The dosing chamber is usually divided into several pie-shaped spaces, where one piece of the pie does a single shot of espresso.
Pull the lever twice and you get a double shot of espresso, and so forth. Baristas can also adjust the size of these pie-shaped compartments, which comes in handy.
You don't want to leave your coffee in this dosing chamber for very long, as it will lose freshness quickly.
If indeed your commercial coffee grinder does have the dosing feature, it can be either automatic (AKA "grind on demand"), or manual, depending on the grinder.
The Mazzer Super Jolly is a great example of a doser grinder that is also commercial-grade and ready to rock!

Take a look at this diagram below of the Rancilio Rocky and Baratza Vario, which illustrates a grinder with both a doser (the Rocky), and one which is doserless (the Baratza).
Keep in mind these are not commercial grade coffee grinder models, but they are very good home units.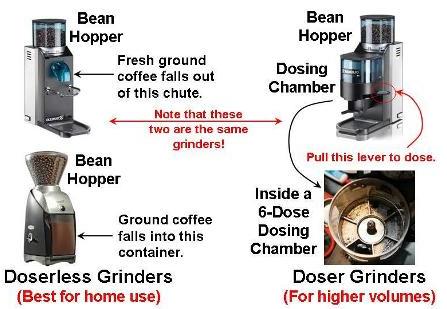 Professional Grinder Coffee 2016
As you can see, the dosing chamber makes the grinder somewhat larger, with the convenience of having a doser attached to your grinder making it a more logical choice for some users, especially when it comes preparing espresso on a regular basis.
Dosing can be very helpful in this way.
The doserless grinders are messier than the doser models, simply because doserless models don't really measure the grinds in the same way.
The grinds are then launched out of the chute into the portafilter in a more, shall we say, "free" fashion.
In this type of scenario, the grinds sometimes miss the tray set below and make more of a mess on your counter, whether that be at home or at work.
They are certainly not preferable for the preparation of espresso, but they do offer more flexibility in some ways than their dosing counterparts, as you can grind as you need, but most cafes would more benefit from a doser grinder.
Here's a quick video showing a doserless Rancilio Rocky grinder dispensing its grinds:
Burr Size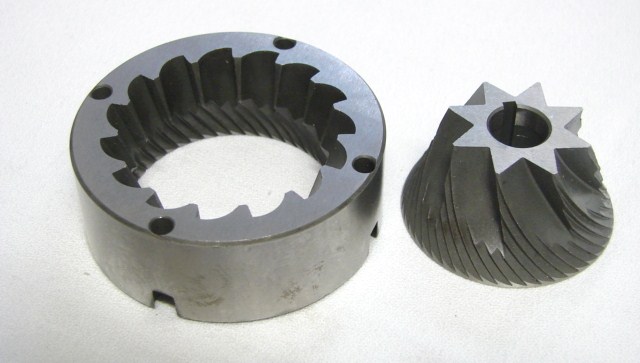 The size of the burrs in your commercial coffee grinder is one more important feature to look for.
Basically, larger the burrs are, the more coffee they can grind and the faster they can do it.

Not only are bigger burrs generally more efficient, but they don't heat up nearly as fast, particularly if they are ceramic.
This avoids heating up the beans as they're ground, which can result in unwanted "scorched" flavors if you're not careful.
We hope this article helped you in your quest to find the best commercial coffee grinder! There is a lot to consider, and it is a substantial purchase, so choose wisely.
RELATED VIDEOS:
Choosing A Commercial Grinder
Hamilton Beach 49980A Coffee Maker, Single Serve Black/Stainless Steel

Breville Bes880Bss Barista Touch Espresso Maker, Stainless Steel