Last Updated on
We have compiled short and to the point reviews of the five best commercial espresso machines for 2018 that provide style, longevity and value for your money as well as, of course, unbelievable espresso.
All of these machines we consider to be a good investment if you are the owner of a café, but many of these are priced for home use as well.  
These are in no particular order, and, according to our research, customers positively rave about each of these machines.
Here's to great espresso!
---
RANCILIO SILVIA COMMERCIAL ESPRESSO MACHINE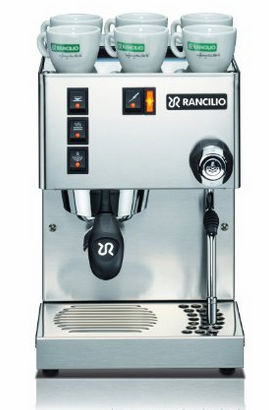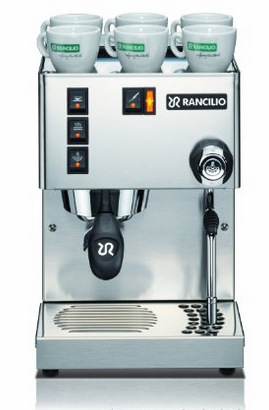 $650+

POD/CAPSULE CONVERTER AVAILABLE WITH THIS MACHINE TO

PURCHASE

STEAMING WAND CAN NOW MOVE IN ALL DIRECTIONS

DIMENSIONS  9.2 X 11.4 X 13.3 INCHES

WEIGHT 30.8 POUNDS

STORAGE SPACE FOR SIX CUPS ON TOP

STAINLESS STEEL EXTERIOR

IRON FRAME

BOILER CAPACITY 12 OUNCES

WATER RESERVOIR 2 QUARTS

TAMPER AND COFFEE SCOOP INCLUDED

58MM PORTAFILTER

OUR RATING: 4 OUT OF 5 STARS
A serious espresso maker, for serious espresso lovers, at a serious price!  This is a powerful machine even if it is only a single boiler.
The steaming wand has been re-jigged so that it now moves in all directions.
This makes seriously good espresso but comes with the warning that you ought to enjoy doing it, as this is quite a complex machine that requires some getting used to and lots of love. 
Its life expectancy is generally good and it may well be the only espresso machine you ever need!
Check the price of the Rancilio Silvia on Amazon now
---
BREVILLE BES870XL COMMERCIAL ESPRESSO MACHINE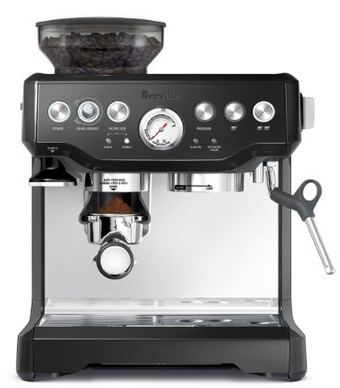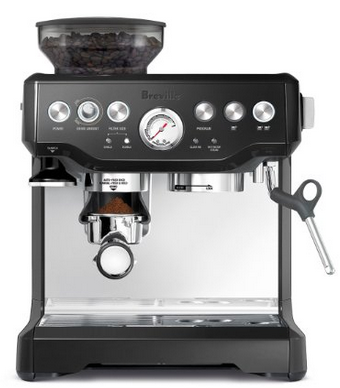 $500+

13×12.5×15.8 INCHES

WEIGHT 23 POUNDS

AMOUNT AND SIZE DIALS FOR GRIND

COMBINED AND HALF-POUND BEAN HOPPER AND CONICAL BURR GRINDER

67 FL OZ WATER TANK – REMOVABLE




DETACHABLE DRIP TRAY

'CLEAN ME' FUNCTION

AUTO PURGE BUILT IN

SWIVEL STEAMING WAND

15 BAR ITALIAN PUMP

54MM PORTAFILTER

STAINLESS STEEL

OUR RATING 4.5 STARS OUT OF FIVE
Transform your poky kitchenette into a five star coffee house you say? Yeah, the Breville BES870XL can definitely manage that.
Firmly on the pricier end, this has got everything you could wish for in one go.
All singing all dancing swivelling wands, a large detachable water tank and it looks sensational.
Also it is the only one on this list with a combined grinder so you can go straight for grinding beans to fresh espresso in literally minutes.
The only thing it doesn't have is a pod function, because that would be sort of beneath it, or something.
Check the price of the Breville 870XL on Amazon now
---
BREVILLE 800SXL COMMERCIAL ESPRESSO MACHINE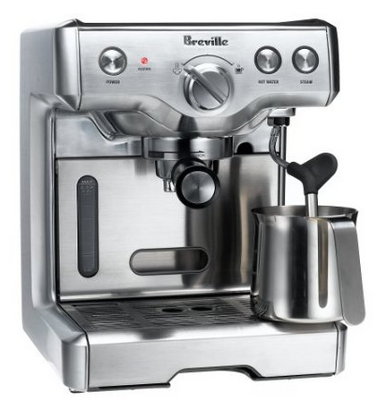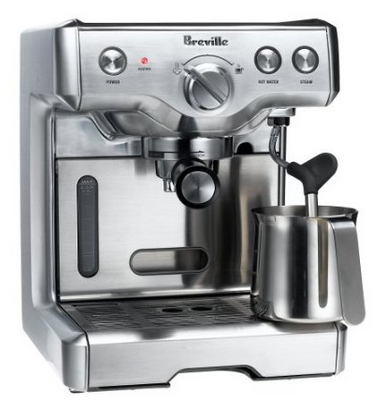 $350+

DIMENSIONS 12 INCHES L X 10 INCHES W 12.5 INCHES H

15 BAR ITALIAN PUMP

75 FL OUNCE REMOVABLE TANK

TRIPLE SELF PRIME PUMP

THERMOBLOCK HEATING

SYSTEM

CAN USE PODS

PURGE FUNCTION

360 DEGREE SWIVEL WAND

HOT WATER TAP

DIECAST METAL

TAMPING TOOLS, FROTHING JUG AND FILTER BASKETS INCLUDED

OUR RATING 4.3 STARS OUT OF FIVE
Okay so maybe that other one is a bit too big after all, or maybe you already have a grinder so don't need one built in to your espresso maker.
May we present the Breville BES870XL's little sister the 800SXL. Smaller and cheaper but still every bit the consummate professional, this little minx whips up some excellent espressos and cracking crema, but you can also choose to cheat and use pods if you want to.
Check the price of the Breville 800SXL on Amazon now
---
GAGGIA 14101 CLASSIC COMMERCIAL ESPRESSO MACHINE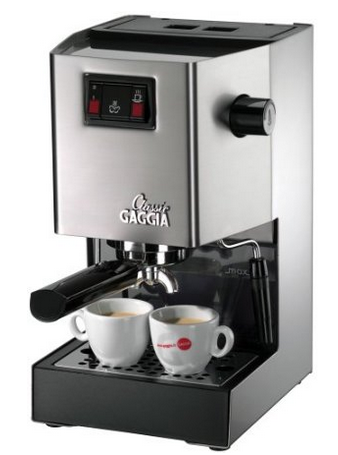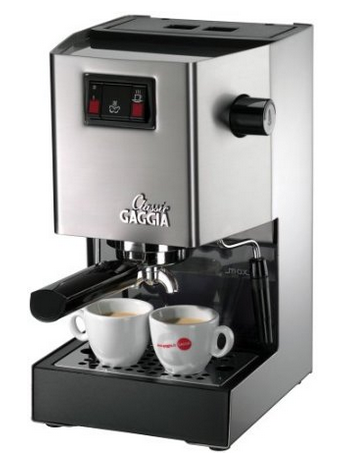 $300+

DIMENSIONS 14.25"H X 8"W X

9.5"D

WEIGHT 20 POUNDS

COFFEE TAMPER INCLUDED

72 OUNCE RESERVOIR

DETACHABLE

STAINLESS STEEL EXTERIOR

58MM PORTAFILTER

CAN USE PODS

3.5 OUNCE BOILER

55 WATT ELECTRIC PUMP

17.5 BAR PUMP

MAKE TWO ESPRESSO SHOTS AT A TIME

OUR RATING 4 STARS OUT OF FIVE
If you want Italian espresso without going to Italy, look no further. Middle ranging in price but high ranging in quality, Gaggia are a mark of excellence in the arena of espresso.
This is a smaller espresso maker that still adheres to a professional quality and has the added advantage of being able to pull two shots of espresso in one go.
She also heats up nice and quick, which is what you want when you are in a hurry in the morning.
Check the price of the Gaggia 14101 Classic on Amazon now
---
DE'LONGHI EC155 COMMERCIAL ESPRESSO MACHINE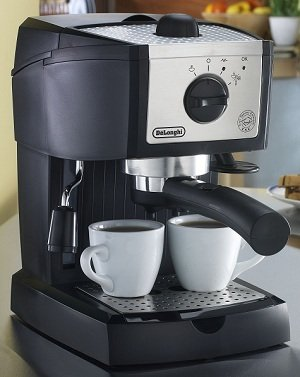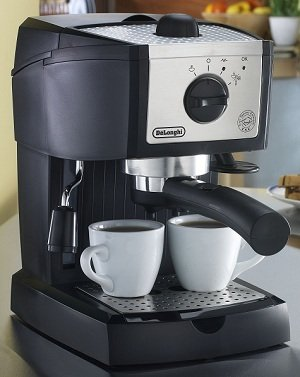 $100+

DIMENSIONS 7.50″ x 9.50″ x 11.12″

WEIGHT 6.7 POUNDS

CAN USE PODS

THREE IN ONE FILTER HOLDER

15 BAR PUMP

SELF PRIMING TO SAVE TIME

STAINLESS STEEL

CAN DO DOUBLE SHOTS

REMOVABLE DRIP TRAY

WATER RESERVOIR DETACHABLE

OUR RATING 3.8 STARS OUT OF FIVE
An espresso maker for under $100? Yes it can be done and done well too, just ask makers De'Longhi.
This little treasure really gives you all you need and fast –taking a mere thirty seconds from initiation to espresso blast off. That is a result as far as we are concerned!
Powerful, quick and easy to use – there's very little to fault with this machine and yes, you can use pods with her!