We're going to start talking about these in no particular order. They're coffee grinders that we find visually interesting.
They are all very cool to look at as well as fascinating to think about people using these in days gone past.
Imagine these being used by families before they sit down for breakfast.
Handpainted Lovely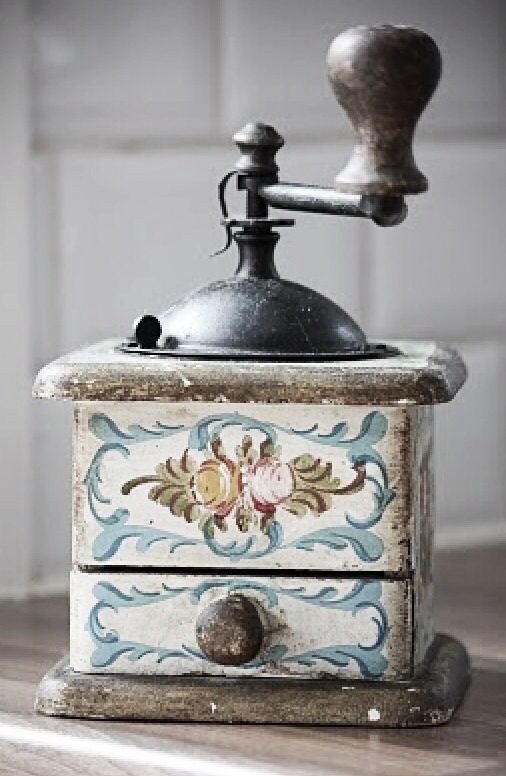 This one has lovely hand painting with edges that have definitely seen use.
Bulk Coffee Grinder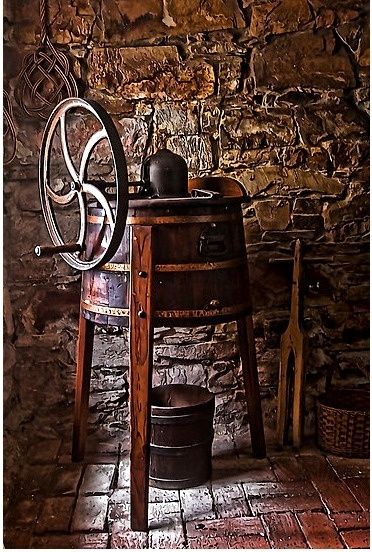 This one is definitely for bulk grinding. Others might be in someone's kitchen, but this is meant for pounds and pounds of beans.
It might not be a commercial grinder, but perhaps one for a working farm? It's fascinating to speculate.
Large Grinder with Box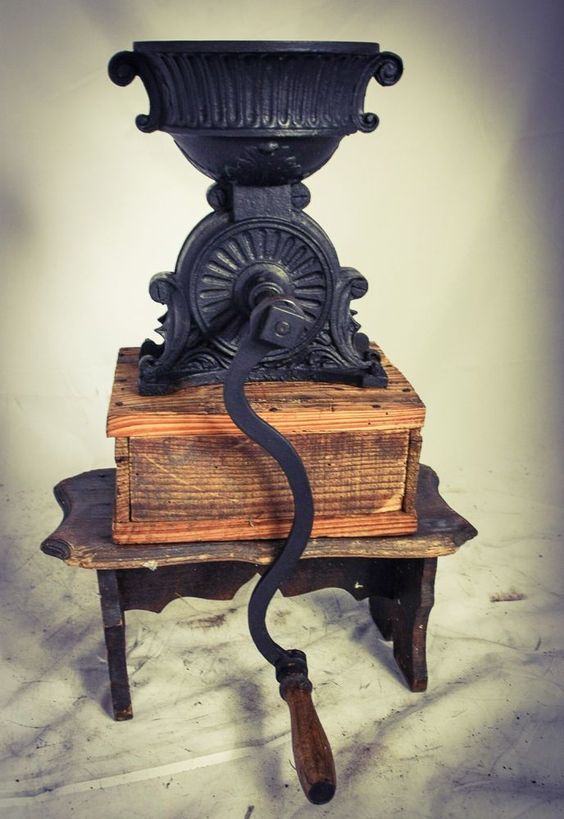 This one is a bit larger than the traditional grinders seen in many kitchens.
There are worn edges as well as a worn handle that show that it's gotten a good amount of use. We picture this one being used in the new colony days of the US.
Old-World Classic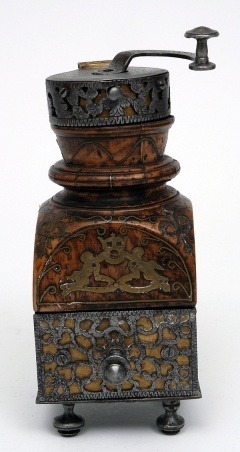 This is a coffee grinder that dates back to approximately the 1700s. It looks Turkish in appearance, but could be from any country in that region. The detail is incredible.
Elgin National Grinder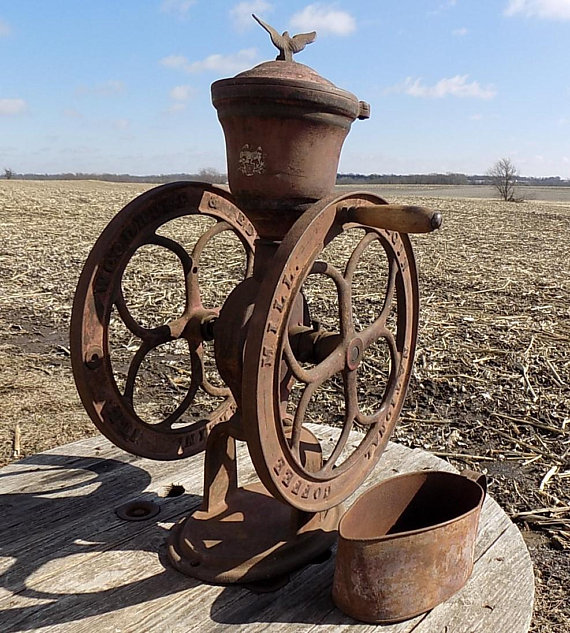 We didn't research these grinders. It was just important that we share the ones we came across that were fascinating. This is one that we learned is from Elgin National.
It definitely has an old American feel to it. It's easy to picture farmers using this to feed their farmhands before work began.
Read our article: https://knowyourgrinder.com/coffee-grinder-history/
French-Made Grinder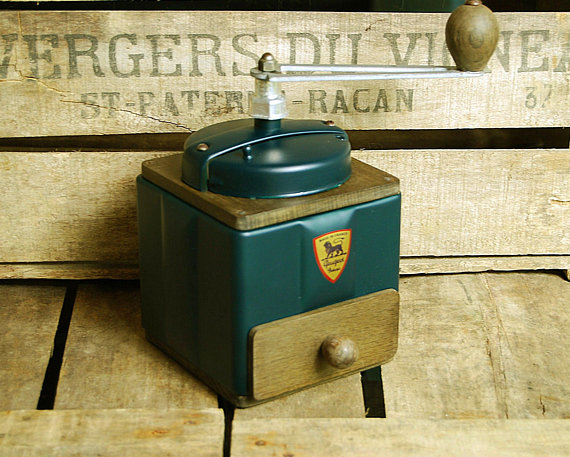 This is a grinder from the 1950s. Not as old as some of the others on this list, but still notable for its vintage feel. It's from Peugot, which we did an entire article on a while ago.
Read our article about Peugot: https://knowyourgrinder.com/peugeot-family-grinder-history-the-coffee-connection/
Early 1900s Kitchen Model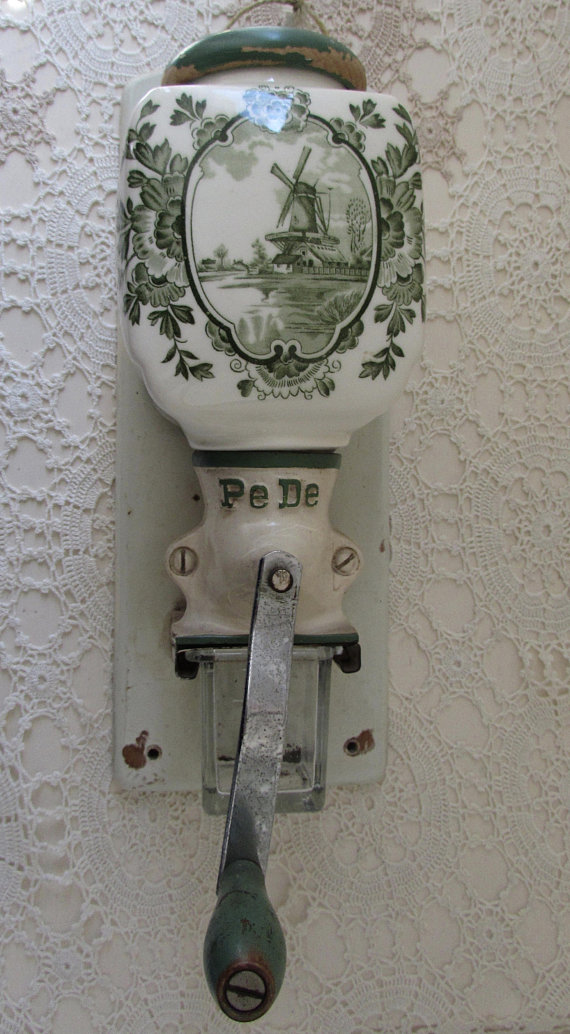 This is a porcelain wall-mounted grinder that many people had in their kitchens in the 1900s.
Glass Wall Mounted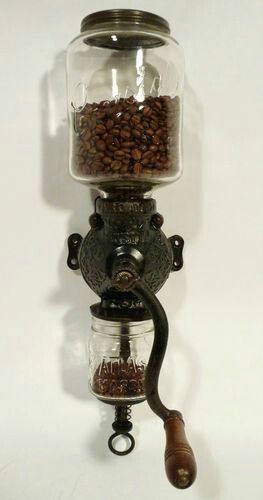 This is a glass, wall-mounted grinder. As we know, it's best to keep your beans in a vault that doesn't allow the sun to enter. This is still a beautiful old grinder.
Parker's One Pound Mill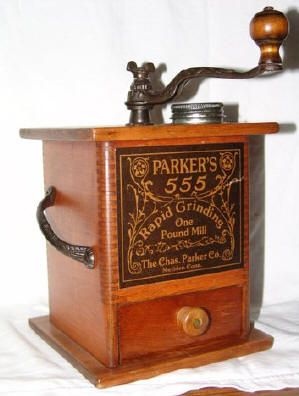 This has the distinction of being a pretty large grinder. It's a beautiful grinder that you could use today. It would look incredible sitting on the shelf in your kitchen, too.
Green Vintage Grinder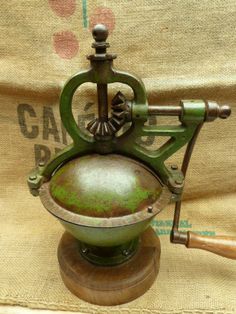 Lastly, we have this green coffee grinder. It looks sort of like a globe. The grinder has a beautiful patina with an elaborate grinding handle. Some restorers would shine this up and give it a paint job, but we'd leave it alone! It's incredible exactly as it looks.
So, that's the end of the list. Surely, there are more incredible grinders out there that are lovely as well as fascinating. We couldn't share more than these top 10 without being overwhelming.
Hope you enjoyed these cool-looking vintage grinders, and if you have anything to add or know about one we didn't mention that we should have. comment below!