Let me say this early to get it out of the way.
The Expobar Office Lever espresso machine is built like a Sherman Tank out of solid stainless steel and looks as if it takes no prisoners.
QUICK STATS
DIMENSIONS: 15 INCHES X 10.25 INCHES X 17.5 INCHES
WEIGHT: 44 LBS/ 20 KGS
BOILER CAPACITY: 1.5 L
BOILER MATERIAL: COPPER WITH BRASS ENDS
GROUP HEAD TYPE: E61 TYPE
WATER TANK CAPACITY: 2.8 L
DRIP TRAY CAPACITY: 2300 ML
HEATING ELEMENT: 1200 WATT
PRICE: $1000+
This espresso maker is – as the name 'office' implies – designed on a large enough scale to provide refreshments for an entire office full of people.
As well as being used as the workplace caffeination station, or a brewing sentinel at your local café, coffee lovers are increasingly eyeing this little beauty up as a domestic goddess of espresso lurve for all hours at home.
That is, if you can afford it!
Welcome To The Big Leagues
Whatever you use it for, this unit looks and feels like a pro. The rubber feet are solidly made and sturdy and will ensure no Fred Astaire tap dancing all around your kitchen units.
Unlike some less well-constructed units, the cups will not shake like there's a seismic shift going on and you will genuinely be in a safe pair of hands when it comes to the overall usability of this machine.
Its hard not to gush with this machine – it is pretty darn impressive. And the resultant espresso even more so…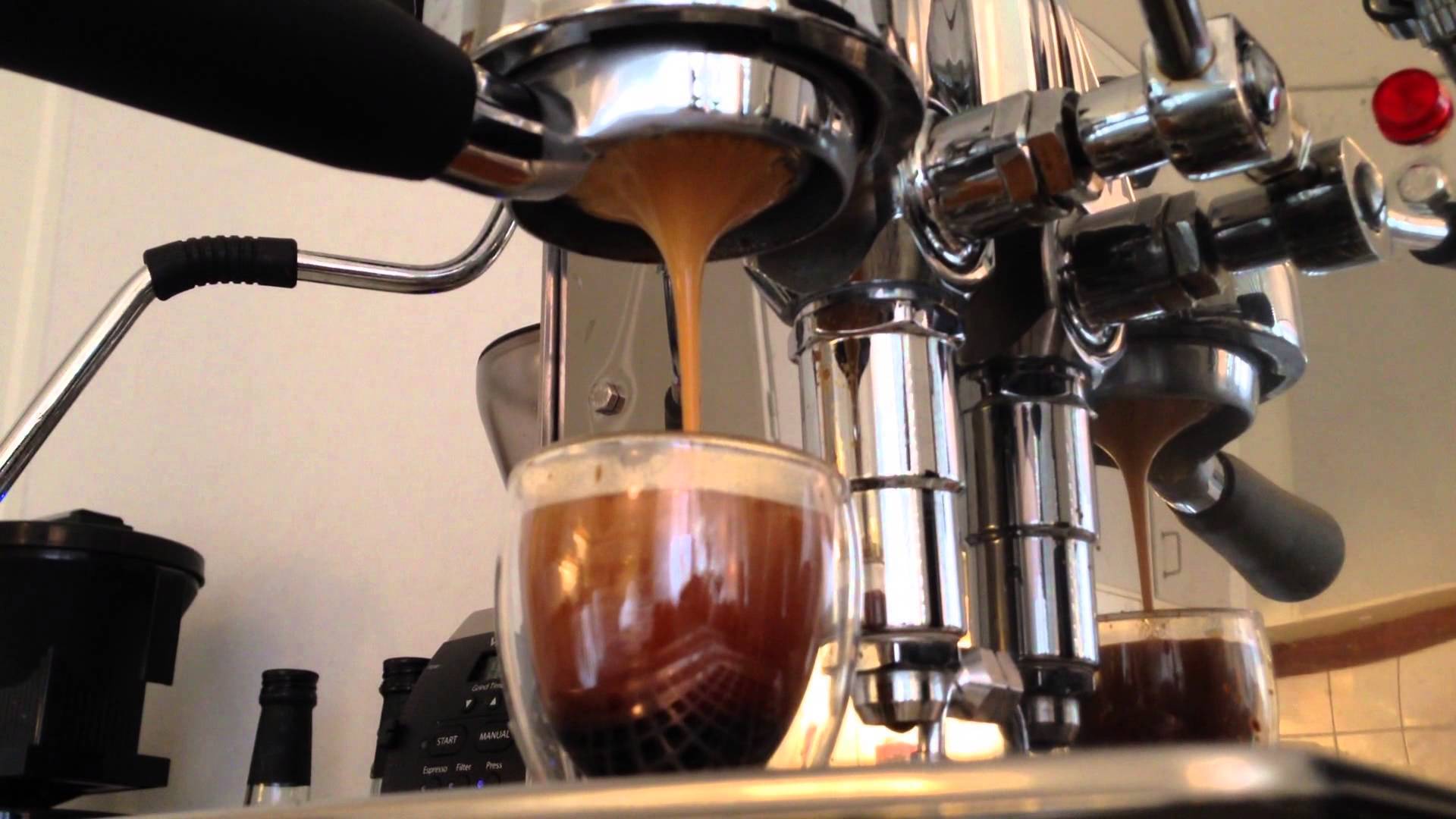 All knobs, balls, levers, wands and other whizzy bits handle beautifully and there shouldn't be any uncomfortable fits or grappling (too much) with the actual nuts and bolts of this unit.
Speaking of the nuts and bolts, the layout internally speaking is very roomy and allows for adequate access when arranging replacements and maintenance, which is bound to happen at some point over the decade or more you own it.
Also good to know is the manufacturer, Expobar, has not skimped on any of this hardware, and so you likely won't need to replace anything for a good long while with the Office Lever.
Not all manufacturers ensure that every little bit of their espresso machine is so rock solid, so that is a definite plus (which of course is reflected in the price as well).
E61 Group
The Expobar Office Lever uses the classic E61 group, which is a welcome sight because it always means you're dealing with quality when it comes to hardware.
The water temperature traveling through the E61 is always under full control and this gives the Office Lever an edge when it comes to brewing professional espresso that anyone with a more discerning palette for it will definitely notice, in a good way.
As we said, this machine pulls shots quickly and handily, and can go all day…
The steaming wand has a single hole steam tip and the micro foam is fast and readily achievable with little fuss.
Water can be steamed from a starting temperature of 5 c up to 60 c in about a minute.
This reviewer feels that it is simple enough for a novice barista to use this steam wand, and it is one more good thing about the Office Lever.
It does take about thirty minutes for the machine to become fully warmed up and cooling flushes do need to be performed on the system, before beginning a series of espresso shots.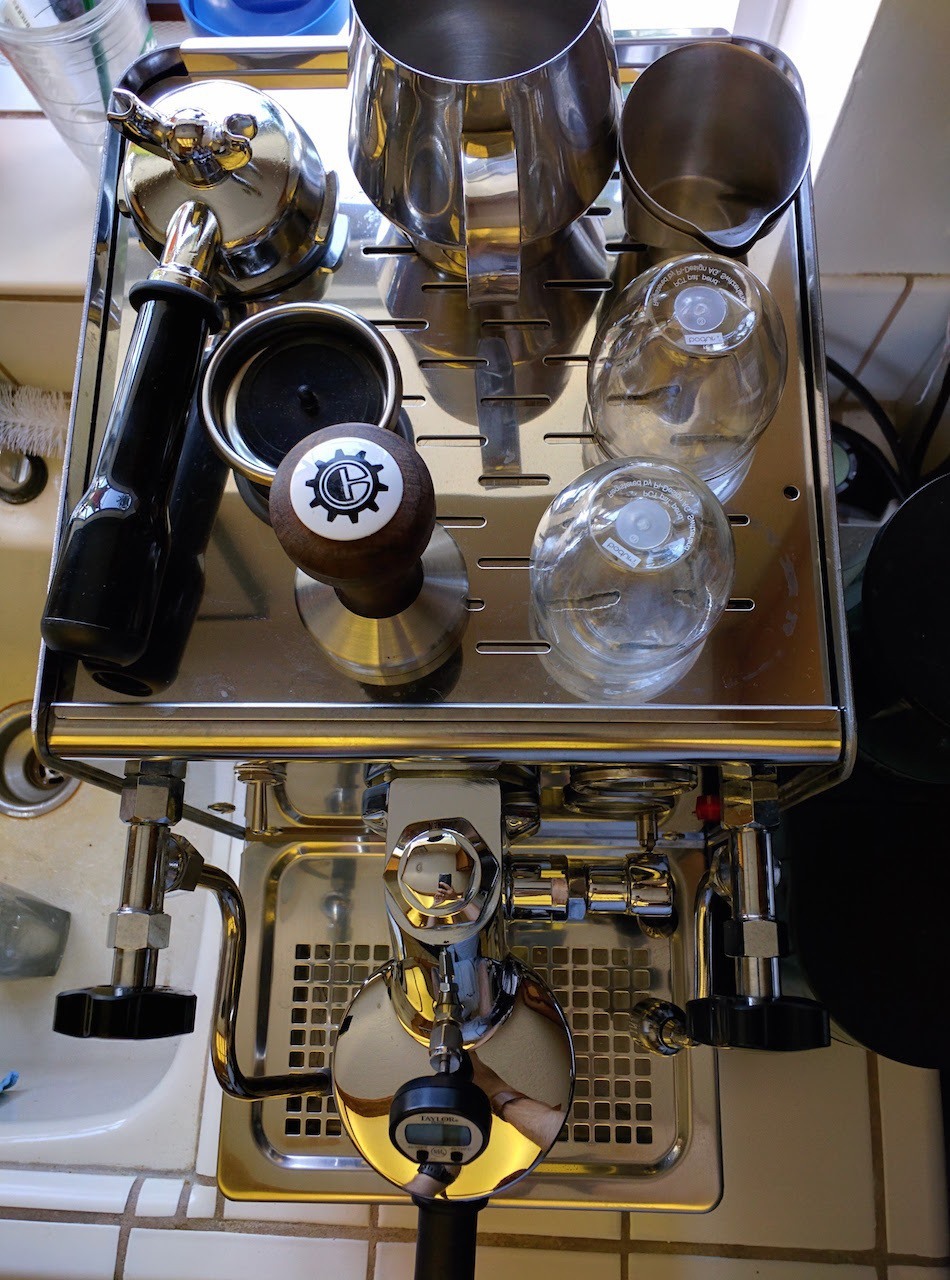 Everyone raves about the thickness of the crema and the high level of quality in general of the espressos produced by the Expobar. You will not be disappointed.
The size of the water tank is large – with its small hole for refilling being both good and bad. It is good that gunge and debris cannot easily fall in, it is less good for ease of cleaning.
This unit also comes with an impressively sized drip tray unit, that can hold 2.3 liters easily, but still is easy enough to remove whilst full.
CUSTOMER REVIEWS
"This is not for anyone who doesn't have a bit of space, definitely, but if you have got the room and can afford it, you will not regret this purchase. The crema is first rate and the thing is solidly built and very well designed. I expect it to last me a long time." – Ellie, New York
"I thought that this may be difficult to learn how to use, but I have got to say I was pleasantly surprised. It is actually quite easy to operate and not difficult at all. My favourite things are the consistency of the pressure and how it does not affect the temperature control. Make sure you perform the flushes through the system when needed though." – Walter, Michigan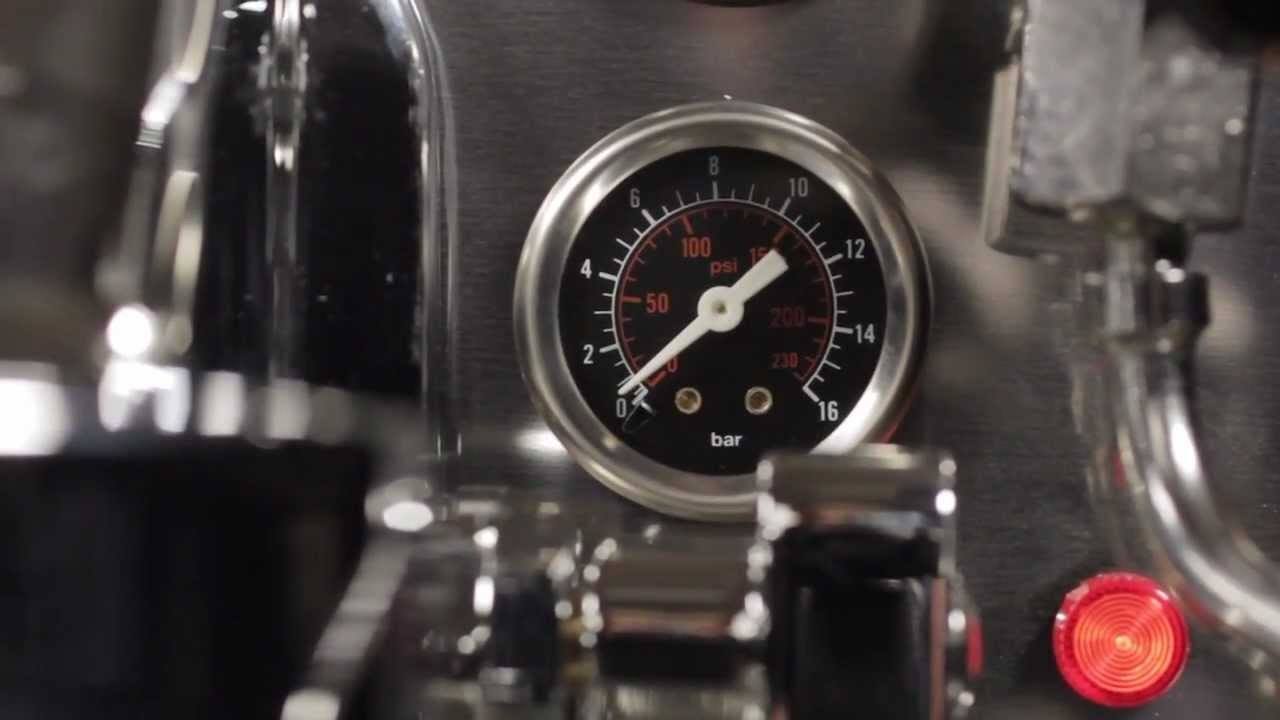 "Really excellent design and engineering. I loved the look of this, all flawless stainless steel and can appreciate the quality of the build. This is one of the best value for money machines I have ever had." – Esmie, Louisiana
"Great bit of Spanish engineering. Make sure you treat it right and do the back flush and look after it properly with all the cleaning it needs. It won't take long and it will stand you in good stead. I loved the fact you can pull espresso shots and steam together. Recommended." – Kat, Toronto
ANOTHER MODEL?
If you have been reading around the subject of the Expobar Office Lever you might have noticed that there is a very similarly named unit with a slightly different spelling.
It is not a mistake, the Expobar Office Leva is an identical machine, albeit manufactured with the different electrics needed for the UK.
If you are in the United Kingdom and wish to buy this, the manufacturers can ascertain that this is indeed the same product.
THE POSITIVES
USES AN E61 TYPE GROUP – PARTS EASY TO REPLACE
USES THE SAME PARTS AS MORE EXPENSIVE MACHINES DO
TEMPERATURE STABILITY COMPARES WELL WITH OTHER MACHINES
MAKES GREAT ESPRESSO WITH BRILLIANT CREMA
LONGEVITY
THE STEAMER IS EXCELLENT
LOTS OF HOT WATER
DESIGN LOOKS BEAUTIFUL AND IS ROBUST TOO
DRIP TRAY IS VERY BIG AND STURDY
BREW ESPRESSO, DRAW STEAM AND USE HOT WATER ALL AT ONCE
WATER AND STEAM WANDS PLEASINGLY DESIGNED AND
PRACTICAL TO OPERATE
EASY LEVER TO SWITCH BETWEEN MAINS WATER AND TANK OPTION
INSULATED BOILER STAYS HOT LONGER
THE NEGATIVES
NEEDS ABOUT 30 MINUTES WARM UP TIME – SWITCH IT ON EARLY!
FILLING THE WATER RESERVOIR IS A BIT OF A PAIN
CONCLUSION
The overall verdict of the this reviewer is that this is an all round great espresso machine, built and designed to a high standard and will last a long time.
The parts are high quality components and the engineering has been top notch. You could certainly spend more and get less, for a machine in this class.
If you are able to spend this much money, then you owe it to your office (or just yourself) to treat yourself to one.