The Hario V60 Buono Coffee Drip Kettle has made its name in the hot beverage world as one of the most versatile, not to mention easy-to-use coffee / tea kettles of the gooseneck variety.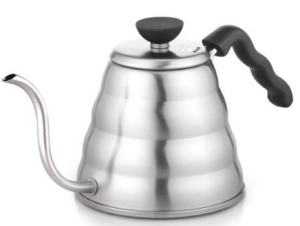 Generally speaking, this professional-looking kettle has garnered quite a few fans by this point now in 2016, but still, we felt it prudent to thoroughly review this stainless steel creation in order to give you the bottom line on whether it is indeed a coffee-serving dream machine.

#1 For Pour Control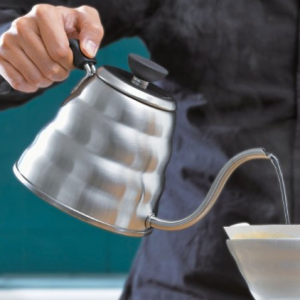 When it comes to pour control, the Hario V60 Buono is lauded to be the top of the line. With its long, thin gooseneck spout, you will have maximum control over your pouring.
For pour over coffee lovers (not to mention tea lovers), pour control seems to be the ultimate reason people love this long-spout kettle. It has been said that you can pour into the tiniest teacup without spilling a drop using the Hario V60's perfectly designed spout with its special angled tip. So there's no splashing of hot water and no mess. Control-wise, there's nothing the Hario V60 Buono can't do.
Specifically, this kettle is perfect for French Press coffee making, not to mention Aeropress and Chemex brewing styles. With its easy grip handle and ergonomic design, pour over lovers are in for a treat here.
Space Saver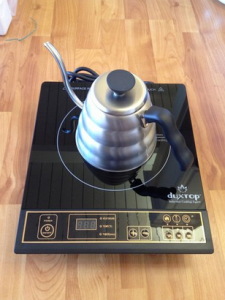 Size-wise, the Hario V60 Buono doesn't take up a lot of space in your kitchen. At the same time, you get a 27-ounce capacity which is good for three or four cups of coffee or tea. A word which might be used to describe this kettle is svelte, as it has some curves to it, but its rather slender and elegant overall.
Being 21″ x 18″ x 13″, there's always somewhere to put this kettle and it doesn't have to dominate your counter top unless you want it to. Unlike some kitchen products, the Hario V60 Buono is slightly more attractive than your average pot or pan. We're just saying, it looks nice.
Here's a quick video overview of the Hario V60 Buono Coffee Drip Kettle just so you can see it in action.
Quick Heating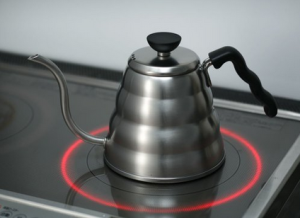 One thing you should know about this kettle is that it does not take long to heat.
Now, this is generally a plus to most coffee buffs, because some of us want our hot water sooner than later. At the same time you really need to pay attention when the Hario V60 Buono is on the stove top (gas or electric), or IH range. Your water will be boiling in no time, due to this kettle's smaller size and the fact that its light weight.
Light Weight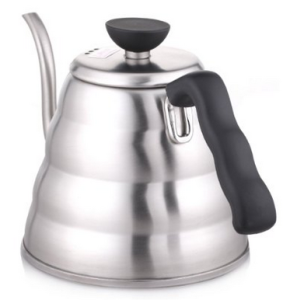 You can look at this kettle and think of it as elegant, but some people see the Hario V60 Buono as simply not sturdy enough. That's fair enough, and if you're looking for more of a tank of kettle, then this one may not be for you. For a thicker-walled coffee kettle, we recommend this Cuisinart model.
Potential Drawbacks
You can call this the lightning round, as we give you some of the potential drawbacks of the Hario V60 Buono
No Calibration Lines For Measuring Water
What can you do, this is a stainless steel coffee kettle designed to look professional and elegant. It does make sense that there are no such calibration lines for measuring water, but some folks have bemoaned this fact.
Inconvenient To Clean?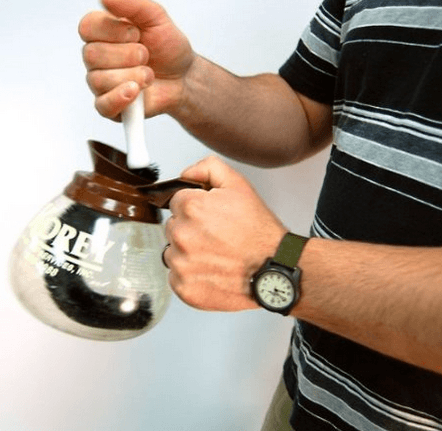 You will need some sort of coffee pot cleaning brush, as the average person isn't going to get their hand inside of this kettle to scrub it clean.
If you don't clean it very often, you're going to get build-up inside your pot, which, of course, isn't going to benefit your cup of coffee or tea by having mineral deposits in it.
Watch Out For Steam
Due to the quick heating of the Hario V60 Buono, you need to be vigilant while boiling water, or else you're going to get steam spewing out the top and that could lead to a very annoying burn, so be careful!
The Price
Some folks have said that the price of this kettle is too high, but it really depends where and when you get it. To be honest, this kettle is one of the lower-priced models on the market, but perhaps its the smaller size that makes customers wish they were getting a bigger kettle for their buck.
Overall Thoughts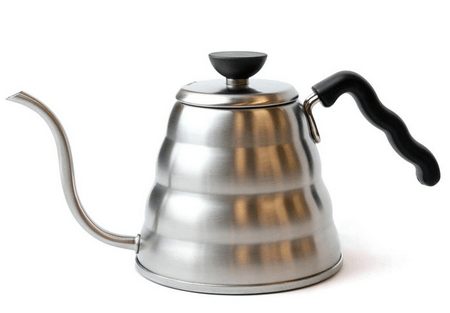 For pour overs, this kettle is unbeatable, really. The precision with which you pour the water with the Hario V60 Buono is unmatched. Everything else we've mentioned about the kettle, from its smaller stature to its quick heating nature, are virtues, depending on what you're after in a kettle.
The price of this kettle is actually not very high compared to other coffee / tea kettles, but in our opinion, this is a lovely and elegant addition to any kitchen where pour over coffee is a common practice. – 4.5 STARS!