If, coffee aficionado that you are, you have purchased a good coffee grinder to be able to then brew the most delicious cuppa-joe, cappuccinos, and / or espressos, then you will want to keep your top-of-the-line machine in good working order.
Cleaning your burr grinder insures that black gold flowing continues to taste as great as it did when you poured that first fragrant cup.
Although some owners have reported going 3 years before having to clean their burr grinders, we recommend cleaning your grinder much more often.
This is because, although your burr coffee grinder may continue to grind your beans effectively, the buildup of coffee dust and oil can change – and even ruin! – the taste of your coffee.
Removing the dust or debris in the grinder will go a long way to keeping it working optimally, and should be done on a regular basis.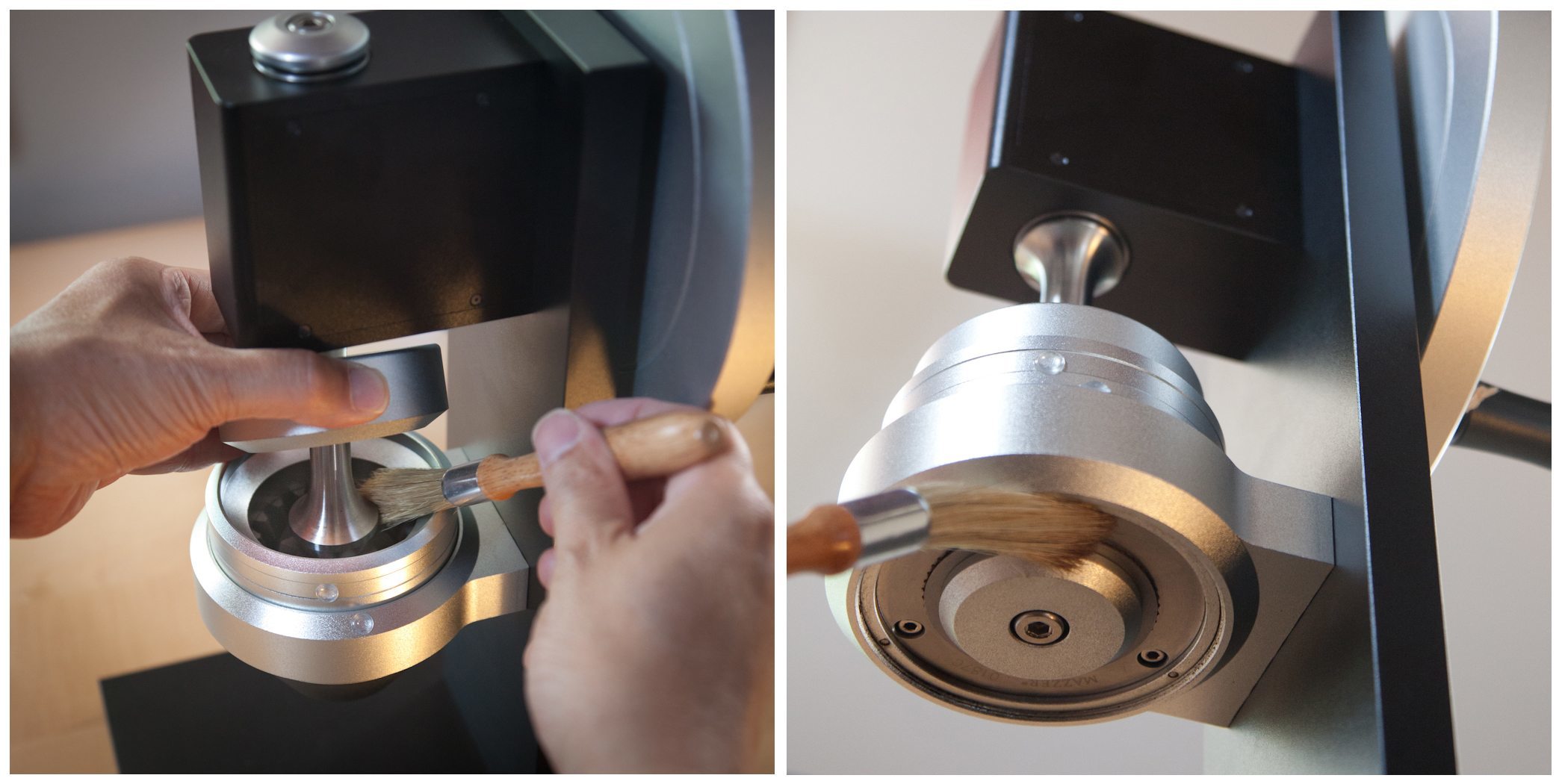 It is extremely important to NOT use water to clean your burr grinder. Or to get any moisture at all inside the machine.
As most burr grinders are made with metal parts, getting them wet could lead to corrosion.
You may want to consult your burr grinder manual for the best way to remove any parts that are covering the burrs.
We'll show you a few different grinders specifically and how they're cleaned, and you will see how different burr grinders require different techniques to clean them.
Let's take a look at how to clean a Capresso Infinity burr grinder in the video below.
As you can see, its not too difficult to clean your burr grinder, especially if its a smaller one like the Capresso Infinity.
What's required is a good cleaning brush to get into all those nooks and crannies.
We recommend the Brushtech coffee grinder cleaning brush, which is inexpensive but effective.
With a grinder that is slightly larger, you you might want to use some Grindz tablets, as we see here in the cleaning of this Baratza Encore below.
A capful of these tablets once in a while, plus a good cleaning brush and maybe a vacuum with do the trick.
Now, of course these are just two out of many different grinders, but we must say that the approach is going to be somewhat similar for all burr grinders, although some are trickier to take apart and usually this is referring to the more expensive commercial grinders on the market, which are larger and have more nuts and bolts, so to speak.
*Important! Always remember to unplug your grinder before using some of these cleaning methods
How Often Should I Clean My Burr Grinder?
Now that you know how to clean your burr grinder, knowing how often it should be cleaned will depend on various considerations.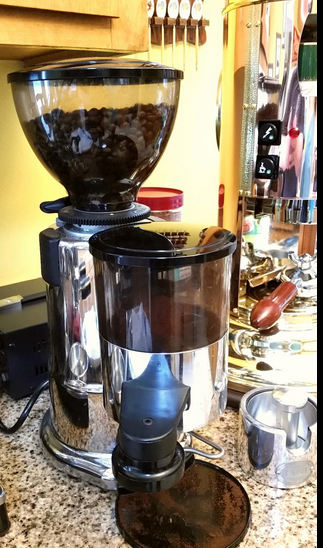 How big and how much you use your grinder is probably the biggest factor in how often your burr grinder should be cleaned. More coffee, more dust and oil.
If your grinder begins to perform slower than when first purchased, a decrease in power can often be caused by oil and residue build-up.
If your burr grinder is being used to grind espresso style and French roast beans, oil residue will build up quicker.
If your coffee begins to taste 'off'. Oil residue left in the burr grinder will begin to spoil and can percolate into future brews.
Someone (not saying who) used the burr grinder for flavored coffee which was not intended or wanted.
The general rule of thumb is to do a light, quick, cleaning once a week; with a deep cleaning once a month.
How To Clean A Burr Grinder Using Rice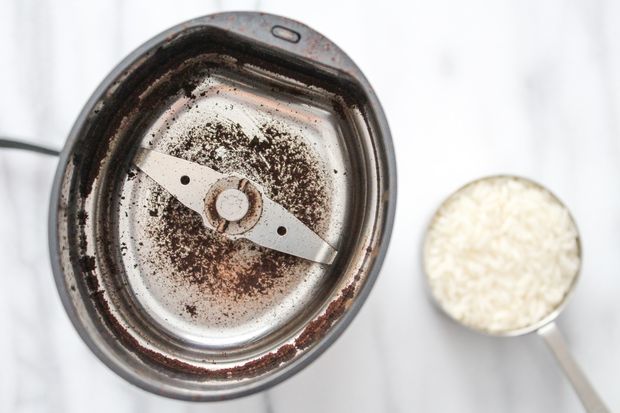 Although many coffee lovers have often, and successfully, used rice to clean their grinders, be warned!
Some manufactures believe that using salt can cause mechanical damage, and they will not honor a warranty for machines that have been cleaned using this method.
That said, this is what you do if you want to live on the edge.
Run 1/2 cup of uncooked rice through your grinder. The resulting grind should look like salt and pepper.
Keep adding rice until the grounds are all white and there is no dark residue remaining.
Follow this by grinding coffee beans until no white residue remains.
MORE RELATED VIDEOS
For anything not mentioned here in our article, these videos should provide a few additional helpful tips on how to clean your burr coffee grinder.
Thanks for reading! We hope this post helped. Click our logo below to return to our Home Page.