The very first thing I noticed about this Kitchenaid BCG111OB blade coffee grinder, and which everyone seems to say about this machin, is that it really looks great.
Even the people who don't like a single other thing about it, seem to be agreed that this is a very well constructed looking piece of equipment.
Available in three colors, Onyx Black (which is kind of, er, silver for some reason) Empire Red and Espresso (slightly odd considering this model isn't really suitable for espressos!)
At just over eight and a half inches tall and a little under 4 inches wide, this won't take up a lot of space on your already overcrowded kitchen counter.
Medium sized, but solid and sturdy in stature, this little grinder looks as if it will take no crap as it grinds up your nuts, spices and of course coffee beans.
Here's a quick commercial straight from KitchenAid of this little beauty…
User Experience
I'm not a big fan of ads, because they almost always make the product look a lot better than it actually is, but in this case, I honestly must say there's not much I can disagree with in that commercial for the KitchenAid BCG111OB.
It does have really good "fingertip" control. It is very stylish, at least I think so.
Actually utilizing the KitchenAid blad grinder is simplicity itself. You simply load beans in, and grind. What could be easier?
With a top capacity of 12 ounces, this unit is designed to work with sizes upward of 4 ounces. Anything less than this may not grind as well – just to be warned.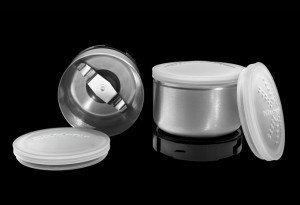 There is a helpful one-touch button operating system and then away you go. There is a clear lid, which is handy for allowing you to see what is happening.
For ease of use, as well as better cleaning, this comes with a detachable grinding bowl.
So much easier to dispatch the grinds straight into your coffee maker rather than the fussy having-to-tip-the-whole-thing-over-to-get-them-out performance that some grinders still have.
Better still, this model comes with additional spice grinding features, namely, the separate grinding bowl for use with spices, so you can keep your coffee grounds pure and away from other smells and odours.
The spice grinding bowl capacity is smaller, as you would imagine, than the coffee chamber. You can safely grind up to two ounces of any given spice at a time.
More Features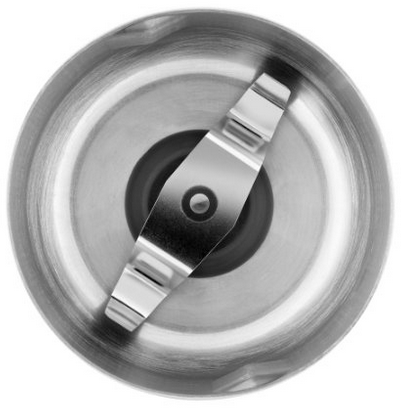 The manual offers tips and instructions on exactly how long any particular spice may require, although you will probably discover this for yourself.
Both the coffee and spice grinding units are stainless steel, as is the blade and both compartments are dishwasher friendly.
As far as user instructions go, there is not terribly much more to it than push and go, no super deluxe grind settings or timers. You simply press the button for the length of time required.
This model is supplied with a fine set of sturdy rubber feet, to keep the grinder from performing a river dance across your kitchen unit. It also helps insulate any excess noise somewhat.
The KitchenAid BCG111OB – The Silent Grinder?
Here we hit the first big controversy of this coffee grinder. Billed as being (fairly) quiet to run, some people do indeed feel that the KitchenAid BCG111OB is in fact a little bit noisy after all.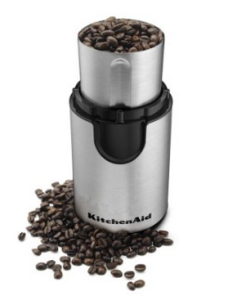 First thing's first. Everyone knows that grinding coffee beans is never going to be a completely silent affair.
If you really want no noise at all, it might not be best to purchase this model. If you want a really smooth, quiet grind, you're going to have to look at burr grinders that are somewhat pricier.
In all fairness, describing this as "quiet" may be a slight exaggeration, but likewise, dismissing it as being "too noisy" may be a tad unfair.
It is not excessively noisy, but it may be something to bare in mind whilst making your choice.
All in all, it also might be best not to purchase any electric coffee or spice grinder at all and simply opt for a hand grinder if you want something that is silent as can be.
Secura Electric Coffee Grinder & Spice

Cuisinart Sg-10 Electric Spice-And-Nut Grinder

Kitchenaid Bcg211Ob Blade Coffee And Spice Grinder Combo Pack – Onyx Black

Oxo Brew Conical Burr Coffee Grinder

Grind Quality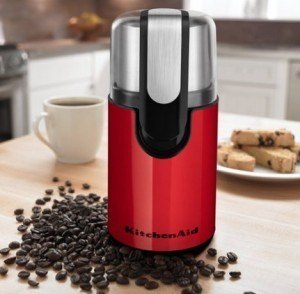 The million dollar question, ultimately, about any coffee or spice grinder is how well does it actually grind?
In judging this, this blade grinder review would respectfully like to remind you that this is a blade grinder and so should not be measured alongside the gold standard of, say, a commercial burr grinder.
No, this is not a Mazzer Mini we're talking about here.

This is a multi functional kitchen tool, which allows you to grind coffee beans amongst other things, such as spices and herbs and nuts.
It does a good coarse to medium grind, which is perfect for drip coffee or pour over like a French Press.
Espresso, if you dare trying to grind fine enough for that, will be a bit of a challenge to achieve without grinding the living daylights out of your beans.

Cons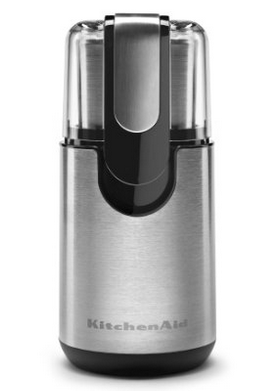 Ok, time to let some fur fly for a second.
To focus merely on the negatives, for a moment, there is a small minority who suggest that this is not actually brilliant for consistency of grinds and that if this concerns you overly, maybe to think about the purchase.
There are complaints that grinds get stuck below the blade (a common problem with blade grinders, to be fair) and create a lot of mess.
These may be bearable problems, depending on how much patience you typically have.
This might be a good time to mention once again that this blade coffee grinder doesn't cost much, in fact you can get this grinder for less than it would cost go take your family to McDonald's.

The Overall Verdict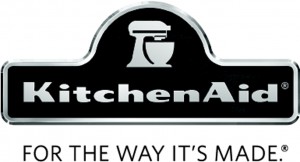 The overall verdict of this blade grinder review is that this is a smart and competent blade grinder, for those of us who aren't so picky and just need a grinder that does the job.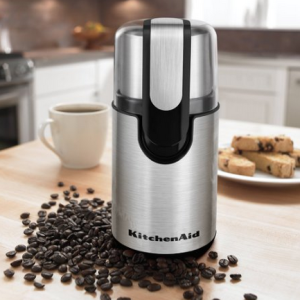 If you are a raging coffee snob connoisseur you may wish not to purchase this item. This grinder is not for the coffee devotee who wants to play around with a hundred different settings. Its very basic, but does the job.

On the other hand, if you want a simple, straight forward coffee and spice grinder, that doesn't over-occupy its place in the universe, looks great and does the job reasonably well, this would be the ideal blade grinder for you.

Coffee Grinder Cleaning Brush, Wood Handle & Natural Bristles

Premium Gold Whole Flax Seed | High Fiber Food

Lavatools Javelin Digital Instant Read Food And Meat Thermometer (Chipotle)