Last Updated on
QUICK STATS
MANUFACTURER:  KITCHENAID
MODEL NO:  KCG0702ER
WARRANTY:  1 YEAR
BEAN HOPPER CAPACITY:  7 OUNCES
RPM LEVEL:  LOW
DIMENSIONS:  5.9 x 10 x 9.8 INCHES
MATERIAL:  STAINLESS STEEL
WEIGHT:  9.9 POUNDS
SHIPPING WEIGHT:  11.6 POUNDS
NUMBER OF GRINDS SETTINGS:  15
COLORS:  RED, BLACK AND SILVER
OUR RATING:  4.8 STARS OUT OF FIVE
The purpose of this review is to assist people in choosing a high quality burr grinder for their coffee grinding needs. 
In this detailed review, we look at both the pros and the cons of the KitchenAid KCG0702ER Burr Grinder in order to show you whether or not this is the right grinder for you, the coffee lover. 
With its elegant curves the KitchenAid KCG0702ER Burr Grinder will be the centerpiece of your kitchen and the envy of all the other small appliances on the counter top.
BUT!!!
Whilst researching this coffee grinder I inadvertently discovered a whole, incestuous family tree of coffee grinders from the same manufacturer, so listen closely while we blow this case wide open with our coffee sleuthing.  🙂
This model is not to be confused with its eerily similar twin sister the KitchenAid Artisan Burr Coffee Grinder.
It is also, apparently the spawn of its near identical and now discontinued mother, the KitchenAid Pro Line Series Burr Coffee Mill. 
These coffee grinders are both very similar so if you are thinking of purchasing either of them, just know that this review is looking specifically at the KCG0702ER, not one of its relatives.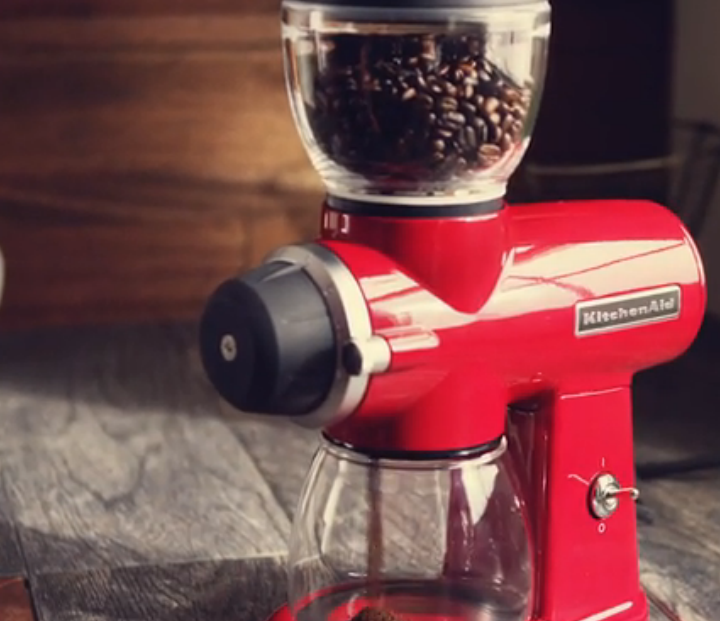 At the moment, we are unsure as to the paternity of the KCG0702ER, but if there are any flashbacks or dream sequences, we will be sure to let you know.
Now we're done with the dynasty bit, we can get on and have a good look at the KCG0702ER, starting with this slick little promo video featuring this particular grinder.  
Aesthetic Appeal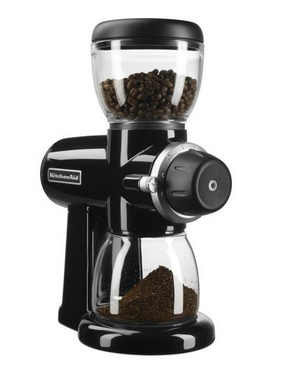 Cast in steel, this is a solid construction that also looks flawless.  Available in stunning "empire" red, "contour" silver or glossy "onyx" black, there is a shade to suit most kitchen color schemes and in terms of pure style, we think it unlikely that you would regret this purchase based on looks alone.
But, like anyone who's ever dated anyone just for looks alone should know, basing decisions purely on how nice something looks is not a very good long term play.  
Luckily, the KitchenAid KCG0702ER has got the body AND the brains going for it (so to speak).  
With fifteen individual settings on the dial ( eight full turns and seven half turns) you will be hard pressed to need more from a grinder.  
It can do the whole load, from French Press to espresso and everything in between.
The cutting burrs are stainless steel, which offer longevity for the repeated use that the dedicated coffee lover requires.
The rpm is 450, which is low enough to ensure that there is not too much friction building up heat in the unit, which may affect the flavor of your beans.
With a 7 ounce hopper capacity, this grinder also comes with a jar to store any leftover grinds for maximum freshness.
Both are made of glass to eliminate any pesky statics that make your grinds cling to the receptacle, a common problem with cheaper models.
Bells and whistles? This model comes complete with a burr cleaning brush and hand held scooper.
Bestselling Coffee Grinders