Last Updated on
By: Know Your Grinder
QUICK STATS
PRODUCT DIMENSIONS: 12 x 9.8 x 14.1 INCHES
ACTUAL WEIGHT: 4.4 POUNDS
SHIPPING WEIGHT: 6 POUNDS
CAN THIS USE PODS: NO
3 WAY SWITCH KNOB: YES
POWER INDICATOR LIGHT: YES
CARAFE INCLUDED: YES 4 Cup glass carafe included
MEASURING SPOON: YES
REMOVABLE DRIP TRAY: YES
WARRANTY: YES. 2 Years
STEAM MILK NOZZLE: YES
SAFETY VALVE IN CAP: YES
MANUFACTURER: KRUPS
MODEL: XP1000
TAMPER INCLUDED: NO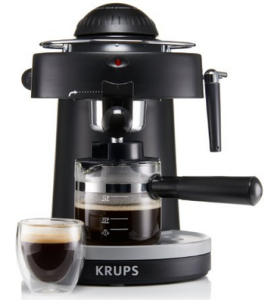 Check price on Amazon
Firmly on the more cost-effective end of the scale this Krups XP1000 Steam Espresso Machine is not going to put a dint in your bank balance and also not going to make too great inroads into your kitchen space.
It is compact, by coffee maker standards, squashing into a dinky 12 x 9.8 x 14.1 inches.
Maybe you don't even have a kitchen and just want it for your room or office. This would be perfect for anyone space-starved.
Other espresso machine reviews mention things like "ideal for a student" or as a supplement to your best espresso machine which, while may be fantastic in theory, is actually a pain in the butt to use.
This is a steam espresso machine and so it is kind of basic. It also requires a pretty serious eye keeping on it safety-wise. The manual is very clear on this.
The pressure that builds up in a steam coffee maker is going to need to be let out again. It is important that you follow the manufacturer's advice closely on this one.
Some other reviews of this espresso machine have reported a few malfunctions here and there that you definitely do not want, albeit a rare event. 
To be fair, I think you get what you pay for.  This is, after all, an espresso machine that is less than $100 most everywhere you can find it.

Knowledge is, of course, power, and its always best to learn the ropes slowly with these machines that are steam-operated, or, rather, use steam a lot. 
I've gotten the odd steam burn, due to my relative ignorance, but I do not claim to be an expert barista by any means. 
I just figured I would tame this savage beast when I got it home, and after a while, that's what I did.
The operations aspect to this is not a simple one push button. In fact, this is a basic model, but a long way away from the easy or lazy option.
On the other hand, it is giving you a degree of control over your coffee that, say, a machine using pods would not.
Generally speaking, you will come to learn how best to use this machine properly over time, but you have to have some interest in learning how to use the Krups XP1000, as it doesn't just run itself. 
It may take a little getting used to. You will have to learn to deal with how to release the pressure of the steam. If you like your coffee quick and easy it may not be the best espresso machine for you.
This coffee maker works by forcing steam through freshly made fine coffee grounds. The water flow can be manually controlled or, if you prefer, done by the machine.
But the real question here is, can you make decent coffee in it?  In all honesty, yes you can.
This makes a pretty decent cappuccino and espresso and if you are judging the price of the unit then this is one of the best espresso machines in that range.
However, a word of warning.
You may have a tough time getting true crema with this espresso machine and it may take the user a good while to brew one cup, especially if you're a bit of a doze like me.
That's not very express in my book, but then again we are talking about specialty drinks that people actually take classes in order to learn how to make. 
In a price range of under $100, the quality of the coffee is still good enough to be able to overlook some of the fiddlier aspects of the operation, in my opinion.
---
HOW DOES IT RANK?
"This machine has had some bad press, but for the price we paid, we found it to be a good and reliable workhorse, that makes perfectly good espresso and cappuccino. For those on a budget this is a must."
"I bought this when I was a student and it made nice strong coffee and was an ideal size for a small room."
"Definitely needs a 'knack' to using it, but once you've mastered it, you'll hardly think twice and will be making fab cappuccinos and espressos in no time."
"I would recommend this for the price."
"We bought this for our office and it works just fine. It's great for tight spaces, although worth pointing out that it does need some space around it when it's in use."
"Taste wise this really isn't any different from the higher end machines but there is no crema."
"Cheap and cheerful and does what it says on the tin."
---
KRUPS XP1000 ESPRESSO MACHINE – THE VERDICT
So the votes are in, the people have spoken, but what is the verdict on the Krups XP1000?
Well, it is never going to win an award for the best espresso machine ever made, but it is certainly an awful lot better than its detractors give it credit for.
This is a cute little espresso machine that makes very good coffee indeed. This is the bottom line. However it is not exactly what you could call 'user friendly'.
The first few times that you use it may not be the most easy experience ever.
But once you have got used to it, you will be brewing coffee shop standard espresso in your sleep – which if you're like me on a morning, you might actually find you are doing!
So no, it doesn't 'do' crema particularly well (maybe it's me) and you definitely do need to keep an eye on the steam pressure and follow the instructions as per the manual religiously, to prevent, well, an explosion.
And oh no it doesn't come with a super deluxe tamping tool and all the other bells and whistles, but really it is only $60-ish, so you are going to have to do some of the legwork yourself, my friend.
It is a compact and stylish little coffee maker that can be easily stored when not in use and won't be like deep impact in your tiny kitchen area.
All in all, it scores 4 out of five stars. This is a good buy for the price and ideal for someone low on cash and space, but high on caffeine! Wheee!
Check price of the KRUPS XP1000 on Amazon now