Last Updated on
My collection of automatic burr coffee grinders is growing larger and larger with time and about a month ago I picked up a brand new one – the Mr. Coffee BVMC-BMH23 Automatic Burr Mill Grinder. 
This was my first small automatic burr grinder purchase. 
I already had a large, expensive automatic model (the Breville Smart Grinder) and a small blade model (KRUPS F203), so I was hoping to try out something smaller but still using burrs to see how that went.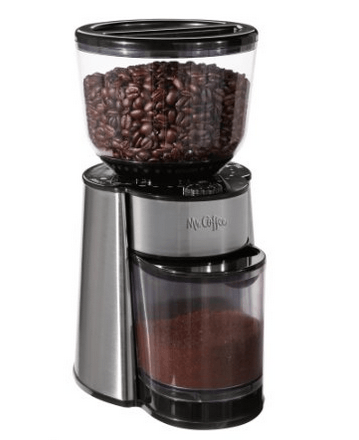 When I first saw the Mr. Coffee BVMC-BMH23, I was drawn to its looks and its reported skills at grinding fresh coffee. 
It has 10 grind settings, a 1/2 pound bean hopper, and is fully automated. 
For the money, I was interested to see if the Mr. Coffee BVMC-BMH23 could do everything the company claimed, not to mention the reviewers, as I had read many great reviews saying that it could do a lot.

The Espresso Test
In my home we love to brew espresso and our Aeropress coffee maker and we usually grind the coffee manually for this purpose, or with our Breville. 
I was interested to see if the Mr. Coffee could grind for espresso, so for a couple of weeks we set our other grinders aside for a while to see if Mr. Coffee would pass my espresso test. 
What is the "espresso test", you ask? 
Well, simply I wanted to see if the Mr. Coffee could handle the grinding so that I could use my Gaggia Classic espresso machine and make a great cup of espresso with it. 
The Gaggia Classic, for the record, is a great espresso maker and I trust it implicitly by now, since as long as I have a good coffee grinder, my Gaggia Classic has not been known to fail when it comes to espresso.

Best Burr Grinders For Home Use
Here are some of the best burr grinders for home use according to our editors!
How it looks
Name
Price
Features
Buy Now

Baratza Encore Conical Burr Coffee Grinder
$$$

8 oz bean hopper, 5 oz grind bin
40 different grinding settings
Gateway grinder to higher end grinders

Capresso Infinity Conical Burr Grinder
$$

Wide grinding range
Holds up to 8 ounces of beans
Clearly labelled, easy to use
Stylish burr grinder for the kitchen

Hario Mill Slim Manual Grinder
$

Portable and compact
Ceramic burrs
Elegant glass housing
Removable Handle

Rancilio Rocky
$$$$

50 mm burrs
High caliber home grinder
Variable grind settings
Quiet direct drive motor

Breville Smart Grinder Pro
$$$

Conical burrs made with stainless steel
60 grind settings
Grind directly into porta-filter
Precision electronic timer
Doubting Thomas
I honestly didn't think that Mr. Coffee could pull off a decent cup of espresso, because of its relative simple design and lack of really detailed settings. 
Granted, its only a $40-ish dollar product so normally grinders at that price range aren't expected to do a mind blowing espresso shot. 
Normally, if I'm going with an automatic burr grinder, I prefer to spend more just to get a grinder that does it all.

My Gaggia Classic Espresso Machine would call to me from across the room saying "Ah, forget about that silly Mr. Coffee…use the Breville for me!" 
Tearing my gaze away from my Breville, which we set aside like I said for a few weeks to try this Mr. Coffee grinder out, I set about seeing what this little Mr. Coffee grinder could really do.

We Want Espresso!
I must admit, I was not extremely thrilled about how my espresso turned out with my Mr. Coffee BVMC-BMH23.  Not at first, anyway. 
At first, I thought it was a lost cause.  After about a week I was starting to figure out how to get some decent espresso grinds out of this thing. 
The Mr. Coffee BVMC-BMH23 does have 18 custom grind settings, which I figured would be enough to get that fine grind I needed for espresso.
So, I'm glad it was able to pass my little test, although perhaps just by luck.
Maybe it was my beans, maybe it was by sheer force of will, but the espresso grinds I was getting after about 2 weeks of working this thing was making me decent espresso with my Gaggia, which I'm sure had a lot to do with it. 
After reading more and more reviews of this grinder after the fact, I was seeing that some reviewers were not pleased with their results when it came to espresso grinding, which made me even more surprised that I was able to get some decent results. 
To be fair, this grinder really is not an "espresso" grinder and it doesn't compare with my Breville Smart Grinder in terms of that type of quality, although there is a huge difference in price there.

In Perspective



I should probably say at this point that not everyone is interested in making espresso, and if so, maybe not by using a $40 coffee grinder like the Mr. Coffee BVMC-BMH. 
Putting it all in perspective, the Mr. Coffee is definitely a good little coffee grinder for drip and pour over methods of brewing. 
I'm just obsessed with espresso, as you can see, so I feel like I should give this machine a break. 
The Mr. Coffee BVMC-BMH is actually super easy to use, allows for a generous amount of beans for its size, and looks very nice. 
When you turn it on, there's a blue indicator light.  Its basically as simple as turning the machine on, doing a little bit of tweaking, grinding, and then you're done. 
Firm Little Coffee Grinder
The stainless steel base is the place where all of the the important mechanical parts are located; the burr mill grinder is inside of this firm base. 
The entire thing weighs about 4 pounds, and its dimensions measure 8.4 x 7.9 x 12.8 inches.  It really is a solid little machine.  It even comes in red!

Remember, to make sure everything is in place before grinding. 
When assembling the unit (a 10 second job), you should screw the top on clockwise and after several rotations, you will hear a clicking sound which means that the top container is well placed.
Here you can put that half a pound of coffee beans and brew up a nice fresh pot.
Easy-To-Use Coffee Grinder
Bellow the top container, there is a round start button you can't miss and there are several numbers printed around it; the numbers go from 2 to 18 and they represent the # of cups of coffee you'll be wanting to grind for. 
I find this thing especially awesome, because although I don't think I'd ever need to grind 18 cups of coffee for a single morning, there are bigger families, or independent coffee shops that might find this grinder especially useful and practical.
You can set the number you wish for, I did it on 2 cups and then just lightly pressed the start button. It took several seconds before the lower grind container got filled up with a fresh ground coffee.
The lower container is easily removable. Just slide it towards you. Pull the top lid and you can use your freshly ground coffee. I used the scoop to put the ground coffee in my Aeropress. 
No big deal here, the scoop works just fine, although recently I read an article on this website which goes quite in depth about coffee scoops, so I ended up buying a new scoop recently too.
Easy To Clean
Both containers are quite easy to clean; I didn't find that to be any problem so far.
You can just rinse the coffee with tap water, wash it in the dish washing machine or simply let it stay all covered in coffee, so the container will keep the coffee aroma all the time. 
Also, the Mr. Cofffee box contains a scoop with a built-in brush on the handle, which is cute, because you can scoop, you can brush, it's literally two in one.
For the cleaning of the burr, just use the brush/scoop, though the chances of getting ground coffee in there are practically zero, because the grind drops down in the lower container and does not have any connection with the top mechanical part.
Mr. Coffee BVMC-BMH23 Automatic Burr Mill Grinder has cord storage, which to me is very important, because I can't stand cords getting all tangled up on the counter top.
Overall
As to the price, I can easily say that you are getting a fairly good automatic burr mill grinder, due to the overall affordability of the unit. 
It will serve you well, if any of the other buyer reviews are any indication, and if you really can't spend more than $40 on a grinder, then this is quite a good solution. 
Overall, I think that Mr. Coffee did a pretty good job and that even though I was skeptical about it at first, and it kind of surprised me in a good way.
I think we'll be pressing that start button a lot more than I initially thought.