My collection of automatic burr coffee grinders is growing larger and larger with time, and about a month ago I picked up a brand new one – the Mr. Coffee BVMC-BMH23 Automatic Burr Mill Grinder.
This was my first small automatic burr grinder purchase and expectations were high.
I already had a large, expensive automatic model and a small blade model, so I was hoping to try out something smaller but still using burrs to see how that went.
I figured I should get this grinder to see if you can spend less but still have a versatile grinder that will do my bidding. I was about to find out.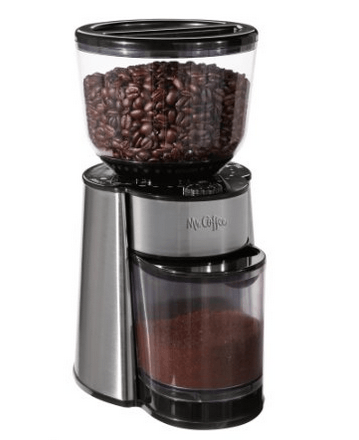 When I first saw the Mr. Coffee BVMC-BMH23, I was drawn to its looks and its reported skills at grinding fresh coffee.
It has 10 grind settings, a 1/2 pound bean hopper, and is fully automated.
For the money, I was interested to see if the Mr. Coffee BVMC-BMH23 could do everything the company claimed, not to mention the reviewers, as I had read many great reviews saying that it could do a lot.
And if you are wondering the same thing, this is the right post for you. I even went really far to do my own Espresso test.
But before we go to the Espresso test, let me show you what exactly this little yet mighty grinder has to offer in this dedicated Mr. Coffee grinder review.
Features
Not only Mr. Coffee BVMC-BMH23 is an automatic coffee grinder, but it's a real technological advancement among the burr mill coffee grinders.
Even though you won't find an LCD screen or anything digital that might increase its price needlessly, but you'll be equipped with plenty of specific features which makes the use of this grinder really effortless and enjoyable.
18 Custom Grind Settings
You will be able to grind coffee anywhere from a coarse grind to super fine grind, with everything in between.
What is really great about this grinder is that it can achieve a medium grinds and also medium/fine grind combinations which are really useful.
You get to rotate the adjustable grind wheel anywhere between the 18 available positions (settings) that will do the trick for you.
High Capacity Bean Hopper
As mentioned earlier, this small but mighty grinder comes with a high capacity bean hopper that can hold up to 1/2 pound of coffee beans.
It's very easy to remove the bean hopper as well for the cleaning purpose.
Once you want to install it again, you simply install the hopper to the unit by placing it on top of the unit and turning it clockwise until it tightens and the grind size indicator is at the "fine" setting.
Removable Grinding Chamber
The grinding chamber of this compact grinder is removable which creates easy access to the coffee. However, this access has a lot more value for the purposes of maintenance.
Once you remove both bean hopper and grinding chamber, you get open access to the inner parts so the maintenance is really simple and easy.
Dual Safety Locking Switch
Since there are quite a few removable parts within the Mr. Coffee BVMC-BMH23, Mr. Coffee came up with a brilliant solution to introduce dual safety locking switches.
These switches eliminate the possibility of the grinder running without the bean hopper or grinding chamber in place, eliminating the errors, accidents, and mess in general.
Different Brewing Methods

As we have mentioned earlier, you get 18 different grind settings which allow you to match different brewing methods.
With Mr. Coffee BVMC-BMH23, you get to grind perfect coffee for French press, automatic drip coffee makers with both flat-bottom filters and cone-shaped filters, to Espresso makers.
Therefore, you get a lot fresher flavor, richer aroma, and a better taste no matter the roast you're using. These brewing methods will help you extract the full flavor.
You'll easily notice the fullest flavor and the joy of a true taste. Combining quality coffee beans with this grinder is something we highly recommend.
Burr Mill Design
Of course, we find Mr. Coffee BVMC-BMH23 to be a really attractive grinder, but its design has a lot more in store than it actually meets the eye.
This grinder features a burr mill design which is considered to be one of the best designs for grinders.
You might wonder why?
The main reason lays in the method burr mill design uses to grind beans as it doesn't generate heat. Thanks to the precise cutting plates, you get consistent results with no heating issues.
What Can You Grind
With 18 different grind settings, you get to achieve anything from a coarse grind, medium grind, medium/fine grind, to super fine grind.
This increases the brewing methods, making it ideal for a number of different coffee makers and coffee types such as French press or coffee makers with flat and cone-shaped filters.
No matter which grind setting and coffee beans you use, this grinder will always help you unfold the richness, complexity, and freshness of the coffee.
Includes
Mr. Coffee BVMC-BMH23 comes included with the bean hopper, grinding chamber, and the user's manual.
However, it's fairly easy to get used to this grinder as you will be having the full variety of options with one simple touch of a button.
Also, we should mention the cord which is 24 inches big and is ideal for setting this grinder up at any kitchen countertop.
Maintenance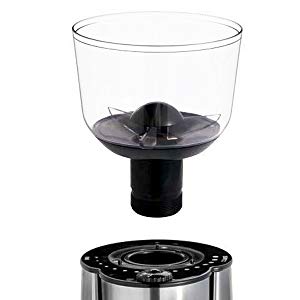 Since there are quite a few removable parts with Mr. Coffee BVMC-BMH23, you will get easier access by removing the bean hopper and grinding chamber.
This gives you open access to the burr so you can clean it from time to time. You'd want to remove and clean the grinding chamber to keep this grinder looking like it just got out of the box.
But other than that, there's not much maintenance you'll have to be doing.
Pros
18 custom grind settings
Removable bean hopper and grinding chamber
Long cord and efficient cord storage
Dual safety locking switches
High capacity hopper
Variety of brewing methods
Durable & sleek design
Cons
It is very loud
Auto shut off when the grinding chamber is full could be improved with a timed shutoff feature
The Espresso Test
In my home, we love to brew espresso and our Aeropress and we usually grind the coffee manually for this purpose, or with our Breville.
I was interested to see if the Mr. Coffee could grind for espresso, so for a couple of weeks, we set our other grinders aside for a while to see if Mr. Coffee would pass my espresso test.
What is the "espresso test", you ask?
Well, simply I wanted to see if Mr. Coffee could handle the grinding so that I could use my Gaggia Classic and make a great cup of espresso with it.
The Gaggia Classic, for the record, is a great espresso maker and I trust it implicitly by now since as long as I have a good coffee grinder, my Gaggia Classic has not been known to fail when it comes to espresso.

Conclusion
If you're making a switch to your first automatic coffee grinder, Mr. Coffee BVMC-BMH23 makes an ideal choice since it offers quite a lot for the price it costs.
And on top of that, its value increases further due to the number of grinding settings it offers. You won't have to think twice whether this grinder fits your favorite brewing method.
With this grinder, you will know exactly what it has to offer and what you will be able to achieve.
Other than these features (which is one of the biggest features since it increases the versatility), we were really pleased to see how this grinder preserves the taste and flavor within each grind.
Maybe this is due to the eliminated heat since, in fact, Mr. Coffee did execute a perfect burr mill design just to eliminate the heat and improve a few other elements.
Needless to say, this is a must-have coffee grinder if you're trying to stay compact and versatile, but remain the high-quality throughout the whole process.
As most of the features were seen in this dedicated Mr. Coffee grinder review, you will still have to experience some of the best ones yourself.