Coffee is a big deal. How big?
Well, for starters, coffee is the world's #2 commodity, with oil at #1. Its a huge business. In fact, coffee provides jobs for over 25 million farmers and is a 22 billion dollar business in the United States alone. It is truly a global phenomenon, enjoyed by a huge number of people. Including some very famous people.
Those famous folk have even been quoted on the topic of coffee, and you might be a little surprised at some of their comments.
First off, there's the one and only…
Jennifer Lopez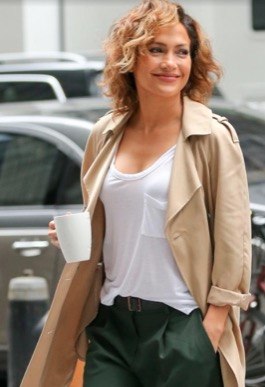 You may know this amazing woman. She can sing, she can act, she can dance, and, according to the general public, she's also known as one of the most beautiful women on the planet. Some call her J-Lo, some call her Jenny, but no matter which way you slice it, she has professed a love towards coffee. At one time, Jennifer Lopez started her day with a protein shake and a decaf coffee. It was part of her routine, and you just know that whatever J-Lo does, many others are bound to follow suit.
One of her famous coffee quotes is "I could serve coffee using my rear as a ledge." Well, ok then! Famously proud of her booty, she certainly almost literally could.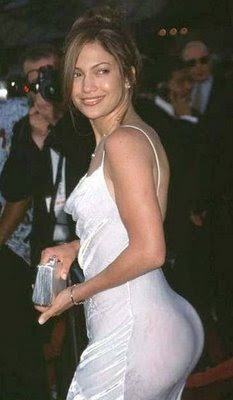 J-Lo has been known to drink her share of coffee, even if its decaf, but as of lately she's also been quoted as saying "No alcohol, coffee, or late nights." What gives? Well, being in her forties but having a body that twenty-somethings would kill to have might have something to do with it. The Bronx bombshell has also said the following: "I don't drink or smoke or have caffeine. That really wrecks your skin when you get older."
Instead, she sticks to a lot of green stuff. Kale smoothies, brussel sprouts, 10 hours of sleep per night, probably a ton of personal training – that kind of thing. So its no surprise that this woman truly treats her body as a temple. I'm sure most people would agree, if that's what it takes to look the way she does, well then fine, no coffee it is. She doesn't f— around! Respect, J-Lo, we love you!
Who remembers this? 🙂 (*J-Lo's national TV debut on In Living Color back in '91!)
Up next, we've got one of the most famous models in the world…
Heidi Klum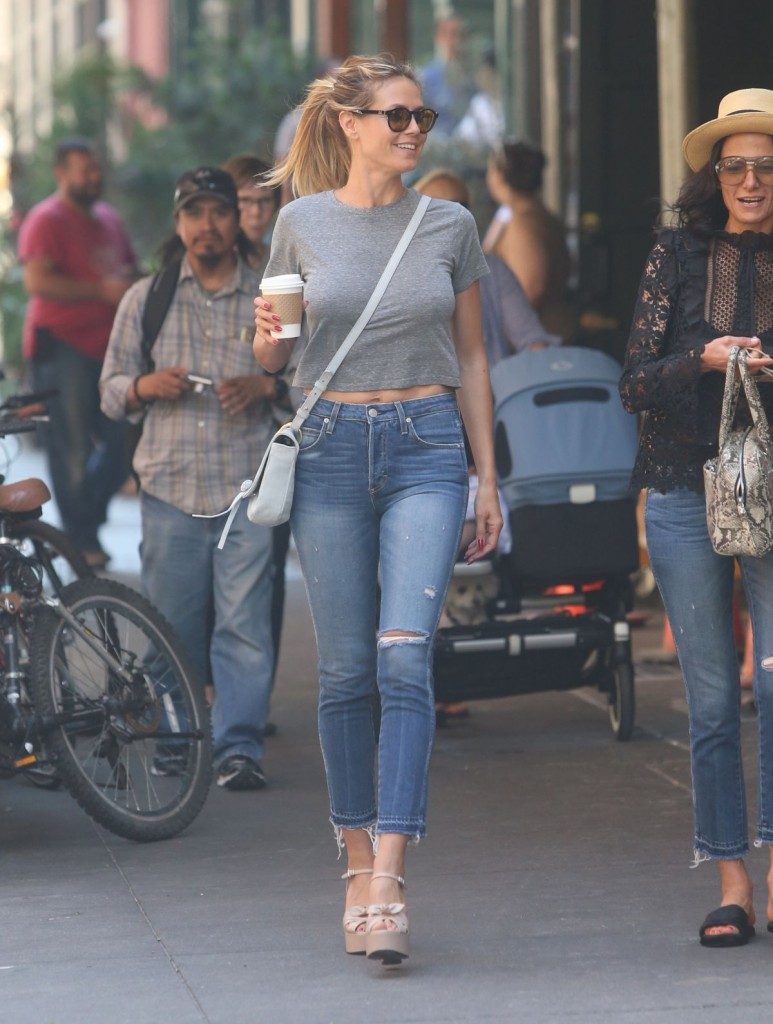 After hearing what Jennifer Lopez had to say about avoiding coffee for reasons of having a great bod, you might think that anyone who is in the modelling business would probably just be drinking kale smoothies and doing PX90 workouts all day long. But amazingly, Heidi Klum had this to say – "We busy ladies need our coffee fix in the morning. My day doesn't really start until I've had my Starbucks latte." And by latte, she is referring to a full fat, whole milk latte. Say what?? How can this be?
At age 40, this mother-of-four certainly seems to defy age. She's quite opposed to having work done, preferring instead to live life aux natural, which also includes lots of coffee runs. This girl has good genes working in her favor, that's for sure. But it's not all just great genetics and lovely cheekbones. Heidi does her share of workouts and healthy eating as well. She generally just seems to live a healthy lifestyle, but if she orders that grande latte every day, she doesn't sweat it. Inspiring! Oh, and here's a video of Heidi working out with her trainer, in case you want to give one of her workout routines a try…
Up next, we're going to look at a famous person who definitely has strong feelings towards coffee, and that is director…
David Lynch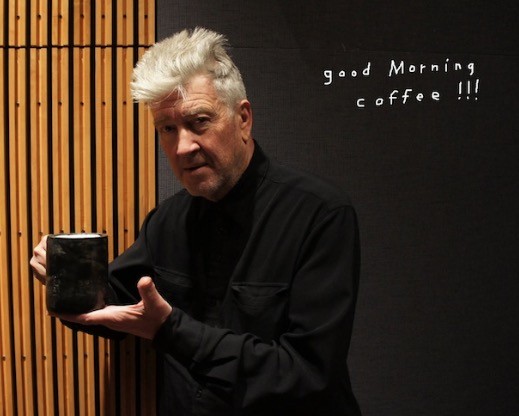 David Lynch Drinking Coffee
If you've ever seen Twin Peaks, you will have some idea of how much David Lynch loves his coffee. The entire show basically revolves around it. In fact, David Lynch has his own brand of signature blend espresso, so you know he's serious about it.
David Lynch is known for having some pretty zany ideas. Here's a quote about coffee which might partially explain where some of that comes from. "I'd have coffee, sometimes six cups, along with the shake, and I'd have sugar in my coffee. By then I would be pretty jazzed up, and I'd start writing down ideas." So yes, coffee is apparently sometimes the fuel for some of his ideas, which he equates to catching fish.
Here's another Lynch quote about coffee. "I like cappuccino, actually. But even a bad cup of coffee is better than no coffee at all. New York has great water for coffee. Water varies all around. We've got to drink something. Do you just drink water, sometimes? It's very good for you."
David Lynch's work is definitely not for everyone, but he is one of the most creative minds out there and his movies have gone down in history as some of the most interesting, groundbreaking, and also mysterious films of all time.
If you haven't seen Twin Peaks, and you're a lover of coffee, you should at least check that show out, as it basically is an artistic tribute to coffee, in its own weird way.
Who's next? Don't look now, its…
Taylor Swift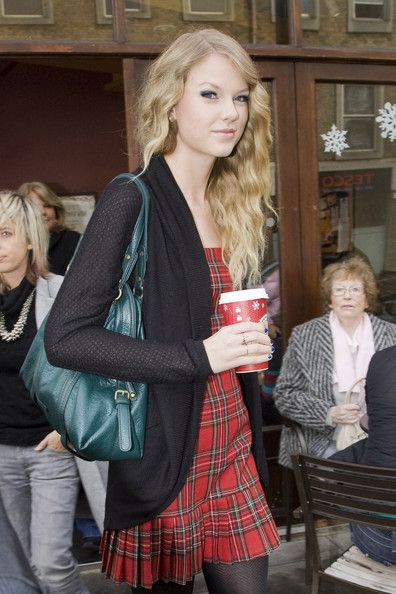 These days, celebrities don't get much more famous than Taylor Swift. Taylor Swift is mainly known as a guitar-strumming musician who sings songs about love and heartbreak, but we don't suppose that too many people generally regard her as a coffee addict. Turns out, she kind of is. Here's a quote from January 2015: "Coffee is a big part of my life." Oh, do tell…
Digging a bit deeper into Ms. Swift's relationship with coffee, it seems Taylor Swift has a bit of a thing for Skinny Caramel Lattes from Starbucks. She once said the following telling quote: "Skinny caramel lattes are a daily thing that I get excited about and I never stop being excited about," Swift added. "So if I could just find one person who I felt that way about — the way I feel about coffee — then I think I'd be in a content relationship."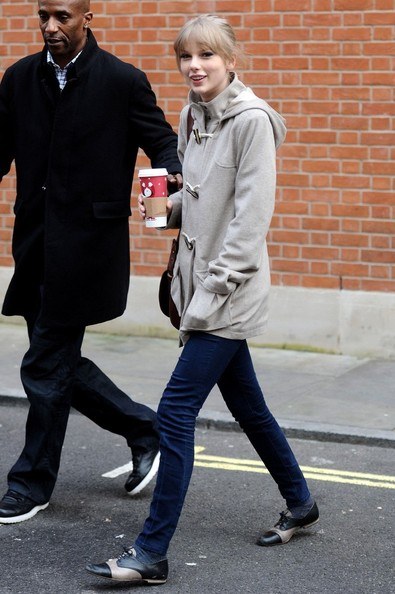 If you listen to her music, you know that one thing that Taylor Swift thinks about a lot is relationships, and, specifically, the ideal relationship, or that one love who will be all you need in life where you can live happily ever after. Clearly a romantic at heart and gusher of emotions, if only she could find a guy who she adores as much as her Skinny Caramel Latte, she could be happy. We can relate, Taylor, we can relate. Unfortunately, there aren't too many people who can live up to such a lofty standard.
That said, Taylor is the kind of girl who seems to get what she wants, and we've no doubt she'll one day find someone who is equal to, if not greater than, the thrill-inducing Starbucks drink.
We've got one more coffee-loving famous person, and it is…
Eddie Murphy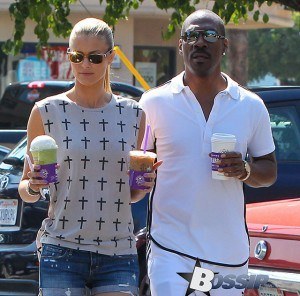 You never know who's going to show up next, do you? Depending how old you are, you may remember a time where Eddie Murphy was the biggest comedian on the planet. Remember Delirious? Saturday Night Live, anyone? The man was the biggest name in comedy for a while there back in the '80's. He's never really not been famous, but he definitely left the limelight for a while there after a long run of successful movies.
One thing that Mr. Murphy likes to do these days is go for coffee with his girlfriend Paige Butcher. Here is a fragment of a recent conversation between the two which shows Eddie Murphy's obvious undying love for coffee…
Paige: "I love coffee."
Eddie: "Yeah."
[silence]
Eddie: "Wait. What did you say?"
Paige: "What?"
Eddie: "What did you say you love?"
Paige: "Oh, coffee."
Eddie: "Oh. Same."
If you've ever seen Eddie Murphy in one of his blockbuster hit movies, you can imagine that he may be someone who consumes a lot of coffee. Here's a clip from "Beverly Hills Cop" which may or may not have been influenced by coffee, featuring the fast-talking, silver-tongued actor playing one of his most beloved roles as the wild and crazy Axel Foley.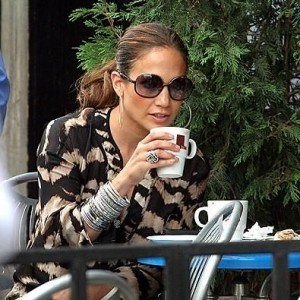 Well, that's it for now!
Thanks for checking out our list of famous people who are secretly or not so secretly in love with coffee, and some of their coffee-related quotes.
You can bet we'll be back with another instalment, as there are no shortage of celebs that love their coffee, and its always interesting to catch a glimpse into the life of someone who's uber famous, and yet, just like you and I, they've gotta have their cup of deep black joe or tasty Starbucks beverage.
Seeya next time!