As we've pointed out many a time on this site, there are basically two types of coffee grinder – those that use blades, and those that use burrs.  Each type has its pros and cons, with electric burr coffee grinders being generally more expensive, but yielding more consistent grind sizes.  With blade grinders, the emphasis is on their compact size, their ability to grind things other than coffee (eg. spices), and, of course, their everyday low price.
Before we dive into our reviews of the of 2017, let's talk about the reasons why a blade grinder might be preferable to a burr grinder.  If you're new to coffee grinding, this should be educational.
Why Buy A Blade Coffee Grinder Instead Of A Burr Model?
The argument goes, why would someone spend $100, or $500, or even $3000 for a fancy burr grinder when they can get basically the same results by purchasing a $20-ish blade grinder?  It is at this point that all sort of coffee buffs and professional baristas start getting slightly irate, because the reality is that a blade grinder simply cannot do the same tasks that your best burr grinders can perform.  Coffee grinding is an artform, just like espresso making, and just like brewing a decent pot of coffee. One of the main reasons for the burr grinder's general superiority is that it is adjustable, allowing for different grind sizes, and the burrs themselves can simply grind better than a whirling blade due to their design.
That said, there are coffee grinder manufacturers who have mastered the art of the simple blade grinder.  To compete with the burr coffee grinders out there on the market, companies that make blade grinders know they have to pack a lot of value into a small kitchen appliance that only costs around $20.  How is this done?  Let's take a quick look at some of these factors that make a blade grinder great before we share our list of our 4 absolute favorite blade grinders that are on the market today.  This should give everyone some context as to exactly why one might want to opt for a blade grinder over a burr grinder.
Grinds Spices & More! – One of the big advantages that blade grinders have over burr grinders is their all-purpose nature.  Electric burr coffee grinders, and even manual burr coffee grinders have the advantage of being dedicated to coffee beans.  There are certainly many burr coffee grinders where you simply are not supposed to grind anything but coffee with them.  They are made for coffee, and that's it.  That may be all well and good, but on the flip side of the coin we have blade grinders, which are cheaper, yes, but you can basically toss anything into them.  Cinnamon sticks?  Sure.  Flax seeds? Why not.  Many blade coffee grinders specifically advertise that coffee AND spices are the name of the game.  Parsley?  Of course!  By the same token, if one day you go over the edge and throw in too many things, and it literally overloads your blade grinder.  Well, at least you're only out about $20 rather than $300.
One Touch Grinding – We simply have to mention the one-touch feature of blade grinders.  This feature, as you may know, means that you just have to press one button and the grinding starts.  Release the button and the grinding stops.  You grind the coffee until it is the consistency you like.  Super easy.  Yes, this is the opposite of most burr grinders, which can be more of an involved process.  Many coffee geeks will go for this more involved process, but if you simply want to get the job done, you can't beat the one touch feature!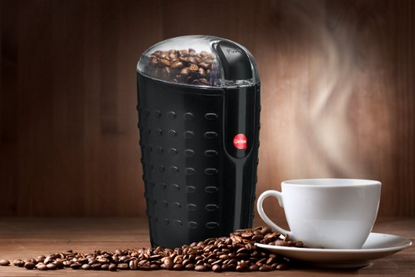 Compact Size – Your kitchen counter is prime real estate.  There is only so much room on your countertop, and certain kitchen appliances take up a lot of space.  Blenders, toasters, dish drying racks, and much more are often found on a person's kitchen counter and certain appliances take priority.  In regards to coffee grinders, your average $200 electric burr coffee grinder is definitely more of a showpiece.  They are often designed to be somewhat counter-space friendly, but most of the time they will take up the same amount of space as a good sized blender.  And as much as some people wouldn't mind turning their counter top into their own personal coffee and espresso bar, sometimes there just isn't enough room to accommodate all of the necessary equipment.  Blade grinders are made to be compact, and just generally really handy to use.  You plug them in, you do your business, and afterwards you can easily store them.  They don't have to encroach on your countertop, making it a cramped space.
Portable – This ties in with the last point of being relatively compact, but this point deserves its own mention.  With burr grinders, they generally are meant to stay in one place.  Grinding can be a really particular process, and sometimes you want a coffee grinder is nice and big and stays put.  On the other hand, sometimes its nice to unplug your appliance and put it in a nearby cupboard.  In addition, sometimes you might want to unplug your coffee grinder, and toss it into a suitcase, and go on a vacation.  Portability of your average blade grinder means you can move it from one place to another rather easily, and you can also take it with you where ever you go and it isn't going to take up a lot of space no matter what.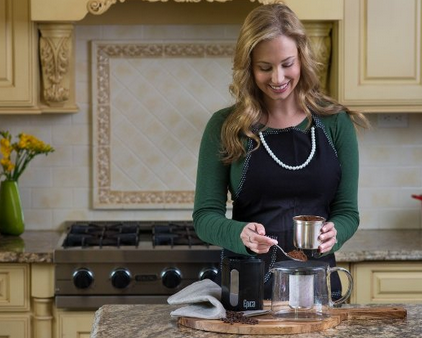 Looks – This is not to say that burr grinders are ugly, because that's not true at all.  In fact, burr grinders, are usually quite beautiful.  But in an effort to compete with some of these svelte burr grinders, and to give you the maximum bang for your roughly $20, blade coffee grinder manufacturers do their best to make these grinders quite snazzy.  Usually comprised of durable plastic as opposed to solid steel or other metals, we think you will appreciate some of the attractive looks that many of the top blade grinder manufacturers have come up with.
Price – For some, the bottom line is price.  And this is where blade grinders get even more attractive to the person who wants to experiment with making coffee at home.  There are two major ways that price come into play with blade grinders, with one being that blade grinders are overall a lot less expensive than burr grinders, which can sometimes be hundreds, if not thousands of dollars.  Beyond that, if you make the decision to buy a blade coffee grinder and start grinding your own beans and brewing your own coffee, you will most definitely start saving money right away because you can now choose to go to your local coffee chain or café and spending more, or you can stay home and spend less, and still be drinking high quality delicious coffee.  Its up to you!
---
We Review 3 Of The Best Blade Coffee Grinders
Ok, so we've been through all the reasons one might like to buy a blade grinder, so now let's take a look at 3 of the absolute best blade grinders available today.  We'll keep these reviews short and sweet, since we've already done a lot of talking.  You will quickly see why these blade grinders are worth your time.  
---
Proctor Silex E160BY / E167CY
The Proctor Silex blade coffee grinder comes in both white (E160BY) and black (E167CY), with both machines being nearly identical except for their color.  Proctor Silex has spent over 50 years in the appliance business, and so they have history on their side.  They also have customers on their side with this blade grinder, as there has been a ton of positive feedback online for this grinder.  Proctor Silex refers to this blade grinder as a "precision" model, and it has been designed to get the much sought-after fine espresso grind that people love.  Goes great with a nice espresso machine if you're willing to shell out the bucks, but this beauty is available for under $20.
Features of the Proctor Silex:
Stainless steel blades

See-through lid

Retractable cord

Great for spices as well as coffee

Light weight but durable
Read our full review of the Proctor Silex blade coffee grinder
---
KRUPS F203 Coffee & Spice Grinder
Here we have one of, if not the best blade grinder on the market.  Why do we call it the best?  Basically, this is the most popular model according to our research, with literally thousands of reviews for the KRUPS F203 and the vast majority of them being extremely favorable.  Its not really too shocking that the KRUPS F203 is a fan favorite.  With a stylish and unique design, the one-touch grinding feature, and stainless steel blades, this is the dictionary definition of a blade grinder that does its job.
Features of the KRUPS F203
Designed specifically to grind both coffee and spices

According to buyers, this grinder can do the fine espresso grind

Inexpensive (under $20)

One touch grinding

Durable hard plastic exterior
Read our full review of the KRUPS F203 Coffee & Spice Grinder
---
Hamilton Beach 80365 Custom Grind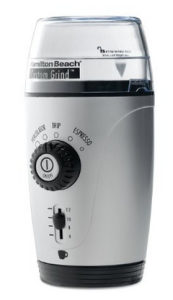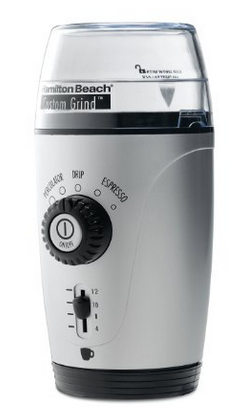 It's not very often you get options to customize your grind for under $20, but with the Hamilton Beach 80365, you have that option.  There is a lot to love about this handy blade coffee grinder, and customers seem to agree.  In addition to being able to grind both coffee and all manner of spices, you also have a removable grinds chamber for easy cleaning, as well as the custom grind settings we mentioned.  This coffee is certainly a dynamo, and it comes with a surprisingly inexpensive price tag of under $20.
Features of the Hamilton Beach 80365:
Retractable cord storage

Precision adjustable grinding (French Press, drip, espresso)

Automatic shutdown once grinding is complete

Hands-free grinding (no need to hold the button down)

Durable construction, stable design