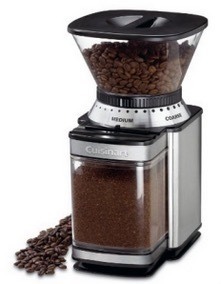 Quick Definition Of A Burr Grinder:
A burr grinder is a coffee grinder that uses two burrs, or cutting surfaces, which are located inside the machine that work together to basically chop up your beans (chopping as opposed to slicing), dispensing them in small, consistently-sized pieces that are then perfect for coffee or espresso brewing. 
This is an entirely different way of grinding from your typical blade grinder, and it is the reason burr coffee grinders are the preferred type of grinders by pro baristas and coffee fans alike!

Here's a quick video explaining the difference between the two main types of grinders: burr grinders and blade grinders, and why burr grinders are generally superior.

---
Which Brewing Method Will You Use?
When choosing a burr coffee grinder, the most important question to ask yourself is: What brewing method will I be using?
Some burr coffee grinders are designed to basically work with any brewing method, while other grinders are particularly excellent for one specific brewing method and perhaps not as strong with the others.  


Above are the basic grind sizes most people are aiming for, except Turkish, which is even finer than the espresso grind shown below and is practically a powder.
---
3 Of The Best Burr Grinders Of 2017

Capresso Infinity
The Capresso Infinity costs roughly between $90 to $150 depending on the model you get (black, brushed silver, stainless steel).  It has received scores of buyer reviews and maintains a 4 star average rating pretty anywhere you look on the web.
QUICK FEATURES
Extremely wide range from Turkish fine to coarse for all kinds of coffee preparation

Clearly marked fineness settings, 4 each for extra fine, fine, regular and coarse with a total of 16 settings

Commercial grade solid conical steel burrs with advanced cutting design for high precision grinding

Gear reduction motor grinds slow with reduced noise and little static build-up

Slowest grinding speed in its class creates less friction and heat build up preserving maximum aroma and flavor in any grind setting

Safety lock system

Upper conical burr removable for easy cleaning

Tight fitting ground coffee container (holds up to 4 oz. of ground coffee)

See through bean container holds up to 8.8 oz. of beans

Timer can be set to grind from 5 to 60 seconds

Cleaning brush and measuring scoop included

Heavy duty zinc metal die-cast housing
=> Read our full review of the Capresso Infinity here
---
Breville Smart Grinder
The Breville Smart Grinder costs roughly $200.  It has received over 800 buyer reviews, and has an average rating on Amazon.com of 4 stars.
QUICK FEATURES
25 Grind Settings for french press, drip, percolator, and espresso coffee.

Backlit LCD Screen clearly shows grind setting, number of cups or shots and customized grind amount.

Auto dosing system calibrates each adjusted dose

Bean Hopper with air tight lid and locking system for easy removal storage and transfer of coffee beans.

Accessories include two porta-filter cradles, grind contaner and conical burr cleaning brush

Please refer the User Manual for Instructions and troubleshooting
=> Read our full review of the Breville Smart Grinder here
---
Krups GX5000 Professional

The Krups GX5000 costs roughly $100.  It has received thousands of positive buyer reviews and maintains an average star rating of 4 stars.
QUICK FEATURES
Metallic burr grinder with Burr mill system to avoid overheating, and preserve aroma

Fineness selector: from extremely fine (espresso) to coarse (French press); 45 settings divided in 9 steps

Quantity selector from 2 to12 cups; 8 oz. anti-static clear bean container

Auto stop safety mechanism

110 watts; 2-year limited warranty
=> Read our full review of the KRUPS GX5000 here
---
Always Grind Fresh!
As a home barista, one should always start out with fresh whole beans before you grind.  That's step one, and its an important one.  Whether you plan on making espresso, drip coffee, or pour over coffee, fresh beans are key to a great tasting cup of coffee.  
You can choose any type of bean you like based on your tastes, but the whole point of buying a coffee grinder is so you aren't using pre-ground beans.  Here are some related articles which focus on the topic of freshness:
---
Flat Burrs VS Conical Burrs


Burr grinders use either flat burrs or conical burrs that chop up your coffee beans to the desired consistency or grind.  Both are good, but they are different in how they grind.

The following video shows the difference between three commonly used burr sets:
Flat masticating burrs (found in many retail grinders)

Flat cutting burrs (found in commercial grinders)

Conical burrs (found in all types, including manual grinders / coffee mills)

Looking for a specific type of burr grinder?  Click below to find what you're looking for on our website!
Search Only Conical Burr Grinders
Search For Models w/ Removable Bean Hopper