Camping and coffee. Seems like two words that were made to go together, right?
How's it going? My name is Dave and I was asked to write a blog article for this website about my two favorite things: camping and coffee. Or coffee and camping. Which ever.
I love them both equally.
In fact, there's nothing I like better than being out in the middle of nowhere and preparing myself some of my own special home brewed coffee with my Aeropress.
Secret recipe – I can't disclose any details.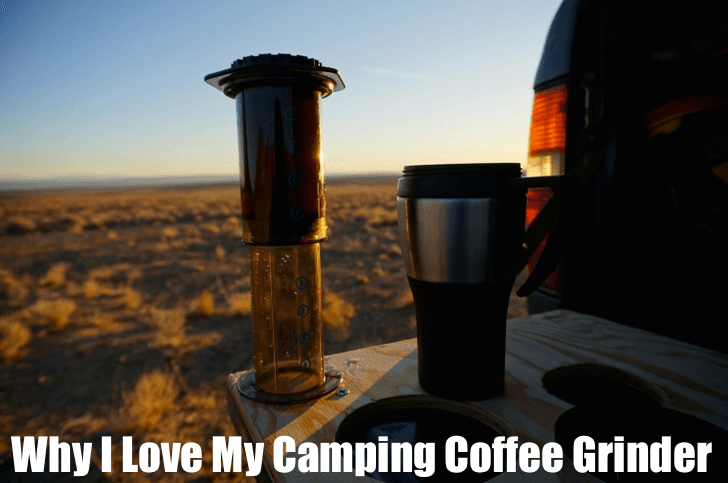 Jump ahead to Dave's Pick for:
Or help navigate through the other subtopics of this post with this handy table of contents!
Table of Contents
When I go camping, my favorite destination, me being from Ontario, is Algonquin Provincial Park.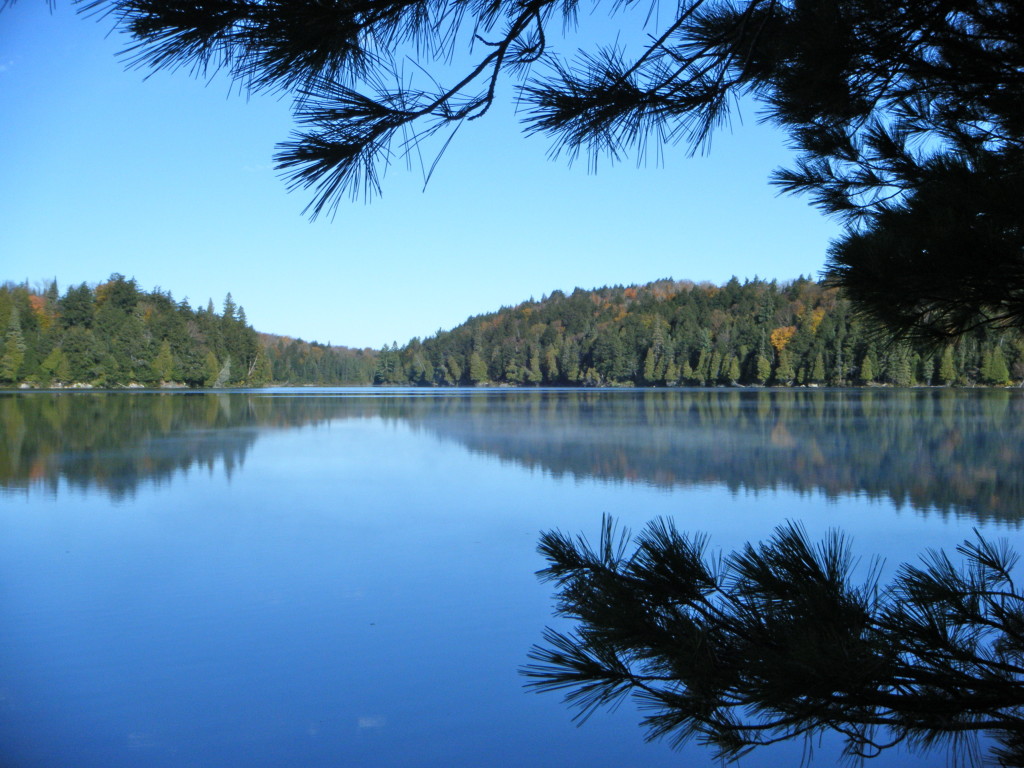 If you're looking for a place to get away from it all, which is, at the same time, breathtakingly beautiful and serene, Algonquin Park is full of natural wonder and it is somewhere you absolutely have to go camping at some point in your life.
As soon as I arrive at the entrance, I feel my blood pressure drop as I'm applying my bug spray.
If you live in a big city as I do, things can get extremely hectic and going to a place like Algonquin Park is like going to another world.
Literally, you feel like you're on a different planet, compared to somewhere like Metropolitan Toronto.
Algonquin is also one of the best camping destinations you can ever hope for, with pristine lakes, flowing rivers, beautiful trees, hiking trails, and lots of wildlife.
It's specifically known for its canoeing and for very large moose.
Camping and Coffee – The Perfect Combo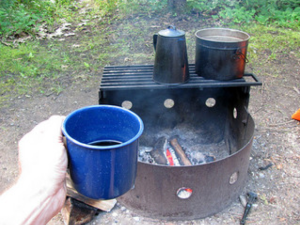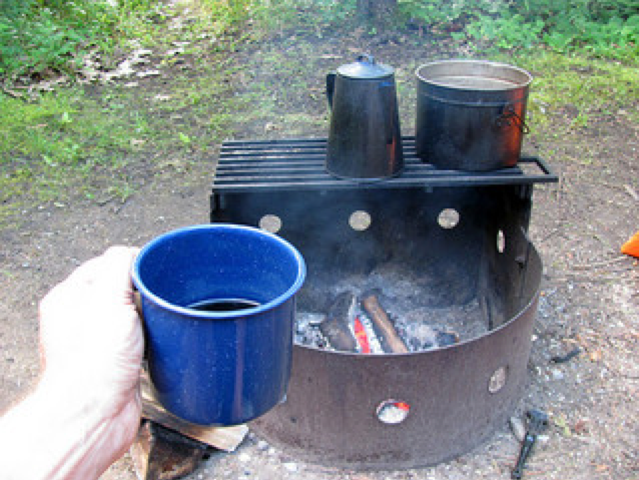 So I've been roughing it now for about 35 years.
Algonquin Park is the camping destination I try to get to the most, but I have a number of other places I like to go when I have the chance, such as Sandbanks Provincial Park, Silent Lake, and the Bruce Peninsula, as well as Killbear and Bon Echo.
All of these places are all well-known camping hot spots in Ontario, but I also have a few other little places that I know about that very few others know that I go to as well. I will keep these to myself since I like the solitude.
I've also camped all around North America, and I've seen some eye-popping spots. I find its always good to have lots of options when it comes to getting away from it all.
Some people enjoy going to a resort in Cuba or Jamaica, but me, but give me a tent and a lantern any day of the week.
Normally I like to go camping by myself, but occasionally my family will join me. Occasionally. I go far too often for their taste.
They can only handle so many mosquitoes whereas the bugs are tired of drinking my blood by this point.

My style of camping isn't really something the family is used to, so often they stay home. Besides, the big city life is more for them.
Camping Coffee Grinder – A Must-Have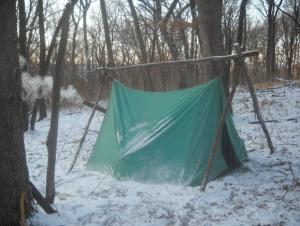 When I am roughing it, the one and only thing that I really care to bring with me into the wilderness is the right gear for making quality coffee.
A lot of the other things I can take care of myself, such as food (I take my fishing pole – hunting is off limits), water, and even shelter.
I don't mind leaving the city behind, with all the Starbucks chain stores, malls, traffic, tiny barking dogs, etc.
So my backpack isn't really full of a lot of that kind of city stuff. No granola bars, no pajama pants, no q-tips or umbrellas for this fella.
Recently I picked up this Victorinox Swiss knife off of Amazon, and it pretty much does it all, from opening a bottle of beer to pliers to filing your nails, etc.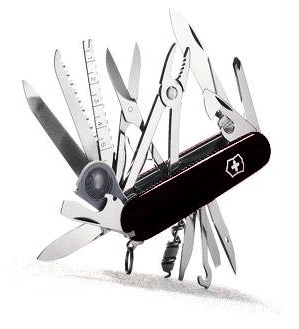 The only electrical thing I bring is my Dorcy waterproof LED flashlight, in case of emergency.
Portable Camping Coffee Grinder & Gear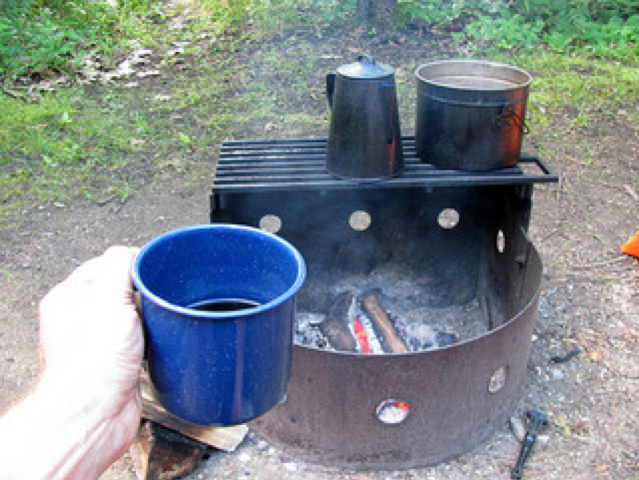 In terms of a camping-ready coffee grinder, I always go manual, because I'd rather not deal with electricity out there. It just spoils it for me. I know that it's possible to make it work, but it's just not my scene.
First of all, electric grinders are not usually very portable. They're too big, and in terms of a power source, I just don't want to bother.
Besides, I can make perfectly good home brew without any of that stuff. Let me give you the rundown…
First, let's talk about portability. Some coffee grinders are made with camping in mind, such as the Orvite manual here (pictured right).
This burr mill grinder is great because its made of steel, has a conical ceramic burr mechanism, and it is adjustable.
Each of these features is really quite significant to what I need when camping. Let me tell you why.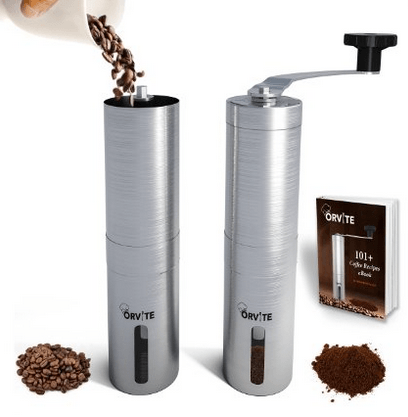 First of all, no electricity needed. It's manual. No batteries. Nothing like that. You just pour in your fresh coffee beans and start turning the crank. There's nothing easier and more enjoyable if you ask me than grinding your own beans.

The steel is a big plus because it means that it's going to last forever, and it's super durable. I'm not the kind of person that cares if there's a little nick or mark on my stuff – I'm realistic like that.
As an outdoorsman, I expect my stuff to have the odd tumble or what have you, but the fact that this is steel we're talking about here means I'm not going to break it.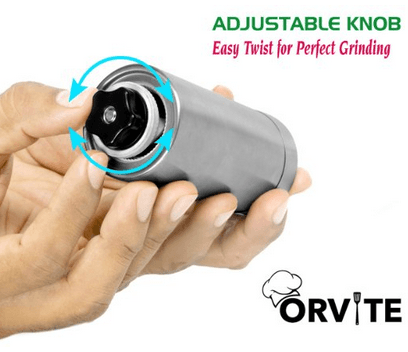 The fact that its adjustable means I can adjust my grind size for different types of coffee brewing.
I like espresso, so I just adjust this grinder to a finer grind and I can get some dark, tasty brew that is pretty much like espresso.
On a good day, I'd say I can make an actual espresso and be a hundred miles from a Starbucks. Not bad, right?
Here's a video of a very similar grinder, so you can see how these types of grinders work as well as some of the features.
Gsi Outdoors Glacier Stainless Coffee Percolator, Campfire, 14-Cup

Granite Ware F6006-1 Coffee Boilers, Graniteware 96 Oz Cap

Folgers Coffee, Classic(Medium) Roast, 51 Ounce

Gsi Outdoors 36 Cup Coffee Boiler, Blue

Tops 55703 Rapid Brew Stovetop Coffee Percolator, Stainless Steel, 2-6 Cup

The fact that its a ceramic burr mechanism is important too because ceramic burrs are supposedly the best.
Why? Burr grinders are better than blade grinders, and I know this too be true because I've used both and I've tasted the difference.
Ceramic burrs are the ones that heat up the least and this is good for your brew, allowing you to retain the aroma and flavor you want from your coffee beans.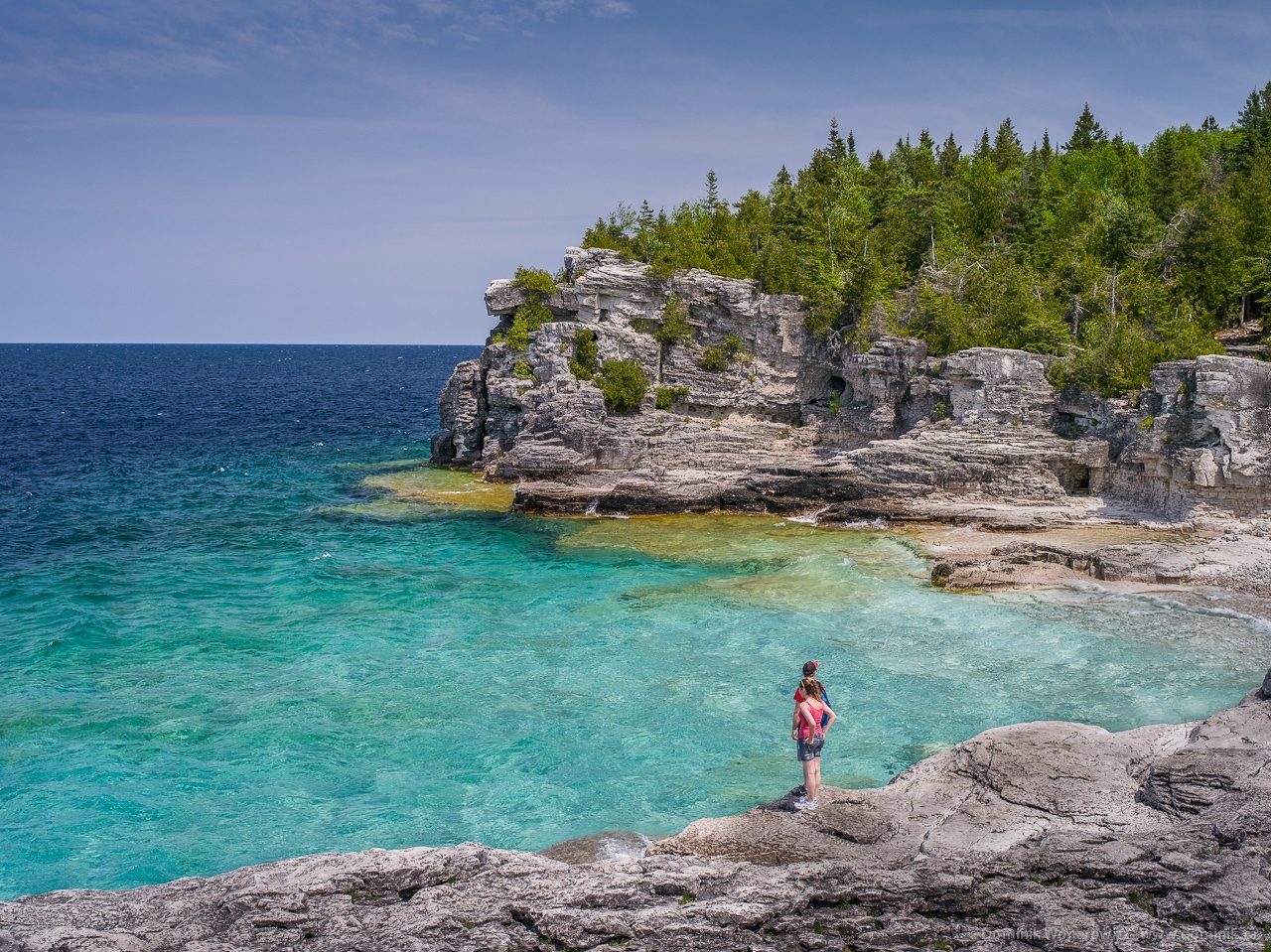 There is a little viewing window with the Orvite, and so that is more or less the weak point on your grinder in case you drop it because you could crack it, but I've been lucky so far.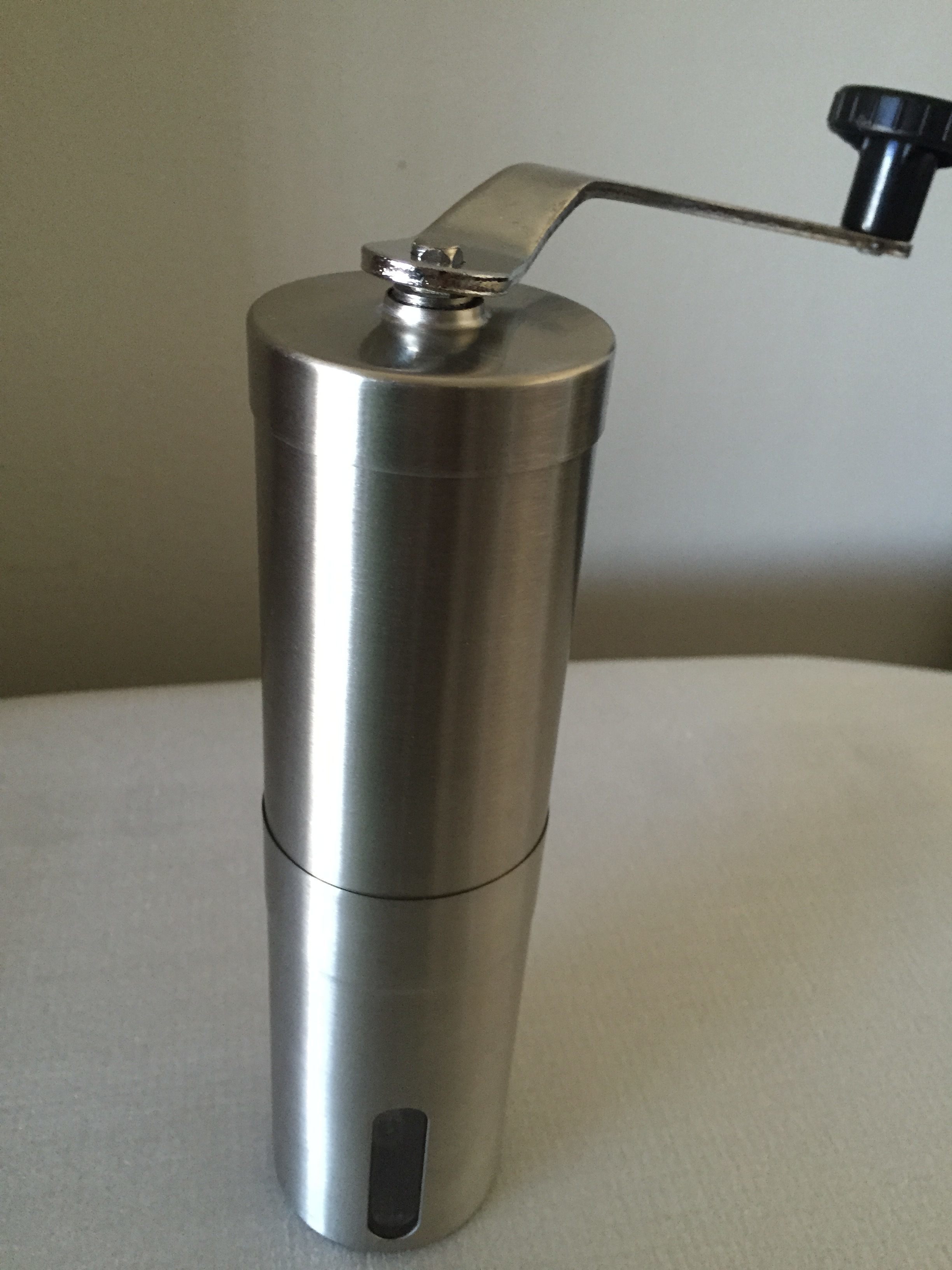 Some grinders that are portable and reportedly good for camping just have too much glass for me.
I bring with me my favorite mug, and that's the biggest risk I'm going to be taking in terms of breaking stuff, and I always pack it up really well so there's no chance it will break when I'm lugging my bag around.
Overall, the Orvite is a top-notch grinder and great for my purposes. It's a great deal and I buy this grinder quite often to give away as a gift.
Two Ways To Brew – Camping Coffee Pot VS Aeropress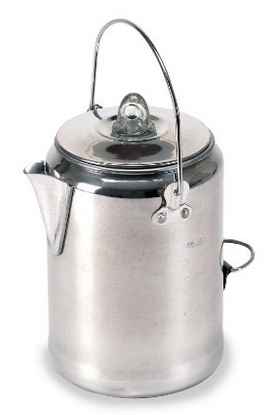 Now, I have two chosen ways that I use to brew my coffee while I'm in the wilderness and let me start with camping coffee pot I use.
Once you've ground up your beans, you can use a camping percolator coffee pot like the StanSport 9-Cup, which is my personal favorite.
In a nutshell, you just add some water (there are measurements on it to guide you), then add your fresh grinds, and toss it into the fire, and nature does the rest.
Of course, you will need a fire, and you will need water, but where I go, I can actually use fresh water from a nearby lake or stream and it's delicious, so long as your water source is fresh.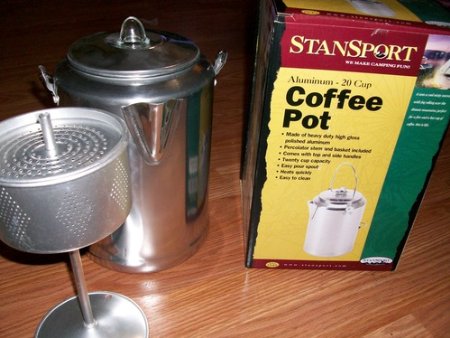 The interesting thing about StanSport as a company is that their focus is on camping. In fact, they live and breathe it.
This passion for camping, which is visible in all of their products, clearly comes across with their 9-cup percolator coffee pot, which I also picked up in the 20-cup version, which isn't that much more expensive.
I actually became aware of StanSport through their camping gear, not their coffee gear. When I realized they had something for coffee, I had to try it.
As it turns out, their camping coffee pot is one of their best products. I highly recommend checking it out! Absolutely indispensable.
Here's a video I found that shows exactly what I'm talking about with regards to using a percolator coffee pot. It's super easy, and makes great coffee!
Now, on to another question that we frequently are asked, and that is…
What is Cowboy Coffee?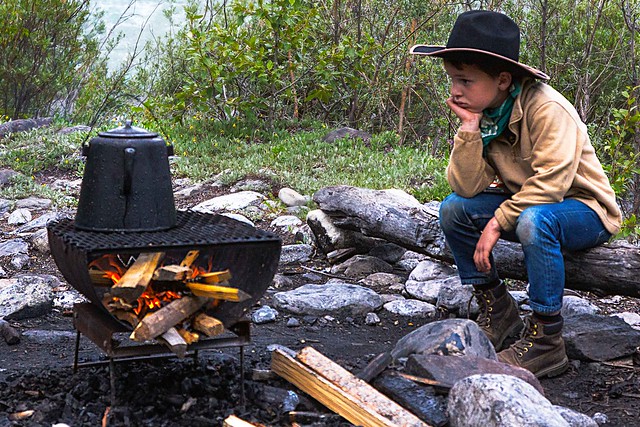 When you connect two things such as coffee and camping, there is no way you don't hear about the cowboy coffee.
Now, the cowboy coffee isn't a coffee brand, it's basically a way of making coffee while camping. But what we found very interesting is that such coffee style is still very popular and is used in Indonesia.
Cowboy coffee is made by heating coarse coffee grounds with water in a pot. After that, grounds are left to settle before pouring off the liquid to drink. In most cases, some people filter it to remove the grounds.
It's fairly simple and that's why it's connected with camping – and some people still do it nowadays, and even prefer it (instead of using it as the last option available).
But you can't make a cowboy coffee without wondering about the origin of its name, right? While there is on the fancy story behind it (unfortunately), but it's a simple story of people who had to come up with a way to make coffee around a campfire.
Cowboy coffee sounds pretty cool, doesn't it? We should also let you know that coffee style can also be used with hot milk instead of water – and no, you are not less of a cowboy if you use milk!
There are plenty of ways to make coffee while camping, but if you were specifically wondering how to make a coffee over a fire – this is the solution you've been looking for!
Can You Boil a Coffee Like Tea?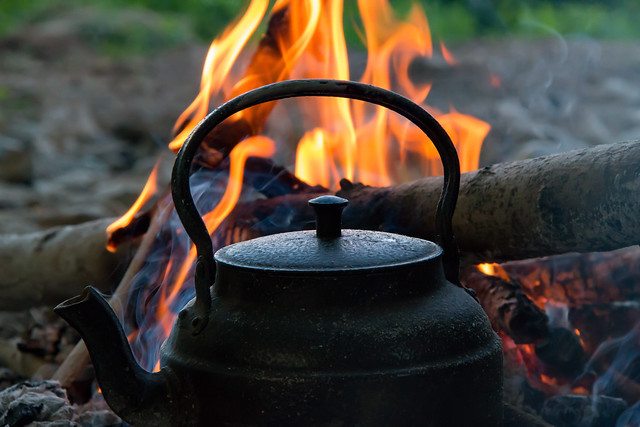 One of the most common mistakes of campers who aren't big coffee fans but like to have a cup here and there is that they boil a coffee.
Unfortunately, coffee isn't like tea and boiling coffee is a big no. Coffee is best prepared with a water temperature between 195 and 205 Fahrenheit. But of course, when you're camping – you can't really be sure what's the water's temperature, can you?
No worries, that's why we have a simple trick that will help you get the best coffee anywhere. What most people do is they boil the water and use it to make coffee, and as we said earlier – it's a big no.
What you should do instead is boil a coffee and then let it sit for a full 30 seconds before use. It's ideal if you could remove the water from the fire just before it starts boiling, but it can be a bit harder to do.
Whichever method you choose, they're both better than using boiling water to make coffee. You might be wondering why?
Well, pouring boiling water directly over the coffee grounds can cause them to extract too much too early which will definitely lead to a bitter taste in your cup of coffee.
How Do You Perk Cofee: Percolator Camping Coffee Pot Tips

Stansport Outdoor 277 9 Cup Aluminum Camper Perc Coffee Pot
One thing to remember with the StanSport is that the filter basket doesn't do well with extra fine grinds (for espresso) unless you add your own filter.
Using coarser grinds with the StanSport always turns out better for me, as finer grinds tend to fall through the holes in the filter basket.
Also, be aware of how fast you perc your coffee. Boiling the water too fast or for too long can burn the coffee and make it taste bad.
Luckily, if you're camping, chances are you have all the time in the world to make your coffee. There's no rush.
The last thing I'd want to do is rush my coffee-brewing and ruin my cup. That's exactly the kind of mindset I'm trying to get out of by going camping in the first place.
The last couple of pointers I want to give about the StanSport camping coffee pot is, firstly, to remember to flip that lifting ring up before you let this aluminum coffee pot get hot from the fire.
Otherwise, you'll be trying to find other ways to lift and pour this bad boy, just to get a cup of coffee before it gets cold. The lifting ring is great, but only if you remember to use it.
And finally, here's a tip you can use before you even take it camping with you. I would suggest using it a few times before you get it to your chosen remote location to brew your coffee.
You want to make sure that factory smell is gone before you take this shiny new camping coffee pot out into the wilds.
Camping With Aeropress
Besides percolator coffee pots, I've recently been getting more into Aeropress when it comes to brewing methods that work well while camping.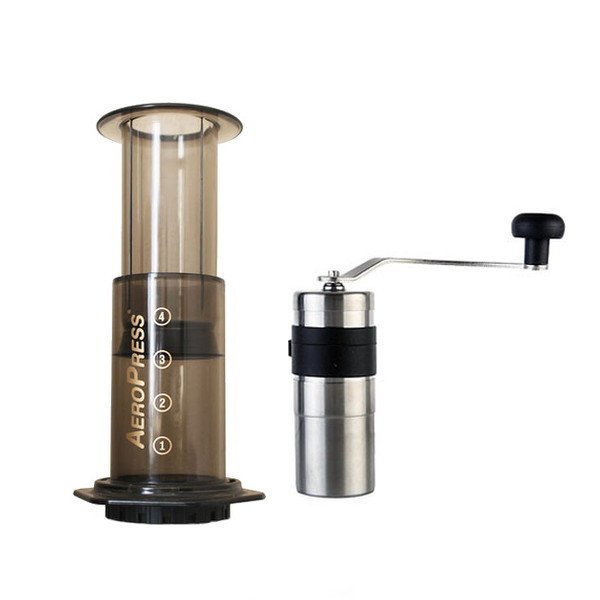 If you don't know about the Aeropress, it's a nifty little device that requires no power source and it makes some of the richest, smoothest coffee you've ever had.
It was invented by the guy who invented the Aerobie, which is kind of like a frisbee, but flies farther and it's basically just a ring.
Anyway, the Aeropress came from the same ingenious mind, and it works GREAT for camping. Ever since I started using it for camping, I've been leaving my percolator coffee pot at home sometimes, because I want to work on my Aeropress technique.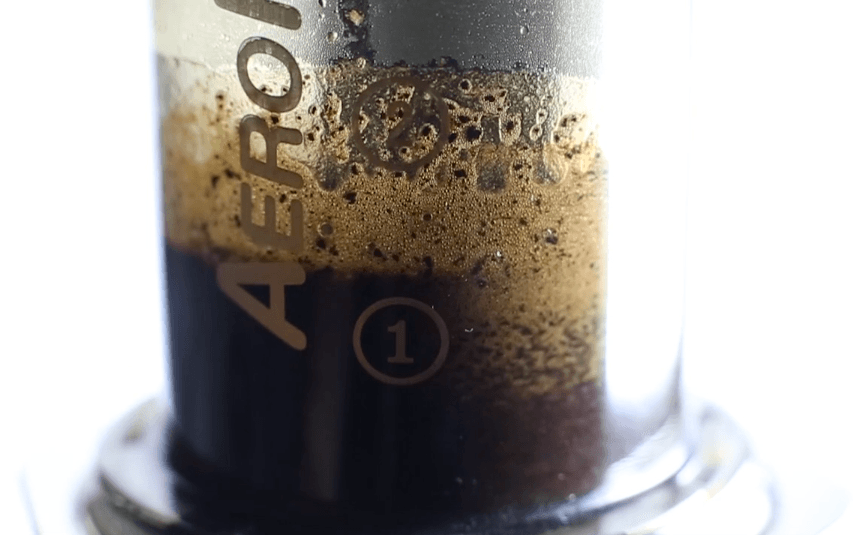 There are plenty of articles on this website that already go over the abilities of this device at length, so I won't bother to fully explain the benefits of this device.
Here is a great video with a world champion barista Gwylim Davies demonstrating how to use the Aeropress that will show you basically how the job gets done.
Anyway, thanks for reading my article on camping and coffee! Have a look around the rest of the site as I'm sure you'll find something that will interest you. The blog is a great place to start.