Today we're here to talk about "bottomless" porta-filters, and what the advantage is to having one.
"Need" might a bit strong of a word, in that you can clearly get by without one, but having one definitely has its ahem.. perks.
These are simply porta-filters without the spout, essentially, that expose the basket, allowing you to see the extraction process as it happens.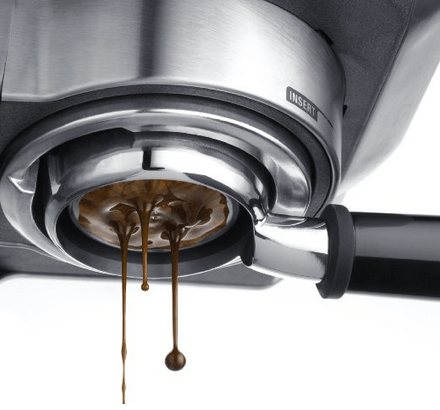 It's hard to imagine any other beverage coming with the aura of, well, sexy-ness in the same way.
From the whole tampers-looking-like-thingies and manual grinders resembling phallic objects, right down to this latest kinky observation.
I kid you not, the "naked" porta-filter, also known as the bottomless porta-filter or the "crotchless" porta-filter. These are the names that specialty coffee companies like Rancilio and Expobar have used.
We decided to confer with some friends on the matter of these porta-filters – first, we reached out to Cafe Last, a store that sells a variety of coffee gear and who we know to prefer such porta-filters in making their espresso. They were able to confirm that the naked porta-filter was their most popular seller, and also the type they liked to use themselves in most cases.
But, we wanted more detail, and so we contacted Liam Eales (AKA The Autistic Barista), who has spent many hours working in various cafés, we asked what he thinks of bottomless porta-filters.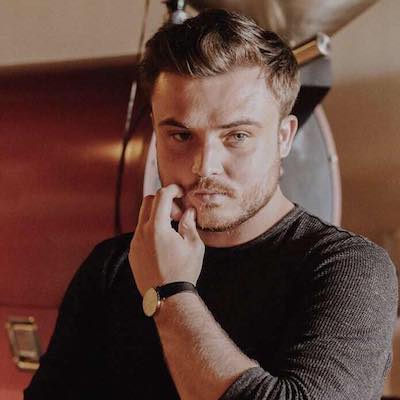 "Bottomless portafilters are fun to use. It can help you understand extraction and visualize it! It is a great training tool for getting new baristas to realize the importance of their tamp, by showing that the espresso should pour in one stream. And its visually satisfying to watch as well. The only downsides is that its harder to do singles and 1 and 1s."
And on that note, we here present the filthy deviancy of peering up the underbelly of a naked porta-filter, to better glimpse all that hot, smooth creamy loveliness dripping out…
More Than One Way To Better Espresso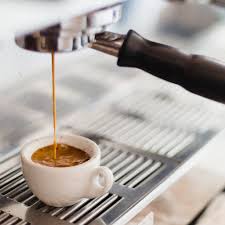 In actual fact, owning a bottomless porta-filter does not magically improve the taste of your espresso on its own.
You need quality beans, a quality coffee grinder and a quality espresso machine for all that to come together.
However, what it does do is allow you to check on the process of the extraction, so that you can see exactly what is happening, in order to avoid channeling, and make sure that you pull the best shot possible.
How They Work
If you are entirely new to this whole concept of porta-filters and how they work, here is a video by Crew Review, which shows a Rancilio bottomless porta-filter in action. Very educational.
As you can see from the above video, a bottomless porta-filter like the Rancilio bottomless porta-filter does give you an edge over other porta-filters.
Why? Simply because brewing coffee or espresso is not just about the quality of the products you're using, its also about timing and efficiency.
Granted, what it boils down to is how you use the tools, but having a tool that offers an extra way to make things even just slightly better is always welcome.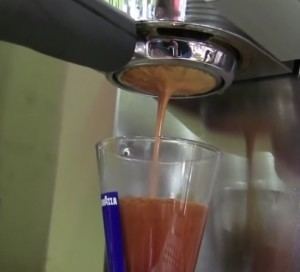 When you are pulling a shot with a naked / bottomless porta-filter, everything up until you pull the actual espresso shot is the same.
Only this time, when the espresso starts to flow, you can actually witness where any potential problems are occurring so you can refine your process with a particular espresso machine or grind.
Of course, in the above video it also helps that they are using a trinity of great Rancilio products, including the famous Rocky grinder and the Silvia espresso machine…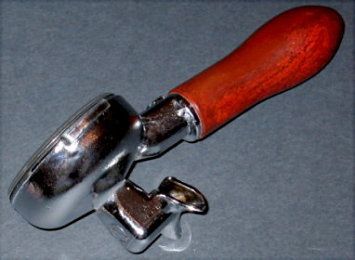 In addition, the espresso does not come into contact with the metal that would be in an regular double-spout porta-filter.
This helps preserve the holy crema bubbles intact and means better, thicker more luscious crema.
Here is another video, this time featuring the popular Breville BES870XL Bottomless Porta-filter.
Like Rancilio, Breville is another company that makes some of the best coffee products on the market, and their bottomless porta-filter is one of the most sought after by pro baristas and home users alike.
THINGS TO LOOK OUT FOR
When you use this crotchless madam, these are the wicked ways you are on the lookout to correct and the angelic ending you want:
CHANNELING
This is when water gets into the tiny spaces and cracks in the coffee puck and the coffee is not extracted evenly.
If your coffee maker is a spurter, we don't like this and it needs to be spanked very hard!
BLONDING
This is when the colors of the extraction are pulling into separately hued strands – ie a darker trickle in one area and "blonding" in another.
This is similarly not good news for your espresso extraction.
TIGER STRIPES
The uniform stripes of different shades, in one motion is generally an encouraging sign and something to be welcomed.
We are looking for good, strong, regular bands of colour here, all melting into one delicious creaminess.
What Are The Best Bottomless Portafilters?