Last Updated on
It's hard to imagine any other beverage coming with the aura of, well, just plain sex in the same way.
From the whole tampers-looking-like-thingies and manual grinders resembling phallic objects, right down to this latest perversion.
I kid you not, the "naked" portafilter, also known as the bottomless portafilter or the "crotchless". 
Keep in mind, we didn't make these names up.  
And on that note, we here present the filthy deviancy of peering up the underbelly of a naked portafilter, to better glimpse all that hot, smooth creamy loveliness dripping out…
In actual fact, owning a bottomless portafilter does not magically improve the taste of your espresso on its own.  You need quality beans, a quality coffee grinder, and a quality espresso machine for that. 
However, what it does do is allow you to check on the process of the extraction, so that you can see exactly what is happening, in order to avoid channeling, and make sure that you pull the best shot possible.
BOTTOMLESS PORTA-FILTERS – HOW THEY WORK
If you are entirely new to this whole concept, here is a video courtesy of Crew Review, which shows a Rancilio bottomless porta-filter in action.
As you can see from the above video, a bottomless porta-filter like the Rancilio bottomless porta-filter does give you an edge over other porta-filters. 
Why?  Simply because brewing coffee or espresso is not just about the quality of the products you're using, its also about timing and efficiency.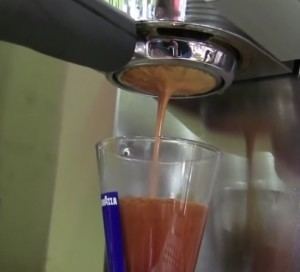 When you are pulling a shot with a naked porta-filter, everything up until you pull the actual espresso shot is the same.
Only this time, when the espresso starts to flow, you can actually witness where any potential problems are occurring so you can refine your process with a particular espresso machine or grind. 
Of course, in the above video it also helps that they are using a trinity of great Rancilio products, including the famous Rocky grinder and the Silvia espresso machine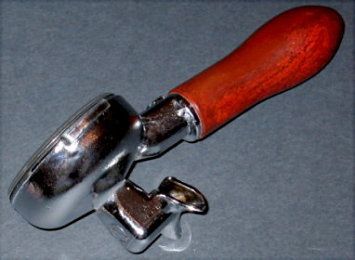 In addition, the espresso does not come into contact with the metal that would be in an regular double-spout porta-filter.
This helps preserve the holy crema bubbles intact and means better, thicker more luscious crema.
Here is another video, this time featuring the popular Breville BES870XL Bottomless Porta-filter. 
Like Rancilio, Breville is another company that makes some of the best coffee products on the market, and their bottomless porta-filter is one of the most sought after by pro baristas and home users alike.
THINGS TO LOOK OUT FOR
When you use this crotchless madam, these are the wicked ways you are on the lookout to correct and the angelic ending you want:
CHANNELING
This is when water gets into the tiny spaces and cracks in the coffee puck and the coffee is not extracted evenly.
If your coffee maker is a spurter, we don't like this and it needs to be spanked very hard!
BLONDING
This is when the colors of the extraction are pulling into separately hued strands – ie a darker trickle in one area and "blonding" in another.
This is similarly not good news for your espresso extraction.
TIGER STRIPES
The uniform stripes of different shades, in one motion is generally an encouraging sign and something to be welcomed.
We are looking for good, strong, regular bands of colour here, all melting into one delicious creaminess.
What Are The Best Bottomless Portafilters?

Best Bottomless Porta-Filters
Here are the best bottomless porta-filters according to our editors!
RANCILIO BOTTOMLESS PORTAFILTER V3
E61 Group Commercial Bottomless Portafilter
Breville Bes058Np 58Mm Naked Portafilter
Rancilio Silvia Bottomless Portafilter – Version 3
STATS:
DIMENSIONS:  8 X 10 X 2 INCHES
SHIPPING WEIGHT:  1 POUND
MODEL NO:  RRBPFA
MANUFACTURER:  RANCILIO
COMPATIBLE WITH:  RANCILIO AND ALL E61 GROUPHEADS
OUR RATING:  5 OUT OF FIVE STARS
Impress your friends with your greatly enhanced barista skills by using what the professionals do.
This will fit more than just the Rancilio bottomless portafilter, but please do check.
There have been some disappointed customers who had to return this item stating it did not fit their machines, so make sure you check that.
---
BREVILLE BES058NP 58MM NAKED PORTAFILTER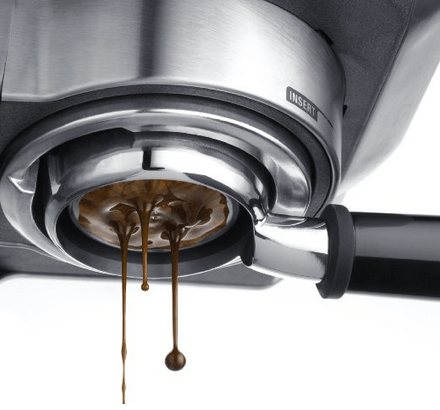 STATS:
DIMENSIONS:  8.2 X 3.1 X 2 INCHES
WEIGHT:  9.6 OUNCES
SHIPPING WEIGHT: 14.4 OUNCES
MODEL NO:  BES058NP
MANUFACTURER:  BREVILLE
COMPATIBLE WITH: BREVILLE BES900XL DUAL BOILER SEMI AUTOMATIC ESPRESSO MACHINE ONLY
OUR RATING: 4.6 OUT OF FIVE STARS
Have fun whilst constructing the perfect espresso and learn about your technique, getting the tamping and dosage just right.
This is a well made, solidly constructed item and all reviewers have left this bottomless porta-filter either a four or five star review.
It is important to note that this is designed to work only with the Breville BES900XL Dual Boiler Semi Automatic Espresso Machine though.
One word of warning; watch out – people have cut themselves on the sharp base of this device.
---
E61 GROUP COMMERCIAL BOTTOMLESS PORTA-FILTER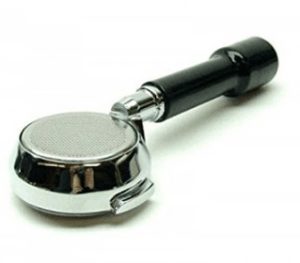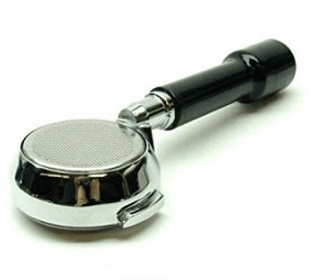 STATS:
SHIPPING WEIGHT: 1.4 POUNDS
MODEL NO: RRBPF
MANUFACTURER:  GENERIC
COMPATIBLE WITH:  ECM, EXPOBAR, FAEMA, IBERITAL, ISOMAC, RANCILIO SILVIA, RANCILIO COMMERCIAL, VIBIEMME, AND WEGA (CLASSIC) AND MOST E61 HEADS – PLEASE CHECK
OUR RATING:  4.7 STARS OUT OF FIVE

All the signs seem to point to this relatively unassuming bottomless porta-filter being a very good product. 
Although it's possible there may be a little spray back with usage and take care around the sharp cutting edge at the bottom. 
Once again, you may need to check that it will fit your particular machine.
---
Bottomless / Naked Portafilters – Which Is Best?

So what do we know about these bottomless portafilters and which one should you pick?
Obviously, the Breville one only works with Breville models and it may be a good idea to go for the Rancilio if you have a Silvia machine (although the Generic also works well with this model). 
Try the Generic for any other model that you may own (although be prepared to have to send it back if it does not fit.)
It is encouraging that there is, at the time of writing, no bad review for any of the bottomless porta-filters featured in this review. 
Although there are not very many reviews altogether, for any of these items just yet.
None of the above are cheap, this is true enough. And strictly speaking no one needs a bottomless porta-filter in order to knock out truly inspirational coffee. It helps though!
Yes, it's possible that you are some high priestess of coffee and already make the best espresso known to man, without the help of this little device.
But the chances are though, that it will improve your performance and make pulling effortless shots time after time, just that much easier.
There's also the fact that it is just fun – if that is your cup of tea, or should we say, cup of espresso!
If you already own an expensive and fiddly espresso machine, you probably can't resist the urge to pimp it to high hell and this is as good a toy as you will ever own for that purpose.
If you are not such a hands on type, you might rather prefer the one touch button automated type machines (maybe with pods) that offer simplicity and ease of use.
This definitely does not fall into the "automated" category.
If you get one of these things, you will want to spend many hours messing around with it and practicing until you get it right!
Just be prepared to go to the dark side of coffee deviancy and all the decadent filth that goes with it. Don't say you weren't warned.