The International Women's Coffee Alliance is a nonprofit 501(c)(3) tax-exempt organization, established in 2003 by two empowered American women, Karen Cebreros and Kimberly Easson.
They wanted to understand the issues faced by women who work in the coffee industry, so they planned a women-only coffee trip to Nicaragua and Costa Rica.
Within 3 days after meeting with local women who work in the coffee industry in those two countries, the International Women's Coffee Alliance group was born.
Their mission statement is to " Empower women in the international coffee community to achieve meaningful and sustainable lives and to encourage and recognize the participation of women in all aspects of the 
coffee industry. "
As you can see from the above video showing footage from their 2013 Oxford gathering, called "Women In The World Economy", there has been a "power shift" of sorts happening involving women in coffee, with the IWCA being central to this movement.
Hard-working women from around the world who have already been involved in the coffee industry for years, are, in recent years, beginning to find their voice, as a number of positive forces come together and make positive change happen.
This is inspiring to see, and the International Women's Coffee Alliance has become a key component of this change, which we hope we will continue to see in the coffee world.
Still, gender inequality has always been prevalent throughout the world and still is in 2016.
When US Presidential candidate Donald Trump recently said degrading statements about women for the world to hear, you know it is time to put more energy into solving this international problem.
Trump, ever the forward thinker (sarcasm intended), said , "Women … You have to treat them like s*** You know it really doesn't matter what they write, as long as you've got a young and beautiful piece of a**" And this guy could potentially run the country? No, thanks.
In all seriousness, we have to do everything we can to move away from this type of backwards thinking that Donald Trump represents, and the IWCA is one organization that stands for the kinds of values that we should be moving towards. The IWCA and Donald Trump really couldn't be more opposite, and yet they are connected.
As you can see in the above video from 2015, the IWCA is continuing to have a worldwide impact, as chapters of the International Women's Coffee Association are appearing across the globe, with a perfect example of how they are positively affecting women and the coffee industry itself as in Burundi, located in eastern Africa.
With inspiring IWCA representatives like Isabelle Sinamenye, who is the chapter president and coffee quality controller in Burundi, setting a great example for how to take action and enact change, the IWCA continues to grow in leaps and bounds.
Isabelle Sinamenye even received a key to the city in Portland, Maine, for being partly responsible for bringing some of that great Burundi coffee all the way over to places like Coffee By Design (located in Portland, Maine) through her tireless volunteering.
Here at Know Your Grinder, find all of this recent activity of the IWCA to be very exciting! We love coffee and we know that approximately 83% of Americans drink coffee every day. In fact, we decided to create a website about coffee - and you've found it! And now its about time we helped spread the word of the IWCA.

Not only do we want to support the coffee industry but we try to educate the masses as well.
We write about coffee grinders, different brands of coffee, the history of coffee, the health benefits of coffee, and much more. We research coffee 24 hours a day 7 days a week. When we first heard about the IWCA, this was further proof that the world must be on the right track.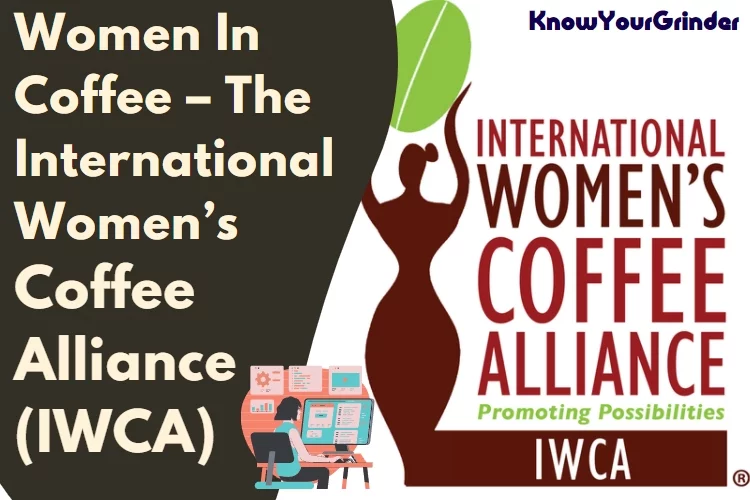 If you you take a look at the IWCA website, you might find yourself both shocked and impressed.
Statistics estimate that over 1 billion people on our planet are poor, and 70% of those people are women.
The World Bank estimates also that more than 500 MILLION
 people worldwide depend on coffee to help them meet their basic needs, and of that number, 25 million are coffee farmers.
The working conditions for coffee farmers today are substandard and women represent the majority of these workers. Their pay is unacceptable.
Karen Cebreros and Kimberly Easson, the founders of the International Women's Coffee Alliance group, base their work for women on these core values: Respect, Sustainability, Abundance, Integrity, Collaboration, and Making a Difference.
Have a look at this video from back in 2010, and you will gain some extra perspective on the progress women have made, and are continuing to make.
As the above video shows through a number of heartening testimonials, women are in positions of power throughout the coffee world - from seed to cup, as all of the advocates in this video stress over and over again. The only qualm we have with this video is there should be more women in it, but at least its admitting the obvious - that women are integral to the business.
Clearly, key positions held by women are integral to a competitive marketplace. Detail-oriented, good communicators, and often the decision makers in the home, it makes sense that there are a large number of women throughout the coffee industry.
This just seems obvious and natural to us, but women in the coffee business must always have equal opportunity as men to hold just as many key positions on all levels and in all aspects of a coffee company's activities.
And now for part two of a video presentation that talks about tapping into the hidden resource that is the female workforce.
As Karl Schmidt says in this video, companies with more women in executive positions always yield better results.
This fact has been proven many times over the years in various industries, and written about many times in influential articles ( here is one of them from Forbes in 2014), and yet our male-dominated society still likes to ignore data.
Schmidt also talks about the need for implementing more mentoring programs, and initiatives such as this, to get more women involved and to empower them as soon as possible.
Alternately, if we keep things the way they are, by default, this promotes a staid and inactive way of thinking that perpetuates the way things are currently, which is to say not equal…yet.
The IWCA has a remarkable track record to date, and opportunities for women in the coffee communities worldwide have increased, which is the direction things should be going.
They couldn't have done this great work without donations and coffee industry partners such as "World's Choice".
They have a Board of Directors that sets the strategic plans and guidelines for their 19 chapters worldwide.
The International Women's Coffee Alliance website can be found at the following address:
Donations are tax-deductible as provided by law.
Check out their website for future conferences and lots of great information that will inspire you to join the movement to help women worldwide to achieve gender equity and sustainable lives.