The goal of this review is to help anyone looking for a quality Turkish grinding mill, because today we are looking at the very attractive die-cast Bazaar Anatolia grinder, one of the best Turkish grinders you'll come across.
In Turkey, traditionally the coffee is served with a glass of water on the side, to help cleanse the palate so that the coffee can be enjoyed fully - and to dislodge any stray coffee particles that are stuck between the teeth!
Turkish delight is also often served with it, to contrast the sweetness of the delight with the bitterness of the coffee.
And here we have a grinder that looks like it might just be perfect for grinding up some fine Turkish Coffee - but is it?
Why Choose This Bazaar Anatolia Turkish Grinder?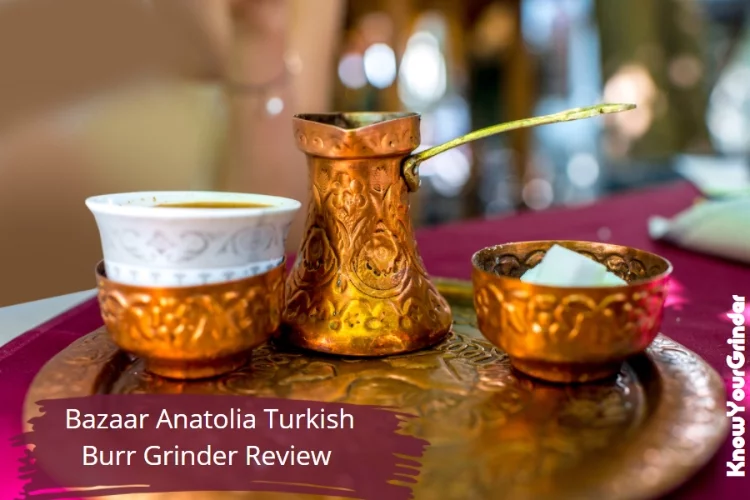 The first thing we need to say about this Turkish grinder is that it looks absolutely beautiful, and it is designed to perfection, and this is really the main reason to have this grinder around.
Available in six great colors, silver, dark silver, light copper, antique copper, gold and antique gold.
All of these will look sensational and lend a touch of the exotic to your kitchen, no matter how drab your furnishings may otherwise be!
This is a small product and only weighs nine ounces. At a mere 4.1 inches tall, it is not going to take up a lot of space and should easily pack away in a drawer or shelf.
However, it is so pretty you might just want to have it on display all the time to impress guests.
Turkish Spice & Coffee Grinder?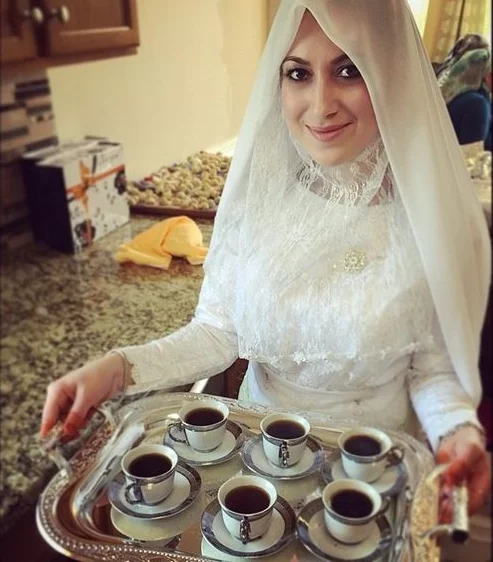 As much as we do love it, using it for coffee may not be the best way to use this grinder.
This is mainly because of the time it would take to grind beans with it.
There isn't a whole lot of room for coffee beans, and so despite being a Turkish grinder, using it to grind finely for Turkish coffee would be a very tedious task.
Even grinding for a French Press style, which means grinding the beans to be less fine is still going to take you some time - probably too much time for most people.
If you feel you're up to the task, and insist on making Turkish coffee with a Turkish coffee grinder, you may want something a bit bigger.
Read our review of 3 Turkish coffee grinders here to gain some perspective on the matter.
If you really want to make espresso or dare we say Turkish coffee, then we recommend getting yourself the best electric burr grinder you can get your hands on.
It will be faster, and the grinds will be fine enough to make yourself the perfect cup of Turkish coffee!
Durable Ottoman Style Grinding Design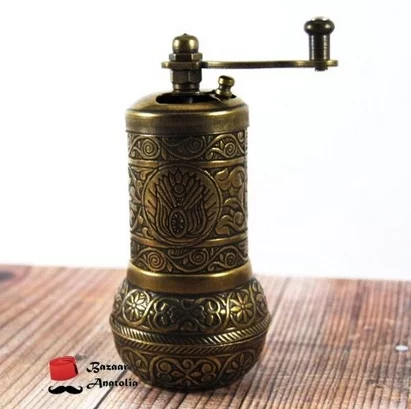 As can be seen in the picture, the décor is traditional Ottoman style, with a detachable handle.
It has been handcrafted to withstand Armageddon, by the look of it (described by one reviewer as 'bullet proof' - this was probably an understatement, come judgment day there will be only this and the cockroaches left - it is strong!)
But there is more to this charming device than its brawn.
While coffee grinding may take too much time, it is perfect for spices in smaller quantities, and it has the hardware to really do the job nicely.
The Bazaar Anatolia Turkish grinder here uses corrugated burrs to ensure an even consistency and has a handy pouring hole.
Here is a video showing some of the various beautiful colors and finishes you can purchase with this grinder.
Unique & Detailed Craftsmanship
Its hard not to fawn over the design of this Turkish grinder.
Made of zamak (brass and zinc) the outer shell of this has been hand carved, setting it apart from the homogenized products that usually feature in these reviews.
One important point to consider when purchasing this is it is definitely not dishwasher safe.
In fact it should not be washed with water at all. It is recommended that it is lightly wiped clean after use.
Another tip is to grind some rice through it when it has been used, as this helps remove the oily residue of the coffee beans.
Pros & Cons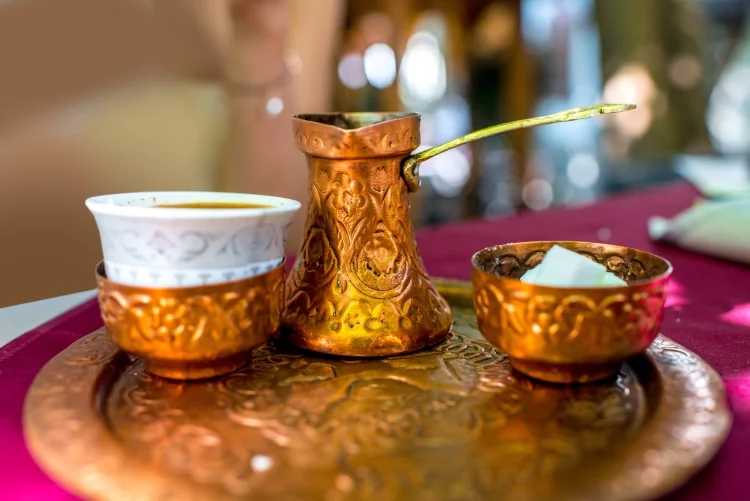 The plus points to buying this Turkish grinder pretty much speak for themselves. It is stylish and ornate.
It will be hard wearing and last virtually forever, with the correct use and care. It is fairly straightforward and easy to operate.
It has multi functions as a spice, herb and even coffee grinder if you aren't in a big rush.
The only real downside is that it is very small and it may take some time to achieve enough coffee grounds to make a cup of coffee.
It will be, however, worth the effort and perseverance if you do because it is so well made.
What People Are Saying
"Maybe you can find a better Turkish grinder than this for the price, but I couldn't - it is the best! It works great and has lasted for years. It still looks great too after all this time, although I must admit I take good care of it."
"In actual fact I haven't used this to grind coffee beans with even though that is what I bought it for. It has been excellent for using with spices though."
"The workmanship of the hand carved exterior is exquisite. It is worth the money just for the look of it, but it has also been very useful as both a spice and coffee grinder as well."
"Nice and easy to use and looks fantastic to boot!"
"Despite having arthritis in my hands, this was not difficult to use and the consistency of the grinds is very good. I would recommend this to anyone looking for an authentic Turkish coffee grinder."
The Verdict
So, if you are thinking of getting a Turkish grinder, should you consider the Bazaar Anatolia?
It may be small, but it is mighty. It will grind and grind for years to come and will lend a touch of the authentic, not to mention ornate to your kitchen.
Because it is so small it is of course, easily portable and has the added advantage of not requiring electricity.
Cleaning it is not as scary as it sounds, given that it cannot be dumped into a dishwasher and compared to a lot of the electric grinders, is simplicity itself.
The only point to consider is the rather small capacity of the unit.
The overall rating from us is - 5 STARS!
P.S. - Watch out for imposters - the real deal comes with Bazaar Anatolia with a bamboo spoon gift as well.