Now, we are moving up to the next level of coffee grinders - all of which are burr coffee grinders available for under $200, and these are a different breed of grinder altogether from the more inexpensive models. These coffee grinders are bigger and badder and give you more bang for your buck, with a ton of great features. This is why we say they're the best available in 2019!
With LCD screens, removable hoppers, and extremely adjustable grinding capabilities, you won't find any blade grinders on this list at all, since the higher quality coffee grinders on the market are exclusively and without exception burr grinders.
But, before we move onto the reviews, let's do a short summary on burr grinders. Here is what we are going to cover today:
Let's start by reminding you why you should choose a burr grinder over a blade grinder.
Top Burr Coffee Grinders Under 200 by Editors' Picks
The Difference Between a Burr Grinder and Blade Grinder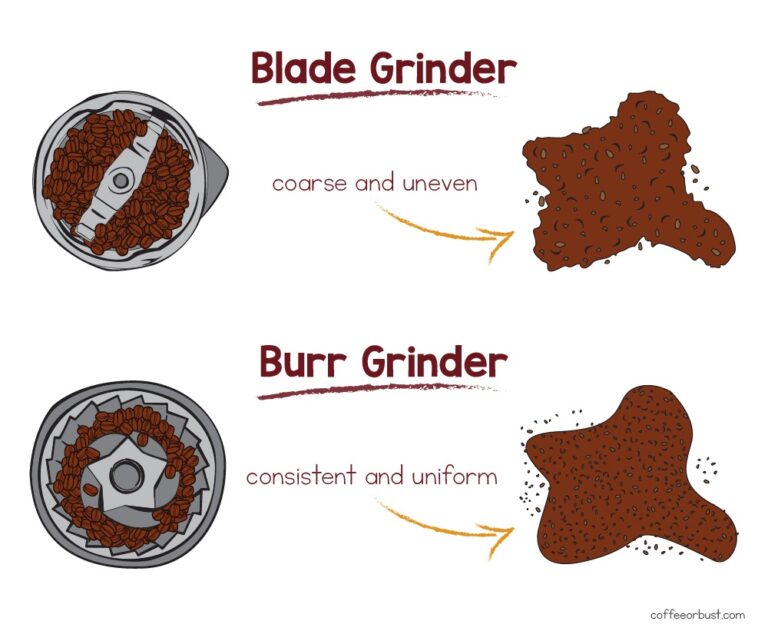 The two main differences between a burr grinder and blade grinder is the way they grind coffee and the uniformity in size of the grain they produce.
When you pour coffee beans into a blade grinder and switch it on, two revolving abrasive surfaces known as burrs start to revolve, squeezing and crushing the coffee beans.
The distance between the burrs can be easily adjusted in order to change the thickness of the grind.
If you are a true coffee lover, then you probably already know that you need to adjust the thickness of the grain depending on the brewing method that you are using. For example, you would you use a fine grain for espresso, and coarse for French press.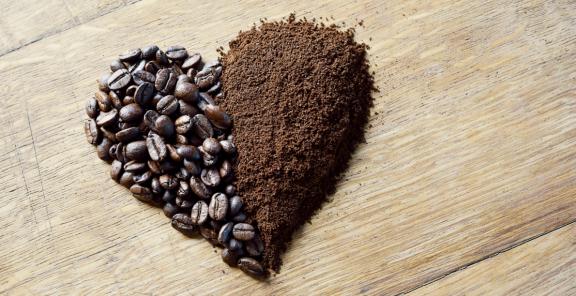 It is also worth mentioning that the coffee gets extracted from the grains as water passes through. So if you have a uniform size of the grain you extract the maximum flavor and aroma from your coffee.
However if the grains are not uniform, with some being small and some being big, you end up losing all that precious flavor form your coffee.
Getting uniform grind with a blade grinder is almost impossible as it won't let you adjust the size of the grind. The only thing a blade grinder let's you control is how long the machine stays on.
Blade grinders also create some amount of heat by the spinning action of the blades hitting the hard surface of the coffee beans. It is believed that this heat can reduce the amount of flavor and aroma left in the grains.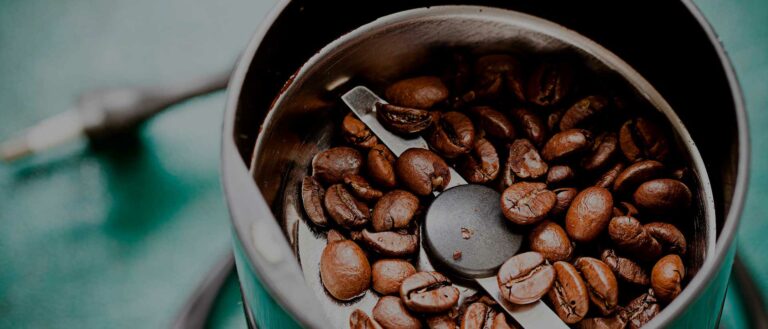 As burr grinders don't create the same amount of heat the coffee grains preserve its precious flavor and aroma. Thanks to burr grinders you can squeeze out all those amazing flavors needed for a perfect cup of coffee.
Burr grinders come in 2 types: flat burr grinders and conical burr grinders. Although they do the same job, there are some key differences between them that we should point out.
So let's move onto comparison of flat burr grinders and conical burr grinders.
Conical VS Flat Burr Grinders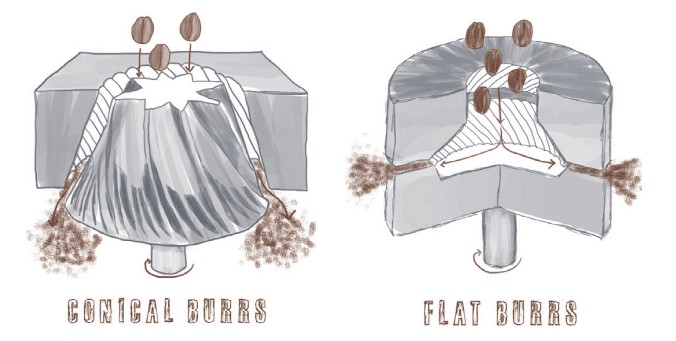 Ok! You've decided to buy a coffee grinder! You've done some research and decided to buy a burr grinder. And now… You are stuck! You're not sure whether to buy a conical or flat burr grinder.
No worries, we will help you out! Here is what you need to know about these two types of grinders;
If you take apart a grinder with conical burrs, you will see that it's made up of circle with sharp ridges. When you take out this circle, you are left with the spinning piece that is shaped like a cone with a rounded top.
The biggest advantage of conical burrs is that they allow for the motor to run at low RPM rate (revolutions per minute).
Although the conical burr grinders are slower than the flat burr grinders that work at high RPM, conical burr grinders produce way less noise and less heat which means the coffee beans don't get damaged.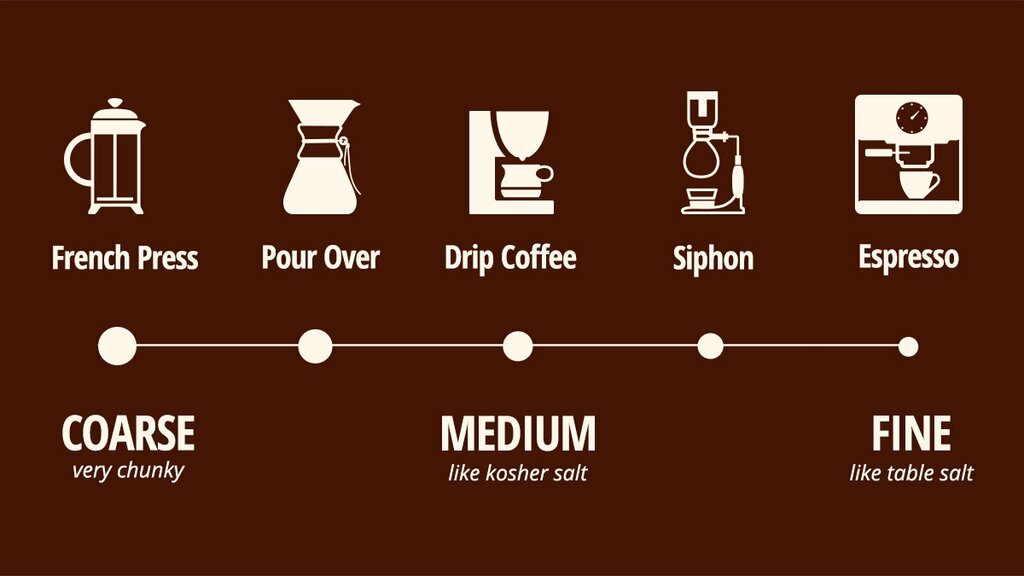 Unlike the conical burr grinders, the flat burr grinders have 2 identical pieces that sit flush against each other. There is a hopper that feeds the coffee beans into the grinding area where the first set of grinding teeth is located.
As the grinding action is horizontal, flat burr grinders can't rely on gravity to move the process along. Instead, there are several arm-like pieces that help guide the beans from tier to tier until they pass through the grinding area.
To find out more about the differences between conical and burr coffee grinders, consider watching:
Now let's talk about money…
How Much Does a Coffee Grinder Cost?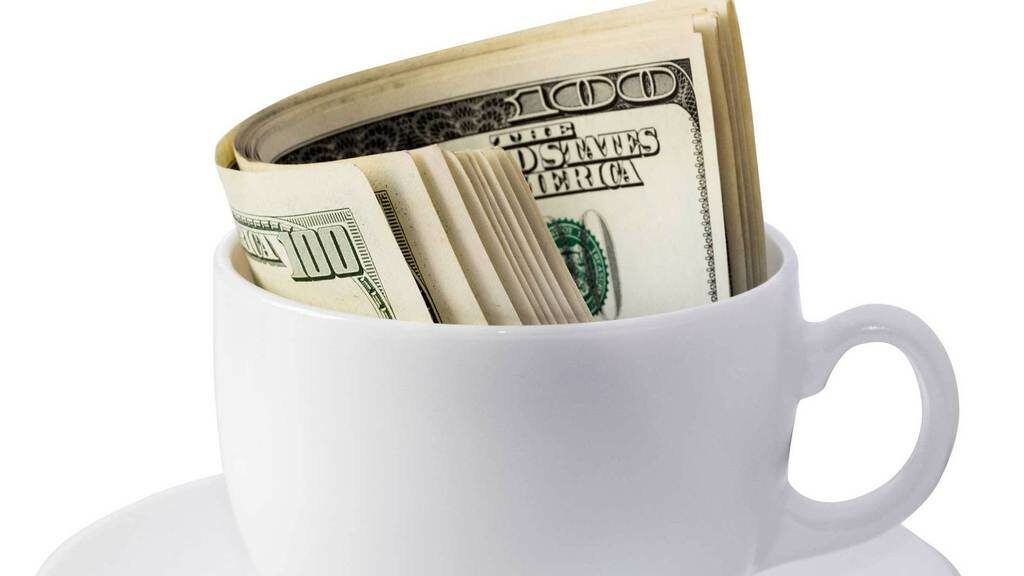 A proper coffee grinder is one of the most important appliances any coffee should own. However many coffee lovers don't have one because they believe these amazing machines cost a fortune. Well, they are wrong!
Coffee grinders can cost anything between $20 and $1000, depending on the features they pack.
Yes, you've read correctly. These machines can go as low as $20 and as high as $1000.
Cheap grinders will simply not to the job properly. They lack power, the ability to achieve multiple grind sizes, etc.
Although you can buy a coffee grinder for as low as $20, we suggest you spending a bit more and buying a high quality grinder.
You are not sure how much you should spend on a coffee grinder!? No worries, we are here to help you out.
How about spending $100 or $200 on a coffee grinder that will suit all your needs? Sounds good, right?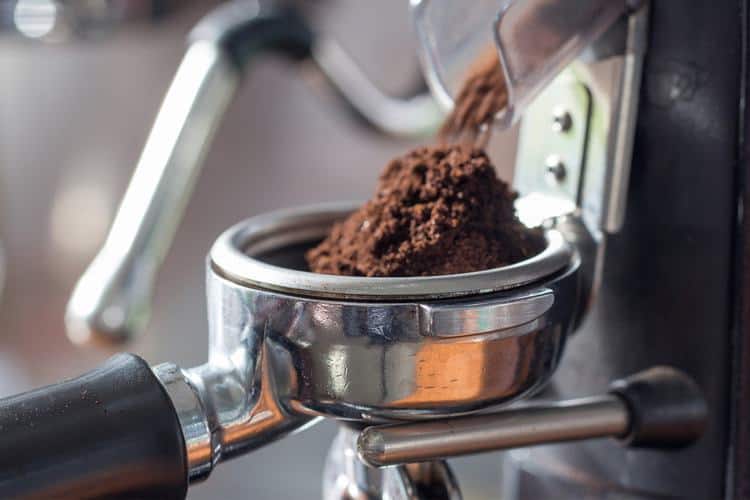 We've made a list of Top 5 burr grinders that cost less than $200 and pack some amazing features that will help you make a perfect cup of coffee every time.
This particular list of under $200 grinders includes brands such as Capresso, Baratza, Breville, and Bodum.
If you are looking to really take your home brewing to the next level, whether it be for coffee or espresso, these are some of the grinders you will need to get familiar with.
Top 7 Best Burr Grinders For Under $200 Reviews in 2022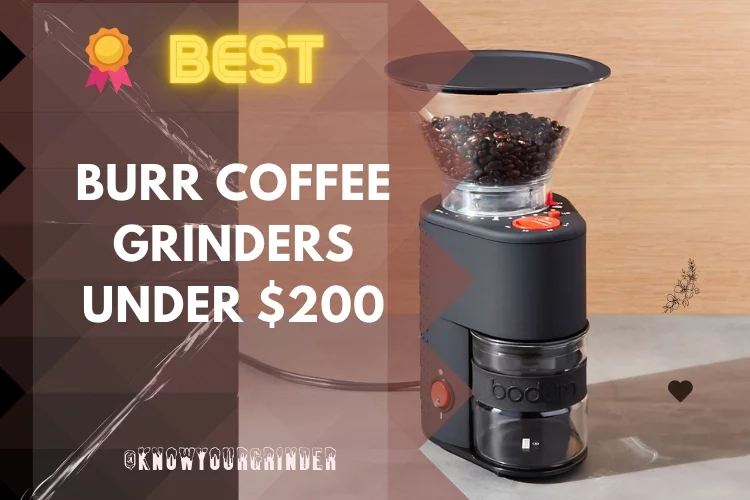 Without further delay, let us take a look at our Top 5 Burr Grinders For Under $200.
The Baratza Encore - Link
The Baratza Encore is a great coffee grinder for those who are looking for quality grinds without spending too much. It is a great entry-level grinder that can do a variety of grinds, from coarse to fine. It's also very easy to operate and is built to last. It has some great features that make it a desirable option, such as:
40 grind settings, which gives you plenty of flexibility to find the perfect grind for your needs
A conical burr grinder, which helps to preserve flavor and aroma by grinding coffee beans slowly and evenly
An auto-shutoff feature, which helps to preserve energy and keep your machine safe
Here we have another conical steel burr grinder in the form of the Baratza Encore, that also has a great reputation with buyers.

Baratza, like Breville, knows their grinders, and the Encore is definitely a go-to for many coffee and espresso buffs who want something relatively inexpensive, but are willing to invest more than $50 to get a more precise grind.
To compare with the previous grinder, each have 40 mm conical steel burrs, which are adjustable, making the Encore and the BCG450XL quite comparable.
Baratza advertises reduced burr speed reduction, for maximum freshness, and "cool, quiet" operation.
This can be attributed to their new Gearbox 2.0, which is a newer innovation from Baratza involving a superior drive transmission to older Baratza models.
It even has a thermal cutout so that if something were to get lodged in the burrs, the unit will cut the motor to prevent damage.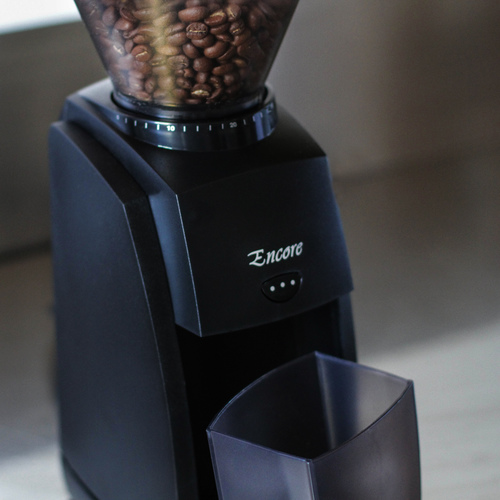 Also similar to the Breville BCG450XL, the Baratza Encore places an emphasis on simplicity and elegance, which is evident in the look of this grinder.
Operation is quite simple. Load the beans into the hopper, adjust the grind settings (there are 40 to choose from) to suit your desired type of grind, and either use the timer on the side of the unit, or the grind-on-demand button (or "pulse button", as they call it) on the front.
From there, the beans grind down into the bean receptacle - and you're ready to brew!
One thing this grinder lacks that the previous one possesses is a locking mechanism for the hopper, so unless the hopper is free of beans, you can't conveniently remove it.
All in all, the Baratza Encore is another great adjustable conical burr grinder to have here on our list.

The Capresso 565 Infinity - Link
The Capresso 565 Infinity is a great choice if you are looking for an affordable espresso machine. It has a lot of great features, including a built-in burr grinder and programmable buttons. This machine is also very easy to use, making it perfect for beginners.
One of the best things about the Capresso 565 Infinity is its built-in burr grinder. This means that you don't have to purchase a separate grinder, which can be costly. The grinder is adjustable, so you can customize your coffee to your own preferences.

The Capresso 565 Infinity also has programmable buttons, which allow you to easily brew your favorite drinks. You can also set the machine to automatically shut off, so you don't have to worry about it shutting off prematurely.

The Capresso 565 Infinity is also very easy to use. The buttons are clearly labeled and the machine is simple to operate. This makes it perfect for beginners or anyone who wants a machine that is easy to use.

Overall, the Capresso 565 Infinity is a great choice if you are looking for an affordable espresso machine with lots of features. It is easy to use and has a built-in burr grinder, which makes it perfect for any coffee lover.


The Hario Slim Grinder - Link
The Hario Slim Grinder is a great addition to any coffee lover's arsenal. It has some great features that make it stand out from the competition.
First and foremost, the Slim Grinder has a sleek, minimalist design. This makes it easy to use and easy on the eyes. It also fits easily into any kitchen décor.

Second, the Slim Grinder has a powerful motor that can grind beans quickly and efficiently. This means that you can get your morning cup of coffee without having to wait long.

Third, the Slim Grinder is adjustable, so you can customize the grind size to your liking. This ensures that you'll always get the perfect cup of coffee, no matter what beans you're using.

Fourth, the Slim Grinder is easy to clean. All you have to do is remove the grinding chamber and wash it in soap and water. This makes cleanup a breeze.

All in all, the Hario Slim Grinder is a great option for anyone who wants a high-quality coffee grinder. It has everything you need to get the perfect cup of coffee every time. So, if you're looking for a new grinder, be sure to check out the Hario Slim Grinder. You won't be disappointed.


The Breville Conical Burr Grinder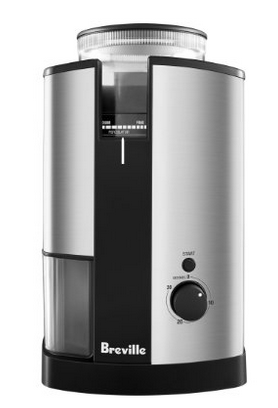 One great thing that comes standard with the coffee grinders of this price point is the highly durable conical burrs used to grind the beans, and, in the case of this Breville model, we're talking about stainless steel 40mm burrs.
On this list we have not one but two Breville grinders, and here at #5 we have the BCG450XL, which is their entry level automated grinder.
With this Breville grinder, you have the standard grind settings ranging from coarse to fine, all the way over to Turkish (powdery / super-fine), although whether this grinder can achieve a decent super fine Turkish grind has been up for debate in the various forums.
That said, it does the other grinds - particularly the espresso grind - very consistently, according to buyers.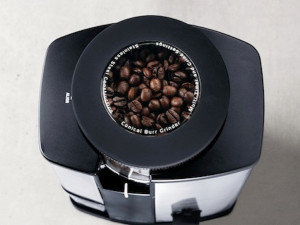 The look of the machine, with its stainless steel finish mixed with black durable plastic is a classy addition to any kitchen, as the BCG450XL here has a nice, sharp look.
As is standard, the plastic hopper can hold a decent amount of beans (5 oz) and is removable, which is a welcome touch. The grind settings are labelled conveniently on the hopper.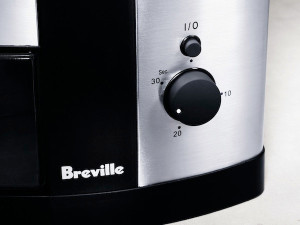 Perhaps due to some of the plastic components, there have been reports of issues with static electricity with this machine.
This seems to be one of the main gripes with the BCG450XL, and one must take this into account.
The conical burrs with this grinder grind the beans slowly so as to reduce heat and lock in the bean's natural flavor, which leads to better coffee flavor.
Some coffee grinders, particularly the less expensive ones, grind the beans in a frenzy and have a tendency to burn the beans - not good!
The Breville BCG450XL also has a soft-touch rubber precision timer on the front of the unit, which ranges from 10 to 30 seconds of grind time, and just above it there is a start/stop button.
The grinds are collected in the receptacle on the side.
The Breville Smart Grinder - Link
The Breville Smart Grinder is on the more expensive end of this list, edging out the Breville BCG450XL by a few bucks, but the difference between them is quite apparent.
This particular grinder is packed with great features, and represents a good bench mark for a good all-round grinder at this price point.
Breville calls this its "Smart" because of its backlit LCD display screen on the front of the unit, that gives us a lot of useful information, such as the grind setting from course to fine as well as the amount of cups or shots.
The grinder is smart enough to know what you're aiming for as it changes from "cups" to "shots" on its own, and a weak-strong dose meter.
Directly below this is a dial which is used for calibrating the dosage meter, so depending on how strong you want your coffee, you can manually tweak this dial to suit your needs.
The "Dosing IQ" feature, as they call it, may take a bit of getting used to, but its worth it in the long run as it adds another dimension to your coffee experience that other entry-level pro grinders don't take into account.
The grind settings, of which the Breville BCG800XL Smart Grinder has 25, is controlled by an easy-to-use dial on the right hand side of the unit.
In regards to the hopper, there is a plastic lid with a rubber seal that fits tightly onto the hopper, and keeps the air out.
This is a great feature, as it keeps the grinds fresh in case you step out for a minute. There is even a ring-shaped attachment here which allows for the lid to be easily removed just by hooking a finger in there.
The hopper itself holds about a full pound of beans, which most consumers find to be adequate for home use since its more than enough for a pot or two of coffee.
There is even a locking mechanism so that beans can be transferred inside the hopper, and this is a feature that most grinders at this price don't include.
The conical steel burrs inside this grinder are, as is standard, 40mm, and highly durable. There is even a latch for removing the top burr; thanks Breville!
Unlike the other grinders, the hopper has no markings to indicate grind settings, but that's because its "smart", and that information displays on the LCD screen on the front.
We would also like to add the noise created by this coffee grinder is on the quieter side.
Some grinders make a very unappealing screeching sound when they grind, but not this grinder.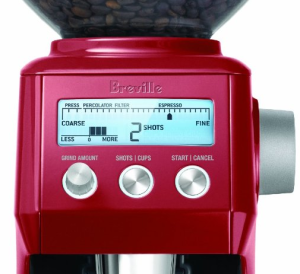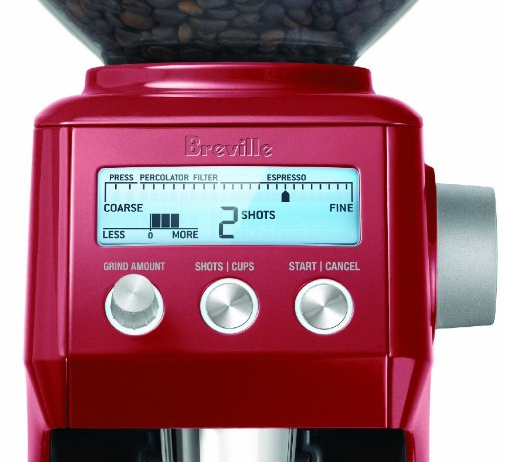 This coffee grinder is perfect for espresso.
When the grinds are dispensed, you have a couple of options.
You can use one of the two porta-filter cradles that come with the machine - one holder being 50-54 mm and the other is 58 mm - or you can grind down into the receptacle, which also seals up and you can store grinds in it.
The receptacle looks nice on its own, which isn't exactly the case with the other grinders.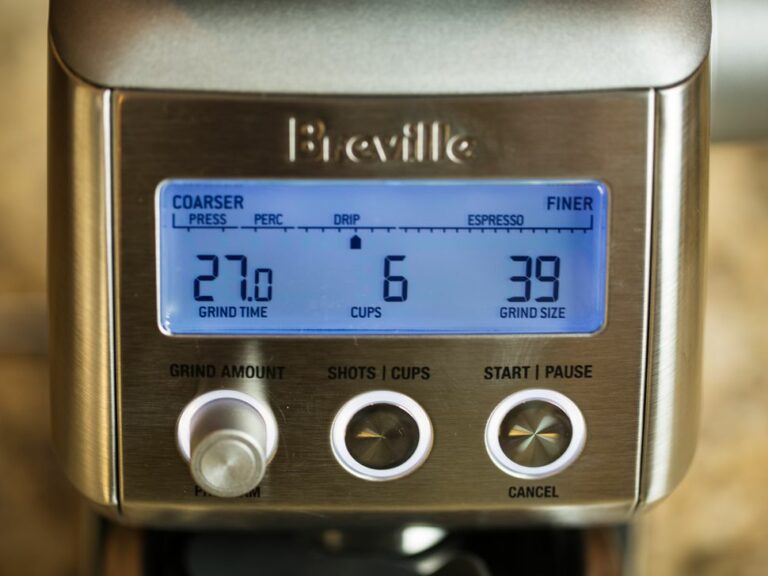 There is also a magnetic catch tray which is easy to clean, and when that is removed, there are handy cleaning instructions beneath it.
There is a large button behind where the grinds are released which is part of the Breville Smart Grinder's "hands free" feature.
Here, you can use a porta-filter and depress the button, and grind to an amount of your own specifications, and then when you're done, you just release the button, and the grinding stops.
This is handy for getting a custom amount of grinds, or, obviously, using a porta-filter.
The Breville Smart Grinder comes with a cleaning brush, making cleaning quite easy.
The power cord has a winding device on the bottom of the unit so the cord is out of the way when you're not using it.
Lastly, there is a one year warranty. Yes, there's plenty to love about the Breville Smart Grinder.

The Bodum Bistro - Link
Reasons that people love the Bodum Bistro include its convenient size, stylish design and color selection, its two year warranty, and the price is on the more affordable side.
People absolutely love this little burr grinder.
Once again, we have a grinder with conical steel burrs, with conical burrs being the best choice for any grinder because it makes the grind cooler which preserves coffee flavor.
How does it work? Conical burrs use the force of gravity to pull the beans down inside the burrs, as opposed to centrifugal force which flat burrs use, or sheer slashing force which blade grinders use.
The Bodum Bistro goes for a black rubber exterior, which sets it apart from the other grinders on this list which use plastic or steel.
As Bodum says, the grinder is made from a combination of "borosilicate glass, steel, plastic, rubber and silicone", which ultimately results in less static build-up.
In terms of color, you can choose from a variety of colors with this unit, from sherbet orange to lime green, and more.
Obviously, Bodum is going for a bit more pizzazz with the color scheme here (price is different for each color), but if you're not into the bold colors, there's always black.
The rubber body also gives this grinder a different aesthetic as well, which the majority of users who do like this grinder really like how unique it is.
The combination of the black exterior, red buttons, the glass grind receptacle, and deep brown coffee beans make for a fun color palette.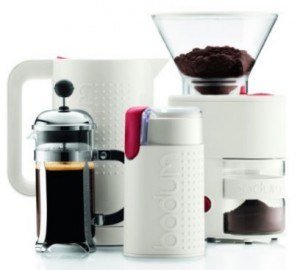 The hopper is larger than it might look on the screen, with a lid that fits snugly on top to keep things fresh.
There is a red indicator which you can't miss, and it is used to point to the type of grind you want, from coarse to fine espresso style.
There is quite a bit of the color red on the Bodum Bistro. The on/off switch found on the left side of the unit is red, the timer on the top is red, and the grind button is red.
This applies to all the color variations of the unit except for red, where the buttons are black.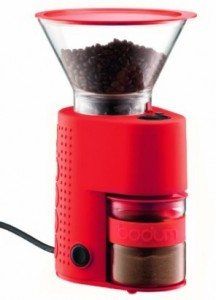 When compared to the other grinders on this list, the Bodum Bistro has just 13 grind settings.
Some grinders on this list boast more, while some stepless grinders like a professional grade Macap M4 has infinite grind settings, but most customers don't seem to have many complaints here about the lack of grind settings for the price of the Bodum Bistro.
Overall, this stylish little grinder does just fine!

The Capresso 560.01 Infinity - Link
The Capresso Infinity finds itself here on this list because it is one of - if not the - best rated burr grinder at this price point.
It is sleek, compact, and made of heavy-duty / easy-to-clean zinc. It comes with a measuring scoop and a cleaning brush as well!
If you visit the product review pages of this particular grinder, you will surely see that it holds a very high average user rating with many satisfied customers.
Oh, and this grinder grinds coffee like nobody's business!
As we mentioned earlier, a slow / cool grind is a good grind when it comes to coffee beans, and that is how the Capresso Infinity does its grinding, courtesy of the Swiss coffee masters who manufacture it.
To preserve coffee's original flavor, and not altering it with added heat or damage (as blade grinders do), the Capresso Infinity has an optimal grinding speed which ensures bean flavor is at its best.
Also, at 100 watts, we get a relatively quiet, static-free, zero-burn grind consistently each time.
As with other coffee grinders at this price-point, with the Capresso Infinity we see that there are 16 grind settings we can adjust to to meet our preference; from Turkish fine to very coarse.
16 grind settings is more than some, but less than others.
If you are a big fan of Turkish coffee, you might be hard pressed to get the right grind with this or really any of these grinders on this list, although some shrewd home brew experts say it can be done.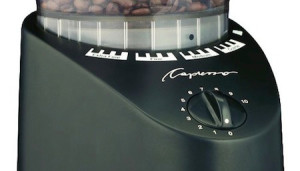 Capresso Infinity Nice Grinders Under 50
But what really matters to most people is whether this grinder can handle a good espresso grind, which is most certainly can.
The grind settings are divided into fours; four for each type of grind: coarse / medium / fine / extra-fine.
This unit is made from heavy-duty zinc, which looks great and is easy to clean. Like all the other grinders on this list, operation is simple and cleaning is generally uncomplicated as well.
Based on buyer appreciation alone, the Capresso Infinity is one of the best-selling and most well-loved grinders on the market, and therefore we had to include it on this list!

Buying Guide for the Best Burr Coffee Grinder Under $200
If you're looking for a quality burr coffee grinder that doesn't break the bank, you'll want to check out our buying guide for Burr coffee grinders under $200. In this guide, we'll take a look at some of the best options available for under $200 and help you decide which one is right for you.
What Type of Grind You Need
The first thing to consider when choosing a burr coffee grinder is what type of grind you need. If you're just starting out, you'll probably want something that can do a variety of grinds, from coarse to fine. However, if you already have a preferred type of grind, you may want to choose a grinder that specializes in that grind.

The Size of the Grinder
Once you've determined the type of grind you need, you'll want to consider the size of the grinder. If you're just making coffee for yourself, a small grinder should do the trick. However, if you're making coffee for a large group, you'll want something with a larger capacity.

Ease of Use and Durability
Finally, you'll want to consider factors like ease of use and durability. Some grinders are easier to operate than others, and some are more durable than others. Choose the one that best suits your needs.

The Benefits of Owning a Burr Coffee Grinder
You may be wondering what benefits come with owning a burr coffee grinder. Well, let us tell you!

Produces a Much More Consistent Grind Size
First and foremost, a burr coffee grinder produces a much more consistent grind size than a blade grinder. This is important because it ensures that all of the grounds are exposed to the same level of heat and water, which results in a more evenly extracted cup of coffee.

Allows You to Customize Your Grind Size
Additionally, a burr grinder allows you to customize your grind size according to your preferences. If you like your coffee on the coarse side, you can easily adjust the settings on your grinder to achieve that desired texture. Conversely, if you prefer a finer grind for espresso, you can easily adjust your grinder to get that perfect consistency.

Much Quieter Than a Blade Grinder
Lastly, a burr coffee grinder is much quieter than a blade grinder. This is important if you like to brew coffee early in the morning or late at night when you don't want to wake up or disturb your neighbors.

So, if you're looking for a way to improve your coffee brewing experience, we highly recommend investing in a burr coffee grinder. You won't regret it!

Conclusion for $200 or less Burr Coffee Grinder Buyers
A burr coffee grinder is a type of coffee grinder that uses two abrasive surfaces to grind coffee beans. The two surfaces, called burrs, are usually made of steel or ceramic. When the coffee beans are placed in the grinder, they are crushed between the burrs. This grinding process produces a more consistent grind than other types of coffee grinders.
Burr coffee grinders come in a variety of sizes, from small hand-held grinders to large industrial grinders. They can also be expensive, depending on their size and features. However, a burr coffee grinder is worth the investment for serious coffee enthusiasts. It produces a superior cup of coffee every time.

The bottom line is that the Burr Coffee Grinder produces a more consistent grind, and this consistency is what leads to better tasting coffee. If you're serious about your coffee, then you should seriously consider investing in a quality burr grinder like the ones we've featured here. Do you have a favorite burr grinder? Let us know in the comments below!