Last Updated on
QUICK STATS
PRODUCT DIMENSIONS – 6 x 8.2 x 15.5 inches
PRODUCT WEIGHT – 6 pounds
SHIPPING WEIGHT – 8.8 pounds
MODEL NO – BCG800XL
MANUFACTURER – BREVILLE
AUTO DOSER – YES
BEAN HOPPER – YES
HOPPER CAPACITY – 450 GRAM
SETTINGS – 25
COLORS – BLACK, RED AND SILVER
GRINDING METHOD – STAINLESS STEEL CONICAL BURRS
WARRANTY – ONE YEAR
PORTA-FILTER CRADLE – 2 INCLUDED, ONE LARGE ONE SMALL
GRINDS CATCHER – YES
NOISY – NO
GRIND TIME – 22 SECONDS FOR A DOUBLE SHOT
OUR RATING – 4 STARS OUT OF FIVE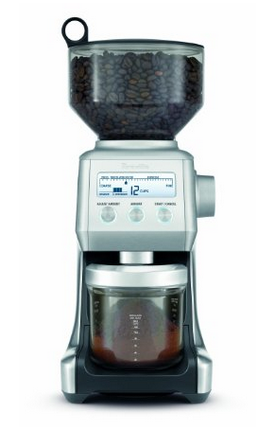 Well known for their reliability in the small kitchen appliance area, the Breville Smart Grinder (BCG800XL) already looks promising. 
Stylish and neat and designed to draw the eye in, this is a steel grinder with a conical burr set, giving it the edge on some of its competitors in this field.
Boasting "dosing IQ", this grinder will choose the ideal dose to fit the type of grind selected. And there are plenty of options, 25 to be precise.
You can make drip coffee, espresso or French Press and anything in between to your heart's content with this little contraption.
But before we go any further, he's a quick video introducing this grinder by Breville themselves.

MAIN FEATURES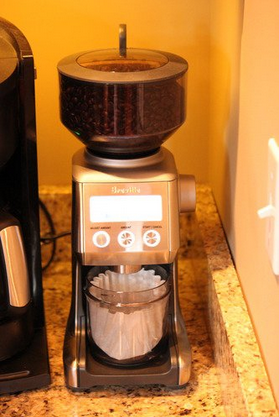 With stainless steel conical burrs of 58mm diameter and 'dosing IQ' technology, this grinder will adjust the amount of time per the type of grind selected, everything can and will be done for you automatically unless you expressly wish to be in the driving seat. 
So sit back and let it do all the heavy lifting for you!
THE HOPPER
Having a party?  Wanna be barista trying to impress your friends?  Not a problem, the bean hopper can take up to a pound in weight and make enough coffee for all.
But if it's just a single cup or mug you're after, then that's not an issue either.
The sealed silicone gasket ensures the freshness of the grinds and has a lock, letting you remove them from the unit without first having to empty out the beans.
With one of the two cradles included (larger and smaller) you can get the machine to do all the dosing for your espressos and also the same applies for a filter coffee maker.
Best Burr Grinders For Home Use
Here are some of the best burr grinders for home use according to our editors!
How it looks
Name
Price
Features
Buy Now

Baratza Encore Conical Burr Coffee Grinder
$$$

8 oz bean hopper, 5 oz grind bin
40 different grinding settings
Gateway grinder to higher end grinders

Capresso Infinity Conical Burr Grinder
$$

Wide grinding range
Holds up to 8 ounces of beans
Clearly labelled, easy to use
Stylish burr grinder for the kitchen

Hario Mill Slim Manual Grinder
$

Portable and compact
Ceramic burrs
Elegant glass housing
Removable Handle

Rancilio Rocky
$$$$

50 mm burrs
High caliber home grinder
Variable grind settings
Quiet direct drive motor

Breville Smart Grinder Pro
$$$

Conical burrs made with stainless steel
60 grind settings
Grind directly into porta-filter
Precision electronic timer
THE LOOKS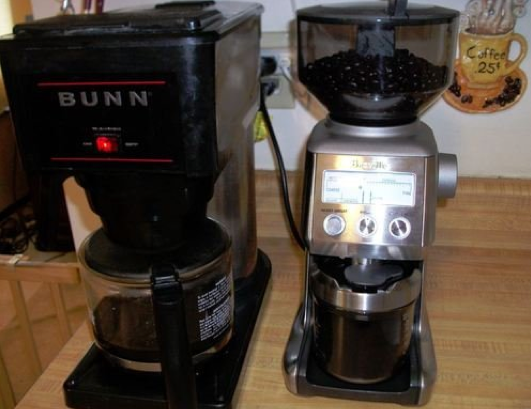 This is made from stainless steel with an exterior plastic casing, which is hard wearing but also stylish and will look good while not taking up too much valuable counter space.
It is available in three pretty colors, Cranberry Red, Sesame Black and Silver.
Here below is a video review of the Breville Smart Grinder by Whole Latte Love…
THE CONTROL PANEL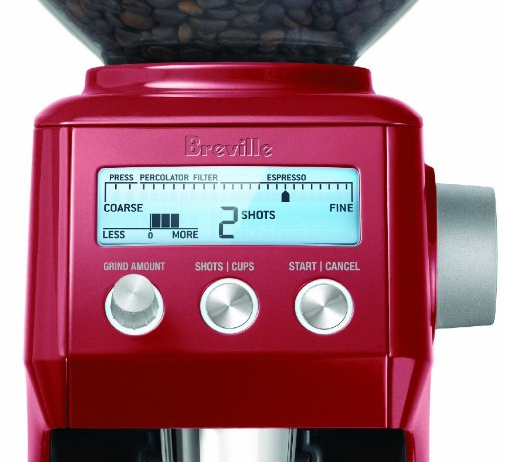 Complete with a stonking 25 settings, if this isn't enough for you, I'm not quite sure what more you could need!
Yes, we know some grinders have more than you might know what to do with, but for the price, what you get here with the Breville Smart Grinder is more than reasonable.
The settings start from 1 (coarse French Press grinds) to an ultra fine 25 for espressos and beyond!
With simple push buttons to adjust the strength, you can also easily select the number of cups or shots.
The unit also has a stylish backlight, showing up the options on the Breville Smart Grinder.
Operating this grinder is pretty elementary, entry level stuff and not too daunting for the uninitiated.
AUTOMATION
One of the beauties of this machine, is if you want fully automated, you have got fully automated.
On the other hand, if you want total control you can also have it by using the hold/cancel or porta-filter activation switch to custom make your grinds.
Releasing the button will halt the grinding.
CLEANING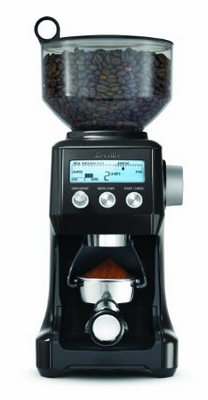 Sometimes, cleaning apparatus can be a chore and generally speaking, taking apart your coffee grinder does not score highly on the list of life's fun stuff to do.
So how easy to assemble and put back together is the Breville Smart Grinder?
Well, not too hard. This is one area where the manufacturers have obviously sat down and had a think about making your life a little easier.
You do not need a degree to perform this task. It is relatively straightforward, for example, the stainless steel burrs lift out easily enough.
The detachable areas are simply cleaned in washing up liquid in the sink and for the non removable parts (ie the housing) just a wipe with a damp cloth should suffice.
Obviously, how often you need to do this depends on the frequency of use, but also the type of beans you put through it. The oilier the beans, the more often it will need cleaning.
As already mentioned, this comes with two porta-filter cradles of differing sizes, but also a brush for cleaning (handy for the burr grinders) and an air tight grounds container meant for storing any unused grounds.
THE VERDICT
All in all, this is a good little grinder.
On the positives, it looks smart, the backlight is neat, it doesn't hog all the space on your counter, cleans up pretty well and ultimately delivers a decent consistent grind to your coffee pot.
Additionally, it will not attempt to raise the dead when you're running it and the user manual appears to have been compiled with someone both familiar with the English language and humankind in general, which is always a plus.
So, what is not so great? Issues have been raised about bean jams and also the capability of the grinds of the slightly oilier variety. 
Then there is the fact that some people will always carp at the lack of 20,000 grind settings (hint – then don't buy one with 'only' 25).
For the price, this is decent coffee grinder and you could do a whole lot worse than purchase this model. Overall it scores 4 out of five stars for quality, style, price and usability.