Breville is top of the public line at the moment for tasty coffee. Nespresso is a fine, smooth finishing coffee that leaves you wanting more. It's that cup that you wish was bottomless. And Oprah thinks so too!
The product I'll be reviewing today - the Breville Nespresso Creatista Plus (model BNE800BSS) has made her favorite things list.
The Breville Nespresso Creatista Plus is not your typically high-end automatic espresso machine. Well, in some ways it is, in others, no.

For example, with the push of a button you can get a barista made coffee at home. Choose from your basic Espresso, or amp it up with a Ristretto, Lungo, Cappuccino, Latte, Flat White & Latte Macchiato.
It has automatic milk texturizing. A price tag of below 1000$ is stunning as Nespresso in opinion is the best coffee out there.
The Breville company

The Breville company was founded in 1932 in Sydney, Australia. The company is best known for its kitchen appliances, including toasters, blenders, and coffee makers. Breville has also expanded into other areas such as personal care and clothing care.
The company's products are available in many countries around the world. In recent years, Breville has been focusing on expanding its online presence and selling through major retailers such as Amazon.com. Breville is a publicly traded company on the Australian Stock Exchange (ASX: BRG).

Features of the Breville Creatista Plus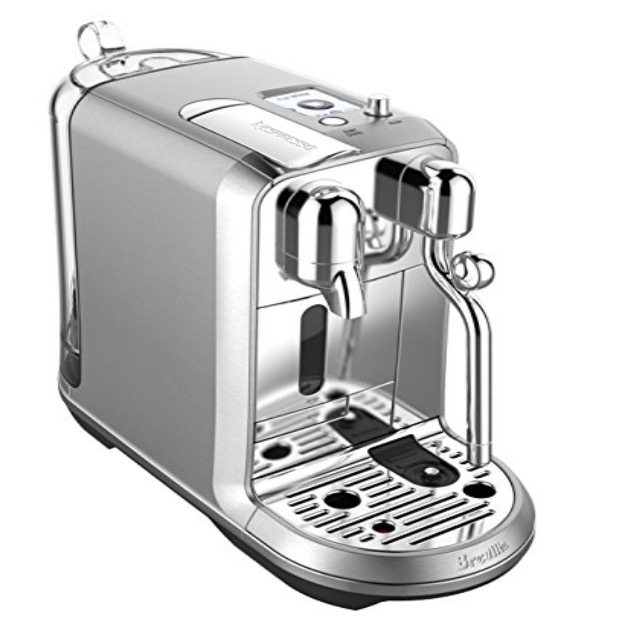 Overview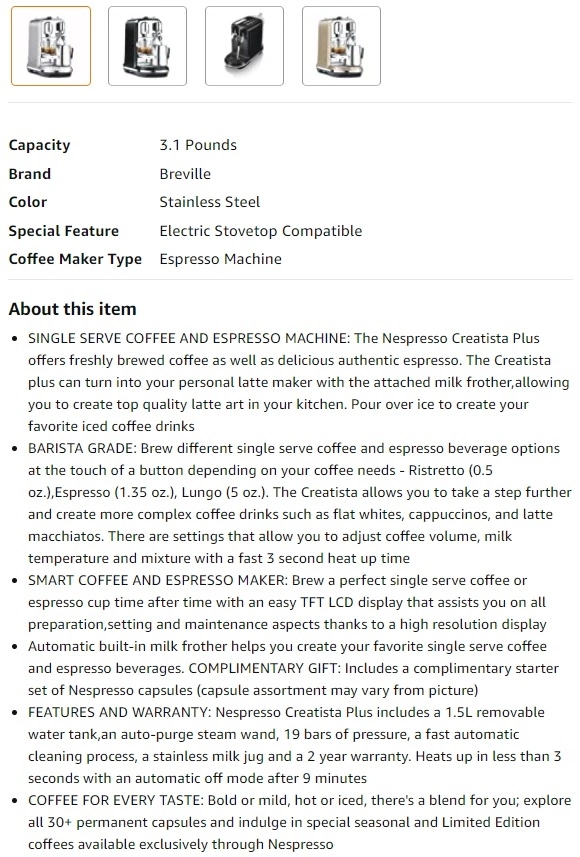 Quality and Build
This sleek silver fox is quiet and fast, heating up in less than 3 seconds to brew. What makes this machine stand above the rest is the milk frothing.
You can choose from 8 different textures, from bubbly to a fine creamy froth that kisses your lips. It has adjustable temperature settings so you can get that extra hot latte with that perfect Nespresso flavor.
The machine works off of the original nespresso capsules so don't make that mistake and buy the second-generation pods. There are also reusable stainless steel pods by GOLD TONE.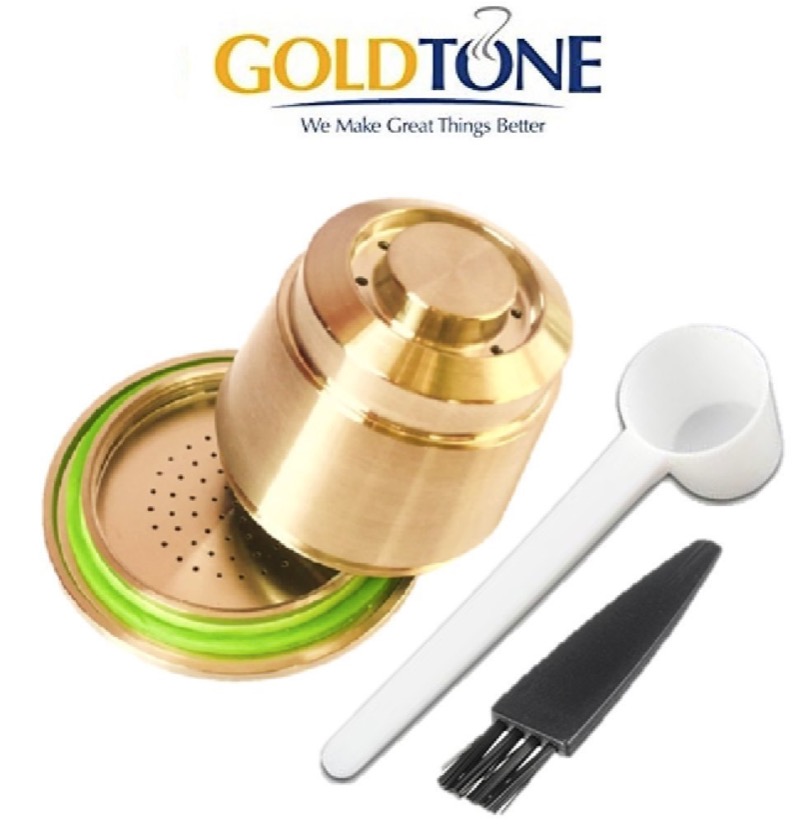 But if you are going for the classic aromas of the tasteful nespresso then stick to the pods. This model comes with 16 capsules to start so if you are new to Nespresso you can find your favorite flavor.
This machine has a 6 cup capacity and is made completely free of BPAs. It comes with the barista milk jug so reaching that life long goal of entertaining your guests with a sexy cup of joe is in your future.
This machine is also self cleaning and does it fast so maintenance on this marvellous Breville machine is simple so nothing keeps you away from your coffee time!
Operations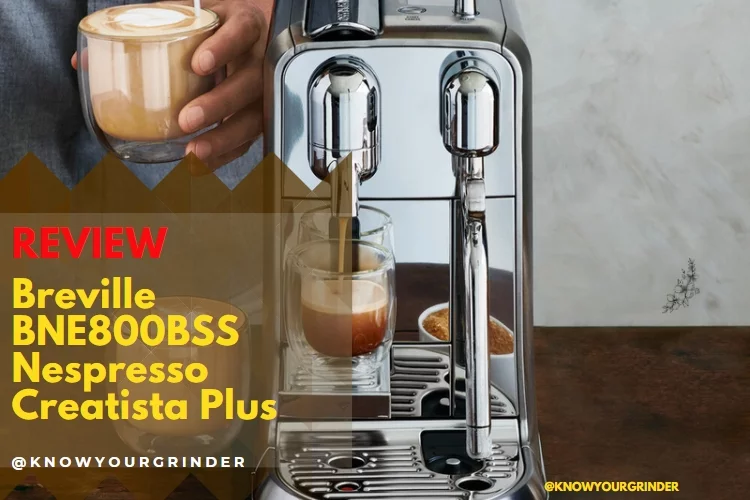 This Breville BNE800BSS Nespresso Creatista Plus has a digital screen with a dial and start button. It's a very east step by step process to get started.
You navigate by first pressing the start button, then scrolling through the pages with the dial right beside the start button. Upon first use it'll ask you to do a water hardness test.
Once you have a strip reading you can then select which hardness level your water falls under and choose that option on the coffee maker.
Make sure the water tank in the back is filled to the fill line, then press start, and the first cycle will purge the system to ensure coffee from this point on will be to the highest standard.
Simply choose with the dial which kind of coffee you would like say a latte? Then you can choose how much coffee and milk you would like in it, the texture of the milk, and how hot or cold you would like your latte.
Then add the pod and press start. Your coffee will brew and then the next step is to add milk to the jug and place it with the frothier in it.
The milk frothier is self heat sensing so it will prepare the milk to the desired texture you have selected and heat. Once finished you can lift the wand so you can remove the milk jug and pour the milk into the brewed coffee.
If you have the skills you can show off by making beautiful art on top of your brewed beverage to add to the love of this perfect Latte brewed by the Nespresso Creatista.
The milk wand has a simple purge button to clean the lines after every use. The base tray can be removed and cleaned as desired and is simply reattached.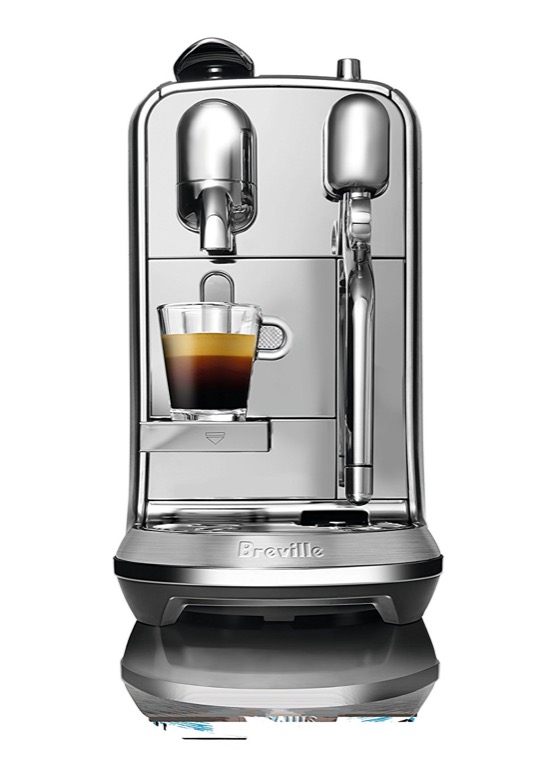 Pros of the Nespresso Creatista Plus
Excellent coffee quality - It produces excellent coffee, consistently delivering rich and flavorful espresso shots with a thick crema.
Simple to use - The machine is very user-friendly, with clear and straightforward controls that make it easy to get a great result, even for beginners.
Fast - It is a speedy machine, able to heat up and produce coffee in just seconds.
Milk frothing options - This machine comes with three milk frothing settings (latte, cappuccino, and flat white), so you can make your favorite coffee drinks at home with ease.
Compact design - The Breville machine has a sleek and compact design that will look great on any kitchen countertop.
Cons of the Breville Creatista Plus
Limited beverage selection - The Breville Creatista Plus can only make espresso-based drinks, so if you're looking for more variety, you may be better off with a different machine.
Requires Nespresso capsules - This machine is only compatible with Nespresso coffee capsules, so you'll need to purchase these separately.
Milk frothing can be messy - The milk frothing function on this machine can sometimes be messy and difficult to clean up.
Pricey - The machine is a bit on the expensive side, but it does offer excellent value for money.
Not available in all countries - Unfortunately, It is not currently available in all countries.
KYG's Conclusion
We hope you enjoyed our Nespresso Breville Creatista review. This machine is a great choice for anyone looking for a high-quality, easy-to-use espresso maker. It produces excellent espresso shots and lattes, and is very simple to operate. If you're looking for a top-of-the-line espresso machine, it is a great option.
Customers' Reviews for The Nespresso Breville Creatista Plus
One of the best things about this machine is that it comes with a built-in milk frother. This means that you can make lattes and cappuccinos without having to purchase an additional frothing pitcher. The machine also has a cup warming plate, so your espresso will always be the perfect temperature.
Another great feature of the Breville BNE800BSS is that it has a built-in water filter. This means that you will not have to worry about the quality of your water when you are making espresso with this machine. The filter will remove impurities from your water, so you can be sure that your espresso will taste its best. It comes with a user manual that gives you step-by-step instructions on how to operate the machine. Additionally, the machine comes with a one-touch button that makes it easy to brew your espresso.
The Breville Nespresso Creatista Plus is a great machine for those who love espresso. It has a sleek design, it comes with a milk frother, and it has a built-in water filter. Additionally, the machine is very easy to use. If you are looking for an espresso machine that will make great tasting espresso, the machine is a great choice.

Benefits of Owning the Breville BNE800BSS Nespresso Creatista Plus Espresso Machine
An easy to use machine that makes it simple to create professional quality espresso drinks at home.
With the touch of a button, you can choose from a variety of pre-programmed espresso drinks or create your own custom drink.
It comes with a Milk Frothing Wand that allows you to froth milk for lattes, cappuccinos, and other espresso drinks.
A fast and convenient way to make delicious espresso drinks at home.
Easy to clean and comes with a one year warranty.
Conclusion for Nespresso Creatista Plus Buyers
I'm clearly biased when I say that I love Nespresso, it is hands down one of my favorite coffees. But lets let the machine speak for itself. It's a beautiful clean design, that's straight forward to use.
Anyone can be a barista with this crafty Nespresso Creatista and its digital screen and clean rolling dial make it a stress free operation first thing in the morning.
The options are endless and I love that you can choose the milk texture and get cold or very hot brews. You can also choose just milk so on those cold nights you can make coco!
The downside of this product are that its imported and there is the commitment to buying the Nespresso pods.
But considering that higher end espresso machines fall in a range over 1000$ this Nespresso Creatista is well under that budget even when paying the importing fees and is well worth it.
And remember… Oprah loves this brewing delight so you probably will too!!