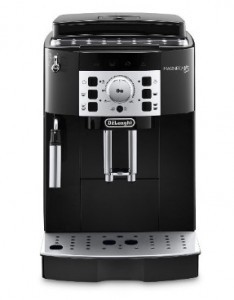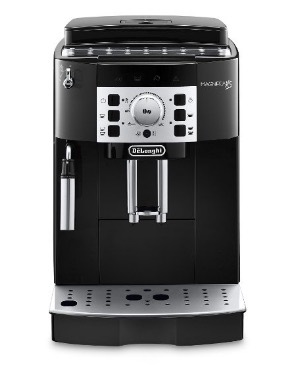 Quick Features:
Compact size allowing you to have all the features of a full size expresso machine in an oh so small convenient size that will fit snugly onto your countertop
No more having to wait between frothing milk and making your expresso.
Stainless steel, low volume conical burr grinder.
Easy Removable 60 OZ water tank.
Adjustable coffee spouts to help accommodate the change and sizes of different cups you may want to use.
Amazing Customer Service for help in setting up the machine and any potential maintenance issues.
Less than $1,000 and makes every cup to perfection.
Want to be your own barista? With the Magnifica XS by De'Longhi you can!
The Magnifica is a great automatic expresso machine that features everything a full size machine would but smaller.
How convenient is it? Your guest along with yourself can enjoy the highest quality lattes and cappuccinos anytime during the day (or night).
No more waiting for the next morning to get a special morning coffee that you can get year around all day any day with your new Magnifica XS.
Love authentic Italian drinks? Many of us do!
You've hit the mother lode with this compact size Expresso machine especially with the great cappuccino system frother patented by De'Longhi.
It has never been easier to make coffee at home by simply adding milk to a container under the nozzle to create a creamy, rich froth; while the machine does all the work for you.
Not only are you in for amazingly incredible expresso drinks, but it also saves you the time waiting in line for one and most of all it can save you quite a bit of money.
Save $$$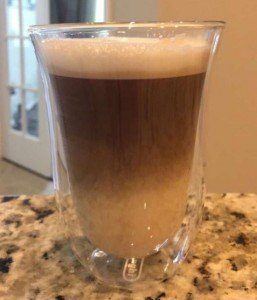 Save even more money with the energy saver switch built in the single boiler system. Ground coffee or whole coffee beans, this machines does it all!
Looking for the freshest results? The direct brew system patented by De'Longhi will grind your coffee beans instantly before brewing freshly rich coffee.
With the amazing five coffee strength levels, extra strong to extra mild, everyone is happy with their ideal flavor at its ideal intensity.
Oh and the fun doesn't just end there, because you can select from any four cup size options to satisfy your preferred taste buds as well.
More Features Of The Magnifica XS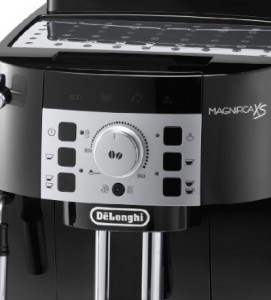 Other incredible highlights on the Magnifica XS is the water filtration which is super convenient when it comes to making coffee, easy to use manual controls, easy removable drip tray and a super neat cup warmer.
Easily control the strength of each shot using the easy to use dial on the front of the machine.
Built-In Coffee Grinder Love
Also worth noting is that this machine has a built in coffee grinder that isn't too loud and amounts to a low and perhaps pleasing rumble.
If you're that type of person that prefers to use pre-ground beans, that's perfectly fine as well – however, having your own built-in coffee grinder is not a fact to be taken lightly.
In other words, its kind of a big deal…For instance, everyone knows that to make good espresso you need to grind your own beans fresh using a burr coffee grinder, but in this case the grinder comes with the unit so that's a major plus!
The hopper for the grinder is big enough to fit approximately eight to nine ounces of your favorite fresh whole coffee beans.
There's a slot at the top of the machine that even comes with a built in measuring spoon to allow you to scoop out your freshly ground beans and make your brew instantly!