When I was first asked to do a review of the Hario Skerton hand coffee grinder mill, my initial response was "No, thank you."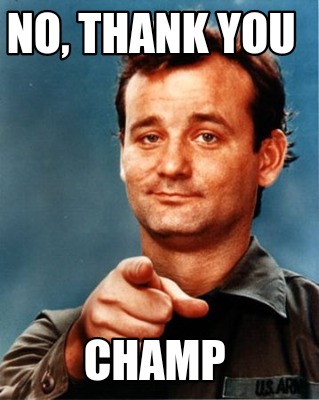 The reason being, we had two coffee grinders in use already in my home.
We didn't have one of these "Skerton" grinders, so my experience with the Skerton wasn't just limited – it was non-existent.
However, we do have a Hario V60 2-Cup kicking around that we bought practically for a song a while ago.
So, we knew the name Hario, and weren't put off by it.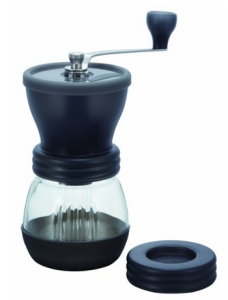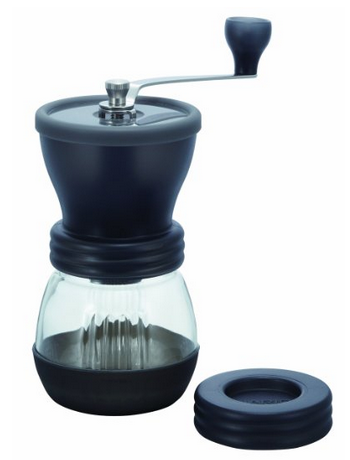 Hario Skerton Coffee Grinder Review Ceramic Burr Mill
Little did I know that this arrangement was actually a trade – written coffee grinder review in exchange for the actual product to use, for one month (and then keep it).
I was apparently going to get my own Skerton for the purpose of the review, and the deal was for me to be brutally honest about it.
That's when my "No, thanks" turned into "Ok, why not?"
Brutal honesty from me? No problem.

Here's a picture of this hand grinder straight out of the box.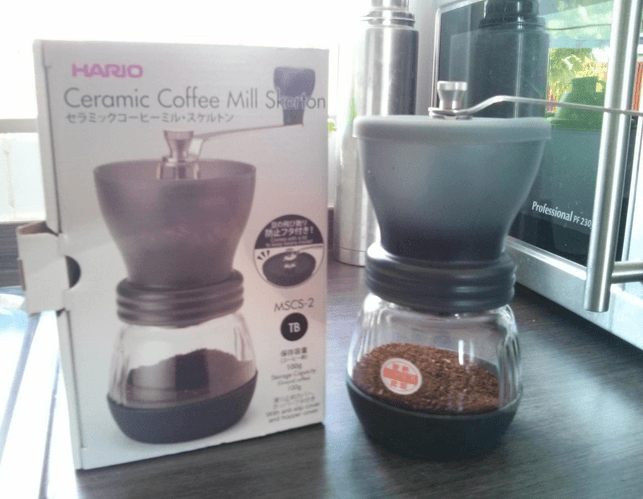 Hario Skerton Grind Setting
Not long after I agreed to write the review, I received a parcel at my doorstep from a rather attractive delivery man who had me sign for one "Hario Skerton hand coffee grinder mill".
So, I did, and that's when I got to take a closer look at this little manual ceramic-burr coffee grinder, with its lidded, glass-jar-like appearance.
Hario Skerton x 2? (The Plot Thickens)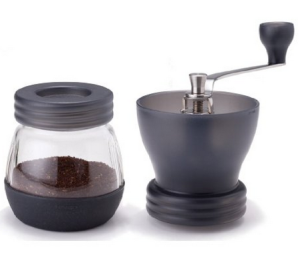 Hario Skerton Setting For V60
I agreed with my husband that for the next four weeks, we would just be using the Hario Skerton coffee grinder to grind our coffee beans.
This wasn't easy, since our go-to coffee grinder is usually none other than the Breville Smart Grinder, which is an excellent and rather expensive burr grinder we've been using happily for years.
My husband, for one, was rather resistant to the idea of "downgrading" to the Skerton, which he said looked like a "trinket" next to our Breville Smart Grinder.
I told him to reserve judgement for after we learn how to use it and figure out its grind settings.

The funny thing was, the next day, I woke up to make coffee as usual.
As I was beginning to smell the sweet & rich aroma of my first Aeropress coffee using the grinds I got from my Hario Skerton, I heard a light thump on my doorstep.
Turning the milk down for a moment (I was making an Aeropress Latte), I went to investigate. Guess what it was?
It was…
wait for it…
another Hario Skerton coffee grinder, sitting there in a box!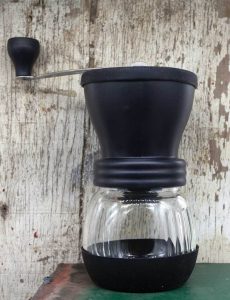 As it turns out, they delivered to us another Skerton by mistake, but ultimately what happened was we paid for one of them just out of the kindness of our hearts (rather than take two for free).
This second was given to my husband's mother, who normally made sub-par coffee and used the worst pre-ground beans ever, in the hopes it would help.

How To Use The Hario Coffee Grinder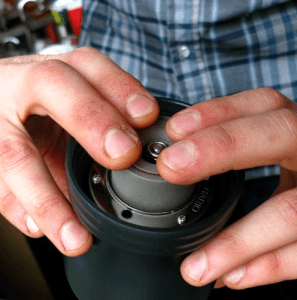 Hario Skerton Grind Settings For V60 Aeropress Zero Position
By the way, at first I wasn't sure exactly what grind setting to use for either my V60 or my Aeropress, not to mention some of my other machines, so I went ahead and looked it up.
Turns out, there is a bit of fiddling needed with the Skerton if you want to perfect each of your brewing methods in turn.
In a nutshell, there is something called a "zero position" for your grinder's burrs, which is means taking this grinder apart and then holding the burrs in place.
The Skerton isn't that complicated, so this should serve as an education to anyone wanting to get good at using it. I didn't want to do it at first, but I did and I'm glad I did because now I understand the grind settings a lot better.
FYI, you don't have to do this, but it does help in the long run.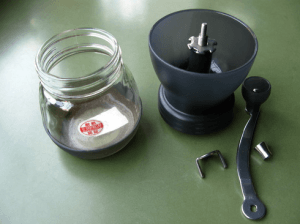 Hario Ceramic Coffee Mill Skerton
At any rate, you want to adjust the grind adjustment mechanism by rotating it a certain number of times to reach your grind adjustment "goals" shall we say.
Here's a rough guide of what we learned in terms of what works in terms of how many "turns" or revolutions it takes to get the right grind for a particular brewing method:
SingleV60/Aeropress: 2
Drip cone: 3
French Press: 7
You can also watch this video, which is part review, part tutorial on how to grind with the Skerton, which really helped us to get into the coffee grinding groove with the Hario hand crank grinder.
Beyond what we've given you here in terms of suggestions, you're on your own in terms of tweaking the Skerton.
We've got a lot more to say about this grinder, so let's get to that!

Hario Skerton Coffee Mill – One Month Later…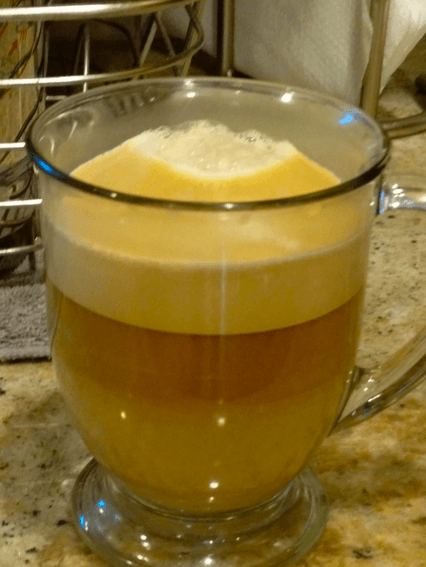 How To Use Hario Skerton
In my time with the Skerton, I learned that Hario is a Japanese company specializing in heatproof glassware.
If you visit their actual website, you'll see they have some really nice stuff.
I was wondering this because as I gazed upon my Skerton day after day, there was strange about the glass used in this coffee grinder.
It was a little…too nice?
So off to check out Hario on the internet.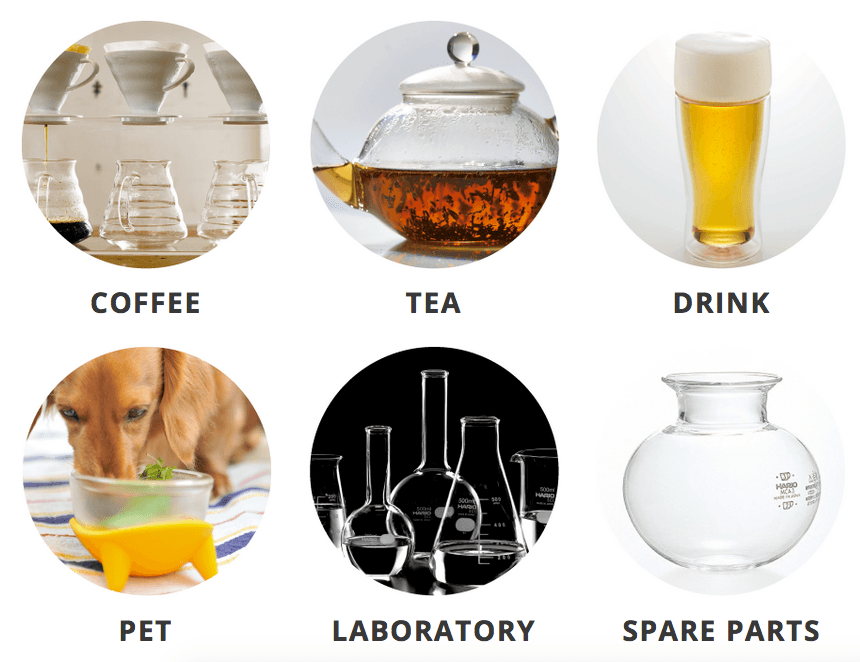 Hario definitely has some nice stuff on their website, and you can see that glass is really their specialty.
Coffee is definitely one thing they also specialize in, with nice glass being the overarching theme.
Now that I've spent some time with one of their products, I don't think I'd hesitate to support them again, as they have some really nice looking coffee-related products.
Actually, they have a thing or two I'd like to get for my cat, too.
Bold Claims for the Hario Hand Grinder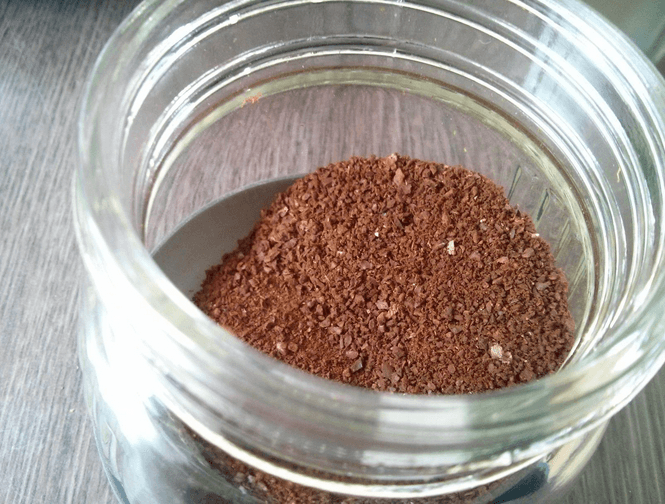 Hario Skerton Review
Eventually, I got around to actually reading the some of the Hario Skerton manual, just to see what they had to say about their own product.
For instance, Hario claims that this is the perfect grinder for a traveling enthusiast.
I guess it depends on what type of traveler you are, but if you are a backpacker, I have my doubts that you'll want to be storing this glassware in your backpack, unless you really secure it.
Seems to me like it would break.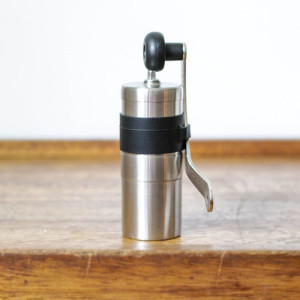 As far as being light weight and portable, that much is certainly true about the Skerton. It isn't an overly large grinder, but it is bigger than some, such as the Porlex Mini.
My other grinders definitely dwarf this one as well, but they are 10x the price, so it's understandable. The product description also says "consistent grind for perfect, fresh coffee".
Hm, I wasn't sure if that was possible either, until I used the Hario Skerton a few times.
Like I said, the tweaking helped.

Things We Like About The Hario Skerton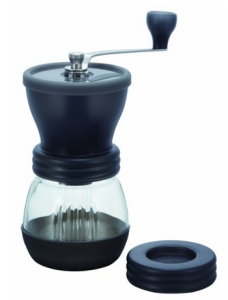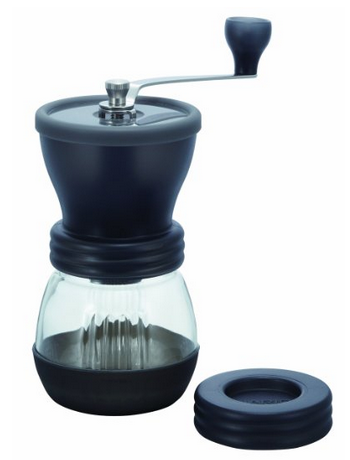 Hario Ceramic Coffee Mill Skerton Storage Capacity -5
What I did find that my husband and I liked about the Hario Skerton after using it for a while, I will put into point form for convenience' sake in this Hario Skerton review:
Low static, due to the glass grinds receptacle
Ceramic conical burrs are excellent quality for such an inexpensive machine
We were able to grind consistently for espresso which we considered somewhat of a miracle
Quiet (which is nice) but slow to grind
Easy to take apart and clean, then re-assemble
No electronic parts to worry about
Quality, durable plastic parts including snap on lid
Great For Espresso Grinding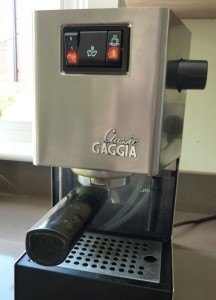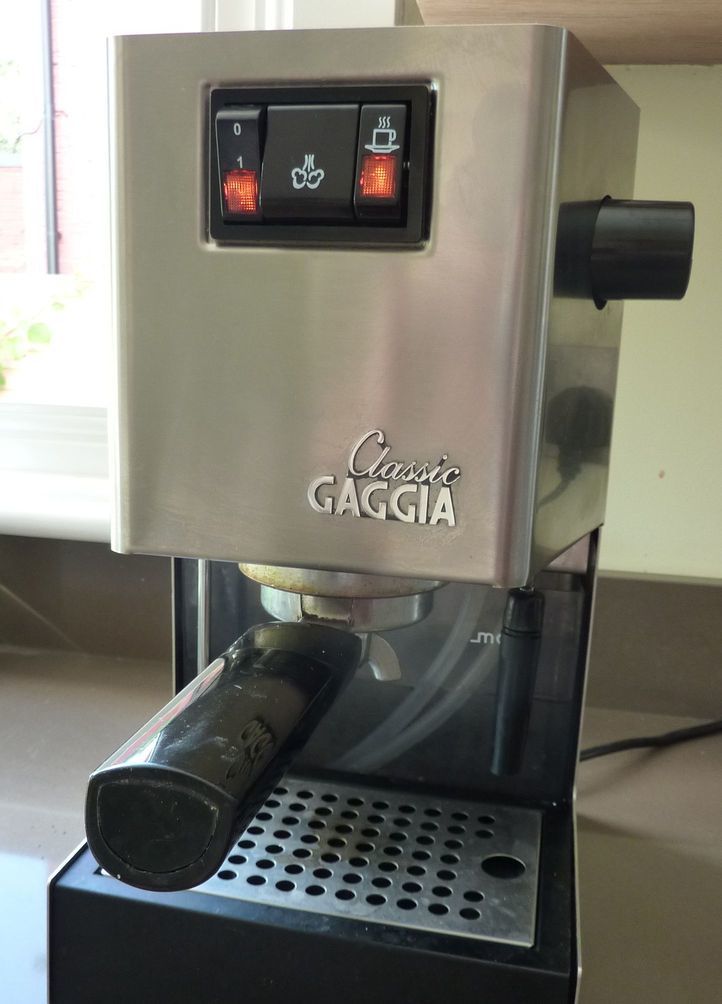 If you ask me, you should always use fresh ground coffee beans when making coffee, and the great thing about the Hario Skerton is that it is a burr grinder, even though it is still fairly inexpensive
Burr grinders, in general, are the best types of grinders you can get, and known for their adjustability.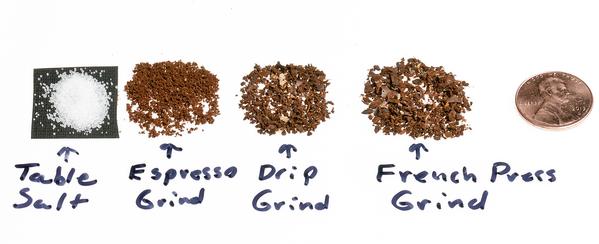 One reason we really like the Hario Skerton is for its ability to grind fine enough for espresso.
If you read what users say about it, you will find there are some naysayers who say that this isn't possible.
But, we are part of the vast majority of owners who use it for this purpose and it works well.

Drawbacks / Limitations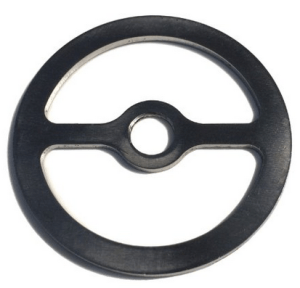 If there is a problem with the Skerton that we have run into, it's the fact that it actually has a bit of trouble with the coarser grinds, such as French Press and other pour-over types of brewing methods – such as my favorite, the Aeropress.
This was a bit of a sad fact, until we came across the Hario Skerton Upgrade Kit. Yes, we did have to spring for this ourselves, but it doesn't cost that much and once you perform the upgrade (here's a video on how to do that).
That said, buying an "upgrade kit" was not what I was hoping to do. Still, it really did help as it stabilizes the lower burr and now my Skerton really can do anything I want it to, and the overall price of everything is not that bad.
More Hang-Ups – Slow Grinding Fun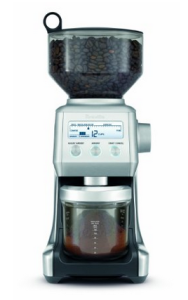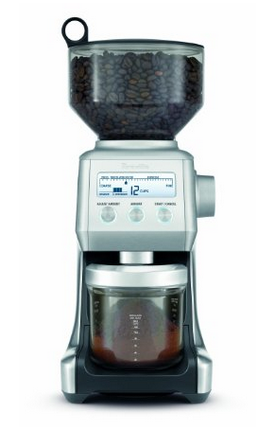 With our Breville Smart Grinder, it takes just a few moments to change the grind settings to grind for espresso, drip coffee, french press, or what have you.
Not surprising, the Breville Smart Grinder cost us hundreds of dollars more than the Skerton, which was given to us.

With the Hario Skerton you have to take off the handle, and turn the little gear thing to either tighten the burrs (finer), or loosen them (coarser).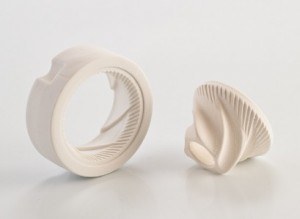 This could be considered a pain depending on how much patience you have that day, but at the same time, with regards to price, we're talking about a much, much less expensive coffee grinder here with the Hario Skerton as compared with our Breville Smart Grinder.
Aside from that, I really have nothing bad to say about the Hario Skerton.
Actually, my husband does.
He said it takes forever to grind fine enough for espresso, and it's really annoying. To be fair, my husband is a guy who doesn't really have time to fiddle around with a little grinder like this to get his espresso.
He wants things fast and done with maximum efficiency, so this isn't really his style of grinding anyway. I've told him to "slow down" a million times and he doesn't listen.

Conclusion
I honestly thought I would hate this thing, but after using it for four weeks, as it turns out, there isn't much I don't like about it.
Sure, it doesn't really compare to a $300 coffee grinder but that's fine. Once we learned how to use the Skerton, and did the modification / upgrade ourselves, we were quite pleased.
I am a fan of glassware, so the overall aesthetics of this grinder are pleasing to me. I've even caught my husband using it a few times, which is like catching a horse walking around with a pipe and jacket reciting poetry.
Overall – 4 STARS!

Oh, by the way, my mother-in-law refuses to use hers and won't open the box. I guess we'll just have to keep drinking her terrible coffee.