I was asked to write a review on the Porlex Mini Stainless Steel Hand Grinder Mill, which is a little blighter of a hand grinder you can typically pick up for less than $50, and talk specifically about why I think its so great / not great, such as the case may be.
I figured I'd already poured my heart and soul into my Orvite grinder, but the powers that be told me if I whipped up another article talking specifically about the Porlex Mini and my experiences (good or bad) there would be something in it for me, in the form of a 2 pound bag of Kona Gold.
Being a reasonable man, I accepted. Besides, I was somewhat curious to see if the Porlex Mini could do a better job than my Orvite.
I had never done such a comparison of two such similar products, and I like a challenge.
Here's a quick breakdown of why I like the Porlex Mini, if you're pressed for time.
Its hard to damage with solid steel construction

Uses conical, ceramic burrs which are the ideal kind
It is adjustable, so you can change the grind settings for different grind styles / brewing methods
You can take it with you camping or traveling
Super easy to use
Reasonably priced

Slow grind = better taste
The Camping Test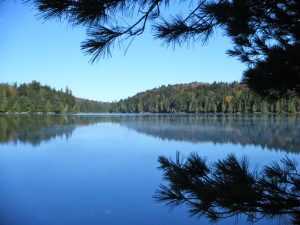 The way I tested my last manual coffee mill was to take it with me to Algonquin Park in Northern Ontario and rough it by myself for weeks at a time.
Going for a few days just doesn't cut it for me, I've got to be there for at least a week to get situated.
I always take about one pack's worth of belongings, and that's about it, but in that pack is always, without fail, a bag of beans and a hand grinder.
The last trip I took, I brought the Porlex Mini with me to see how she'd fare.
Before I get further into this, here's a quick video review of the Porlex Mini Hand Crank Coffee Mill Grinder so you can see it in action.

Portable Stainless Steel Coffee Mill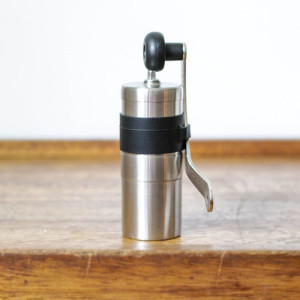 The Porlex Mini is the perfect camping grinder because its very durable as it is made from stainless steel, and its very portable as well, and requires no electricity to operate – just good, old-fashioned manual action.

With its stainless steel, static-free body, one of the things I mentioned in my other article is how indestructible these tubular stainless steel coffee grinders are.
Personally I think this is the grinder to take with you on the road, since it there is basically zero chance of it getting broken.
Just try taking one of those old-fashioned looking, showpiece-type grinders with you in a backpack. That's not a good idea. Some grinders are just meant to stay in the kitchen.

Whether you're using the Porlex Mini grinder around the house, or throwing it in a backpack to take with you somewhere (vacation, business trip, camping adventure), the durability of this grinder is one of the main reasons I like it.
This is partly because I have a tendency to break things, and if a grinder is too fragile there is a good chance I will damage it when my bag slams against the side of a rocky face.


Porlex Mini – True Coffee Bean Flavor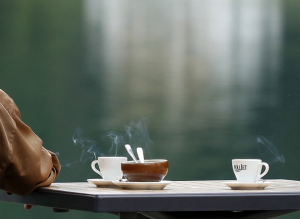 Not ruining the flavor of my coffee beans is another major deciding factor I look for in a coffee grinder, and the Porlex Mini comes through on on this point in spades.
Are you aware that when you use certain types of coffee grinders (namely the poorly made ones), they actually do more harm than good to your coffee's flavor?
The whole point of getting a coffee grinder, in my view, is to improve your coffee's natural flavor, not sabotage it through grinding it wrong.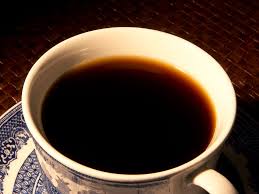 Overall, it depends who is making the coffee to begin with, and the grinder they're using.
You have to know how to grind your beans to begin with, a skill which takes some time to acquire.
Say, for instance, you buy a bag of really great coffee beans like my favorite, Kona Gold.
Buying your own high quality coffee beans probably means you intend on grinding them yourself, and then brewing the coffee yourself as well.

In these two steps – the grinding, then the brewing – you have two big opportunities to produce a cup of coffee that is truly amazing.
On the other hand, you have two chances to completely ruin your cup of coffee.
The Porlex Mini gives me the chance to take my time and make sure that I don't overdo it, as I have done when I used a blade grinder.

Easy To Operate
Admittedly, I'm slightly adverse to technology, and with the more expensive type of grinders, there are a lot of knobs and dials, timers and whatever else that you need to master.
Nothing wrong with that, but the Porlex Mini just simplifies things. You just adjust your burrs, add beans, turn the handle, and grind – slowly.
When you grind slowly, you get more flavor out of the beans because there's less friction to burn your beans it keeps the flavor strong and true.
I think Sting would appreciate the Porlex mini – I once read somewhere that Sting learns all of his complicated bass lines at a very slow speed first, and then speeds them up.

Conical Ceramic Burrs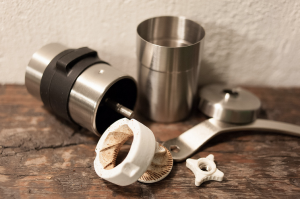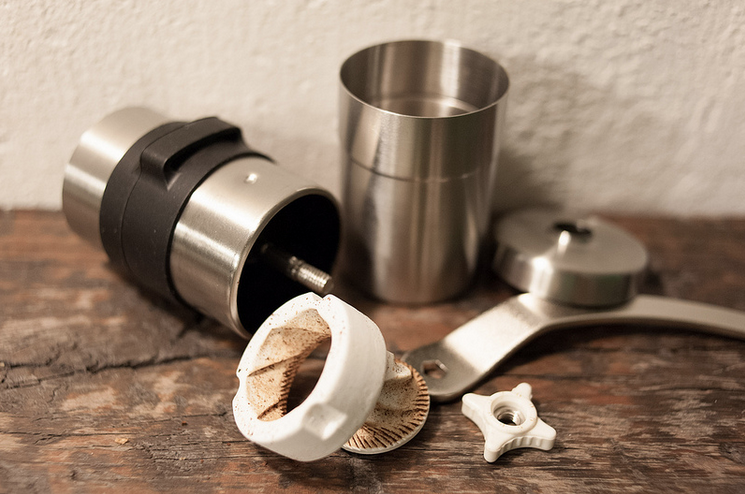 Now I want to talk about how the Porlex Mini uses conical ceramic burrs, which are the best kind of burrs for grinding coffee beans as far as I'm concerned.
The way conical burrs work, in a nutshell, is that they mash the bean in such a way that it keeps all of the good stuff needed to make your coffee taste best.
Part of the reason that ceramic burrs are better in general for coffee is because they don't retain a lot of heat, like metal burrs can.
Ceramic burrs remain cool, and that's good for your grind, because too much heat can rob the beans of their flavor.
It just so happens that the Porlex Mini has these conical ceramic burrs, and that's really the killer combo that makes the Porlex Mini such a great little grinder.
Bottom Line
All things considered, the Porlex Mini is cost effective, durable, adjustable, looks great, and I see no reason not to recommend it.
You can take it anywhere, and when the Zombie Apocalypse comes, you can hide in your bunker and still have great coffee.
I take mine with me everywhere, and it makes great Aeropress coffee for me when I go camping, which is often. – 5 STARS!