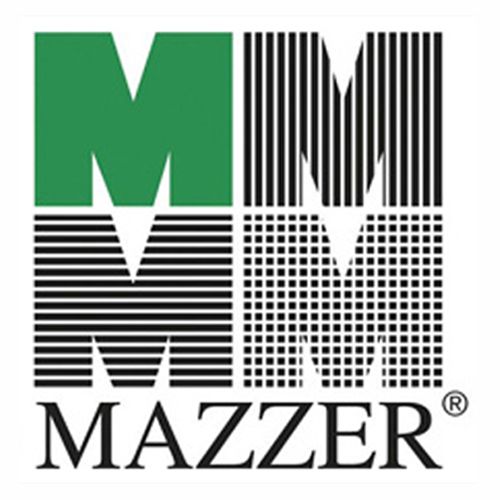 The company Mazzer was founded in Venice, Italy in the late 1920s/early 1930s by Luigi Mazzer and has specialized in professional quality commercial coffee grinders ever since.
If you are seriously into coffee or espresso, you should probably take heed of Mazzer since it is one of those brands that keep cropping up in cafés, restaurants, and just about anywhere great coffee is served.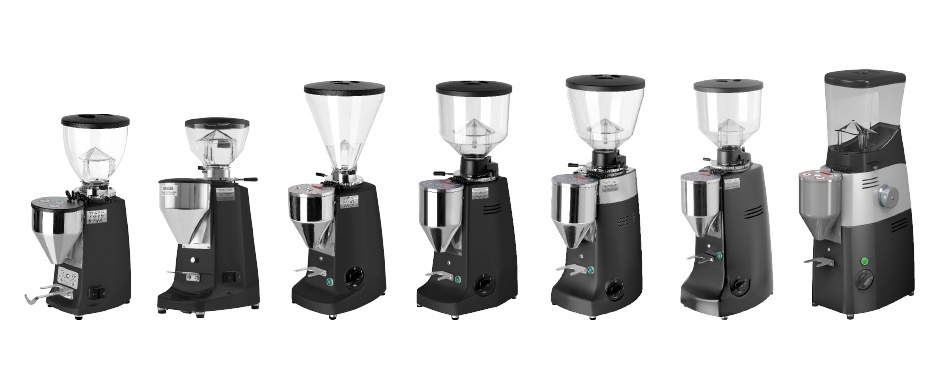 The line-up of Mazzer professional and commercial grinders is impressive to say the least.
Now we want to take a closer look at some of the best and most popular Mazzer grinders, including the Mini, Super Jolly, and the Robur, in order to see what makes Mazzer grinders so darn special.
Mazzer Mini
First off, we've got the Mazzer Mini Electronic Doserless Grinder as their most popular entry-level model which is the grinder that many home and business owners have purchased as their introduction to Mazzer brand, where the price is low enough to see this grinder showing up in homes across America that are seeking higher quality espresso.

The Mazzer Mini is built like a tank and focuses on a high-grind output, like all Mazzer-made grinders, and many people see it as a step up from something like the Rancilio Rocky, which is rated here on this site as the best coffee grinder under $500.
The Mazzer Mini, since it costs somewhere in the $800 to $1000 range, didn't fit in this category, but it does still manage to straddle the line between lower priced commercial use grinder and a higher end home model.

One thing that buyers do appreciate about the Mazzer Mini is that it allows for all of the parts of the machine to be replaced, if need be.
This is great for café owners, who may run into a problem and suddenly need a new part. This isn't to say the Mini needs frequent part replacing, because, by all accounts, this grinder is a workhorse.
That said, it is a commercial grinder and being able to replace parts in a pinch means that business needn't slow down if the unthinkable does happen.
The main consideration when buying a Mazzer Mini is to understand how much coffee you'll need to be grinding in a given period. We'll get into the specifics shortly.
Here is a video review of the Mazzer Mini Type A so you can see it in action.
The hardware, as many baristas who use this machine can surely attest to, is strictly top notch, with 64″ stainless steel flat burrs, as well as stainless steel highlights that set the Mazzer Mini off nicely.
The entire unit also has a black finish which is easy to clean.
Back to the burrs for a second – the rule with coffee grinders tends to be that the bigger your burrs are, the more consistent and efficient the grind, and the Mazzer Mini does sport some big burrs despite being called the "Mini".
The reason that bigger burrs are also better, besides just being more powerful, is that they can more easily grind your coffee / espresso beans at a cooler temperature, thereby retaining vital flavor that gets lost or altered when the burrs heat up.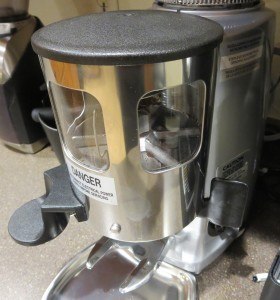 Performance-wise, you can do either single or double shots using this grinder's dosing feature, or you can grind manually.
The grinding with the Mini is precise and they call it micro-metrical, meaning that you can make micro-adjustments to your grinder that provides the user with a wide array of grinds from coarse to super fine that allow for many different brew styles.
The hopper can be removed with beans still inside, which is a feature most grinders don't have. The standard hopper can hold 1.2 pounds of beans, which makes this grinder perfect for a commercial setting, but there are three sizes of hopper available as well.
Because the hopper is so big, it is tempting to just leave beans lying around in it, but we suggest always making sure your beans are ground fresh, which may necessitate the purchase of something like an airtight coffee vault, so that beans can be stored and retain their freshness.
The purchase of a Mazzer Mini certainly does encourage having lots of different coffee beans around to test out, especially for the home user who now basically has the world at their fingertips with this great machine.
The reputation of the Mazzer Mini definitely precedes it and we highly recommend it for both home and commercial grinding use.
Here are some of the best burr grinders for home use according to our editors!
Mazzer Super Jolly
Another grinder that users gravitate to when it comes to Mazzer gear is the interestingly named Mazzer Super Jolly.
With its hard-to-forget name, the Super Jolly is perhaps the best known and most popular Mazzer grinder in the Mazzer family.
The reason for this is that, in our opinion, is that the Super Jolly isn't their highest priced product, but it isn't their entry level grinder like the Mini.
It is, in effect, their definitive machine according to many. You don't see it too often in people's homes, in the same way you don't see transport trucks parked in peoples' driveways.
The Super Jolly is definitely "super" in both its ability and even its girth. Many grinders used at home are maybe around 5 lbs, or even less if they're a hand crank coffee mill.
By comparison, the Super Jolly, in all of its heavy duty coffee grinding splendor, is 32 lbs.

In terms of the quality of the hardware in the Super Jolly, this grinder really is quite a technological feat when under scrutiny.
It isn't just a hulk of a coffee grinder, but the innovative designers at Mazzer have let none of this technology go to waste, with its 2.7 lb bean hopper, 300 gram dosing chamber, built-in timer, and 64 mm flat steel grinding burrs – the Super Jolly is a café mainstay if ever there was one.

Here is a video review of the Super Jolly to get you better acquainted with it.
Like the Mazzer Mini, the Super Jolly also has what is called micro-metrical stepless grinding, which allows you to measure everything out to practically the atom.
Just remember to purge in between dosing sessions, as the grinder does retain approximately 4 grams that need to be removed if you're regularly using the dosing feature.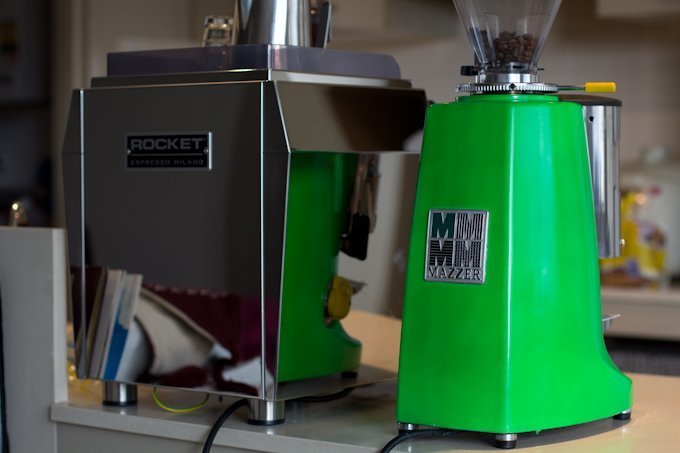 When it comes to durability, there's no question that the Super Jolly is another grinder people tend to call a "tank".
In addition to the Super Jolly's finer points as a quick-grinding machine, café owners often look to the Super Jolly as a commercial coffee grinder that can endure the rigors of daily use, and so this is a model which makes for a sound addition to any business where coffee is being ground and brewed en masse.
That said, if you have a busy café that is literally busy all day long, having the powerful Mazzer Super Jolly, with its 2.7 pound bean hopper, by your side, is a definite advantage.
It is bigger and more powerful than the Mini, and meant specifically for commercial use.

Mazzer Robur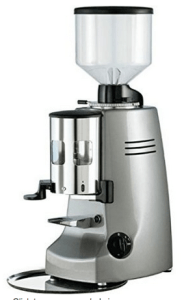 A fair bit has been stated here about Mazzer grinders already, with regards to their entry level commercial grinder the Mazzer Mini, and perhaps their most popular grinder the Super Jolly, and so now we want to finish things off with a bang by talking about the big daddy of the Mazzer line of espresso grinders, the Mazzer Robur.
You will need to spend quite a bit to get your hands on a Mazzer Robur, at somewhere between 2 – 4 grand depending where you shop, but it is certainly a worthwhile purchase, as the Mazzer Robur was built specifically for the busy café environment and can grind more and faster better than any other Mazzer grinder, not to mention it ranks as one of the all time heavy weights (literally), able to go toe to toe with any commercial grinder you can name.
In the picture below, the Robur is the big grinder on the right.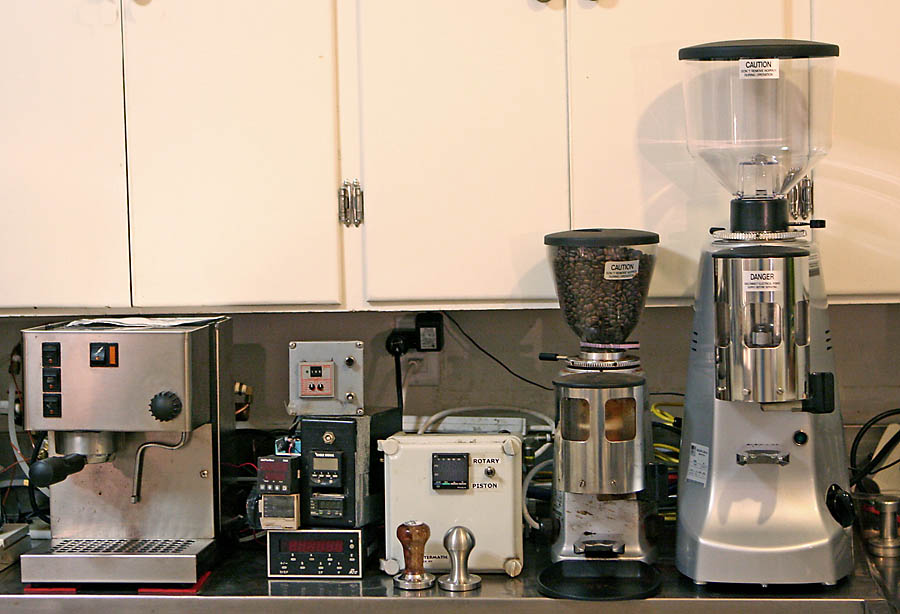 The Robur is the ultimate workhorse when it comes to grinding. Do you need a 20 gram dose in 3 seconds flat?
No problem at all for this big guy, which owners have reported to last well past 10 years, and still going strong.
There is a reason that this grinder is the piece de resistance of the Mazzer coffee grinder line.
Unlike the Super Jolly, which is a commercial grinder but may need a hand if it is the only grinder in your high traffic café, the Mazzer Robur is designed for full-on high volume service at all times.
This is the grinder that can actually take on all comers, and this is something you need to know if you are starting up a café and will be focusing on making espresso shots all morning, afternoon, and evening – the Robur is the one to consider for high volumes of customers and espresso is its middle name.
Its definitely a grinder that will make any blade grinder look like a fairly silly device, not to mention the majority of decently made but still cost effective burr grinders.
Playtime is certainly over when it comes to the Robur.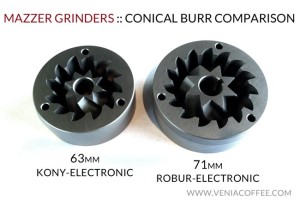 With 71mm conical burrs, a 4 lb hopper, stepless adjustment wheel for finer or coarser grinds, and their standard hopper locking mechanism, this Mazzer grinder has all the features that make the other Mazzers stand out, only its bigger and has more force behind its burrs.
Spinning at 420 RPMs, it grinds slower and cooler than most burr grinders, which sometimes spin at up to 1500 RPMs to compensate for their lack of power that the Robur has in spades.
To top it off, this beast of an espresso grinder is 62 lbs and 28 inches tall; so it is by far the biggest of the Mazzer grinders.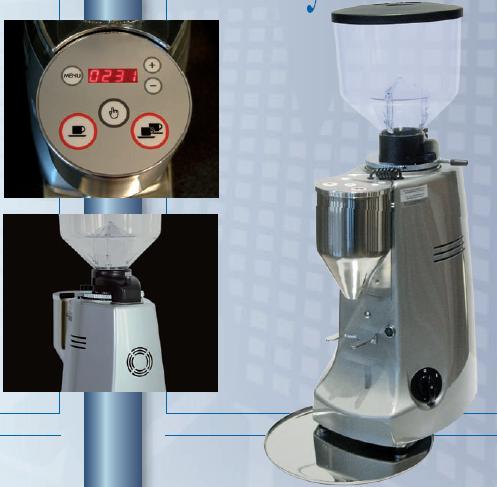 Mazzer grinders are definitely a welcome addition to most commercial establishments that serve coffee, and particularly espresso, because it grinds quickly but also super precisely.
As usual, you get what you pay for with most coffee grinders, and so if you want more power, speed, and features, then you'll need to invest more money into the model you buy.
The results, luckily, are fantastic and you will have a piece of coffee making equipment you can count on for years to come.
Mazzer – Inside The Lab
Here is a look inside the Mazzer production plant. As unassuming as it looks, this is where the magic happens!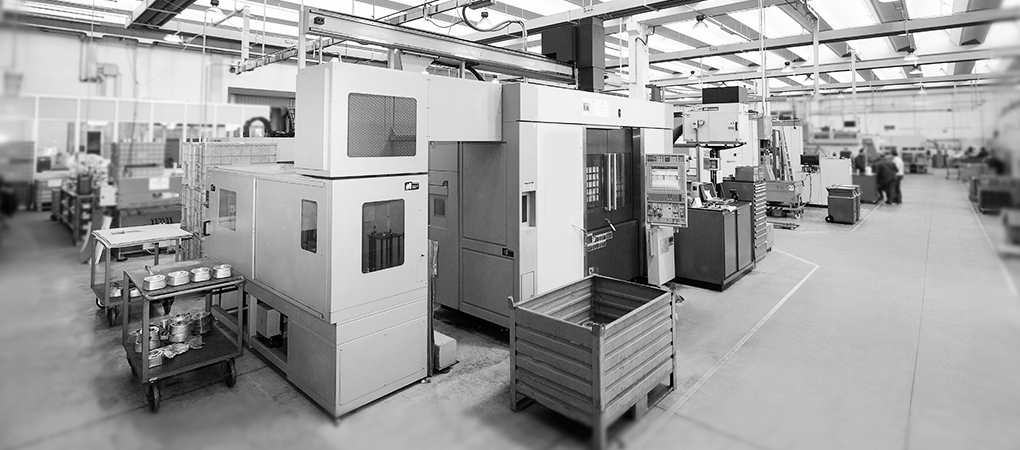 Below is another telling photograph of what goes on inside Mazzer headquarters.
In the background there you can see some Mazzer Minis, as various tests are being performed to improve the taste of your espresso.
For Mazzer, its no exaggeration to say that coffee making is a science.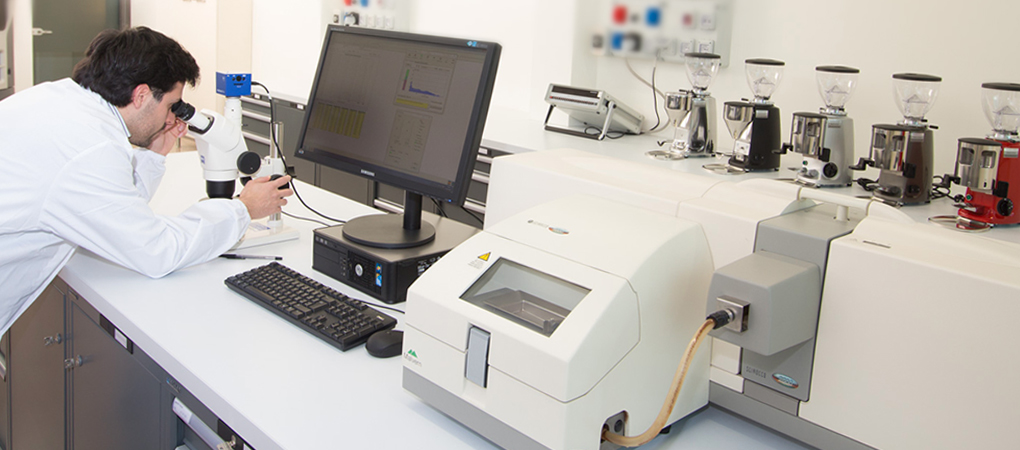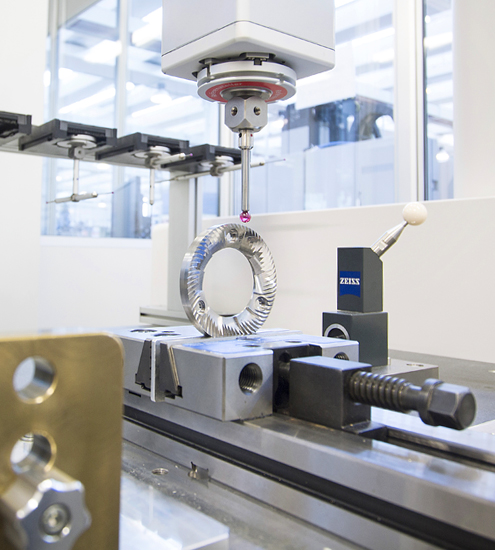 Thanks for reading this article on Mazzer Grinders!