Here we are, back again to talk about - what else - coffee grinders!
We've done a couple of other lists for different price points, including the best coffee grinder under $50, and the best burr grinders under $200.
And now is the time to look at grinders that come in under $500.
Editor's Recommendation: Top Coffee Grinders Under 500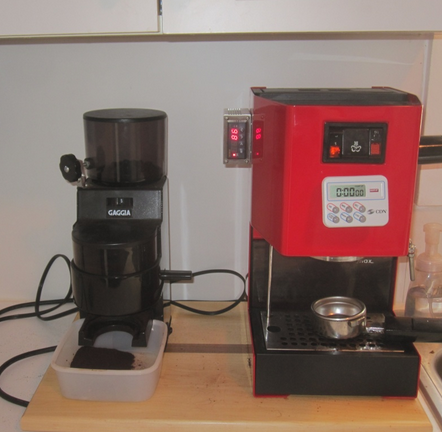 Each of these grinders is perfect for espresso lovers, as grinders at this price offer speed, control, consistency, and much more to look forward to.
These grinders have proven themselves to be quite popular time and again, and so right now we're going to share with you reviews of 5 grinders that we love and that we think you'll love too!
But before we get into reviews, let's find out more about these amazing machines and what makes them so special!

Let's start by explaining what makes coffee grinders so important…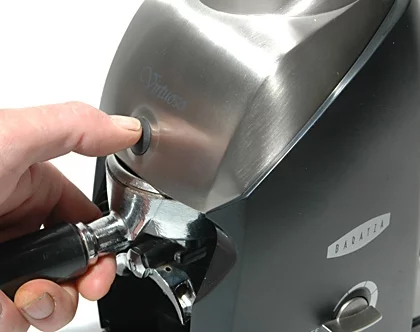 Do coffee grinders matter?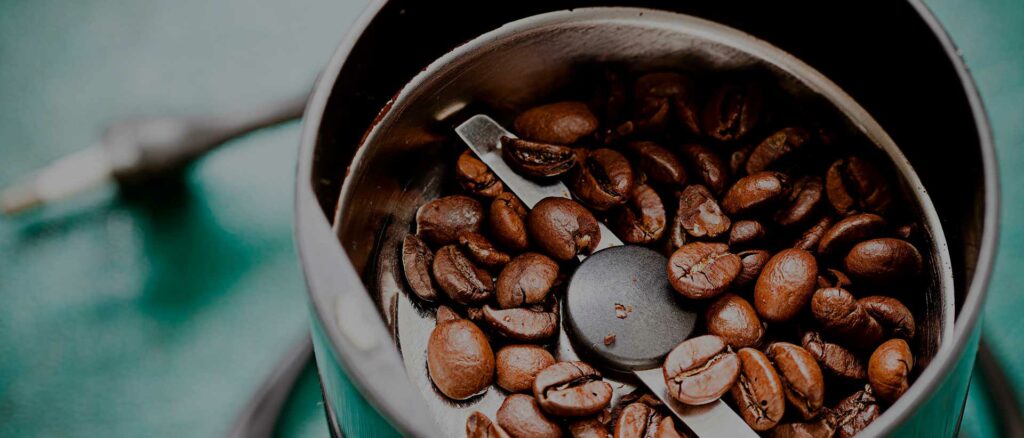 Yes! Coffee grinders do matter! Actually, when it comes to making the perfect cup of coffee, the grind plays the major role. In fact, many believe that a good coffee grinder is one of the most important pieces of coffee gear.
It might be hard to believe, but a quality coffee grinder might transform your coffee experience and actually take it to another level.
Your sleek coffee maker will let you down or won't be able show its full potential if they are not backed up by a good quality grinder.
A great coffee grinder will completely change your coffee experience. Your brew will become more flavorful and delicious.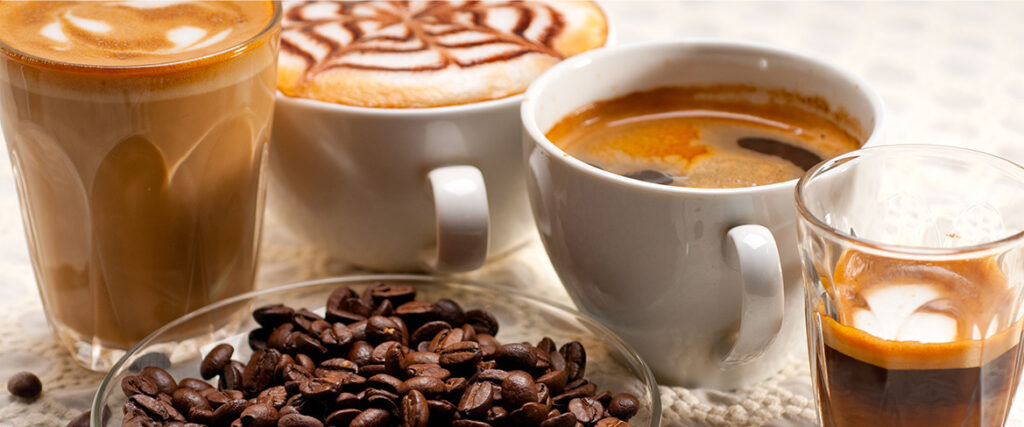 Thanks to a coffee grinder, you will also be able to determine what coffee flavor and strength suits you best.
We should also mention that a quality grinder can help you save money in the long run too, so it's a win-win situation. That's why you shouldn't delay or avoid getting a new coffee grinder.
Here are some other reasons why you should invest in a good coffee grinder:
Freshly ground coffee is the best
You would never buy stale coffee, would you? Well, you had probably bought it dozens of times, without realizing it. Well, whenever you had bought a bag of pre-ground coffee, you had enough stale coffee.
Stale coffee is usually bitter and it feels thin across your tongues.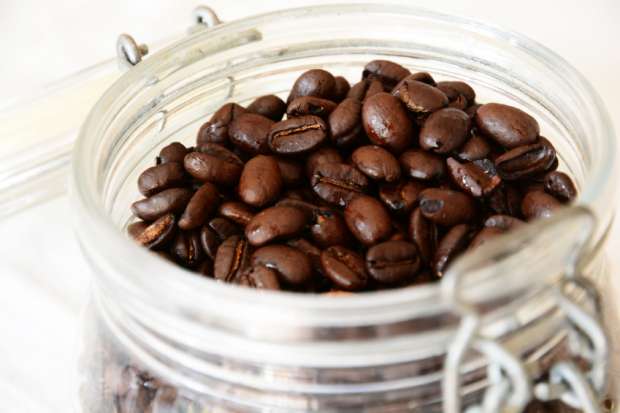 Also, while stale coffee lacks any flavor, freshly ground coffee features incredible and wild flavors that will leave you speechless.
It's said that coffee stays fresh for thirty minutes after it is ground while whole coffee beans remain fresh for up to three weeks after being roasted.
Now is the time you stop wasting your time and money on stale coffee. Get yourself a quality coffee grinder and start enjoying freshly made coffee every day.

You can use any coffee brewer you want
You should not be limited to a single type of coffee maker. You should be able to try out all sorts of coffee types and make them in all sorts of coffee brewers.
Pre-ground coffee always comes as single grind size: fine. However, not many coffee makers work very well with coffee beans ground to this size.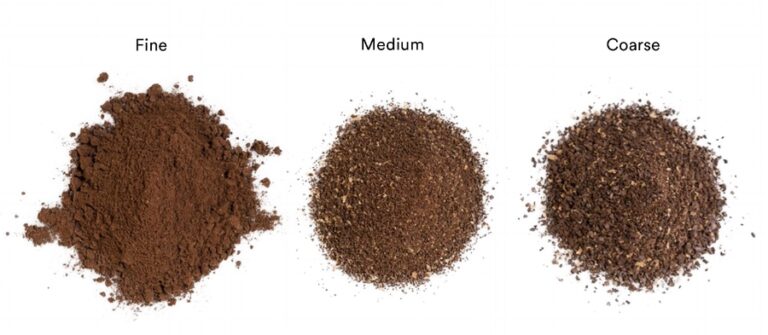 The French press, for example, works the best with coffee beans ground to a coarse size.
This grind size works perfectly with the mechanics of the French press. If you try to use fine grounds, you might clog the metal filter, resulting in brewing bad coffee.
A coffee grinder will let you adjust the grind size so it compliments your coffee brewer.
If you notice your coffee is acidic and doesn't taste well, you have probably under extracted your coffee.
So, if you want to extract more from your coffee grind it at a finer setting. This will help speed up the extraction of your next cup of coffee.
If you notice muted flavors and rough bitterness in your cup of coffee, you have probably over extracted your coffee. In order to extract less, simply adjust your grinder to grind to medium or coarse grind size.
Stay with us as we are about discuss the differences between manual and electric grinders…
Are manual coffee grinders better than electric?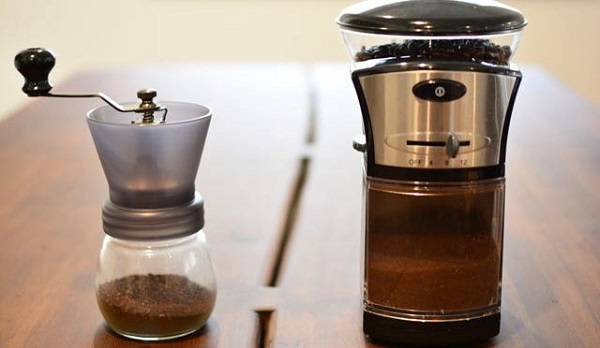 One of the most common questions every home coffee brewer asks is; should I get a manual or electric coffee grinder?

If you are looking to buy a coffee grinder, you are probably asking yourself the same question. No worries, we will help you out with making this important decision.
Manual coffee grinders can be quite small as they don't have any electric components. Most can be held with one hand and cranked with the other.
Manual coffee grinders are also more durable than their electric counterparts as they are incredibly simple machines.
However, this simplicity comes at a price. You will have to use your muscles to grind coffee beans.
Although grinding coffee manually is not a difficult task it is not quite as easy as pressing a button on an electric grinder.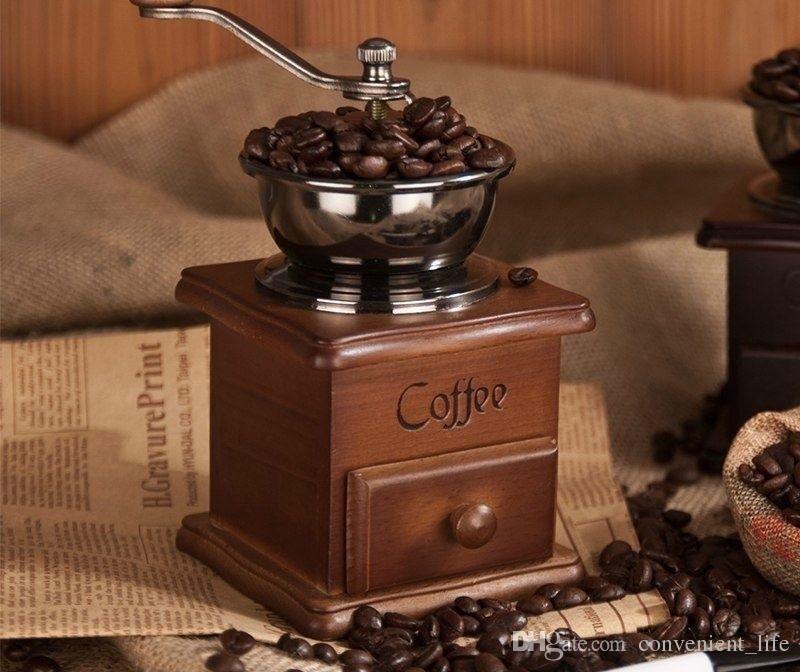 Electric coffee grinders can do the job faster than their manual counterparts. Electric grinders also offer more grind size settings.
Some high-end electric grinders have over 40 grind size options that range from espresso to French press.
It is also worth mentioning that some electric grinders can dose ground coffee according to weight, saving you your precious time.
To find out more about the differences between these two types of grinders, please watch
Next, we bring some factors you need to take into consideration before buying a coffee grinder…
What you need to consider when buying a coffee grinder?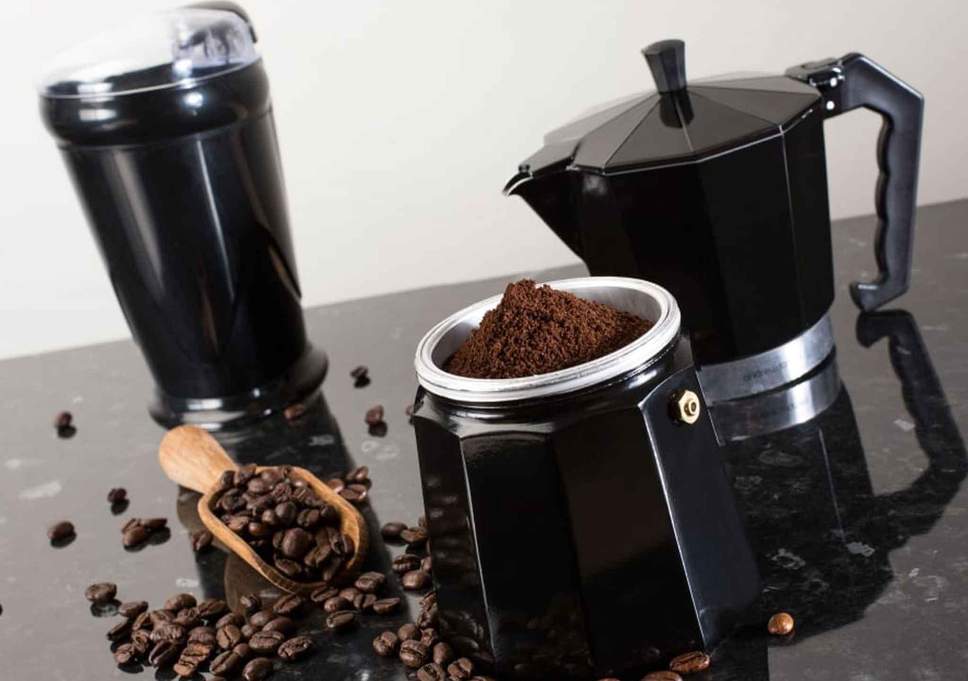 Grinders have differences and when you're comparing grinders, these aspects will help you choose a better one, or even find exactly what is a grinder capable of even before testing it out.
Here is what you need to take into consideration when buying a coffee grinder:
Capacity
Grind Settings
Dosing
Speed & Build Quality
Grinder Type - Burr or Blade
Capacity
Most grinders come with a certain amount of coffee they can hold for each grinding process you do. Every coffee enthusiast knows that the freshly ground coffee is the best one, capacity might not be a crucial key for some people when choosing a coffee grinder.
You even don't need a high-capacity grinder if you only grind coffee occasionally for you and a few other people.
But if you are looking to make coffee regularly for more than a few people, having a grinder with large capacity will save you some time from refilling the grinder often with new beans.
Grind Settings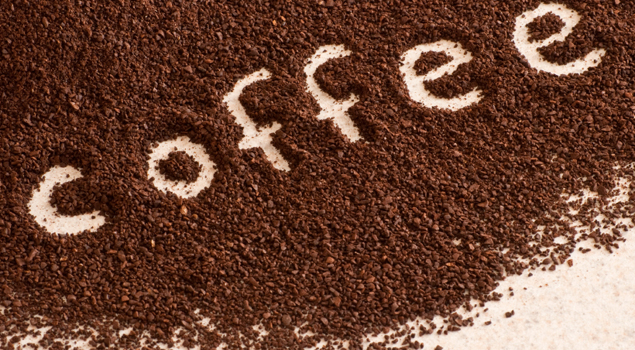 It's not a secret that different coffee types require a differently ground coffee. With that being said, if you're a fan of various coffee types, you'll want to find a grinder that can grind well for different coffee types.
But on the other hand, if you only care about making your favorite Espresso, you might get a grinder that excels at grinding coffee beans for Espresso style.
Stepped grinders offer a number of settings you can choose before grinding the coffee beans, while stepless grinders come equipped with more options where you simply choose a general range.
Dosing
While there is a debate going on whether a grinder with a doser is better than a grinder without a doser, there's one thing we know for sure.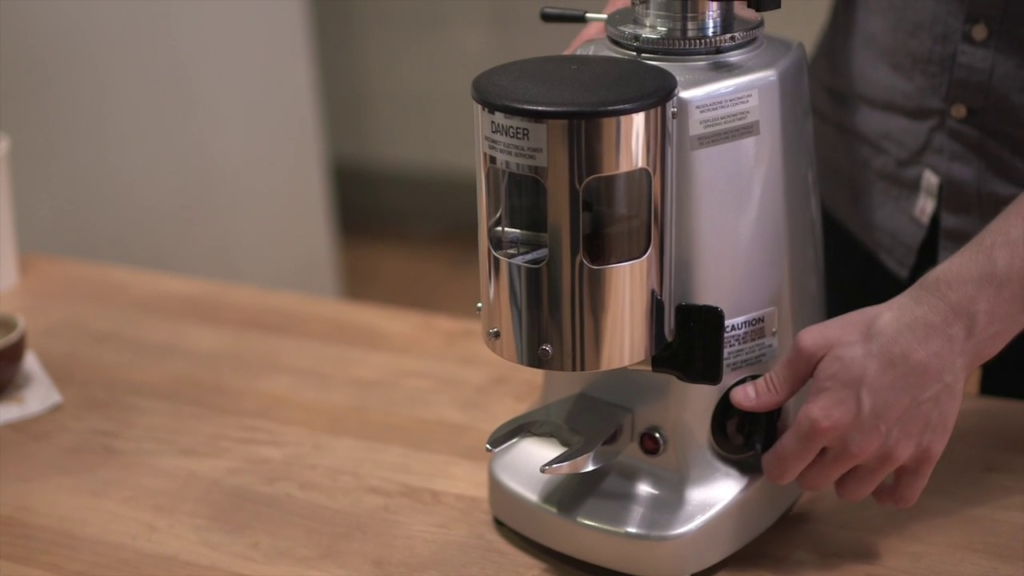 Grinders with doser distribute the coffee into smaller chambers (which offer the consistent & exact dose), however, they let the coffee sit in there which might lead to loss of freshness.
On the other hand, doserless grinders dispense the grounds more directly, which leads to fresher coffee with a bit more mess to clean up afterward.
Speed & Build Quality
While most people without a lot of experience might be sold by "quick" grinders, it can actually be a negative side of a cheaper grinder.
Grinders that offer higher speed, use a lot more energy and get heated up quicker, which only leads to a shorter lifespan. Such grinders have higher chances of burning the coffee during grinding, too.
Therefore, looking for grinders which grind in a lower range of speeds will eliminate all of those problems and actually offer a better coffee.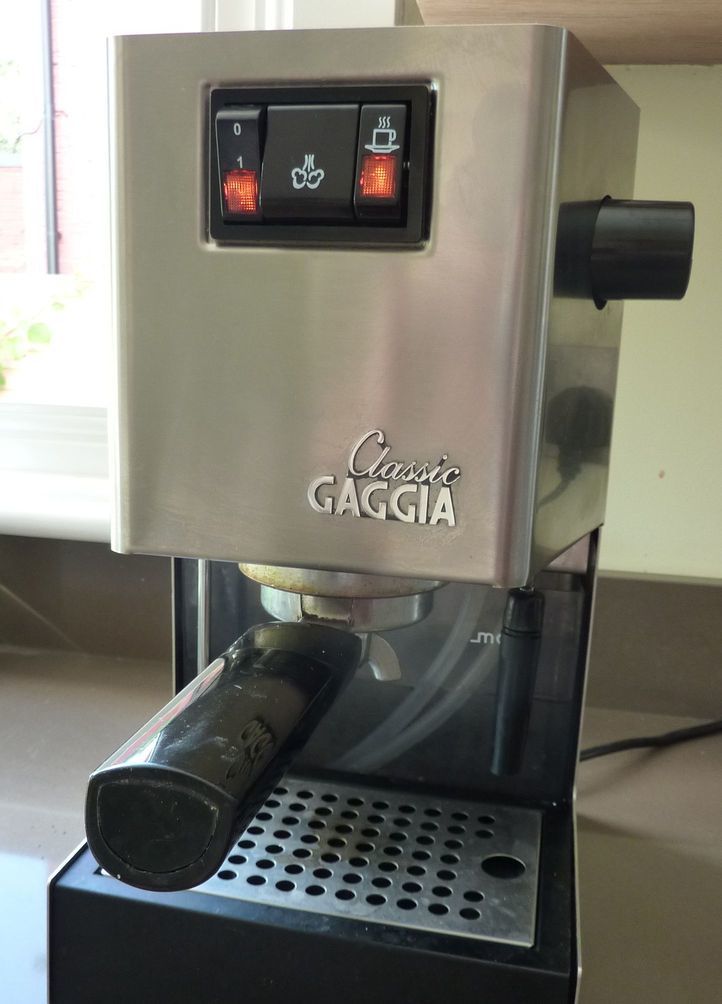 Purchasing a quality grinder is an investment, and build quality matters since you want to know what you get for the price you pay, and for how long will the grinder last.
Paying attention further than just aesthetics, you should look into the materials used to build the grinder, the amount of noise it produces, how easy it is to clean and maintain the grinder, and how well is heat distributed.
These factors will give you a hint on the durability and the build quality of the grinder.
Gathering such information can help you find out if the price is worth the quality, and if the grinder will last for long.
Grinder Type
There are two main grinder types which are blade and burr grinders. Stay with us to find out what the difference between these 2 types is and which type you should get.
Next, let's discuss the differences between burr and blade grinders.
What's the difference between a burr grinder and blade grinder?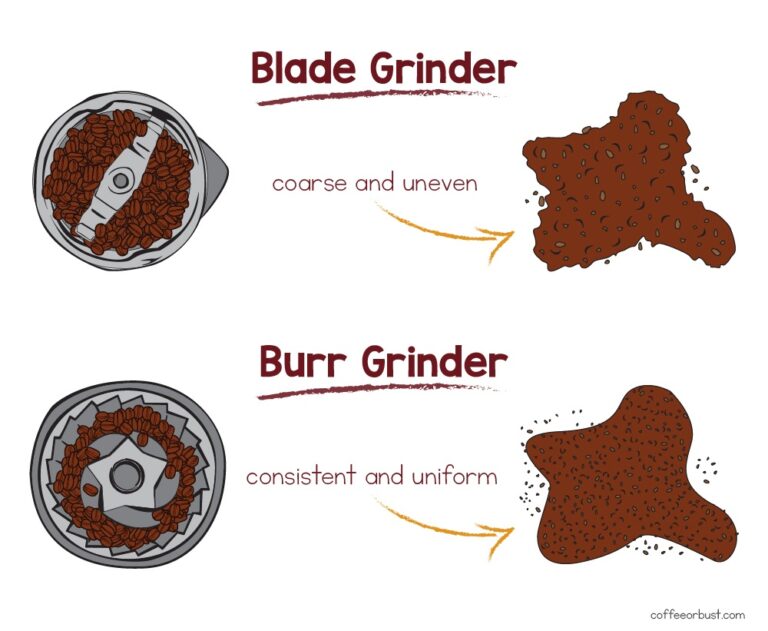 Blade Grinders
Blade grinders are most of the time manual grinders and they're a popular choice because they're very cheap - however, they're cheap for a reason.
Every coffee enthusiast will tell you to stay away from blade grinders since they are inconsistent and if you use them for too long, you even risk burning the coffee.
Blade grinders have one or more blades that look like propellers, similar to those found in blenders. When turned on, these blades start revolving at high speed, mixing and chopping coffee beans.
Blade grinders are usually much faster than burr grinders. However, the resulting coffee grounds can sometimes be uneven in size, affecting the quality of your coffee.
Burr Grinders
Burr grinders are considered to be the best type of a grinder when you're looking to get the best flavor out of your coffee beans, and they're supported by the experts and professionals worldwide.
They're also very consistent, producing the particles of the exact same size, and consistency is just one of many factors of getting the best cup of coffee.
Burr grinders have two or more burr pieces that funnel coffee beans through the grinding area where the beans get ground to a fairly uniform size.
There are two sub-types of burr grinders which are flat & conical grinders.
Conical grinders are a bit more affordable and stay quieter, while flat burr grinders cost more but are better at producing consistent particle size.
Although blade grinders are cheaper, we suggest you spending some extra money in buying a burr grinder as it will let you adjust the grind size, get an even grind, and preserve coffee's aroma.
Ready for the reviews? Let's start…
Top 10 Best Under $500 Coffee Grinders Reviews
Baratza Virtuoso - Link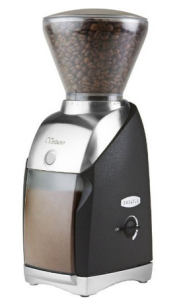 In terms of its form, the Baratza Virtuoso coffee grinder has a very pleasingly rounded look, or you might even call it "organic". Even the hopper has a rounded appearance.
The Baratza Virtuoso has a mix of steel and hard black plastic, and the overall presentation here is that of a cool, calm, and collected grinder that looks like its ready to take on any job you give it.
But that's just the looks, can it handle the action?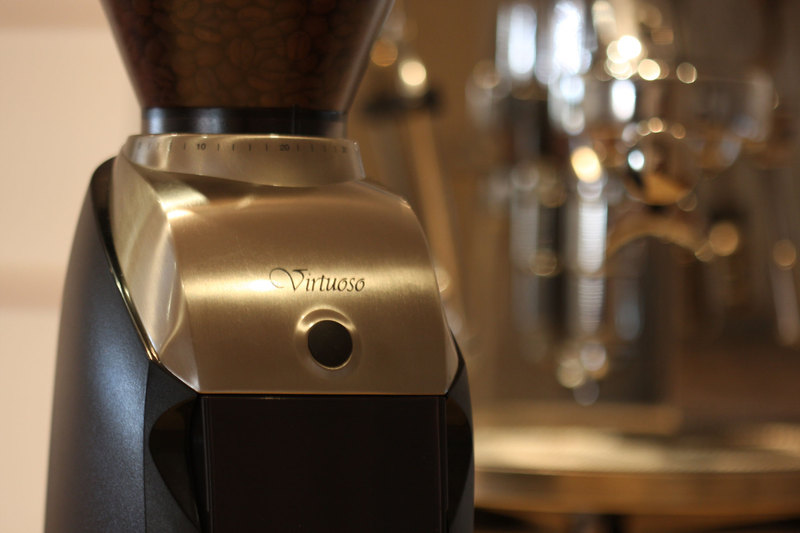 Grinders at this price ought to have a certain type of burr that will allow it to control the grind of your beans effortlessly, and sure enough, the Virtuoso has that - as in, professional-grade, conical steel 40 mm burrs.
As the price of a coffee grinder goes up, we expect to see bigger burrs, and 40 mm is nothing to scoff at for a home grinder.
The conical burrs on the Baratza Virtuoso also use a precision mounting system to increase grinding accuracy, which also lends to a smoother and more consistent grind.
The Baratza Virtuoso actually uses a few different in-house technologies to achieve their renowned smooth & consistent grind, making them one of the coffee industry's go-to grinders.
If you have the timer set for a longer grind time, the high-torque, DC motor along with Gearbox 2.0, keeps the RPMs down to 450, meaning less heat and less static build-up.
Therefore, how long should I grind my beans will never pop up in your mind again.
With this particular grinder, Baratza's Gearbox 2.0 offers re-tooling of their grinder drive transmissions to increase power and durability, while also keeping the grinding cool and slow.
Check out this review video on the Barazta Virtuoso (starting at 2:28) to get a closer look at the unit.
In terms of how the grinder is laid out, it's fairly simple. On the right side of the Baratza Virtuoso we have our timer, and on the front of the machine, we have our grind-on-demand button.
Some people prefer more buttons, knobs, and dials to play with, while others like simplicity. That's what this coffee grinder is all about.
The hopper and grind receptacle are both UV-protected, which means you can leave beans and grinds in there slightly longer without having to worry about the freshness of the coffee beans.
Not a substitute for a good airtight coffee vault, but a nice add nonetheless.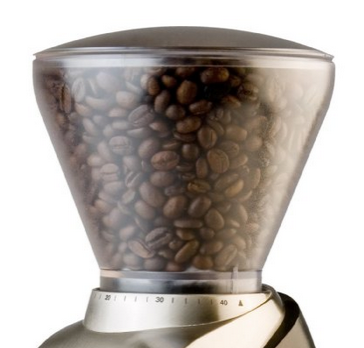 When it comes to cleaning, getting inside of the machine is as simple as removing the hopper to expose the dust shield and upper burr.
From there, you take your small espresso brush, vacuum, or whatever you normally use, and do your maintenance. After that, the reassembly is fairly straightforward.
Again, we do enjoy the effort put forth by Baratza to keep things simple enough for even us, non-mechanically-inclined folks when it comes to using and maintaining the Virtuoso.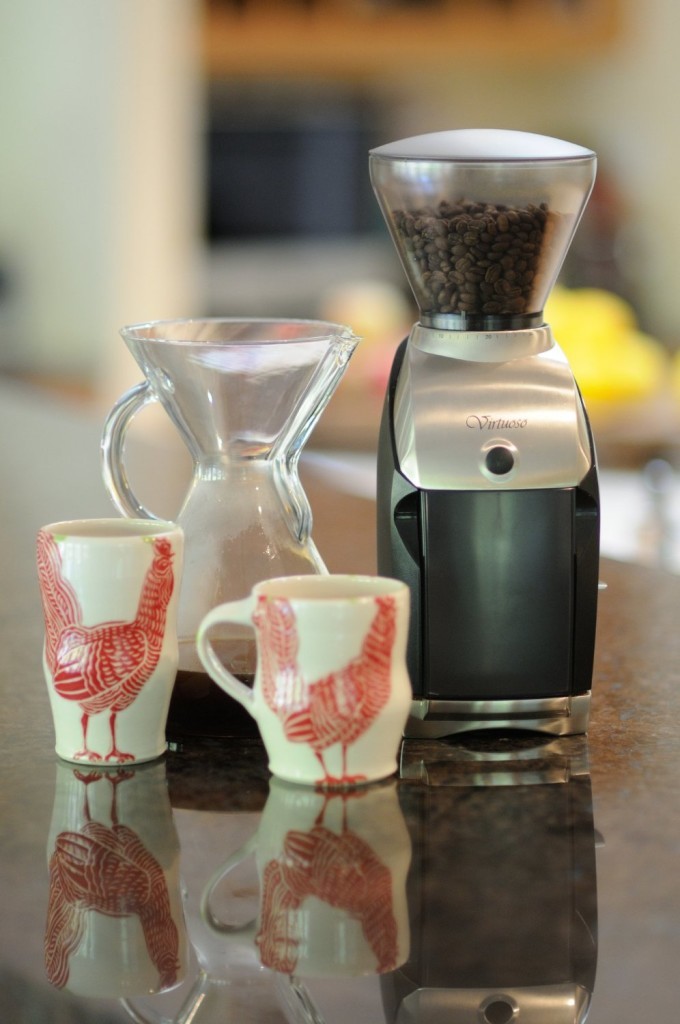 There are 40 grinder settings to play with here, but no micro-adjustments.
With that being said, for the home user, 40 is a good number of grind settings for all your desired grinds, from French Press to espresso.
This is called stepped grinding and, generally speaking, most users only stick to a few specific grind settings to make their favorite brews, but having 40 settings gives the grinder a nice versatility.
You never know when you might be up for an experiment coffee recipe.
That said, the Virtuoso is generally closer to $200 than $500. Closer to $500 is where we start seeing more micro-adjustable grinders, which we will be talking more about later in this review.
Overall, the Baratza Virtuoso is a sturdy, easy to use, and aesthetically pleasing coffee grinder, you will love to have on your kitchen counter.
Grinds are consistent, the operation is smooth, plus Baratza has great customer service. There is also a one year warranty in case something goes wrong.
Next, we review ever-popular Gaggia 8002 MDF…
Gaggia 8002 MDF - Link
Gaggia is an Italian company and it makes professional coffee machines, including this piece of work, the 8002 MDF coffee grinder.
Its what you might call "swanky" - the type of grinder that you'd see in a posh Italian café.
We mentioned dosing earlier, and the Gaggia 8002 MDF has a doser included and so this is definitely one of the highlights.
This grinder may not be steel, but it is made from impact-resistant hard black plastic, and so it is quite durable.
For those looking for steel, this may not be the one for you but we still think its a beautiful & sturdy machine.
Once again, we are talking about a grinder which is closer to $200 than $500, the grind settings are "limited" to 34, which isn't a small number per se, but, again, this is not a micro-adjusting machine nor a stepless machine.
Plenty to work with though, if you are wanting to try out different brew styles!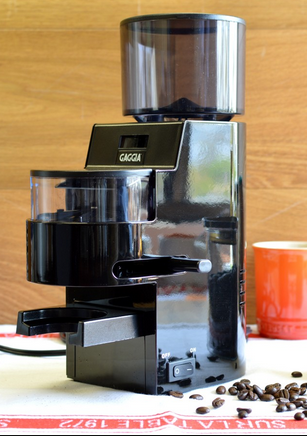 The dosing chamber on the front of the Gaggia 8002 MDF allows the user to pre-measure out the grinds going into the porta-filter by pulling little black handle on the right side of the machine.
This can be seen and is done in the true espresso grinder style of more expensive machines like the Macap M4.
Now, because this isn't a super high-priced grinder, Gaggia is leaving a few things up to you, such as purchasing a decent porta-filter.
There's a porta-filter holder, yes, but not a porta-filter. This isn't exactly meant to be a tease, because none of the grinders we're listing come with a porta-filter, so it's a standard with the models under $500.
Generally, that is something to be purchased by the user on its own, like a quality tamper.
Still, the holder is there, waiting for a tamper, so you'll be needing one.
Especially since there is a dosing chamber, which is something you'd get for dosing out espresso shots, and again necessitating a porta-filter.
We ought to mention that the Gaggia 8002 MDF, since it has the dosing chamber and the porta-filter holder, basically is saying "I am an espresso grinder, use me for espresso!"
Because you actually are required to use the dosing chamber, this grinder really does make the most sense to be used as an espresso grinder, as that is what it's set up for. But of course, you can use it for any breed you want.
In terms of durability, many users have reported their Gaggia 8002 being "in the family" for upwards of a decade, so this machine really does offer quite a lot of bang for your buck as you invest under $300 and you keep it for a decade or so.
Not bad, but not too surprising either as Gaggia is one of the old hats in the coffee world and they've been around for long because they know what they're doing.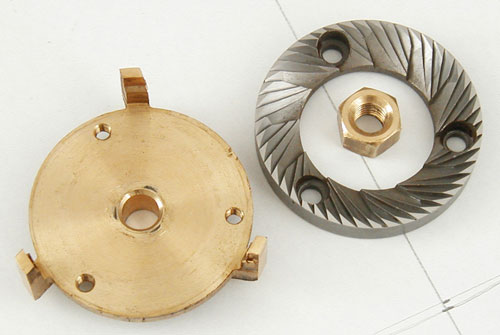 Part of the reason it is such a workhorse is due to its 50mm flat tempered-steel burrs which go hard at work inside the unit.
These powerful burrs, with the help of its 120 watt motor, gear reduction system (they don't call it a Gearbox, but essentially is the same thing).
And, the Gaggia 8002 MDF ' s overall interior design workmanship, made for a slow, steady, low-static cool grind are some of the reasons for its great consistency.
It's a fact which many owners of the Gaggia have expressed their appreciation for over the years.
The unit comes with an 8 oz ground coffee container, which you can vacuum seal to keep grinds fresh. There is even an air removal pump to make sure the container is air-tight.
It also looks nice, plus it comes with a one-year warranty and has a relatively small footprint in your kitchen. It's a coffee grinder full of features & surprises that offer a quality grinding performance.
Onto the next one…
KitchenAid Pro Line - Link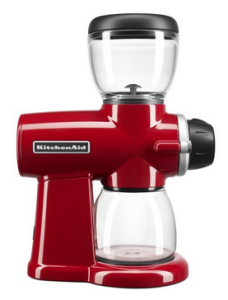 With this KitchenAid Pro Line steel burr grinder, we see a fairly large increase in price from the last two grinders we reviewed.
A leap like this one would hope would have some great features to go with it. If you aren't on a limited budget, you must be excited to dive in and take a look!
So what do we get in return for our hard-earned money with this grinder?
Firstly, we get easy-to-clean, die cast black steel construction, which is certainly a cut above plastic in many ways, no matter how durable the plastic can be.
In addition, both the hopper and the carafe are very roomy, plus they are made of pyrex glass, which adds to the KitchenAid Pro Line's stylish look.
Additionally, it's even heat resistant which just adds up to the list of luxurious benefits this grinder offers.
But this also contributes to the less static build up, while the previous grinders we looked at had to use special plastics to avoid the static.
Here, with the KitchenAid Pro Line, static just isn't a big deal because they used better materials that are naturally static free. Considering the price, it's a totally justified upgrade that's worth the money.
However, there's something you should be cautious about. We have to recommend you to be very careful around the glass material - since there is a lot of glass involved in the design. One false move and the glass components of this grinder are history.
It would be a sad day, but really, it's like anything fragile that we own so we can't really fault KitchenAid for using glass when it looks this nice. (Still, be careful!)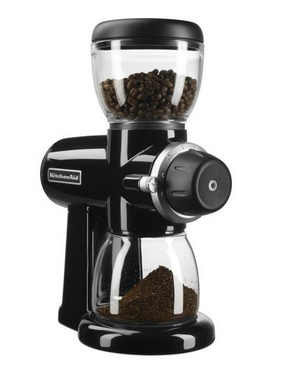 In terms of performance, the KitchenAid Pro Line provides a consistent grind time after time, from coarse to fine. If you keep asking yourself the same old questions, how fine should I grind my beans for? - this grinder is ideal for you.
It has 15 grind settings, which to some might seem very limited when compared to the previous two units, but it does what it does very well, and still offers some plenty of versatility.
Technically, there are fewer grind settings than both the Baratza Virtuoso and the Gaggia 8002 MDF. But one thing is for sure, this is not a stepless unit.
At 10 lbs, the Pro Line is built to last and while the glass components are comparatively lighter, we have to admit that the main body of the unit is a bit of a hulk.
Users report that this unit can go for well over a decade if taken care of well, with many people reporting that they're just as good as the day they were purchased at the 10-year-mark, which is quite impressive.
Plus, you get a two-year warranty, and KitchenAid has a great reputation with regards to their customer service. Unlike some other grinder manufacturers who haven't been in the coffee game as long.
Because this is a "Pro Line" product, even after the warranty expires, you still get special treatment because once you go for the Pro Line product - you become a part of the family.
The word among users is that this is a drip coffee grinding machine. Espresso, even though it can be done, isn't so much the focus.
The KitchenAid Pro Line does come with a detailed instruction manual for recalibration of the burrs, so if you really want to fiddle with it, you can.
That being said, if you are an espresso fan but not so much a fan of taking apart grinders, we might suggest looking for another grinder.
As we said, it does have 15 settings but its forte is really a drip coffee.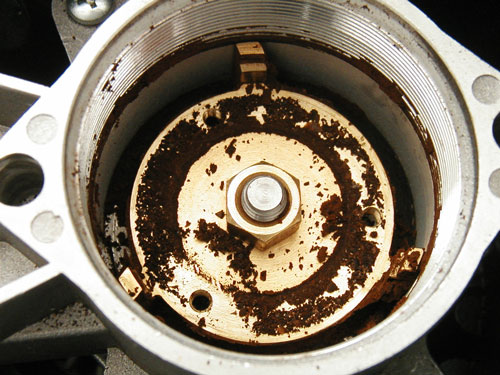 Another great thing about this grinder which is particular to the KitchenAid Pro Line is that KitchenAid has designed it in a way where the motor and heat is kept separate from the burrs.
The metal housing has holes on either side which act as a cooling mechanism, and that means the coffee grinds at a cooler temperature, resulting coffee with a fully retained natural flavor.
This design is rather ingenious and we've got to hand it to KitchenAid here.
One of the many things we really like about this grinder is that while other grinders are "kind of" quiet, this one is actually rather quiet when it does its job.
So, if "quiet" is one of the main things you're looking for, you'll find it with the KitchenAid Pro Line coffee grinder. You never know when reduced working noise might be useful.
Overall, yes, this is one of the more expensive models, but we do think that its worth it for the value KitchenAid offers here with their Pro Line coffee grinder model.
Next, we review Baratza Vario…
Baratza Vario - Link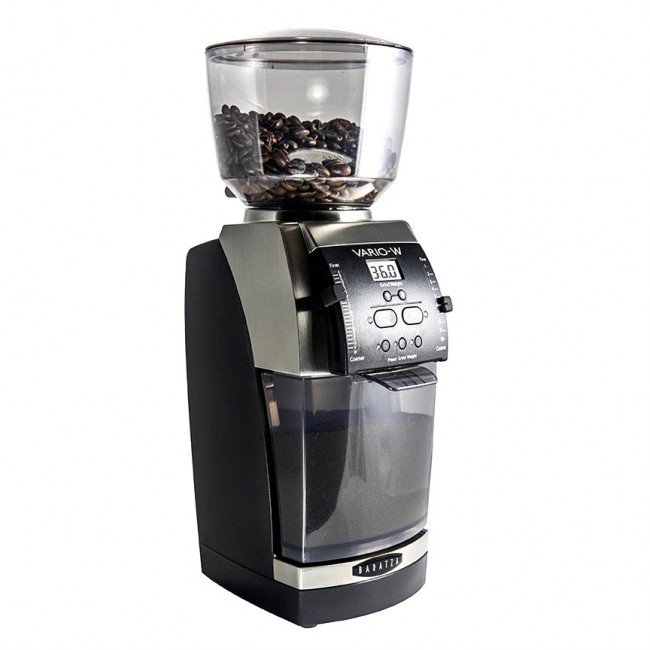 Here we have yet another Baratza coffee grinder. This time its the Vario, model 886, which is an updated model (from the 885), and it's definitely a popular one.
The Baratza Vario grinder is a real gem, and so we'll just gloss over its impressive appearance for a moment and mention that it has 54mm Mahlkönig ceramic burrs.
If you're in the coffee business, you may know the name MAHLKÖNIG is one of the finest German coffee companies, with their coffee grinders being extremely heavy duty and quite expensive.
You can think of them as commercial grinders, yet they feature a few models suitable for home use.
As such, users report consistency of grind with this unit to be top notch, putting the Vario in a whole other class of grinders where consistency is unquestionably great due to its especially large burrs.
The high-torque DC motor for the Vario 886 is belt-driven, which means its all-around cooler when it comes to grinding.
The larger ceramic burrs are also super efficient, cool, and offer a slow grind, which ultimately does favors for the flavor of your coffee and/or espresso.
The technology used here is extremely well-built, so we're talking a very long lifetime for this grinder.
Add to that the Baratza Vario grinder has 230 grind settings, which are extremely precise and allow for a consistency of grind that will blow you away.
It's the next best thing to a stepless grinder, and you will definitely notice the difference that having this much flexibility and micro-adjusting can make with your cup of coffee.
So whether you are a fan of espresso, drip coffee, or French press, the Vario 886 can more than handle the job and not break a sweat.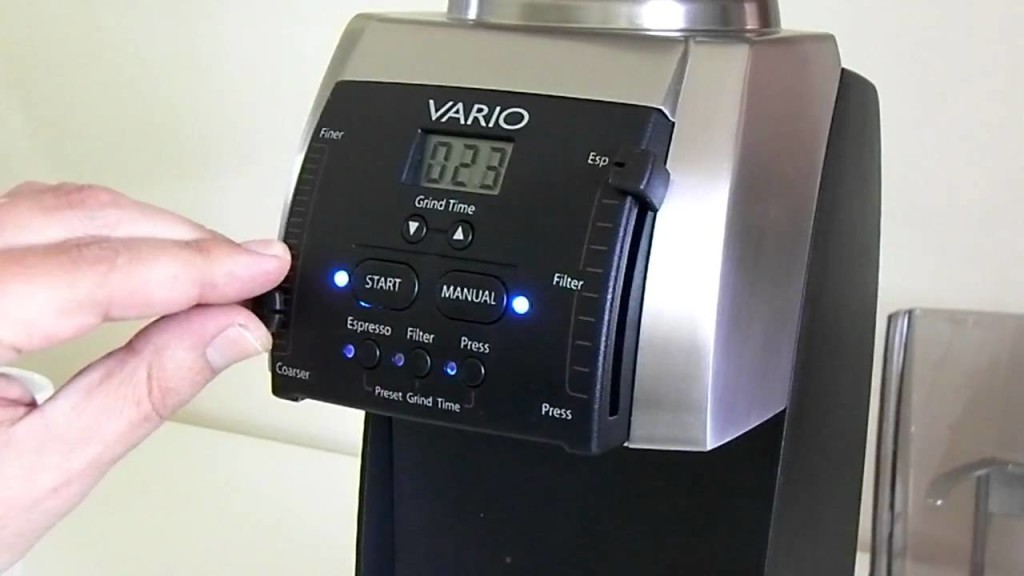 Back to the look of this grinder, which we initially skimmed over. We think it is quite a nice looking model, offering a smaller footprint on your counter.
It has a good amount of metal casing on display, but there is a fair bit of hard plastic too.
However, the Baratza Vario grinder is designed to be very functional, more than anything, and so we can forgive it for not being a big hunk of metal, as it focuses on the functionality of grinding and so it needs all of those plastic components for a reason.
Here's a quick look at the Vario in action…
Another great feature that Baratza Vario grinders possess is that they are quite programmable, with a timed dosing feature, as well as several other functions thanks to the computer that you see on the front of the unit.
Once you get the hang of how to operate this grinder, its perfect for basically any job you give it.
The shots are always delicious and the adjustable up-and-down porta-filter holder along with the Baratza signature porta-filter (included this time) make the one-touch dosing a snap.
People do complain about this machine, believe it or not.
One qualm that seems to be frequently mentioned is the display which is hard for some people to read on this machine if they are not precisely at eye level. We must admit and yes, we agree, it's a bit annoying.
Another thing lacking in this grinder is its lack of locking mechanism on the hopper. This is when you can take the hopper right off the grinder without the beans spilling everywhere. For this price, it would be nice to see, but alas.
Back on the bright side, with Baratza, the customer service is consistently excellent. There is a six-month warranty with the 886, which really isn't that long, but luckily, this grinder is exceptionally well made so its not such a huge concern.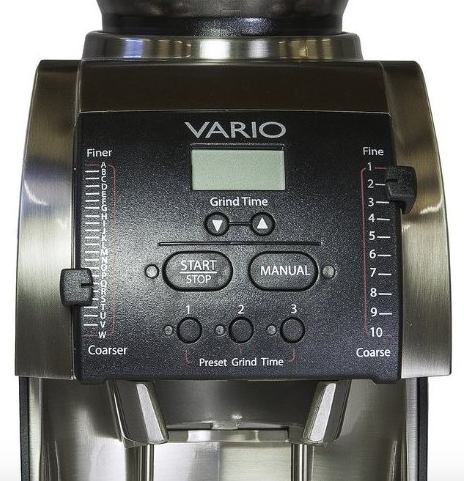 Ultimately, we think that the Baratza Vario 886 is a versatile, sophisticated, and durable machine that grinds consistently for any type of brewing method you'd want to use it for.
It has a lot of features which make grinding easy and dare we say fun, like the hands-free, one-touch grinding, porta-filter, adjustable porta-filter holder, automatic dosing, and even a grinds bin for storage.
The heavy duty is where it counts without having too much of a huge footprint in your kitchen. Needless to say, it's very easy to store & easy to clean.
Its best feature we think is the number of grind settings, which basically trounces each grinder we've featured so far, but when you look at the price tag, it all makes sense.
Definitely one of the best burr grinders on the market for under $500 right now.
Rancilio Rocky - Link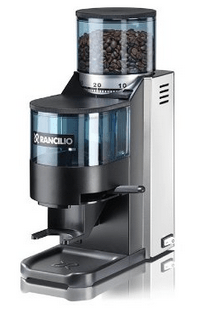 The good looking, ever-popular grinder you see on the image is Rancilio Rocky. For those who are well versed in the art of coffee grinding, seeing the Rancilio Rocky here on this list is no big shock.
Why? Because this coffee grinder is simply known for being the Italian Stallion of grinders, and a real go-to for coffee aficionados everywhere.
Let's talk about the fact that this doserless grinder has a very short path between the 50 mm commercial grade steel burrs and the blue-ish chute which dispenses your coffee directly into your porta-filter.
That means there is less nonsense with beans or grinds getting stuck anywhere in the mechanism.
A quick tap-tap to your machine and you're all-clear and good to go again. This grinder has the ability to grind up to 7.7 lbs of beans per hour, as Rancilio says.
Might be a lot to most people, but in case you need that much coffee for some reason, this is the must-have grinder you should have.
This propensity to grind is maybe more of a commercial grinding feature, but suffice it to say that if you need your grinder to have oomph, the Rocky has it in spades.
At 18 lbs, this is no lightweight machine. It is built to impress, and that's generally the spell it casts on people.
It's hefty and extremely solid, but also looks classy. The Rancilio Rocky has been in the coffee game for a long time now, ever since the 1920s, and its a trusted name in the industry.
It almost goes without saying that having a Rancilio Rocky coffee grinder on hand will take your coffee making status among friends and family to a whole new level; or at least, the possibility to do so is most certainly there.
The operation of this machine is equally heavy duty, with its direct-drive, 166-Watt motor giving you plenty of power at 1725 RPMs.
You really get the sense that this machine could be in your favorite coffee shop as it could on your countertop, so having one at home is like having a special guest.
When it grinds, the motor runs cool due to ventilation holes on the sides of the machine.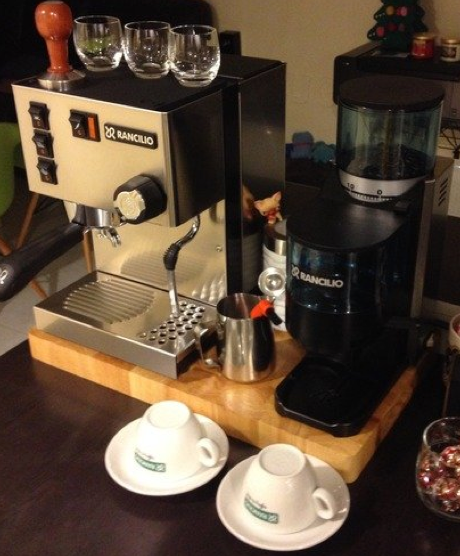 Adjusting the grind is really easy as well. Just unlock and turn the tinted bean hopper and away you go.
With 40 grind settings, there's plenty of leeway to get a great espresso setting, french press, or drip.
Granted, it's not as precise as the Vario 886, but you can still get grinds fine enough for great espresso without too much effort.
The hopper is roomy with a 0.65 lb bean capacity, and fairly easy to clean, although it is non-removable.
In fact, the Rocky, in general, is easy to maintain, and it is another one of these high-quality grinders that, if you keep it in good working order, it will last you a good decade or more.
It also has a 2-year warranty in case something happens, so you have nothing to sweat about.
In terms of grind quality, the Rancilio Rocky coffee grinders are renowned for being able to deliver any type of grind you want, from coarse to espresso fine grinds.
It really does the full gamut of grinds well, which is one of, if not "the" reason, that we consider it the best grinder for the money you'll be spending.
Here's a quick video of the Rancilio Rocky in action.
Did we mention that there is also a dosing version of the Rocky? Slightly different, but the same great quality that's worth checking out.
We wanted to include it on the list as well, but its basically the twin brother and we prefer the doserless model ourselves.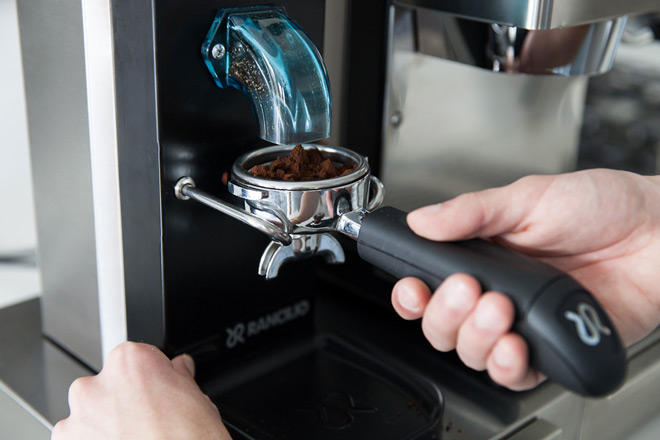 The porta-filter holder is easily removable, and there isn't much to it. It's just a metal bar, so it really can accommodate a range of porta-filter sizes.
Otherwise, you can just grind down into a vessel underneath the chute and grind on demand.
Underneath the porta-filter holder is a platform which is also removable but can snap easily back into place.
If you're doing french press or drip, it's easy enough to just set your receptacle onto this platform and grind on demand.
Once you've set the grind settings, its as simple as pushing a button with the Rancilio Rocky.
It's definitely on the level of professional coffee grinders, although we can't call this a truly commercial model because it isn't on the level of a Mazzer or a Macap. It's a home unit at heart, but a very good one.
Hold the phone, last minute entry coming through…
DeLonghi KG521 - Link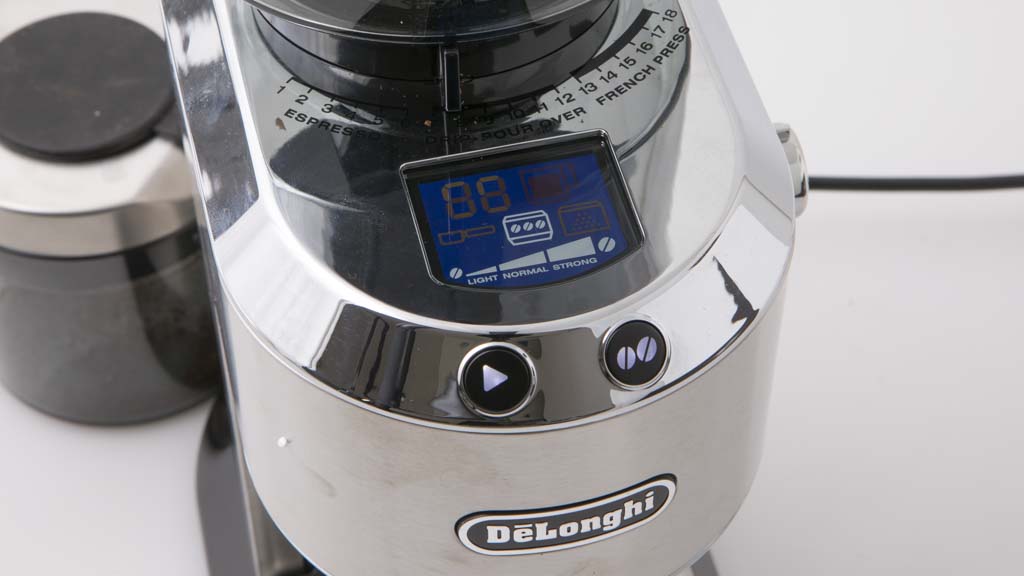 With so many well-known brands around, DeLonghi might be having a hard time to stick around, but every time they release an updated version of their coffee grinder, it's always sold massively and has a great success.
DeLonghi KG521 is one of the most popular DeLonghi grinders, and even though it doesn't even cost half of the price range we were aiming for this article - it is always ready to provide a full fragrance of freshly ground beans.
It's a conical burr grinder that is still reasonably priced since conical burrs are one of the most expensive grinder types out there, remember? Being a conical burr grinder, it's really well-built, aiming for a design that is effortless to use & even easier to clean and maintain, and lasts for long.
We weren't really surprised when we saw that this grinder has been made of stainless steel, since it doesn't only accompany its attractive look, but goes well with other features that make this grinder to really stand out from the crowd.
But even though DeLonghi KG521 grinder features a combination of a bit of an old-school design with a lot of modern aspects, it's definitely a modern device with minimalistic yet attractive solid looks.
People who love experimenting with coffee, serving coffee to guests and are proud coffee enthusiasts will love this grinder. It features 18 variable settings that allow the users to customize their grind for different coffee types. This ranges from espresso, drip, to coffee/pour over and French press.
Along with the plenty of options, DeLonghi added 3 strength settings to really make the grind as customizable as possible. This basically guarantees you a personalized coffee flavor, not just you, but for everyone, you serve a coffee you made.
What we were surprised with is the digital LCD display that is almost hidden in design, and it only visible when you're looking at the grinder from above. It really adds up to the design and the build quality in whole, and yet it has a lot to offer.
With a touch of a button, the whole use of this grinder from choosing the grind and number of cups to strength preference is made simple and easy. Such way of using really goes well with the whole DeLonghi brand and the authority this grinder has.
One thing you don't control with the help of the LCD display is the grind setting. A small yet sturdy leveler on top of the grinder controls the grind between 18 different settings.
What we really loved is the portafilter adapter that comes included. It makes things so much easier by allowing the grind directly into the portafilter. The portafilter is wisely integrated into the grinder and it can be found on the back.
Now, regarding its capacity, you can grind up to 14 cups in the portafilter and take it with you. That's brilliant for a number of occasions such as camping. But there's something even better, something we didn't know at first.
Alright, enough of tease! The portafilter includes airtight ability, so no matter how much coffee you store inside, it won't lose it's freshness that quick. Told you, very ideal for taking coffee with you!
And if you plan on grinding the coffee now and using it up to a day or two, you might not even notice the difference in flavor and taste. Airtight fit really makes wonders.
However, if you're wondering about the capacity of the actual bean hopper, it's somewhere about 12 o.z (350 grams). It's not a lot, but it's not limiting, so that's right in the middle.
It didn't take us long before realizing that DeLonghi KG521 is a perfect all-around grinder. When you consider the settings, the way it's been built, and additional accessories - it all makes sense, don't you think?
Going back right at the top of this grinder, the 18 different settings were wisely placed next to the burrs. When you remove the bean hopper, you get easy access to the burrs which means happy cleaning time.
DeLonghi has thought through every single thing about when it comes to design and using this grinder really feels premium.
Now, when we go back at the price and consider everything DeLonghi KG521 offers, it's very fair to say that this grinder offers a lot of value for the price it costs. Even better yet, this grinder is suitable to almost every coffee lover - no matter your favorite coffee type.
With the number of features combined with such successful design & build quality, it would be a real shame not to grab such deal - especially when it's on a discount. If you ever find it discounted, my advice would be to grab it and run!
If you find yourself to be lucky, it might be the perfect time to check the price and see how lucky your day is.
Breville Smart Grinder Pro - Link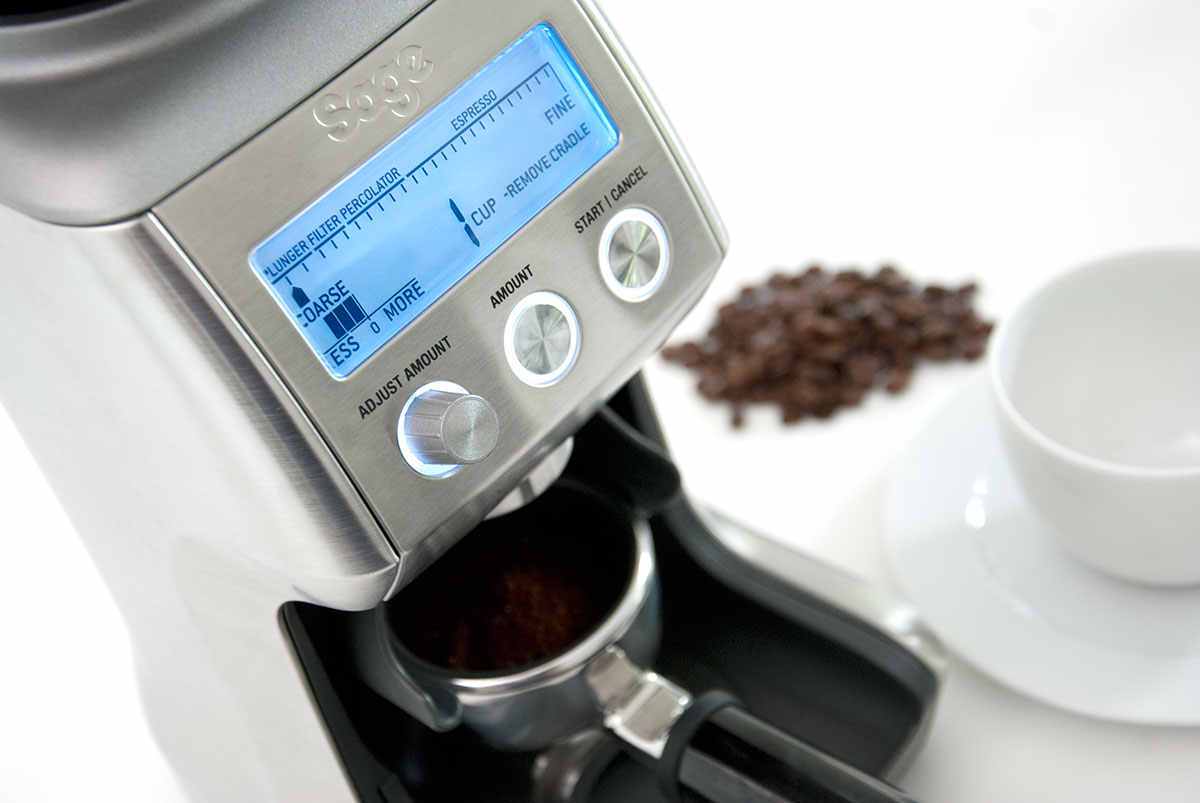 Even though Breville is one of the well-known brands in the world of grinders and there's no chance that a coffee enthusiast can't name at least a few Breville products.
Smart Grinder Pro is the most innovative grinder produced by Breville so far, featuring conical burrs along with a number of features to produce a variety of options for everyone's needs.
What really stands out is the wide LCD display at the front of the grinder with only a few buttons that are wisely placed in the stainless steel design. Considering the overall design, this grinder is fairly compact and can fit almost anywhere you place it.
It doesn't even weigh a lot, which is a plus if you're looking to store it after every use. But if you're worried about the style - you can rest easy knowing that Breville produced this model in red & black color, along with our favorite stainless steel finish.
Even though you can't see inside this brilliant grinder, the conical burrs featured are made to minimize the grinding heat which acts as additional protection against heat. Not only you won't have a negative grinding experience due to the heat, but you will never have your coffee burnt.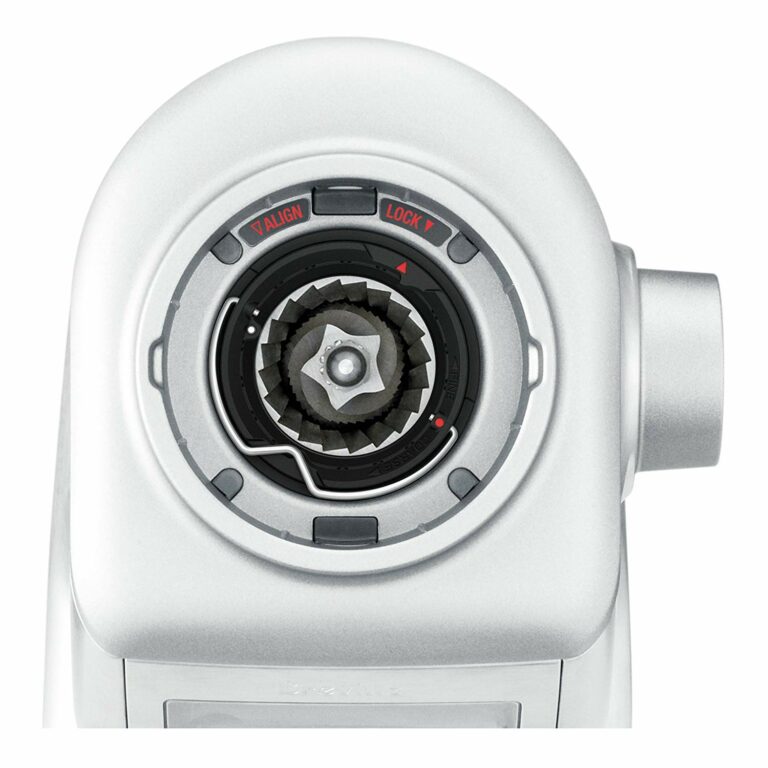 That's why especially this grinder makes a popular choice among coffee lovers who use only the best coffee out there.
Even though there are only a few buttons, believe it or not, this Breville Smart Grinder isn't called Smart for no reason. It features about 60 different grind settings which offer precision so you can grind coffee for the finest Espresso to the coarsest French press grind.
Along with a number of features, Breville featured a timer that allows users to adjust the grind time. We've played around with the timer and really enjoyed the consistency it provides with every grind.
18 ounces might not be a lot for the capacity but it's decent and is enough for grinding coffee on a regular basis. Just don't expect to grind the amount of coffee that coffee shops grind on a daily basis. On the bright side, the container features a very easy locking system that can be removed or attached in just seconds.
In case you're looking to transfer some coffee beans, this bean hopper can not only store but also transfer the coffee beans safely.
We've loved how this model allows you to directly grind into a portafilter, and what's even better is that a portafilter comes included. It's really easy to "free your grind" and enjoy having your coffee in an airtight container which will still preserve the coffee freshness.
While some grinders out there are suitable for one or two coffee grinds, if you're looking for versatility - you'll love using Smart Grinder Pro. Not only it does allow you to grind coffee more intelligently, but you still have plenty of choices.
Once you try out such digital grinder, our guess is you'll never want to go back to a manual grinder. And considering the price, this is a great buy since it's definitely the top model within its price range, and coming from a well-known brand is just a plus.
Baratza Encore Conical - Link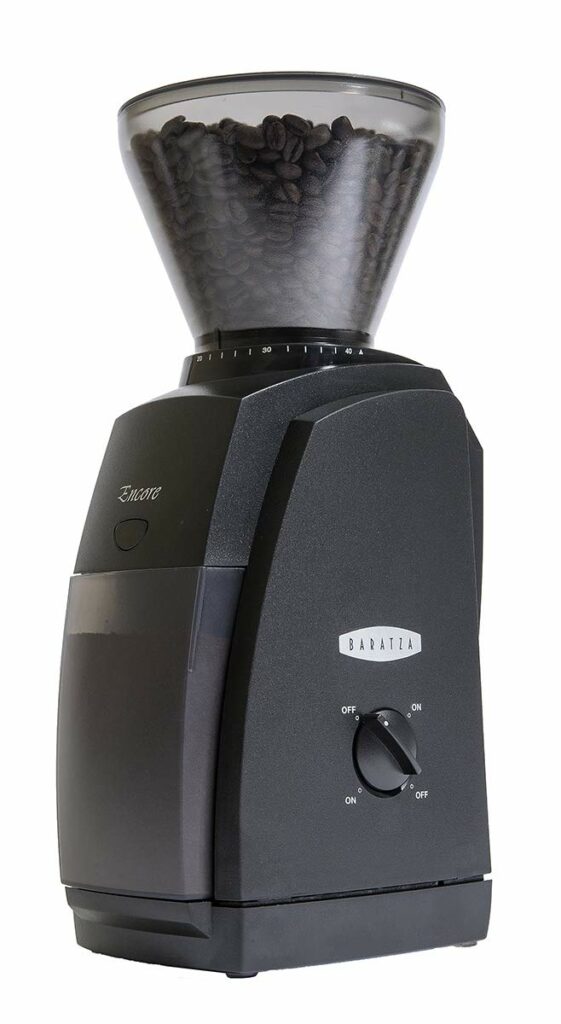 This is being the third Baratza grinder in this post so far, but if you're looking to find a quality grinder that will suit your needs and you aren't worried about the price tag that can sometimes exceed the usual price tag everyone's expecting - this is one of the best choices you can make.
To justify our choice of Baratza, all we have to say is that the Baratza grinders are award-winning grinders that are used by professionals all around the world, and they're actually common to see on competitions.
Now, if you're in a need of an entry-level grinder to practice, build your skills, and do so much more than preparing your morning coffee, Encore is a perfect conical grinder you can go with.
A lot of people think it's complicated to start brewing at home, yet this is a great example that shows how simple it is to get into grinding at home.
What we loved about this grinder is how straightforward it is. You can say that it features a very minimalistic design and there are only a few buttons after all - making it very easy to use.
We're really digging the minimalistic design that features only ON/OFF button and a front button that serves as a pulsating button. It's really great to back off from modern and smart grinders and yet have a grinder like this to go to, instead of going back to manual grinders.
However, what most people do is mistaken its power and versatility. We were surprised to find out that this compact and minimalistic grinder features about 40 different grind step settings! This doesn't put a limit on anything, and in fact, you can explore a wide range of brew methods.
We managed to grind coffee beans that were perfect for espresso, but we find this grinder to be suitable for manual brewing and even drip brewers.
Even though this grinder is small, it's mighty and it lasts for long. We've kind of expected this, coming from a Baratza brand, the Encore grinder is made of quality parts that make it last for long.
Once the grinder breaks, it's not destroyed. Yet, you can repair it as it's most likely that a part or two have worn out. Since the parts used are pretty universal, you get the chance to repair it at home or at the shop. While this might not be a case, it's nice to know that along with a warranty, you get the support of a brand saying you can repair the grinder yourself.
Now, when we go back at the price once again - considering this is an entry level grinder, the price still might be high for some coffee lovers, but considering the brand and the build quality, we think it's totally worth every dollar it costs.
DeLonghi Ariete - Link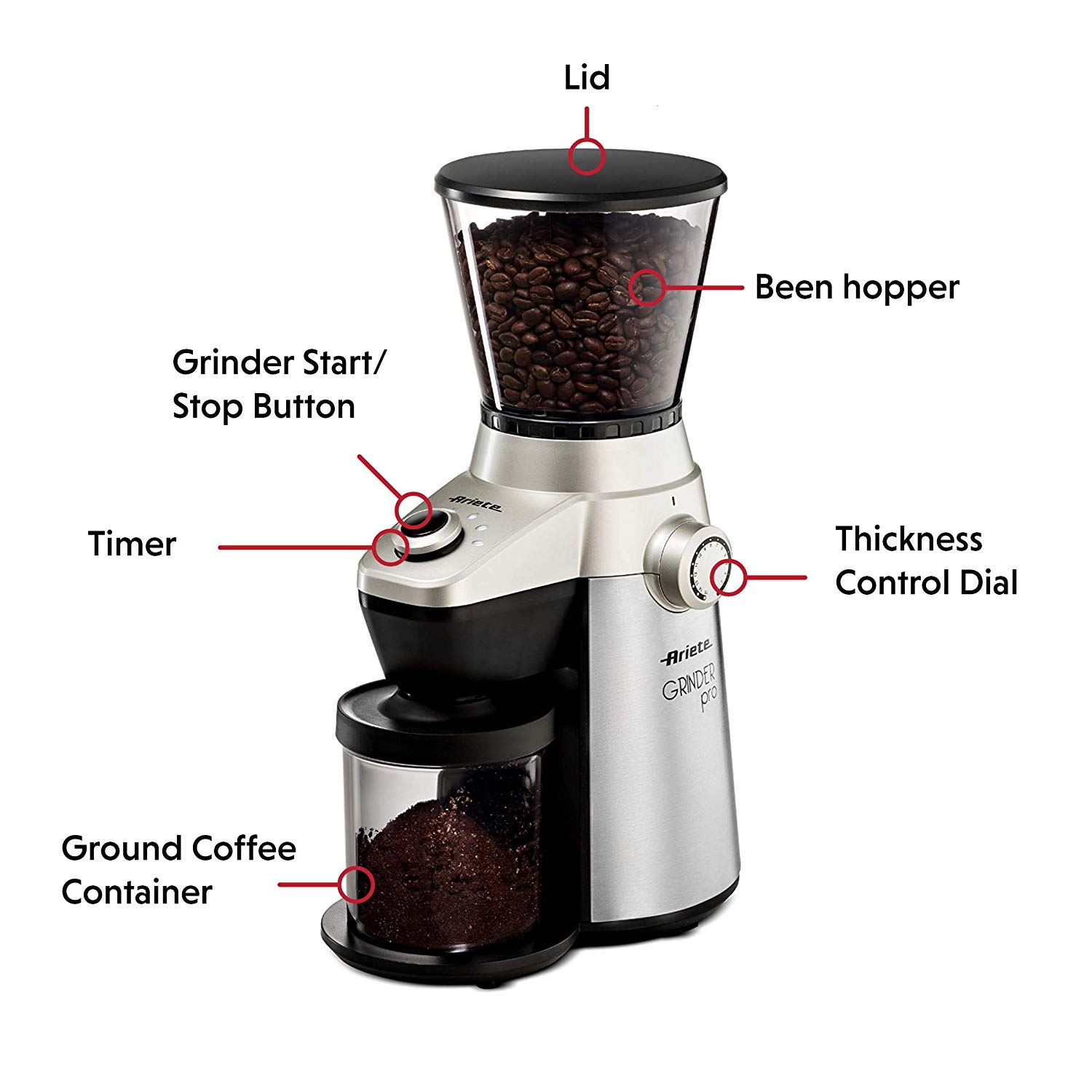 DeLonghi is a very famous brand when it comes down to coffee, and while they mostly excel at the coffee machines, they produce really great grinders too.
What's even better is that their grinders are very reasonably priced, and if your budget is preventing you from going for a grinder from a brand such as Baratza, DeLonghi is a great competitor that will do an almost as good job.
Personally, what we really like about DeLonghi brand is their innovative way of thinking and creating products, getting us very excited to try every single of their products. Needless to say, the DeLonghi brand was awarded and certified by Red Dot and Quiet Mark in 2007 and 2012, and they still continue to strive ever since then.
One of a few important reasons we chose to list Ariete grinder in this post is the heavy duty conical burr disc featured by DeLonghi, offering ultra-fine grind. While some grinders offer a wide range of grinding, it's sometimes hard to get an ultra-fine grind that's been achieved with this grinder.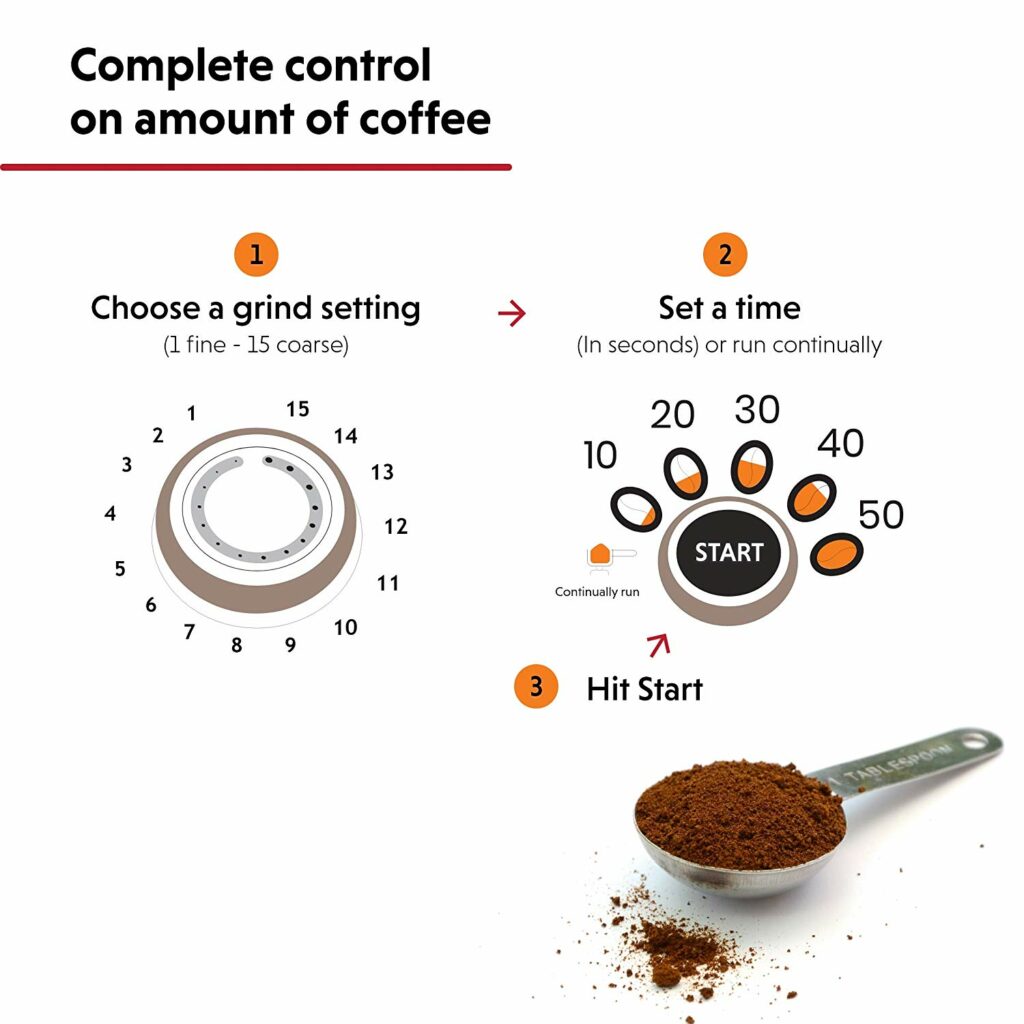 Such grind is perfect for fans of Turkish coffee and if you're in a need of a quiet grinder - Ariete grinder makes it a great choice, once again.
And not only the grinder offers quiet operation, but it can also hold up to 13-14 oz of coffee in a bean hopper, which is perfect for personal use, in our opinion. But what's even better is that the manufacturer has figured a way to remove the bean hopper without spilling a lot of coffee beans around the grinder.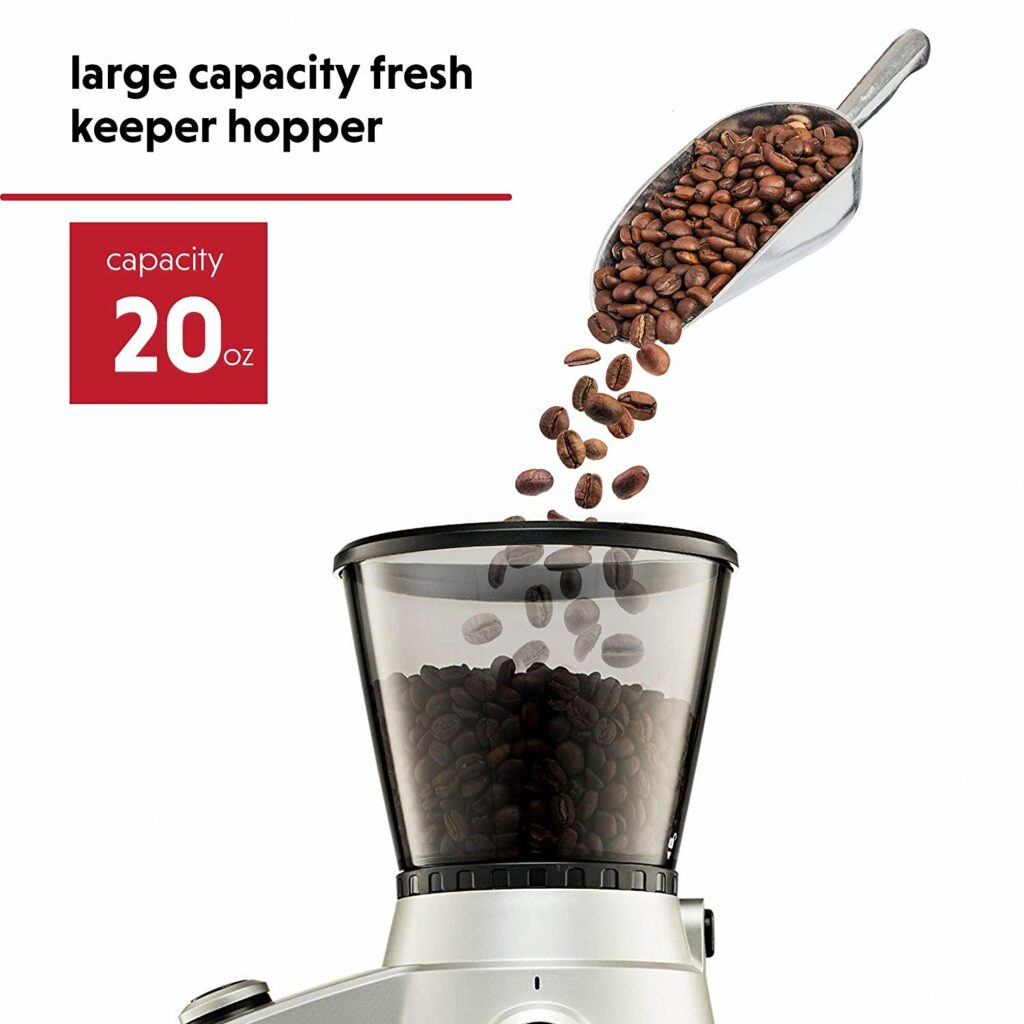 Design-wise, DeLonghi is always able to surprise us with its innovative yet sleek design craft and build. It's not only the sleek design but also the compactness and elegance it offers, no matter where you place it on in your kitchen.
The combination of silver and black color gives a neutral yet attractive look which is a wise decision by DeLonghi to help people place this grinder into any kitchen and still go well with the interior.
Now, let's go back just a bit to the conical burr of this grinder. Even though it's a heavy-duty conical burr that is perfect for ultra fine grind - it offers a lot more than that.
The grind is customizable with around 15 different settings that come preinstalled. This gives much more choice to coffee lovers who love to experiment, and for example, you can customize the grind for the urn, French Press, or even drip coffee.
With that being said, you can see how easy it is to get coarse, medium, or fine grind, along with an ultra-fine grind.
And lastly, once you've chosen your grind, poured your favorite coffee beans in the hopper, set everything up - you get to choose the cup size. Only when we thought that the day can't get better with this grinder - it proved us otherwise.
However, we didn't find a cup size adjustment to be very straightforward. But user's manual is very helpful and you will get a hang of the adjustment pretty easily.
OXO Brew Conical Burr Coffee Grinder - Link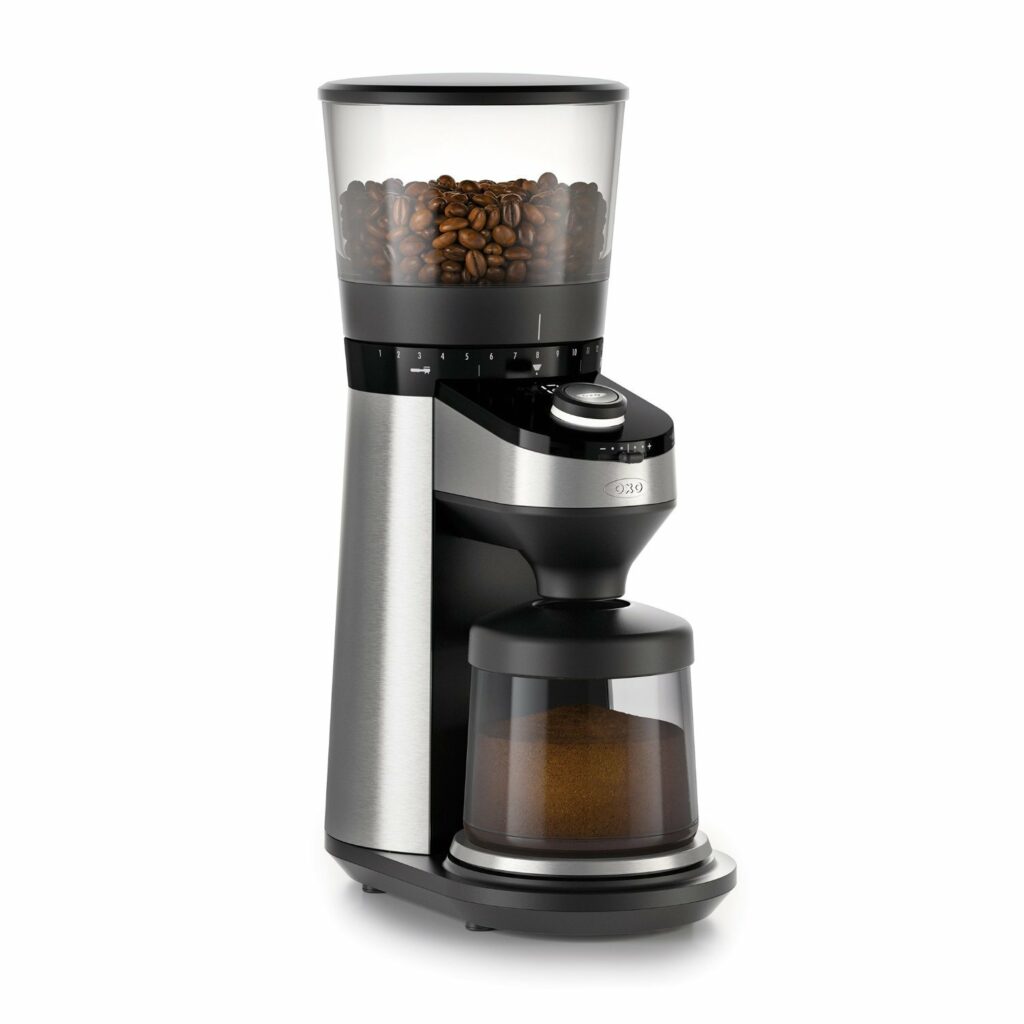 We always like to try out different grinders and not only rely on the most known brands. While not many of you have probably heard of OXO, what you also didn't know is that they produce a very quality grinder called Good Grips.
Now, because they're not one of the most known brands in the coffee industry, you shouldn't expect it to be very cheap. It fits perfectly into our budget for this post, and if you compare it to other grinders listed in this post, you'll find it to be as efficient as others.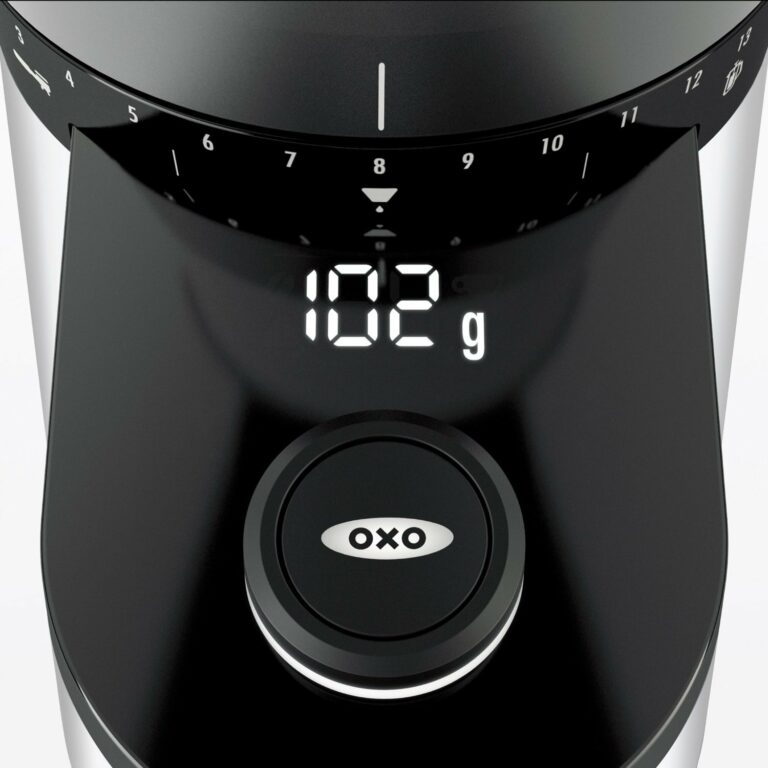 What really makes OXO Good Grips stand out is the built-in scale that measures grounds by weight instead of time. Therefore, all you have to do is place your coffee grounds and enjoy the single scale, instead of the need for two separate scales. It's almost like a smart feature that can be seen in most modern grinders.
Another thing that goes really well with a smart built-in scale is the automatic shutoff that offers only precision when you need it the most.
Now, let's talk about something that's making you all still wonder if this grinder will suit your needs. OXO Good Grips includes 40 mm stainless steel conical burrs that will allow you to create uniform grounds. There are also 38 different settings that easily change the grind from espresso to coarse.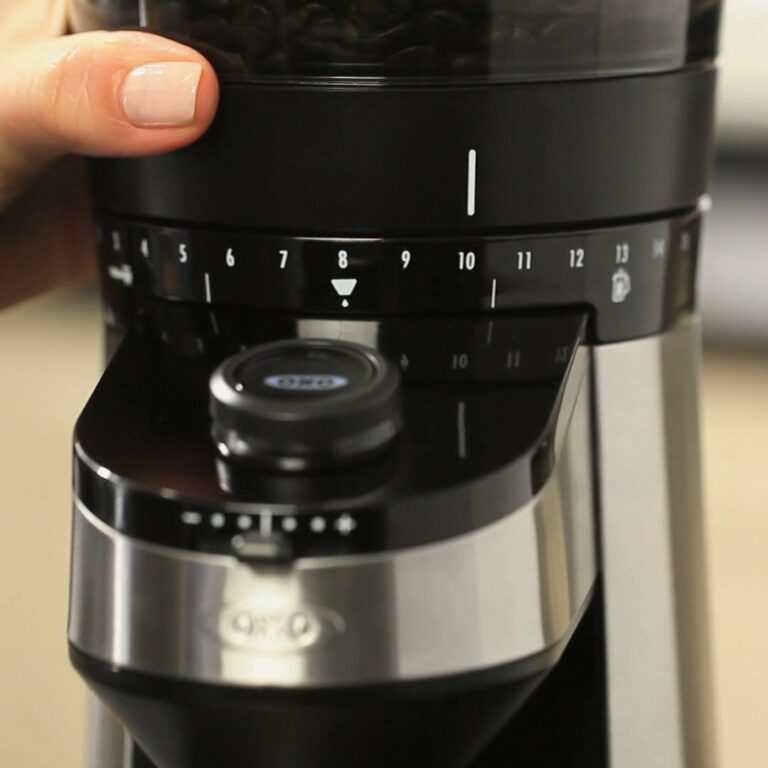 What we've tried was the cold brew that really fascinated us. Usually, cold brew is a bit harder to perfect, yet this grinder nailed it.
Even though you can't look "under the hood" of this grinder, what is in there is a quality low-speed motor that produces high torque. It's the best combination for every grinder, making sure that the beans don't overheat or burn during grinding, which is really important.
You wouldn't want to burn your precious coffee grounds, right? What's even better is the built-in overheating detection that will make sure OXO Good Grips grinder never overheats, no matter how hard you grind. Such feature is known to provide a longer lifespan.
The use of this grinder is very simplified since it features only a few buttons. However, you shouldn't underestimate its power.
A single dial is made to let users switch between cups mode, grams mode or even have the freedom of the manual mode. Cups mode basically allows you to grind for a number of desired cups of coffee you'll be making.
What surprised us with this grinder is the number of preventive features that really go well with the grinder, not only to provide better results but to provide a longer lasting device after all.
For example, a no-bean detector feature won't let you grind if there are no coffee beans in the bean hopper. And even when you have coffee beans in the hopper, and you'd like to remove the hopper - there's a trap door that holds the coffee beans in place.
Other than the efficiency, price point, and the versatility this grinder offers, we've also listed it for the quality manufacturing and preventive features that ensure a long lifespan.
If you're asking us, we'd say that Good Grips is definitely worth the money it costs, and if you're looking for a next grinder that will last you for long - this is a great choice.
The Benefits of Owning a Coffee Grinder under $500
Investing in a coffee grinder might seem like something out of the ordinary and most definitely, an expense worth consideration. There are numerous benefits to purchasing a quality coffee grinder and given that you will use it every day, the cost quickly becomes inconsequential. Even if your budget can only stretch so far as to include a lower-end machine, the benefits of owning a coffee grinder are still realized.
Cost
Aside from being able to save money by buying beans in bulk that you have freshly ground yourself, the convenience factor quickly becomes apparent. The amount of time it takes to stop by your local coffee shop and pick up a cup of joe is now no longer an issue; you can make your favorite beverage in under 5 minutes.

Additionally, there are the long-term savings of no longer having to purchase coffee pods for use with your machine or stop by that same coffee shop every morning. If you were to spend $2-$5 per cup, without taking into account the amount of times you frequent them a week, you would quickly see the advantage in owning a coffee grinder.
Personal Preference
While it is true that it takes time to adjust to grinding your own beans and experiencing the difference in flavor compared with pre-ground, this does not mean that the taste is displeasing. If you are used to drinking flavored coffees or those from a more established coffee shop, the flavor of your own home-brewed cup may be different. In fact, many people will argue that coffee tastes better when it is ground on demand as opposed to purchasing pre-ground coffee that has been sitting for who knows how long before you purchased it.

Brewing Temperature
One of the other benefits to owning a coffee grinder comes from being able to adjust the grind size and in turn, alter the brewing temperature. If you prefer a cooler cup of coffee, simply use a coarser grind as opposed to those who enjoy their coffee hot and would prefer a finer grind.
In addition, by adjusting the amount of time that water is in contact with your beans as well as altering between drip machines and espresso machines, you can control how strong or mild your beverage will be. While it might take time to find exactly what works for you and your machine, this level of customization is unrivaled by pre-ground coffees or pods. From personal experience: I was once sent free samples from three different coffee shops in my area. I would go a week or two without a certain brand and then when I finally purchased some from the store, the flavor was much different from what I had been used to.
Buy on eBay, Walmart, or Etsy
Baratza Encore Conical Burr Coffee Grinder (Black) - Etsy, eBay
Fellow Ode Brew Grinder - Electric Burr Coffee Grinder, 31 Settings for Drip, French - Etsy, eBay
KRUPS Precision Grinder Flat Burr Coffee for Drip/Espresso/PourOver/ColdBrew, 12 Cup, - Etsy, eBay
Baratza Forte BG (Brew Grinder) Flat Steel Burr Commercial Coffee Grinder - Etsy, eBay
OXO BREW Conical Burr Coffee Grinder with Integrated Scale - Etsy, eBay
KitchenAid KCG0702CS Burr Coffee Grinder, Contour Silver - Etsy, eBay
Conclusion for $500-or-less Coffee Grinder Buyers
$500 is a pretty great budget for finding a serious grinder that will serve your needs and offer a lot more than just helping you get your favorite cup of coffee.
As we said earlier, investing in a quality grinder is more important than finding a quality coffee maker.
Luckily for you, this is your go-to guide for finding your next best grinder, as we've spent hours not only researching, testing, and reviewing the grinders, but also coming up with everything you need to know about grinders and the way they work.
If you give yourself some time and read this article, you'll know everything you need to know before making your next best decision!