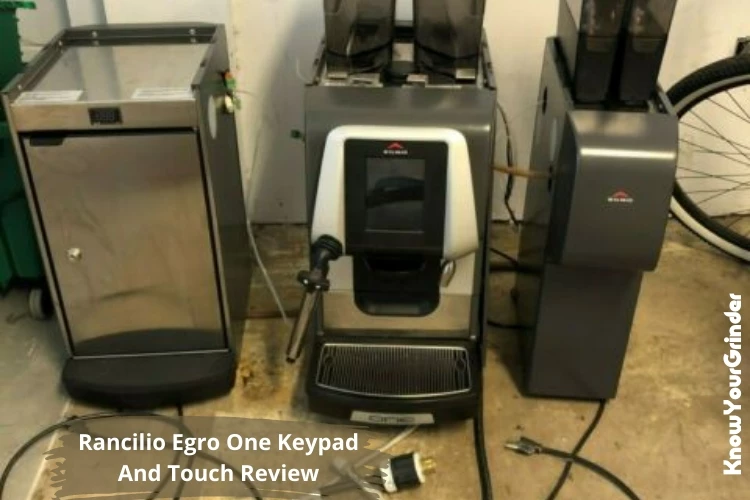 Quick Stats:
Size: 11.81×22.44×30.31 inch
Weight: 125.7 lbs.
The Rancilio Egro One offers an automated coffee machine suitable for medium to high-volume use, capable of producing both coffee and espresso, with a recommended average daily output of 250 cups per day.
There are two primary versions of the Egro One, one with a keypad and one with a touchscreen; the Egro One Keypad and the Egro One Touch .
The One Keypad is available in a one-drink, five-drink and 16-drink version. Both machines produce high-quality coffee drinks with relatively limited barista training required, and offer top-class durability and construction.
Here's a learning series brought to you by the folks at Rancilio, focusing on the Egro One.
Fully Automated Dura-Brew Technology with i-Steam Wands
The Egro One coffee makers feature Rancilio Egro's Dura-Brew technology. All brewing components are constructed of stainless steel, reducing maintenance and possible downtime, as well as costs over the lifetime of the coffee maker.
Egro's One Keypad and One Touch both offer the fully automated i-Steam milk frothing wand; a manual frothing wand is standard. This frothing wand produces milk frothed to exactly the right temperature and texture, with a variety of automated settings available. This is error-proof coffee drink creation. There's no need for your barista to recognize the differences between a latte and a cappuccino with i-Steam technology.
A high quality burr coffee grinder is incorporated into both the One Keypad and One Touch; a second grinder module is available an optional addition if desired.
Cup warmers, payment systems and powder modules are available options for both the One Keypad and One Touch brewers.
If you're shopping for one of these commercial-grade automated espresso makers, it may be helpful to recognize the differences between the two. The Egro Keypad is the lower-price model, with somewhat fewer features.
The Egro One Keypad :
Can be programmed to produce up to 16 different drinks, depending upon the version of the One Keypad chosen.
Produces up to 250 espresso drinks per hour.
Offers simultaneous hot water, coffee production and steam.
Can use an optional module for Americano-style coffee.
Includes an easy-to-use keypad control system. Training is simple, and employees can effectively use the machine without extensive experience.
Incorporates diagnostic to modes reduce problems with the coffee maker and offer quick solutions.
Uses an LCD display to provide information about coffee drink production on an ongoing basis.
The Egro One Touch :
Can be programmed to produce up to 48 different drinks.
Produces up to 250 espresso drinks per hour.
Offers simultaneous hot water, coffee production and steam.
Incorporates a 4-Tea setting designed to provide correct water temperatures for hot tea.
Can use an optional module for Americano-style coffee.
Offers a variety of technical administrator menus for coffee drink creation and other tasks.
Is controlled via a high-quality full color touchscreen.
Uses machine diagnostics incorporated into touchscreen menus.
Offers visual updates of the machine's progress and what drinks are being made.
Incorporates text messaging updates about the status of the coffee brewer.
These two commercial quality machines are an ideal investment for a variety of scenarios, including high-volume coffee shops.
Cleaning is automated with a short five to six-minute daily cycle. Manual cleaning is required for the frothing head, but the process is quick and practical for employees to manage regularly to keep the coffee maker in top condition.
The Egro One Keypad and Egro One Touch offer high-quality automated coffee options to the commercial user in a medium to high volume scenario. Both makers have a number of options available, and are designed to last with appropriate maintenance for years. Stainless steel construction and self-diagnostics reduce maintenance costs, while intuitive user interfaces limit user training, and the cost of skilled employees. The overall footprint is relatively small, helping these to fit into smaller service areas.
These machines do not incorporate automated milk frothers; the Egro Zero offers that option for self-service use. In addition, they are quite heavy; a sturdy trolley or surface is required. While they are quite easy to use, a staff member will be required, and some training is needed.
We'll leave you with this Crew Review of the Rancilio Ergo, which goes in depth on its various functions and features.
Purchase the Rancilio Ergo over at Seattle's Coffee Gear