A home coffee roaster is a machine designed for roasting coffee, and can range from small tabletop machines, to industrial-sized machines. There are a number of types of appliances available on the market today.
The most notable feature in a typical home coffee roaster is that they allow end users to roast their own beans at home. Those who desire the most control of their coffee's final flavor usually roast their own coffee, which enables them to ensure that they buy freshly roasted beans and also experiment with different roasting styles.
If you love the taste of freshly roasted coffee, you'll love having a home coffee roaster. These small appliances allow you to roast your own beans right at home, resulting in the perfect cup of Joe every time. With a variety of models and prices to choose from, it's easy to find the perfect roaster for your needs. Keep reading for our top picks!

Top Home Coffee Roaster 2022 by Editors' Picks
Intro To Home Roasting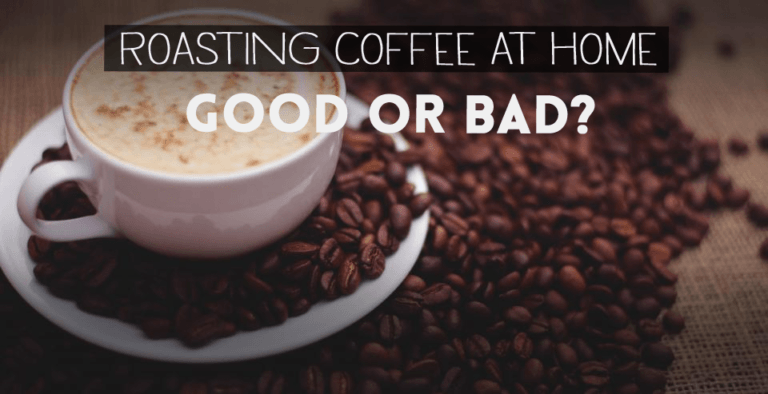 I've learned over the years that the trick to making the best possible cup of coffee is by doing the whole process right before you make the cup, including the grinding of the beans, and now, even the roasting can be done at home.
You may notice a new trend in upscale coffee shops. They don't just take an existing carafe, pour it into a cup and hand it to you.
You pay $6 for a latte because your individual cup was made fresh from scratch right there while you waited. This entire process begins with roasting the beans.
Of course, some shops don't have time to roast beans for a single cup for every patron, but the beans are roasted and served very soon after. In fact, there aren't a whole lot of cafés I've been to that roast on-site. It's simply not that common.
Unless you're going to a roasterie / coffee shop, where they have some big roasters. Even then, those are usually bagged up and sold, for the most part.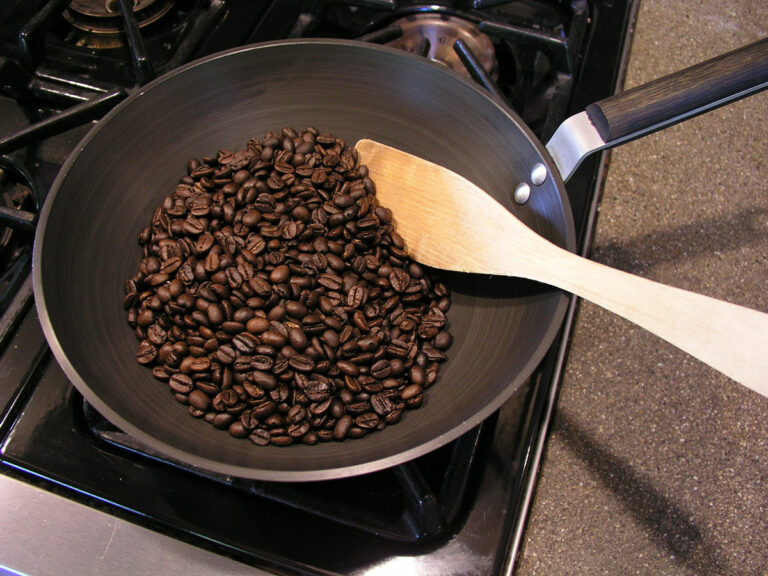 When it comes to the café hopping life, it can become very expensive to buy a drink from a café especially if you, like me, require a daily fix of caffeine.
This is why you want to roast at home: you get the freshest possible beans. This is where the cleanest, most aromatic cup comes from.
I will add the point that you need to ready to take an active part in your coffee making, especially if you are going so far as to roast yourself.
My Home Roasting Routine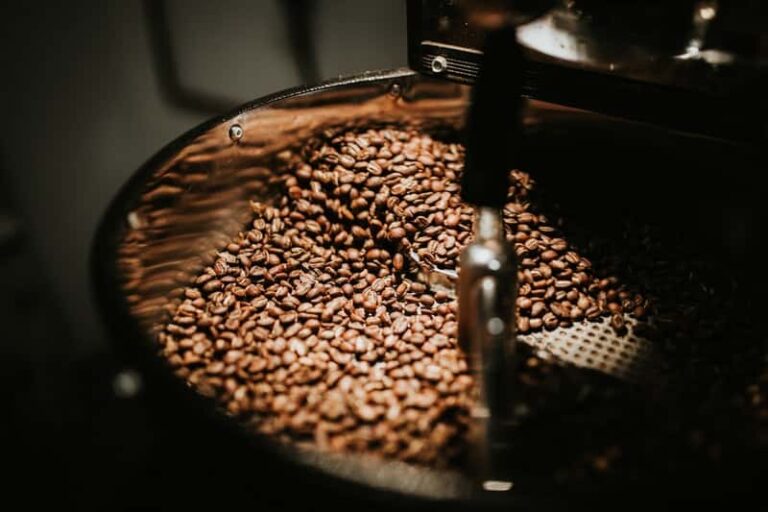 Personally, I prefer my coffee in the early afternoon, because I need the extra energy to keep me going through those strange, universally boring hours of 2-4 pm.
So, for a long time I would simply wait until noon or just after to drink my coffee.
For your reference, I take four tablespoons of ground beans and make two cups with this amount. I prefer medium roast, typically, but light roast is also delicious.
Personally, can't quite stand the dark roast. And I have found that roasting levels vary from brand to brand, so it's not always reliable to purchase roasted beans. It's somehow never quite right!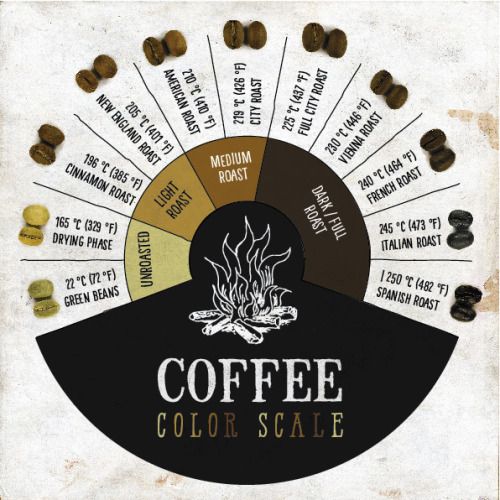 This is why I decided to venture into home coffee bean roasting.
Roasting at home enables you to find your perfect balance and roast your beans to get your cup exactly how YOU want it, not how some company decided you should take it.
That's the best thing about coffee: we all love it, and we each have a different preference for it. That's why owning one of the best coffee roasting machines will absolutely elevate your coffee experience.
Truly, coffee beans are actually seeds from the fruit of a tree. They are taken, dried and then roasted to varying degrees.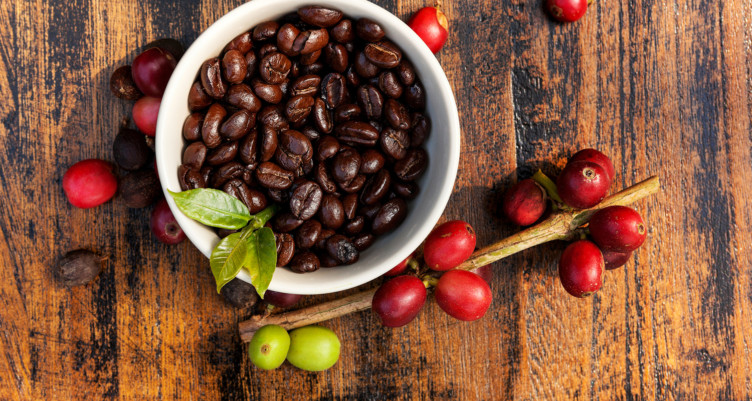 With this article we have compiled a selection of the best coffee roaster machines designed for household use.
Some of them are even so powerful you can use them in small cafés - but for now we recommend just using them around the house.
Next we explain ho you can take control of the coffee making process.
Taking Control Of The Coffee Making Process
Buying a home coffee bean roaster really depends on how much you want to control your coffee experience.
We talk about coffee grinders (and particularly burr grinders) a lot on this website, because they give you an increased control over the taste of your coffee.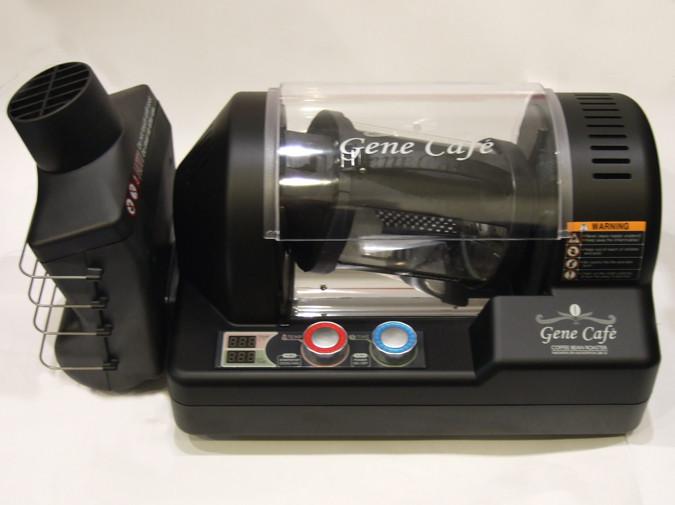 With great power comes great responsibility, so having this control can either take your coffee brewing to a whole new level, or you can fail miserably.
It's really no secret that grinding the beans yourself is a key component in making not just good coffee - but great coffee!
Alas, most of the time, this is as far back in the chain people are willing to go. Not many people are aware that roasting your beans at home too is also totally fair game.

We Review The Best 2021 Home Coffee Bean Roasters
Each of these roasters is well reviewed and affordably priced, and regarded as being among the best on the market right now.
We start with The Gene Cafe home coffee roaster CBR-101.
The Gene Café Home Coffee Roaster CBR-101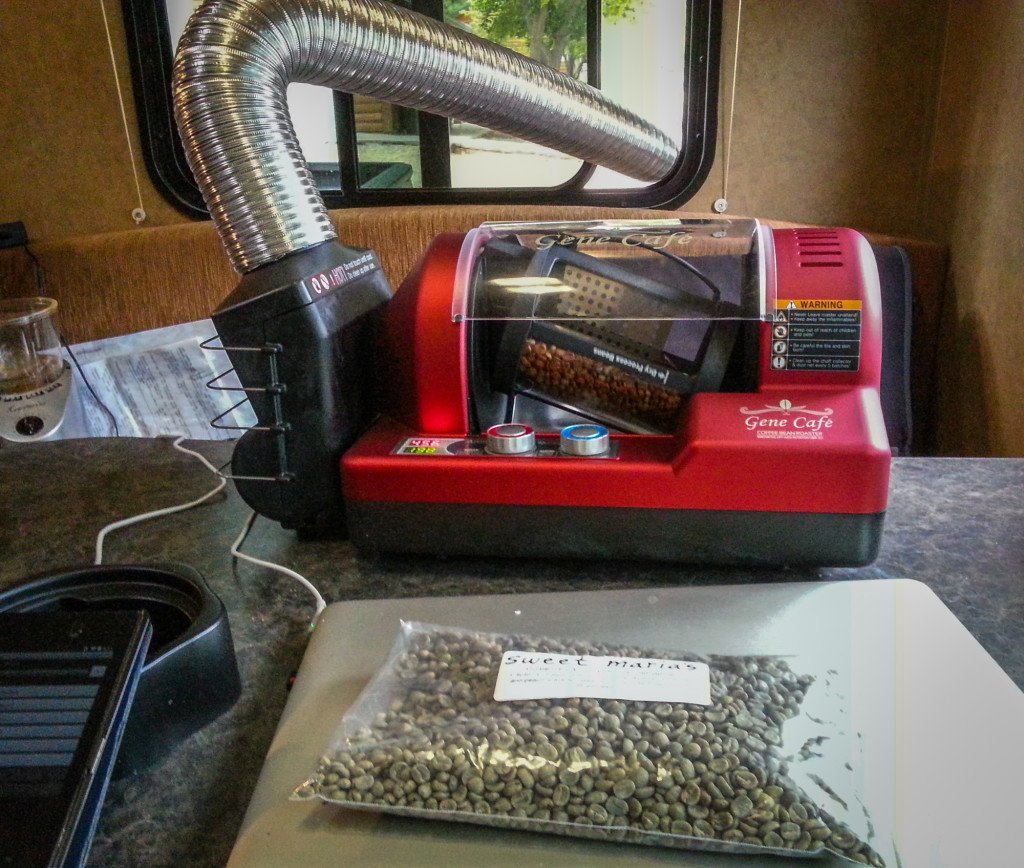 Gene Cafe Roaster
If you're quite serious about roasting your coffee beans at home, the Gene Café Roaster provides a professional-quality roasting experience. In addition, this roaster is adequate for smaller coffee shops.
The Café Roaster uses indirect hot air roasting technology, and offers full temperature control to produce the perfect, desired roast.
The roasting cycle takes approximately 15 minutes to complete, so a large quantity of coffee can be roasted in a relatively short time.
The Café Roaster handles a full 8 oz. of coffee beans in a single roasting session.
The glass roast chamber sits off-axis and allows for maximum visibility during the roast cycle to choose the desired roasting level.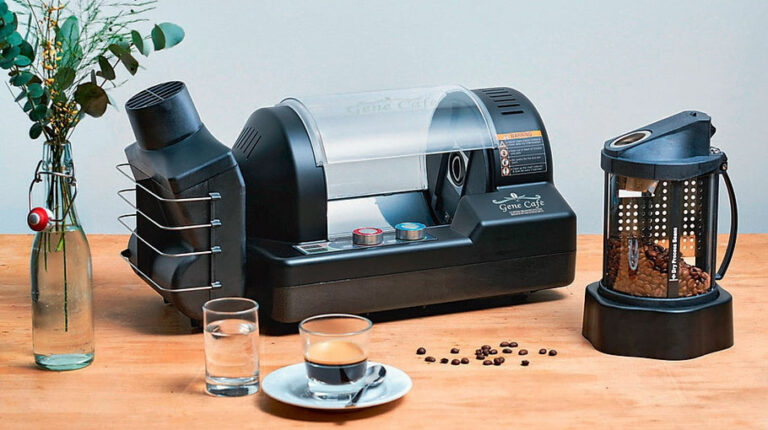 The chaff collector is highly efficient and effective. In addition, a vent access port enables the attachment of ductwork to limit smoke in your home or business during roasting.
This is a high-quality, easy-to-use roaster; if you are committed to roasting all of your coffee at home, it's an excellent choice.
Watch this video review to get a closer look at the Gene Café Home Coffee Roaster by The Captain's Coffee.
Next, we review The Behmor 1600 Plus
The Behmor 1600 Plus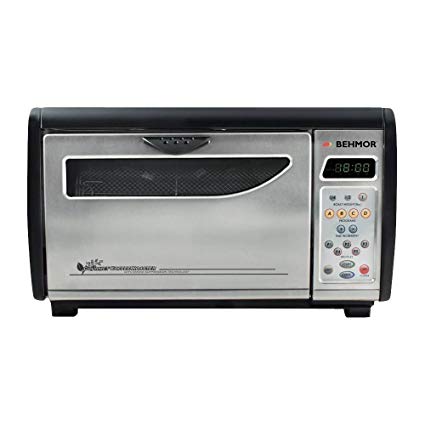 The Behmor 1600 Plus is a drum-style coffee roaster, practically designed to meet the needs of the home coffee roaster.
In appearance, this roaster looks a bit like a high-quality toaster oven, with a clean black and stainless steel appearance.
Intended for countertop-use, the Behmor 1600 Plus has patent-pending smoke suppression technology to limit smoke in your home.
A multi-speed motor provides improved roasting control, while a cooling cycle reduces the overall required roasting time.
A fan separates the beans and chaff, and the chaff try is easy to remove and clean. The metal roasting drum is fully removable from the roaster.
The drum-style roaster offers a practical solution for home roasting, with both automatic roast settings and manual roast settings.
With a slightly higher capacity than many home roasters, the Behmor 1600 can roast up to one pound of coffee at a time.
The Behmor 1600 Plus has a high capacity and works well for intensive home roasting or small business roasting. While this roaster is a bit costly, the smoke control is ideal for regular, indoor use.
Watch this video review of the Behmor 1600 Plus Coffee Roaster to get a closer look.
On to the next one…
The FreshRoast SR500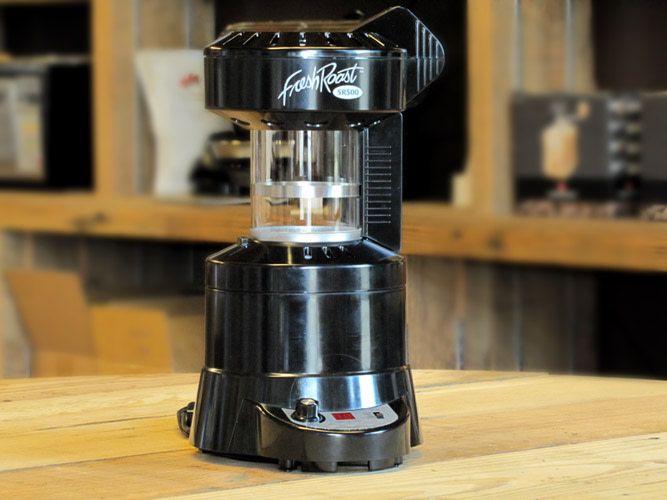 While the Gene Café Roaster and the Behmor 1600 Plus are relatively high-end roasters, with a number of easy-to-use features, the FreshRoast SR500 provides a higher-effort and lower-cost home roasting system.
This is a fluid bed air roaster, rather than a drum-style roaster. This inexpensive roaster offers a glass roasting chamber, an easy-to-use chaff collector and both heat and fan adjustments.
The batch size is 4 ounces, and you will need to supervise the FreshRoast SR500 carefully-there's no setting this and going. You may need to manually stir the beans during roasting.
In addition, there's not an effective cooling cycle; you'll need to cool your beans with a countertop fan after roasting.
While the FreshRoast SR500 doesn't have a smoke-control system in place, it does vent smoke from the top of the roaster.
When placed under a stove vent hood, the smoke is relatively well-controlled.
The FreshRoast SR500 is an ideal introductory coffee roaster for home use. It's small, practical, and effective for regular home use.
Watch this video review of the FreshRoast SR500 coffee roaster to get a closer look.
Next on the list is The Wabash Popcorn Whirley Pop Popper…
The Wabash Popcorn Whirley Pop Popper
Wabash Valley Farms - Stovetop Popcorn Popper

If you'd like to try out roasting coffee at home, but don't want to invest hundreds of dollars, there's a cheap, fun and effective solution-the Wabash Valley Farms Whirley Pop.
The Whirley Pop is a stovetop popcorn popper.
There's no real technology here-it's a sturdy pot with a well-fitting lid and a stirring paddle, and available at a price point in line with other small kitchen appliances.
You can even use it for its intended use and pop a tasty batch of popcorn to go with your coffee.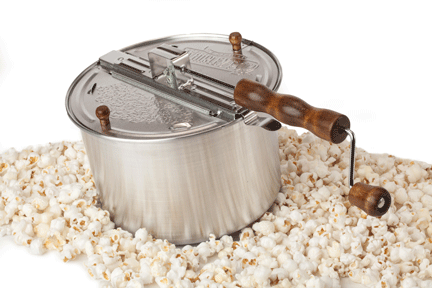 Unsurprisingly, the Whirley Pop doesn't come with coffee-roasting instructions, and roasting on the stovetop is a challenge.
The Whirley Pop can handle up to 8.5 ounces of coffee beans at a time, but you'll need to manage and control the heat carefully to avoid burning your coffee.
While you need to watch the temperature, this also means you have full control of the temperature.
There's no smoke control, so disconnect those smoke alarms, turn on your vent hood and open the windows.
You'll need an instant-read thermometer-start by heating the Whirley Pop to 500 degrees. Add your beans and start cranking.
You'll keep cranking until your beans are fully roasted, typically around eight to nine minutes, then transfer beans back and forth between two metal colanders to separate the chaff and cool the beans.
Watch this video review of how to roast coffee with the Whirley Pop to see how it is done.
Last but not least The Nesco CR1010 Pro Coffee Roaster…
The Nesco CR1010 Professional coffee roaster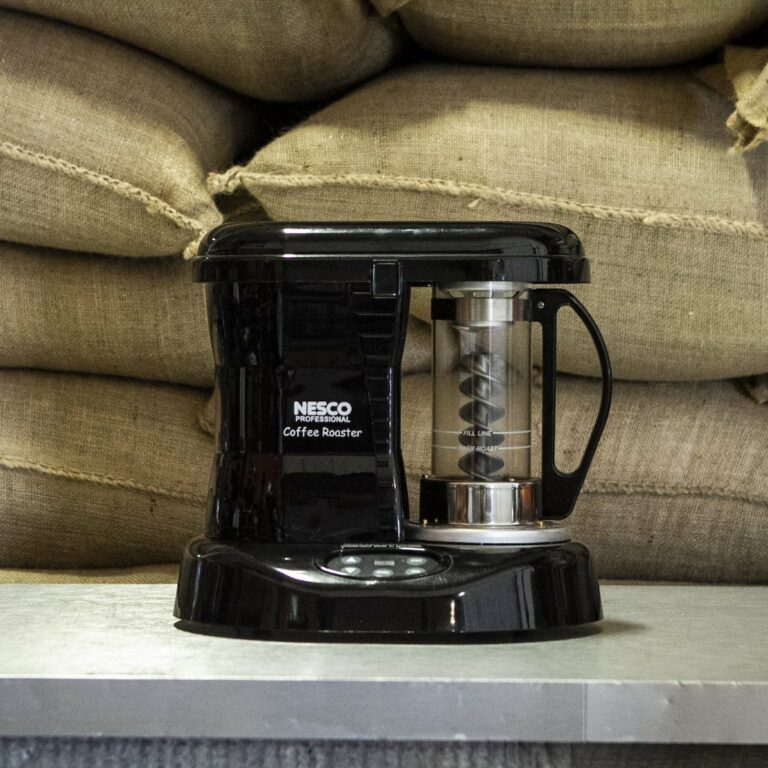 The Nesco CR1010 Pro is a high quality coffee roaster manufactured by the world famous Nesco/American Harvest.
This coffee roaster is very similar to the aforementioned French Roast SR500 in the way they are both convective, air roasters. They both use convection heating for roasting coffee beans.
The major difference between the Nescro CR1010 Pro and the French Roast SR500 is that the Nesco CR1010 Pro has a built-in catalytic converter that eliminates most of the smoke that is produced during the roasting process.
This coffee roaster ensures that the beans are moving during the roasting process with the help of an auger screw located in the roast chamber.
This screw spins and mixes the coffee beans during the roasting process, making sure the coffee beans are roasted evenly. This also helps prevent coffee beans from being burnt.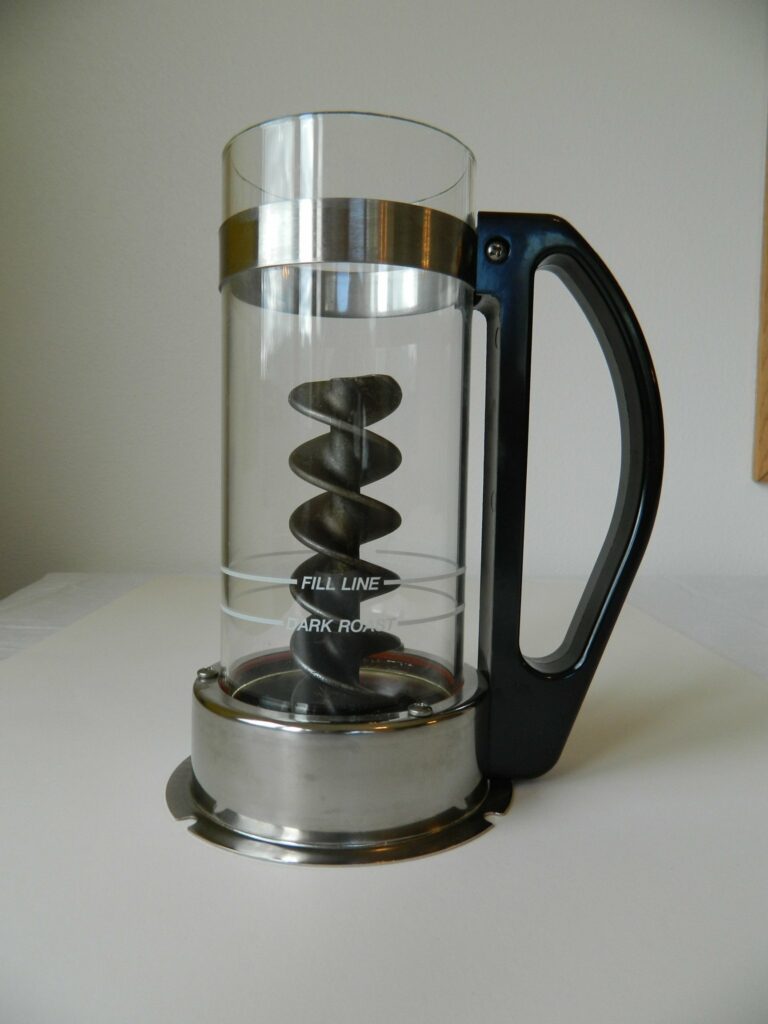 The Nesco CR1010's roasting time is around 25 minutes, including a 5-minute cooling cycle. The cooling feature is great if you prefer roasting lighter roasts. However, if you prefer darker roasts, you may find the cool down duration not to be fast enough to produce the proper result.
The Nesco CR1010 has a coffee bean capacity of 150 grams or 5Oz. As it takes around 25 minutes to roast only 5Oz, the Nesco CR1010 can't be really rated as the most efficient roaster. However, it's ability to provide an excellent consistency during the roasting process makes up for the time taken.
We hope we were able to offer you some decent options when it comes to roasting your own coffee beans at home.
We believe that if you are willing to go the whole 9 yards, getting yourself a home coffee bean roaster, plus the best burr coffee grinder you can get, and then dish out for a proper espresso machine, then you will have the trifecta of perfect equipment, allowing you to brew just about anything imaginable from the comfort of home.
Sure, if you are new to the coffee game, there's a few things you'll have to learn, but once you get into the swing of things, you'll be your own Starbucks, only better! 🙂 Have fun!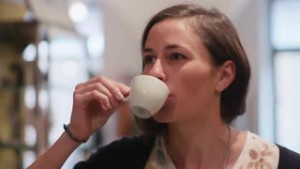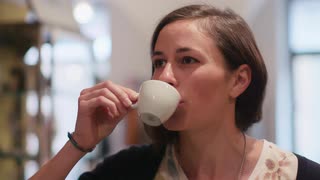 Buying Guide for a Home Coffee Bean Roaster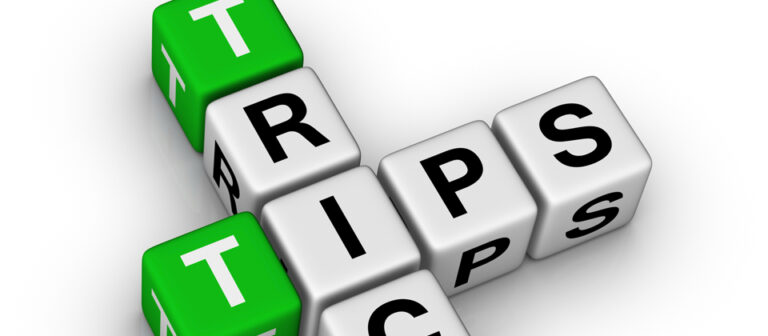 First off, here are some tips for selecting the right coffee bean roaster.
Coffee beans start out green. The level of roasting turns their color as they begin to crack. The best home coffee roasters will evenly distribute heat by constantly rotating the beans at a given temperature.
Consider how much counter space you can dedicate to a roaster, or if you plan to tuck it in the cupboard when you're not using it.
There are two kinds of roasters including a fluid air roaster and a drum-style roaster. Fluid air roasters are cheaper with heat and fan adjustments.
Some roasters require constant attention and stirring, so you should keep an eye out for this feature.
Do you want to be able to set the roaster and walk away, or do you plan to hang around and keep an eye on the process? Some roasters on this list require your attention so this is why it's important to do your research.
Roasting at home can put you on par with professional coffee bean roasters; it will certainly be rewarding to happily sip that cup you prepared yourself.
If you're really into coffee, chances are you have high standards for how the cup should taste.
There are lots and lots of new coffee bean roasters opening cafes or selling their beans. It is truly a craft that brings the coffee lover that much closer to their beloved cup.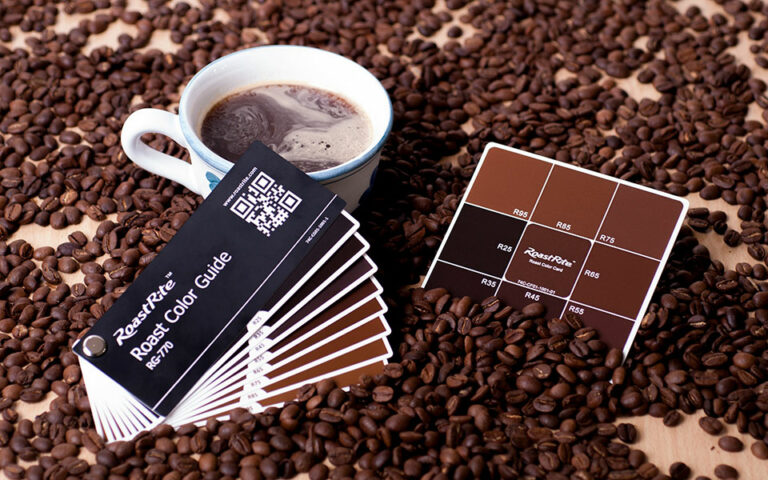 But again, paying a café every day for your cup is just not feasible so it's time to roast your own.
Besides, if you love coffee as much as you say you do, then it's time to take the next step and start roasting.
Types of Home Coffee Roasters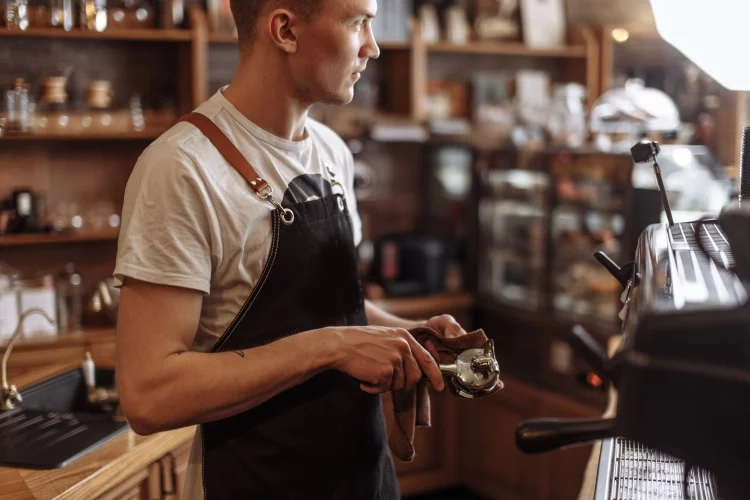 The different types of home coffee roasters work in different ways. They include hot air popcorn poppers, stovetop skillet, electric home coffee roasters, and stovetop drum roasters.
An Electric Hot Air Popcorn Popper
The first type of home coffee roaster is an electric hot air popcorn popper which works by heating up the beans with the heat source of the machine until they are roasted.

Advantages: They are inexpensive and easy to use; it usually only takes around 20 minutes to roast a full batch of coffee.
Disadvantages: Hot air popcorn poppers cannot produce the necessary high roasting temperatures for great roasting so it is best to keep an eye on the beans as they roast and check frequently because the roasting time takes longer than other machines.
A Stovetop Skillet
Another type is a stovetop skillet which uses the metal surface of the pan as a heat source for roasting beans (Author, 2011).

Advantages
They are simple to use; however they have the same issue as popcorn poppers with being too slow at roasting.
Disadvantages
It takes around twenty minutes to roast a full batch.
An Electric Home Coffee Roaster
The third type is an electric home coffee roaster that works by heating up air around the coffee beans until they reach their desired roast color (Author, 2011).
Advantages
These machines usually have different settings so you can set it at how dark or light you want your roast.
Disadvantages
It takes more time and effort to monitor the coffee as it roasts.
A Stovetop Drum Roaster
Lastly, there are stovetop drum roasters which use motorized rotating drums to roast the coffee beans (Author, 2011).

Advantages
Works very quickly; can do an entire batch of roasted beans within minutes.
Disadvantages
They tend to be expensive ($100-$300) and only sell in specialty shops (Author, 2011).
The Benefits of Roasting Your Own Coffee Beans
The vast majority (more than 97%) of coffee consumed worldwide is commercially roasted, and it is usually dark brown in color and as a rule rather flavorless. Many people who buy green coffee beans to roast at home are surprised to learn that dark roasted coffees are the norm, and lighter roasted ones are very rarely available. But there is a good reason for that: dark roasting burns off caffeine as well as many other flavor elements, which means that beans may be darker without actually having more intense flavors.
Better Flavor
There are several reasons to roast coffee at home. Home-roasted coffee has better flavor, since the roaster can roast just as dark or as light as they want to. This is especially true if you buy your green coffee beans from a supplier who lets you choose among different levels of darkness of roasting. You can also experiment with roasting at different temperatures and find out what effects this has on flavor, which is not something you can do with commercially roasted beans.
More Economical Than Buying Commercial Coffee
Home roasting is also more economical than buying commercial coffee, especially if you buy green coffee in bulk or by the sack - which often works out to less than $5 per pound. That's something like half the price of even the "inexpensive" coffees on supermarket shelves (which are typically at least $7-8 per pound).
Roasting Your Own Is the Great Deal of Fun and Satisfaction
A third advantage of roasting your own is the great deal of fun and satisfaction you will experience. Coffee roasting can be as easy or as complicated as you want to make it, and the art of home roasting has been perfected by generations of people who love coffee as much as you probably do. You'll find that roasting your own coffee is a completely satisfying pastime, and the only hard part will be deciding which of many flavors to roast next!
Roasting For Relatively Cheap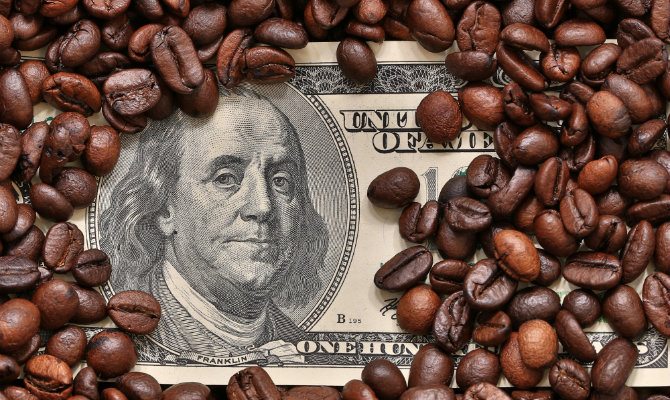 Indeed, many people simply pan or wok-fry their coffee beans, or alternately use a popcorn popper, both of which can do the job as well.
Here is a video showing how pan frying your coffee beans at home can quite easily be done.

Just to recap, here's a few of the main takeaways from the above video:

Good for small quantities of beans
All you need is heat - no extra oils (coffee beans already have them)
Roast on medium-high heat to start, switch to low heat after a while
Always keep stirring to make sure the beans roast evenly
For chaff, as it collects in the pan, you can either blow it away as you go, or toss it in your compost after you're done roasting
Loud pops (AKA "first crack") indicate the beginning of the roasting process
Not the most even roasting method
Moving on…
Going Deeper Into Roasting At Home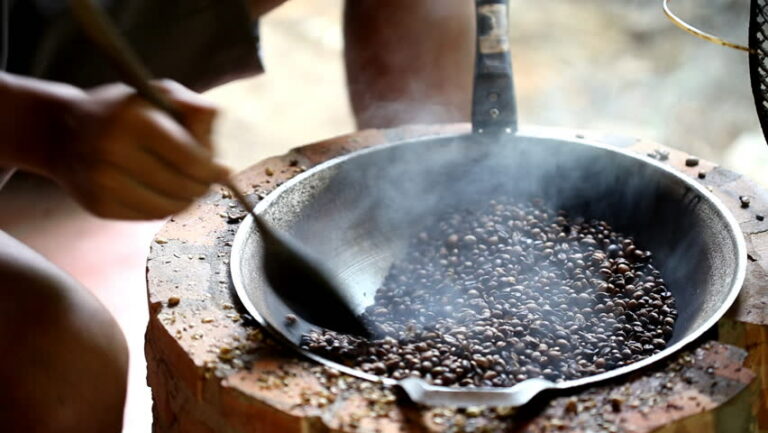 For some, the old frying pan is sufficient - after all it does the job - but there is one more step you can take to take the reigns and control exactly how your coffee or espresso turns out - and that's by buying your own person home roaster.
No, we're not referring to commercial models of coffee roasters, which are these giant contraptions that you likely wouldn't see in a café, much less in someone's home.
They are more often found in factories, roasting beans for the masses.
Home coffee bean roasters are a whole lot smaller, but can still roast a goodly amount of beans for home use.

With different features that allow the coffee beans to be heated to their first and second "cracks", you can roast your beans to either mild, medium, or dark perfection using one of these home roasters.

Coffee roasting, just like grinding, and just like brewing - is both an art and a skill.
And, like any other skill worth picking up, you have to experiment a little bit to get really good at it.
Here is a quick video which can serve as an intro to home coffee roasting, just to get you acquainted with the process if you are unfamiliar.

As you will see, you will need some un-roasted green coffee beans and one of these amazing roasters to get started.
Roasting Times and Temperatures for Different Types of Coffee Beans
Coffee beans are roasted to a specific color in order to bring out what people perceive as the proper flavor. When you have decided upon a high quality coffee bean, you will want to roast the beans properly so that they can be brewed into a flavorful coffee drink. In addition, you would also want your home made coffee to taste just as good if not better than that of a coffee house. This article is going to discuss the different roasting times and temperatures for different types of coffee beans.
Light Roast
Time: Approximately 4-7 minutes
Temperature: Approximately 390 degrees Fahrenheit
Very light roast coffee has a more subtle flavor with a less acidic taste compared to a medium roast coffee.
Light Medium Roast
Time: Approximately 6-11 minutes
Temperature: Approximately 390 degrees Fahrenheit
A light medium roast is a very popular type of roast in the U.S. This roast has a flavor that is not too strong, but it is definitely not weak either. A light medium roast will allow the true flavor of the coffee bean to come through.
Medium Roast
Time: Approximately 8-12 minutes
Temperature: Approximately 400 degrees Fahrenheit
A medium roast is generally favored by those who like a balanced and smooth tasting cup of coffee. A medium roast is also more popular in the U.S and Canada as opposed to lighter or darker roasts.
Medium Dark Roast
Time: Approximately 10-13 minutes
Temperature: Approximately 410 degrees Fahrenheit
A medium dark roast is more full bodied than a lighter roast. The coffee beans are roasted to the point where they will emit an oily sheen on top upon grinding, but not quite as dark as a dark roast.
Dark Roast
Time: Approximately 10-13 minutes
Temperature: Approximately 420 degrees Fahrenheit
A dark roast brings out the subtle undertones and more intense flavors of the coffee bean. A dark roast is very popular in European countries such as France, Germany and Italy where they normally drink their coffee black without adding any cream or sugar to it. A dark roast is also favored by those who like a stronger flavor with a bitter taste to them.
Very Dark Roast
Time: Approximately 13-17 minutes
Temperature: Approximately 440 degrees Fahrenheit
When you go for aromas and flavors that are high notes and very intense, you typically go for a very dark roast. The extreme roasting process brings out the oils in the coffee bean. Once you grind this type of coffee, you will notice that it has an oily consistency on top of the grounds. This is because extremely dark roasts are oilier since they have been roasted longer than other types of roast. A very dark roast definitely has a profound and strong flavor to it so keep that in mind if you are not a fan of very strong coffee.
Tips for Getting the Perfect Cup of Coffee From Your Home Roasted Beans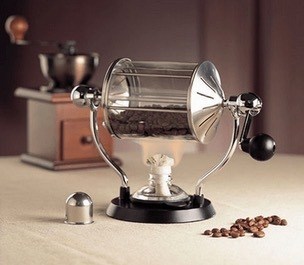 The first step of course is to start roasting your own beans. When you do, the possibilities and choices for making a perfect cup of coffee increase by about an order of magnitude. Maybe more! From dry-processed to wet-hulled, European or African origin, light or dark roast; if you want it, you can probably find somebody who's done it.
The next step is really simple - grind your beans right before you brew it! The fresher the better! Once the coffee bean is ground, its flavor begins to dissipate very rapidly. As soon as you grind a batch of roasted coffee, be sure to use it up in about a week or two. If you don't, the flavor diminishes with every passing hour.
What do you need? Just two items
a burr coffee grinder
a gooseneck kettle
The burr grinder is important because it will give you an even grind with very low heat generation. Too much heat in the grinding process will cause the oil in the coffee to dissipate rapidly. Brewing goes a little something like this:
1) Boil a small amount of water in your gooseneck kettle. Pre-heat your cup with some hot water from the tap, dumping it just as you finish boiling your water.
2) Grind about 4 tablespoons of coffee to a medium grind.
3) Pour the hot water over the freshly ground coffee, using just enough water to cover all of the grounds with about 1/4" to spare. Use your gooseneck kettle for this step, being careful not to disturb or displace the grounds. Allow it to "bloom" for about 30 seconds.
4) At this time, more coffee will rise above the water - use your gooseneck to stir it into suspension. You may then add the rest of the hot water (which should be somewhere around 250-270F). Allow it to steep for about 3 minutes, occasionally stirring and gently swirling the gooseneck.
5) Finally, time to separate your coffee from the grounds. This can be accomplished in many different ways - many people prefer a "plunger" type method, others prefer an automatic filter machine, or even press pot. Any of these methods will work fine - feel free to experiment!
Conclusion for home Coffee Roaster Buyers
If you are looking for the best home coffee roaster, we have some great options for you. We've tried out all of these roasters and can attest to their quality and ease of use. Whether you are a beginner or an experienced coffee roaster, one of these machines will make your morning cup just the way you like it. So what are you waiting for? Start browsing our list and find the perfect machine for your home today!