Many people don't realize that roasting your own coffee beans at home is now a viable option, with a number of great home coffee bean roasters stepping forward in 2018 as affordable, stylish, and easy to use.  
Combined with the right coffee grinder and coffee maker or espresso machine, you will be making your own distinct coffee at home in no time!

In this article, we talk about the process of home coffee bean roasting, how it's done, and then we present you with our top picks for the best roasters of 2018 with our Official Buying Guide, featuring videos and plenty of info.  Take a look!
---
Take Control Of The Coffee Making Process!
Buying a home coffee bean roaster really depends on how much you want to control your coffee experience. 
We talk about coffee grinders (and particularly burr grinders) a lot, because they give you an increased control over the taste of your coffee.  With great power comes great responsibility, so having this control can either take your coffee brewing to a whole new level, or you can fail miserably.  
It's really no secret that grinding the beans yourself is a key component in making not just good coffee – but great coffee! 
Alas, most of the time, this is as far back in the chain people are willing to go.  Not many people are aware that roasting your beans at home too is also totally fair game.

---
Home Coffee Bean Roasting For Relatively Cheap
Indeed, many people simply pan or wok-fry their coffee beans, or alternately use a popcorn popper like the West Bend Air Crazy popcorn popper, both of which can do the job as well. 
Here is a video showing how pan frying your coffee beans at home can quite easily be done.

Just to recap, here's a few of the main takeaways from the above video:

Good for small quantities of beans

All you need is heat – no extra oils (coffee beans already have them)

Roast on medium-high heat to start, switch to low heat after a while

Always keep stirring to make sure the beans roast evenly

For chaff, as it collects in the pan, you can either blow it away as you go, or toss it in your compost after you're done roasting

Loud pops (AKA "first crack") indicate the beginning of the roasting process

Not the most even roasting method
---
Home Coffee Bean Roasters – One Step Beyond!
For some, the old frying pan is sufficient – after all it does the job – but there is one more step you can take to take the reigns and control exactly how your coffee or espresso turns out – and that's by buying your own person home roaster.  
No, we're not referring to commercial models of coffee roasters, which are these giant contraptions that you likely wouldn't see in a café, much less in someone's home.  They are more often found in factories, roasting beans for the masses. 
Home coffee bean roasters are a whole lot smaller, but can still roast a goodly amount of beans for home use.

With different features that allow the coffee beans to be heated to their first and second "cracks", you can roast your beans to either mild, medium, or dark perfection using one of these home roasters.

Coffee roasting, just like grinding, and just like brewing – is both an art and a skill.  And, like any other skill worth picking up, you have to experiment a little bit to get really good at it. 
Here is a quick video which can serve as an intro to home coffee roasting, just to get you acquainted with the process if you are unfamiliar.

As you will see, you will need some un-roasted green coffee beans and one of these roasters to get started.

2018 Home Roasters Buyer's Guide
So, if roasting beans at home is something you're interested in trying, see below for our 2018 Home Coffee Bean Roaster Buyer's Guide. 
Each of these roasters is well reviewed and affordably priced, and regarded as being among the best on the market right now.  
The Gene Café Home Coffee Roaster CBR-101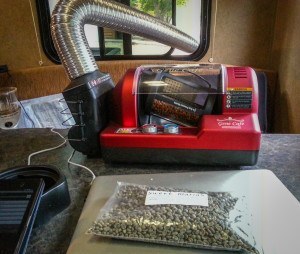 Click to check price on Amazon
If you're quite serious about roasting your coffee beans at home, the Gene Café Roaster provides a professional-quality roasting experience.  In addition, this roaster is adequate for smaller coffee shops. The Café Roaster uses indirect hot air roasting technology, and offers full temperature control to produce the perfect, desired roast. The roasting cycle takes approximately 15 minutes to complete, so a large quantity of coffee can be roasted in a relatively short time.
The Café Roaster handles a full 8 oz. of coffee beans in a single roasting session. The glass roast chamber sits off-axis and allows for maximum visibility during the roast cycle to choose the desired roasting level. The chaff collector is highly efficient and effective. In addition, a vent access port enables the attachment of ductwork to limit smoke in your home or business during roasting.
This is a high-quality, easy-to-use roaster; if you are committed to roasting all of your coffee at home, it's an excellent choice.
Watch this video review to get a closer look at the Gene Café Home Coffee Roaster by The Captain's Coffee.
Click to read our full review of the Gene Café Home Coffee Roaster
---
The Behmor 1600 Plus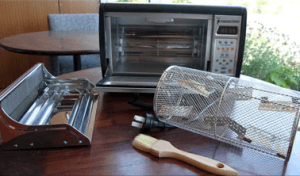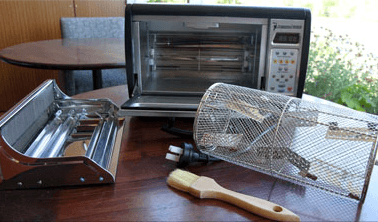 Click to check price on Amazon
The Behmor 1600 Plus is a drum-style coffee roaster, practically designed to meet the needs of the home coffee roaster. In appearance, this roaster looks a bit like a high-quality toaster oven, with a clean black and stainless steel appearance. Intended for countertop-use, the Behmor 1600 Plus has patent-pending smoke suppression technology to limit smoke in your home.
A multi-speed motor provides improved roasting control, while a cooling cycle reduces the overall required roasting time. A fan separates the beans and chaff, and the chaff try is easy to remove and clean. The metal roasting drum is fully removable from the roaster.
The drum-style roaster offers a practical solution for home roasting, with both automatic roast settings and manual roast settings. With a slightly higher capacity than many home roasters, the Behmor 1600 can roast up to one pound of coffee at a time.
The Behmor 1600 Plus has a high capacity and works well for intensive home roasting or small business roasting. While this roaster is a bit costly, the smoke control is ideal for regular, indoor use.
Watch this video review of the Behmor 1600 Plus Coffee Roaster to get a closer look.
Click to read our full review of the Behmor 1600 Plus
---
The FreshRoast SR500
Click to check price on Amazon
While the Gene Café Roaster and the Behmor 1600 Plus are relatively high-end roasters, with a number of easy-to-use features, the FreshRoast SR500 provides a higher-effort and lower-cost home roasting system.
This is a fluid bed air roaster, rather than a drum-style roaster. This inexpensive roaster offers a glass roasting chamber, an easy-to-use chaff collector and both heat and fan adjustments. The batch size is 4 ounces, and you will need to supervise the FreshRoast SR500 carefully—there's no setting this and going. You may need to manually stir the beans during roasting.
In addition, there's not an effective cooling cycle; you'll need to cool your beans with a countertop fan after roasting.
While the FreshRoast SR500 doesn't have a smoke-control system in place, it does vent smoke from the top of the roaster. When placed under a stove vent hood, the smoke is relatively well-controlled.
The FreshRoast SR500 is an ideal introductory coffee roaster for home use. It's small, practical, and effective for regular home use.
Watch this video review of the FreshRoast SR500 coffee roaster to get a closer look.
Click to read our full review of the Fresh Roast
---
The Wabash Popcorn Whirley Pop Popper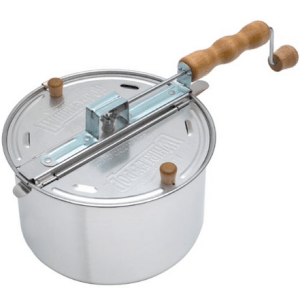 Click to check price on Amazon
If you'd like to try out roasting coffee at home, but don't want to invest hundreds of dollars, there's a cheap, fun and effective solution—the Wabash Valley Farms Whirley Pop. The Whirley Pop is a stovetop popcorn popper. There's no real technology here—it's a sturdy pot with a well-fitting lid and a stirring paddle, and available at a price point in line with other small kitchen appliances. You can even use it for its intended use and pop a tasty batch of popcorn to go with your coffee.
Unsurprisingly, the Whirley Pop doesn't come with coffee-roasting instructions, and roasting on the stovetop is a challenge. The Whirley Pop can handle up to 8.5 ounces of coffee beans at a time, but you'll need to manage and control the heat carefully to avoid burning your coffee. While you need to watch the temperature, this also means you have full control of the temperature. There's no smoke control, so disconnect those smoke alarms, turn on your vent hood and open the windows.
You'll need an instant-read thermometer—start by heating the Whirley Pop to 500 degrees. Add your beans and start cranking. You'll keep cranking until your beans are fully roasted, typically around eight to nine minutes, then transfer beans back and forth between two metal colanders to separate the chaff and cool the beans.
Watch this video review of how to roast coffee with the Whirley Pop to see how it is done.
---
We hope we were able to offer you some decent options when it comes to roasting your own coffee beans at home.  We believe that if you are willing to go the whole 9 yards, getting yourself a home coffee bean roaster, plus the best burr coffee grinder you can get, and then dish out for a proper espresso machine, then you will have the trifecta of perfect equipment, allowing you to brew just about anything imaginable from the comfort of home.  Sure, if you are new to the coffee game, there's a few things you'll have to learn, but once you get into the swing of things, you'll be your own Starbucks, only better!  🙂  Have fun!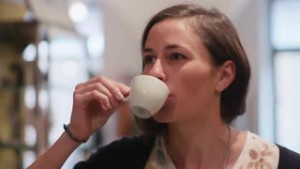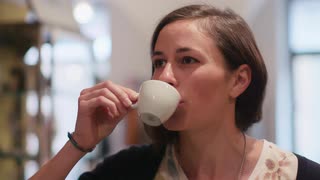 Summary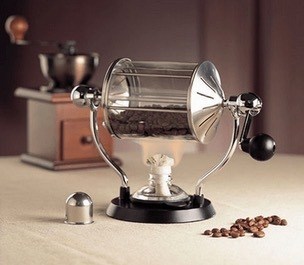 Article Name
Home Coffee Bean Roasters
Description
Many people don't realize that roasting your own coffee beans at home is now a viable option, with a number of great home coffee bean roasters stepping forward in 2016 as affordable, stylish, and easy to use....(Read More)
Author
Publisher Name
Publisher Logo