So you've got your Rancilio Rocky, a fan favorite coffee grinder, but you find you're having some issues.
Or, maybe you're still thinking about whether you want one or not. Well, this article should clear things up a bit.
Here are the questions that are the deal breakers and the ones that you are asking about it – answered!
Q: DOES THE RANCILIO ROCKY HAVE AN AIRTIGHT HOPPER LID?
A: No, not strictly speaking, but it is possible to customize your Rocky so it does have an airtight hopper lid.
One way to do this would be to get a hold of a 110mm wide lid off a .7qt airtight jar by a company called Click Clack.
Here is a video showing how simple this can be, provided you can find one of these jars.
They used to sell these jars over on Amazon, but no longer.
If you can find a airtight lid with the right size specifications, you're in luck.
Basically our advice is to keep your eyes peeled for lids with the right dimensions.
Q: WHERE CAN I BUY PARTS FOR THE RANCILIO ROCKY?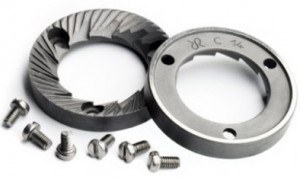 A: They are definitely out there, but you'll have to shop around a bit.
You might try here which seems to be the Australian site (check for compatibility for your exact model firstly though).
Also worth trying are this British site here as well another place down under here.
It is possible you might not have to travel so far and that Amazon might have what you are looking for, so check this link to see if this helps.
It's also worth looking on the website espressocoffeeshop.com as well.
Rancilio themselves recommend wholelattelove.com or seattlecoffeegear.com.

Q: IS THE RANCILIO ROCKY COMPATIBLE WITH AN AEROPRESS COFFEE MAKER?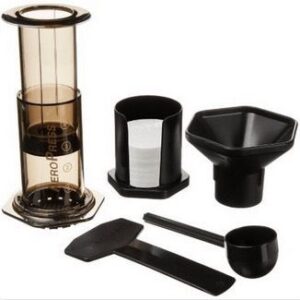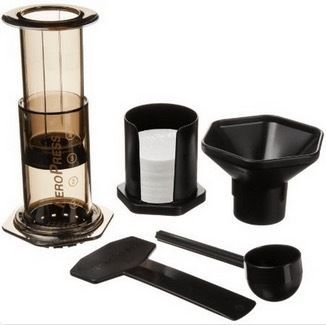 A: Yes, depending on your taste, anyway. Out of the fifty five grind settings, surely one of them should 'do' your Aeropress proud!
With our ear pressed firmly to the ground, we hear that setting it around twenty should be a good place to start from.
Others have said anything from twenty eight, or even up to forty.
In other words, it depends on your taste, your Aeropress exact model and probably the precise calibration of your individual Rocky.
So in short, you're going to have to try out a few ideas to find the perfect combination.

Q: WHAT IS THE BEST SETTING ON THE ROCKY FOR ESPRESSO?
A: Short answer – We would recommend somewhere in between a five and a ten.

Q: WHAT IS THE BURR LIFE ON A RANCILIO ROCKY?
A: It's good but it's not forever. Fortunately, replacement burrs can be bought quite easily though. Some users report daily usage and one change in ten years.

Q: HELP, I'M GETTING CLUMPING WITH MY ROCKY! WHAT DO I DO?
A: Clumping is an age old problem of all coffee grinders.
After you have checked the calibration of your Rocky and made sure that your burrs don't need replacing, then there are a few other things that can be tried.
Make sure your tamping is right and check what is in the path before the clump occurs.
There have been suggestions of using cocktail sticks to stir the newly ground coffee whilst it is in the portafilter, before tamping.
Other suggestions for uneven grinding, have even been to use Teflon tape on the upper burr carrier to get better consistency.
You can also check this thread for more info: http://coffeeforums.co.uk/showthread.php?10886-Clumping-grinds-too-fine

Q: WHAT IS THE BEST GRIND SETTING FOR A ROCKY WHEN YOU'RE GOING TO USE A CHEMEX?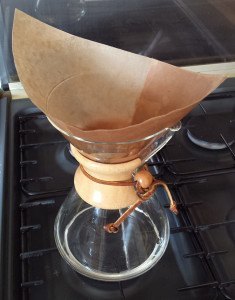 A: The best grinds to use with Chemex are regular grinds.
Drip grind is okay too although it may take a little longer and fine grinds are not recommended for use with Chemex.
Setting it on a twenty five might be a good starting point to work from.
Q: WHAT ARE THE DIMENSIONS OF A RANCILIO ROCKY?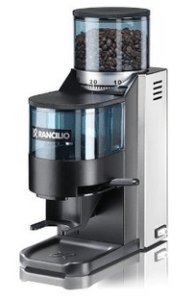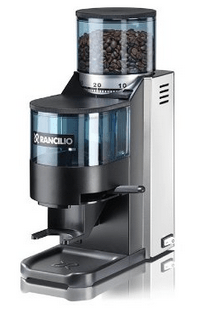 A: ROCKY ROCKY SD
DIMENSIONS 4.7 X 9.8 X 13.8 IN. 4.7 X 9.8 X 13.8 IN
WEIGHT 19.2 LB/8.7 KG 15.4 LB/ 7 KG

Q: HOW DO I CALIBRATE MY ROCKY?
A: Funny you should ask. There's a helpful little video right here about how best to calibrate your Rocky.

Q: WHAT DOES AN EXPLODED VIEW OF A ROCKY LOOK LIKE?
A: Its ultimately helpful to see a product like the Rancilio Rocky in a view like this, but if you're never seen such a thing before…prepare yourself!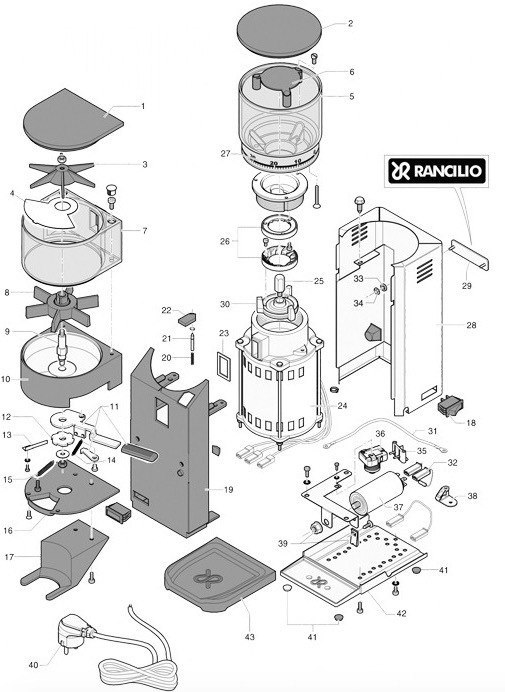 Q: IS THE ROCKY BEST FOR FRENCH PRESS, DRIP, OR ESPRESSO?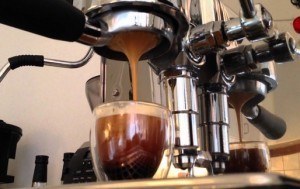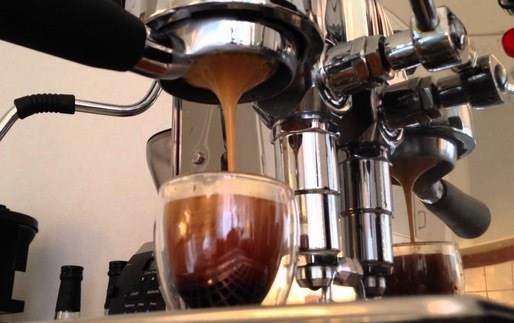 A: If you ask us, its probably espresso. Its strengths seem geared towards the finer grinds, certainly.
We have heard one or two (very low) murmurings that the French Press/ coarser grinds are its slight Achilles heel. Only slightly though!

Q: HELP, MY ROCKY ISN'T WORKING? WHAT'S THE MOST LIKELY CAUSE?
A: For cases of not grinding, the most likely cause (according to the manual) is trapped coffee grinds clogging it up.
Also it is worth checking the grind adjustment. Regular cleaning and maintenance is advised for smooth running of the machine.
Here's a video for the Rocky involving cleaning and maintenance in case you'd like to watch it.

Q: WHAT IS THE HEIGHT OF THIS MACHINE?
A: 13.8 INCHES OR 350 MM.

Q: WHAT ARE THE MOST COMMON ISSUES WITH THE ROCKY?
A: As mentioned, some French Press enthusiasts are less than impressed with it, but this is not everybody.
There are some gripes about the ease it shifts between settings on the dial as well.
Beans getting stuck in places they shouldn't and grinds getting clogged up and impacting on the next set of grinding.
Not to make excuses for the Rocky, but to be fair, there are relatively less complaints here than with other lesser machines.

Q: WHAT ARE THE MOST COMMON MODS FOR THE ROCK ?
A: There is the airtight lid mod we showed before, but here it is in case you missed it…
Similarly here, you can use a sandwich bag to unclog your left over grinds.
Then there are also the Teflon mod and the stepless mod, which are nicely explained here.
The Teflon mod will make the grinder less noisy (it already is not that loud actually) and help ensure a more consistent grind and the stepless mod gives you more controls over the adjustments.
Have fun, but do take care and remember, getting under the bonnet of your machine will invalidate any guarantee you may have and might not be advisable.
To learn more about Rocky mods, check out this thread right here: http://www.home-barista.com/grinders/rocky-mods-how-to-turn-it-into-uber-grinder-t664.html

Q: MY GRIND IS NOT FINE ENOUGH…SUGGESTIONS?
A: The finer grindings are towards the start of the dial. In other words between zero and ten should be right for Turkish coffee and between five and ten for espresso.
Then there are other things that you need to check out. Make sure your Rocky is calibrated correctly before starting. Check out this calibration video, once again…
Other things to consider are:
Does the hopper needs moving?
Are the burrs knackered?
Are you getting channeling?
Are you using enough coffee?
Are you using too much coffee?
Other problems with the interior mechanisms (things not being correctly aligned or calibrated)?

Q: RANCILIO ROCKY VS. MAHLKONIG… WHICH IS BETTER?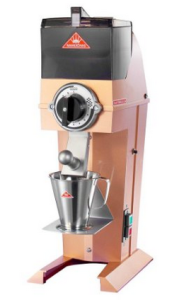 A: This is probably a bit of an unfair comparison, as Mahlkonig are professional quality and come with an über hefty price tag to match.
If you can afford to splurge more than $1000 on the beast, then by all means, go for a Mahlkonig and we feel you will not be let down.
However, for the price range it comes, in the Rocky is an absolute contender and good all round workhorse for the domestic owner.

Q: MY UNIT MAKES A NOISE. WHAT MIGHT BE THE CAUSE?
A: This could be a whole host of things. Generally, the Rocky is considered a comparatively quiet runner.
So if you are sure it's not a problem with the wiring (which you shouldn't be poking around with yourself, for sure, right?) then it could be either something has got stuck – has it had a good clean recently or there is the possibility of the blades touching?
If it's been noisy from the get go, either check your warranty or give the Teflon tape solution a try. Here's a video showing the Rocky in action and how it should sound.
Q: SETTINGS FOR POUR OVER, DRIP, ESPRESSO?
A: As mentioned, we would set the espresso to about a five and a ten, with the French Press setting being recommended at anything from about a twenty five upwards, depending on personal taste.
Some people crank it all the way up to fifty! For drip coffee it could be similar – or more, maybe a thirty to a forty some people reckon. There's a handy guide here.
Here's a couple more links for you to check out as well:
http://coffeeloversguide.blogspot.co.uk/2012/06/rancilio-rocky-pour-over.html https://www.seattlecoffeegear.com/rancilio-rocky-coffee-grinder
Thanks for reading and we hope this article could help you out with your Rocky!
Hamilton Beach 49980A Coffee Maker, Single Serve Black/Stainless Steel

Breville Bes880Bss Barista Touch Espresso Maker, Stainless Steel