DIMENSIONS: 6.7 X 6.3 X 14.2 INCHES
ITEM WEIGHT: 3.6 POUNDS
SHIPPING WEIGHT: 4.6 POUNDS
MANUFACTURER: TECHNIVORM
MODEL NAME: KM4 TT
GRINDER TYPE: BLADE
CAPACITY: 14 OZ ON HOPPER
WARRANTY: FIVE YEARS
COUNTRY OF ORIGIN: THE NETHERLANDS
COLORS POLISHED: SILVER WITH BLACK BASE
BPA FREE: YES
PRICE GUIDE: $225+
Two hundred dollars for a blade grinder? Are you kidding me? This might be your first thought on seeing the very stylish, Technivorm Moccamaster KM4 TT coffee grinder.
Normally, we would think that this seems like a slightly hefty price tag for a mere blade grinder. But perhaps it is time for a bit of a rethink here. Conventional wisdom tells us that burr grinders are best.
The coffee snobs would have us believe that our poor little beans are going to be burned to death under the heat of the rotating blade.
Gadget lovers are going to want to fiddle around and set the exact grade of their grind.
Unfortunately, that ain't happening with this baby. Our grinder here is very much a one size fits all approach.
So if you are a burr grinder purist or in love with technology at its most finicky then maybe you should jog on…. Or then again, maybe not.
Because perhaps we need to rethink what exactly it is that you need a coffee grinder for in the first place.
If it is to show off to your house guests or flummox people in general with its complexity, then perhaps this is not for you after all… but if it is simply to grind beans to make great coffee, then it totally is.
SO WHAT IS THERE TO LIKE ABOUT THIS COFFEE GRINDER THEN?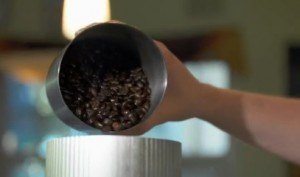 One of the things that we like about this coffee grinder is the fact it is so simple!
When we get up in the morning, logical reasoning is not our strong point and perhaps we don't want to have to spend precious time, in our caffeine deprived state, squinting at the coffee grinder and trying to figure out what to do.
The Technivorm is nice and easy. You just push one button and away you go. Why overcomplicate things?
IS THIS AS GOOD AS A BURR GRINDER?
Yes, this is definitely as good as a burr grinder, customers have reported. However, you do not have any control over the fineness of the grind.
It is recommended for and will produce coffee ground to the correct specification for any drip coffee maker.
Take a look at this video to see the Technivorm Moccamaster coffee grinder in full color.
WON'T THE BLADE GRINDER BURN THE BEANS?
Probably, as a coffee purist, you will be skeptical that any blade grinder could as efficiently and as lovingly grind your precious load as well as a burr grinder can.
The primary worry will be the dreaded burn. But don't worry. Technivorm have made sure this won't happen because there is a fan cooled grinding chamber to help keep them nicely chilled down.
After all, this is Technivorm we're talking about here, and they know their stuff.
WHY SHOULD I CHOOSE TECHNIVORM?
Technivorm have been making coffee makers for fifty years and this is the only thing that they do.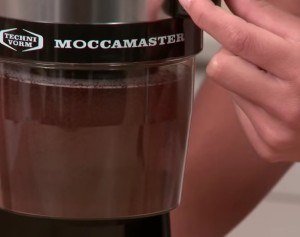 This product, like all of Technivorms, has been approved by the SCAA/SCAE (Speciality Coffee Associations of America and Europe) as producing the finest coffee grinds and also meets the ECBC (European Coffee Brewing Center) high criteria for quality at producing to their 'Golden Cup' standard.
There may be no choice of grinds here, they have been preset to the correct factory settings for grind size in each particular country that they sell this model in.
So if you buy your Technivorm Moccamaster online, it will likely be pre ordained to produce the right grind of coffee for an American drip machine.
CAN I ONLY USE THIS GRINDER WITH TECHNIVORM PRODUCTS?
Of course this has been designed to work perfectly with other Technivorm coffee makers and will fit like a glove with all their other models.
But happily, we can report that this is not only to be used with Technivorm products exclusively.
It can and should work well with all generic drip coffee makers that you want to use it with.
Yes, there are one or two people who seem to think it will only work with a Technivorm, but this is not the case. It probably will work best with one, though.
HOW LONG WILL THIS GRINDER LAST?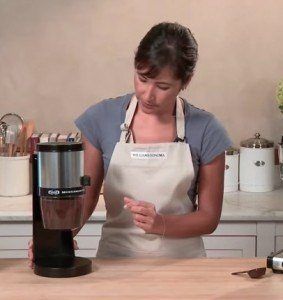 One of the main problems with coffee grinders, even high end ones, is that they run out.
And although there is no absolute guarantee that this will not break, there is a five years manufacturer's warranty with it.
This is a lot longer than a lot of coffee manufacturers give their products and can be taken as a sign of confidence in the makers of their grinder.
They even say this may be the last coffee maker you ever buy.
Maybe that is a tad over confident we feel, but the evidence is there that it should last a long time and these manufacturers are not some fly by night outfit who are likely to disappear before next year.
WHAT ELSE SHOULD I KNOW ABOUT THIS GRINDER?
The Technivorm is certified BPA free and made in the Netherlands. It is energy efficient and recyclable.
ARE THERE ANY DOWNSIDES TO THIS GRINDER?
Obviously, not everyone loves the Technivorm unequivocally. But with an over high online rating and no one saying anything really damning about it, we feel that these are mainly personal opinions.
Some low feedback has been recorded simply down to the fact the 'polished silver' was not apparently polished enough to someone's liking!
Some of the other gripes are questions about the reported slightness of the plastic bowl that the beans fall into.
According to some, it may be a little on the flimsy side, although no one is reporting it has actually broken.
Overall, any issues with this grinder seem to be fairly minor, but the reasons to choose it are major!
Hamilton Beach 49980A Coffee Maker, Single Serve Black/Stainless Steel

Freshroast Sr500 Automatic Coffee Bean Roaster

Breville Bes880Bss Barista Touch Espresso Maker, Stainless Steel