Last Updated on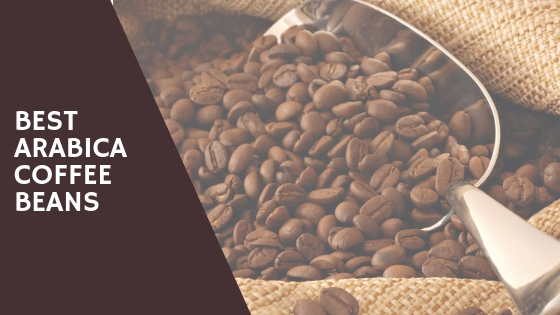 So, you have got the burr grinder and your gleaming new espresso machine is all set to go – but wait – what coffee beans should you actually be buying to go with all this wizard equipment?
Here, we look at the most simple and important ingredient for getting an excellent cup of coffee – the humble arabica coffee bean.  
Not all coffee beans come from the arabica coffee plant, but most do, and it is undoubtedly the most popular type of coffee out there.
Here is a rundown of the 5 Best Arabica Coffee Beans currently on sale online, based on customer star ratings and the number of reviews people have left on the product. 
| How It Looks | Name | Organic Y/N? | Weight | Check price |
| --- | --- | --- | --- | --- |
| | Two Volcanoes Whole Bean Coffee | Yes | 1 pound | |
| | Cafe Don Pablo Gourmet Coffee | Yes | 2.2 pounds | |
| | Lavazza Super Crema Espresso Whole Bean Coffee | No | 2.2 pounds | |
| | Tim Horton's 100% Arabic Medium Roast | No | 2 pounds | |
| | Koffee Kult Medium Roast Coffee Beans | Yes | 2 pounds | |
By the way, these are in no particular order. 
Each bean has its own unique flavour and suits a different brewing method, which we'll mention below…
---
KOFFEE KULT MEDIUM ROAST COFFEE BEANS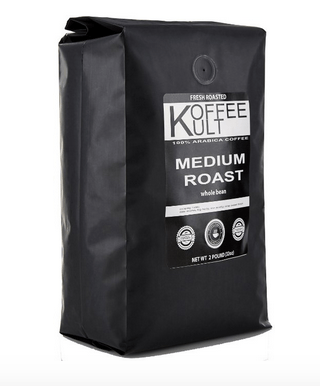 The thing that everyone seems to rave about with this coffee is its fabulous aroma.
Maybe it really is a cult, but the freshness of the smell is a definite plus point for this make, as well as the fact it has a good earthy taste with a very low acidity.
Words like "orgasmic" have been deployed more than once or twice by customers giving their reviews.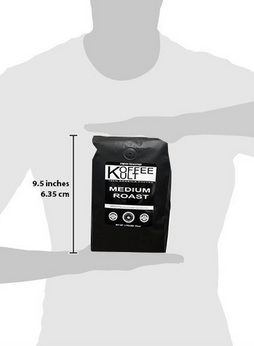 Even people who reportedly do not take their coffee black have said they have enjoyed this blend sans milk.
This is a blend that works well for all types of coffee, from French press to cold brew coffee and anything and everything in between.
QUICK STATS
PRICE: $25+
WEIGHT: 2 POUNDS
OUR RATING: 4.5 OUT OF 5 STARS
ALSO AVAILABLE: READY GROUND
BEAN ORIGIN: BLENDED FROM COLOMBIA AND BRAZIL
ORGANIC: YES
---
TIM HORTON'S 100% ARABICA MEDIUM ROAST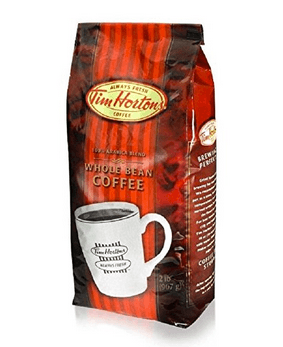 Not the cheapest out there but one of coffee lovers best Arabica coffee beans you'll come across, thanks to Canadian coffee giant, Tim Horton's (apparently a hockey player from days of yore).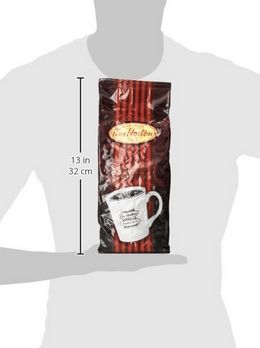 Recreate your favorite coffee shop experience fresh from the convenience of your own grinder, or if you prefer, you can buy one of the ready grounds also available in this range.
This is a smooth medium roast with a nice balanced flavor that won't mount a smash and grab in your taste buds, but definitely still leave you wanting more.
Best enjoyed in drip machines or maybe a French press.
QUICK STATS
PRICE:  $20+
WEIGHT:  2 POUNDS
OUR RATING: 4.6 OUT OF 5 STARS
ALSO AVAILABLE:  3 DIFFERENT BLENDS (READY GROUND)
ORGANIC:  NO
BEAN ORIGIN:  BLENDED FROM GUATEMALA, HONDURAS, BRAZIL, COLOMBIA
---
LAVAZZA SUPER CREMA ESPRESSO WHOLE BEAN COFFEE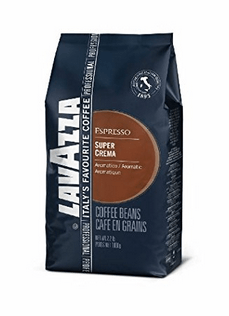 Also well known to coffee gourmets is Lavazza Super Crema Espresso.
This is just one of three other blends available which comprise of; Gold Selection, Pienaroma Espresso and Tierra!
Billed as Italy's favorite coffee, this is most certainly a trip to Europe with just your taste buds and perhaps your olfactory senses.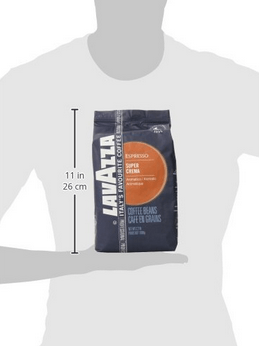 As the name implies, this is a blend with espresso in mind as it brews a strong, rich velvety flavor with, of course, super crema.
Other imbibers have also reported pleasure from using these beans with a French press.
Whatever you use them for there is no doubt that these are some of the best Arabica coffee beans available right now.
QUICK STATS
PRICE: $20+
WEIGHT: 2.2 POUNDS
OUR RATING: 4.2 STARS OUT OF 5
ALSO AVAILABLE: 3 OTHER BLENDS
ORGANIC: NO
BEAN ORIGIN: BLENDED FROM CENTRAL AMERICA, BRAZIL, INDONESIA, VIETNAM
---
CAFE DON PABLO GOURMET COFFEE MEDIUM-DARK ROAST WHOLE BEAN, SUBTLE EARTH ORGANIC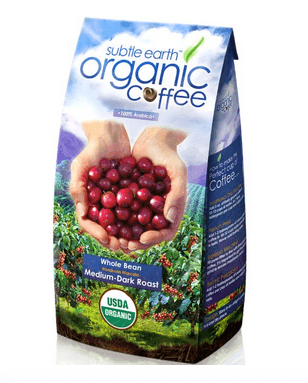 The least expensive of all the beans reviewed in our quest for the best Arabica coffee beans. These beans are universally loved for its velvety smooth taste.
This is also a 100% organic coffee that won't cost the earth in more than one sense.
It also smells as good as it tastes.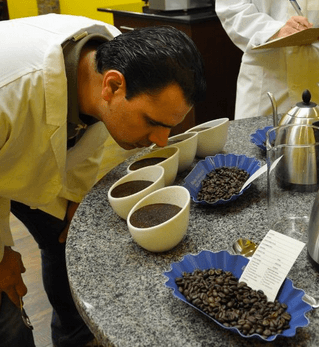 Founded in 1989, Don Pablo promise they don't blend their Arabica beans with Robusta.
It is up to you what you use this versatile coffee for, it is equally delicious in a drip machine as it is in a K cup or indeed even an espresso.
PRICE: $13+
WEIGHT: 2 POUNDS
OUR RATING: 4.6 OUT OF FIVE STARS
ALSO AVAILABLE: LIGHT AND DARK ROAST
ORGANIC: YES
BEAN ORIGIN: HONDURAS
---
TWO VOLCANOES WHOLE BEAN COFFEE – GUATEMALAN ORGANIC, GOURMET & RARE, SINGLE ORIGIN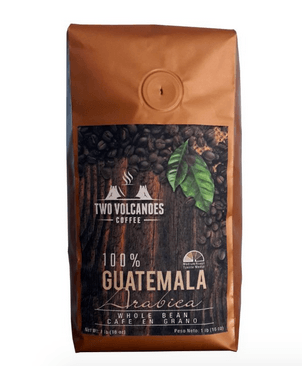 Finally, a coffee that is from a rare and single origin as opposed to a blend.
This little delicacy hails from Guatemala, as the name suggests at the base of two volcanoes.
It is organic but not fully certificated as being so.
This is not cheap, in part due to its small batch roasting process, which is more labor intensive, but so worth it.
Tasting great and also smelling fantastic, this has a somewhat subtle flavor that doesn't deliver any knockout punches on the path to morning caffeination, more a gentle meander down the path of wakefulness.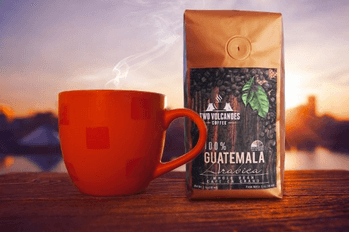 If you get the chance to try this you should not pass up the opportunity to sample one of the best Arabica coffee beans of Guatemala.
QUICK STATS
PRICE: 20+
WEIGHT: 1 POUND
OUR RATING: 4.4 STARS OUT OF FIVE
ALSO AVAILABLE: IN THREE OTHER SIZES 1-5 POUNDS
BEAN ORIGIN: GUATEMALA
ORGANIC: YES BUT NOT CERTIFICATED
---
These are some of the most aromatic and tasty Arabica beans for your morning coffee. Or afternoon coffee. Or anytime coffee.
If you don't like one type of flavor, there's another flavor that will hit the spot. That's part of the beauty of making your own coffee at home. 
You create the exact type of flavor that you want by testing beans, roasting times, and brewing. From this list, you're bound to find a bean that hits the spot. 
Summary
Reviewer
Review Date
Reviewed Item
Best Arabica Coffee Beans - Koffee Kult, Don Pablo, And More!
Author Rating