It's no secret that there are many great coffee grinders out there these days, but how many of them can be effective in a commercial setting, like a café.
In our eyes, a commercial, or, as its sometimes called, a professional coffee grinder is one that can handle the grinding duties at a coffee shop on its busiest of days.
Chris Smith, from over at The Celtic Cup Coffee House in Tullahoma, TN, had a great way of putting it:
"A commercial coffee grinder is one that uses burr grinder heads that shave the coffee beans to consistent size grounds instead of bashing them to different size bits (most home units).
Top Commercial Coffee Grinders in 2022 by Editors
The consistency in coffee ground size give consistent extraction. A commercial grinder must be highly reliable and consistent (from one grind to the next), and can handle the significantly increased demands of daily grinding in a coffee house."
This means grinding coffee in bulk, by the pound, in order to appease the thirsty masses. If you've been on the front lines, you know the feeling. It's a job that not every grinder is designed to take on.
Now, if you are shopping for one of these hardworking and sturdy units, you need to be a little bit particular. Why? The obvious reason - they're not cheap!
For that reason, we've created a buying guide to the coffee grinder that will help you make a decision.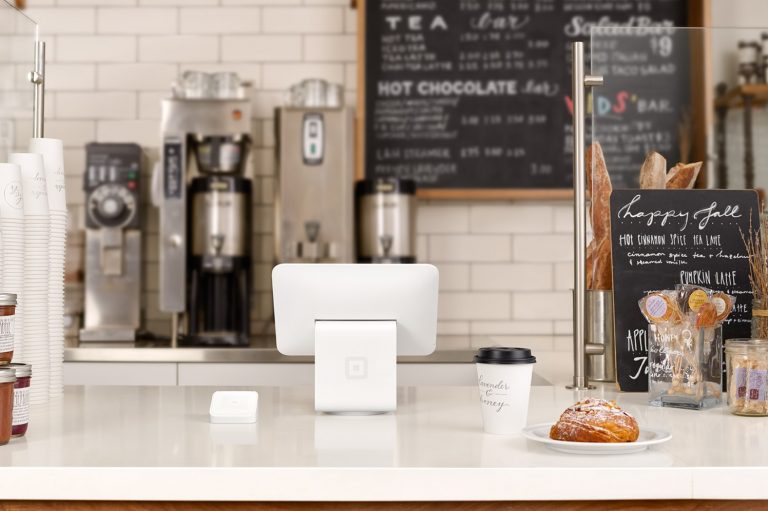 Let's get into it!
Features of a Commercial Coffee Grinder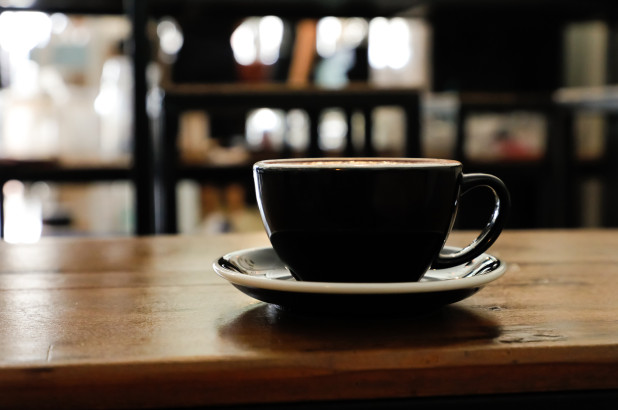 Hopper Size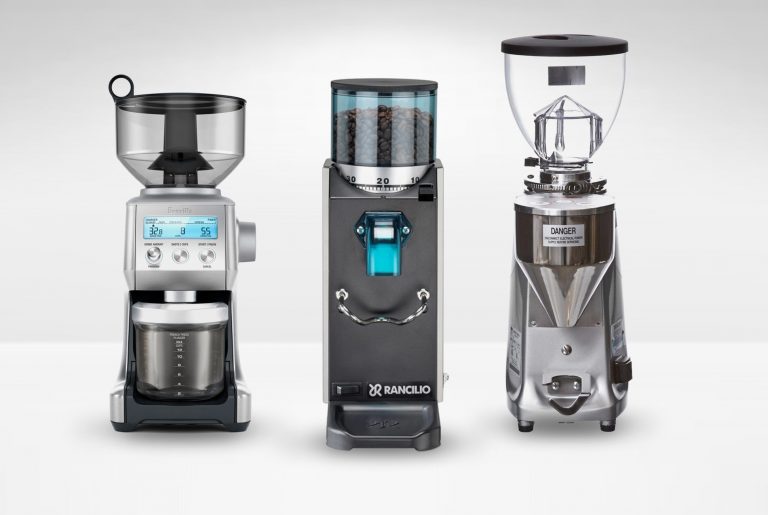 The beans should be in the hopper ready to go at the beginning of the day. You don't want to be filling that hopper constantly as you make 60 or even 100 drinks per day.
A hopper with a capacity of approximately 20 ounces or higher is good for most medium-sized businesses that do less than 60 drinks per day.
If you plan on buying for a long-term need, consider a hopper that holds more beans.
On the subject of hopper size, we spoke with Brad Heykoop of craft coffee establishment Atlas Coffee, in Littleton, Colorado.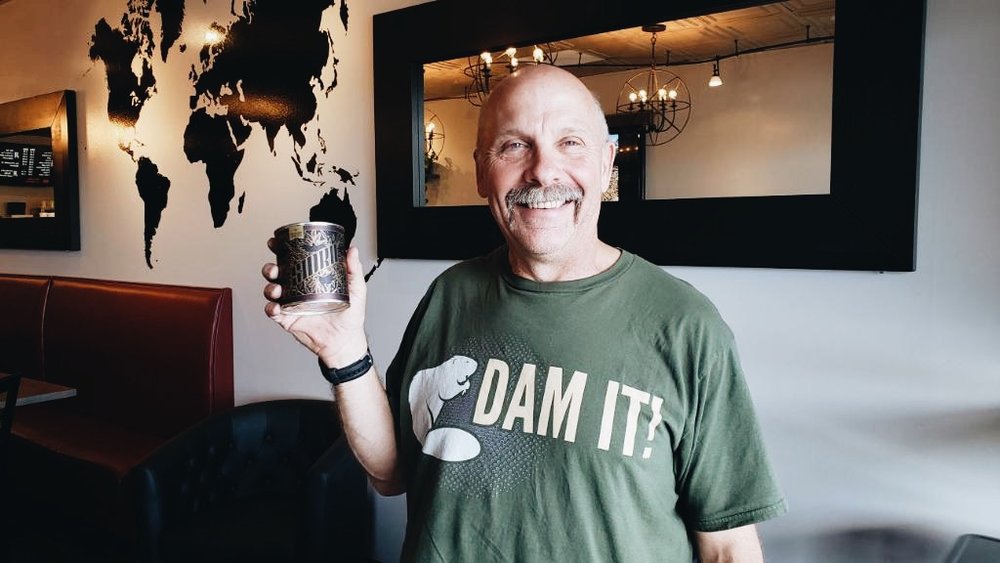 Atlas Coffee brews beans from Corvus Coffee Roasters, a small batch roasterie also from Colorado, who works with farmers around the world.
Atlas Coffee, for those living in that area, is an escape from the everyday hustle and bustle, and they take great pride in their coffee. Stop by if you're in the area!
We asked Brad about his hopper size, just to see what he prefers. He says:
"Our Mahlkonig K30 grinder hoppers hold 3.5 lbs and our K30 twin grinders hoppers hold 1.7 lbs in each hopper. We are happy with the capacity of the hoppers."
For context, we asked Brad about Atlas Coffee's general foot traffic. "About 175-200/day at the Ken Caryl shop and 75-100 at the new Sterling Ranch shop."
In any case, you want to purchase a grinder that you can grow into as your business picks up on a monthly basis, but be careful not to get something that is too large for what you need, unless you need it.
It would be a waste of money to outgrow your machine in only a few months.
Blade or Burr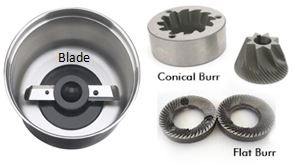 When purchasing your grinder, you'll need to decide between a blade grinder and a burr grinder. This is one of the first considerations of your grinder actually.
A blade grinder has sharp metal blades as the name implies. The blades will slice the beans at an extremely high rate of speed.
Blade grinders are often less expensive than burr grinders, but there's a trade off in terms of coffee production.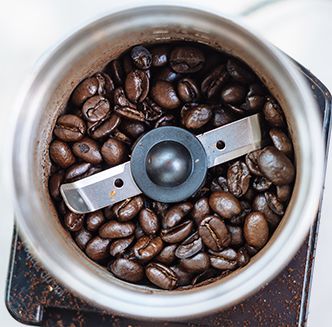 Blade grinders will slice and grind the beans quickly, but it's harder to get a uniform consistency to the powder.
We mentioned this matter of blade vs burr grinders to Jason Thomas, co-owner of Cascadia Coffee Roasters along with his wife Susan, who are obsessed with both coffee and quality control in the best possible way.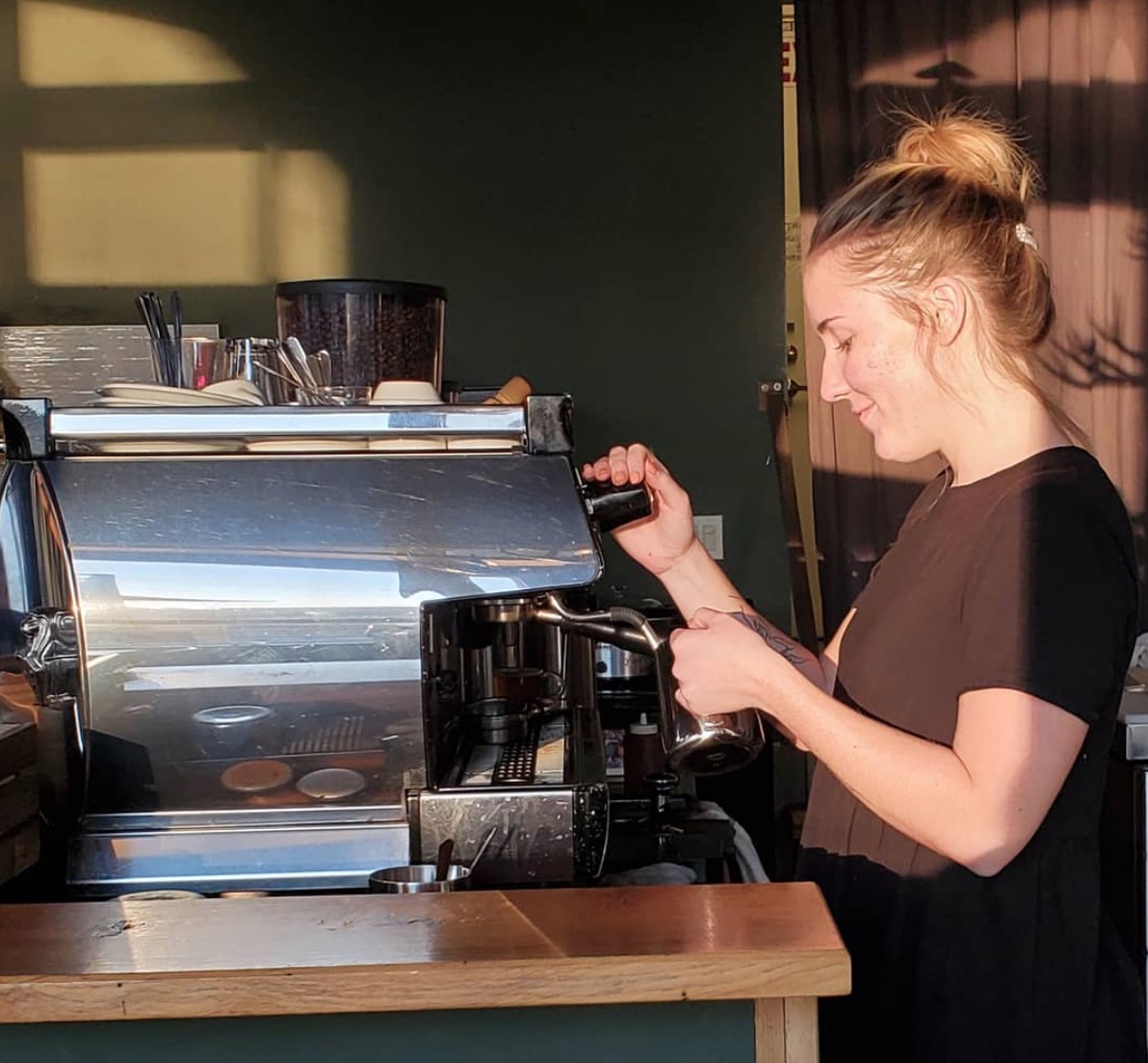 Here's what they had to say on this topic:
Blade grinders are not advisable for quality and consistent coffee whether at home or business.
Blade grinders do not provide consistency in the size of the coffee grains. That inconsistency then leads to the extraction of solubles. The quality of the final cup has the potential of being compromised since the smaller grains will over extract while the larger grains will under extract.
The question really has much more to do with extraction than just equipment preferences. If a person understands how hot water extracts the nectar of the gods from the ground beans, then understanding equipment makes more sense.
A burr or conical grinder produces a more finely calibrated and consistent ground coffee leading to a better extracted cup.
A few tips for someone who only has a blade grinder would recommend they consider at least timing how long they hold that button down. If a person does the same thing always they can experiment to find what works. Once that is discovered, they should try to replicate that success each time.
One final thought is that we are not super coffee snobs. A person can certainly use a blade grinder to create a good cup of coffee at home. French press, cold brew and other immersion methods are more forgiving to those who only have access to blade grinders."
We also reached out to Dharmendra Bengali of Bloomsbury Blends Inc., to get his opinion on the whole blade vs. burr thing when it comes to the idea of blade grinders in a commercial setting.
A bit about Bloomsbury: "Since 2003, Bloomsbury Coffee House has been dedicated to serving organic, locally sourced, healthy eats, scrumptious treats, and the most delicious coffee in Ashland."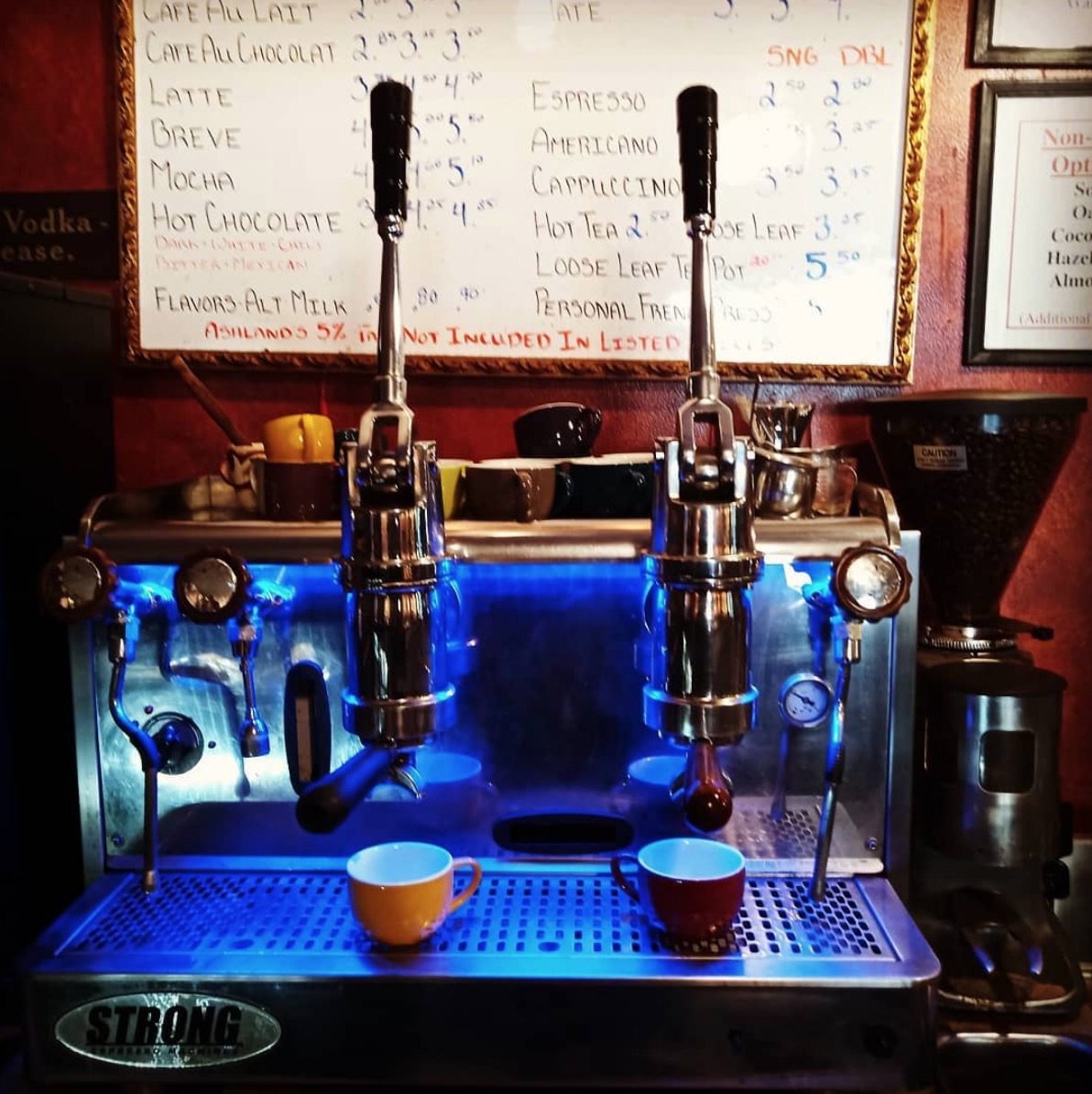 He says, "In a coffee cafe/house, blade grinders are not practical when we use so much coffee per day. Also, there are issues with getting consistently same grind, which is pretty much impossible with blade grinders.
Another problem with blade grinders is, if the grinder is kept on too long, it will burn the coffee with the heat generated."
We also spoke with Gabe Anderson, owner and event manager at Margin Coffee in Albany, OR.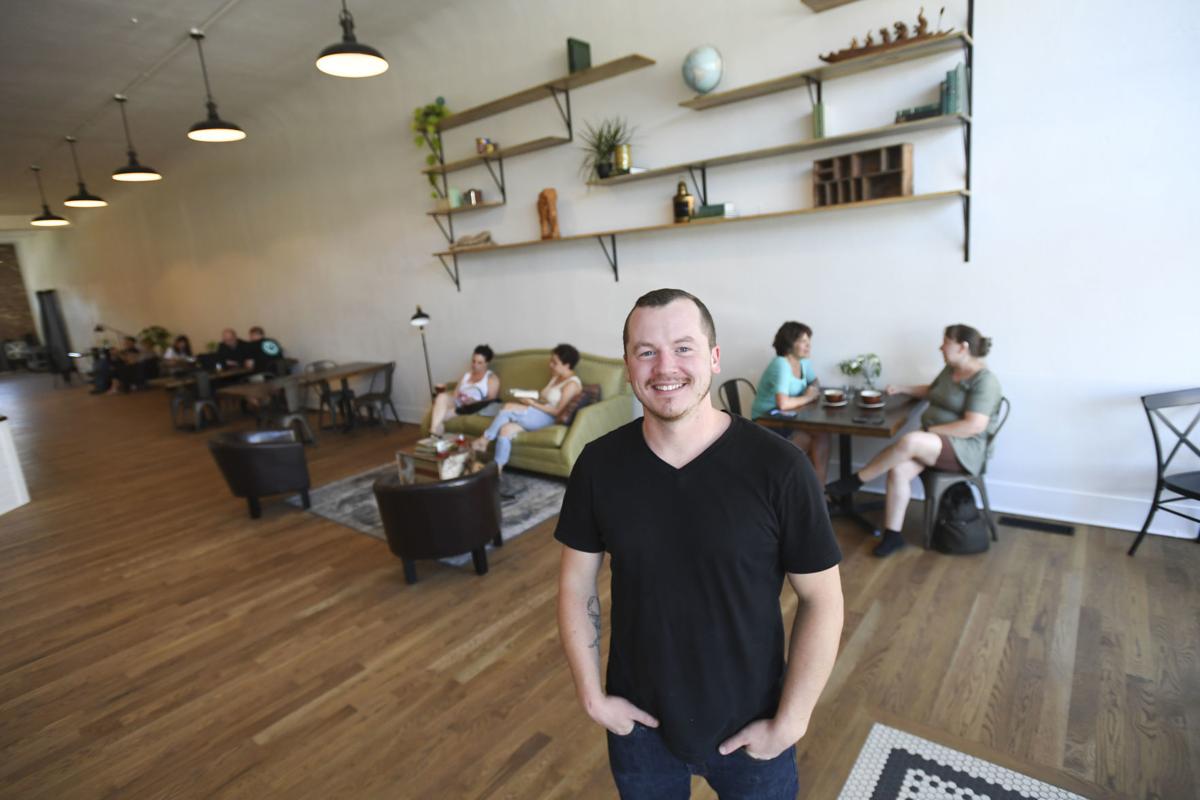 We asked him, point blank, if there was ever a time he could think of where a blade grinder would be appropriate to use in his store, and he said:
"I cannot think of any advantages of using a blade grinder at out coffee shop. Burr Grinders ensure an even grind. Even low quality burr grinders out perform any blade grinder as they crush the coffee beans from an auger or hopper and have less chance of human error. In general, dark roasted or flavor infused roasts will gum up any grinder, blade or burr."
A burr grinder is undoubtedly the better bet for nearly any coffee shop, as well as anyone doing home brewing for quality and consistency. The grinder features two parts.
One of the parts moves with the motor. The other part stays still. This allows the beans to be ground between the moving and stationary burrs.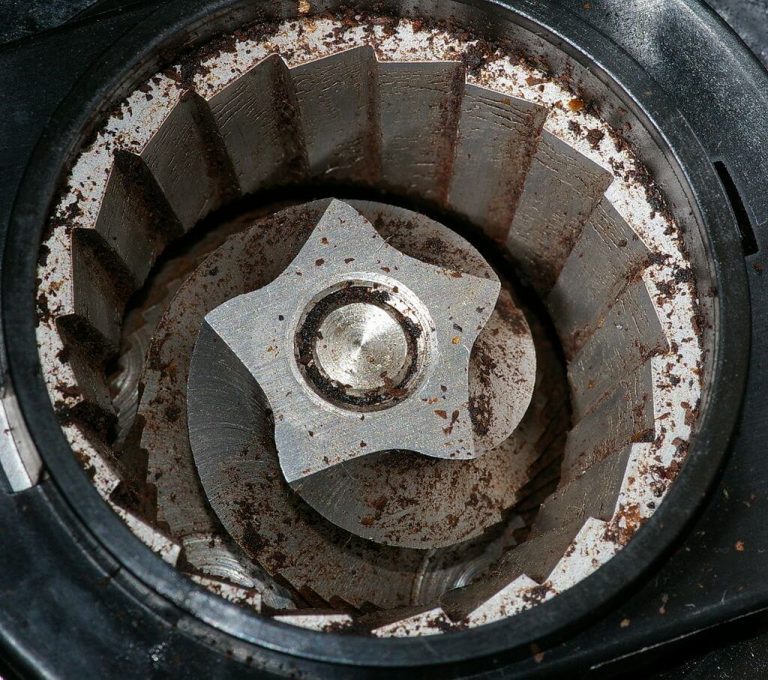 The distance between the two parts is how you get the consistency and grind size.
It creates a more uniform consistency than you'd get from blades that fly in a circle without keeping the beans in place.
On the topic of consistent grinds, Dharmendra Bengali of Bloomsbury Blends Inc. adds: "Always monitor the coffee grind regularly, feel the coffee grounds, check the coarseness to see if the burr blades are still at same distance, if not adjust. Brew test espressos to see if you are getting consistent results."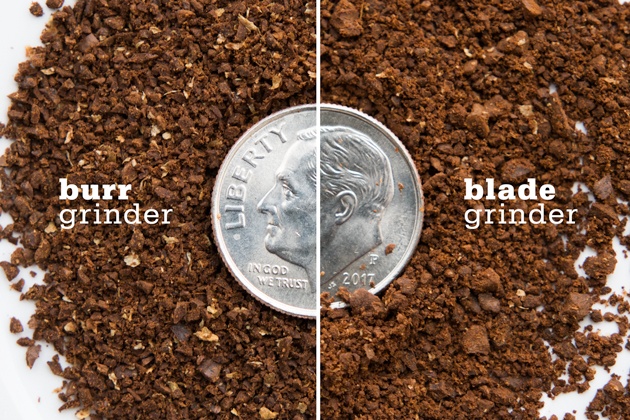 Cascadia Coffee Roasters chime in on the topic of consistency as well: "Consistency starts with the equipment, a conical or burr grinder will provide a consistency in grind setting.
Then there is issues of keeping equipment clean by running cleaning pearls through it and taking the time to disassemble the grinder for a deep clean on a regular basis.
Also, the burs on the grinder need to be changed the coffee beans take as a toll on the burr grinders so they wear down and need replaced on a regular schedule (defendant on coffee use)."
To this point, Gabe from Margin Coffee adds: "
"The best way to get a consistent grind with a burr grinder is to clean it regularly. For espresso it is important to dial in every doppio or americano shot, and between every 10-15 shots for lattes or other drinks.
For bulk grind on a burr grinder, regular maintenance and cleaning ensures a constant and dependable grind. We use a corn based grinder cleaner once a week.
Additionally, using a high quality light or medium roast bean will add years to a bulk grinder and they typically are less oily."
Burr Size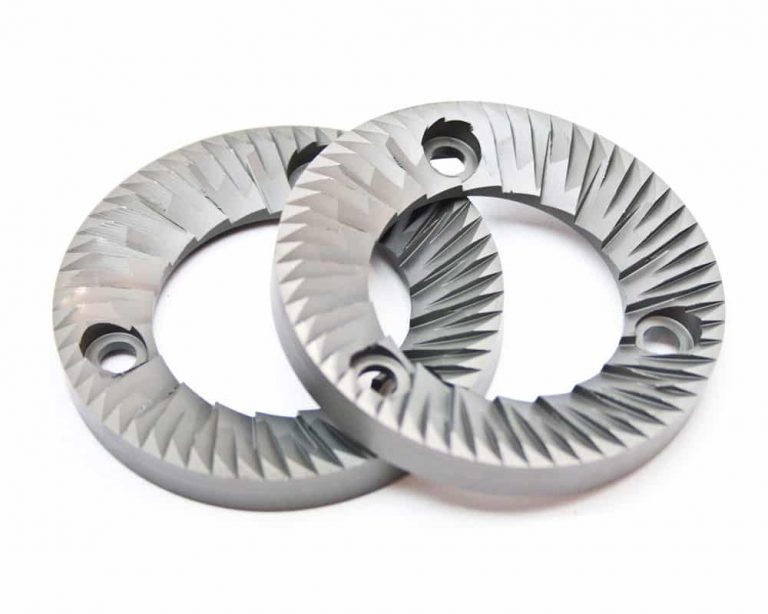 The size of the burrs in your burr grinder are an important part of how fast the beans are ground. Small burrs like the 58 mm will give you a shot of espresso in up to 10 seconds.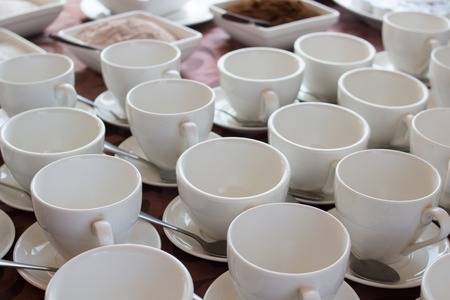 That sounds pretty fast. If you are producing hundreds of coffees a day, though, that's not fast at all.
A 64 or 65 mm burr will give you a grind in a matter of 6 seconds.
When you shave that much time over the course of preparation for each coffee, you're delivering fast coffees to awaiting customers.
You'll want to purchase your grinder with the future in mind. Consider how much coffee you'll need to be grinding, and buy accordingly.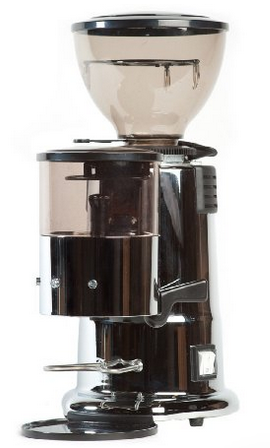 Pictured above, we have what we would consider a superb entry-level commercial grade grinder, namely, the Macap M4.
This is a great example of what we would call a commercial-grade or professional model of coffee grinder, and you will read more about it below as it ranks as one of our top choices.
Watch Out For Grinders That Claim To Be Professional Or Commercial Grade (But Aren't)
Many coffee grinders on the market do sometimes make the claim to be "professional", implying that they can handle the workload in a busy café or restaurant?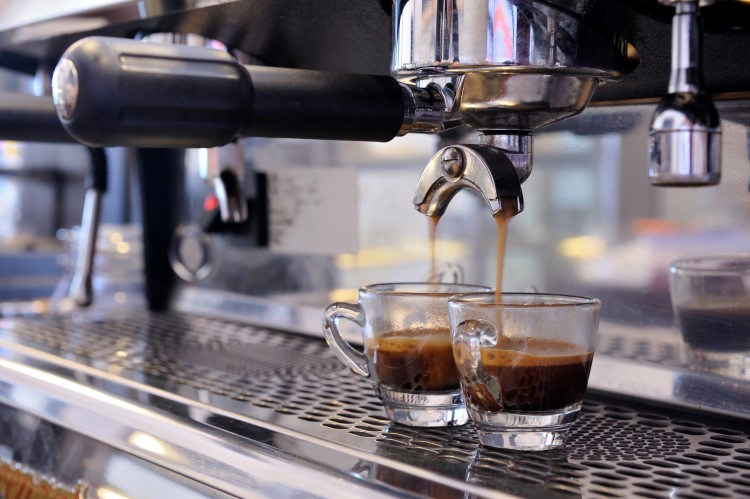 Like the word "gourmet", it's sometimes difficult to define the meaning of a "professional" or "commercial" coffee grinder, but chances are you aren't going to get one for less than $500.
Yes, there are deals to be had out there, but in the long run, you need to know the facts. How much can your grinder grind? How fast can it grind? How fine or coarse can it grind?
The line is getting longer, and people want their coffee. Oh my god, one guy just stormed out, no longer willing to wait for your kinda-sorta fast coffee grinder to do its job.
When your café looks like this, you absolutely need a grinder that can keep up.
Ok, so I think we've made it pretty clear that if you're running a business, there's no mucking around.
Speaking of business, in this next section, we speak to experts about what kinds of coffee grinders they use at their cafés and why they chose them, as well as a lot more!
Top 8 Best Commercial Coffee Grinder Reviews 2022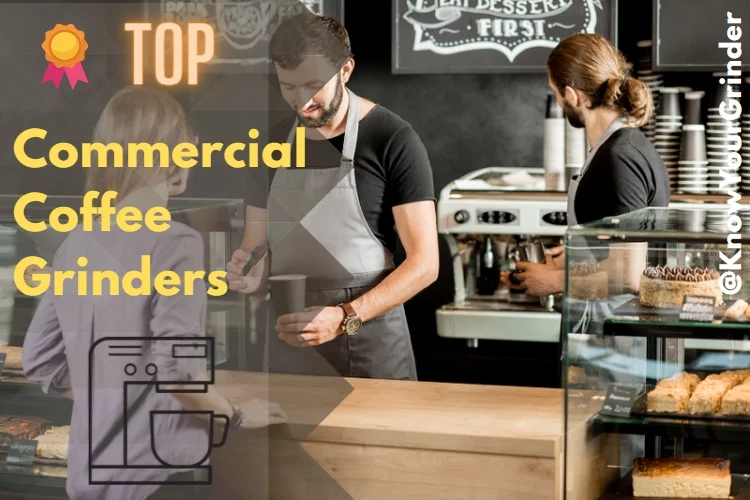 Are you a coffee lover? Do you like to grind your own coffee beans? If so, you need a commercial coffee grinder. A quality coffee grinder will give you the perfect grind every time, ensuring that your coffee tastes its best. There are many different types of coffee grinders on the market, so it can be tough to decide which one is right for you. In this blog post, we will take a look at some of the best commercial coffee grinders available and help you decide which one is right for you. Happy grinding!
Breville BCG820BSS Smart Grinder Pro Coffee Bean Grinder, Brushed Stainless Steel - Link
Pros:
Excellent grind quality - consistently well-ground coffee beans with minimal effort.
60 different grind settings - allows you to find the perfect grind size for your specific needs.
Built-in burr calibration system - ensures that the grinder produces consistent results over time.
Removable grinds catcher - makes it easy to clean up after use and prevents grounds from ending up on your countertop.
Sleek design - looks great on any kitchen countertop and takes up minimal space.

Baratza Forte BG (Brew Grinder) Flat Steel Burr Commercial Coffee Grinder - Link

La Pavoni Commercial Coffee Grinder, Large 2.2 pounds, Built-in 58mm Tamper, Red and Stainless Steel - Link

BUNN 35600.0020 Multi-Hopper Coffee Grinder & Storage System, Black/Stainless - Link

Rancilio Rocky Espresso Coffee Grinder - Link

Mahlkonig K30 - Link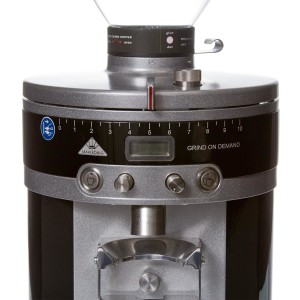 Let us start with this beast of a coffee grinder - the Mahlkonig K30, which sounds like its part coffee grinder, part ski slope.
Weighing in at about 28 lbs, and costing about $2000, this embodiment of German engineering par excellence is one which can grind for espresso for years on end.
All with a certain nonchalance that will have you staring at it wondering how it just keeps going…and going.
This is certainly not the type of grinder you buy for your restaurant or busy café, and then it bites the bullet.
This is simply one of the very best commercial-grade coffee grinders you will want beside you as your primary (and perhaps only) helper as you grind your coffee beans.
Not to be morbid, but this thing will probably outlive all of us, and still be grinding in the 23rd century, and we don't just mean because it's a giant hunk of metal.
The hardware inside this beast is truly a wonder to behold.
Sure, it always helps to have few other less powerful coffee grinders kicking around for certain styles of french press and drip coffee, and maybe a grinder for decaf, but the Mahlkonig can do it all regardless.
If you are soon to be opening a café, the word investment comes to mind with this grinder.
Pro Grade
So what does the Mahlkonig do specifically that makes it a great professional grinder, specifically?
With its 150 V / 60 Hz motor and 4.6 amps, in addition to a hopper capacity of 3.3 lbs, you'll be able to load up ample beans and then grind them all quickly and efficiently during rush times, as this grinder has the ability to grind 7 grams in 2.3 seconds.
If you are looking for a professional model, look no further than this model. It is used in Barista World Championships because it is THE pro grinder of them all.
Up next, something from the Mazzer company…
Mazzer Major - Link