Last Updated on
It's no secret that there are many great coffee grinders out there these days, but how many of them can actually claim to be true commercial grade models?
What defines a commercial coffee grinder?  In our eyes, a commercial, or, as its sometimes called, a professional coffee grinder is one that can handle the grinding duties at a coffee shop on its busiest of days.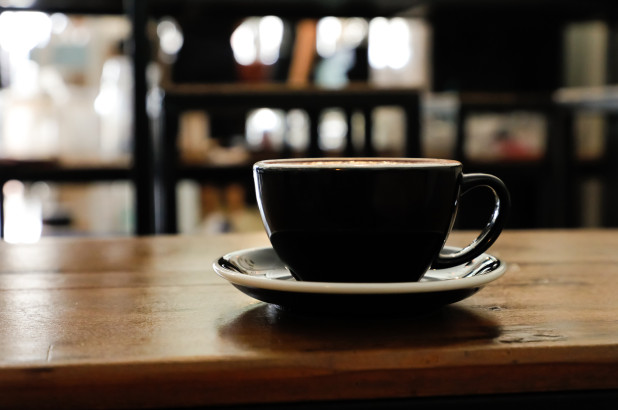 This means grinding coffee in bulk, by the pound, in order to appease the thirsty masses.  If you've been on the front lines, you know the feeling. It's a job that not every grinder is designed to take on.
Now, if you are shopping for one of these hardworking and sturdy units, you need to be a little bit particular.  Why?  The obvious reason – they're not cheap!
For that reason, we've created a buying guide to the grinder that will help you make a decision.
Guide to Choosing a Commercial or Professional Grinder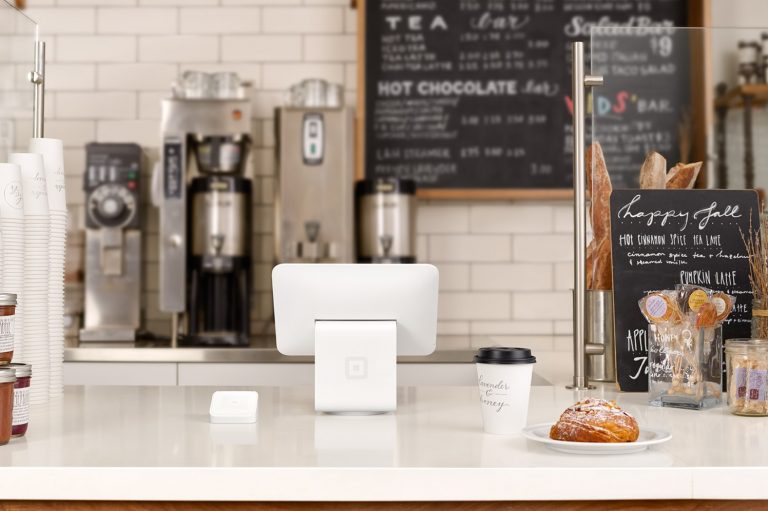 When you are purchasing a grinder for your cafe, coffee shop, or store, you want one that can handle the amount of customers you'll see in a day. That's a given. It has to handle a large volume of beans.
That influences many of the features that you'll want in your commercial coffee grinder.
Features of a Professional Grinder
Hopper Size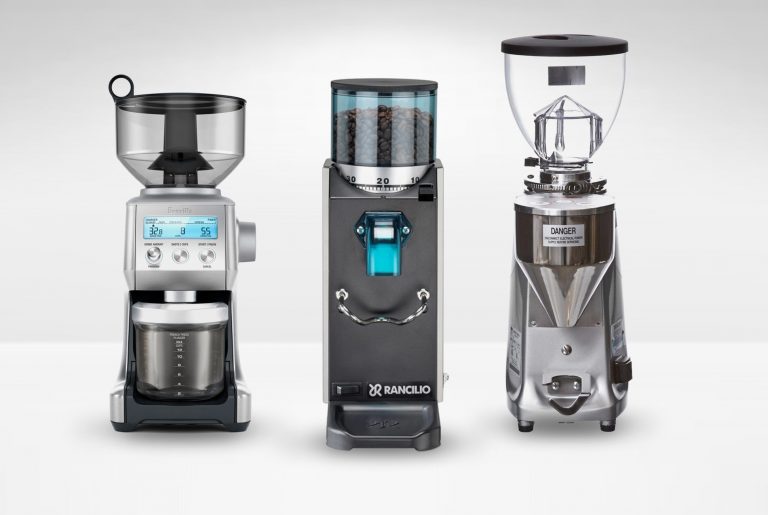 The beans should be in the hopper ready to go at the beginning of the day. You don't want to be filling that hopper constantly as you make 60 or even 100 drinks per day.
A hopper with a capacity of approximately 20 ounces or higher is good for most medium-sized businesses that do less than 60 drinks per day.
If you plan on buying for a long-term need, consider a hopper that holds more beans.
You want to purchase a grinder that you can grow into as your business picks up on a monthly basis.
It would be a waste of money to outgrow your machine in only a few months.
Blade or Burr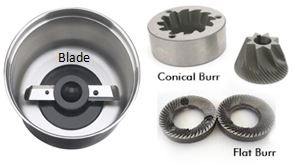 When purchasing your grinder, you'll need to decide between a blade grinder and a burr grinder. This is one of the first considerations of your grinder actually.
A blade grinder has sharp metal blades as the name implies. The blades will slice the beans at an extremely high rate of speed.
Blade grinders are often less expensive than burr grinders, but there's a trade off in terms of coffee production.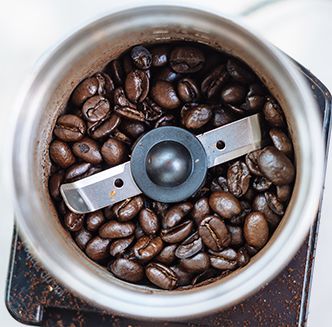 Blade grinders will slice and grind the beans quickly, but it's harder to get a uniform consistency to the powder.
An uneven grind can be a huge problem with coffees that require a fine, uniform grind.
The blade grinder is good for use with drip coffees that use a paper filter. The coarse grind won't be a problem.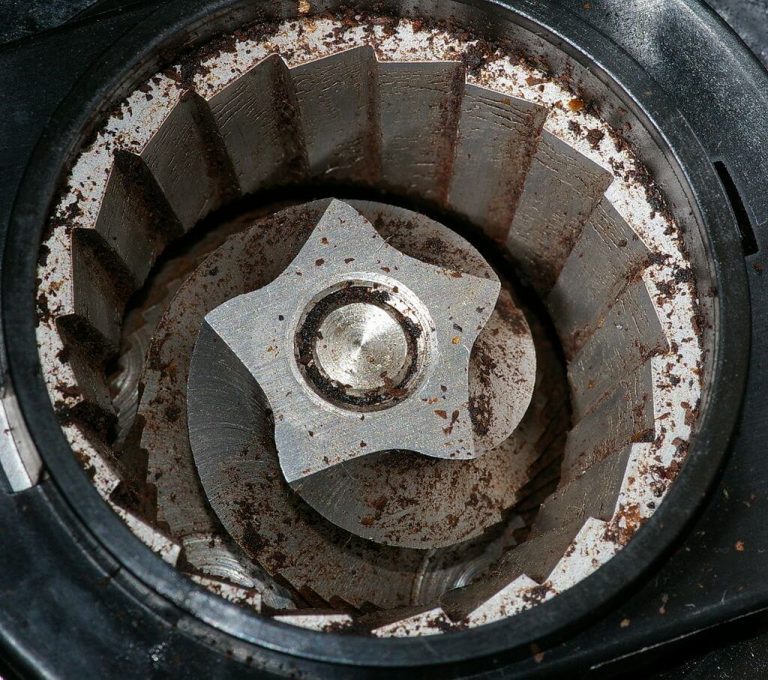 A burr grinder is a better one for most coffee shops as well as home brewers. The grinder features two parts.
One of the parts moves with the motor. The other part stays still. This allows the beans to be ground between the moving and stationary burrs.
The distance between the two parts is how you get the consistency and grind size.
It creates a more uniform consistency than you'd get from blades that fly in a circle without keeping the beans in place.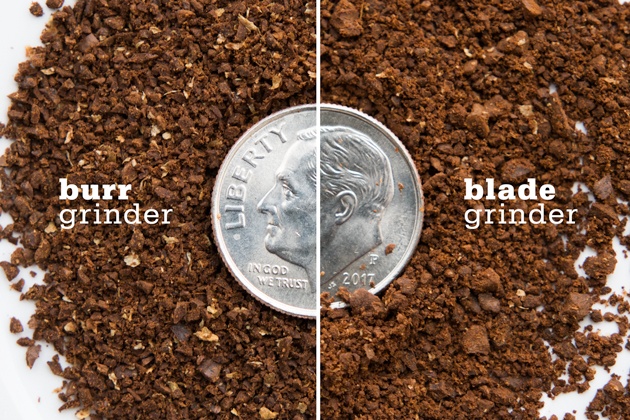 The motor of a burr will also transfer less heat than the blades of a grinder.
Burr Size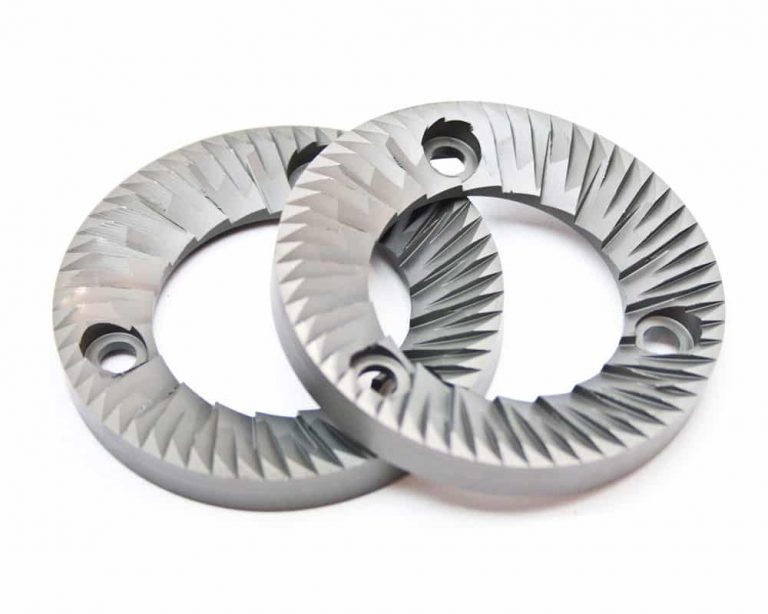 The size of the burrs in your burr grinder are an important part of how fast the beans are ground. Small burrs like the 58 mm will give you a shot of espresso in up to 10 seconds.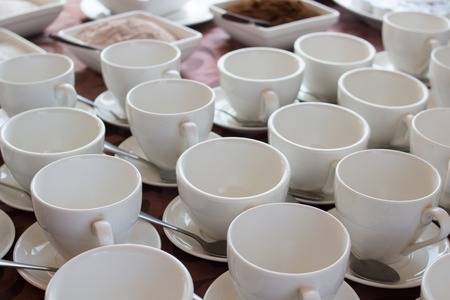 That sounds pretty fast. If you are producing hundreds of coffees a day, though, that's not fast at all.
A 64 or 65 mm burr will give you a grind in a matter of 6 seconds.
When you shave that much time over the course of preparation for each coffee, you're delivering fast coffees to awaiting customers.
You'll want to purchase your grinder with the future in mind. Consider whether you plan on selling hundreds of coffees per day in the future. Not what you have going on at the moment.
---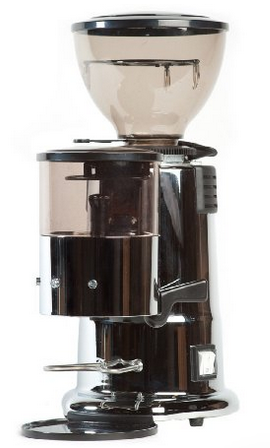 Pictured above, we have what we would consider a superb entry-level commercial grade grinder, namely, the Macap M4. 
This is a great example of what we would call a commercial-grade or professional model of coffee grinder, and you will read more about it below as it ranks as one of our top choices.
Watch Out For Grinders That Claim To Be Professional Or Commercial Grade (But Aren't)
Many coffee grinders on the market do sometimes make the claim to be "professional", implying that they can handle the workload in a busy café or restaurant?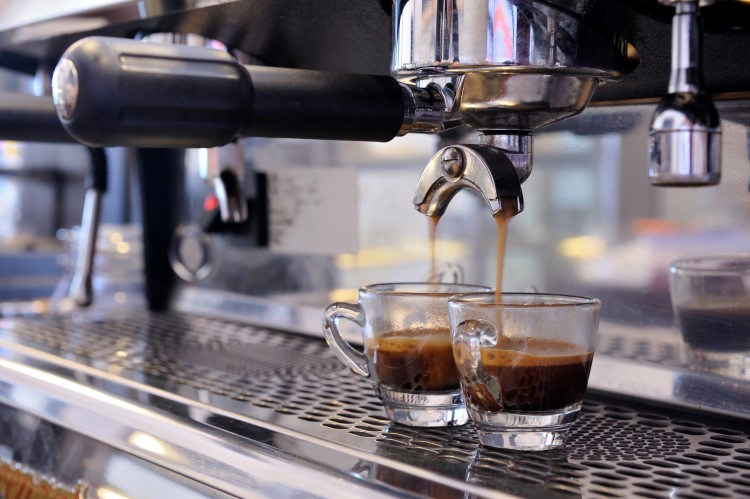 Like the word "gourmet", it's sometimes difficult to define the meaning of a "professional" or "commercial" coffee grinder, but chances are you aren't going to get one for less than $500.
Yes, there are deals to be had out there, but in the long run, you need to know the facts.  How much can your grinder grind? How fast can it grind?  How fine or coarse can it grind?  
The line is getting longer, and people want their coffee.  Oh my god, one guy just stormed out, no longer willing to wait for your kinda-sorta fast coffee grinder to do its job.  
When your café looks like this, you absolutely need a grinder that can keep up.  
Ok, so I think we've made it pretty clear that if you're running a business, there's no mucking around.  
Coffee is serious, and people who haven't had their caffeine aren't always going to be polite and wait.  That said, its time to…
Roll Out The Big Guns!  3 Commercial Coffee Grinders That Won't Let You Down…
---
#1 – Mahlkonig K30 Grinder
Let us start with this beast of a coffee grinder – the Mahlkonig K30, which sounds like its part coffee grinder, part ski slope.
Weighing in at about 28 lbs, and costing about $2000, this embodiment of German engineering par excellence is one which can grind for espresso for years on end.
All with a certain nonchalance that will have you staring at it wondering how it just keeps going…and going.
This is certainly not the type of grinder you buy for your restaurant or busy café, and then it bites the bullet. 
This is simply one of the very best commercial-grade coffee grinders you will want beside you as your primary (and perhaps only) helper as you grind your coffee beans. 
Not to be morbid, but this thing will probably outlive all of us, and still be grinding in the 23rd century, and we don't just mean because it's a giant hunk of metal.  The hardware inside this beast is truly a wonder to behold.  
Sure, it always helps to have few other less powerful coffee grinders kicking around for certain styles of french press and drip coffee, and maybe a grinder for decaf, but the Mahlkonig can do it all regardless. 
If you are soon to be opening a café, the word investment comes to mind with this grinder.
Pro Grade
So what does the Mahlkonig do specifically that makes it a great professional grinder, specifically?
With its 150 V / 60 Hz motor and 4.6 amps, in addition to a hopper capacity of 3.3 lbs, you'll be able to load up ample beans and then grind them all quickly and efficiently during rush times, as this grinder has the ability to grind 7 grams in 2.3 seconds. 
If you are looking for a professional model, look no further than this model.  It is used in Barista World Championships because it is THE pro grinder of them all.
---
#2 – Mazzer Major
Mazzer: another legendary name in the coffee grinder business.  When you decide to purchase a Mazzer coffee grinder, you really can't go wrong, as they are made to last, and their performance is second to none.
If you're buying a Mazzer coffee grinder for your home, then congrats, as it is an excellent choice for a home grinder and it will treat you right for years to come.
When it comes to commercial-grade, or professional coffee grinders, we think that the Mazzer Major is the best choice out of all the other Mazzer grinders, of which there are several, for the job of busy-café coffee grinder, and there are a few reasons for this.
Mazzer Major – What Makes It So Special?
To explain further, the Mazzer Major has a number of finer points that makes it the perfect choice for a commercial establishment. 
For instance, it has huge burrs, which we always talk about here on this website as being the better choice for harder jobs.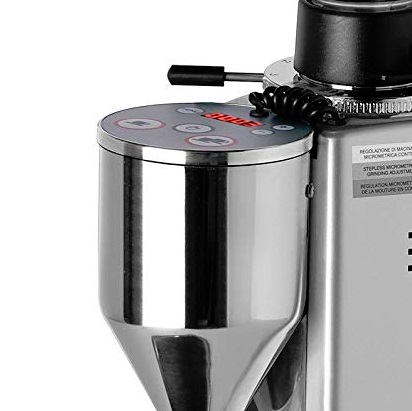 At the same time as the burrs are downright huge, they spin slowly at about 1500 RPM, providing an extremely high output of consistent coffee grinders that will suit the needs of a busy café where people are expecting the best espresso in town. 
With the Mazzer Major, it certainly can change the entire game for you for the better.
The Major, with its electronic dosing feature, is designed specifically for café usage and produces as little waste as possible, which is an underrated feature if we do say so ourselves. 
In fact, the amount of wasted grinds that cafés go through with most grinders has been known to take a substantial bite out of earnings, and so the fact that the Mazzer Major uses timed electronic dosing and an electronic dosing shoot takes away a lot of the guesswork; ultimately saving your business a substantial amount of money in the long run.
Mazzer Major VS Robur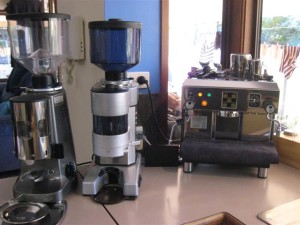 For those familiar with the Mazzer line of coffee grinders, you may be aware that the big daddy of them all is the Mazzer Robur, but Mazzer offers the Major coffee grinder as slightly less massive and more affordable alternative by several hundred dollars.
And so, while the Robur is literally the biggest and best Mazzer coffee grinder out there in terms of just being bigger and badder, the Mazor Major is no slouch either.
Considering the price of the Major vs. the price of the Robur, perhaps the Major is the best overall deal for any prospective or current coffee shop owner or restaurateur.
---
#3 – Macap M4 Stepless



Now for our third and final choice for best professional coffee grinder.
The high caliber coffee grinder you see to your immediate right is the Macap M4, which some coffee shop mainstays might suggest is not anywhere near on the same level as the previous two straight up beastly commercial / industrial grade coffee grinders.
We must admit, this is true.  When you put this grinder beside the Mahlkonig K30, you can see that the K30 has got a lot more metal and weight to it.
Still, we wanted to put the Macap M4 here on our list.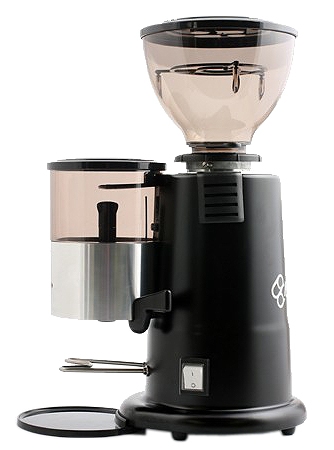 Although it isn't exactly on the same level of industriousness as our previous two choices, this grinder we think still qualifies as commercial grade.
Based on its very reasonable price of around $600-$700, we feel this coffee grinder should be included.
Not only is it an excellent grinder with many of the same great features as the other two, but it is much, much less expensive.
In many ways, the Macap M4 is comparable to the Mazzer Mini, which is Mazzer's quote unquote "low end" model of grinder.
Macap M4 Specs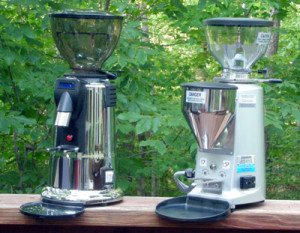 With its comparatively smaller size, at 17″, the Macap M4 not a giant of a grinder like the Robur, Major, or some of the Mahlkonigs; so it may be more easily stored in some cupboards.
It also has the micro-adjustment features that its two larger cohorts have, with its special worm gear which allows for ultra-specific grind settings.
This ultra-fine adjusting of grind settings is perfect for anyone who will need to meet the demands of espresso lovers who will undoubtedly be dropping by your shop. 
Oh, and its also very quiet, which is always a plus! 
---
With all of this to consider, you will undoubtedly be wanting to take a very close look at some or all of these commercial grade coffee grinders before purchasing. 
We hope that we have provided you with some helpful information on this matter, as we know it is an extremely important decision when opening up a coffee shop, restaurant, or any business that needs some serious coffee grinding done. 
Happy grinding!