It's no secret that there are many great coffee grinders out there these days, but how many of them can be effective in a commercial setting, like a café.
In our eyes, a commercial, or, as its sometimes called, a professional coffee grinder is one that can handle the grinding duties at a coffee shop on its busiest of days.
Chris Smith, from over at The Celtic Cup Coffee House in Tullahoma, TN, had a great way of putting it:
"A commercial coffee grinder is one that uses burr grinder heads that shave the coffee beans to consistent size grounds instead of bashing them to different size bits (most home units).
The consistency in coffee ground size give consistent extraction. A commercial grinder must be highly reliable and consistent (from one grind to the next), and can handle the significantly increased demands of daily grinding in a coffee house."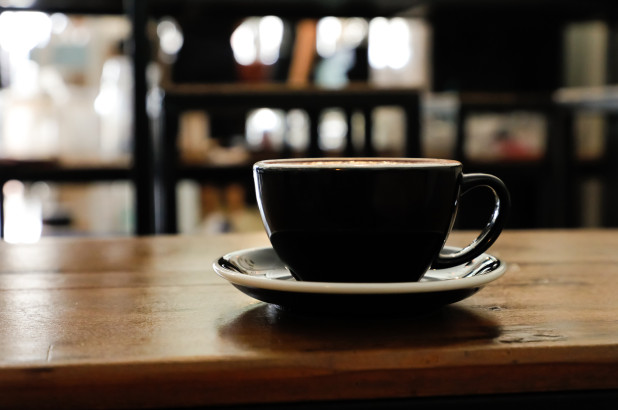 This means grinding coffee in bulk, by the pound, in order to appease the thirsty masses. If you've been on the front lines, you know the feeling. It's a job that not every grinder is designed to take on.
Now, if you are shopping for one of these hardworking and sturdy units, you need to be a little bit particular. Why? The obvious reason – they're not cheap!
For that reason, we've created a buying guide to the coffee grinder that will help you make a decision.
Guide to Choosing a Commercial or Professional Grinder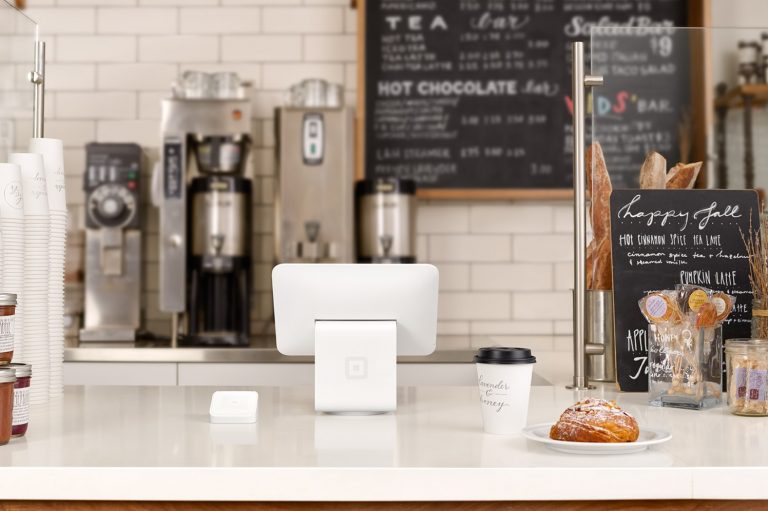 Table of contents for this article:
Features of a Commercial Coffee Grinder
Special thanks to Atlas Coffees, Cascadia Coffee Roasters, Margin Coffee, and Bloomsbury Blends for contributing to this section
What coffee grinders do coffee shops use?
Our Review of the Best Commercial Coffee Grinders
Let's get into it!
Features of a Commercial Coffee Grinder
Hopper Size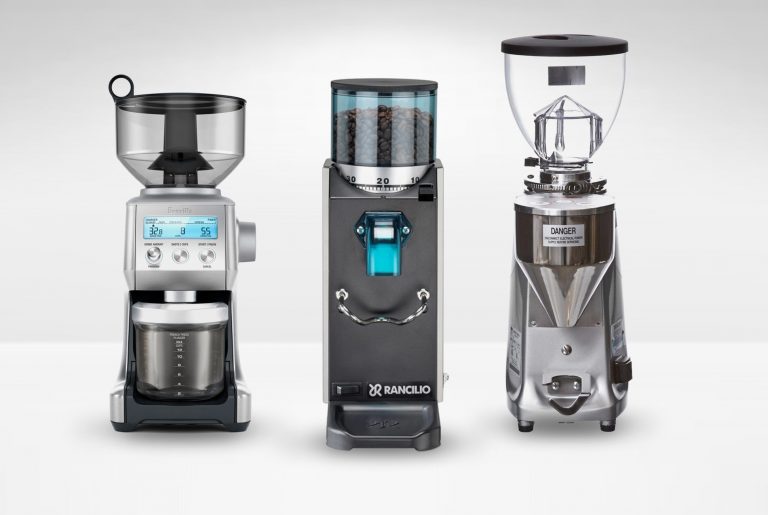 The beans should be in the hopper ready to go at the beginning of the day. You don't want to be filling that hopper constantly as you make 60 or even 100 drinks per day.
A hopper with a capacity of approximately 20 ounces or higher is good for most medium-sized businesses that do less than 60 drinks per day.
If you plan on buying for a long-term need, consider a hopper that holds more beans.
On the subject of hopper size, we spoke with Brad Heykoop of craft coffee establishment Atlas Coffee, in Littleton, Colorado.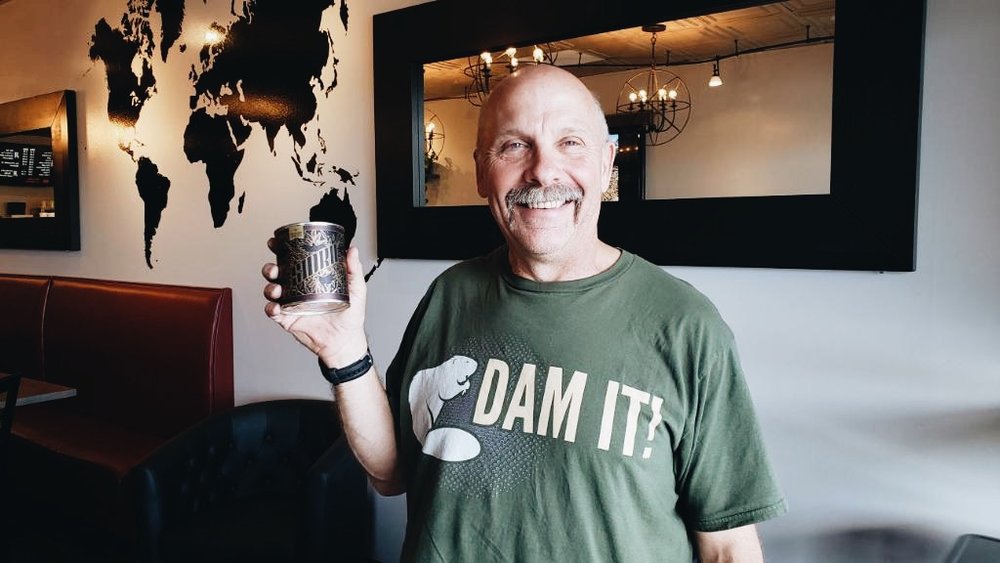 Atlas Coffee brews beans from Corvus Coffee Roasters, a small batch roasterie also from Colorado, who works with farmers around the world.
Atlas Coffee, for those living in that area, is an escape from the everyday hustle and bustle, and they take great pride in their coffee. Stop by if you're in the area!
We asked Brad about his hopper size, just to see what he prefers. He says:
"Our Mahlkonig K30 grinder hoppers hold 3.5 lbs and our K30 twin grinders hoppers hold 1.7 lbs in each hopper. We are happy with the capacity of the hoppers."
For context, we asked Brad about Atlas Coffee's general foot traffic. "About 175-200/day at the Ken Caryl shop and 75-100 at the new Sterling Ranch shop."
In any case, you want to purchase a grinder that you can grow into as your business picks up on a monthly basis, but be careful not to get something that is too large for what you need, unless you need it.
It would be a waste of money to outgrow your machine in only a few months.
Blade or Burr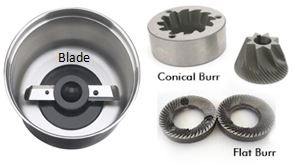 When purchasing your grinder, you'll need to decide between a blade grinder and a burr grinder. This is one of the first considerations of your grinder actually.
A blade grinder has sharp metal blades as the name implies. The blades will slice the beans at an extremely high rate of speed.
Blade grinders are often less expensive than burr grinders, but there's a trade off in terms of coffee production.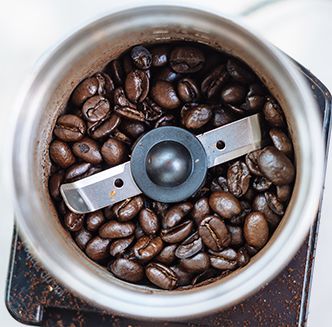 Blade grinders will slice and grind the beans quickly, but it's harder to get a uniform consistency to the powder.
We mentioned this matter of blade vs burr grinders to Jason Thomas, co-owner of Cascadia Coffee Roasters along with his wife Susan, who are obsessed with both coffee and quality control in the best possible way.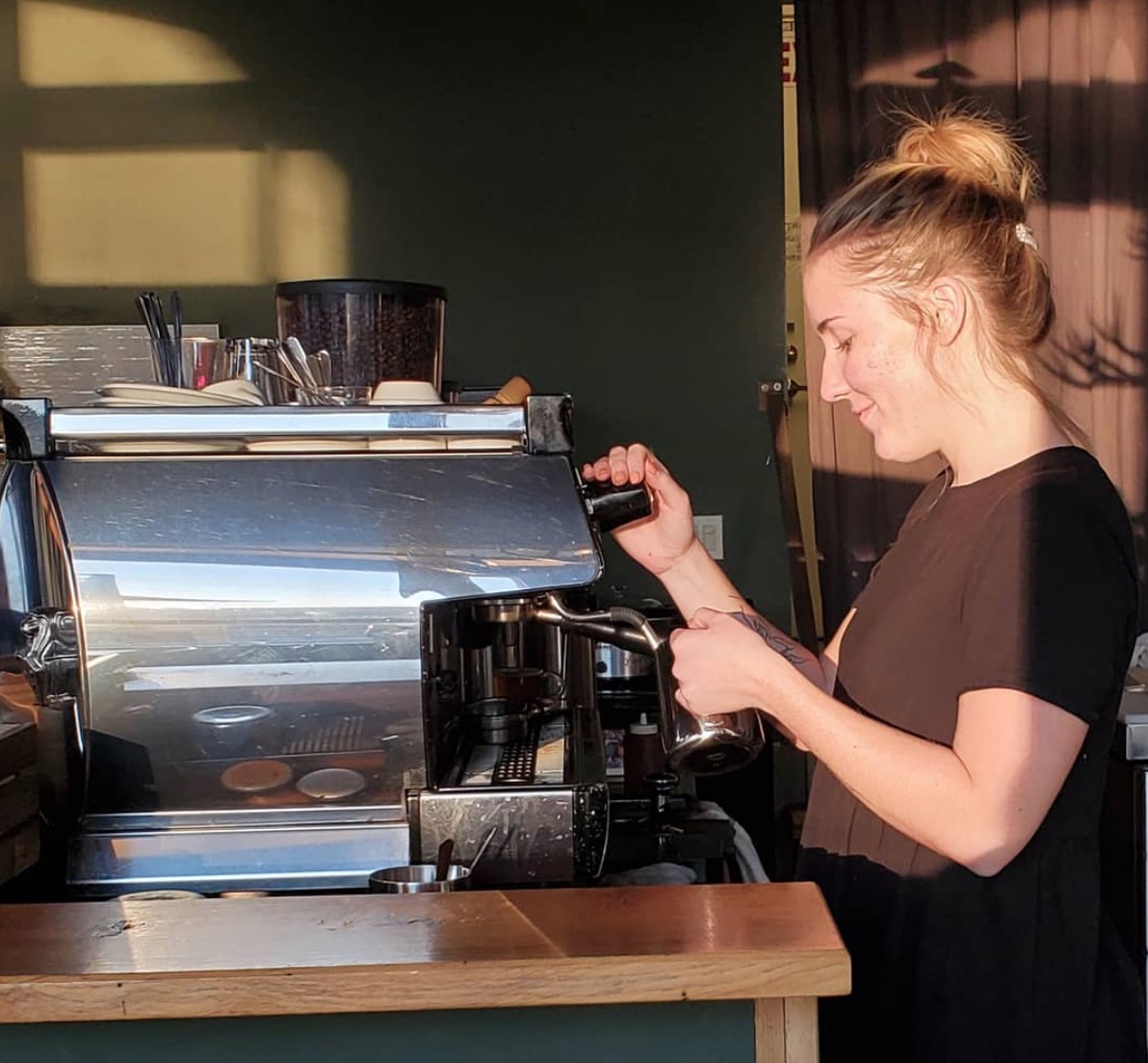 Here's what they had to say on this topic:
"Blade grinders are not advisable for quality and consistent coffee whether at home or business.
Blade grinders do not provide consistency in the size of the coffee grains. That inconsistency then leads to the extraction of solubles. The quality of the final cup has the potential of being compromised since the smaller grains will over extract while the larger grains will under extract.
The question really has much more to do with extraction than just equipment preferences. If a person understands how hot water extracts the nectar of the gods from the ground beans, then understanding equipment makes more sense.
A burr or conical grinder produces a more finely calibrated and consistent ground coffee leading to a better extracted cup.
A few tips for someone who only has a blade grinder would recommend they consider at least timing how long they hold that button down. If a person does the same thing always they can experiment to find what works. Once that is discovered, they should try to replicate that success each time.
One final thought is that we are not super coffee snobs. A person can certainly use a blade grinder to create a good cup of coffee at home. French press, cold brew and other immersion methods are more forgiving to those who only have access to blade grinders."
We also reached out to Dharmendra Bengali of Bloomsbury Blends Inc., to get his opinion on the whole blade vs. burr thing when it comes to the idea of blade grinders in a commercial setting.
A bit about Bloomsbury: "Since 2003, Bloomsbury Coffee House has been dedicated to serving organic, locally sourced, healthy eats, scrumptious treats, and the most delicious coffee in Ashland."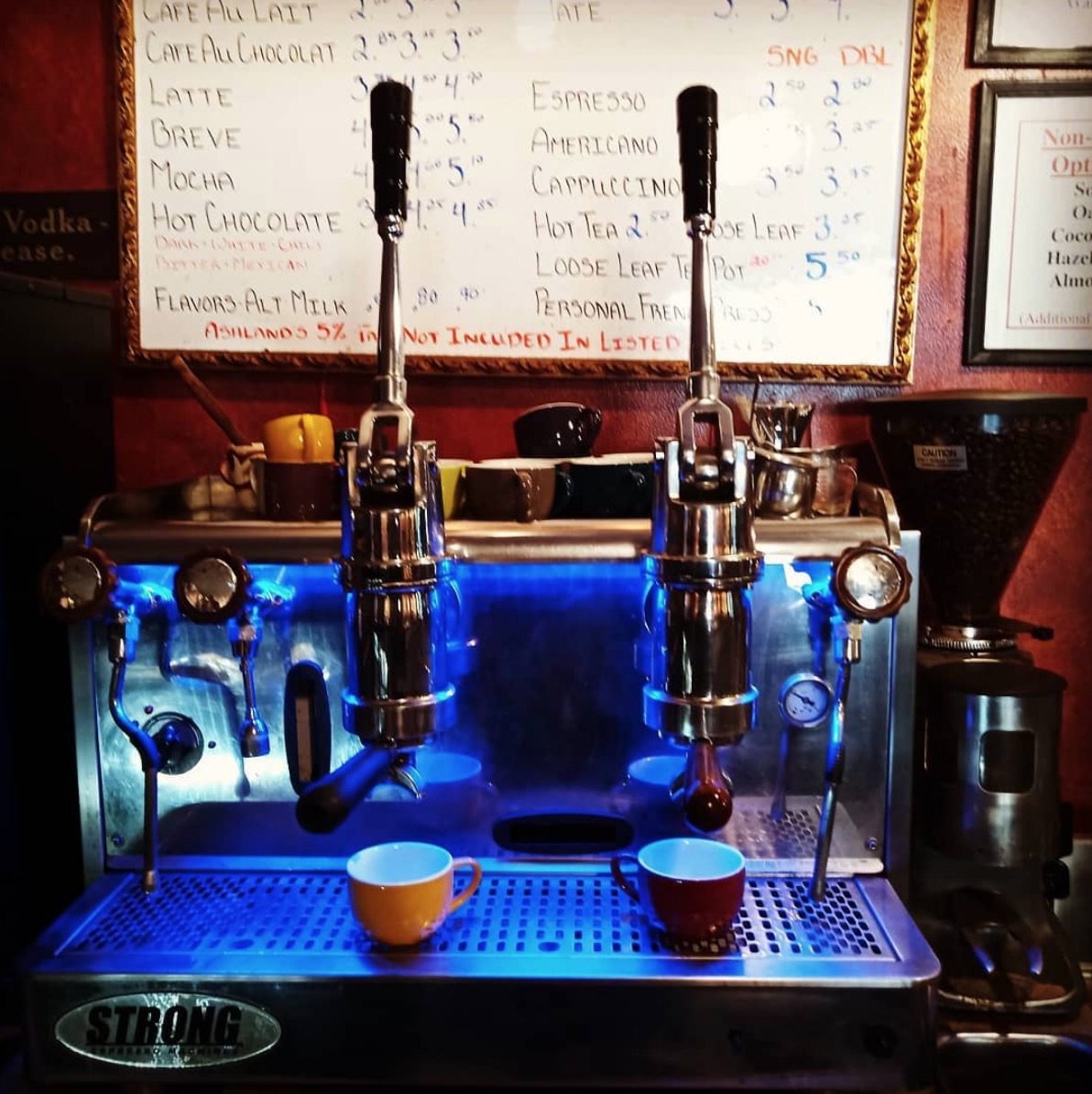 He says, "In a coffee cafe/house, blade grinders are not practical when we use so much coffee per day. Also, there are issues with getting consistently same grind, which is pretty much impossible with blade grinders.
Another problem with blade grinders is, if the grinder is kept on too long, it will burn the coffee with the heat generated."
We also spoke with Gabe Anderson, owner and event manager at Margin Coffee in Albany, OR.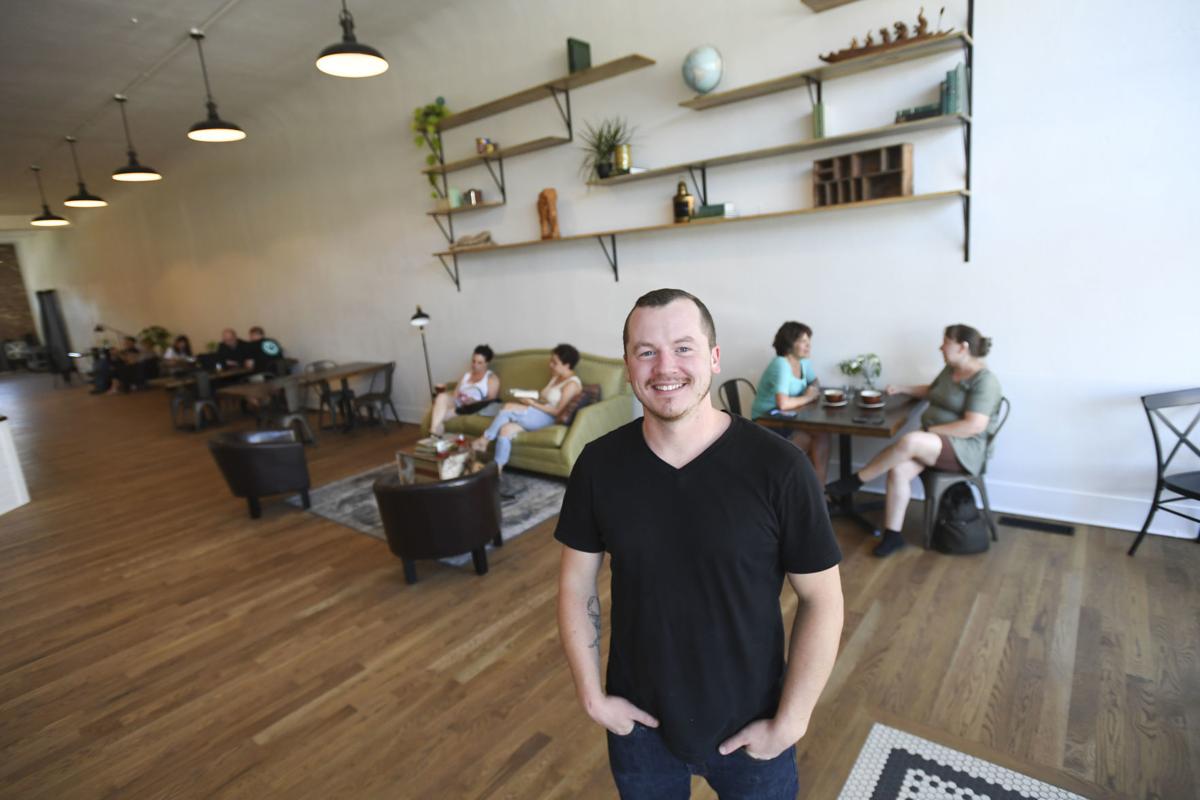 We asked him, point blank, if there was ever a time he could think of where a blade grinder would be appropriate to use in his store, and he said:
"I cannot think of any advantages of using a blade grinder at out coffee shop. Burr Grinders ensure an even grind. Even low quality burr grinders out perform any blade grinder as they crush the coffee beans from an auger or hopper and have less chance of human error. In general, dark roasted or flavor infused roasts will gum up any grinder, blade or burr."
A burr grinder is undoubtedly the better bet for nearly any coffee shop, as well as anyone doing home brewing for quality and consistency. The grinder features two parts.
One of the parts moves with the motor. The other part stays still. This allows the beans to be ground between the moving and stationary burrs.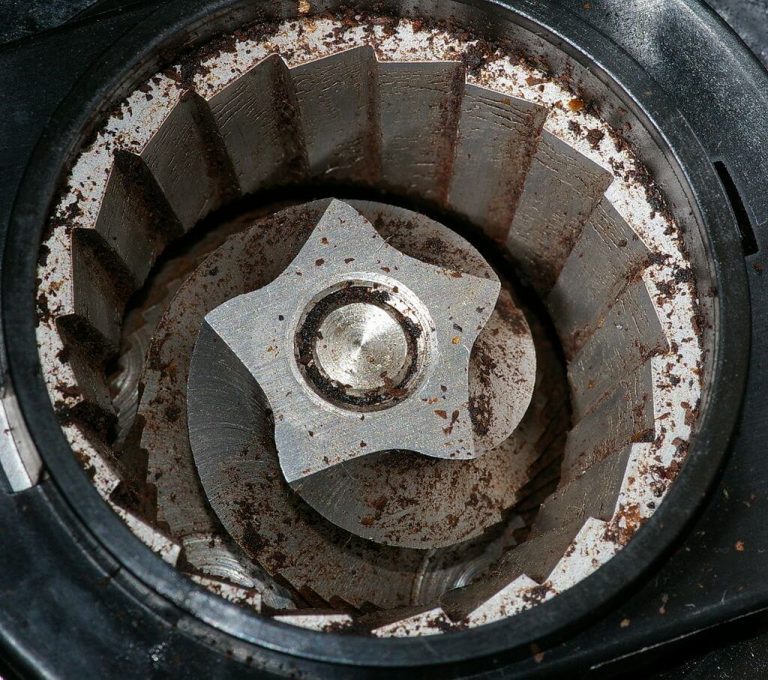 The distance between the two parts is how you get the consistency and grind size.
It creates a more uniform consistency than you'd get from blades that fly in a circle without keeping the beans in place.
On the topic of consistent grinds, Dharmendra Bengali of Bloomsbury Blends Inc. adds: "Always monitor the coffee grind regularly, feel the coffee grounds, check the coarseness to see if the burr blades are still at same distance, if not adjust. Brew test espressos to see if you are getting consistent results."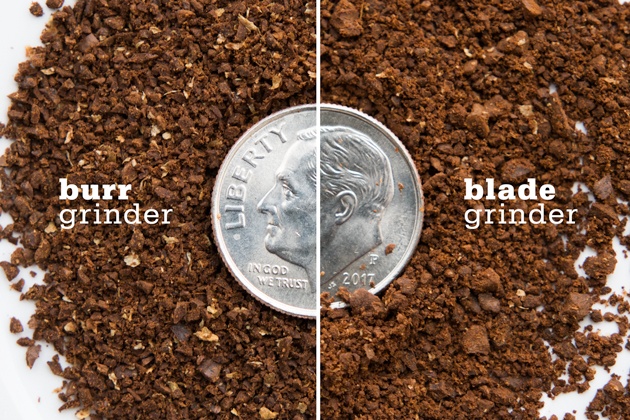 Cascadia Coffee Roasters chime in on the topic of consistency as well: "Consistency starts with the equipment, a conical or burr grinder will provide a consistency in grind setting.
Then there is issues of keeping equipment clean by running cleaning pearls through it and taking the time to disassemble the grinder for a deep clean on a regular basis.
Also, the burs on the grinder need to be changed the coffee beans take as a toll on the burr grinders so they wear down and need replaced on a regular schedule (defendant on coffee use)."
To this point, Gabe from Margin Coffee adds: "
"The best way to get a consistent grind with a burr grinder is to clean it regularly. For espresso it is important to dial in every doppio or americano shot, and between every 10-15 shots for lattes or other drinks.
For bulk grind on a burr grinder, regular maintenance and cleaning ensures a constant and dependable grind. We use a corn based grinder cleaner once a week.
Additionally, using a high quality light or medium roast bean will add years to a bulk grinder and they typically are less oily."
Burr Size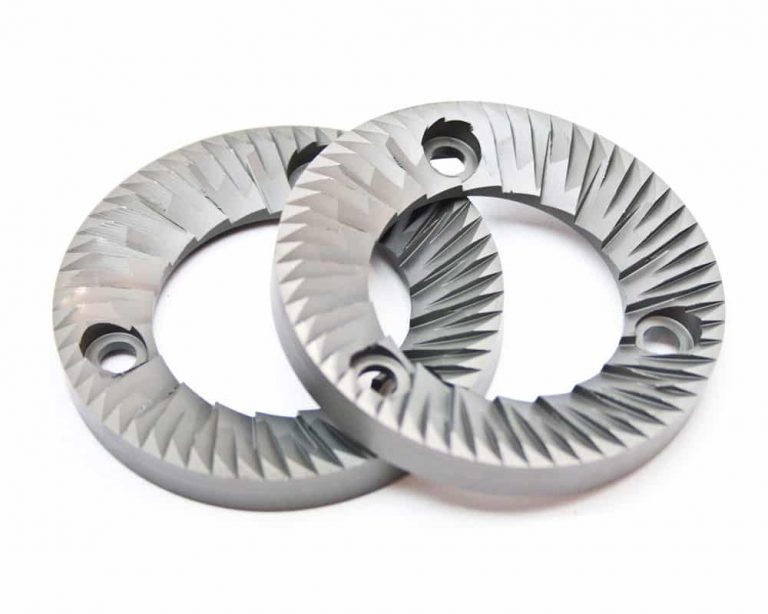 The size of the burrs in your burr grinder are an important part of how fast the beans are ground. Small burrs like the 58 mm will give you a shot of espresso in up to 10 seconds.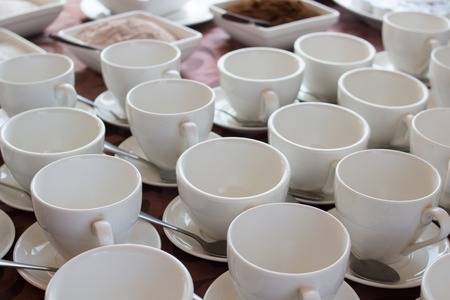 That sounds pretty fast. If you are producing hundreds of coffees a day, though, that's not fast at all.
A 64 or 65 mm burr will give you a grind in a matter of 6 seconds.
When you shave that much time over the course of preparation for each coffee, you're delivering fast coffees to awaiting customers.
You'll want to purchase your grinder with the future in mind. Consider how much coffee you'll need to be grinding, and buy accordingly.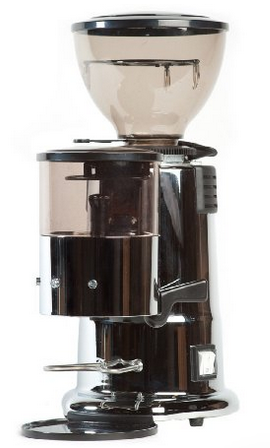 Best Commercial Professional Heavy Duty Coffee Grinders
Pictured above, we have what we would consider a superb entry-level commercial grade grinder, namely, the Macap M4.
This is a great example of what we would call a commercial-grade or professional model of coffee grinder, and you will read more about it below as it ranks as one of our top choices.
Watch Out For Grinders That Claim To Be Professional Or Commercial Grade (But Aren't)
Many coffee grinders on the market do sometimes make the claim to be "professional", implying that they can handle the workload in a busy café or restaurant?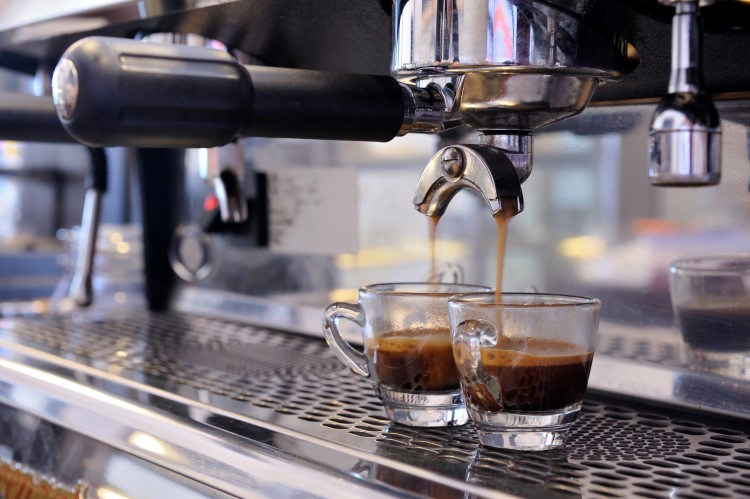 Like the word "gourmet", it's sometimes difficult to define the meaning of a "professional" or "commercial" coffee grinder, but chances are you aren't going to get one for less than $500.
Yes, there are deals to be had out there, but in the long run, you need to know the facts. How much can your grinder grind? How fast can it grind? How fine or coarse can it grind?
The line is getting longer, and people want their coffee. Oh my god, one guy just stormed out, no longer willing to wait for your kinda-sorta fast coffee grinder to do its job.
When your café looks like this, you absolutely need a grinder that can keep up.
Ok, so I think we've made it pretty clear that if you're running a business, there's no mucking around.
Speaking of business, in this next section, we speak to experts about what kinds of coffee grinders they use at their cafés and why they chose them, as well as a lot more!
What Coffee Grinders do Coffee Shops Use?
MCA Denver Café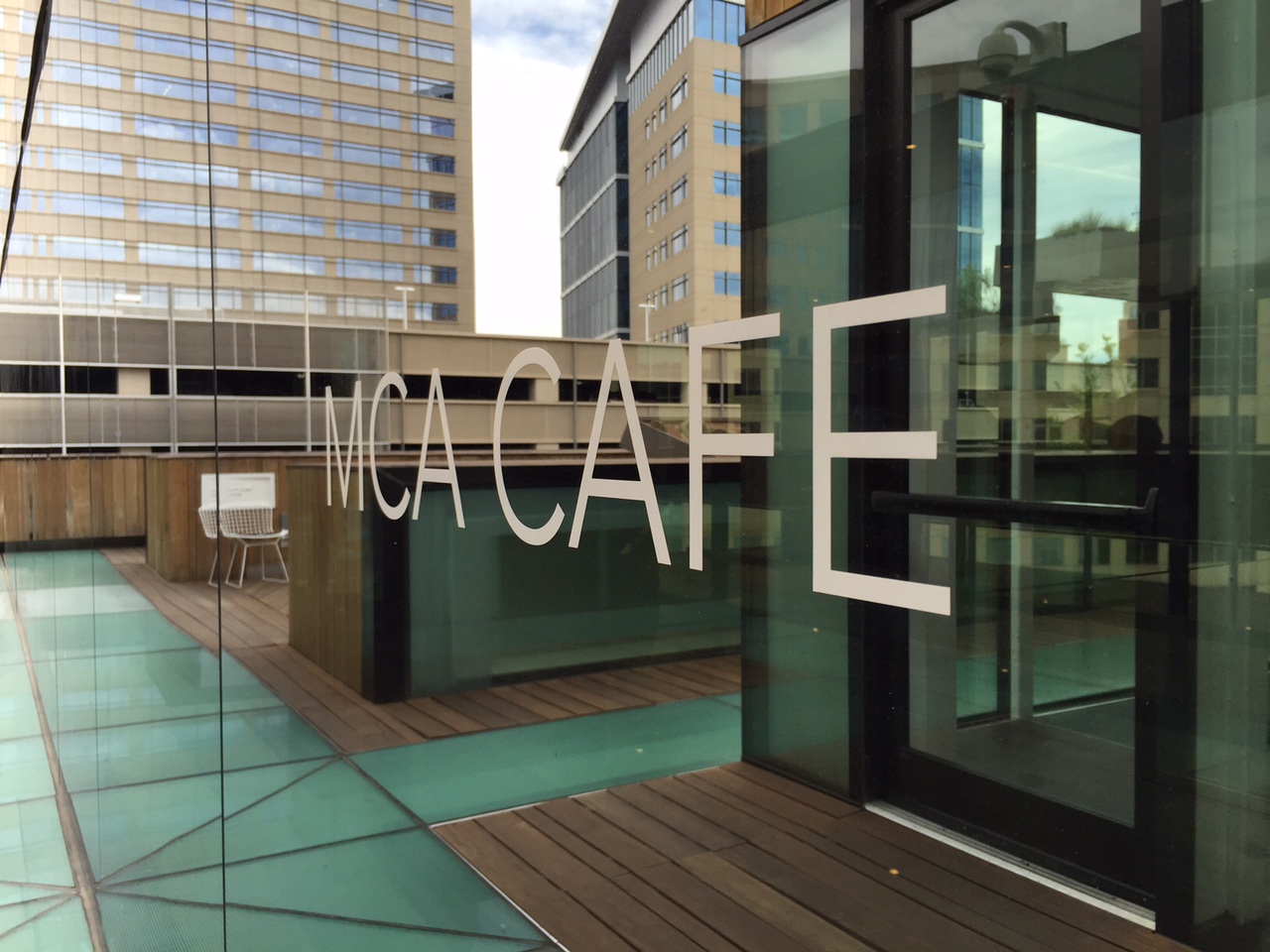 We spoke to Casey Tuohy, the café & bar manager at the "Department of Edible Structures" at MCA Denver, which is your go-to Denver, Colorado, destination for both art and coffee.
According to the MCA Denver website, in talking about the museum itself, "The building has five galleries on two floors as well as dedicated education spaces, a shop, library and rooftop cafe." Rooftop Café…YES. That's where we're going.
Here's our Q&A with Casey Tuohy, giving us the 411 on their coffee sitch:
KYG: What defines a commercial coffee grinder, in your estimation?
A grinder designed to consistently grind significant amounts of coffee to specific grind profiles and be used regularly in a commercial setting.
KYG: What type and brand of grinder do you use? How much does your coffee grinder grind during a day or week?
We use a Mazzer Super Jolly Automatic for our espresso. In an average day, we grind approximately 1lb. of beans.
KYG: For your coffee grinder, what's the hopper size and are you happy with it being the size that it is?
The Super Jolly holds 2.7lbs. of beans. Yes, it very adequately holds what we need.
KYG: How much do you think a coffee grinder bean hopper should be able to hold, ideally?
2-3lbs.
Thanks again Casey!
Kettner Coffee Supply
We spoke to Adam Budnick, the Director of Operations at Kettner Coffee Supply in Nashville, Tennessee, to get the word on what coffee grinder they use, and why they like to use it.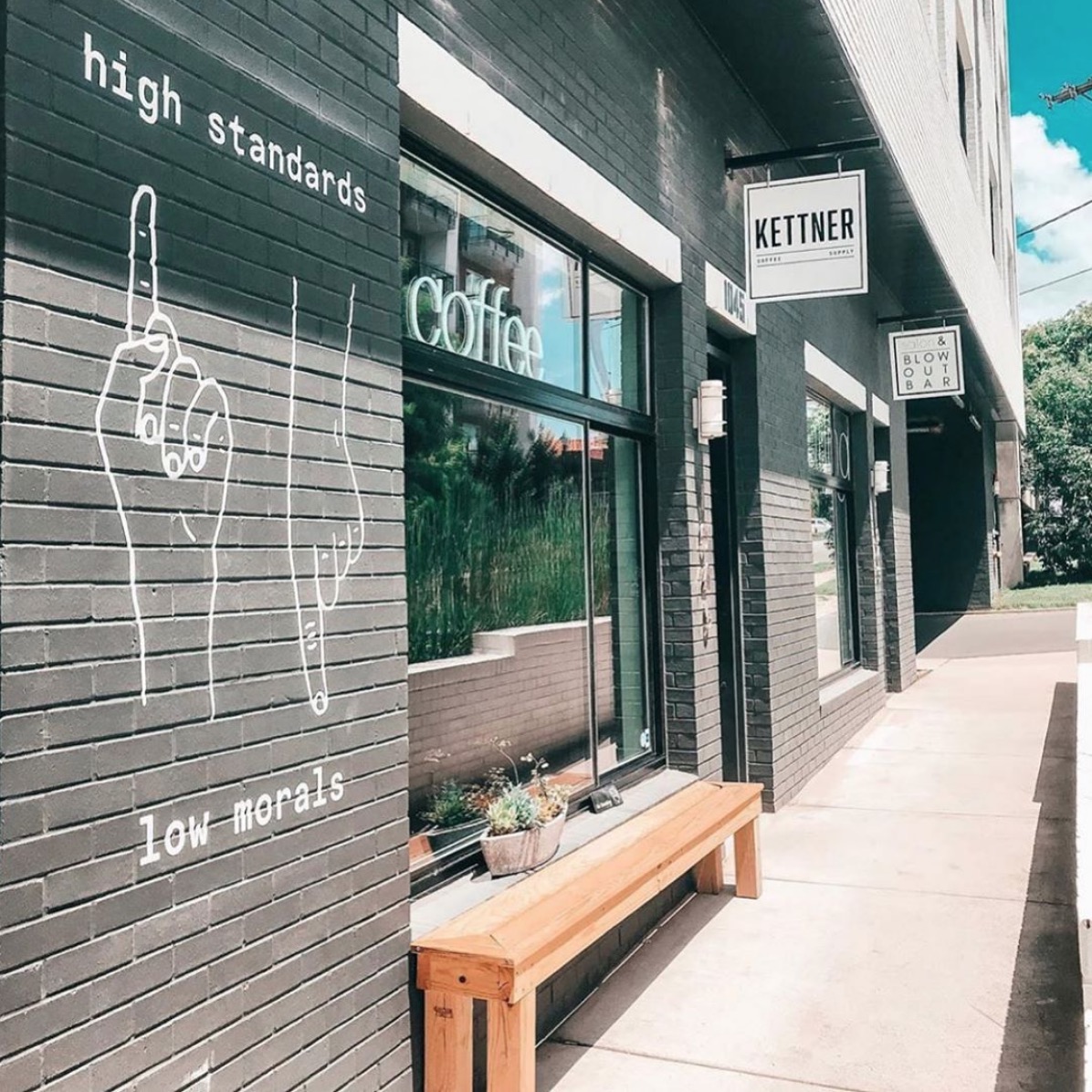 We did a little Q&A! Here is is…
KYG: Can you tell me about your coffee grinder setup? What do you use and why did you pick it?
We run 2 separate grinders for drip and espresso. Both are Compak, but our espresso grinder is a flat burr grinder so we can really dial in our extraction for consistency, and get a complex pull every time.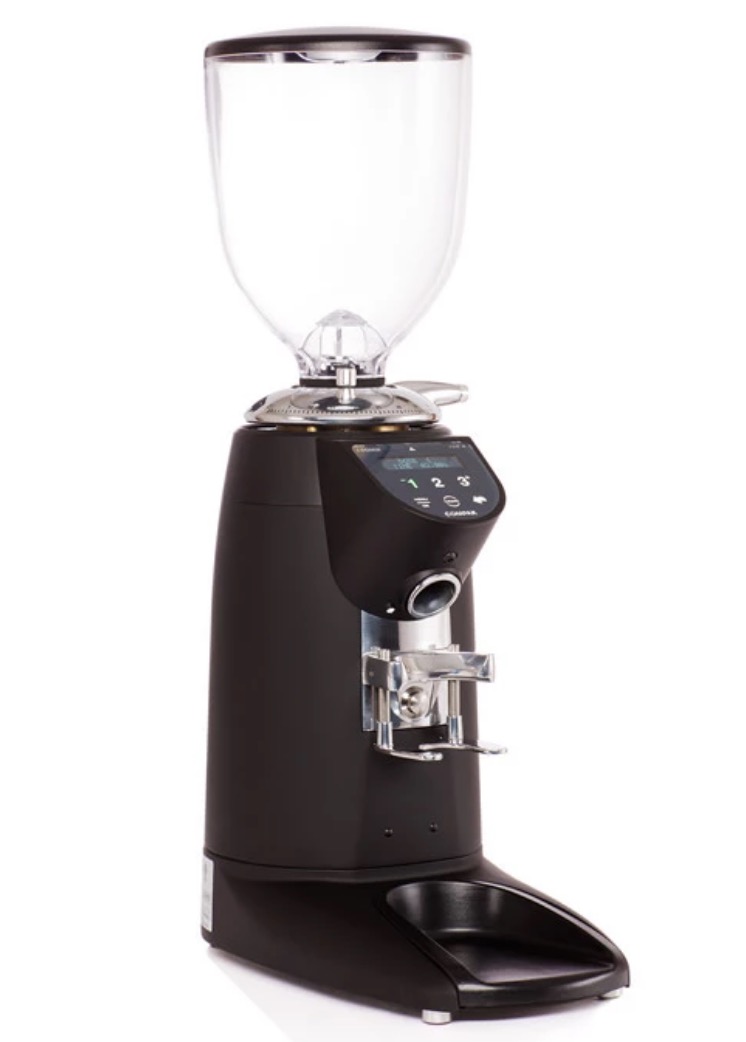 KYG: What grinder brand(s) are you currently using? Are there any brands on your wishlist for the future?
Compak is our go-to. There are a ton of settings in the user interface that let us get as geeky as we could ever dream!
If Compak was off the table, I would most likely grab one of the tried and true grinders like a Mazzer Super Jolly, or a Mahlkonig EK43. I've definitely found myself down a custom-finish Mahlkonig rabbit hole or two.
KYG: What is your grinder cleanup routine? Any time-saving/life-saving tips for effective cleaning?
Tip for everyone: CLEAN IT DAILY. It makes for so much better of a user experience when you don't let oils build up in the coffee chute. The Compak grinder has a removable hopper, so our cleaning steps are:
1.) Close and remove the full hopper
2.) Grind through the excess coffee left in grinder
3.) Use air-puffer to blow out loose grounds while grinder is still running dry
4.) Turn off grinder and clean burrs and chute with pipe-cleaner.
5.) Turn grinder back on to clear out any grounds knocked loose during cleaning
6.) Use air-puffer one last time to clear out any dust/debris
7.) Place hopper back on grinder and keep closed until open the next morning.
Thanks Adam!
The Alpinist & The Goat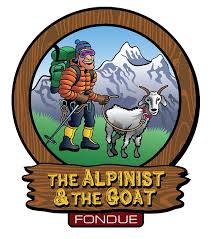 Up next, we spoke with Neal Elinoff, on behalf of The Alpinist & The Goat.
Neil is a former coffee pro, and one of the original members of the SCAA from 1990 when they only had 20 members.
Here's our little chat!
KYG: Tell me about the coffee grinders you use. what is your setup like and what brands do you use?
I'm used to using Bunn, but my volume of coffee and space requirements are both small, so now I use a ceramic, burr grinder called Capresso Infinity, which is consistent enough.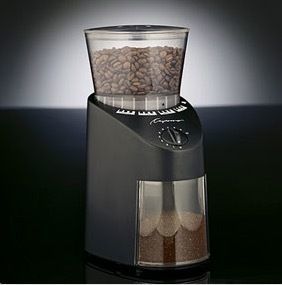 KYG: How come you decided to go with that setup? what factors played into your decision?
Space, and the fact that it was a ceramic burr.
KYG: If you were to change your equipment/upgrade, would you stay with the same brands or go with something different? (what would you go with and why?)
If I needed to change, I would. I don't do enough coffee to bother.
Many years ago I invented a coffee roaster, the first counter top, commercial roaster. We did 3.5 lbs/batch in about 12-14 mins, depending on temperatures and roast, etc.
I used an NEC controller and we made perfect coffee, batch after batch. We could do about 12 lbs finished product per hour.
Tried marketing it to Bunn and to Coke foods and ended up doing it ourselves for awhile.
I sold out to my manufacturing partners, Rair Industries of Northbrook, IL but the patent was mine.
It was the best roaster. A side bit…… I invented impinge heating as part of the roasting concept of the air roaster (called Rotating Air or "Rair") and one of our buyers started copying our designs.
We sued him but this was after I moved back to Colorado and the owners of Rair at that time, settled. He ended up selling the design that I invented to Turbochef, which is in every coffee shop in the world, probably.
We could cook a frozen apple turnover such as Pepperidge Farm turnovers in 3.5 mins vs a regular, convection oven took about 25 mins. It revolutionized counter top frying.
We called it a counter top fryer and tried marketing it to sail boat owners, for starting. You see it everywhere now. My invention, with my engineer, Moishe.
KYG: Wow, quite the story! Thanks very much Neil!
Tracy's Place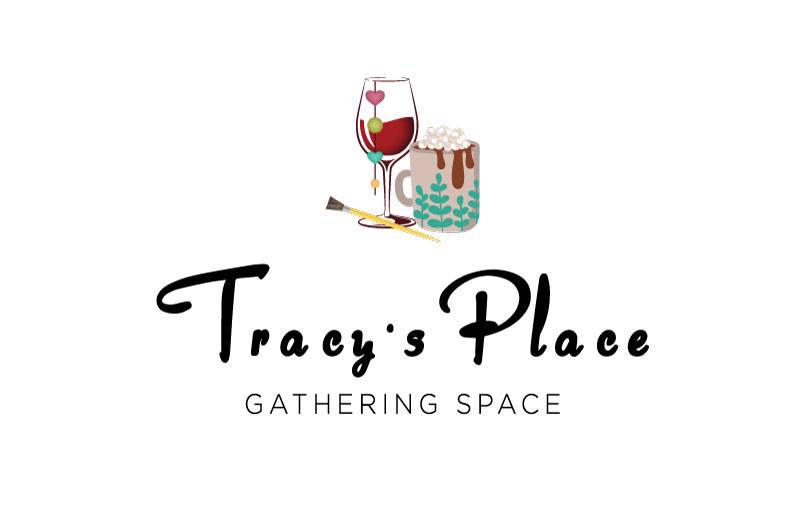 Next up, we speak with Mary-Ruth Tracy, the owner of Tracy's Place, out of Arvada, Colorado.
KYG: Tell me about the coffee grinders you use. what is your setup like and what brands do you use?
For my grinders I use are a Pavoni for our regular brew and a second hand Laranzato for our decaf.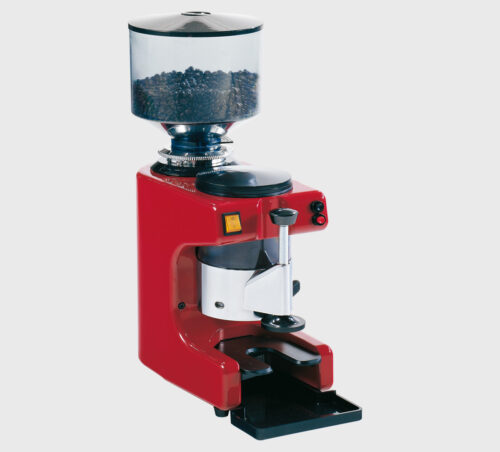 We have them sitting on the counter right next to our Pavoni espresso machine. We strictly sell a local roasters coffee, Copper Door Roasters is fantastic coffee.
KYG: How come you decided to go with that setup? What factors played into your decision?
We expanded to the coffee by day after being open for 2 1/2 years for art classes. So we had limited space available.
The set up we chose was out of necessity more than anything. We tried to make it function well for a busy coffee shop.
We are at capacity in our behind the bar space now. However, the functionality has worked for us so far.
Q: If you were to change your equipment/upgrade, would you stay with the same brands or go with something different?
We would probably stick with Pavoni equipment, so far it has been great to us and we have not had problems.
The Larazato needed new burs, but has been much more finicky about the grind settings.
We seem to always be adjusting it, versus the Pavoni, we have only had to adjust once or twice, after the initial adjustments.
Thanks Mary-Ruth!
Hotel Boulderado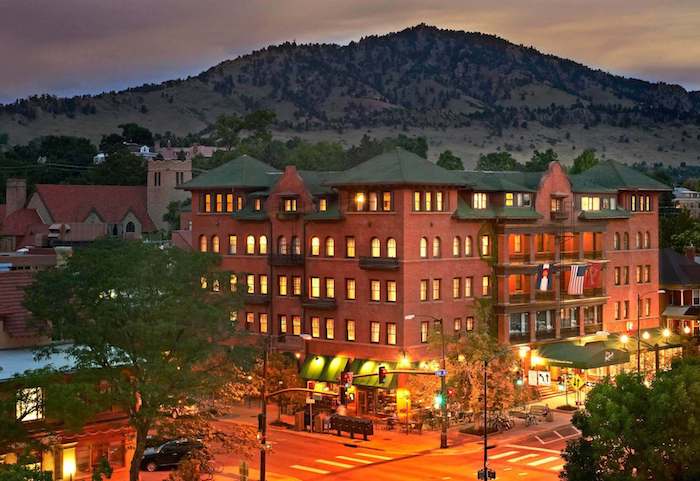 We spoke with Alex Hindman of Hotel Boulderado, located in Boulder, CO. Alex is the Assistant Manager of Spruce Farm & Fish and The Corner Bar.
Hotel Boulderado is, of course, a local landmark, operating since 1909 and a go-to destination for people far an wide. Not surprisingly, their coffee game is, as the kids say, "tight".
Here's what Alex had to say by way of a quick Q&A:
Q: What is your coffee making setup like? What brands do you use?
To provide guests with coffee drinks that provide the most flavor, Spruce Farm & Fish partnered with Boxcar Coffee in Boulder, Colorado.
The making setup was designed to be the most organized and efficient for staff to function with ease during peak times.
Q: What does your coffee making workflow look like?
Each coffee drink is ground per order to ensure drinks are the freshest possible. We're not making 10 pots of coffee to sit all day, so coffee is continuously made throughout the day as needed.
Q: Why did you decide to go with that setup/workflow? (what factors played into it?)
When we partnered with Boxcar Coffee Roasters, they helped us to rearrange the coffee bar workflow to provide the most productive results.
In 2016, Spruce Farm & Fish went under renovation, which allowed further customization of the coffee bar space.
Boxcar is very supportive as they continue to come in and service as needed, so we can continue to provide amazing coffee drinks for our customers.
In addition, staff are trained to keep the coffee bar fully setup through side-work tasks on a shift basis.
Q: If you were to change things up or upgrade, what would you go for? (or would you stay with the same gear?)
We're very happy with our current setup. Looking towards the future, we'll be exploring cold brew options.
Thanks Alex!
Tempo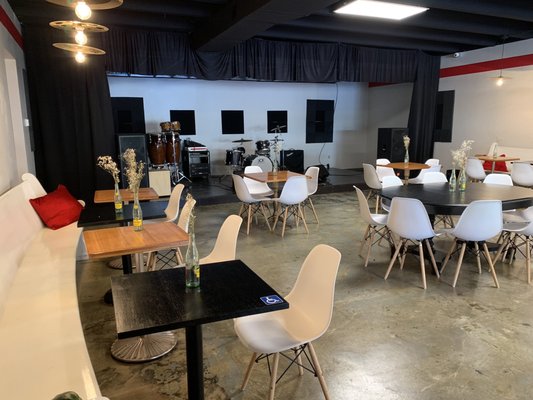 We spoke with Zylah Solis of Tempo in Nashville about their coffee situation.
Tempo is a special place that is as much known for their breakfast tacos as they are for their coffee and espressos.
They take pride in everything they make and it really shows. You don't want to miss out, so stop by if you're ever in Nashville!
Q: What does your coffee making workflow look like? How many cups do you serve out during a day?
We use Greenway Coffee exclusively in our shop. Every day starts with dialled in espresso, and two different drip coffees that are carefully dialled in as well.
Because we don't offer any pour overs, we make sure to offer some variety with our drip coffee offerings. We make about 70-90 drinks every day.
Q: What equipment do you use? How come you decided to go with that setup?
La Marzocco Linea PB, EK43 for batch brew, Mazzer Grinders for espresso, Wilbur Curtis G4 ThermoPro twin, Curtis G3 hot water dispenser.
That's the setup Greenway recommends for all their shops, with the exception of our espresso grinders.
We use the Mazzer grinders because our technician in Nashville is very familiar with those machines in case they need maintenance.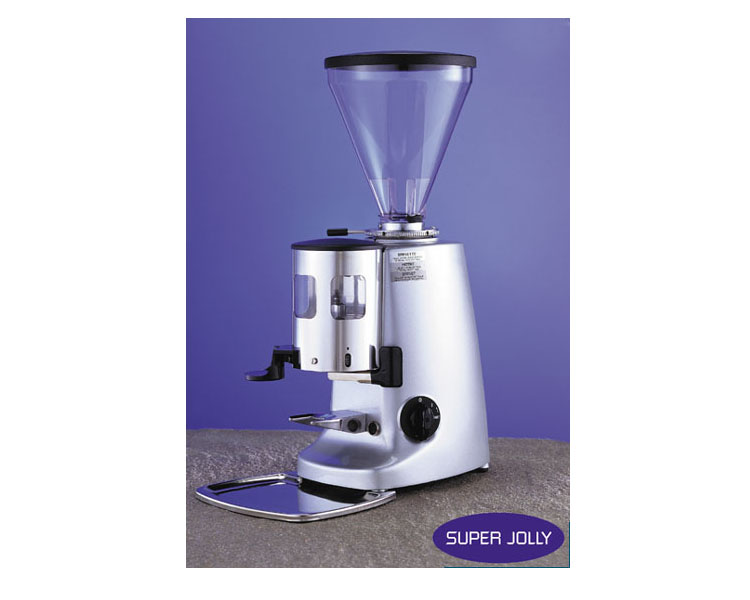 Q: What brands do you use? How come you decided to go with those brands?
We use Greenway coffee because it's our favorite coffee roaster in Texas, which is where our family is from. Our shop has a very Tex-Mex theme.
We're also big fans of Topo Chico, so carry those as well. In addition to our amazing Tex-Mex breakfast tacos, we serve the best doughnuts in town by Conny and Johnny.
We have great relationships with these brands and love the work they do.
Q: If you were to upgrade or change anything up, what would you change?
We wouldn't upgrade anything at the bar. We believe we have some of the best equipment you can have. We'd only make some aesthetic changes to our storage spaces underneath the bar.
The Celtic Cup Coffee House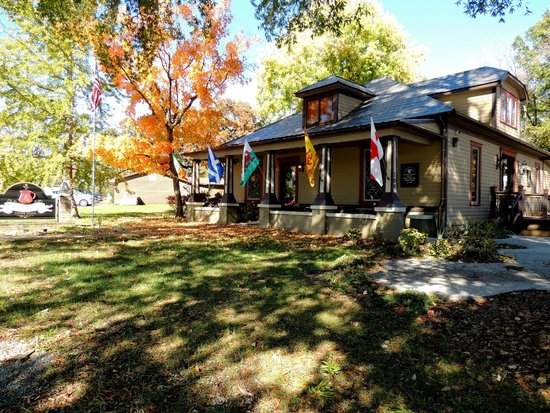 We spoke with Chris & Denise Smith from The Celtic Cup Coffee House in Tullahoma, TN. These fine folks are fairly exacting when it comes to their coffee setup, and that's why we love them!
Q: What kind of grinder do you use and what brand is it? (even if it does need some TLC)
Bunn Multi-Hopper Grinder (MHG)
We serve 8 different coffees on a weekly basis (two house brews daily, and a different fair-trade, organic single-origin varietal each day). Each coffee is in its own 5-lb hopper.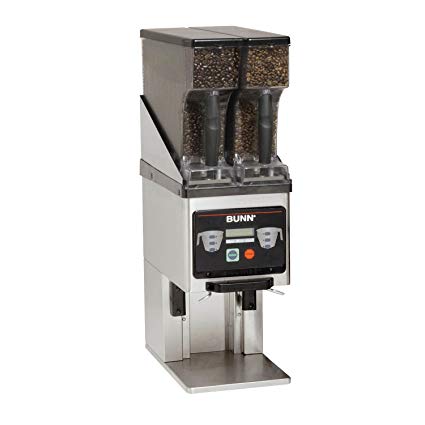 We have a ninth hopper that is used for seasonal blends and flavoured coffees that we promote in partnership with our local roaster, Raphael's Roastery.
The hoppers can be programmed (through the grinder) so the grinder knows which hopper (and thus which coffee) is loaded.
When installed, the grinder reads the hopper, grinds the right amount of coffee, and then then communicate to the Smart Funnel from our Bunn ICB Twin Infusion Series brewer that we're grinding into.
FYI, the funnel further communicates to the brewer when it is installed as to what coffee it contains so the brew session can be tailored to the different coffees.
Here's a link to the new ones (ours earlier model doesn't show up anymore)… https://commercial.bunn.com/35600.0020
We also do espresso-based coffees at our coffee house. We use two 3-lb single hopper grinders (one for espresso and one for decaf espresso) to grind those beans.
The grinders are Compak brand (again 10+ years old) and are as reliable as the days are long!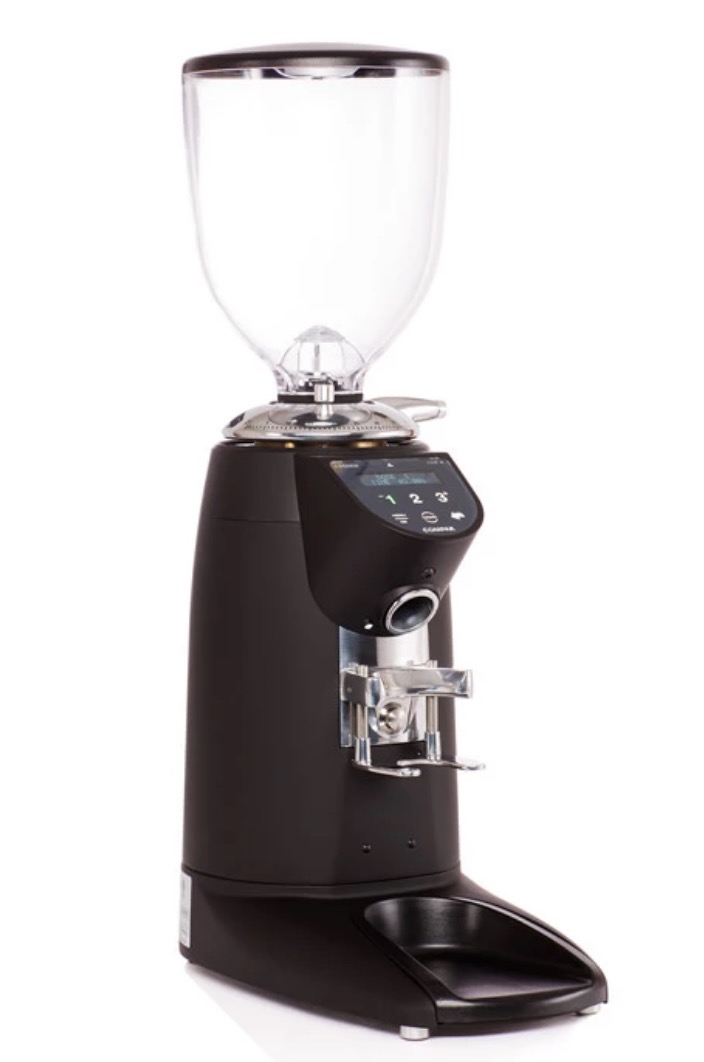 Q: How much does your coffee grinder grind during a day or week?
We use 3.8L airpots for the 3 different coffees daily. We re-brew each coffee when we run out, or after 2 hours (coffee quality degrades after 2 hours), whichever comes first.
We're open 6 days a week (12 hours a day for weekdays, and 14 hours for Saturday). That means we're grinding at least 18-21 batches daily, but usually a lot more.
Each batch is 5-7 ounces of coffee.
Q: For your coffee grinder, what's the hopper size and are you happy with it being the size that it is?
As mentioned earlier, our hoppers can hold 5 pounds of coffee beans. That's a good size for our daily brews, but a wee bit larger than what I'd prefer for our once-a-week brews.
Roasted coffee stays fresher away from light and air. Keeping the hoppers full keeps the air at bay, but the hoppers are clear plastic so the light can get to the beans pressed against the sides of the hoppers.
Q: How much do you think a coffee grinder bean hopper should be able to hold, ideally?
Enough to get us through a busy day without having to refill! Ours are "over-sized" for this ideal.
Q: Would you consider upgrading to new equipment or would you stay with the current setup? If you would upgrade, what brands/setup would you go with?
We like the Bunn Brew-Wise system. Yes, we'd like to upgrade (ours is 10+ years old) and needs TLC to keep it going.
If we upgrade, we'd stick with Bunn (though we haven't done a lot of research on commercial coffee brewers lately, so we're not sure what else is out there).
That's why it's important to go to trade shows like Coffee Fest to keep abreast of the new equipment.
Yeah, for sure. Thanks Chris!
Kind Coffee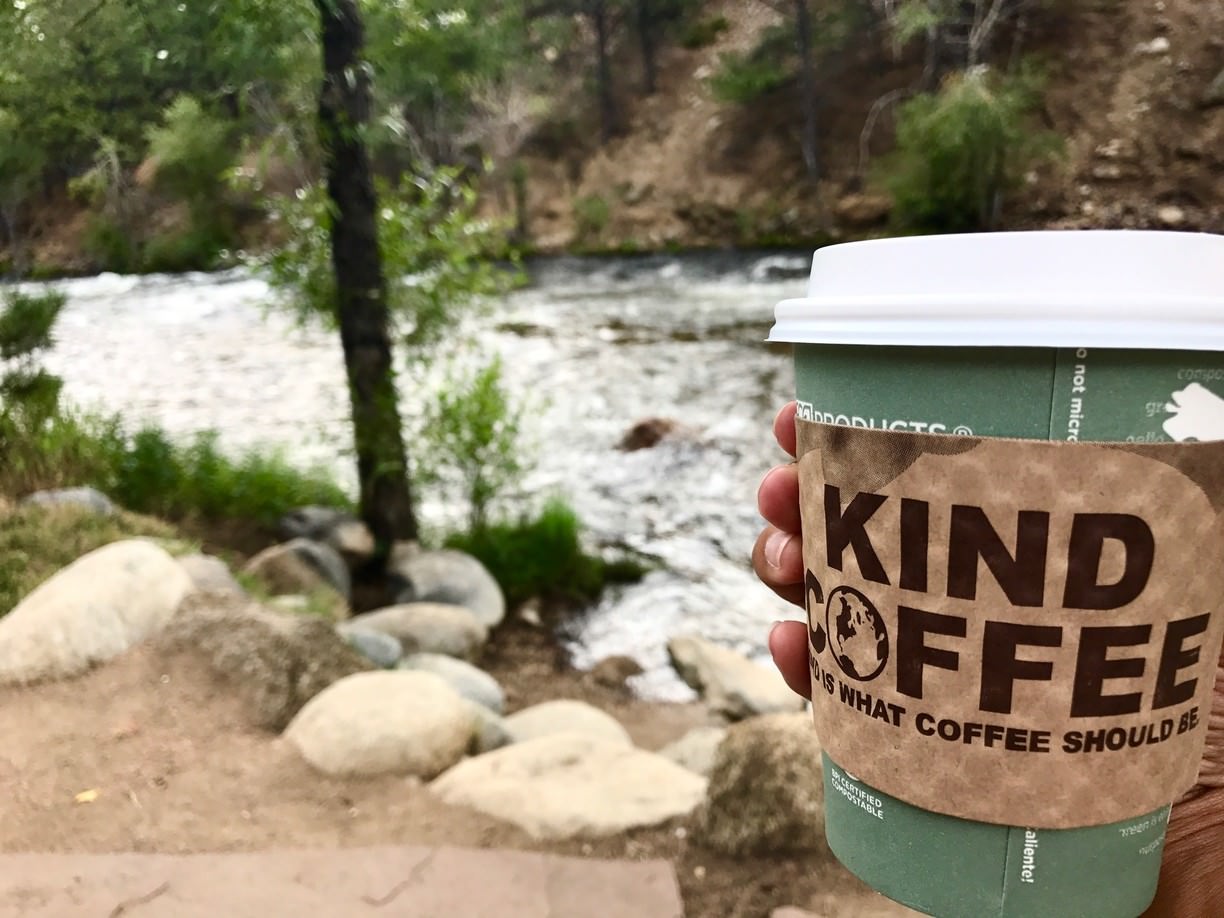 We got a hold of Amy Hamrick, owner of Kind Coffee in Estes Park, Colorado.
According to their website: "Everyday we strive to live up to the KIND name. Between our coffee shops and roastery, we contribute time, energy, money and, of course, coffee, to non-profit organizations, causes and events. Your choice to support Kind Coffee is not only good for you, it benefits the lives of people across the country and the world.
Surrounded by beautiful scenery all year, come enjoy a savory cup of coffee, dive into your book or just enjoy the peaceful sounds of nature with our outdoor seating."
Tell me about the coffee grinders you use. what is your setup like and what brands do you use?
WE USE THE MAZZER SUPER JOLLY E FOR OUR REGULAR GRINDER AND THE MAZZER MAJOR E FOR OUR DECAF GRINDER. 95% OF OUR ESPRESSO WE SELL IS REGULAR, SO WE PURCHASED THE SMALLER MODEL FOR THE DECAF GRINDER. IN HINDSIGHT, I WOULD HAVE BOUGHT TWO OF THE LARGER MODELS (SEE #3.)
How come you decided to go with that setup? What factors played into your decision?
WE REALLY ENJOY CONTINUING THE TO HAVE AS MUCH MANUAL PROCESS BEHIND THE BAR AS IS POSSIBLE, AND THESE ELECTRONIC DOSING GRINDERS ENSURE WE ARE BEING CONSISTENT WHILE STILL HAND-CRAFTING OUR ESPRESSO DRINKS AND SHOTS. THE CONVENIENCE, EASE OF ADJUSTMENT, AND PROGRAMMING OPTIONS ON THESE MODELS WERE ALL FACTORS IN OUR DECISION. BEFORE THESE, WE WERE USING THE MAZZER LUIGI W/SUPER JOLLY TIMER. WE APPRECIATE THE QUALITY OF THE GRINDERS AND THEIR PARTS, SO STAYED WITH THE SAME BRAND WHEN WE UPGRADED TO THE ELECTRONIC VERSIONS.
If you were to change your equipment/upgrade, would you stay with the same brands or go with something different?
THE ONE CHANGE I WOULD (AND LIKELY WILL MAKE) IS THE SIZE OF OUR DECAF GRINDER. I WOULD LIKE TO UPGRADE TO THE SAME MAKE/MODEL THAT WE USE FOR OUR REGULAR GRINDER. I HAVE FOUND OF THE YEARS THAT HAVING DUPLICATE EQUIPMENT/BACK UPS IS INCREDIBLY HELPFUL. THE SMALLER GRINDER WE CURRENTLY HAVE FOR OUR DECAF ESPRESSO IS UNDERUSED, BUT IT WOULD BE A CHALLENGE TO WORK WITH FOR VERY LONG FOR OUR REGULAR ESPRESSO.
Thanks Amy!
The Roost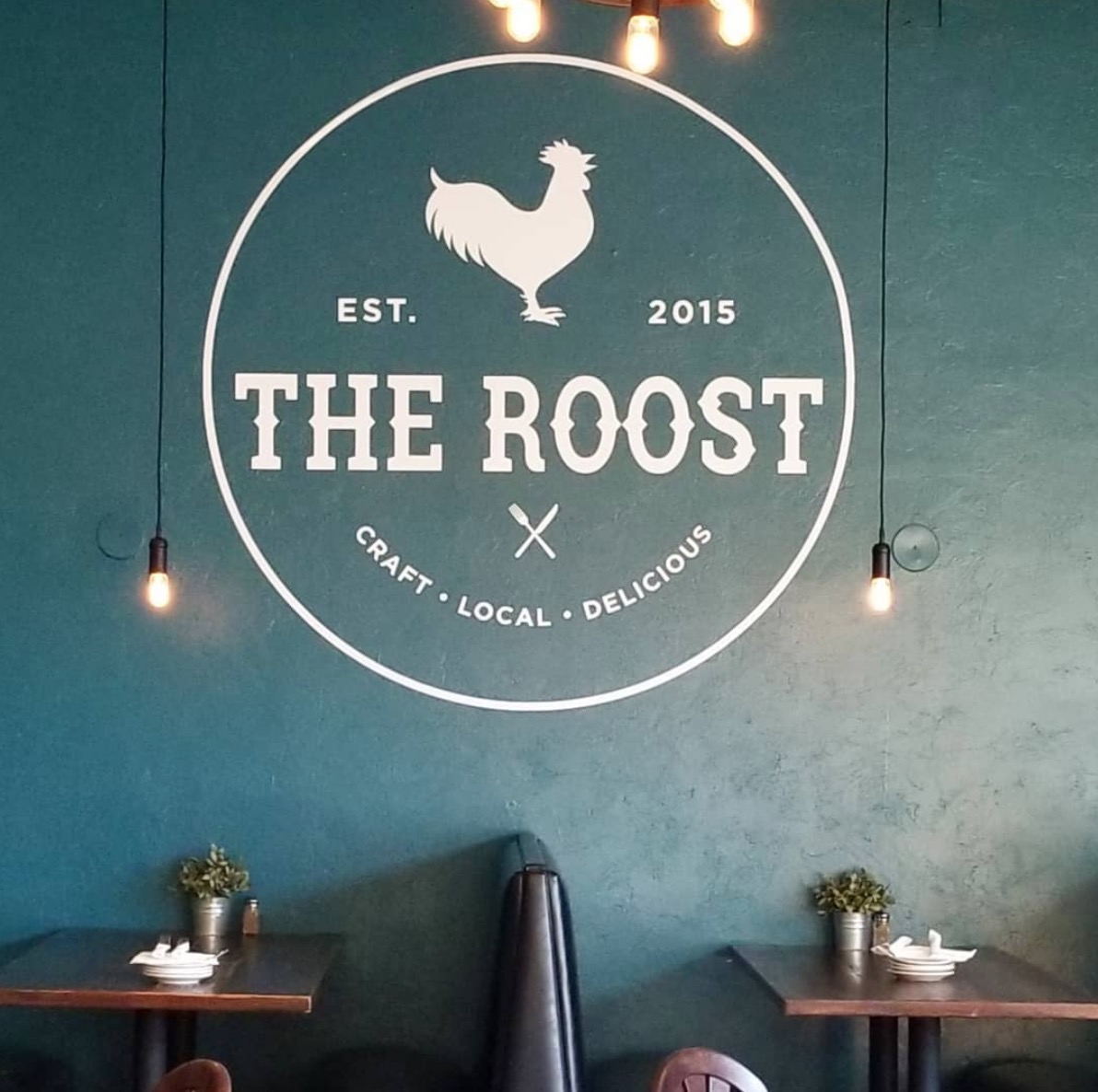 We spoke with Alishia Moore, General Manager at The Roost, in Longmont, Colorado.
The Roost is a locally-committed, sustainably based restaurant with a flair for great food, not to mention the coffee!
Read our Q&A below to get a handle on their coffee-making practices!
Tell me about your coffee making workflow. What is the setup like and what equipment does it involve?
The Roost offers fresh ground, drip coffee for our guests. We have a commercial grade, pre-measuring coffee grinder, as well as a fully automated brew station.
What brands do you use?
We currently use Ozo coffee for both the original and decaf blends that we serve.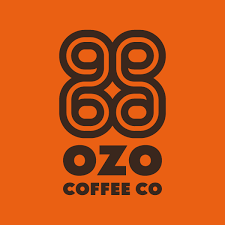 How come you decided to go with that setup?
The Roost has a simple coffee set up, and the machinery that we purchased through Ozo enabled us to produce consistently delicious coffee.
Ozo is a local company with great product and a reputation outstanding company principles, and we love collaborating with other Colorado brands who are as committed to quality, community, and sustainability as we are!
How many cups of coffee do you make per day? (Or per week, whichever is easiest to estimate)
I'd estimate that The Roost makes about 20 cups of coffee per day, with over half of those being made to fuel our wonderful staff!
If you were to upgrade or make any changes, what would you change? Any brands you fancy? (Or would you keep it exactly the same?)
We've recently "discovered" Traction Coffee, and it's another brand that the staff has really fallen in love with for their story and passion.
These guys authentically love what they do, and it shows through in the coffee they sell!
Thanks Alishia!
Penstock Coffee Roasters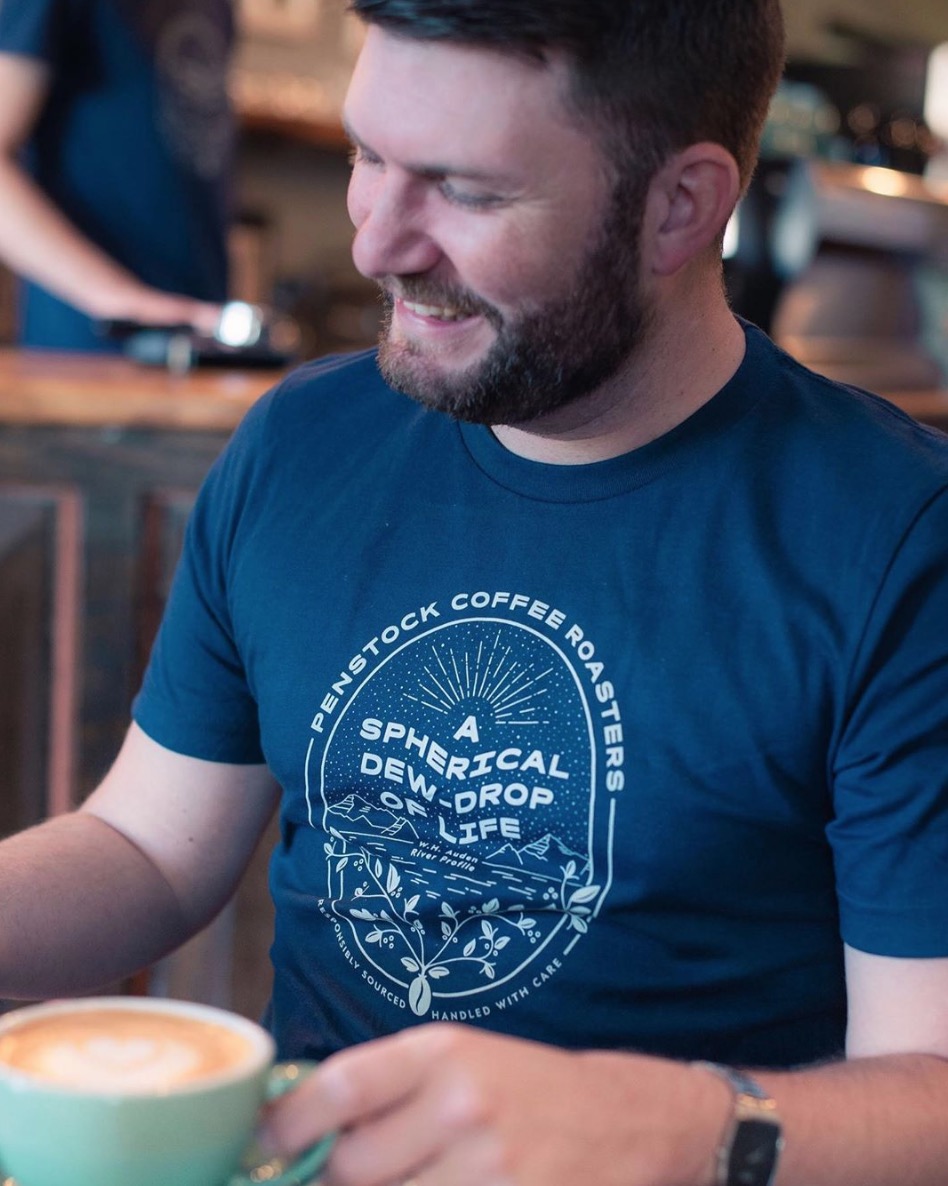 We spoke with Ben Schellack of Penstock Coffee Roasters about their coffee setup, focusing on their coffee grinders.
Here's a bit about what Penstock stands for, which we totally love the way they put this, straight from their website:
"Penstock is a gateway for stories—where ideas and experiences are freely exchanged and where building community truly connects us. We strive to know the people who grow and process our coffee, and we want you to know them too. You are both equal parts of a story that started with a desire to make a better cup of coffee. It begins with supporting and serving the coffee-producing community more than fairly, and continues by bringing people together.
Quality, craft, and transparency are important. Where your coffee comes from and who you share it with—are everything."
Here's what we talked about!
What types of grinders do you use? How come you went with that configuration?
We use a variety of Mahlkonig, Baratza, Ditting, and Compak grinders. Our main grinders are all Mahlkonig, which we've chosen due to their consistency over the years in grind quality and ease of maintenance.
Along with the above, what brands are they?
EK43s and K30s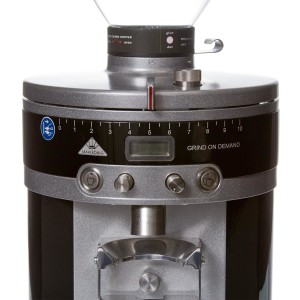 What's something you really like about your setup?
The EK43 is capable of making incredible pour overs, batch coffee, and espresso. The clarity is unparalleled.
What's something you really dislike about your setup?
The difficulty of getting and keeping the EK perfectly aligned.
What's on your wishlist if you were to change grinders or upgrade?
An additional EK43S.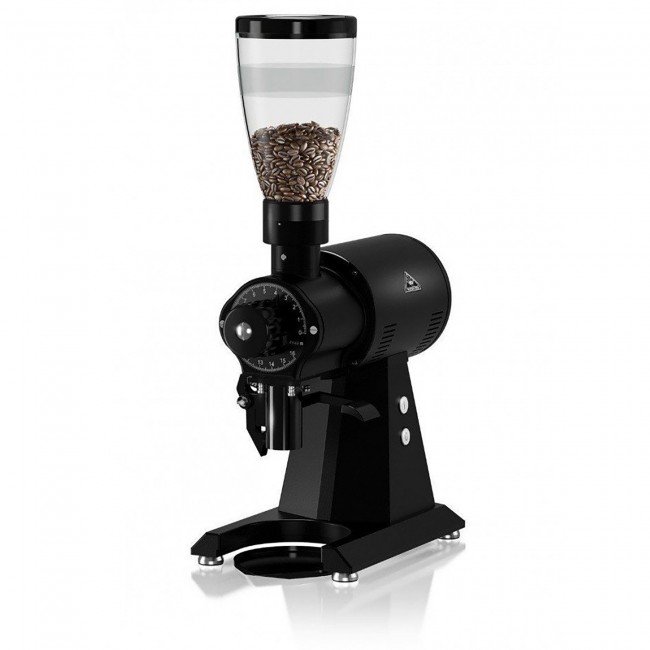 Thanks Ben!
The Coffee Cottage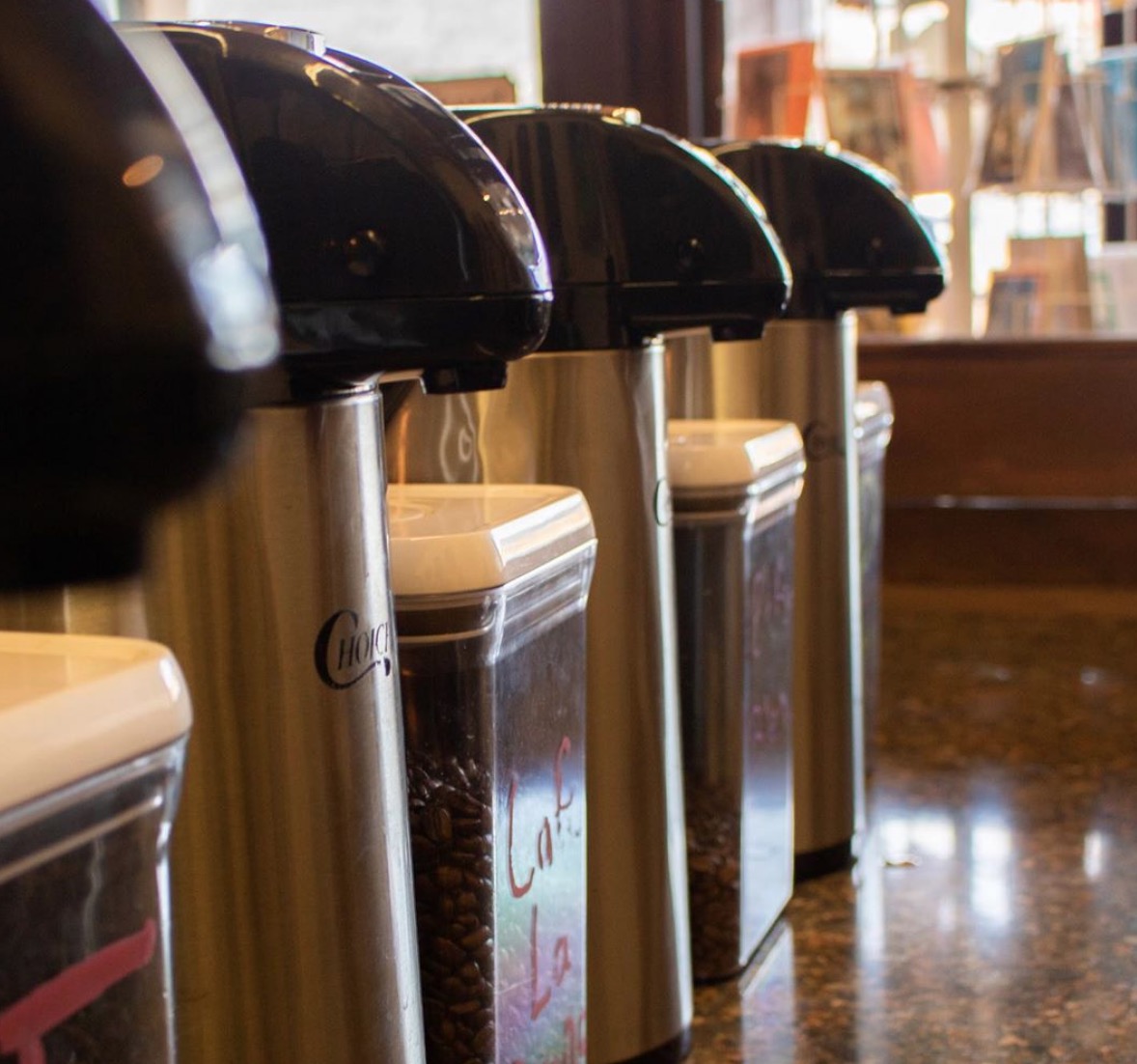 We spoke to the fine folks at The Coffee Cottage in Woodland Park, Colorado.
According to their website, "The Coffee Cottage is an Authentic European style coffee house that offers specialty coffee in a comfortable and homey environment. With our comfortable atmosphere, friendly staff, and library of books and games, there is something for all ages."
Here's what they said about their coffee setup including info about their coffee grinders, in response to some of our questions.
What defines a commercial coffee grinder, in your estimation?
To us, a commercial coffee grinder must be able to grind a large quantity of beans in a short period of time.
The grinder must be able to easily adjust the espresso grind in very fine increments in order for the barista to be able to precisely "dial in" the espresso shots.
Having very precise control over the grind is also key in being able to produce the best shot possible.
Every shop will require a different setup so the ideal grinder for us may not be the ideal grinder for another establishment. It's always important to do your research.
What type and brand of grinder do you use? How much does your coffee grinder grind during a day or week?
For our Commercial Grinder we chose to go with a Mazzer Grinder specifically the "Super Jolly" Model.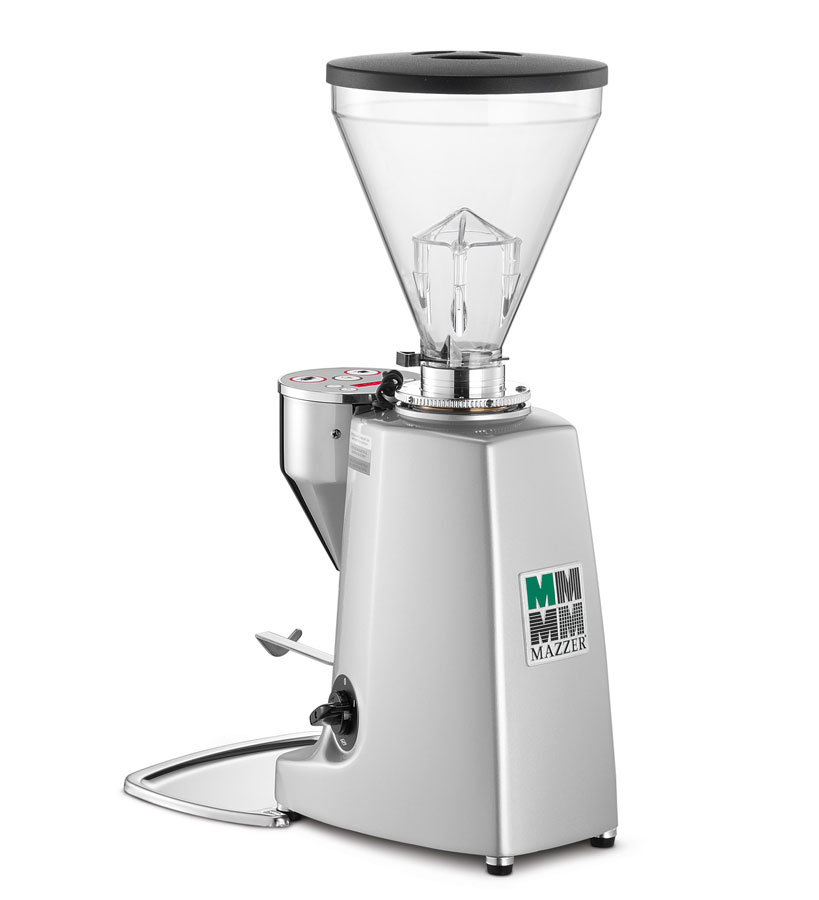 These grinders are made in Italy and are very reliable and simple to operate and maintain.
We currently go through upwards of 5 plus pounds of Espresso in a day and anywhere from 20-40 pounds in a week depending on the season.
For your coffee grinder, what's the hopper size and are you happy with it being the size that it is?
The "Super Jolly" grinder comes with a Hopper that holds approximately 2.7 lbs of beans at a time.
This hopper is not only ideal for our current business size, but will continue to be viable even as we continue to grow as a business.
How much do you think a coffee grinder bean hopper should be able to hold, ideally?
For our business or other coffee business's of our size, this hopper is an ideal size.
At a holding capacity of 2.7 pounds of beans we only have to refill the hopper a few times a day, and the refill process is very simple.
Thanks guys!
Coffee making can get rather serious, as people who haven't had their caffeine aren't always going to be polite and wait, unless your coffee is well worth waiting for.
That said, it's time to share…
Our Review The Best Commercial Coffee Grinders
Mahlkonig K30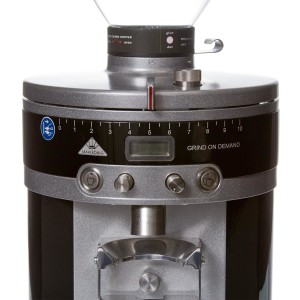 Let us start with this beast of a coffee grinder – the Mahlkonig K30, which sounds like its part coffee grinder, part ski slope.
Weighing in at about 28 lbs, and costing about $2000, this embodiment of German engineering par excellence is one which can grind for espresso for years on end.
All with a certain nonchalance that will have you staring at it wondering how it just keeps going…and going.
This is certainly not the type of grinder you buy for your restaurant or busy café, and then it bites the bullet.
This is simply one of the very best commercial-grade coffee grinders you will want beside you as your primary (and perhaps only) helper as you grind your coffee beans.
Not to be morbid, but this thing will probably outlive all of us, and still be grinding in the 23rd century, and we don't just mean because it's a giant hunk of metal.
The hardware inside this beast is truly a wonder to behold.
Sure, it always helps to have few other less powerful coffee grinders kicking around for certain styles of french press and drip coffee, and maybe a grinder for decaf, but the Mahlkonig can do it all regardless.
If you are soon to be opening a café, the word investment comes to mind with this grinder.
Pro Grade
So what does the Mahlkonig do specifically that makes it a great professional grinder, specifically?
With its 150 V / 60 Hz motor and 4.6 amps, in addition to a hopper capacity of 3.3 lbs, you'll be able to load up ample beans and then grind them all quickly and efficiently during rush times, as this grinder has the ability to grind 7 grams in 2.3 seconds.
If you are looking for a professional model, look no further than this model. It is used in Barista World Championships because it is THE pro grinder of them all.
Up next, something from the Mazzer company…
Mazzer Major
Mazzer: another legendary name in the coffee grinder business. When you decide to purchase a Mazzer coffee grinder, you really can't go wrong, as they are made to last, and their performance is second to none.
If you're buying a Mazzer coffee grinder for your home, then congrats, as it is an excellent choice for a home grinder and it will treat you right for years to come.
When it comes to commercial-grade, or professional coffee grinders, we think that the Mazzer Major is the best choice out of all the other Mazzer grinders, of which there are several, for the job of busy-café coffee grinder, and there are a few reasons for this.
What Makes It So Special?
To explain further, the Mazzer Major has a number of finer points that makes it the perfect choice for a commercial establishment.
For instance, it has huge burrs, which we always talk about here on this website as being the better choice for harder jobs.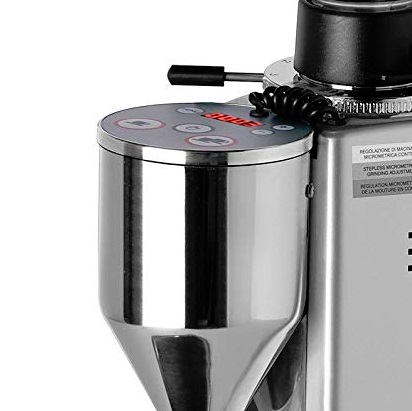 At the same time as the burrs are downright huge, they spin slowly at about 1500 RPM, providing an extremely high output of consistent coffee grinders that will suit the needs of a busy café where people are expecting the best espresso in town.
With the Mazzer Major, it certainly can change the entire game for you for the better.
The Major, with its electronic dosing feature, is designed specifically for café usage and produces as little waste as possible, which is an underrated feature if we do say so ourselves.
In fact, the amount of wasted grinds that cafés go through with most grinders has been known to take a substantial bite out of earnings, and so the fact that the Mazzer Major uses timed electronic dosing and an electronic dosing shoot takes away a lot of the guesswork; ultimately saving your business a substantial amount of money in the long run.
Mazzer Major VS Robur

Mazzer Major Grinder
For those familiar with the Mazzer line of coffee grinders, you may be aware that the big daddy of them all is the Mazzer Robur, but Mazzer offers the Major coffee grinder as slightly less massive and more affordable alternative by several hundred dollars.
And so, while the Robur is literally the biggest and best Mazzer coffee grinder out there in terms of just being bigger and badder, the Mazor Major is no slouch either.
Considering the price of the Major vs. the price of the Robur, perhaps the Major is the best overall deal for any prospective or current coffee shop owner or restaurateur.
Macap M4 Stepless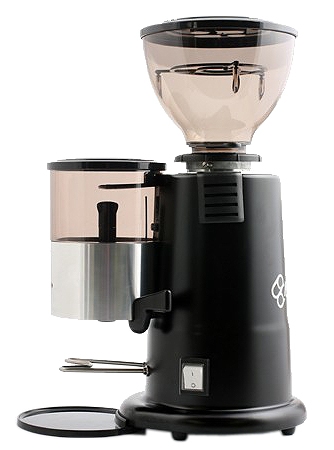 Now for our third and final choice for best professional coffee grinder.
The high caliber coffee grinder you see to your immediate right is the Macap M4, which some coffee shop mainstays might suggest is not anywhere near on the same level as the previous two straight up beastly commercial / industrial grade coffee grinders.
We must admit, this is true. When you put this grinder beside the Mahlkonig K30, you can see that the K30 has got a lot more metal and weight to it.
Still, we wanted to put the Macap M4 here on our list.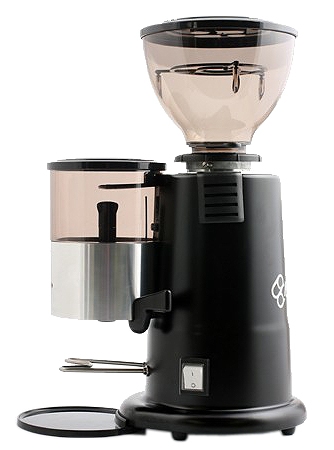 Although it isn't exactly on the same level of industriousness as our previous two choices, this grinder we think still qualifies as commercial grade.
Based on its very reasonable price of around $600-$700, we feel this coffee grinder should be included.
Not only is it an excellent grinder with many of the same great features as the other two, but it is much, much less expensive.
In many ways, the Macap M4 is comparable to the Mazzer Mini, which is Mazzer's quote unquote "low end" model of grinder.
Macap M4 Specs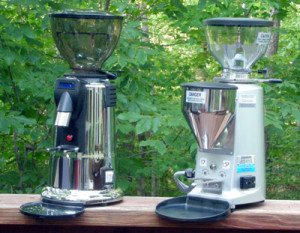 With its comparatively smaller size, at 17″, the Macap M4 not a giant of a grinder like the Robur, Major, or some of the Mahlkonigs; so it may be more easily stored in some cupboards.
It also has the micro-adjustment features that its two larger cohorts have, with its special worm gear which allows for ultra-specific grind settings.
This ultra-fine adjusting of grind settings is perfect for anyone who will need to meet the demands of espresso lovers who will undoubtedly be dropping by your shop.
Oh, and its also very quiet, which is always a plus!
With all of this to consider, you will undoubtedly be wanting to take a very close look at some or all of these commercial grade coffee grinders before purchasing.
We hope that we have provided you with some helpful information on this matter, as we know it is an extremely important decision when opening up a coffee shop, restaurant, or any business that needs some serious coffee grinding done.
Happy grinding!