Ok, today's review might come as somewhat of a surprise, but today we're going to talk NOT about the aromatic black elixer of life, but instead about a piece of furniture. Yes, today we review an actual coffee table!
At our place we drink a ton of coffee, but the bitter irony is that we've never actually owned a proper coffee table. The day had arrived for us to choose a coffee table that we could sit around and drink our marvellous hot black beverage, no longer ashamed of being without one. Oh, and maybe play some scrabble once in a while!
The day we got the Dorel Living Faux Marble Lift Top Coffee Table home, myself and my family have been loving it. Of course, it has that faux marble surface on the table top, which not only looks like the real deal but it basically makes this table look 10x more expensive than it actually is. I have actually fooled one neighbor with it already (they fooled themselves), and I think most people aren't going to question the authenticity of this faux marble table top.
Here's a quick video (if reading isn't your thing):

Beneath the table top, the table itself is made of solid wood and has a beautiful dark veneer. The appropriate espresso-colored finish on the wood makes it look classy and super fine for your guests to gawk at, not to mention me. I love this thing!
But the list of "pros" doesn't stop there, I'm happy to say. This Dorel Living table has a storage compartment right under the marble table top where you can keep your magazines, books, table top covers, newspaper, and what not.
Some Assembly Required
You might want to know that the entire unit doesn't not come fully assembled, but I think that's typical of deliveries such as this. To be fair, assembly shouldn't raise your blood pressure too much because I was able to set it up lickety-split and I am all thumbs.
The DIY assembly of this coffee table could be much worse, because basically you just need to attach the legs and that's just about it. The upside of "some assembly required", is that the parts are all separately available via online merchants like Amazon for you to buy and replace as frequently you would wish. Dog chewed a leg? Just re-order it!
Out Of The Box
I ordered this table 6 months back from Amazon.com. The day it arrived, I was so anxious. I still remember, I ripped open the package and was relieved that it was delivered without any damage. I had visions of the faux marble being cracked - that was my main concern. To be honest, this was my first Amazon coffee table purchase.
As I mentioned earlier, this table was extremely easy to put together. It was actually a cakewalk. Just screw in the legs and your table is ready to adorn your house. The table top was worth every bit of my money. It looks super classy and expensive, but it only cost me around $100.
More Than A Coffee Table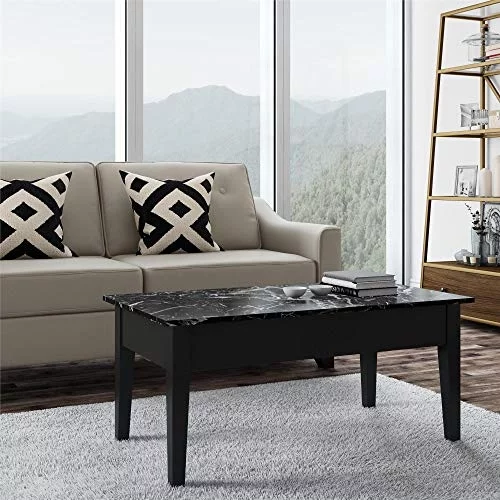 The height is just about right to qualify as the perfect corner coffee table. If you have a couch that's at least 17 inches tall, you need not worry buying new chairs to go with the table.
It's the perfect table and now we can totally sit in front of the TV sipping evening tea with family or having cozy couch dinner with guests.
Believe me, this is beyond a coffee table. It's more like a dinner table for a small family size. There's already the veneer so you don't really have to use coasters.
For cleaning, you don't have to sweat, really. Just use a damp cotton cloth to get rid of stains in one go. The table is very easily maintainable. The faux marble top looks like polished marble. It's a sleek look.
Kids? No Worries
I personally more than loved this table. It's great for the price that I paid and takes care of all my requirements and my family's requirements. I have little kids in my home and I live in mortal dread of them playfully breaking things, given that they have track record of breaking stuff. This table keeps me tension free. I know deep down that the price is just affordable for me to lose it to my kids and buy another one without shedding real tears.
It is sturdy and durable at the same time. The other day I saw my 4 year old jump on top of it. The table top is designed with strength and supporting pillars work very well to give it a strengthening shape. I tried testing it though. I put two 5 lbs weights on two sides of the table top and left it overnight. I woke up in the morning, much to my surprise, the table was as strong as ever.
There are magnets which hold the pillar at it's place perfectly. They give it counter balance and extra support. We use the table every day almost to eat, drink, sit on and take support on (my kids do it too often), but this coffee table never disappoints us. I always wanted to have an affordable, good looking, multi purpose coffee table at my place and this table is "the one".
Holds A Lot Of Stuff
My husband keeps his laptop, his computer, his cap phone, coffee, watch, files and everything heavy you could imagine and maybe all at the same time. This table contains it all without fail.
Sometimes, I find myself talking about this coffee table with my husband with astonishment and awe. Our living room is decorated with antiques, old looking beautiful and grand looking decorations. It was very important for me to go for a coffee table which will go with the interiors of our living room. This table ends up looking the exact same as it does online, so what you see is what you get (and that's not bad in this case).
Hinges
Because of it's lift hinges, it has extra storage space for all your stuff other than coffee crockeries. The hinges are strong and you can keep as much weight as you want without worrying too much.
This works for me as laptop table, side table, leg rest, magazine storage and beautiful antique piece which adorns my living room. I have got tons of complements for this one and I think I will continue receiving those for a long run, at least till the time this becomes main stream and everybody has one. It was way better than I expected. My husband who never cares about all this, took note for the first time! 🙂