So, once you have spent a lot of money - or not a lot - on a Turkish coffee grinder and quite possibly a cezve, you are hardly going to want to be drinking it out of a Homer Simpson mug!
Welcome to a different world - a world of beauty and indulgence that takes coffee very seriously. A world that will make you wonder why everything else in your life is just so plain… That's the effect that Turkish coffee serving sets have on me.
Turkey as a country is so exotic and alluring, its no surprise that their coffee pots, grinders, and serving ware is so luxurious! It reminds me of this picture below, of Istanbul….just beautiful and otherworldly!
Our Favorite Turkish, Arabic, and Ottoman Coffee Serving Sets
These deluxe coffee sets are really quite remarkable and if you are looking for a "fancy" serving set, these will most certainly do! Depending on which ones you are interested in, some Turkish coffee serving sets are really quite dazzling.
With so many different beauties on offer, where to begin with the all-consuming task of selecting the perfect coffee service? Never fear because we are on hand to guide you through three eye-catching choices.
1. THE BOSPHORUS 27-PIECE TURKISH COFFEE & ESPRESSO SERVING CUP & SAUCER SET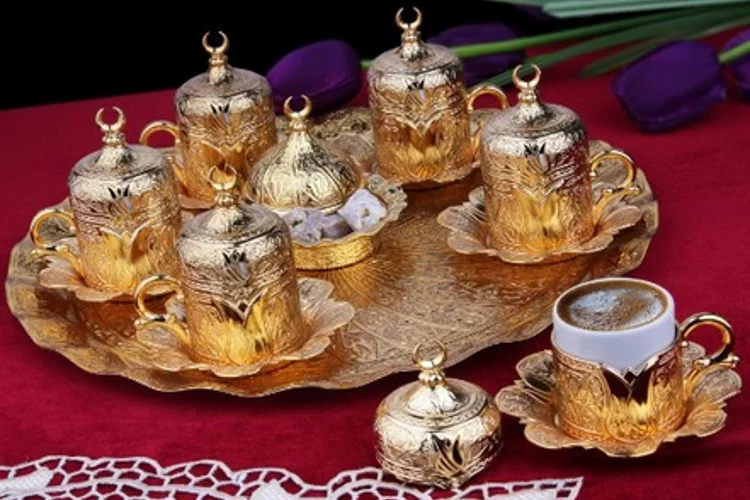 Impress your guests with this exquisite twenty-seven piece coffee set, perfect for Turkish coffee and more besides. This coffee and espresso serving set is also referred to as being Arabic, Ottoman, and even Greek in style, but it originates from Turkey.
Made by the company Bosphorus (named after the Turkish river), a well known make, this is a charming set featuring: one ornate brass oval shaped serving tray, six china cups and six brass cup holders with lids for keeping the coffee hot, plus a brass sugar holder, also with a lid. Excuse us sounding like an infomercial for a moment, but…that's not all! Additionally, there are a set of six gold-coloured spoons, and a complimentary tea towel (20" x 36") of pure Turkish cotton.
To say this has the wow factor would be an epic understatement. But this serving set is not just for show - each cup holds two ounces of coffee and with the right care (no dishwasher - of course!) this could last you a lifetime.
Depending where you shop, you might be able to get this serving set for as low as $80, although for a set like this some sellers can and have charged hundreds. Its understandable, as this is a hand-crafted set where the details are the main attraction.
The shipping weight is 7.8 pounds and, if you're having it delivered, check delivery fees to make sure you aren't getting charged too much. The ideal gift this Thanksgiving or Christmas!
=> Click here to buy the Bosphorus 27-Piece Turkish Coffee & Espresso Serving Set for the lowest price on Amazon
2. THE BOSPHORUS PREMIUM TURKISH COFFEE & ESPRESSO SERVING SET
If twenty-seven pieces sounds a bit much, and you are not regularly hosting dinner parties and soirées, or maybe just don't have the space required to show off such a large set, then here is a delightful eleven-piece coffee service with a slightly different look, for those intimate moments a deux.
Also made by manufacturers Bosphorus, in Turkey, this is a picturesque Turkish-style design espresso set for two. Featuring gorgeous copper brown and made from brass, this is full of authentic carvings and curves. There are three other colour choices available as well in this range made of silver, antique silver and antique brass.
Comprising of two porcelain cups with a capacity for two ounces, two brass holders, along with lids, a sugar delight, also with lid, this additionally comes with a long oblong serving tray designed to make the whole experience complete.
This set weighs approximately three pounds and customer satisfaction around the web has been quite high for this particular set, which we love as well.
This set is every bit as fabulous up close and in person as it appears in photographs. Shipping is quick, considering where its coming from, and we feel you will not be disappointed. For such a beautiful handcrafted Turkish coffee service, the price is also quite reasonable - under $50 if you can find it for sale.
No matter how modest your home, this will lend a touch of the exotic east and some true old world style. Stun your date by asking them back to your abode for coffee, and then serve it up with this.
=> Click here to buy the Bosphorus Premium Coffee & Espresso Serving Set for the lowest price on Amazon
3. THE TURKISH EMPORIUM'S COPPER TURKISH COFFEE & ESPRESSO CUP & SAUCER SET
If the previous two serving sets both seem a bit on the ostentatious side, but you would still like to bring Istanbul to your home for a solo journey, while still enjoying a steaming cup of finest Turkish coffee with style. This single serving set by the Turkish Emporium is another authentic creation which we simply love!
Elegant and stylish, this is engraved copper in an antique style and there is quite a wide swath of different colours available - antique silver, silver, gold, antique brass or antique copper.
Featuring a plain porcelain insert, this set includes also both the copper base and lid, as well as saucer and complimentary tassle (because who doesn't love a good tassel), to lend a Turkish flourish to your morning brew.
Again, depending on where you buy from, shipping costs are different. There is a great deal happening on Amazon for this solo Turkish set. Such beautiful workmanship has to be seen in person to be believed!
With a shipping weight of only twelve ounces, this package is small but cute and all you really need to enjoy your Turkish coffee experience properly, without spending a massive fortune.
Because it is so small you can also happily drink espressos out of these. Just make sure you are careful with the metal outer shell, the porcelain can be washed in the usual fashion of course. Although it is quite solidly made, do not knock it off the counter as this reviewer once did!
=> Click here to buy the Turkish Emporium's Serving Set for the lowest price on Amazon
MORE FROM OUR SITE
We've got a lot more to offer in terms of articles, reviews, and information about coffee. Feel free to look around! Click on our logo below to return to the Home Page