Last Updated on
Today we want to answer the following question: How big is a coffee scoop? 
It seems simple enough, but the matter of defining the size of a "scoop" of coffee requires a bit more explanation than you might think.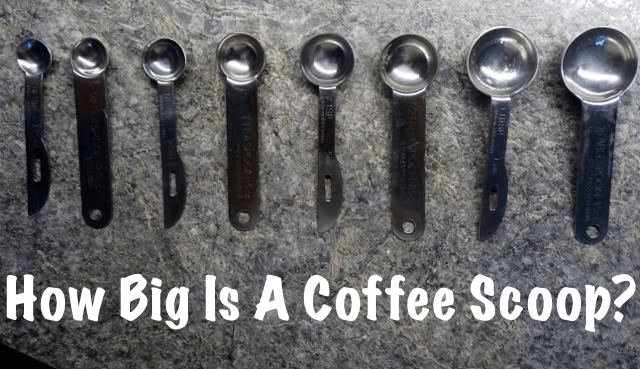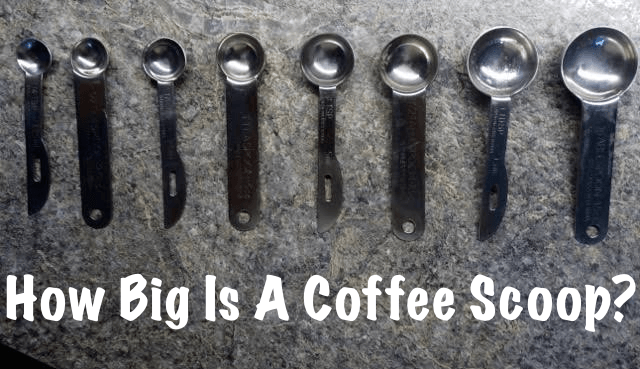 For starters, when most of us make coffee at home, we first decide how many cups of coffee we want. 
Most coffee makers have numbers on their carafe (usually up to 12) to indicate the maximum number of cups of coffee you can brew at one time.  This process is going to require a scoop, or some way of measuring your grinds.

Or, if you know you just want a quick cup, you get out your handy one cup brewing system and stick a pod in.  No scoop required.

There are many different ways to get the amount of coffee you want, and it depends on the brewing method.

Coffee Scoop Size
First off, let's look at a real example to give this whole "What is a coffee scoop?" thing some context. 
Check out this video of a Starbucks guy making some pour over coffee.  Notice the use of a spoon to measure out the coffee…
Ok, so we see here that he uses a spoon, which he calls a tablespoon and sure enough, it looks to be a legit tablespoon.  Noted.

Standard Measurements
This is the part that separates the "ok" cups of coffee from the great ones, so take heed!
At this point, you might want to know if using an actual tablespoon AKA measuring spoon is ideal for your cup of coffee or can I just use a regular spoon from the drawer to measure out my coffee? 
The good news is, if you're not picky, you are free to try almost anything.  🙂  Of course, trying "almost anything" isn't the way to get the best results! 
In fact, if you just heap in some random spoonfuls of coffee, you may be in for a rude awakening.  :O

Coffee To Water Ratio
For me, a standard way to make a great cup of coffee is to use two tablespoons of ground coffee per one 8 oz cup of water.

This also happens to be the standard ratio, as the above video demonstrates and many other coffee buffs subscribe to. 
One way that I like to brew is with my Hamilton Beach Flex Brew Two Way Coffee Maker, which allows for either a carafe of coffee, or a single cup.

To get a single 8 oz cup of coffee with my Hamilton Beach Flex Brew I that exact ratio of 8 oz of water to 2 tablespoons of fresh coffee grinds and it turns out great every time. 
Sometimes I think outside the box and try different ratios, but generally I stick to the norm.  Of course, you don't have to stick to the norm, but it is the standard out there. 
So, if you are new to the whole coffee thing, you know what they say: Learn the rules, and then feel free to break them. 
If you are just going to fart around, then you're going to end up with an experience like this…

Scoop Specifics & The Importance Of Labels
The way I used to see it before I started to pay more attention to specifics (like good taste), 1 tablespoon was equal to 1 scoop, and so 2 scoops of coffee just means to use 2 tablespoons of coffee. 
So, I would grab my coffee scoop and do two heaping "scoops" for every 8 oz of water.  Perfect!  I've got it all figured out, right?  Well, that depends…

Take A Good Look At Your Scoop
The problem was I was using what I thought was tablespoon sized scoop.  The scoop wasn't labeled, but to me it looked about right.  
Of course, if a scoops that are made for measuring are usually labeled. 
I didn't even notice for a long time, but eventually, I realized that my coffee scoop that I was assuming was exactly one tablespoon was more like 1.5 tablespoons. 
The cruel irony?  I had a tablespoon that was labeled properly, but I just didn't really prefer to use it.

Getting Specific With Coffee Making
Once we figured out that not just any old scoop would do, we decided to take a closer look at all the stages of our home brewing process, including the scoop. 
We already have beans we like to use (Lavazza Super Crema), and a grinder we adore (Breville Smart Grinder), so we're pretty much good to go.
On top of that, we have the Hamilton Beach FlexBrew we mentioned, and we are also blessed to have a Gaggia Classic 14101 espresso maker that makes a wicked cup of espresso should the need arise.
All I needed was one perfect scoop and my set-up would be complete!
The RSVP Endurance Stainless Steel 2 Tablespoon Coffee Scoop
Ah, my favorite little scoop!  To make the perfect cup of coffee using my FlexBrew, I add one level RSVP scoop of ground coffee for every 8 ounces of water.  This magic formula definitely improved the taste of my coffee dramatically!

I love my RSVP coffee scoop!  Its a little sweetheart with charisma, and it looks good in its chic stainless steel coat and has strength and durability.

The RSVP scoop light as a feather at 2.4 ounces. and the dimensions are 3.8 x 0.8 x 6.2 inches, just in case you're a curious as to its exact dimensions.

Getting Meta – What Is A "Cup" Of Coffee?
Knowing what a coffee scoop is is good to know, but on top of that, there's cup sizes to consider.  There is your standard mug…but wait, what is your "standard" size mug?  There are a million different mug sizes. 
If you go to Starbucks, you have to deal with their coffee cup sizes which have fancy Italian names, each holding a specific amount of drink. 
It seems that once you go outside of the standard 8oz cup of coffee, things start to get complicated once again!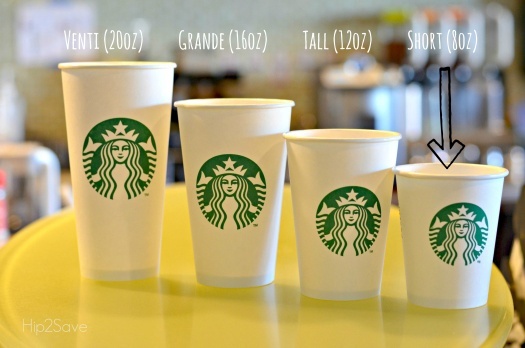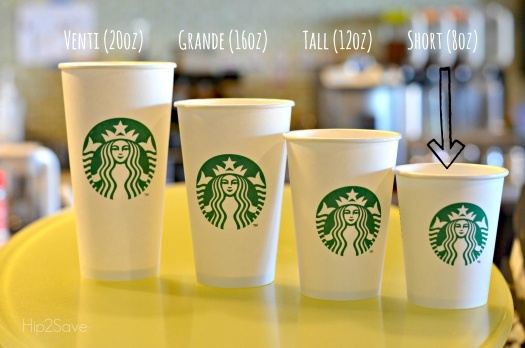 These Starbucks sizes are measured in fluid ounces, with Venti being 20oz, Grande being 16oz, Tall being 12oz, and Short being 8oz. 
Everyone orders something different, but you can see that our "standard" size cup of coffee is considered the Starbucks' "small" size.
Just remember – if you're going after a large cup of coffee, two level scoops from your RSVP coffee scoop to 16oz of water is what you want, and that should fill up a large cup. 
---
RELATED VIDEOS
Summary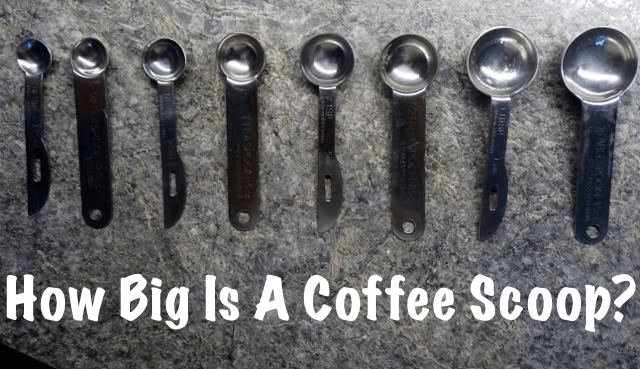 Article Name
How Big Is A Coffee Scoop?
Description
There seems to be some confusion about what this question actually means, and so we try our best here to clear things up.
Author
Publisher Name
Publisher Logo