Do you love the taste of cinnamon? If you do, then you'll love the Starbucks Cinnamon Dolce Latte. It's a delicious drink that combines espresso, steamed milk, and cinnamon dolce syrup. The end result is a sweet and creamy latte that's perfect for satisfying your sweet tooth. Plus, it's incredibly easy to make at home! All you need is a few simple ingredients and a little bit of time. So why not give it a try? You may just find yourself becoming a regular customer!
The First Sip Feeling of The Starbucks Cinnamon Dolce Latte Review
Another day, another Starbucks beverage review.
This morning, I decided to make my morning a little sweeter with Starbucks Cinnamon Dolce Latte. And I must say that this is such a great treat!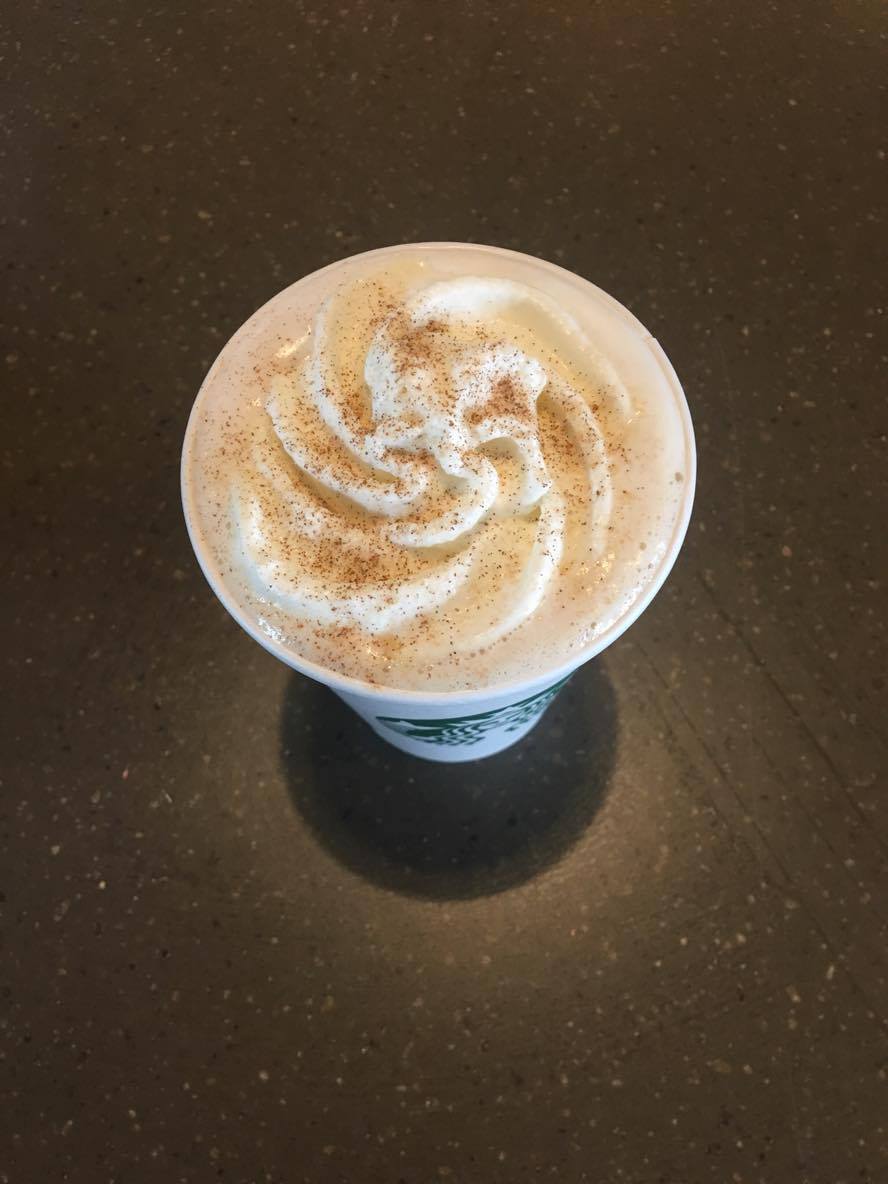 The first sip might've been too hot, but once I let it cool down, I really enjoyed this beverage.
A latte isn't exactly a coffee. It's an espresso. If you're new to the ins and outs of the caffeinated world, you might be surprised to learn that not all drinks are coffee.
There are espressos, lattes, and cappuccinos, etc. It all depends on the way it's made. The latte is made with heat, water, and a fine grind. The water is forced through the grind very, very quickly.
It seems that the only limit those beans have is our imagination. There are even chocolate-covered espresso beans out there.
The result of this method is a coffee that has a great deal more caffeine. After it's made, the barista will add milk to the liquid.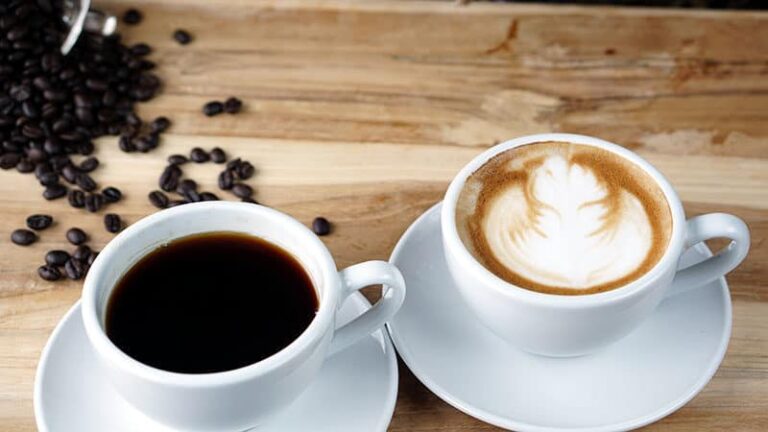 With the Cinnamon Dolce Latte, you're getting so much more than a bit of milk in your cup. There's oh so much wonderful caffeine in this kind of drink. For every 12 ounces of espresso drink, they're adding a shot. For iced coffee, the barista is adding two shots.
Imagine that jolt in the morning!
Frankly, I enjoy any latte from Starbucks, because who can go wrong with rich espresso and steamed milk that tastes like cinnamon. Yum!
While enjoying the latte, I tasted not only cinnamon, but I also tasted a little bit of brown sugar. I wouldn't say this is the most complex drink on the planet.
A little bit of this and a little bit of that, and that's what you get.

I must confess, I'm not a huge fan of cinnamon, but this was a very tasty beverage overall. However, I would say this is not a summer drink. It's mostly what you'd associate with a bit of cold, winter fires, and snuggling. This would be delightful in the fall!
They also have a cold beverage version, as is standard at Starbucks for most of their drinks. If the day is a little on the hot side, you can get the same drink chilled - no problemo.
For me, I was perfectly happy to have this drink served hot even though the weather isn't at all cold.
The Starbucks Cinnamon Dolce Latte Nutritional Facts
I've finally realized that Starbucks drinks are generally nothing but sugar - which by now I shouldn't be surprised when I look at the nutritional facts.
Speaking of nutritional facts, here they are for this Cinnamon Dolce Latte - this beverage specifically has 31 g of sugar in a "tall" (small).
Also the drink has about 9g of protein, and if you're counting calories it'll be 270 calories. For comparison's sake, I was on the treadmill the other day for about half an hour, and I managed to burn 150 calories.
Therefore, drinking this latte is the same as an hour on the treadmill. I'm not a fitness expert, but that's what it seems to boil down to.
On the other hand, if you have 2 shots of espresso coursing through you, maybe you're faster on the treadmill. (That's an experiment for another day!)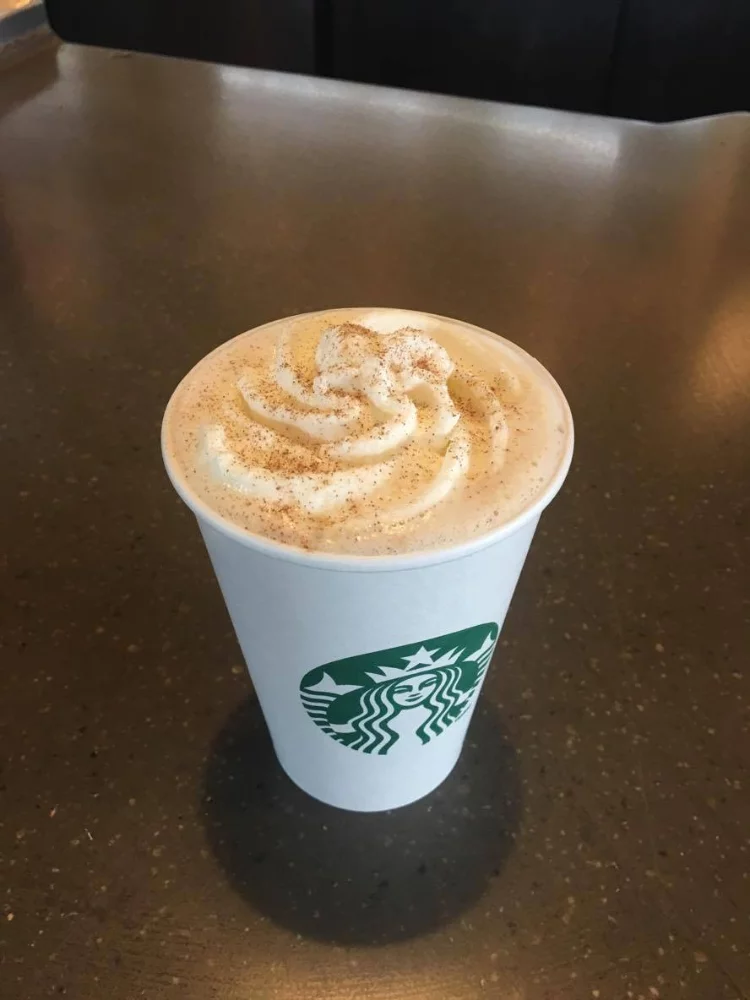 Starbucks Cinnamon Dolce Latte Review in Detail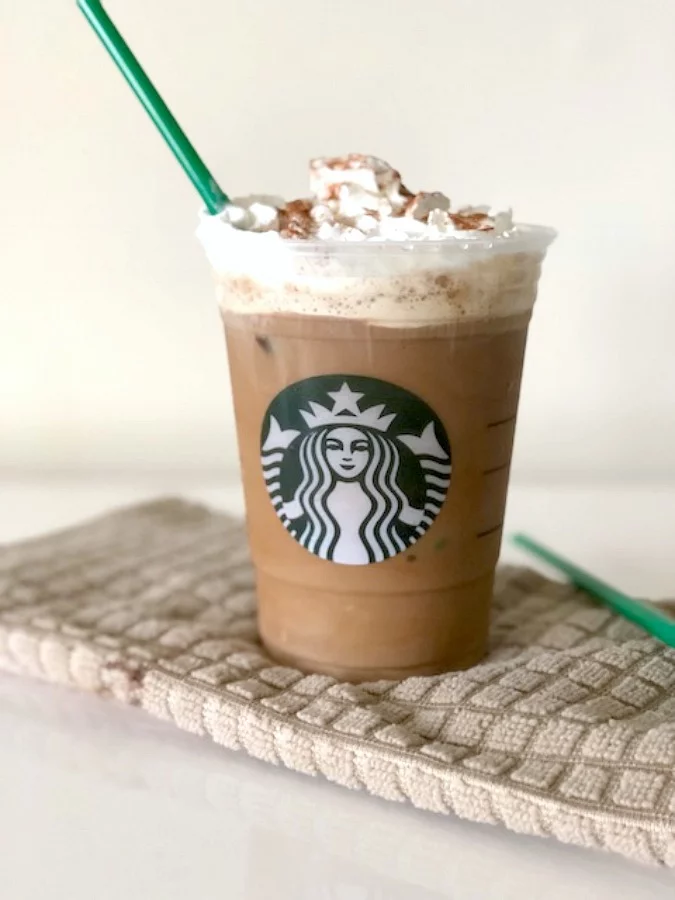 Cinnamon Dolce Latte is an extremely popular item that Starbucks has to offer. The infamous Cinnamon Dolce Latte is basically a latte with cinnamon and dolce syrup, which makes it sweet. The drink itself tastes like most other Starbucks lattes- nothing mind blowing, but not too bad either.
One big plus that the Cinnamon Dolce Latte has is that it's not very high in calories, which means you can drink it if you're on a diet. It has 150 calories for a grande (medium). If you get the large (32 ounces), it has 310 calories. You might think that's pretty bad for something you would only drink as a beverage to quench your thirst, but it's nowhere near the calories that are in something like an ice blended frappuccino.

The sweetness of the Cinnamon Dolce Latte is also pretty mild compared to other Starbucks drinks. It probably could've used stronger cinnamon flavor, but I wasn't displeased by the taste. The dolce syrup also didn't have too much of an obvious flavor, it just made the drink sweet. Overall, I would say that Cinnamon Dolce Latte is a pretty solid drink if you're looking for something with some sweetness to it without being overwhelmingly high in calories and sugar like most Starbucks drinks are.

Key Takeaways for The Starbucks Cinnamon Dolce Latte
The Flavor of the Latte Is Rich and Creamy, With a Delicious Cinnamon Flavor
The Coffee Is Perfectly Balanced With the Right Amount of Sweetness
The Drink Is Perfect for Those Chilly Winter Mornings
Overall, the Starbucks Cinnamon Dolce Latte Is a Delicious and Satisfying Beverage
Starbucks Cinnamon Dolce Latte Recipe
Ingredients:
1/2 cup strong brewed coffee, cold
3/4 cup milk
2-3 teaspoons granulated sugar
a dash of ground cinnamon.
Optional: whipped cream or milk foam from a canister (if you have a Nespresso machine) Directions: Combine all ingredients in a blender and blend until smooth.
You can add more milk if it's too strong for you. For iced latte, use hot coffee and blend in an ice cube or two before pouring in a glass.
For iced latte, use hot coffee and blend in with the ice cubes before pour into a glass. You can top this drink with whipped cream or milk foam.
Customer Reviews for The Starbucks Cinnamon Dolce Latte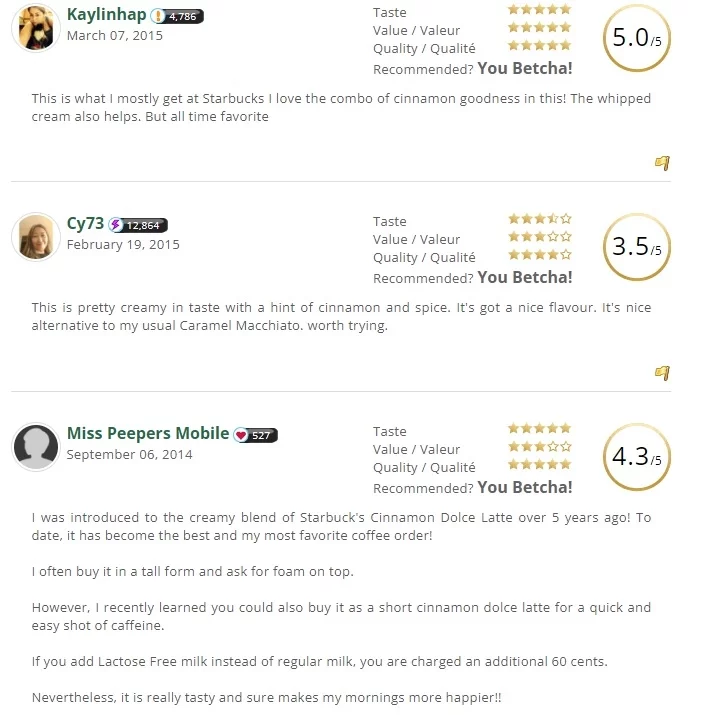 The Not-So-Secret Ingredient - Syrup!
If you go to Starbucks often, you'll notice that they give many of their drinks specific flavors in the form of flavored syrups.
So when I mention sugar, I guess I'm talking more about the sugar found in the syrup they squirt into your drink. You can purchase the Dolce syrup online on the Starbucks site.
Personally, when I buy one of Starbucks syrups I find that I make it nothing like they do in the store, but I also don't own any fancy equipment.
For Christmas this year, I might just ask Santa for a really nice home espresso machine, so I can actually try to replicate some of my favorite Starbucks drinks.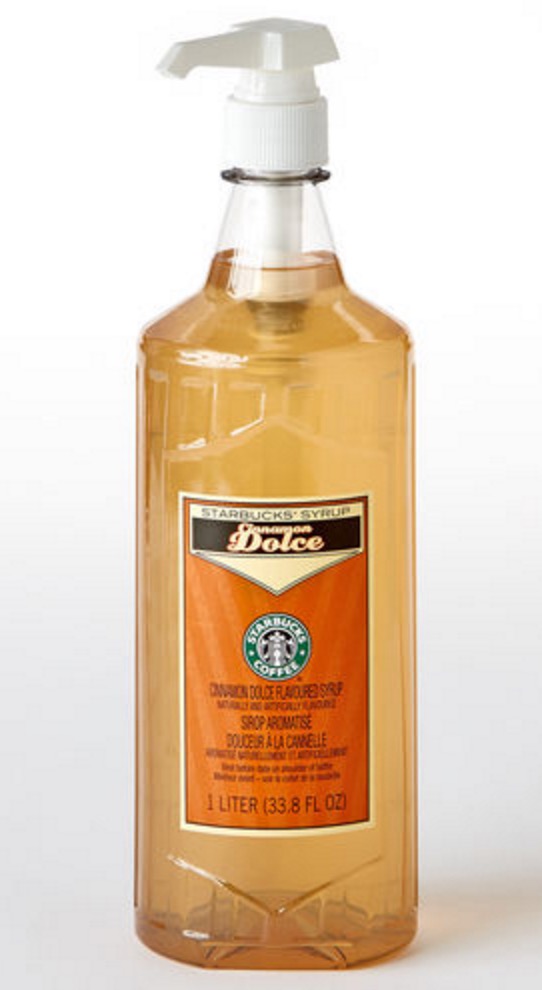 Price of The Starbucks Cinnamon Dolce Latte
I did enjoy this drink, however, I don't imagine this is an everyday drink for the average person. For a tall latte, it'll set you back $5.00.
Which for the everyday coffee drinker it's just way too expensive. Let us do the math here… 7 x $5.00 = $35.00 a week, which is outrageous…not to mention that your average person doesn't need the extra calories on a daily basis.
Therefore, this drink I'd say falls more into the "treat" category. And like I said, I'm not a huge cinnamon fan, but once in a while it hits the spot. I'd totally buy it again at some point, just not 'til next pay check! - Christina

Starbucks Gift Card $25 - Packaging May Vary

Starbucks Via Instant Sweetened Iced Coffee,095Oz Packets (Iced Coffee, 30 Count)

Starbucks Cold Cup Venti 24 Oz

Conclusion for The Cinnamon Dolce Latte Review
The Starbucks Cinnamon Dolce Latte is a sweet, delicious blend of espresso and cinnamon that will make your day. It's perfect for the holiday season or any time you need some cozy warmth on a cold winter morning. If this sounds like something you want to try, swing by one of their locations near you soon!