Hi coffee lovers! My name is Sam and I really do fancy myself a coffee aficionado. I've been home brewing for several years now, and I have tried all sorts of blends and methods. Sometimes I feel a little bit like a mad scientist in the kitchen, rather than just your average coffee drinker. 🙂
If you're like me, you are out to create the perfect cup of Joe. Some people will accept results that basically taste like mud, which I think is a shame.
It's even more of a shame when I am visiting someone, and their standards for home brewing are rather low.
So when they ask me, "Do you want some coffee?", I am usually polite about it and say "Of course…" but secretly I am dreading what they are about to hand me, as it is rarely up to my standards.
My mom says I'm just too nice for my own good. Here I wanted to say a few things about Turkish coffee as a whole, and then talk about my three favorite grinders. However, if you just came to read about the grinders, that's cool.
Editors' Picks for Top Turkish Coffee Grinders in 2022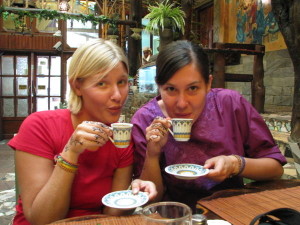 Why Turkish Coffee?
Well, you've probably already heard that the Turkish people take their coffee-drinking very seriously.
Anyone who has been to Turkey will tell you that coffee is much more than just a type o brew for Turkish people.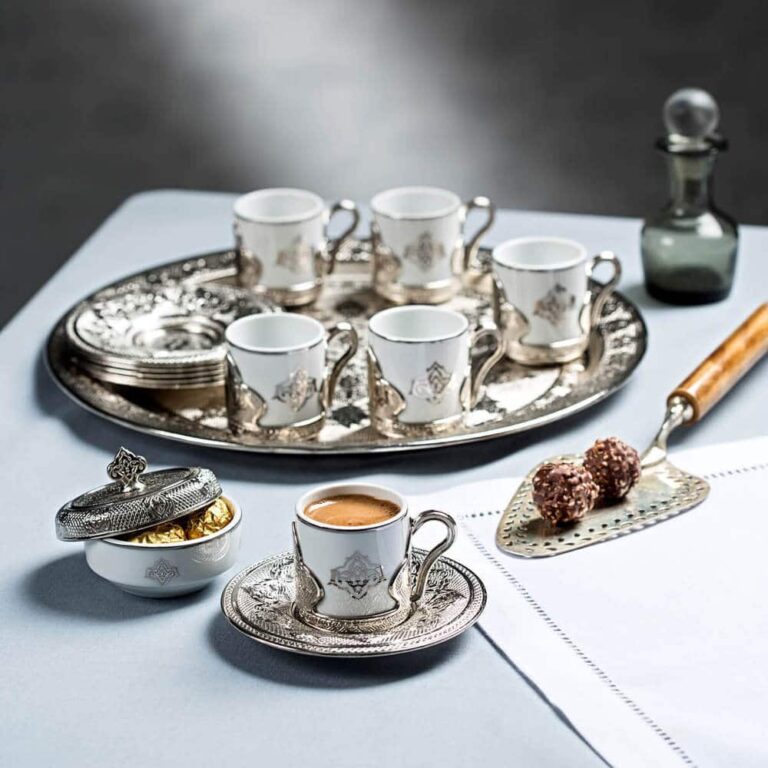 For Turkish people, coffee is a part of their daily routine. It is a mean of socialization which helps keep their social lives vivid and alive.
You could say that coffee is used as a universal tool for making friendships, ending arguments, strengthening relations, etc.
Turkish people will not simply brew a cup of espresso or latte and drink it in a hurry. Instead of rushing, they will spend few extra minutes in brewing their world-famous Turkish coffee.
In addition to spending their precious time in brewing a cup of perfect Turkish coffee, the will also put some extra effort in serving it in a unique way.
They will serve their coffee in the traditional Turkish coffee serving sets that will make you enjoy the coffee just by looking at the cups the coffee is served in.
Sounds interesting, right!?
Stay with us to find out more about Turkish coffee, how it is made, what kind of coffee beans it is made of, etc.
Let's start by explaining how to make Turkish coffee from the comfort of your home.
How To Make Turkish Coffee At Home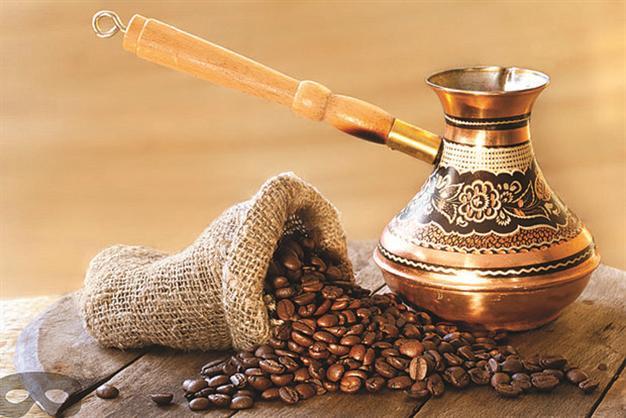 One of my proudest moments was learning to brew a great cup of authentic Turkish coffee.
I think drinking Turkish coffee requires a more refined taste, which has lead me to learn a lot more about coffee, not to mention the country of Turkey, than I ever thought possible.
It has even lead me to take several trips there, which is always an adventure, and I always look forward to the coffee as well.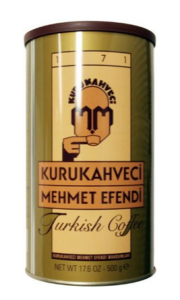 heartily recommend you try
if you don't have your own grinder), if you want something done right, you probably should do it yourself.
In my case, I wanted the experience of learning to grind my own excellent cup of Turkish coffee, it wasn't so much that I couldn't find any good blends out there.
Also, there's something special about the fine grind and taste of Turkish home-brewed coffee that you make yourself that you can't get from other coffee preparation methods.
I guess I'm just enchanted with Turkish culture, which might explain why I married a Turkish guy, but I digress!
Here's a great little article about the history of coffee grinders I really enjoy which talks about Turkey's place in coffee history and how they basically revolutionized coffee grinders.
Here's a great video that always hypes me up when it comes to preparing coffee in the Turkish style featuring the award winning barista Turgay Yildizli.
Learned a lot from this video, and it was shot in one of my favorite cities - Istanbul.
So while I don't always have the time to prepare my favorite Turkish home brew exactly to my specifications (I'm a busy gal), I always prepare a cup or two whenever I have the chance, because its always worth the effort.
Next, we talk about flavor and strength of Turkish coffee.
Turkish Coffee: All About Flavor and Strength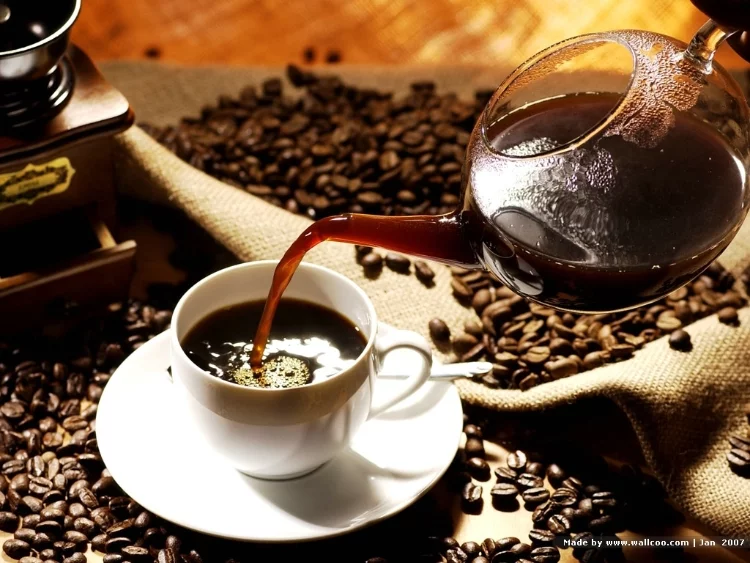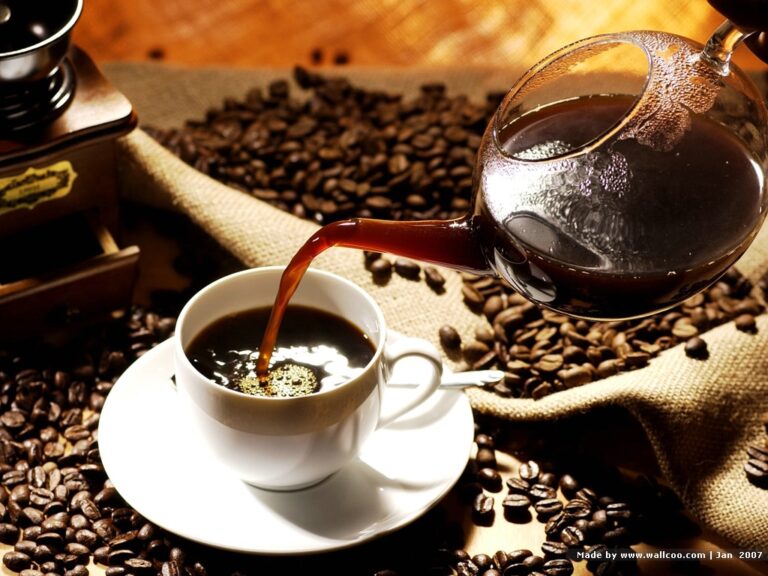 If you're a fan of strong coffee, then you'll likely enjoy Turkish home-brewed coffee over some of the other kinds of home brew.
This is particularly a big plus if you use coffee to jump-start your day.
A weaker blend simply won't be good enough to get you going in the morning, if your tolerance to strong coffee is high like mine.
And then there are the night owls, who also need their coffee to pack a real punch because they stay up late working, or whatever night-owls do at night.
For the same reasons, a weaker blend simply won't be good enough. But that's what the Turkish home brew is all about - strength, and flavor.
There are two main methods of preparing a Turkish brew: boiling or infusing the ground coffee.
If you want the best taste, then you should definitely do infusing rather than boiling.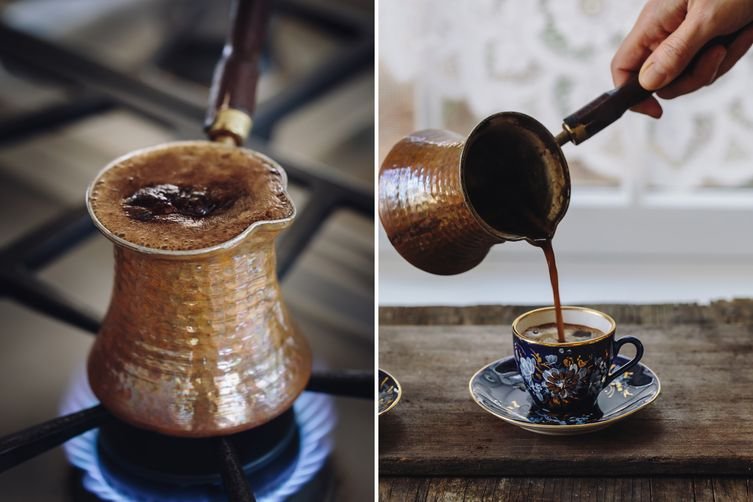 If you use too much heat when infusing, or use a boiling method, then the aromatic oils of the coffee are eliminated. Say goodbye to subtlety.
That's because those nuances are fairly sensitive during and throughout whole the brewing process.
To make the extraction efficient the coffee is ground until it's extremely fine.
It's nearly a total extraction, and gives the last cup a lot body.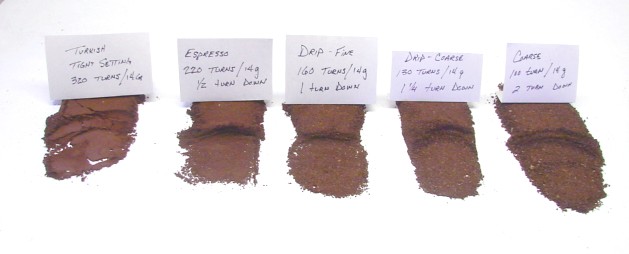 Next, we move on to Turkish coffee grind size…
Turkish Coffee Grind Size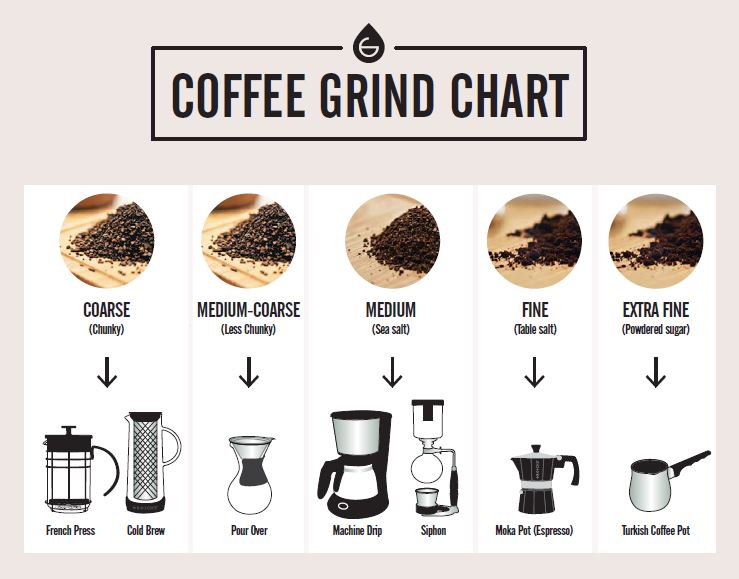 Have you ever wondered why the Turkish grind is so fine? Moreover, why would someone choose to grind the Turkish way, especially when there are so many other options for how to grind and brew your coffee.
Personally, I've tried drip, French Press, pour over, and some other methods and played around with factors like the temperature of the water, the infusion time, and the grind size.
I can't claim to be the most knowledgeable expert on coffee, but I do know what I like, and Turkish is currently my favorite of them all.
As you may know, Turkish coffee is distinguished by its extremely fine grind.
While there are other grinds that have smaller granules as well, Turkish is by far the finest grind with that talc-y appearance.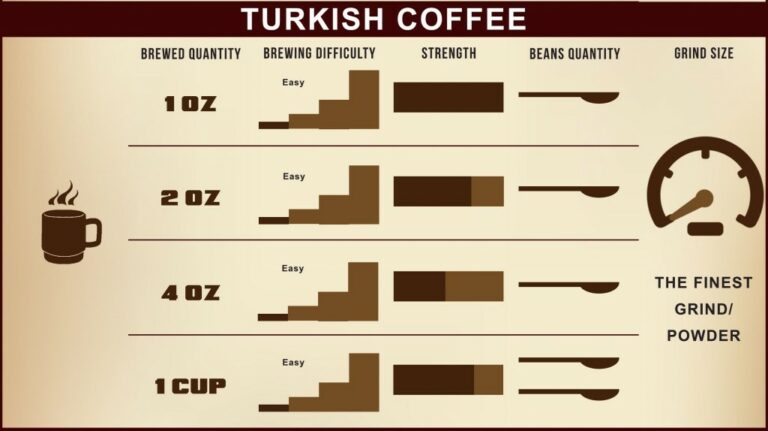 When it comes to Turkish coffee, I've found that the perfect preparation temperature is a little under the boiling point.
This prevents the aromatic oils from evaporating while the coffee is being brewed. The longer steeping time will compensate for the low temperature.
What makes Turkish-style coffee particularly special to me is that fine grind that makes for a more flavorful extraction, and provides your final cup with a crisp, bold taste.
When I have coffee, I like there to be a wide array of flavors hitting my tastebuds, and I find that only Turkish coffee really gives me that big hit.
Moving on to What coffee beans you should use for making Turkish coffee…
What Coffee Beans Are the Best for Turkish Coffee?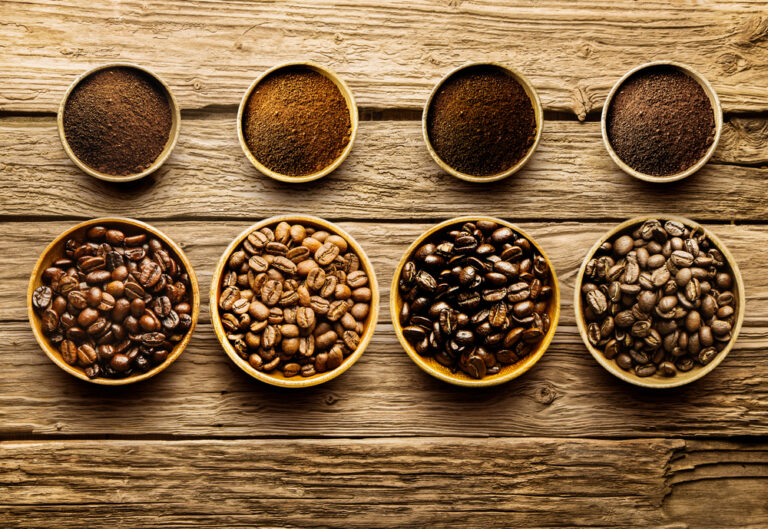 As I said before, there is just something special about grinding and brewing coffee yourself, but early on, the question rose up in my mind: What type of coffee do you need to make Turkish coffee.
One would presume Turkish coffee, right?
After digging around on a few different forums, I found a satisfactory answer on one forum ( this one here) that seemed to jive with my own experiences in Turkey, which is to say that Brazilian coffee seems to be a trend in what the Turks themselves use to make Turkish-style coffee. Go figure!
After making Turkish coffee for a few years now, it is my conclusion that preparing Turkish coffee at home the proper way is more a matter of technique than it is about what coffee bean you buy, but having a coffee grinder that looks Turkish in terms of appearance also adds to the overall experience.
That said, I think its time we looked at some grinders.
So take my word and grab yourself a bag of Brazilian whole beans and get ready to put all this knowledge to the test with some Turkish-style grinding!
Next, we bring you our reviews of some off the best grinders for Turkish coffee.
Top 5 Best Turkish Coffee Grinder Reviews in 2022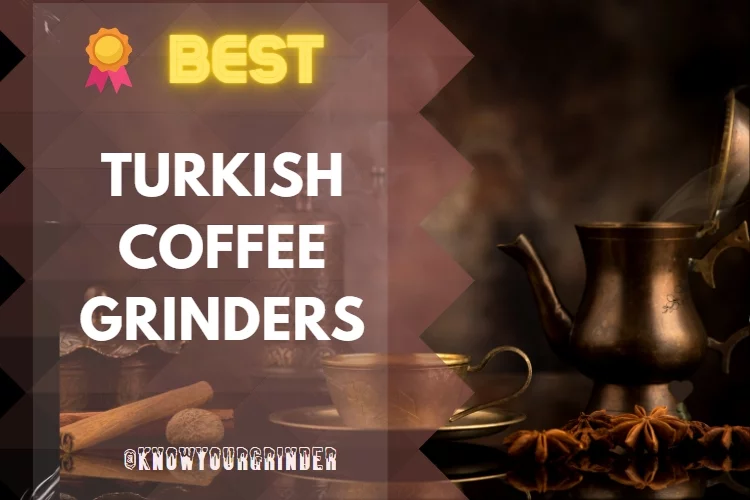 Pepper Mill Imports Traditional Coffee/Spice Mill, Brass - Link
Pepper Mill Imports' Traditional Coffee/Spice Mill is a beautifully designed and well-crafted mill made of brass. It has a simple, yet elegant design that would look great on any kitchen counter. The mill is also very sturdy and well-made, with tight tolerances that ensure smooth grinding action.
One of the best features of this mill is its adjustable grind size. You can easily adjust the coarseness of the grind by turning the knob at the top of the mill. This makes it perfect for grinding both coffee and spices. The mill also has a large capacity, so you can grind plenty at once.

Overall, the Pepper Mill Imports Traditional Coffee/Spice Mill is a high-quality mill that is perfect for grinding coffee and spices. It has a beautiful design, sturdy construction, and adjustable grind size. If you're looking for a quality mill, the Pepper Mill Imports Traditional Coffee/Spice Mill is a great option.


Khaw-Fee HG1B Manual Coffee Grinder - Link
There are a lot of coffee grinders on the market these days, so it can be tough to decide which one is right for you. If you're looking for a quality manual grinder that will give you a great cup of coffee, the Khaw-Fee HG1B might be just what you need. This grinder has a conical ceramic burr, which helps to produce a consistent grind. It's also infinitely adjustable, so you can get the perfect grind every time. The glass jar is scratch resistant and looks great on your countertop, and the stainless steel construction means this grinder is built to last. Plus, it's quiet and portable, making it perfect for taking with you on the go. If you're looking for a quality manual grinder, the Khaw-Fee HG1B is a great option.
Features
Some additional features of the Khaw-Fee HG1B coffee grinder include:

Infinitely adjustable grind size
Conical ceramic burr for consistent grind
Glass jar is scratch resistant and looks great on your countertop
Stainless steel construction is durable and built to last
Quiet and portable, perfect for taking with you on the go

X-Large by Turkish Coffee World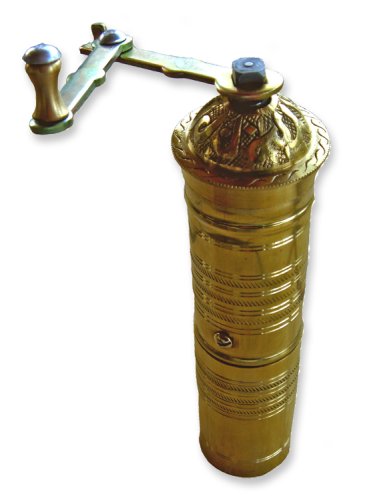 If you want a truly authentic Turkish coffee grinder, then the X-Large by Turkish Coffee World I would say is definitely a top contender.
There are several features of this model that set it apart from other models on the market.
Handmade
In terms of craftsmanship and attention to detail, there's simply no substitute for handmade products such as this.
If you want a Turkish grinder which is truly authentic in terms of actually coming from Turkey, then this coffee grinder from Turkish Coffee World is simply one of the best options.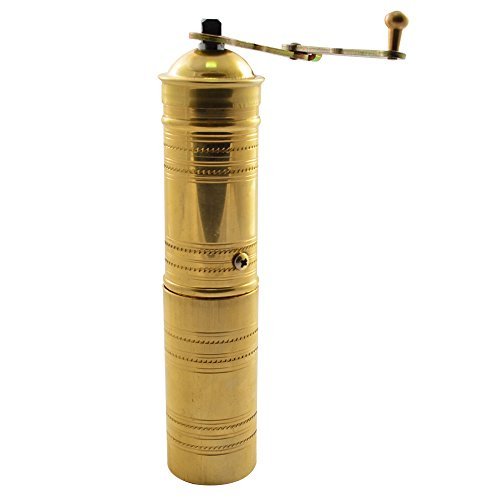 Fine Grind
This coffee mill has the capability to grind extra-fine, which is something you'll be needing in order to make truly great Turkish style-coffee.
This can't be said for all Turkish-looking grinders, which are often designed more for spices than coffee. This one excels at the extra fine grind you'll be needing.
Brass
Another key benefit of this X-Large model, 4 oz. coffee grinder is that it's made of brass.
Most of today's coffee machines are made of cheap materials such as plastic, simply to save on manufacturing costs.
If you want a brass coffee grinder that the Turks themselves would use, this is a great option.
Fold-up Handle
One handy feature that I always liked about this grinder is that the handle folds into the unit, making it space-efficient.
That's definitely helpful, along with the fact that this grinder, although its fairly tall at 9″ high, its not very wide and can fit easily into a cupboard, although I prefer to keep mine out just to show it off.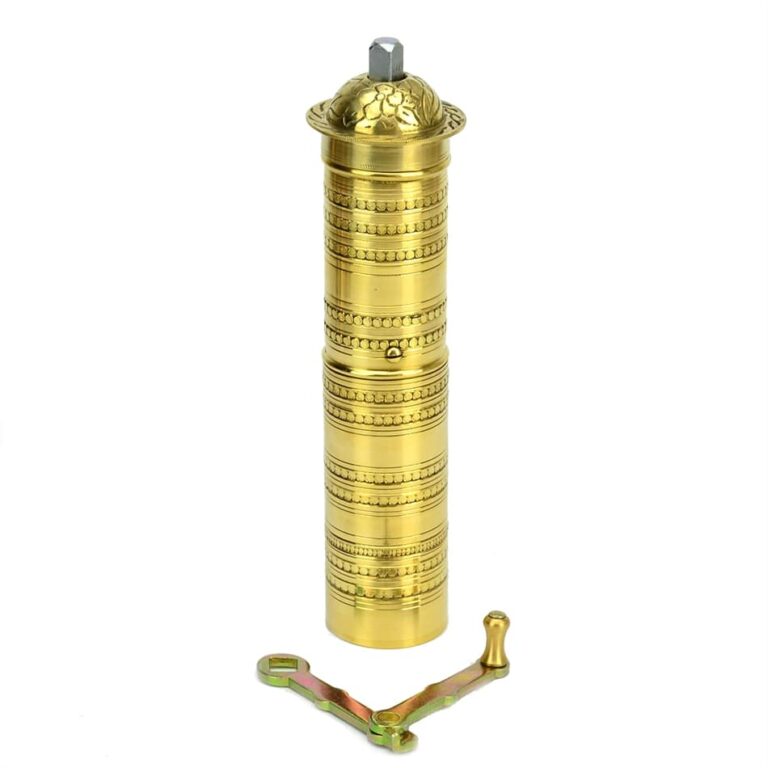 4 oz. (118 ml) Bean Capacity
With a 4 oz. capacity for coffee beans, this is a much larger capacity than most Turkish grinders out there, which are usually pretty tiny.
Made in Turkey
As I believe I mentioned already, this grinder is really made in Turkey. How can you get any more authentic than that?
Overall, this coffee grinder is the real deal and I would highly recommend it for grinding Turkish-style coffee!
Next, we review Zassenhaus brass coffee mill
Zassenhaus Brass Coffee Mill - Link
Can you believe that one of the best Turkish-style grinders on the market happens to be made in Germany? Yes, its true.

This Zassenhaus Brass Coffee Mill would make an excellent choice when you're in the market for a new Turkish coffee grinder. Here's why I think so:
Hardened Grinding Mechanism
Having a hardened grinding mechanism will help to increase the lifespan of the grinder. The internal mechanisms of some grinders are rubbish, but with this one they internals are built to last.
It all starts with components that are built from quality materials, and built with solid craftsmanship, like this one. The hardened grinding mechanism is definitely a key part of this.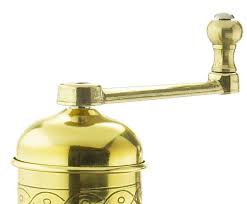 Course to Fine Grind Selection
I generally don't use the adjustments too much with this grinder, because I grind strictly for Turkish with it, but its cool that those adjustments are there if you need them.
Quality Etched Brass
Some other Turkish grinders I've bought are made from flimsy materials that seem to dent and discolor easily. You have no idea how much this really bothers me when I see this happen.
But this is a quality grinder and beautifully designed to boot. The craftsmanship on display here is really outstanding, which I guess brings us to its price…
Price
The retail price for the unit is around $100, which is a lot more than some of the other Turkish grinders out there. At first that might seem expensive.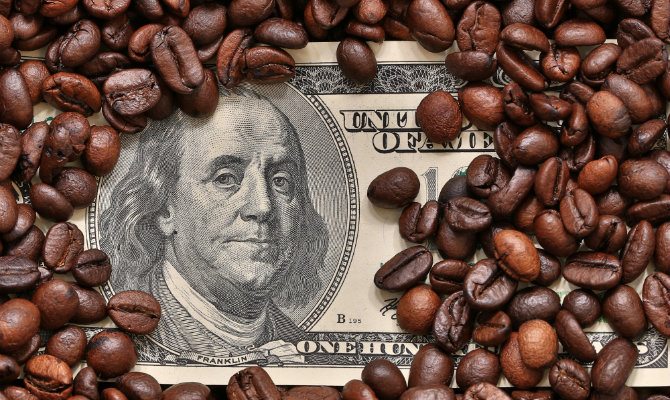 With me, I've had my Zazzenhaus for a few years now and its holding up just fine.
I feel like having this grinder in my home is much like owning a piece of art, so I don't grudge the price too much, especially considering this is art I can use on an almost daily basis.
I really feel like I got what I paid for with this grinder.
Manufacturer's Warranty
The fact that this Zazzenhaus grinder has a manufacturer's warranty just makes me feel a bit better, although so far I haven't thought about it much.
Still, I can understand how someone interested in buying this grinder, for its price, might appreciate this fact.
Doubles As A Spice Grinder
Although I don't use it for such purposes, you can also use the Turkish coffee grinder to grind various types of spices.
For example, you could use the grinder to produce your own black pepper, which I did try once and then never again as I could taste it in my coffee for weeks.
It did a good job with those peppercorns though, I must say!
Zazzenhaus - Leading Manufacturer
The reason I bought this particular Turkish-style grinder from Zazzenhaus is because although my X-Large from Turkish Coffee World is a great grinder and has held up fine, I like to have options, and I like to try different things out.
Zazzenhaus is a name I have had experience with over the years, and I knew I could be 100% certain that I was choosing a brand that focuses quality and craftsmanship, and wouldn't let me down.
I bought my Zazzenhaus actually around the same time as my X-Large by Turkish Coffee World, and I remember thinking that Turkish Coffee World was a sort of shot in the dark at the time. In retrospect, they have both been great choices.
Once you grind up your beans in the Turkish style, you can watch this video on how to brew it Turkish style:

KONA Coffee Grinder by IdylcHomes - Link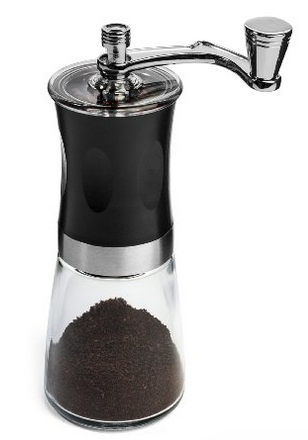 If you know coffee, you probably know that KONA is a word that symbolizes the highest quality in the coffee world, because it is the origin of so many great coffee beans from Hawaii.
So it wasn't surprising to me that this Kona coffee grinder from IdlycHomes is capable of providing the perfect fine grind for a great cup of Turkish style coffee.
Yes, I know it doesn't look like the other two grinders, but if you look at the design closely, you can see the influence for sure.
I will admit, it doesn't have the same bragging rights and you can't show it off the same way, but what it does do is grinds very fine which is perfect for Turkish coffee.
Allow me to explain exactly why I like this Kona Coffee Grinder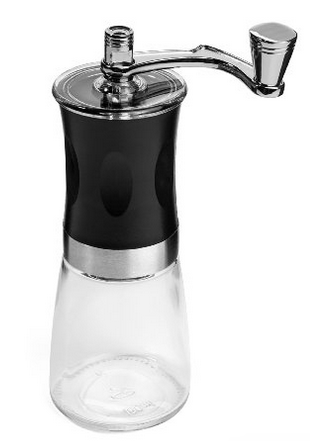 Heavy Duty
If you're a true home brew fanatic like me then you'll be needing to use your grinder at least once daily-during the morning, and maybe more than that, so its critical for the unit to be heavy duty, like the KONA here certainly is, to survive the rigors of everyday use.
If you were to choose a flimsier unit you'd likely have to replace it sooner rather than later. The parts of the grinder are really solid, like the glass grind receptacle and the rest of the unit as well.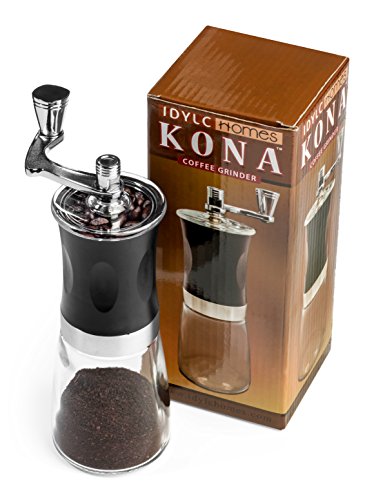 Easy Cleaning
Coffee grounds can be messy, so this is definitely one of the perks of this coffee grinder, in that it is very tidy.
When preparing Turkish coffee, you'll want the process to be as mess-free as possible, especially considering the hazards of a super-fine grind.
The glass jar and the other components of the coffee grinder I have found to be a snap to clean, which is a bonus.
Static-Free
This is another benefit of this KONA coffee grinder. When dealing with small electric appliances, getting shocked due to static is one of my biggest hang-ups.
Fortunately, it isn't a problem when choosing this grinder. Since I'm the kind of person who gets shocked every time I touch my car door handle, I was a glad to see this grinder advertised this feature.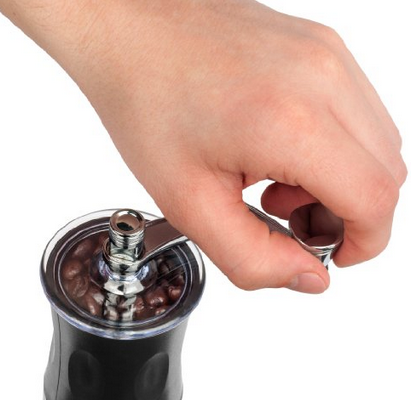 Adjustable burrs
I will say, that of all my Turkish-style grinders, this is the one I use to grind for other brewing methods.
I just find the adjusting of this grinder to be very straightforward and simple, and so there are times I try out a nice French Press grind with it, as it can do that too.
Quiet/Portable
I should probably have mentioned this earlier with the other two grinders, since they are both quiet and portable as well, but I just find that this isn't such a showpiece as they are in terms of looking the part of a Turkish grinder.
And so, I've actually taken this little coffee mill with me on the odd vacation, and as of late, I've taken it with me nearly everywhere.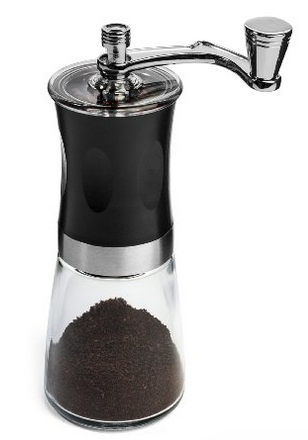 Remember earlier when I mentioned I would go to my friend's house and the coffee would be less than great.
Not any more!
I just bring this and enough beans for my own coffee and I no longer have to drink my friend's crud coffee.
This particular friend only offers it to be polite anyway, and doesn't mind that I'm a bit O.C.D. when it comes to my coffee.
Ergonomic Handle
One last point about the KONA coffee grinder here. You'll be able to operate the machine more smoothly with its ergonomic handle, which will help to make your coffee grinding quicker and easier.
I find the handle on this unit is really the nicest, meaning no hand cramps or anything, and ground Turkish-style coffee coming up in a jiffy.
That's definitely a plus if you want to minimize the preparation time of your Turkish coffee, if you're in a rush, say. You can then spend more time on other critical tasks-such as drinking coffee!

Buying Guide for the Best Turkish Coffee Grinder
Turkish coffee is a popular beverage enjoyed by people all over the world. It is made with finely ground coffee beans that are boiled in water and then filtered out, resulting in a strong, flavorful cup of coffee. To make the perfect Turkish coffee, you need a quality grinder.
Made Specifically for Turkish Coffee.
When shopping for a Turkish coffee grinder, there are a few things to keep in mind. First, you'll want to choose a grinder that is made specifically for Turkish coffee. Some grinders are designed for general use, while others are made specifically for espresso or Turkish coffee. Be sure to look for one that has the proper settings for grinding Turkish coffee beans.

The Size of the Grinder
You'll also want to consider the size of the grinder. If you're just making coffee for yourself, a small grinder should do the trick. However, if you're making coffee for a group, you'll need a larger grinder.

Price is Another Consideration
Price is another consideration. Turkish coffee grinders can range in price from around $20 to $200 or more. It's important to choose one that fits your budget and meets your needs.

When shopping for a Turkish coffee grinder, be sure to keep the above considerations in mind. With the right grinder, you can enjoy a delicious cup of Turkish coffee anytime you want.

Here's a great video about all about Turkish coffee culture:

Types of Turkish Coffee Grinders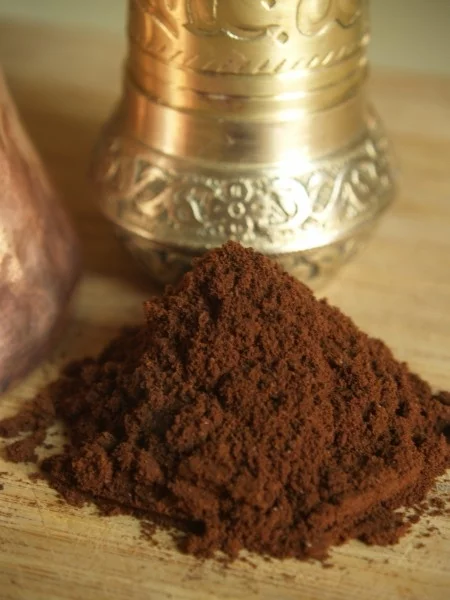 Turkish coffee grinders come in a few different types, each with its own benefits and drawbacks. The three most common types of Turkish coffee grinders are the manual grinder, the electric burr grinder, and the Turkish coffee mill.
The Manual Grinder
The manual grinder is the simplest type of Turkish coffee grinder. It is a small, hand-held device that you use to grind your coffee beans by hand. This type of grinder is inexpensive and portable, making it a good option for people who travel often or like to have their coffee on the go. However, it can be time-consuming to use and can result in inconsistent grinds.

The Electric Burr Grinder
The electric burr grinder is a more expensive but more efficient option. It uses a rotating burr to grind your coffee beans into a consistent size, making it a good choice for people who want a high-quality cup of Turkish coffee. However, it can be bulky and difficult to store, and it can be expensive to buy one.

The Turkish Coffee Mill
The Turkish coffee mill is the most traditional type of Turkish coffee grinder. It is a large, hand-cranked device that grinds your coffee beans using two metal grinding plates. This type of grinder is the most efficient at grinding your coffee beans into a consistent size, but it is also the most expensive and difficult to use. It requires manual labor and can be tiring to operate for extended periods of time.

Benefits of Having a Turkish Coffee Grinder
Turkish coffee grinders are different from other types of coffee grinders. They have a unique design that helps to produce a high-quality cup of Turkish coffee. Turkish coffee grinders are made with a heavy-duty metal construction that helps to keep them stable while grinding. They also have a large grinding chamber that can hold up to three ounces of coffee beans at once. This makes it easy to grind enough coffee for several cups of Turkish coffee.
Produces a Finer Grind Than Other Types of Grinders
One of the benefits of using a Turkish coffee grinder is that it produces a finer grind than other types of grinders. This helps to create a smooth and rich cup of Turkish coffee. The fine grind also helps to prevent the coffee from becoming bitter or acidic.

Easy to Use
Another benefit of using a Turkish coffee grinder is that it is easy to use. The large grinding chamber makes it easy to grind enough coffee for several cups of Turkish coffee. And the heavy-duty construction ensures that the grinder will last for years.

So, if you are looking for a way to create the perfect cup of Turkish coffee, consider using a Turkish coffee grinder. They are easy to use and produce a high-quality cup of coffee every time.
Videos For Turkish Coffee Brewing:
Buy them at eBay, Walmart, Etsy (quality guaranteed)
Pepper Mill Imports Traditional Coffee/Spice Mill, Brass, 11" - Walmart, Etsy, eBay
Zassenhaus Havanna Coffee Mill/Grinder, Brass - Walmart, Etsy, eBay
Bazaar Anatolia Pepper Grinder, Pepper Mill, Turkish Grinder 4.2" (Gold) - Walmart, Etsy, Ebay
Silva Manual Coffee Grinder - Hand Coffee Bean Grinder | Ceramic Burr Coffee Mill for - Walmart, Etsy, eBay
Khaw-Fee HG1B Manual Coffee Grinder with Conical Ceramic Burr - Hand Ground Coffee Beans - Walmart, Etsy, eBay
Capresso 565.05 Infinity Stainless Steel Conical Burr Grinder with Full Circle - Walmart, Etsy, Ebay
heartily recommend you try - Walmart, Etsy, eBay
Conclusion for Turkish Coffee Grinder Buyers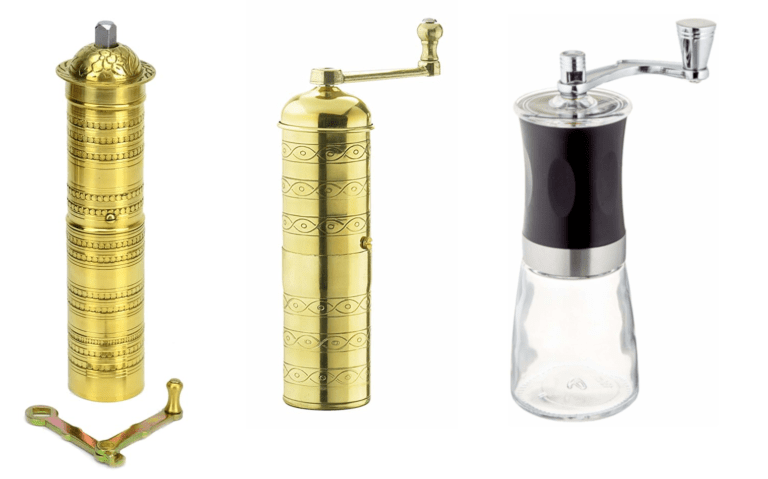 All three of these options are excellent choices.
In terms of functionality, the IdlycHomes coffee grinder or the Zassenhaus is the better choice, but if you want truly authentic Turkish coffee grinder which actually comes from Turkey, the one from Turkish Coffee World is the best option.
I really do hope this article helps you decide on a great Turkish-style grinder - Turkish coffee is the best, in my opinion and anything I can do to spread the word believe me I'm there!
Thanks for reading