There is nothing like the smell of fresh coffee in the morning. If you are a coffee lover, then you know that having a good coffee grinder is key to making great coffee. The De'Longhi KG89 Burr Coffee Grinder with Grind Selector and Quantity Control is a great choice for those looking for a quality grinder at an affordable price. With its precision grind selector, you can customize your grind to get the perfect cup of coffee every time. And with its quantity control, you can choose how much coffee you want to grind at one time. This grinder is also easy to use and clean, making it a great addition to any kitchen. Order yours today and start enjoying delicious cups of fresh-brewed coffee
Review of the DeLonghi KG89 Burr Coffee Grinder
Main Features:
Produces a uniform ground texture for the most consistent results with the burr grinding wheel
Choose the perfect grind setting from course, to medium, to fine
Grind 4-12 cups of coffee with quantity control knob
Easy access to ground coffee with removable, transparent ground coffee container
Simple to use with on/off push button control
Safe operation with dual system. It automatically shuts the unit off if the lid or ground coffee container is not in place
Keep counter tops clutter-free with self-contained cord storage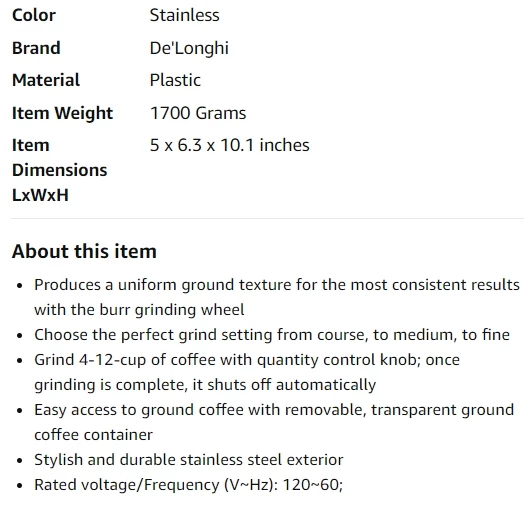 General Specs of the DeLonghi KG89 Grinder
Rated voltage/Frequency (V~Hz): 120~60
Input power (W): 170
Beans container capacity (oz): 4.2
Cup selector: Yes
Dual safe system: Yes
Grind setting selector: Yes
Max number of cups: 12
On/off switch: Yes
Professional burr: Yes
Removable coffee grounds container: Yes
Rubber feet: Yes
Self-contained cord storage: Yes
Stainless steel finish: Yes
Top lid: Yes
Transparent & removable bean container: Yes
Based out of Italy, De'Longhi is a company with a reputation for making classy kitchenware and coffee-related products, with the KG89 burr coffee grinder being their standout grinder.
Preceded by the almost-identical KG79 model, the KG89 is a classy but extremely affordable machine that has garnered its share of acclaim in the coffee industry and among home users as well.
There are definitely a lot of positives about this grinder. It is stylish, with a look that is unique to this coffee grinder alone, and conveniently compact with the following measurements: 5 x 6.3 x 10.1 inches.
The De'Longhi KG89 does not occupy a lot of space, and it is shaped such that you can easily find a place for it.
Once it has its perch, it is a stunning addition to most kitchens.

DeLonghi KG79 VS KG89 - What's The Difference?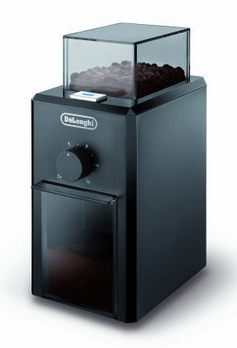 Delonghi Kg79 Coffee Grinder
Before we continue, many customers have asked to know the difference between these to similar-looking models.
Ok, here we go… Ta da! They are the same! Well, almost. The KG89 has a brushed stainless steel finish while the KG79 does not.
That's the only difference there is between them, but some might say it is a significant difference in the overall aesthetics, and we can't really argue with that.
Have a look at this video overview of the KG79, made by the manufacturer themselves. This will give you an excellent idea of what this grinder looks like and what it can do.
What the DeLonghi KG89 Coffee Grinder Can Do
Grinding for up to twelve flavorful cups of coffee, the De'Longhi KG89 can make enough for a large percolator and has the capacity for 4.2 oz of coffee beans.
Once you load in your beans into the hopper (which is also removable), you control the brew amount via a quite svelte and easy-to-use black control knob.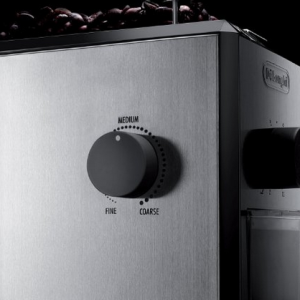 DeLonghi Stainless Steel Burr Coffee Grinder
There is also a Dual Safe control, a feature designed to shut down the device if use is attempted when any of the parts are removed from it, or are incorrectly fitted.
Just a quick cuppa? Not a problem, smaller amounts of coffee can be ground, for as little as two generous sized cups.
The De Longhi KG89 uses a burr grinding wheel to ensure a consistent grind texture and comes with a selector for three types of grind; fine, medium and coarse.
As it is on a dial, the machine allows for settings in between the three distinct grinds.
In other words, you can select the exact texture for your grind, a feature coffee and espresso lovers will adore.
Here are some of the best burr grinders for home use according to our editors!
Noise Level of the DeLonghi KG89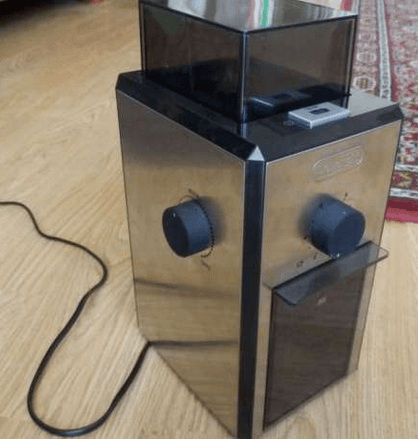 Delonghi Kg79 Review
If you have read a lot of coffee grinder reviews you will know that noise is an important aspect when considering which grinder to purchase.
We want our coffee to raise us from our pit in the morning. This does not necessarily translate into wanting the noise from our coffee grinder, to be loud enough to raise the dead!
So if your roommate is a light sleeper or the walls of your apartment are paper thin, this grinder is good news, as it is significantly less noisy than many other grinders that are on the market, as you can hear in the following video.

Grind Settings of the DeLonghi KG89 Coffee Grinder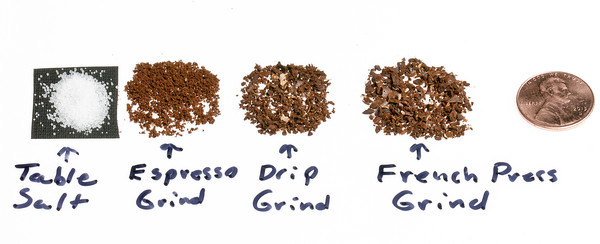 Different Coffee Grind Sizes
This grinder is great for French Press style grinding, and also provides a consistent drip coffee grind. This is all good news for coffee lovers.
However, if you are looking to pair the De'Longhi KG89 with its espresso producing counterpart, the De'Longhi EC155 15-Bar Pump Espresso and Cappuccino Maker, we are going to have to tell you, the KG89 was not designed for espresso grind perfection.
Some KG89 buyers claim it can, some say that it most certainly can't.
Being that this grinder costs about $60, that shouldn't be too surprising.
If you are looking for a better option for espresso grinding, read this article here as it will show you our Top 5 coffee grinders made to grind specifically for espresso.
Espresso Hack
Ah, but some users have found a way to shall we say "tweak" the De'Longhi KG89 to make it work for espresso.
The only problem is, this "hack" voids the warranty.
Although we don't want to say what anyone should or shouldn't do, we wanted to provide you with a video that shows how it can be done in about 10-20 minutes, effectively turning a $60 coffee grinder into something a little more valuable when it comes to espresso grinding.
You can also just google "DeLonghi KG79 espresso hack" to get more information on this little job.
Pretty nice little trick, huh? Let's keep that espresso flowin'!
Cleaning Your DeLonghi KG89 Burr Grinder
Cleaning the KG89 is a no fuss affair, as mainly a quick wipe or brush clean will suffice. When it is not in use, the cord shuts away neatly within the unit, making it easy to store.
Compared to some, bigger machines, it is relatively light (at under 4lbs).
What Customers Are Saying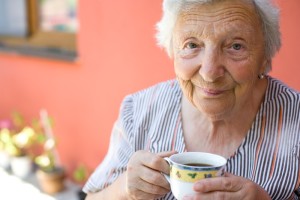 "A necessity for the perfect cup of coffee"
"This grinder exceeded my expectations. It works better than any other I had and it is at least somewhat quiet".
"My husband makes his coffee with a Melitta filter and I use a french press. He grinds his one cup at a time and I grind a container full"
"Grinds not fine enough for espresso, unless you go to the trouble of modifying it. Does drip well."
"It is well made and compact and (takes) up less counter space than a toaster"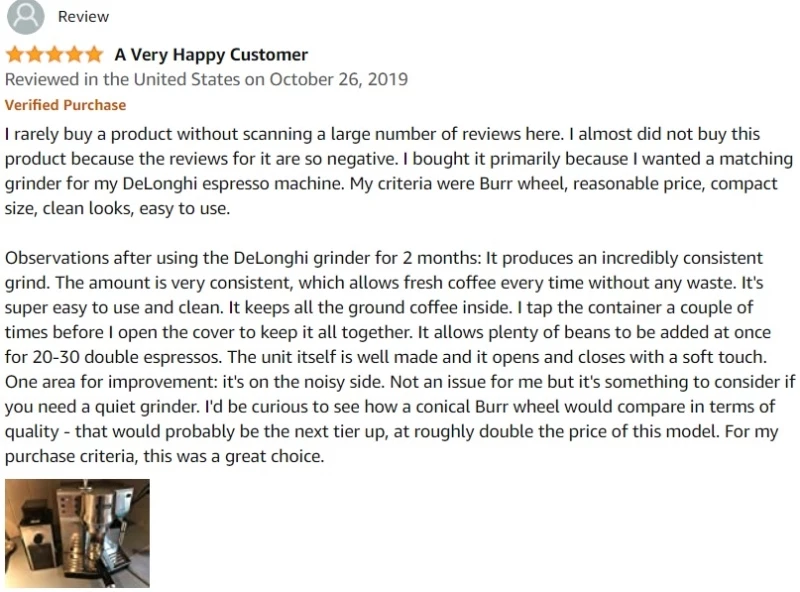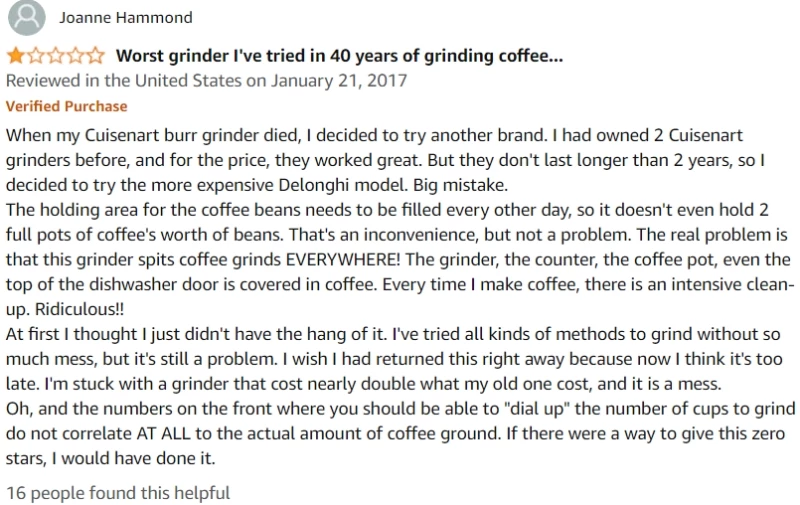 Pros and Cons of Having the DeLonghi KG89 Cofee Grinder
So far, in this Delonghi KG89 review, you could see what this coffee grinder can do. But now, it's time for us to share what we like and what we dislike about this Delonghi grinder.
We Like
Compact design
Easy to learn to use
Quality build material such as knob control
Stainless steel premium finish
Value for the price
We Dislike
Static due to the stainless steel finish
It doesn't stop grinding when it's out of beans
Value for the Price
KG89 burr coffee grinder is really affordable, yet it feels premium and does the job very well. There are a few things that might be annoying to some users, but on the other hand, it's offering a lot of useful features.
The most important thing is that Delonghi KG89 offers a great value for the price it sells for. It makes it really a no-brainer purchase if you like its unique style.
We highly recommend it as a very compact coffee grinder which features a great build quality which won't break your bank.
KYG's Conclusion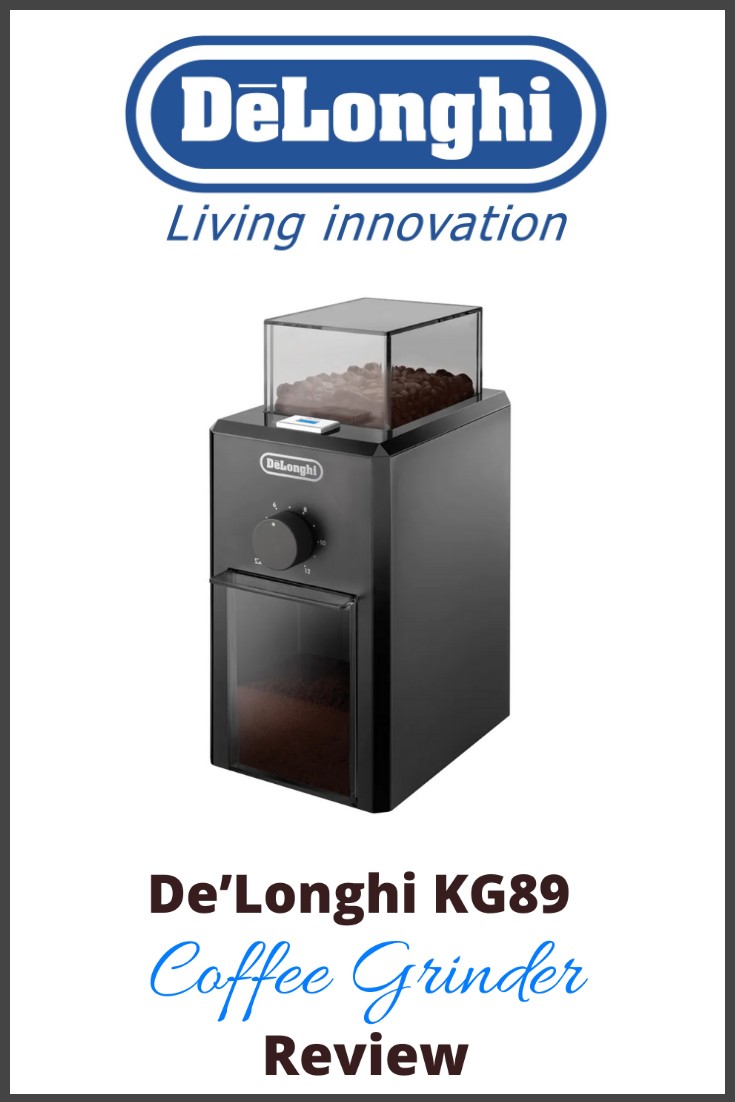 We do love this grinder! It is stylish and looks great, with its stainless steel exterior and clean lines which will fit perfectly into most any kitchen.
Also, it is not overly noisy and the price tag isn't too bad at around $60, depending where you buy.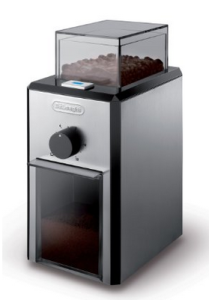 You may hit one or two little snags - there is the slight static cling that one comes to expect with the plastic parts.
Some coffee particles may stick to the chute and prove slightly tricky to remove. Again, these are relatively common gripes and not enough to detract from the unit's overall performance.
We love what it does for French Press, drip, or anything in that range, but if you have an expensive espresso machine, then this may not be your best bet, unless you do the hack (which takes a few minutes but is worth it, although again, it voids your warranty).
For the general coffee enthusiast this is a great entry level burr grinder and scores 4 out of 5.
The DeLonghi Company
The De'Longhi Company is an Italian small appliance manufacturer based in Treviso, Italy. The company was founded in 1902 as a manufacturing workshop, and today has over 3,500 employees worldwide. De'Longhi designs, manufactures and markets a wide range of small appliances for the home, including coffee makers, kettles, toasters, irons, fryers, shavers and portable air conditioners.
In 2015, De'Longhi acquired the Kenwood and DeLonghi brands from Jarden Consumer Solutions. The Kenwood and DeLonghi brands are now managed by De'Longhi UK.

De'Longhi's products are available in over 100 countries worldwide. The company has a wide network of subsidiaries and distributors, with a strong presence in Europe, North America and Asia Pacific.

De'Longhi is a publicly traded company, listed on the Milan Stock Exchange since 2000. The company is a component of the FTSE MIB index.

In 2018, De'Longhi was ranked as the 29th most valuable brand in Italy by Brand Finance.

Reviews of Other Best DeLonghi Coffee Grinders of 2022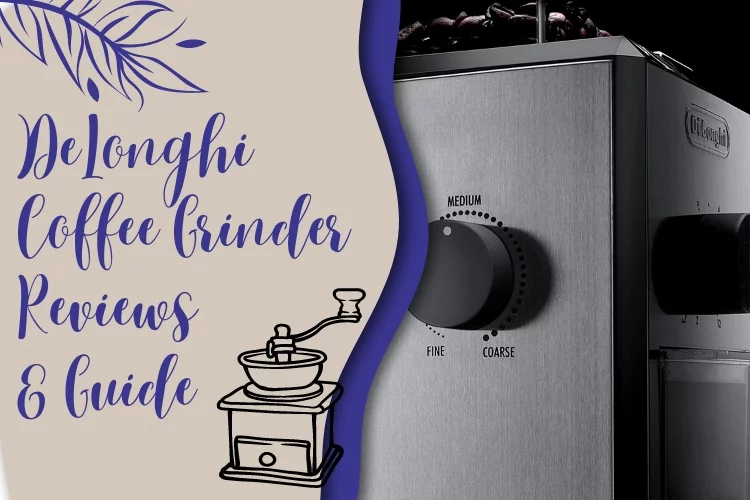 De'Longhi Dedica Conical Burr Grinder with Portafilter Attachment - Link
If you're looking for great conical burr De longhi coffee grinders that comes with a portafilter attachment, the De'Longhi Dedica is a great option to consider. This grinder has 15 different grind settings, so you can get the perfect grind for your espresso machine. It also has a timer function, so you can Grind only what you need and keep track of your grinding time. The hopper holds up to 200 grams of beans, and the unit is compact enough to fit on most countertops. The portafilter attachment makes it easy to get a evenly ground coffee directly into your espresso machine's filter basket, and the grinder comes with a cleaning brush to help keep things clean. Overall, the De'Longhi Dedica is a great conical burr grinder that comes with some handy features and is compact enough to fit on most countertops.

Pros:
The conical burr grinders produce uniform grounds, meaning your coffee will taste consistent no matter how you brew it.
The portafilter attachment means you can directly grind beans into your espresso machine's filter basket, making the brewing process even easier.
The 6.9 x 11.2 x 18.1-inch size makes it small enough to fit on most countertops without taking up too much space.
Cons:
Some users have reported that the grind settings can be a bit finicky, so it may take some trial and error to find the perfect setting for your needs.
The price tag is on the higher end for coffee grinders, so it may not be the best option if you're on a budget.
Conclusion
the De Longhi Dedica Conical Burr Grinder with Portafilter Attachment is a great choice for coffee lovers who are looking for convenience and consistent results. While it's not the cheapest option on the market, it's definitely worth the investment if you take your coffee seriously.

DeLonghi Electric 12-Cup Burr Grinder - Link
The DeLonghi Electric 12-Cup Burr Grinder is a high-quality grinder that can be used to grind coffee beans to your desired level of coarseness. The built-in burr grinder offers consistent grinding and allows you to choose from three different settings: fine, medium, or coarse. The detachable grind container holds up to 12 cups of ground coffee and has a lid that helps keep your grinds fresh. The grinder also features a safety lock mechanism that prevents the blades from spinning when the unit is not in use.

Pros:
Can grind a large quantity of coffee beans at once, up to 12 cups worth
The grind settings can be adjusted to produce coarse or fine grounds
The built-in timer allows for hands-free grinding
The removable bean hopper makes it easy to refill
The unit is relatively quiet compared to other models on the market
Cons:
The price tag is on the higher end compared to similar models
Some users have reported that the grind settings are not always consistent
It can be challenging to clean all the nooks and crannies of the grinder
The power cord is shorter than average, so it may need to be plugged into an extension cord in some cases
Conclusion
The DeLonghi Electric 12-Cup Burr Grinder is a good choice for those who want a quality appliance that can handle large quantities of coffee beans. The adjustable settings make it possible to produce both coarse and fine grounds, and the built-in timer ensures hands-free grinding. However, the price tag is higher than some other models on the market and some users have reported issues with inconsistency in the grind settings. Additionally, the grinder can be difficult to clean thoroughly. Despite these potential drawbacks, the DeLonghi Electric 12-Cup Burr Grinder is still a good option for many coffee lovers.

Benefits of Owning De Longhi Coffee Grinders
If you're a coffee lover, then you know that having a good coffee grinder is essential to making the perfect cup of coffee. DeLonghi is one of the leading brands when it comes to coffee grinders, and for good reason. Here are some of the benefits of owning a DeLonghi coffee grinder:

Adjustability
With most DeLonghi grinders, you have the ability to adjust the grind settings to get the perfect grind for your coffee beans. This ensures that you can always make a great tasting cup of coffee, no matter what type of bean you're using.

Durability
DeLonghi grinders are built to last, with many models lasting for years with proper care. This means that you can be confident your grinder will serve you well for a long time.

Easy to Use
DeLonghi grinders are designed for easy use, with clear instructions and simple controls. This makes it easy to get the perfect grind every time, even if you're a beginner.

If you're looking for a top-quality coffee grinder, then DeLonghi is a great option to consider. These grinders offer many benefits that coffee lovers will appreciate, making them a great investment for any kitchen.
Buy now at eBay, Walmart, Etsy (quality guaranteed)
De'Longhi KG89 Burr Coffee Grinder with Grind Selector and Quantity Control - Walmart, Etsy, eBay
De'Longhi Dedica Conical Burr Grinder with Portafilter Attachment - Walmart, Etsy, eBay
DeLonghi Electric 12-Cup Burr Grinder - Walmart, Etsy, eBay