Last Updated on
---
Main Features:
Produces a uniform ground texture for the most consistent results with the burr grinding wheel

Choose the perfect grind setting from course, to medium, to fine

Grind 4-12 cups of coffee with quantity control knob

Easy access to ground coffee with removable, transparent ground coffee container

Simple to use with on/off push button control

Safe operation with dual system.  It automatically shuts the unit off if the lid or ground coffee container is not in place

Keep counter tops clutter-free with self-contained cord storage
---
General Specs of Device:
Rated voltage/Frequency (V~Hz): 120~60
Input power (W): 170
Beans container capacity (oz): 4.2
Cup selector: Yes
Dual safe system: Yes
Grind setting selector: Yes
Max number of cups: 12
On/off switch: Yes
Professional burr: Yes
Removable coffee grounds container: Yes
Rubber feet: Yes
Self-contained cord storage: Yes
Stainless steel finish: Yes
Top lid: Yes
Transparent & removable bean container: Yes
Based out of Italy, De'Longhi is a company with a reputation for making classy kitchenware and coffee-related products, with the KG89 burr coffee grinder being their standout grinder. 
Preceded by the almost-identical KG79 model, the KG89 is a classy but extremely affordable machine that has garnered its share of acclaim in the coffee industry and among home users as well.
There are definitely a lot of positives about this grinder. It is stylish, with a look that is unique to this coffee grinder alone, and conveniently compact with the following measurements: 5 x 6.3 x 10.1 inches. 
The De'Longhi KG89 does not occupy a lot of space, and it is shaped such that you can easily find a place for it. 
Once it has its perch, it is a stunning addition to most kitchens.

---
De'Longhi KG79 VS KG89 – What's The Difference?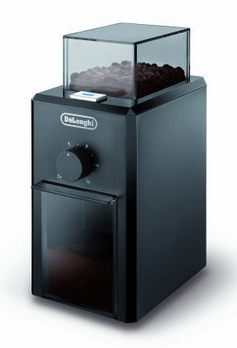 Before we continue, many customers have asked to know the difference between these to similar-looking models. 
Ok, here we go…<drumroll please> Ta da!  They are the same!  Well, almost.  The KG89 has a brushed stainless steel finish while the KG79 does not. 
That's the only difference there is between them, but some might say it is a significant difference in the overall aesthetics, and we can't really argue with that. 
Have a look at this video overview of the KG79, made by the manufacturer themselves.  This will give you an excellent idea of what this grinder looks like and what it can do.
---
What It Can Do
Grinding for up to twelve flavorful cups of coffee, the De'Longhi KG89 can make enough for a large percolator and has the capacity for 4.2 oz of coffee beans. 
Once you load in your beans into the hopper (which is also removable), you control the brew amount via a quite svelte and easy-to-use black control knob.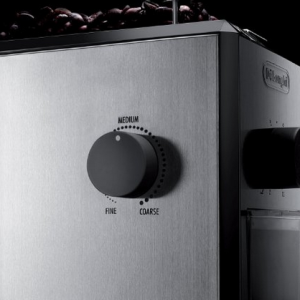 There is also a Dual Safe control, a feature designed to shut down the device if use is attempted when any of the parts are removed from it, or are incorrectly fitted.
Just a quick cuppa? Not a problem, smaller amounts of coffee can be ground, for as little as two generous sized cups.
The De Longhi KG89 uses a burr grinding wheel to ensure a consistent grind texture and comes with a selector for three types of grind; fine, medium and coarse. 
As it is on a dial, the machine allows for settings in between the three distinct grinds.
In other words, you can select the exact texture for your grind, a feature coffee and espresso lovers will adore.
Here are some of the best burr grinders for home use according to our editors!