How Fine To Grind Coffee For Aeropress
by Bryan Albuquerque
Before we talk about how fine your coffee bean grind size should be when using the Aeropress, let's quickly go over why you might want to brew coffee at home, ie. the benefits of such a thing.
Reasons might include:
Costs of buying a cup of coffee or two each day – They certainly add up!
Too many burnt/terrible/bitter brews you've had to choke down to get your daily caffeine fix.
No control over the taste and flavor of your purchased coffee. – You're at the whim of the barista!
If these are things which happen to you, mastering the Aeropress is a great idea, and, even if you don't mind any of the above – still a good idea! Now let's hop to it!
Table of Contents
The Importance of Coffee Bean Grinding
One of the most important steps in making your own coffee is the grinding process. The grind size and consistency of your coffee can mean the difference between liquid gold and a bitter brew.
Here is a diagram which explains this. Feel free to gloss over it, knowing that we're not here to do math. Still, it should give you an idea how technical this process *can* be.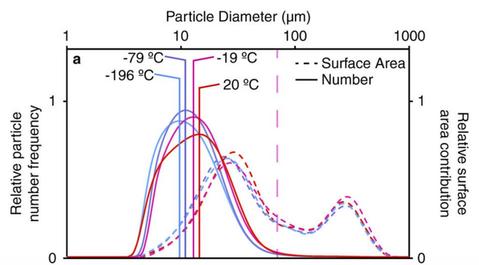 The bottom line is that the surface area of the coffee grinds contributes to the taste of the coffee. With a higher surface area, you're going to have a higher extraction rate.
This leaves you with the choice between a high extraction rate and the amount of contact needed with the grinds. When you want to increase the surface area, the coffee's grinds should be fine.
With an immersion brewer, such as the Aeropress, the coffee grinds will be steeped in water for a longer period of time, which means it doesn't need a large surface area.
A coarser grind can be the right mix for this type of coffee maker. The rate of contact and the size of the grind can result in a coffee that is too weak or too bitter.
These are the ends of the spectrum in bad coffees, and they're likely why you are choosing to learn about how to grind specifically for the Aeropress coffee maker.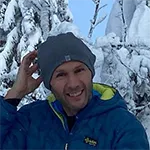 About Bryan Albuquerque
Bryan Albuquerque is a coffee lover and vaping advocate who writes reviews and information about coffee accessories and KYG. A former coffee addict, Bryan traded his morning fix for an electronic cigarette in an effort to quit smoking, and has never looked back. He's dedicated to helping others make the switch to vaping, and believes that it's one of the best decisions anyone can make for their health.
Thoughts on "How Fine To Grind Coffee For Aeropress"